This post may contain
affiliate links
that at no additional cost to you, I may earn a small commission from.
What's the story with Doc Martens and their sizing? This is the only guide you'll need to figure out how Dr Martens sizing works.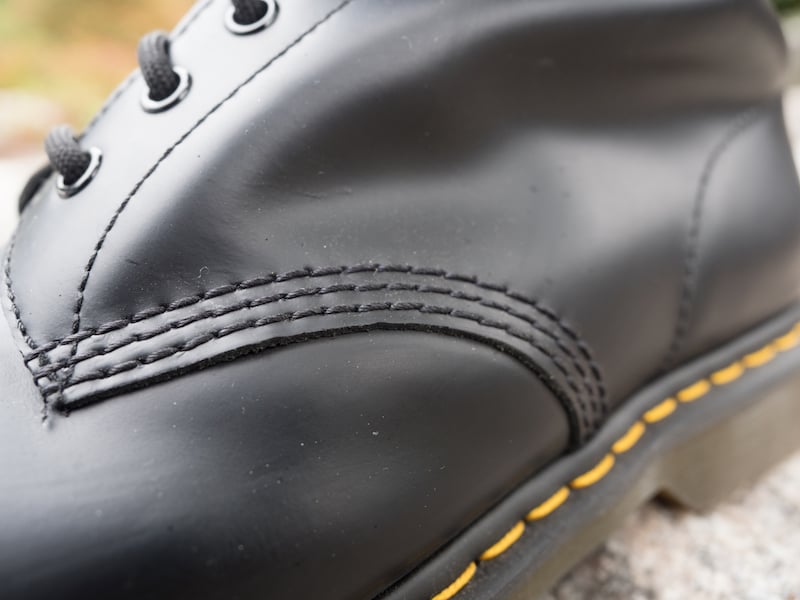 Do Dr Martens run big or small?
The iconic 1460 boot runs large; size down one whole size from your true size (1.5 sizes from your sneaker size) to the nearest whole size
Same goes for the Chelseas and Jadons
Dr Martens' other boots and shoes are true to size; you can order your usual size
Dr. Martens fit true to size for almost all of their shoes and classic boots — unless you're looking at their most popular boot, the 1460, which is pictured throughout this guide! This exception also applies to their Chelsea and Jadon platform boots, which are also on the generous size.
For the 1460, Chelsea, and Jadons, size down to the nearest whole size.
Doc Martens sizing explained
There are few extra notes we must make, here:
As a UK company, Dr. Martens uses British sizes, which tend to be one whole size smaller than US sizes.
Your true size is probably smaller than your sneaker size. Personally, my sneakers tend to be a 12, my true size is an 11.5, most American boots are an 11, but most UK and Australian boots are 10.5. (This includes my 1460s.) Try a Brannock device in a shoe store to get your most accurate sizing.
Dr. Martens doesn't offer half sizes. I could only pick a 10, 11, or 12, and while the 11 is fine, I would have preferred a 10.5. (A 10 would have been too small.) So there's a decent chance your Docs won't feel perfect. If you need a half size, the wisest move is to go down a size with these Doc Martens.
If you need full sizes, the extra wiggle room shouldn't impact your comfort. If you don't have wider feet, though, there's a chance you'll benefit from popping in some insoles or wearing thick socks.
Of course, the best thing to do is to go to a store and try on a couple of sizes to see what's best. But if you're ordering Dr Martens online, size down and if your true size is a half size, consider the possibility of needing insoles or thick socks.
In general, remember, Dr. Martens boots and shoes run true to size (probably half a size down from your sneakers) and aren't as big as you may imagine. The exception is the 1460s, Jadons, and Chelseas, which need to be sized down about a whole size from your sneaker.
The Original Docs!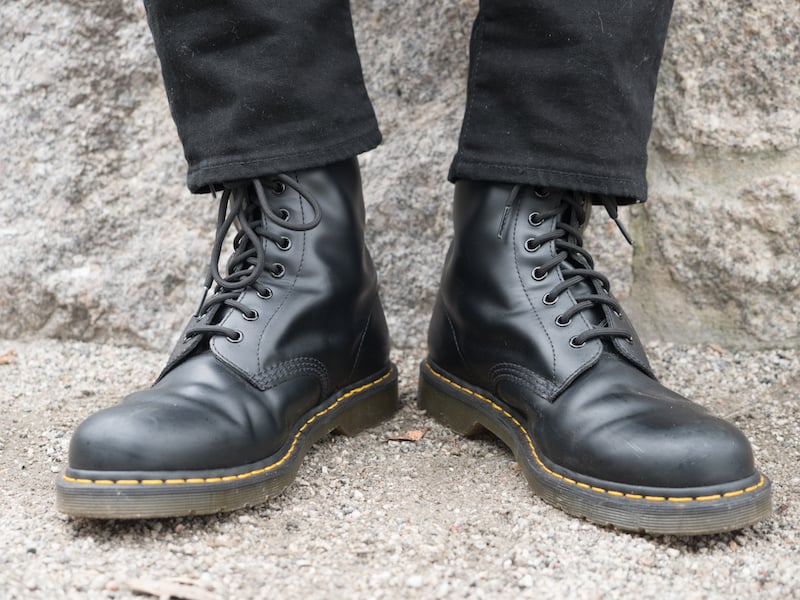 Buying your first pair of Doc Martens
Doc Martens are iconic and instantly recognizable. Without a doubt, Marten boots are among the most popular shoe brands on the planet.
But should be aware that the Doc Martens sizing guide can be eccentric at times. So if you are purchasing Docs for the first time, you should probably try them on in a shop before buying from online stores. This is because Doc Martens is a UK company, and their footwear is UK size. US shoe sizes are typically a size smaller than UK sizes. That's why thick socks are sometimes required.
There's no great mystery about Dr Marten shoe sizes, but figuring out the true size isn't too challenging in reality. Docs run true to size in the UK, but not in the US. (Again, we're talking about their most iconic 1460 boot here.) The different measuring systems and size guides can be frustrating for Americans, but we're confident you'll get the right boot.
Our comprehensive guide to these great boots will provide everything you need to get the right shoe size, even if you are an in between sizes. We can help you get boots that are the perfect fit the first time, so there's no additional cost or painful returns process to navigate. And no wailing about how Doc Martens run big! They actually run small, so you'll need to size down.
Do Martens stretch? A little, sure, but it's best to not size down too far in anticipation of your Docs stretching. I would have preferred a 10.5 but I knew a 10 would be too small, so I went with a slightly big 11. If you're a half size, this is the kind of calculus you'll probably need as well.
Docs are a truly comfy pair of boots, as any exploration of Amazon reviews will confirm. Thanks to distinctive and different styles, Docs are the obvious solution when you need a break from your go-to leather footwear.
Further Reading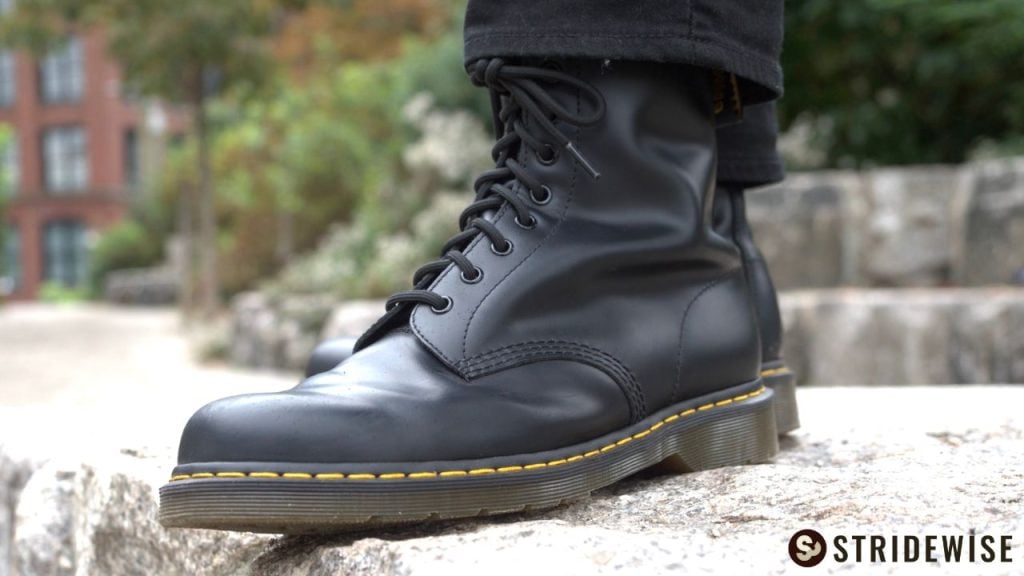 In addition, Doc Martens have a fantastic range of leather boots to choose from, including their all-time classic 1460s.
Indeed, when most people think of the Doc Martens brand, it's the 1460s they picture in their mind. This flagship range is today almost synonymous with hard-wearing and comfortable boots.
The iconic 1460s
The 1460 boot is Dr Martens' flagship and best seller, resembling a leather combat-style boot. Nonetheless, despite its shortcomings as a literal combat boot, the 1460 has grown into a fashion staple for men and women, with its shiny uppers and distinctive yellow stitching.
Doc Martens sizing, says the company, runs true to size, but most people will find the 1460 is larger than normal, something especially frustrating for folks with half sizes.
The only workaround for this brand, which doesn't offer half sizes, is to go down to the nearest size. So, for example, if your true, Brannock, American size is 9.5 (and remember, if most of your sneakers are a 10 then your true size may be 9.5), you need to select docs that are a 9. And you may need thicker socks.
If you are a full-size shoe wearer, you'll have more luck: Americans who are a 10 on a Brannock device will be comfortable in a 9.
But the extra real estate is pretty minor. For example, I purchased 11s and while I know I'd have preferred a 10.5, there's only a little bit of extra wiggle room for my toes and my feet don't slide about inside.
[Related: The Ultimate Guide to How Boots Should Fit]
Other Docs
Other boot styles follow the same pattern, including Dr Martens Chelsea Boots, Jadons, and other styles similar to the 1460. The Docs range also spans vegan and patent leather and models with special WinterGrips.
The sizing system, though, is not some big enigma shrouded in mystery. There are other sizing systems outside the US! For example, in continental Europe, there's another sizing system again. A US size 9 in Euro-speak is a 42, for instance.
The exception
As if to prove the rule, there is one 1460 model that's an exception: the fur-lined 1460. With this boot model, you will feel it's a slightly tighter fit due to the fur-lining. So, if you have wide feet, you might want to give these bad boys a miss.
Filling the extra space
If you don't like leather boots that feel too roomy, you can wear socks or add insoles to get a better fit. We've got a whole guide below.
[Learn more: The Best Boot Insoles for Any Purpose]
Other boots and styles
Other than the 1460s, the Jadons, and the Chelseas, Dr Martens shoes tend to run true to size for most people's feet.
If you're one of those in between sizes, you can base your size on the type of fit you prefer. For example, say your foot measures 11.5 inches from the heel to your toes in socks. Typically, this would equate in the US to a size of 10.5.
Regardless of the pair you buy or their style, Dr Martens boots are only available in a standard D (or "normal") width.
Essentially, no matter what you'll need to buy a regular width, which should suit most people comfortably. If you're wider or narrower than most folks, size up or down accordingly.
And don't pick Dr Martens if you are EEE or above, width-wise. You simply won't be comfortable.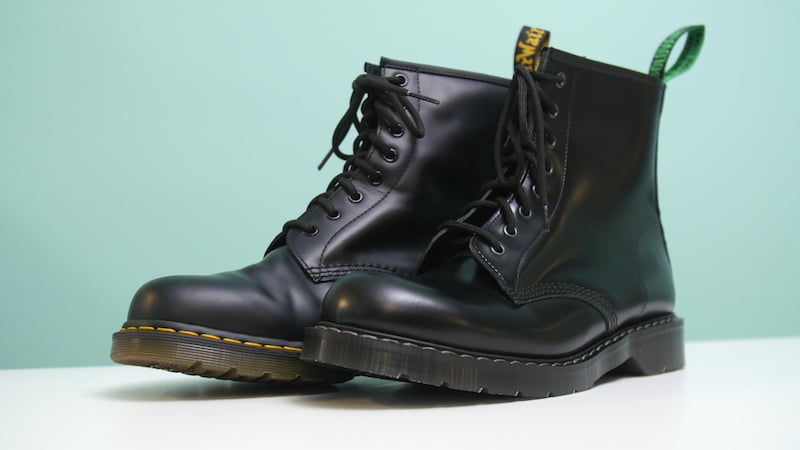 Dr Martens sandals
Don't be fooled by initial impressions if you want to buy any of the sandal ranges, such as the Dr Marten Romi. At first, it may seem like they are on the large side, as the sandals are way heavier and clunkier than the normal sandals you're used to. The best advice is that getting accustomed to sandals made by Doc Marten will take a few days. So please resist the temptation to return them for a smaller size.
Do Doc Martens run big for women as well?
Docs are unisex. As with the men's range of footwear, Docs for women run true to size for the most part. Again, the exceptions are the 1460, Jadon, and Chelsea. Likewise, women with half size fittings should consider dropping down a size, depending on how snug you wish your Docs to be.
The Original Docs!
Unisex sizing
To further complicate matters on the US side of the Atlantic, a men's size eight is a women's size nine. However, most Docs are a unisex fit. So converting your US size to a UK measurement is the best move. Just ask the engineers on the Hubble Space Telescope.They calculated in imperial while their UK and European partners used metric, causing them to fail their mission after launch!
Just what the Doctor ordered
If you have studied the Amazon reviews and narrowed down your footwear quest to 1460s, Chelseas, or Jadons, try this: size down whether you're a full size or half size, keeping in mind your true size is likely half a size smaller than your sneakers. (This bears emphasizing because for a lot of folks, Docs are their first pair of boots and their first shoes that aren't sneakers.)
All other Docs fit true to size. This rule of thumb includes sandals.
Dr Martens, though labeled as 'Made in England,' ain't necessarily so. They have production facilities all over the globe and these days, the 1460s are made in Asia. If Made in England is important to you, make sure you specifically purchase the Made In England Dr Martens boots here.
Back in the day, your docs were next to indestructible and you'd lose count of the times you replaced the laces. Unfortunately, that's not always the case today.
Despite lingering negative perceptions about quality control, Dr Martens are iconic and way more comfortable than most other footwear you have worn before. The sole is among the most comfortable I've ever tried in boots. Still, read the returns policy before heading to the checkout.
Some final thoughts
Docs are a worldwide phenomenon and fashion icon. They are hard-wearing and probably the comfiest footgear you will ever wear. They are exceptionally ergonomic, cushioned, and supportive. Once you put them on, you are in no hurry to take them off again. With this ultimate guide, there's no need to say 'good luck' before you go off and buy some of the most iconic boots in the world.
Frequently Asked Questions about Dr Martens
Are Dr Martens 1460s a little roomier than normal?
Yes, the 1460s will seem larger than normal if you have only worn US-sized leather footwear. The sizing is British, so you should size down a whole size when you order. They don't offer half sizes, so consider sizing down to the nearest size and buying insoles if you're a half size.
Are Doc Martens Oxfords bigger than usual?
Unlike their popular 1460 boots, the Oxfords are true to size. Dr Martens offers only whole sizes, but their fitting scheme does offer some leeway. For example, say you are an in between sizes; you can go up a size for roomier shoes or down one if you like a snugger feel.
Do Dr Martens Romi sandals run big?
No, these Dr Martens are the size as stated. Romis only feel larger than usual because of their weight.
Do Doc Martens Jadons run big?
Like their 1460 boots and their Chelseas, Dr Martens Jadons do run big. If you're a half size with Dr Martens boots, it's best to size down. Someone with a size 11.5 in sneakers would be a size 10 in Doc Martens. Thick socks or insoles can be deployed if you find your Dr Martens style a tad too roomy.
Do Dr Martens Softy Ts feel big?
Dr. Martens Softy Ts are fit true to size. As usual, if you are a half size, opt with Dr Martens to go up or down a size depending on whether you like the extra room.
Do Doc Martens stretch?
Yes, they will stretch, to an extent, as the leather conforms to your foot. That said, it's not wise to buy a too-small pair in the hopes they'll stretch.
Do Doc Martens run wide?
Not particularly. They use a standard medium-width fit, so you may wish to try them on for fit and heel comfort. The boots aren't available in wider (E) widths.