This post may contain
affiliate links
that at no additional cost to you, I may earn a small commission from.
In the community of heritage wear, workwear, rugged wear, whichever name you would like to call it, socks appear almost as critical a garment as the boots they into which they slide. So what are the best boot socks? If you don't understand the importance some people place in a pair of socks, allow me to clarify.
Here's what this article will cover:
A Brief History of the Sock

The humble sock has beginnings that date back to ancient civilizations, with the earliest evidence suggesting their origin story began with the Greeks. (Philosophy, democracy… socks. Who knew?) No surprise, the ancient Greek sock bears almost no resemblance to the modern sock, however their purpose has remained the same throughout their long history: protection and insulation.
Eventually, this simple garment grew into yet another way historical class systems established boundaries between themselves; socks became a status symbol. Only the very wealthy had enough money and privilege to wear socks… socks, for Pete's sake.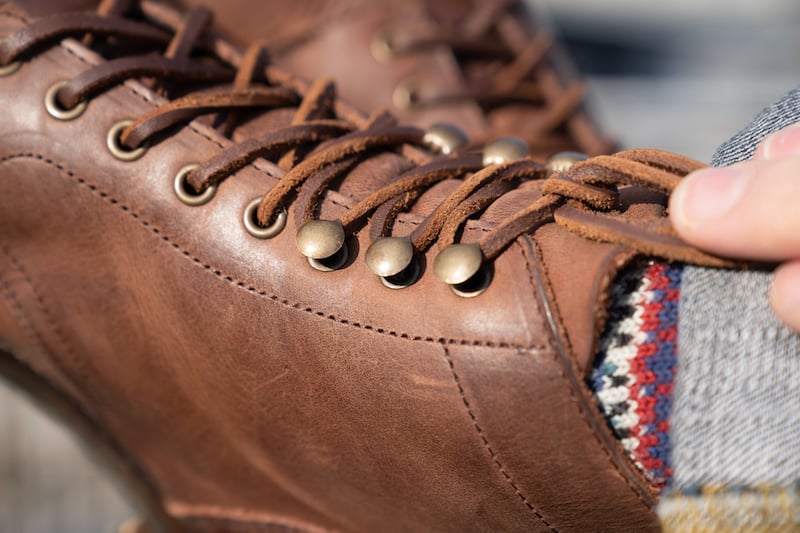 Is There a "Best" Sock?

Yes, I acknowledge that socks are critical garments in wearing just about every kind of shoe. I understand performance socks provide advantages to athletes where high-intensity activity yields sweaty-ass feet. I will acknowledge that thicker socks may provide more warmth or comfort, padding, cushioning, or support. Hell, I will even concede that socks with arch support provide some relief to the flatfooted or high-arched.
This all falls apart for me, because at what (price) point does a sock not get any more sock-y? Walk into a boot shop — a real boot shop — and there's at least a rack, if not an entire wall, dedicated to these plantar middlemen. The price ranges from very modest to what I consider to be insane levels for a single pair of socks.
At what price point does the scale tip from "yeah, these are garbage, and I wouldn't spend my adolescence with them," to "worth every goddamn penny and I don't know how I lived without them"? Does the cost-benefit ratio ever exceed the maximum return on investment, and you're merely paying for branding or status?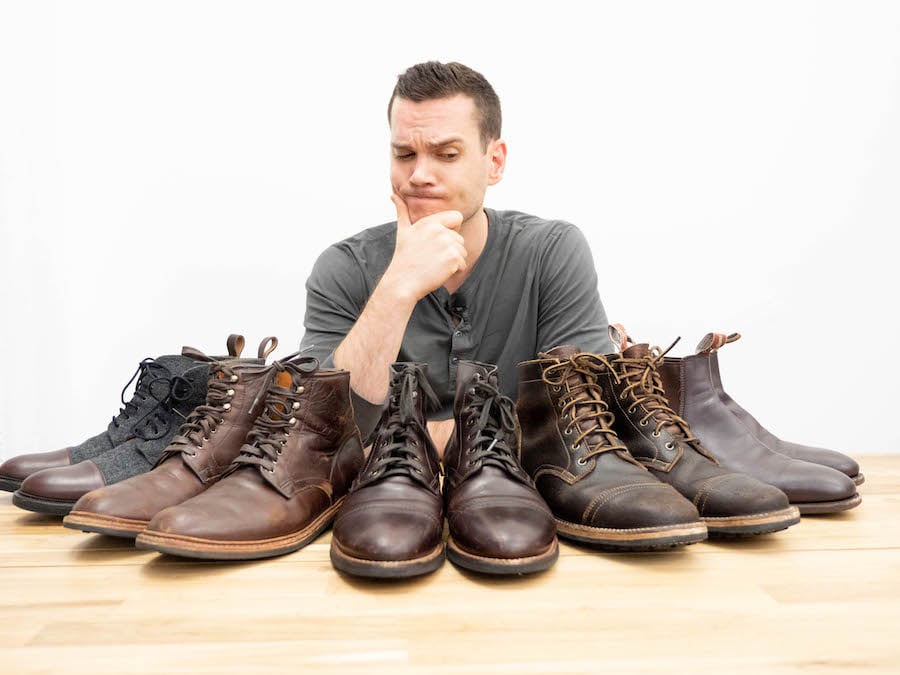 How I Decide the Best Sock

In this article, my mission is simple: using a similar set of parameters used on my blog, TheArcuate.com, I will test several popular brands of socks. My objective will be to consider each pair based on fit, function, and feel for this post. I will be evaluating those socks embraced by our community as "the best" to establish which, if any, really make an impactful difference in the boot-wearing experience. Yes, channeling my best Daniel Day-Lewis voice, there will be CHUPs. As well as Darn Tough and Smartwool.
To clarify the terms I'll be using:
Feel: I mean both how I think the socks feel on my body and how they feel in the boot.
Function: I'll discuss any "tech" that should make a difference.
Aesthetics: I'll mention aesthetics, but I think that's mostly subjective.
Value: This will also be part of the discussion, considering the price, unique features, quality, and overall impact to comfort and feel while wearing boots.
In the end, I'll give a verdict on each pair and also compare them against my standard choice, Hylete Mid Calf Athletic support socks.
For the sake of control, each pair of socks got the following control variables imposed upon them.
They all got two wears before complete evaluation: one pre-wash and one post.
I used the same boots throughout the assessment: US size 9.5 Red Wing Iron Rangers (8085). I went about everyday life activities, including work, play with my children, and outdoor chores.
Why I Love the Hylete Mid Calf Athletic Sock

My baseline, as mentioned, is the Hylete Mid Calf Athletic sock. Why?
Hylete Mid Calf Athletic Sock Highlights
Why this sock? Well, it certainly isn't the cheapest athletic sock you can buy. At $14 for a pair or three for $30, they come in at the low end of the socks I evaluated in this piece, but they still outprice the market for athletic socks. Aesthetically, they aren't much to look at. They come in grey, black, and olive, with minimal branding. They are relatively drab — hell, in the end, they're athletic socks.
But it's my baseline for quality and comfort because they are the socks I bought when I first started wearing real boots. Initially, I used them as base layer socks for playing hockey. They were thin enough not to be noticeable during play, cushioned sufficiently to protect against lace bite, and had additional support through the arch. I am flatfooted and found the combination of Superfeet pro-carbon hockey insoles and these socks to address arch pain.
Additionally, these socks are moisture-wicking, retain shape, and (I can't stress this enough) stay the hell in place during intense activity. Weirder yet, they are specifically right and left-footed. The toe box for each sock is explicitly contoured to the right and left feet. This simple feature contributes to the socks holding their shape and staying in place over time and through aggressive activity.
That's a lot of damn sock for ten bucks; thus, my control for this experiment.
Who Should Buy Hylete Athletic Socks
Those willing to pay a few bucks more per pair than your average Costco Athletic Bag-o-Socks for something that is actually worthy of the "performance" accolade.
Who Shouldn't Hylete Athletic Socks
Anyone who would be happy with the Bag-o-Socks.
Anyone looking for wool or aesthetics.
As mentioned above, you get a hell of a lot of sock for the price point and even if they don't make your daily boot rotation, they are exceptionally nice in the gym, even if they don't win any beauty pageants.
[SHOP THE HYLETE ATHLETIC SOCK HERE]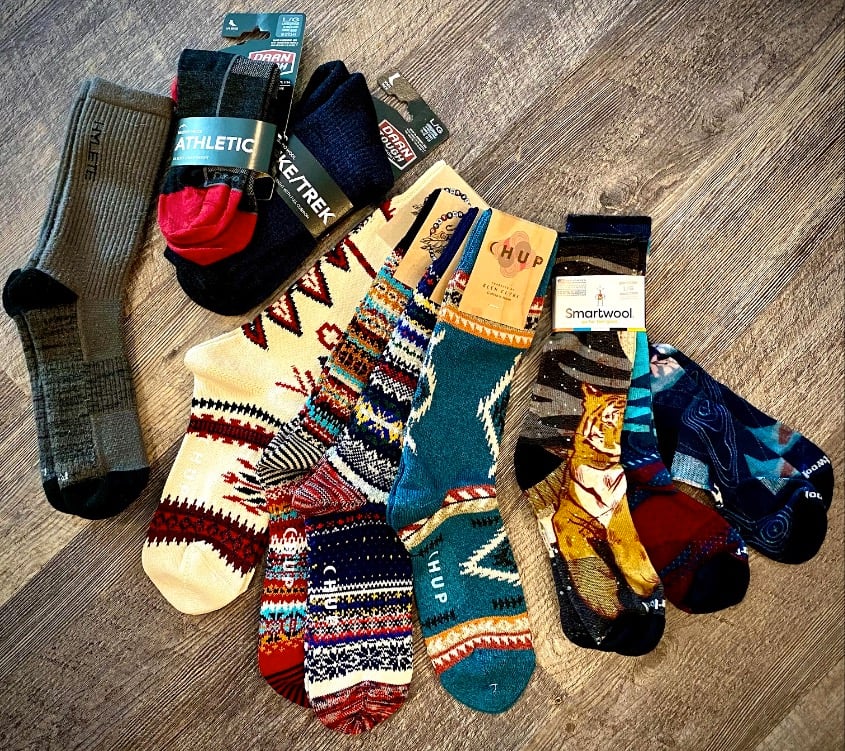 CHUP vs Smartwool vs Darn Tough Socks

But it was time to explore the world of more dedicated boot socks, and I wanted to have an excellent representation of products to evaluate. I wanted to make sure the socks reviewed were socks that represented the preferences of our community. I hit Facebook boot communities, denimhead groups, and Reddit. (Lord, did I hit Reddit.). A simple poll revealed the three most popular brands amongst the groups were CHUP, Smartwool, and Darn Tough, with a smattering of other brands I'd never encountered.
I was very fortunate to get some sponsorship for this entry (disclosure, disclosure, disclosure), though support holds no bearing over my opinions. First, a very special thank you to Wulf at Northern Republic Trading Post, a custom boot repair and denim shop in Maplewood, MN, for his contribution to this article: donating two pairs of Darn Tough (Hike and Athletic). Additionally, I want to thank Merv and the team at Okayama Denim, Shibuya-ku, Tokyo, Japan, for sending me four pairs of CHUP socks. Without the two of you, this would have been a much more costly project and certainly much more challenging to convince my wife to let me undertake!
Without further adieu, our contestants.
CHUP Socks ($35)

Man, these socks are stunning. They out-do the ugly grey sacks from Hylete in that regard. However, pretty doesn't mean awesome. Let's discuss these a little.
CHUP Socks Highlights
Their composition is the only non-wool driven option in this article: 43% Cotton / 43% Acrylic / 13% Nylon / 1% Polyurethane.
With so much cotton, I knew they would be very comfortable straight away, and they didn't disappoint. The cotton breathes well; their warmth is excellent, and their elaborate aesthetics give off a nostalgic vibe of simpler times. For example, some patterns are geometric in nature and are influenced by the Fair Isle knits like the "Fiddle" model, while others draw influence from Native American culture, seen in the "Sedona" model, with patterns designed to resemble patterns from traditional tapestry weaving. Their shape and overall design is nothing ultra unique. The toebox, however, is very interesting.
If you don't know, the CHUP toebox is hand-linked. Hand-linking begins with the fabric being milled on a circular knitting machine, as all socks are. Once the tubular fabric is knitted, the two sides of the toe seam are linked by a single yarn of thread. Think, "no pain-in-the-ass seam on top of your toes." The process is slow and limits production, but the quality is unparalleled.
My only genuine grievance is they don't stay in place well. by the end of the day, the tops of my socks had bunched, and inside the boot, I had some areas where the material had stretched and collected. The fit issue improved with washing and drying; the second wear for all four pairs was markedly improved, with minimal shift and bunch by the end of the day.
Despite some fit complaints, and steep price (for me), CHUPs are cozy, filled the boot volume nicely without any real feel of dead space, heel slip, or pressure points (again, think of the hand-linked toe). They look great and are meticulously made, lending to that quality many of us expect from Japanese garments, which likely explains the price. On that point and the socks not staying in place, I prefer my Hyletes, but CHUPs wins value for money in every other conceivable way.
Who Should Buy Chup Socks
If cost is little or no object, quality is king and aesthetics are queen, this is the sock for you. Visually stunning, comfy as a lounger, functional in boots and built to last.
Who Shouldn't Buy Chup Socks
Anyone on a budget and/or with fit issues, meaning they have some dead space in their boots which can't be corrected and doesn't want to deal with the repercussions of socks bunching in their boots.
Those who put socks on in a hurry; these don't stretch a ton and they follow the shape of the foot closely, meaning they need to first be pulled over the foot, then over the ankle. It takes a few more seconds to put them on than other socks.
These socks are exceptionally beautiful and the hand-linked toe is something to be experienced. Fit issues notwithstanding, these were a fairly incredible experience and opinion shifting on what socks can be.
Smartwool Curated Crew Socks ($20)

If CHUP socks are the bar for pretty, the Smartwool Curated collection wins for tacky-as-hell. But I kind of love that.
Smartwool Socks Highlights
The Curated collection is a thin lifestyle sock with loud and flashy prints. They boast "shred-shield," which (in theory) keeps your sock's toes from falling apart. This is done by bolstering the thickness in the toe box alone, while leaving the rest of the sock second-skin-like thin. Additionally, Smartwool implements a "Virtually Seamless" toe for enhanced comfort and a supportive arch brace.
Their composition is 53% Merino Wool 43% Nylon, 3% Elastane, 1% Polyester. If you don't know, Merino wool is a wonder material. Aside from being a completely natural fiber, it's thinner and softer than normal wool, which makes it comfortable right away, plus it self-regulates temperature. If you're hot, it helps wick sweat away to cool you off, and due to the nature of the crimps and bends in the fiber, it traps warm air coming off your body to… you guessed it, keep you warm. Because it keeps you dry and sweat-free, it helps battle bacteria, which battles mal-odor. How's that for a slice of fried gold?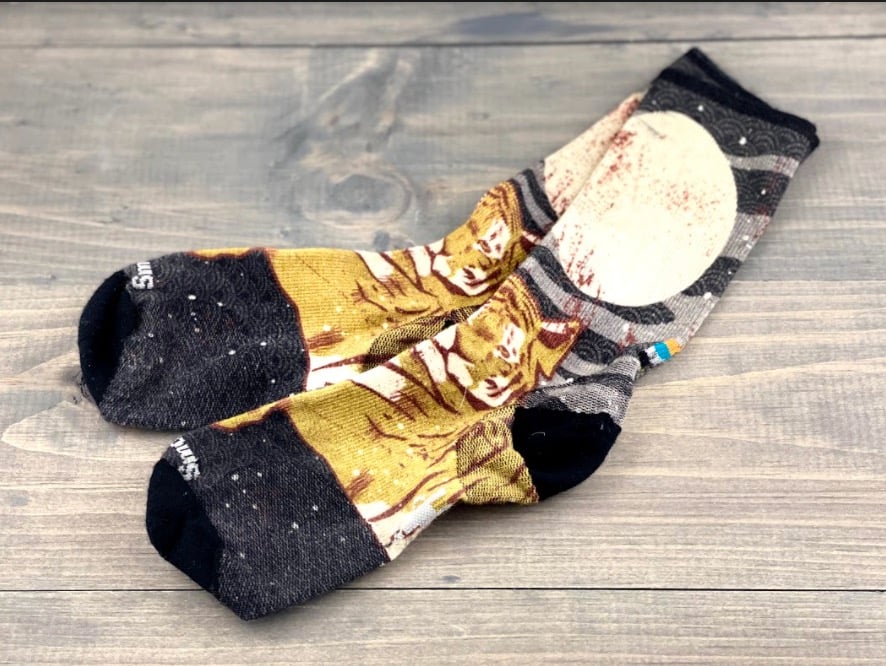 Functionally, these socks are aces. I love the seamless toe, the arch support, and the second-skin-like fit. With only the itchy wool monsters my mom used to force on my feet during harsh Cleveland winters back in the early 90s, I wasn't keen on donning wool socks again. These felt amazing and lived up to the temperature regulation hype; no sweaty feet for this guy.
I also love the low profile. In skating and running, I preferred going sockless to avoid and lag in the transfer of power from my foot to my boot/shoe. That makes for skate and shoes that smell like a corpse. That's not a joke. These provide a second-skin-like feel and felt great in the boots.
The same thing I love the most about these socks is also what causes the most headache. Due to their ultra-low-profile, my boots felt a little sloppy, and I felt there was dead space in my heel, which was not there previously. Lacing the boots up a little tighter helped correct the issue, but I would prefer not to put the added strain on the eyelets and speed lacing hooks. That said, $19 for all those features and comfort certainly kicked my Hyletes in the ass. If they had the volume fill of the CHUPs, I'd call these perfect socks.
[SHOP SMARTWOOL CREW SOCKS HERE]
Who Should Buy Smartwool Socks
Anyone looking for premium quality features in socks at a mid price point for the category will love these socks.
Even if you aren't into some of the wild patterns, Smartwool offers more conservative looks.
If you blow through toes fairly easily (tame those talons, kids), the Sherd Shield Toe adds to the value, and
If you are looking for a second-skin fit, these are your socks.
Who Shouldn't Buy Smartwool Socks
This particular model was super low volume, so if you have some room in your boots, these aren't your socks.
While reasonable in the category, $20, understandably, may exceed some budgets.
These funky looking socks are comfortable and durable as hell, for a low-profile boot or shoe, these socks work well and look cool in the process.
[SHOP SMARTWOOL CREW SOCKS HERE]
Darn Tough Nomad ($28) and ¼ Athletic ($17)

Darn Tough is darn boring in the aesthetics department. That doesn't mean much, though. Ok, there's not a lot to write home about in that regard. So what?
Darn Tough Socks Highlights
What I will say, right off the rip, is while the ¼ Athletic was super comfortable, fit great, and boasts all the same benefits of merino wool that Smartwool possesses, these socks weren't as conducive for boot wear, as I felt they didn't come up high enough to prevent the cuff of most boots from rubbing on bare skin. So while I am grateful for the pair, outside of the athletic application, these were counterproductive in boots. Skip the ¼ Athletic.
The Nomads, however, built for freakin' purpose, they are. These socks are rocking a 68% Merino Wool 30% Nylon 2% Lycra® Spandex composition and are easily the softest wool sock I have ever worn. This sock is midweight, which is kind of what I was hoping for in a Smartwool CHUP hybrid, so I got what I wanted in that regard. It is a full cushion high-density garment as well.
As far as function goes, it checks all the same boxes of the Smartwool socks, temp regulating, moisture-wicking, comfortable, and durable. Hell, Darn Tough even puts a lifetime guarantee on their socks. (Like, for LIFE.) That's insane. I was impressed with the fit as well. I keep coming back to a critical necessity for me, and that is no slipping and no bunching. The Nomads met that need spectacularly.
For me, the downfall for these is the volume, or "loft" of the sock was so high that it made my boot uncomfortable to wear. This issue did not improve with washing and drying, and by midday on day two, I was changing socks. In my opinion, the Iron Ranger is a forgiving boot for the category, and I didn't expect this issue. Alas, it was problematic, and for me, on this vital issue was a deal-breaker. I will happily wear these around the house or in a more spacious boot. Remember, this depends on the boot you're wearing: while Smartwool is best for slimmer fitting boots, Darn Tough is better for roomy ones.
While on the drab side, and I didn't quite have the right mix of products or boots in this part of my experiment, I liked the product composition and reassurance that, in the event of failure, Darn Tough would stand by their products. However, for near $30, I might be finding ways to make my socks fail every twelve months or so. (Kidding. Or am I?)
Who Should Buy Darn Tough Socks
Killer warranty, comfy and cozy, the Nomad is built for the trail, the hunt or the log cabin in front of a roaring fire. These are working socks and should be used accordingly.
Blustery weather or tough trail, these are your socks.
Who Shouldn't Buy Darn Tough Socks
Pushing the $30 envelope, these aren't exactly budget friendly.
Additionally, if you are the casual wearer and not one to hit the trail or one to put their feet through some abuse, these might not be your model from Darn Tough.
If aesthetics don't matter and you don't mind the price tag, these are a great option for those who plan on abusing their socks. Otherwise it feels like you're pre-paying for a possible replacement pair you may never need.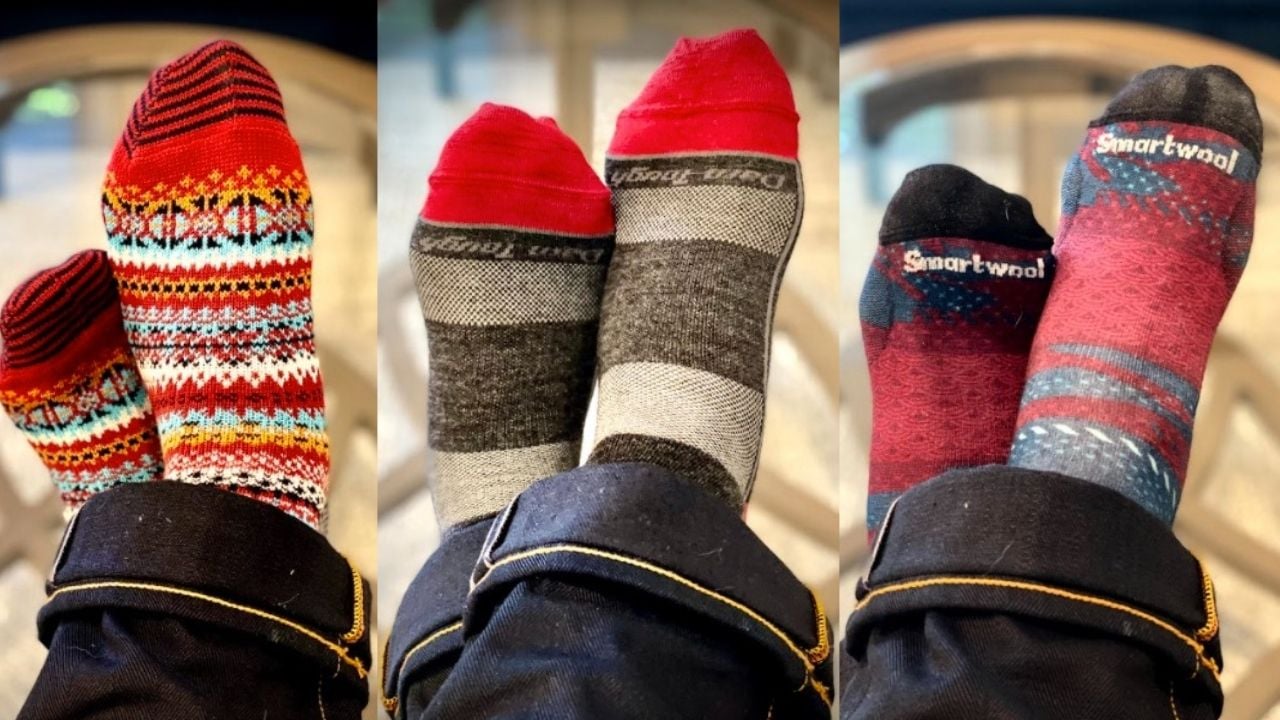 The Bottom Line

All three premium sock options in this article brought something great and unique to the table. For me, it is these unique features that help justify the cost of the garments.
CHUP pushes that line for me the hardest; at $35, I wanted a better fit, one that didn't slip and bunch. However, the hand-linked seam and old-school manufacturing brought the sock's overall quality into light, and you can't fault them for outstanding quality. Ultimately, I liked these socks more than my Hyletes in terms of quality and aesthetics, but I wanted a better overall fit. I want another crack at the brand if I can get my hands on the Smartwool collaboration. I think this would address my biggest complaints.
Smartwool was great for fit and function, but it felt a little sloppy walking around once my feet were inside my boots. I want there to be less play inside the boot; however, it wasn't a deal-breaker for me. Given the comparable price point, these socks outperformed my Hylete socks. Out of everything I evaluated, I think this is a stellar option. I still want the CHUP x Smartwool hybrid that they actually launched a while back, but it's currently sold out.
Darn Tough fell shortest on delivery for what I wanted, given the price point. Again, I just might have had the wrong socks for the wrong boots. While that might be the case, I could get what I want out of Smartwool for less money and still get a product with an excellent performance guarantee. Simply put, I didn't get anything more out of Darn Tough vs. the Hylete socks.
One might argue this evaluation is flawed, in that while each product I compared was, in fact, a premium pair of socks, they weren't all that comparable. True, but my goal wasn't to say which product was better than the other; it was to compare them against my baseline and determine if equaled or enhanced the boot-wearing experience.
I came into this project thinking socks didn't much matter and that paying anything more than $15 for a pair of socks made you a bit of a label chaser. At 35 dollars a pair, I am still struggling to make the value argument for CHUPs to my wife, but if I got a pair or two for Christmas, I wouldn't kick them out of bed for eating crackers. For my money, though, my favorite socks I reviewed were the Smartwool.
More Best Men's Boot Socks
Since writing this, we've received a few questions about special-purpose socks like work boot socks, hiking socks, and even military socks. These weren't in the scope of the original piece, but I've done the research and answered a few of the popular questions here.
The Best Dress Boot Socks
I want a dress sock that doesn't feel like compression socks, my varicose veins aren't pop'n yet.
Dress boots are often snugger than casual boots so we're looking for a thinner sock as well. Arch support isn't as important because when I wear dress boots, I don't walk very much. Lastly, I want solid colors like black and grey and minimum branding.
Darn Tough hits all of these requirements, they make a great selection of dress socks. While Hylete makes great athletic and casual socks, they aren't classy enough for dress boots.
[SHOP THE DARN TOUGH DRESS SOCKS HERE]
The Best Work Boot Socks
The best work boot sock is the Fox River Steel Toe Heavyweight Crew sock developed specifically for steel-toe boots.
They're under 20 bucks for a pack of 2, come in three sizes, provide arch support with their cushioned sole and extra cushioning around the back of the heel and over the toe for steel-toe boot protection. The reinforced toe and heel add durability and longer sock life.
[SHOP THE FOX RIVER STEEL TOE HEAVYWEIGHT CREW SOCKS HERE]
The Best Boot Socks for Winter
If you want a great winter sock look for cold weather thermal socks like Smartwool's Merino Wool is great for winter because it has a high thermal value without being a super thick sock.
Smartwool makes a few great socks for cold feet including their Work Extra Cushion Tall Crew Socks and their Hike Classic Edition Extra Cushion Crew Socks.
[SHOP SMARTWOOL'S WINTER SOCKS HERE]
Other Types of Boot Socks
Still haven't found the boot sock for your needs? Here are a few other types of boot socks.
For a cowboy boot go for an over the calf sock. The taller the better but not too tall. Justin Boot Company makes an over the calf sock that has a reinforced heel specifically for a cowboy boot.
Military boots work great with Hyete socks. Some guys will recommend Darn Tough, but at that price point, you don't get objectively better mens boot socks.
Hiking socks are similar to military socks, they used to be cotton, which is not great if they get wet. A cotton sock allows your feet to get cold. It's much better to get a merino wool sock. They won't itch or smell and keep your feet warm even when wet. A synthetic fiber like polyester will achieve the same, but they aren't as durable. A Darn Tough Sock would also work well.
You also want a reinforced heel for longevity.
Best Boot Sock FAQs
Can I wear a hiking sock as a work sock?
Yes you can, they are made very similarly with reinforced heels. A crew work sock can also be used for hiking.
What are the best work socks?
Any sock that is durable, fits well, and is affordable. We like the Fox Steel Toe mid calf boot sock.
What are the best warm socks?
Any thermal sock will do, we recommend a cushioned sock. Anything merino wool socks or synthetic fiber socks.
Is a wool boot sock itchy?
Not if you buy a sock made of merino wool.
Should I wear a thick sock with my work boots?
This depends on the climate where you work and the fit of your boots. A work sock is typically thicker than a regular sock.
How to keep ankle socks dry in work boots?
Keep your work boots dry by buying wicking socks. Regular socks are often cotton, which absorbs moisture. You want to purchase either synthetic materials like polyester and spandex or wool. You can also buy waterproof work boots and use talcum powder.
Which work sock should I wear with my steel toe boots?
You want a work sock with extra cushioning and reinforcement in the toe box.
How do I avoid sweaty feet in my work boots?
The best socks for sweaty feet are wicking socks. Avoid regular socks like a cotton sock. You want something with synthetic fiber or merino wool.