Shopping for boots can be a painful, expensive, time consuming process. You're not just looking for some cheap kicks to wear to the gym. You need a pair of workhorse boots that can stand up to a snowstorm and still look good. Or you're looking for something dressy that can work with your office slacks. Maybe you're after a combination of the two, or something completely different.
In any case you're going to be spending hundreds and hundreds of dollars on these shoes and you need to know you're making the right buy for your own individual needs. Having grown up in subtropical Australia before moving to Manhattan, I had no idea what to wear when I was facing my first New York blizzard. I needed more than just sneakers and dress shoes. Finding the right pair of boots for me took a ton of research and outreach because just I couldn't' find anything like Stridewise.
Want to know how I rate boots? Click here to jump down to the Stridewise review process.
Find Your Perfect Boot
Choosing the right boot shouldn't be hard. Below are some of the most popular boots I've reviewed, broken down by category. And you better believe I'll keep expanding this page.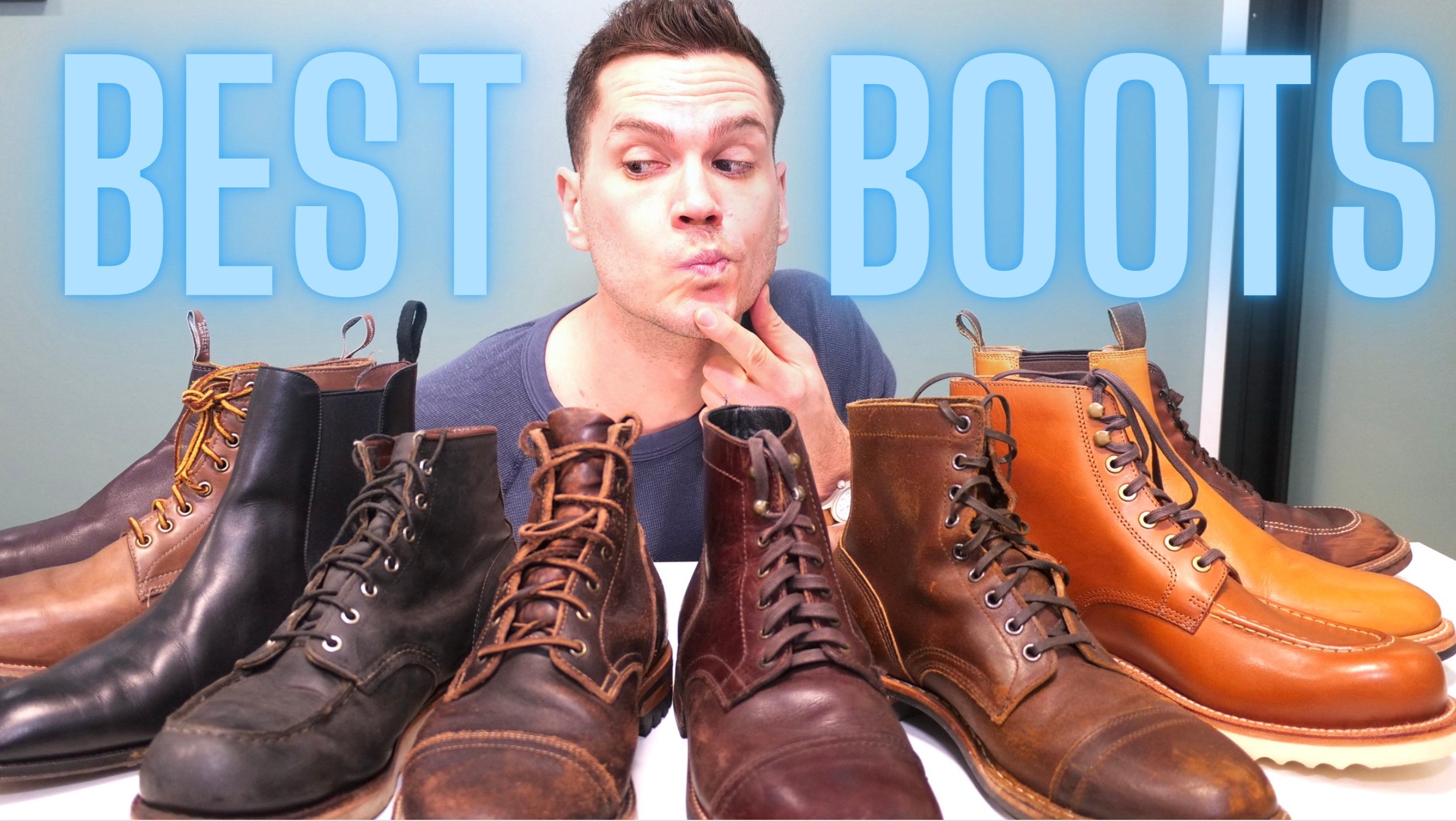 Arranged by best overall, best moc toe, best chelsea, and more.
American Made Boots
Thursday Boot Company – Vanguard
Classic, Plain Toe Boots
Oak Street Bootmakers – Trench Boot
Dayton – Service Boot (Discount available)
Newer American Brands
Thursday Boot Company – Captain
Helm – Muller Boot (Discount available)
Helm – Zind Boot (Discount available)
Parkhurst – Delaware (Discount available)
Sutro – Alder (Discount available)
Sutro – Charlton (Discount available)
Oak Street Bootmakers – Lakeshore
Work Boots
Boots Over $500
Boots from Abroad
Bordon – Tukano (Colombia)
Dayton – Service Boot (Canada)
Urban Shepherd – Original (Portugal)
Viberg – Service Boot (Canada)
Tricker's – Stow Boot (Great Britain)
Sagara – Legacy IX (Indonesia)
Santalum – Mile 85 (Indonesia)
Beckett Simonon – Dowler Cap Toe (Discount available)
Beckett Simonon – Douglas Jodhpur (Discount available)
Beckett Simonon – Gallagher (Discount available)
R.M. Williams – Comfort Craftsman (Australia)
Doc Martens – 1460 (Great Britain)
Edward Green – Galway (Great Britain)
Meermin – Chestnut Country Calf (Spain)
Comparisons
Alden Vs. Allen Edmonds Vs. Grant Stone
Thorogood Vs. Red Wing Vs. Chippewa
The Jack Erwin Chester
Dressier Boots
Allen Edmonds – Sullivan Street
Meermin – Chestnut Country Calf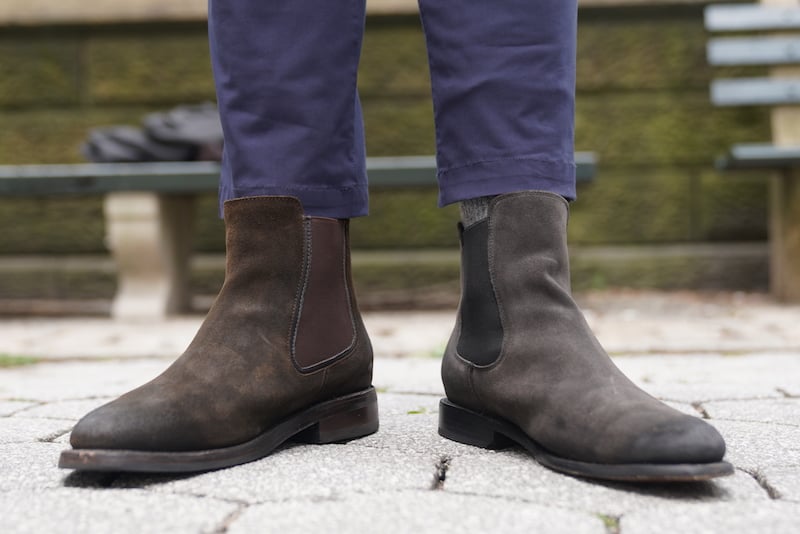 Chelsea Boots
Thursday Boot Company – Cavalier
R.M. Williams – Comfort Craftsman
Helm – Holt (Discount available)
Suede Boots
Cobbler's Choice Leather Conditioner
The Frye Jones Lace Up
MY BOOT REVIEW PROCESS
I've had the pleasure of wearing in dozens of different brands of boots, and unlike a lot of guys online I don't just slip them on and walk around my carpet. I put these boots through the paces, stomping around Manhattan, running up and down subway stairs, sloshing through storms, the lot.
This results in a lot of the boots on my site looking, well, not quite as pristine and beautiful as the company's marketing images may suggest. But I don't just want you to know how a boot looks and feels out of the box, I want you to know how they break in, how the leather holds up to daily wear, and if they quickly develop signs of aging. (Many do.)
Every one of my reviews takes the following aspects into account.
FIRST GLANCE
Here is where I describe what comes to mind when the boots are fresh out of the box. What's the aesthetic like? How versatile is it? What's eye catching? What kind of quality control issues are present?
LEATHER
Through phone calls, e-mails, and online research, I try to learn as much about the leather as I can. Where did it come from, which tannery? Is it full grain? Corrected? What kind of tanning process has been used? What sort of oils and waxes were implemented? Does the color change in different lights? I can't always get every one of my questions answered, but you'll learn more than you will on a product's description page.
LEATHER CARE
Here I cover how the leather will hold up to daily wear. Did it get scratches and dents as I was wearing them in? How will it manage a rainy day or a snowstorm? What does the cleaning, conditioning, and waterproofing process look like and how often does it need to be performed? I always try to get specific product recommendations from the boot companies, whether it's your trusty Venetian Shoe Cream or some decidedly less vegetarian-friendly products like mink or neatsfoot oil.
SOLE
"Leather or rubber" doesn't cut it. If it's leather, how quickly does it scratch? How flexible is it? How's the groundfeel, how does the grip change over time? If it's rubber, are we talking about Dainite, Vibram, or something else? I also find out about the other layers in the sole — some have one, some have five or more — and I investigate the pros and cons of how the upper is attached to the sole. Is it a resolable Goodyear welt, a dressy Blake, or something else? I'll search your sole.
FIT & SIZING
Let's be honest: you never really know how a shoe is going to fit until you try it. A shoe size seems like something that should be universal, but as someone who has comfortably fit into everything from a 12 to a 10, I know that boot lovers need more context to a brand's sizing than just a number. Here is also where I discuss break in, the arch support, the instep, heel slip, and everything else that has to do with what may be the most important component of your boot: comfort.
PRICE
Just because I like your boot doesn't mean I think I should pay $700 for it. Materials and construction are the most important aspects to weigh here but you also need to take into account comfort, durability, and place of origin — I'm not saying "Made in China" is bad, but it shouldn't cost the same as a similar shoe made in the U.S.
I live and breathe boots and I want you to get the best one for your individual needs. Your feet are in good hands.
Disclaimer: To keep the lights on, some (not all) of my reviews contain affiliate links. That simply means that if you click the link and make a purchase, I may receive a small commission for sending you there. This does not cost you any extra money whatsoever, it just means the origin of the sale is tracked back to Stridewise.
The following two tabs change content below.
Nick English
By day: Manhattan-based journalist with reporting experience on four continents, published in Vice, Men's Health, Popular Science, and a bunch of other places.By night: ravenous consumer of anything and everything related to high end men's boots.Stridewise is where I nurture a maniacal obsession with footwear and share my findings. Say hey:
[email protected]
.
Latest posts by Nick English (see all)