Viberg is a Canadian company that was founded in 1931 by Edwin Viberg, and it remains family owned to this day. Like many older boot companies, they started out primarily making footwear for grimy labor and swashbuckling, primarily serving firefighters, lumberjacks, and farmers. In the 21st century they've expanded into some more fashion focused designs and many of their boots are handmade with imported materials like heavyweight insoles from Spain and Swiss hobnails for the heels. The Service boot is their most popular offering.
If you're reading this there's a good chance you already know, but just so there's no ambiguity: Viberg is a really, really big deal in the world of footwear. For a lot of people, the brand is basically shorthand for the highest tier boot a person can buy — if you have Vibergs, you know boots. If you check out Reddit's boot forum, albums and reviews of Vibergs are invariably on the front page no matter what day it is. Because of their reputation for outstanding quality and their eye watering price, they're often considered the boot lover's ultimate goal: you might start off with a pair of Chippewas, build up to Red Wing, maybe get a pair of Aldens along the way, but the final resting place for boot fans is Viberg. It's the alpha and the omega.
Needless to say, people have really strong opinions about Vibergs, which is understandable. You'd need to in order to spend this much money on them. Are they worth it?
[GET THE BEST PRICE ON THE VIBERG SERVICE BOOT HERE!]
Here are the contents of this review, which you can jump ahead to if you like:
Viberg Service Boot First Glance
Classic service boot aesthetic
Low profile toe
Six inches high
Very heavy boot
Chromexcel leather
Stitchdown construction
Viberg's Service boot is typical of many other companies that make a Service boot, which is to say that it has a minimalist design, a low profile toe, six inches in height, and is reminiscent of old fashioned military boots.
They're more fashion focused than that, but it's still an area of men's fashion that we're all familiar with, the kind of fashion that centers on traditional, masculine looks that are simple and timeless. That's the Service boot. People looking for an inventive, unusual, or trend bucking boot won't find it here: this is the basic boot, the one that sets the standard.
There's no unusual stitching or toe cap in the pair of Brown Chromexcel that I bought (though Viberg does offer Service boots with toecaps and other designs, of course), but there are still a few things that do catch the eye. The first is the stitchdown construction, an unusual alternative to a Goodyear welt that results in the upper being sewn directly to the sole. Viberg has elected to double stitch their upper, resulting in a memorable boot that probably is harder to resole than a Goodyear welt, but may be more water resistant. (It's an intense debate.)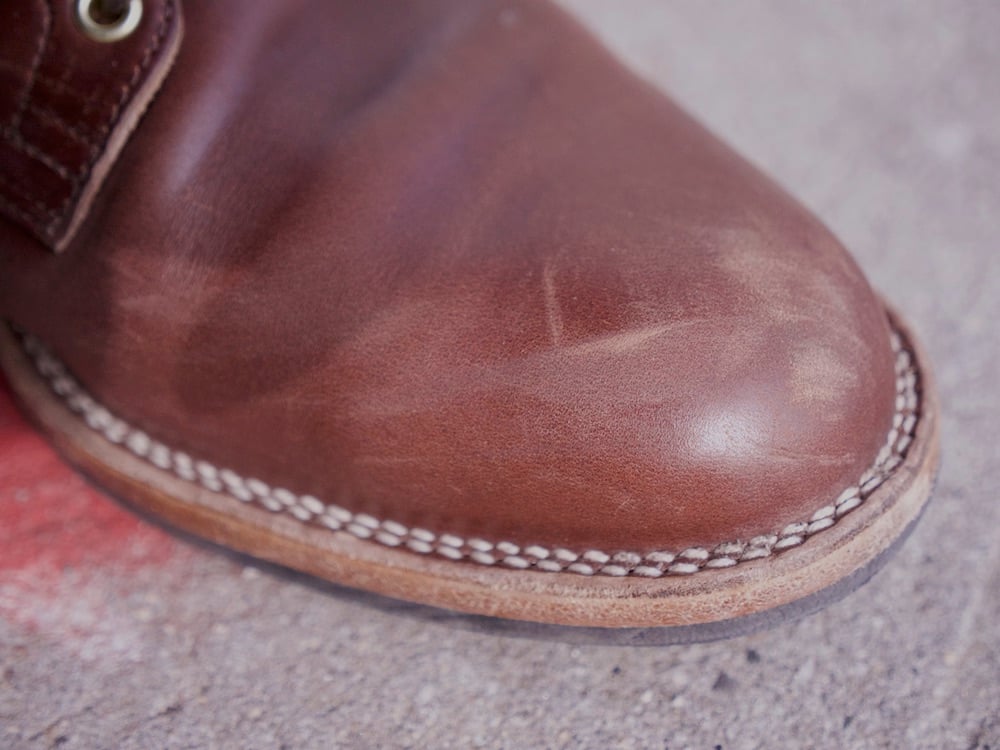 The second thing that's remarkable about the shoe is the leather: it's very thick and it has a very deep, rich color. Chromexcel is a really lustrous, waxy, moist leather and while it's true that a lot of cheap boots use it as well — it's very trendy — you can tell Viberg's leather selection is top notch.
Edit: I've returned to this review, three years later, to note that the leather hasn't creased one bit on the toebreak. A lot of Chromexcel boots crease dramatically but even with years of wear, Viberg's hasn't. This is a sign of their very high quality "clicking," or leather selection.
Another noticeable aspect of these boots is that they're relatively wide. When I bought them, Viberg used their wide 2030 last, which is an E (or wide) width. The width, combined with the brass eyelets, really send home the message that no matter what anyone says, these aren't dress shoes. (Note that nowadays, Viberg makes this boot in D, E, and EE widths. When I got them, it was only the E width.)
Finally, these are very, very heavy boots. They weigh at least two pounds, and their heft is immediately noticeable when they come out of the box. The weight reinforces a persistent truth about this shoe: it's a classic, uncomplicated boot, but it does classic right.
Viberg Service Boot Leather
Chromexcel from Horween
Slightly corrected full grain leather
Top finish a little vulnerable to scratches
Very thick
This is Viberg's most popular boot and it comes in a wide variety of leathers including kudu, horsebutt, and more, but I picked up the extremely popular brown Chromexcel. So let's talk a little more about Chromexcel.
This is a full grain leather from the very famous Horween Leather Company, a Chicago-based tannery that's been in operation for well over a hundred years. It's America's favorite tannery and the standard by which other tanneries measure their leather. Indonesian bootmaker Santalum, for instance, told me they're doing everything they can to bring their leather up to Horween's level of quality.
[Read that full interview with Santalum here!]
Chromexcel isn't truly full grain, a term used to mean the "grain" (or pattern of the skin and pores) is left in tact. It's slightly corrected to produce a more uniform appearance, but without truly affecting durability.The particular leather used on the Service boot is very thick, and you can tell that Viberg paid attention to the cut. The difference between these shoes and the crummy, creasy Chromexcel selected for my Wolverine 1000 Miles is like night and day.
Chromexcel has a long history (it was used on engine seals on tanks in World War 2) and it's made using 89 different processes over 28 working days. It's imbued with beef tallow and beeswax and a variety of other waxes and oils and greases to produce this depth of color.
It looks awesome as it ages, but a potential downside with this stuff is that the top finish scratches pretty easily. It's easy enough to buff out, though, because the leather is of full of oils. Which brings us to…
While the "model" boots are from a different company, this video about caring for Chromexcel is applicable to any boot that uses it.
Viberg Service Boot Leather Care
Venetian Shoe Cream is standard
Saphir's Renovateur will make it a little shinier
Durable, long lasting leather
When it comes to Chromexcel, there are so many different companies that use it that everyone has different ideas about how to take care of it, but if you ask Horween themselves they'll just recommend you use good old fashioned Venetian Shoe Cream. It doesn't waterproof shoes, but it does a great job of moisturizing and conditioning the leather without darkening it much at all. One nice bonus is that Viberg throws a teeny tiny little bottle of the stuff into the shoebox for your first conditioning.
[Get the best price on Venetian shoe cream here!]
If you like shinier boots, it's a good idea to go with Saphir's Renovateur, which Horween also recommends if you want a glossier, perhaps dressier finish. Given that Chromexcel is generally seen as a pretty informal leather, Renovateur might be a good bet if you're trying to dress them up as much as you can.
Since Vibergs are the kind of boots people really like to take good care of, you might also consider picking up a good horsehair brush and dropping a dab of Saddle Soap on the brush when you're cleaning them with it. You don't need it for regular dust, but if they're very muddy and you really want these shoes to last as long as possible, Saddle Soap can be a good idea. Nonetheless, this is a hardy leather and you don't need to worry too much about care. It's not calfskin.
[Related: The Complete Guide to Chromexcel Leather Care]
Viberg Service Boot Sole
Very heavy sole
Consists of Dainite outsole, leather midsole, cork midsole, leather insole
Leather and foam heel seat
Steel shank
Everyone uses Chromexcel. What makes Viberg worth all the money? Well, the leather selection, sure, but the sole construction is a big deal as well.
This is an incredibly heavy sole and there is a ton going on here. For starters, there's a Dainite outsole imported from England; it's a sturdy, studded, grippy rubber that works super well in inclement conditions while remaining flat when viewed from the side. These are hardy boots made of hardy leather with a hardy sole that won't fail you in rain. I want non-dress boots to be functional and again, these are not dress boots.
So there's a Dainite outsole, then a leather midsole, another midsole made of cork, and a hard leather insole. There's also a steel shank for extra stability and arch support and there's a leather heel seat with some foam in it to help with shock absorption — important when the boot's this heavy.
The leather used for the insole is tanned to be so stiff that a lot of people mistake it for wood. Needless to say this boot feels very, very solid when you're walking in it.
[Related: My list of The Best Boots]
Then there's the stitchdown. As mentioned above this is not a Goodyear welt, so instead of having a thin layer of rubber or leather between the upper and the sole, the leather is stitched directly into the sole. It's more of a 270-degree stitchdown though because the heel is actually connected to the upper with nails and glue.
This all sounds pretty old school, but the good news is that this stitchdown may be more water resistant as a Goodyear welt. The bad news is that it's a lot harder to resole. It's by no means impossible, but the leather will probably be stretched a little when you do it, and this could potentially affect the fit — it can be done, but it's harder to find a cobbler to do it and it can likely only be resoled a few times, not the infinite amount of times you can resole a Goodyear welt.
But let's be practical: you're unlikely to need more than three resoles on a boot anyway. Learn more in our comparison of stitchdown vs Goodyear welt.
Viberg Service Boot Fit & Sizing
Order a half size down from your sneaker size
Most Service boots are in 2030 last
Only E width available in Chromexcel
Expect blisters while breaking in
Sizes run from 6 to 13 and I went down half a size from my true size, so I grabbed an 11. And boy, do I have some problems with the sizing.
Editor's note that this was written when Viberg's Service boot only came in E (wide) widths. Nowadays, it comes in D, E, and EE.
First off, they're only available in one width. That's a big downside for any boot of any price. But my biggest problem is that the only width it's available in is the 2030 last, which is an E width. For the record, the "normal" width is D and "wide" is E, with widths going up to EE and EEE.
Now, I might not complain so much about this if these were $200 boots. But spoiler alert: these boots are unbelievably expensive and if I'm paying this much, I want the fit to be perfect. I want everything to be perfect when I'm buying boots that cost this much, and the fact that it's not even available in the "normal" width and I have to settle for a roomy E width is completely unacceptable. Not for boots that cost this much. I'm not saying these are unwearable if you're a D width, particularly if you have thick socks, they just don't hold the foot the way boots should when they fit right. It's not perfect. For this money, I want a perfect boot. Sue me if I'm being unreasonable.
[Learn more: The Ultimate Guide to How Boots Should Fit.]
I should also point out that they're no fun to break in, which isn't such a dealbreaker for most guys. After all, with boots this pricy we tend to feel like they should be hard to break in. Blisters (and you should expect blisters) are a rite of passage, it's how a man earns his right to wear these icons of ruggedness. You earn your Vibergs once with your paycheck and once with your lost epidermis.
The good news is that once they're worn in, they're pretty awesome to walk in, although I do slide around the interior a little because of the extra width. One thing that's unique about Vibergs relative to my other boots is that the heavyweight sole really makes me feel like I'm wearing boots. These are assertive shoes and I don't think it's an exaggeration to say that wearing them feels like the boots are taking me for a walk. The soles are so heavy they swing like pendulums out in front of you, throwing your feet forward. It takes getting used to, but they make you feel indestructible.
[Having problems finding boots for wide feet? – Best Boots for Wide Feet]
Viberg Service Boot Price

On Viberg's official site these shoes cost $760 and with shipping, it comes in at $795. I've seen them sold elsewhere (like Division Road) but always at a higher price.
Let's be honest, that's crazy expensive. Relatively speaking $760 is actually one of the cheaper Service boots; the fancier leathers like horse hide are all over $800 and shell cordovans for over $1100, but most of the Service boots (dark coffee, roughout, aged bark, waxed flesh, chamois, English tan, waxed flesh) are between $760 and $800.
They rarely go on sale, but you can find used boots on eBay for less, and since these are so durable and they get such a great patina as they age, I can see buying them second-hand.
[GET THE BEST PRICE ON THE VIBERG SERVICE BOOT HERE!]
Is the Viberg Service Boot Worth It?

I've never worn boots like these before. There are plenty of expensive boots that are made of Chromexcel and have nice designs, but they still feel like $300 boots. (Remember, that's well priced for a boot.) Vibergs, on the other hand, scream assertiveness and durability. The heavyweight sole and the stitchdown welt let you know that these aren't some ordinary boots. Where you go, they'll lead you.
The leather selection is top notch and though they're pretty wide and informal, they're still sharp enough to pull off in an environment that calls for khakis or formal jeans.
Seven hundred dollars is the minimum you're going to pay for these boots. (Unless you get their Roughout, which is twenty bucks cheaper.)
Seven hundred bucks. I have no other boots like Vibergs but if I'm spending that much money I want everything to be perfect — and I just cannot forgive the fit. I don't want a width wider than my foot, even if it is perfectly wearable and not that much of an inconvenience. I can absolutely make do as a D wearing an E, but I don't want to make do with seven hundred dollar shoes. Viberg really should have offered "normal" width boots. That doesn't seem like a big ask for what half the internet considers to be literally the best boot in the entire world.
They're not slim enough to wear with slacks, they're too wide to be formal, and they're very hard to resole. Again, not a big deal for something under $500, but for this price? I want zero complaints. And I want them to last many soles. I'm not convinced of that with these shoes.
But they're stupendous casual boots. The construction is solid, the leather selection is great, and they really feel like an extension of my body more than any other boots. I need to give Viberg serious recognition for that.
The following two tabs change content below.
Nick English
By day: Manhattan-based journalist with reporting experience on four continents, published in Vice, Men's Health, Popular Science, and a bunch of other places.By night: ravenous consumer of anything and everything related to high end men's boots.Stridewise is where I nurture a maniacal obsession with footwear and share my findings. Say hey:
[email protected]
.
Latest posts by Nick English (see all)