If the Red Wing Iron Ranger boots have captivated your attention, you're not alone. These are a hot topic in any online boot forum – and for good reason. If you want to learn more about these boots before buying them yourself, you're probably hoping our Red Wing Iron Ranger review will help sway you – and trust us, it will.
Red Wing's Iron Rangers have a reputation as the best first boot a man can buy — the ultimate entry-level boot for guys who want to level up from sneakers and cheap chukkas.
Beloved by Reddit and a favorite of celebrities like Bradley Cooper and Dave Franco, the Iron Ranger is a tough, resoleable boot that works just as well at a job site as it does under a pair of jeans in Manhattan. Deeply tied to the history of Minnesota's iron mines, Red Wing designed footwear for workers toiling deep inside the state's Mesabi Iron Range in the 1920s, and from there, the Iron Ranger was born.
But is it really worth the price for your needs? In our Red Wing Iron Ranger review, you'll find out. Keep reading…
[See my comparison of Red Wing vs. Thursday boots!]
Red Wing Iron Ranger Pros and Cons
Got somewhere to be? Here's the long and short of our Red Wing Iron Ranger review.
Pros
American made
Well priced, given they're welted, American-made boots
Can be resoled
Durable leather will age wonderfully
Classic look will never go out of style
Cons
Quality ain't cheap; $350 is your price point.
Can't be dressed up; these are firmly casual
Very tough break-in
Not great shock absorption; these are made the old fashioned way
Red Wing Iron Ranger Overview
Bulky cap toe
Nickel eyelets
Goodyear welt
Thick, oil-tanned leather
The defining feature is the toecap, which is attached over the shoe's body with a dual double stitch along the foot's break. You wouldn't call the Iron Ranger sleek. The toe cap lends it a rounder, more bulbous look than competing models like the Wolverine 1000 Mile. While it's great with a flannel or a t-shirt, I don't think it dresses up very easily — they'd look ludicrous with a tie. With that said, I'd consider the boot to fit just fine with a well-put-together smart casual outfit or with work jeans.
Outside of the toe cap, the rest of the boot is triple-stitched with wax threads, and I found no loose threads. The eyelets are a shiny nickel on this model with three sets of convenient speed hooks at the top. The tongue of the boot is gusseted, which helps with water resistance.
The leather is full grain and thick, making for a classic look that'll age wonderfully.
Best Casual Work Boot
Red Wing Iron Ranger
This resoleable boot hasn't changed in almost a hundred years, it's the ultimate casual lace up boot that deserves the reputation for quality.
Check Best Price
We earn a commission if you make a purchase, at no additional cost to you.
Explaining the Red Wing Heritage Iron Ranger
You'll notice these are under the Heritage section on the Red Wing store. You may even find that some people refer to these as the Red Wing Heritage Iron Ranger boots. What does this mean?
Nowadays, the Iron Ranger is no longer worn in mines. Red Wing has split into two brands, Red Wing and Red Wing Heritage, which is the more fashion-focused line that has kept the old-fashioned styles as technology has evolved for factory floors.
That means that while they're not safety tested for factory work and don't have shock-absorbing insoles or electrical shock-resistant outsoles, they're still made from the company's beloved thick, full-grain leather and have become a favorite of men across the globe. As such, they're still extremely durable – Heritage or not!
For the sake of this Red Wing Iron Ranger Review and being concise, this is the last time you'll hear us reference the Heritage as part of the boot's name!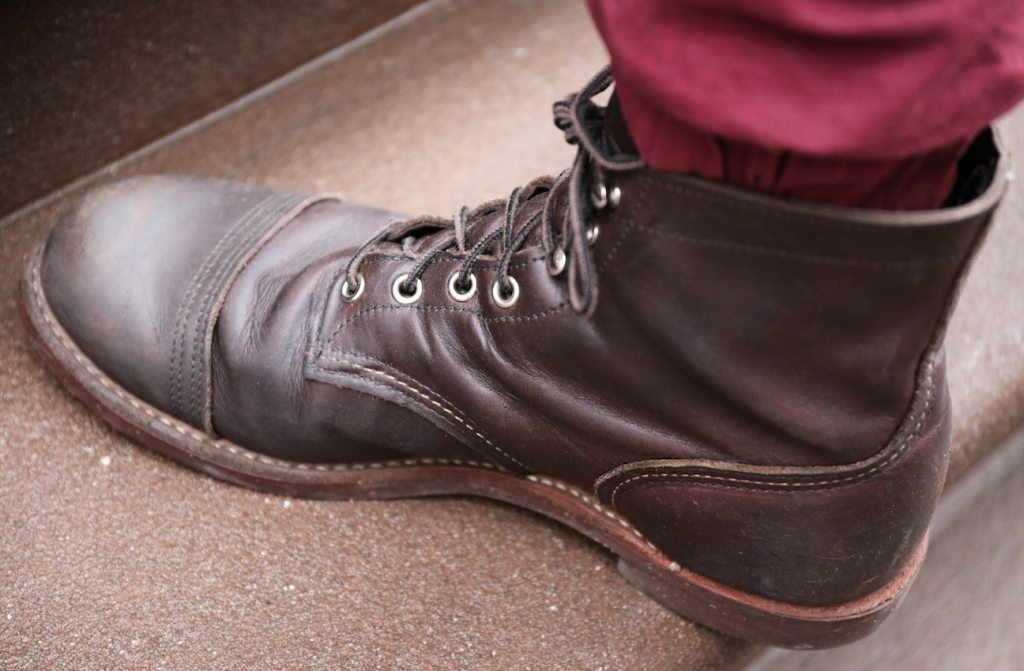 Red Wing Iron Ranger Boots Leather
Full-grain, oil-tanned leather
2 to 2.2mm thick
Made at Red Wing's own tannery, SB Foot
One of the first things I noticed is how thick the leather is. The Iron Ranger is made from full-grain leather, which many consider the highest quality grade leather on the market. It comes from the top layer of the hide (the cow's skin) and includes the skin's natural grain.
Full-grain leather is usually compared with corrected leather, which has the top surface sanded away. Broadly speaking — there are exceptions to this rule — this makes corrected leather is more uniform in color and smoothness, but can be less durable.
While full-grain leather won't always be completely perfect and uniform in color, it makes for boots that look better, more distinct, and more you as they age.
It's worth pointing out that all of Red Wing Heritage's leather, including the roughout used for their Hawthorne muleskinner leather, comes from their owned and operated tannery called S.B. Foot Tanning Co.
Red Wing Iron Ranger Leather Care
"Rough & Tough" leathers may need conditioning less often
Red Wing recommends mink oil and pine pitch for conditioning
Neatsfoot-based leather cream may help retain color
The Iron Rangers are oil-tanned, which means it's chrome tanned with a bunch of extra oil to enhance weather resistance.
Before they leave the factory, they're conditioned with their own boot oil that's made from a combination of pine pitch and mink oil. That means you don't need to condition them yourself until you've been wearing them for a season or two.
Conditioning the leather will turn it darker, which is something to keep in mind when selecting your color. But if you find yourself really attached to the boot's color out of the box, you might consider using Red Wing's leather cream or Bickmore's Bick 4, which are formulated to hydrate leather without changing the color. (The tradeoff is that they won't waterproof the leather as much.) To maximize waterproofness you can grab some of Red Wing's Naturseal.
It's important to note that a couple of colors (Charcoal and Copper) are made from what they call Rough & Tough leather, which is technically a kind of nubuck. Rough & Tough leathers are so full of oils that they need less conditioning compared to standard Red Wing leathers, perhaps once a year.
Finally, one of the Iron Rangers comes in Hawthorne Muleskinner Leather. It's made of waxed roughout, which is a little fuzzier in texture because it uses the "flesh side" of the leather — it's essentially inside-out leather. Although it's fuzzy, it's different from suede ( which is made by splitting the leather) but you can still use a rubber suede cleaner when it gets dirty. No real need to condition them.
[Related: my review of Red Wing's Moc Toe boots!]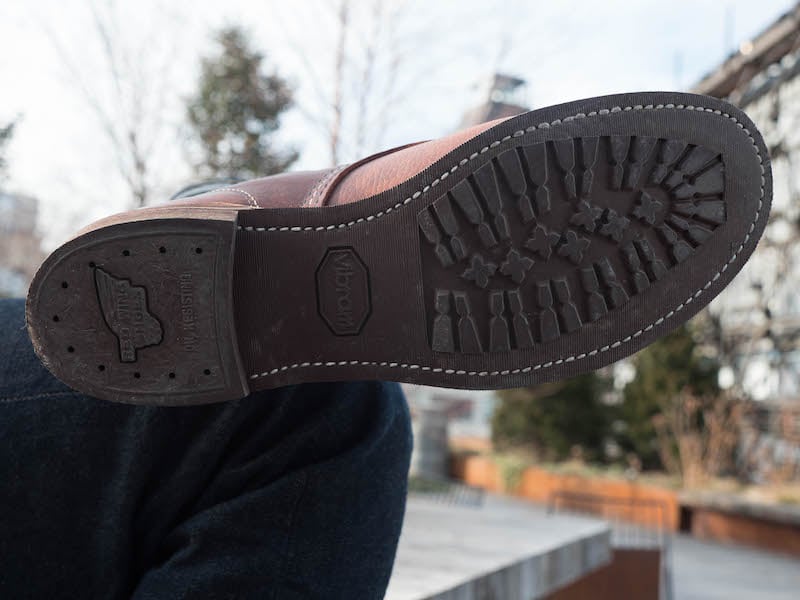 Red Wing Iron Ranger Boots Sole
7mm Vibram Mini Lug sole
Older models have nitrile cork sole
270-degree Goodyear welt
Older Iron Rangers (like mine) are made with a nitrile cork sole but in 2018, all Iron Rangers changed to a Vibram mini lug sole. That's a high-performance, oil-resistant, flexible, yet low-profile rubber sole that's 7 millimeters thick.
Relative to cork, the mini-lug soles absorb shock a little better, they're more durable, and you're less likely to careen into a gutter when strolling in icy conditions.
The rest of the construction is as classic as boots get: a leather insole over cork filling, both of which will mold to your foot over time to produce that worn-in "fits like a glove" feeling. There's also a steel shank in the cork, which provides stability (thereby helping reduce foot pain) and helps the boot retain its shape over time — a must for any boot with a heel.
Then there's the all-important Goodyear welt. This is a big reason why boots are more expensive than sneakers: this is a complex construction method whereby instead of the upper being stitched to the sole, they're stitched to a leather welt in between them. This makes the boot very water resistant and it means you can resole them when the time comes.
[Related: My list of The Best Boots for Men]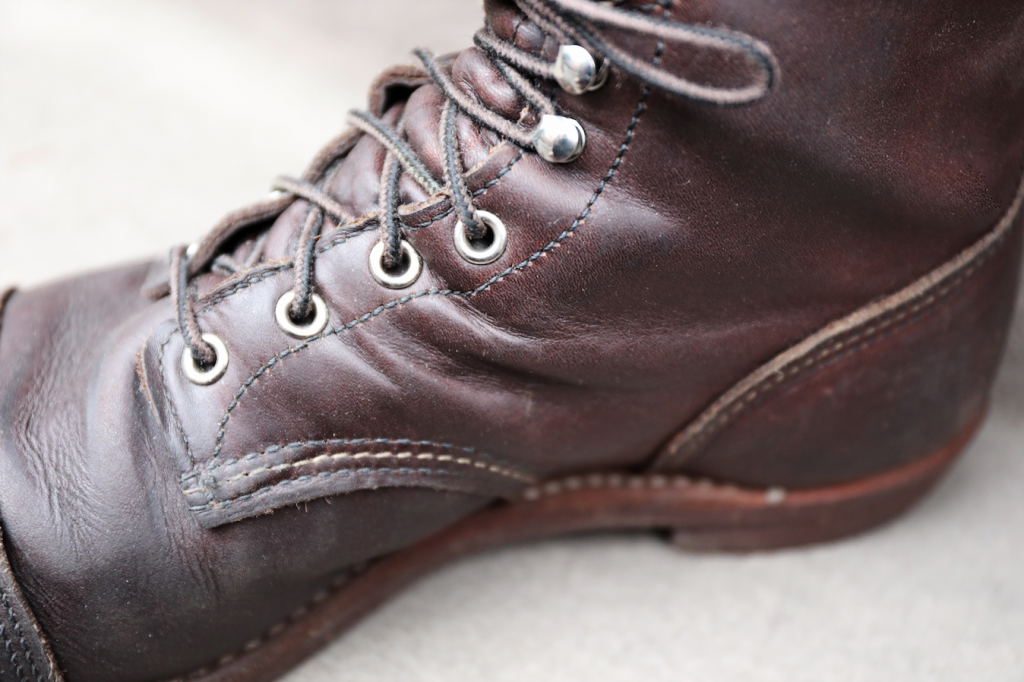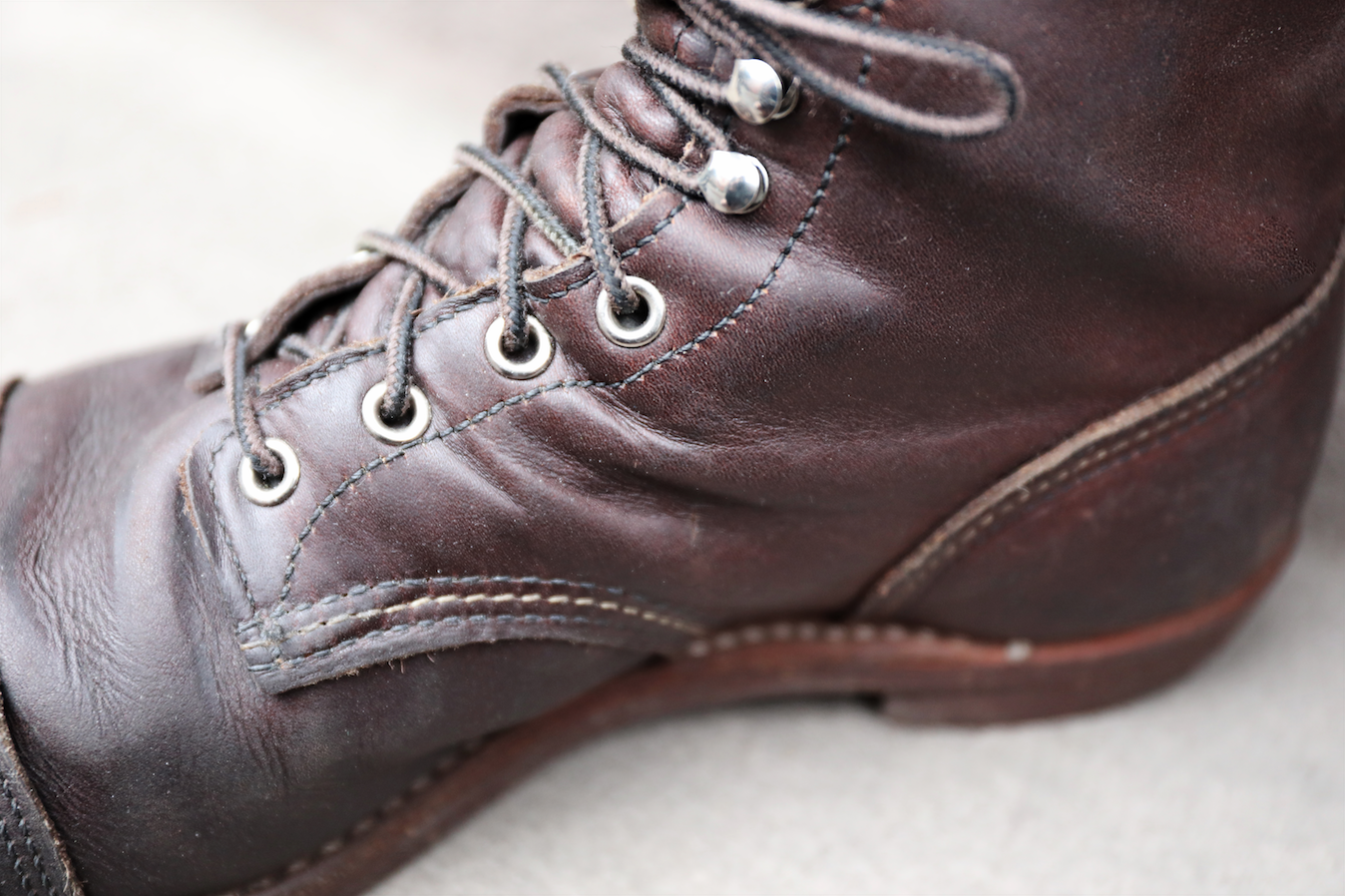 Red Wing Iron Ranger Boots Fit and Sizing
Order half size smaller than your sneaker size
Width available in D and EE
Many prospective buyers are skeptical because they've heard that Iron Ranger sizing can be tricky to nail down. And the rumors are true: order a half size smaller than you usually wear in sneakers.
I've always found it baffling why shoe companies appear to purposely do this, as Red Wing themselves state on their site that their shoes are essentially sized too big, but there it is. Go half a size smaller, even when wearing the thick wool socks that you likely wear with your boots.
Particularly since a lot of guys don't really know their precise shoe size, I'd recommend trying them on in-store if at all possible and if not, heading to a shoe store anyway to get your foot measured in a Brannock device. Subtract half a size from that, not your sneaker size, which is usually a half size bigger than your true (Brannock) size.
The Iron Ranger is available in two different widths: D for medium width and EE for wider guys.
Note that as a classically made boot, the shock absorption isn't great. The leather insole doesn't offer much arch support or heel cushioning and it's not particularly soft or yielding. If you're looking for something with more modern, shock-absorbing foam, try Thursday Boot Company.
Red Wing Iron Ranger Boots Break-In Period
Yes, the breaking in the Redwing Iron Ranger boots is rough. I needed about four wears over ten days to feel comfortable in these, about 30 hours.
I always advise spending a day in the boots and then giving the shoes and your feet a day or two to recover before leaping back into the fray — my feet were indeed sore both during and shortly after the first few wears. Bring a spare pair of sneakers with you on your first few outings in case they get too uncomfortable.
Don't worry: the pain is the feeling of the leather molding to your foot, and soon they'll be your most comfortable shoes.
Red Wing Iron Ranger Boots Price
At the time of writing, a pair of Iron Rangers costs $349.99. For an American-made, Goodyear welted boot with this kind of construction, that's a pretty fair price. If you know the landscape of boots as well as I do, you'd agree that it's not cheap and it's not expensive.
Best Casual Work Boot
Red Wing Iron Ranger
This resoleable boot hasn't changed in almost a hundred years, it's the ultimate casual lace up boot that deserves the reputation for quality.
Check Best Price
We earn a commission if you make a purchase, at no additional cost to you.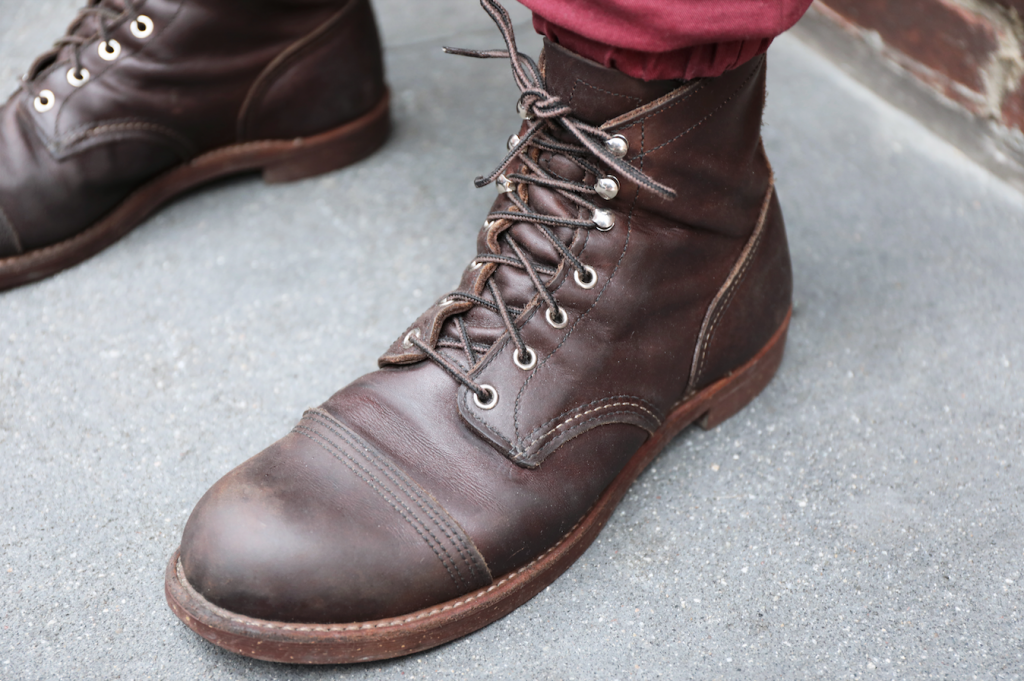 Red Wing Iron Ranger Boots: To Buy or Not to Buy?
I like this boot. It's beautiful, versatile, and durable. It has good grip, and it's instantly recognizable. They're a unique force in footwear: competitors are either less popular or have less cache, but Red Wing is right in the sweet spot of expensive enough to be admired, but not so expensive that you'll seldom meet another guy with a pair.
It's not a perfect boot. The shock absorption isn't great and they're very hard to break in, but my biggest complaint is that they aren't at home in formal or even business casual situations. The bulbous toecap and nickel eyelets dress the boot way down, even when compared to competitors like Wolverine's 1000 Mile.
But Red Wing Iron Ranger Boots aren't meant to be dressy. They're hard-wearing, knock around, take anything kind of boots and when a man's wearing a pair of these, it elevates his entire look.
And frankly, you don't need to care about "fashion" to want a pair: they mold to your foot and become supremely comfortable, they're a much more economical purchase when compared to sneakers that fall apart after a season, and they just look better with age.
You'll have your pair for years and years to come, and you'll be excited to bring them back out of the closet every time the weather cools. To put the finishing touches on our Red Wing Iron Ranger review and help you make a decision, we've answered a few of the most important questions to ask when evaluating any boot:
Are Red Wing Iron Rangers worth it?
Yes. At $350 they may seem overpriced, but because they can be resoled and because the leather is thick, they'll last at least ten times longer than sneakers. On a per-wear basis, they're a more economical choice, plus they look better with each passing day as the leather ages.
How long does it take to break in Iron Rangers?
Expect at least five days of wear before your Iron Rangers get comfortable. It's best to bring a spare pair of shoes with you on your first few outings in case you need to swap out of them. The good news is that after that first week, the Redwing Iron Ranger boots will get more comfortable every day — for years.
How long will Iron Rangers last?
If you care for them, the Redwing Iron Ranger boots can last decades. This is because the boot can be resoled when it wears through and because the leather is thick and tough. What's important is that you use cedar shoe trees between wears and that you clean and condition the leather with quality boot oil a couple of times a year.
Are Red Wing Iron Ranger Boots comfortable?
Most people searching for a Red Wing Iron Rangers review are concerned about comfort – after all, you may be on your feet for hours at a time while wearing these boots! So – the big question is…are they comfortable?
Not at first, but in time they'll become your most comfortable boots. The first week is tough and blistery, but then the leather upper and insole start to mold to your foot's shape. After a few months, they'll feel like they were custom-made to your foot. Just note that they don't absorb shock the way that sneakers or foamy rubber do.
Wrapping Up This Red Wing Iron Ranger Review
That just about does it for this Red Wing Iron Ranger review. As you can see, the Redwing Iron Ranger boots are an excellent choice for those who are seeking their first pair of high-quality Red Wing Boots – or frankly, any boots for that matter!
Red Wings in general age wonderfully, but the classic look of this particular model will never go out of style. With that said, these boots can be a bit expensive from some shoppers' viewpoints – but you get what you pay for. As long as you can make it through the break-in period you'll find that these quickly become your go-to boot!
Want to check out our boot reviews before pulling the trigger? Check out our Thursday Boots President Tobacco Review for a more affordable option!
The following two tabs change content below.
Nick English
By day: Manhattan-based journalist with reporting experience on four continents, published in Vice, Men's Health, Popular Science, and a bunch of other places.By night: ravenous consumer of anything and everything related to high end men's boots.Stridewise is where I nurture a maniacal obsession with footwear and share my findings. Say hey:
[email protected]
Latest posts by Nick English (see all)