Red Wing's Iron Rangers have a reputation as the best first boot a man can buy — the ultimate entry-level boot for guys who want to level up from sneakers and cheap chukkas.
Beloved by Reddit and a favorite of celebrities like Bradley Cooper and Dave Franco, the Iron Ranger is a tough, resoleable boot that works just as well at a job site as it does under a pair of jeans in Manhattan. Deeply tied to the history of Minnesota's iron mines, Red Wing designed footwear for workers toiling deep inside the state's Mesabi Iron Range in the 1920s and from there, the Iron Ranger was born.
But is it really worth the price for your needs?
[See my comparison of Red Wing vs. Thursday boots!]
Red Wing Iron Ranger Overview
Voluminous cap toe
Nickel eyelets
Goodyear welt
Thick, oil tanned leather
The word "classic" is overused when talking about men's leather boots, but damn if that isn't the first word that comes to mind when looking at a pair of smooth, understated, undeniably masculine boots like Iron Rangers. There's just something about this boot. It's beautiful but simple, tough but subtle.
The defining feature is the toecap, which is attached over the shoe's body with a dual double stitch along the foot's break. While it's certainly slimmer than a Timberland or construction boot, you wouldn't call the Iron Ranger sleek. The toe cap lends it a rounder, more bulbous toe than competing models like the Wolverine 1000 Mile. While it's great with a button down or a t-shirt, I don't think it dresses up very easily — they'd look ludicrous with a tie. With that said, I'd consider the boot to fit just fine with a well-put together smart casual outfit or with work jeans. That's a tough design feat to pull off.
Outside of the toe cap, the rest of the boot is triple stitched with wax threads, and I found no loose threads. The first four pairs of eyelets are nickel and the top three are nickel speed hooks. (Some folks complain about the speed hooks dressing down the boot, but any cobbler can swap those out for a pittance.) The tongue of the boot, meanwhile, is attached to the inside of the leather upper, which could help to keep it from fraying over time.
The leather is full grain — more on that below — and thick, but there's no inner lining like you'll find in some of Red Wing's more dedicated work boots. This makes for a more classic, understated look but it also means they're not the warmest boots on the market.
[SHOP THE RED WING IRON RANGER HERE!]
What Is Red Wing Heritage?
Nowadays, the Iron Ranger is no longer worn in mines. The boot has left Red Wing's line of work boots and is now only available in their more fashion-focused Heritage line. That means that while they're not safety tested for factory work and they don't have lining on the inside, they're still made from the company's beloved thick, full grain leather and have become a favorite of fashion conscious men across the globe.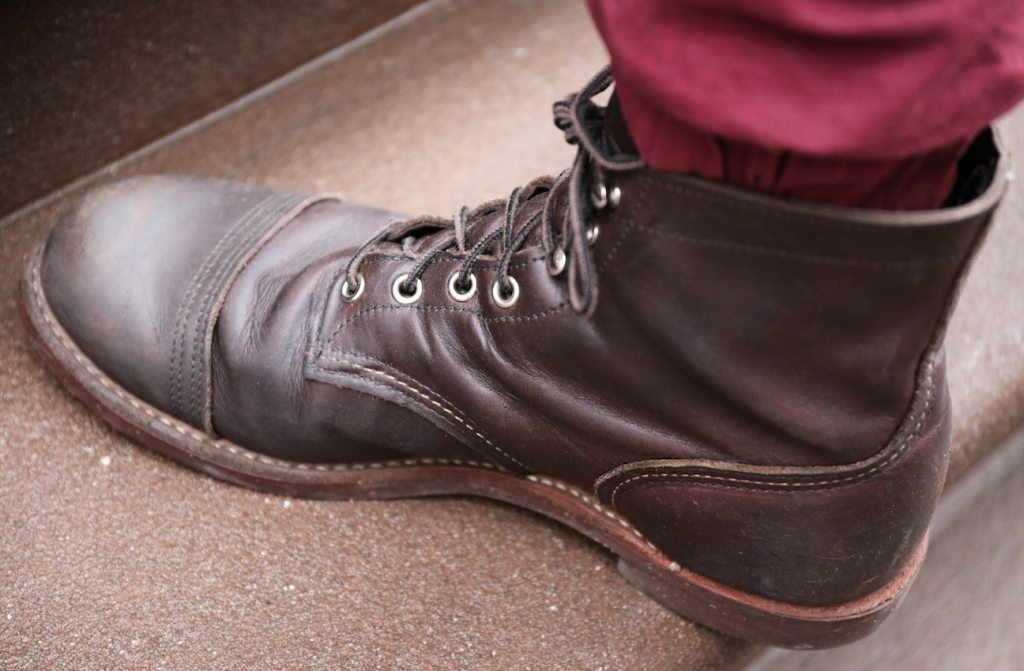 Red Wing Iron Ranger Leather
Full Grain, oil-tanned leather
Very thick, full grain
One of the first things I noticed is how thick the leather is, certainly more than two millimeters. The Iron Ranger is made from full grain leather, a type that many consider the highest quality grade leather on the market. It comes from the top layer of the hide (the steer's skin) and includes the skin's natural grain.
Full grain leather is usually compared with top grain, which has the top surface sanded away. Broadly speaking — there are exceptions to this rule — this makes top grain more uniform in color than full grain, but also less durable. Top grain leather typically won't attain the patina and unique character that a pair of full grain leather boots will over time.
So while full grain leather won't always be completely perfect and uniform in color, it makes for boots that look better, more distinct, and more you as they age. (I'm being normative, here; there are some full grain leathers that are uniform in color and top grains that aren't, but this is a good rule of thumb nonetheless.)
It's worth pointing out that all of Red Wing Heritage's leather, including the roughout used for Hawthorne muleskinner leather, comes from their owned and operated tannery called S.B. Foot Tanning Co.
Red Wing Iron Ranger Leather Care
"Rough & Tough" leather may need conditioning less often
Red Wing recommends mink oil and pine pitch for conditioning
Neatsfoot-based leather cream may help retain color
The Iron Rangers are oil-tanned, which Red Wing says makes them resistant to water, stain, and perspiration. Before they leave the factory, they're conditioned with their own boot oil that's made from a combination of pine pitch and mink oil. That means you don't need to condition them yourself until you've been wearing them for a season or two.
Conditioning the leather will turn it darker, which is something to keep in mind when selecting color. If you find yourself really attached to the boot's color out of the box, you might consider using Red Wing's leather cream, or Bickmore's Bick 4, which are formulated to hydrate leather without changing the color. (The tradeoff being that they won't waterproof the leather as much.) To maximize waterproofness you can grab some of Red Wing's Naturseal.
Most Iron Rangers require a good conditioning a couple of times a year, depending on how often you wear them and what kind of a beating they take. Red Wing recommends their own boot oil, while I Obenauf's on mine — that's why they're so much darker than new ones.
It's important to note that a couple of colors, (Charcoal and Copper) are made from what they call Rough & Tough leather, which is technically a kind of nubuck. Rough and Tough leathers are so full of oils that it needs less conditioning compared to standard Red Wing leathers, perhaps once a year.
Finally, one of the Iron Rangers comes in Hawthorne Muleskinner Leather. It's made of roughout leather, which is a little fuzzier in texture because it uses the "flesh side" of the leather — it's essentially inside out leather. Although it's fuzzy, it's different from suede, which is made by splitting the leather, but you can still use a rubber suede cleaner when it gets dirty.
[See what I thought of the Charcoal Rough & Tough leather in my review of Red Wing's Moc Toe boots!]
Red Wing Iron Ranger Sole
7mm Vibram Mini Lug sole
Older models have nitrile cork sole
270-degree Goodyear welt
There's a lot of talk out there about the nitrile cork sole: if it slips easily, if it's flexible, if it's durable. (Yes to all three.)
The truth is that it doesn't matter — as of summer 2018, the Iron Ranger no longer has a cork sole. It's being completely phased out in favor of a Vibram mini lug sole. That's a high performance, oil resistant, flexible, yet low profile rubber sole that's 7 millimeters thick.
This means the Iron Rangers no longer make loud, authoritative footsteps nor are they precisely as "classic" looking as they once were, but the good news is that it also means they're a little more comfortable, they absorb shock a little better, they're more durable, and you're less likely to careen into a gutter when strolling in icy conditions.
The rest of the sole remains the same: the Vibram is attached to a cork midsole layer which over time will mold to your foot to produce that worn-in "fits like a glove"-ness That cork is attached to a steel shank, which spans the arch and is intended to provide some arch support, and the leather insole, which is attached to the boot with a 270-degree Goodyear welt. The Goodyear welt makes it easier to resole and provides another layer of water resistance, though it also means the leather insole can't be removed.
A 270-degree welt may be a tiny bit less water resistant and a tiny bit harder to resole, but probably not to any practical degree. It's mostly an aesthetic difference and it can make for a slightly sleeker boot when compared to a 360-degree welt.
The sole is my least favorite part of the shoe. The leather insole doesn't offer much arch support or heel cushioning and it's not particularly soft or yielding. Plus, in my opinion the boot is simply too slim to comfortably fit an orthotic insole.
[Related: My list of The Best Boots]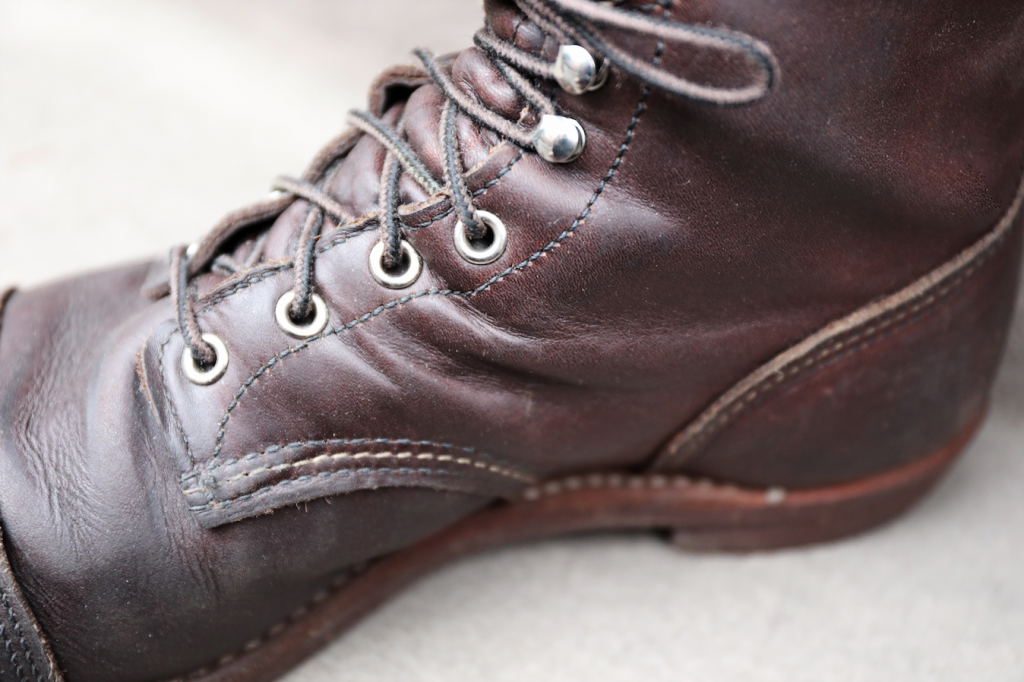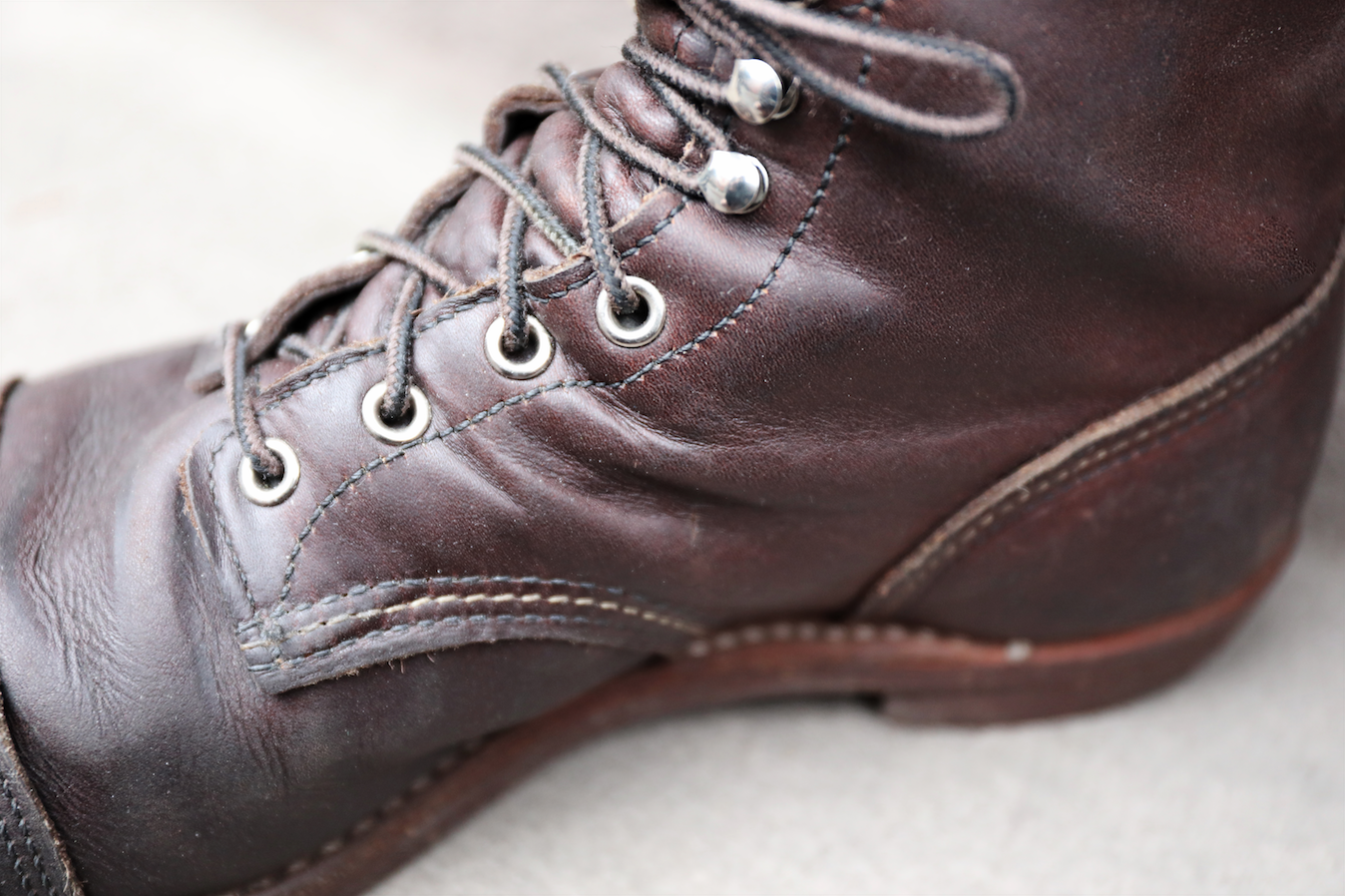 Red Wing Iron Ranger Fit and Sizing
Order half size smaller than sneaker size
Width available in D and EE
The rumors are true: order a half size smaller than you usually wear in sneakers. I've always found it baffling why shoe companies appear to purposely do this, as Red Wing themselves state on their site that their shoes are essentially sized too big, but there it is: half a size smaller, even when wearing the thick wool socks that you likely wear with your boots.
Particularly since a lot of guys don't really know their precise shoe size, I'd recommend trying them on in-store if at all possible and if not, heading to a shoe store anyway to get your foot measured in a Brannock device. (Yep, that's the shoe-sizing ruler-looking thing.)
The Iron Ranger is available in two different widths: D for medium width and EE for wider guys. That's not a great selection, since there are six potential widths, but D and EE is still a decent selection.
[Related: The Best Boots for Wide Feet]

Red Wing Iron Ranger Break In
There are conflicting reports as to just how quickly these boots break in or even if they need to be broken in and all, but I needed about four wears over ten days to feel comfortable in these, about 30 hours. I always advise spending a day in the boots and then giving the shoes and your feet a day or two to recover before leaping back into the fray — my feet were indeed sore both during and shortly after the first few wears.

Red Wing Iron Ranger Price
At the time of writing, a pair of Iron Rangers costs $349.99 on Amazon, Nordstrom, and Red Wing's official site. For an American made, Goodyear welted boot with this kind of construction, that's a pretty fair price. If you know the landscape of boots as well as I do, you'd agree that it's not cheap and it's not expensive.
[SHOP THE RED WING IRON RANGER HERE!]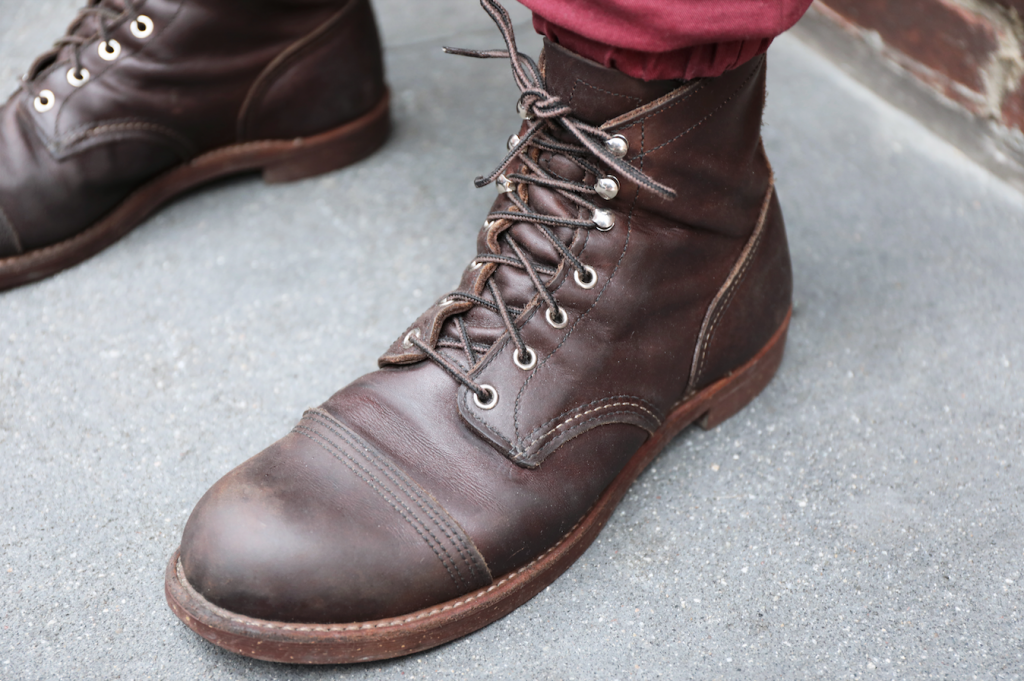 Red Wing Iron Ranger: To Buy or Not to Buy?
I like this boot. It's beautiful, versatile, durable, it has good grip — at least it will once all the soles are replaced with Vibram — and it's instantly recognizable. They're a unique force in footwear: competitors are either less popular or have less cache, but Red Wing is right in the sweet spot of expensive enough to be admired, but not so expensive that you'll seldom meet another guy with a pair. It's also hard to find a boot with such thick leather that can be comfortably worn in the city.
It's not a perfect boot. The insole isn't particularly soft and they're very hard to break in, but my biggest complaint is that they aren't at home in formal situations. The bulbous toecap and nickel eyelets dresses the boot down, even when compared to competitors like Wolverine's 1000 Mile.
But I'm excited about the future of Iron Rangers. With the new vibram soles, I think a lot of complaints about the hard heel and the iffy grip will be washed away and the boot will have new legions of fans.
This boot isn't going anywhere.
[Love the look of this boot? Shop the Iron Ranger from Red Wing here.]
The following two tabs change content below.
Nick English
By day: Manhattan-based journalist with reporting experience on four continents, published in Vice, Men's Health, Popular Science, and a bunch of other places.By night: ravenous consumer of anything and everything related to high end men's boots.Stridewise is where I nurture a maniacal obsession with footwear and share my findings. Say hey:
[email protected]
Latest posts by Nick English (see all)