I love Chelsea boots. I'm Australian, sure, and they're basically our national boot style but as a New Yorker who's been living in the States for over ten years, I've expanded my horizons beyond the simple Aussie work boot to dozens and dozens of different Chelsea boot models. Some have a perception of the laceless Chelsea as a work boot, others as a slim dress boot, but there's a Chelsea for every guy, every style, and every lifestyle you can think of.
After nearly five years of reviewing boots, I've finally landed on my list of the best Chelsea boots for men. Need something sleek you can wear with a suit? I got you. Something steel toed and heat resistant? Right here. Are you just a normal dude who wants something that looks good and will last a long time? That's first on the list.
How I Came Up With This List
Experience. An absurd, impractical, completely unique amount of experience.
As mentioned above, I'm a professional boot reviewer. (I know, it's a weird career choice.) I've been making YouTube videos since early 2018 and publishing articles for just as long about everything you could possibly want to learn about boots, from the importance of a shank to the best creams for conditioning leather footwear. Heck, I've even made a pair of boots myself from scratch on a whirlwind trip to Guatemala, so I think I'm pretty qualified.
When it comes to Chelseas, it's probably worth emphasizing that as an Australian-cum-New Yorker, I'm uniquely equipped. Chelseas are ubiquitous in my homeland and whether they're work Chelseas or dress, it's much more common to see them on the streets of Sydney than Manhattan — and they're pretty darn common in Manhattan! Aussies are as happy to pair Chelseas with a suit as they are for farm work.
This all means I'm incredibly familiar with the major and minor permutations of different models and how they can pair best for your lifestyle. And with over 60,000 YouTube subscribers giving me feedback all day (every day) about their favorite and least favorite boots, I've got a mammoth brain trust informing these picks as well.
For this article, I've carefully selected the ideal boot for different readers, because I know that you might be looking for the perfect suit boot or something you can take to a factory floor. First up is the best overall.
The Best Chelsea Boot Overall: Koio's Trento
20% OFF
Koio's Trento Boot
With a flexible, lightweight construction that remains water resistant and resoleable, this sleek Chelsea hits all the right notes — in three colorways to boot.
Use code STRIDEWISE20 for a 20% discount!
Get the Discount
Read Our Review
We earn a commission if you make a purchase, at no additional cost to you.
Koio started out as a sneaker brand but after rising to the top of that market, they branched out into boots. I didn't love their first generation of Chelseas but in 2022 they released my favorite of all time: The Trento.
There are three leathers available to suit any need — probably the brown suede one in the little button there is the most versatile, with the black one making an ideal dress boot and the "Cardamom" (cream) one making for a terrific way to add class and splash to any outfit.
Made in Italy with Italian components — even the shoebox is Italian — the Trento is sleek, handsome, fully leather lined for comfort, and has a hard wearing Blake stitch construction that keeps it water resistant and resoleable.
What I Like
The Blake stitch construction. This keeps the boot lighter, slimmer, and more flexible than the common Goodyear welt, but it's much more longlasting than cemented boots, which can't be resoled.
The leather sole. A criminally underrated sole, leather breathes well, conforms to your foot with time, and adds to the boot's light weight and flexibility. After a day of wear, the smooth sole gets scratched up — and that's what confers grip.
The sustainability. Koio only uses leathers certified by the Leather Working Group, which ensures that no toxic runoff is produced during the tanning process. This is distressingly common in cheaper leathers.
The comfort. The leather midsole and outsole conform nicely to the foot with wear, and a shock absorbing insole helps with… absorbing shock.
What I Don't Like
No half sizes or wide widths. You're meant to size down if you're between sizes, and I found the boot fit very well.
The suede is untreated. If you're worried about staining cream suede (and why wouldn't you be?) you need to pick up their suede protector.
It's not ideal for stormy weather. Light showers are fine, but don't go splashin'.
The Verdict
I'm a huge fan of the Trentos. They're sleek, simple, and pair well with any trousers that taper a little. For guys who are tired of needlessly stiff and heavy boots that you're only planning to wear around on streets and offices, you'll be pleasantly surprised to find a boot as versatile and long lasting as the Trento.
2. Best Customizable Chelsea: Idrese's Shadbolt
Make Your Own Chelsea!
Idrese's Shadbolt
The Shadbolt has hard wearing roughout leather, a water resistant storm welt, and a grippy-but-low-profile Ridgeway sole — but if you like, you can design your own Chelsea!
Check Best Price
Or Design Your Own!
We earn a commission if you make a purchase, at no additional cost to you.
There are two really cool things about Idrese's Chelseas.
The first is that I designed my own, the Shadbolt, after my great grandmother's maiden name. I love this boot: the leather is a hard wearing roughout, which is simply regular full grain leather flipped inside out so you've got the fuzzy, scratch resistant inside on the outside. It's also made with a storm welt to enhance water resistance and I put a Ridgeway sole on there to give it great grip without bulky lugs.
The second cool thing is that you can design your own Chelseas yourself. There's an unreal feature on their site that enables you to make a boot with any kind of leather, sole, and construction method you like — you can even put panels of wool or flannel on there if that's what you're feeling.
What I Like
The Shadbolt is a great mixture of refined and hard wearing. The roughout leather, storm welt, and Ridgeway sole are all ways to make it able to weather any storm while staying low profile and sleek.
You can design any heckin' Chelsea you want. Want some tartan flannel on there? Feel like a leather sole? Anything you're feeling, you can design.
They're durable. These boots are completely resoleable, meaning you can keep them in rotation for years and years to come.
What I Don't Like
The shoes take a couple of months to be made. Them's the breaks when you want freshly made boots.
The Verdict
It's really hard to buy something you don't like when you're the one creating the boot. Idrese's approach is unbelievably cool and they manage to keep the cost under $400 even when you're spec'ing the Chelseas yourself. If you don't feel you have the knowhow to make a versatile Chelsea, my advice is to just go straight for the Shadbolt, but play around with their site — you might be surprised by what you design. The only bummer is that wait time.
3. Best Value Chelsea: Thursday Boot Company's Cavalier
Refined and Versatile
The best value Chelsea boot is Thursday Boot Company's Cavalier — and they're the best value by like over a hundred dollars, easy.
At the phenomenally low price of $190, this boot is Goodyear welted and available in a huge variety of leathers, from dressy cowhides to waterproof suedes. I picked up the Sandstone, a light snuff suede, and immediately wore it all over Europe for several months last year. Although the Cavalier is marketed as Thursday's dressier Chelsea (they also have a more casual Duke) I found myself reaching for this model over and over again, whether I was dressing down in a denim jacket or going smart casual in a button down and pea coat. This boot, like most of Thursday's models, can be worn with just about anything.
It's worth emphasizing that while my Sandstones are your traditional suede, this boot comes in a couple of "Weathersafe" suedes that have been imbued with oils and waxes that make it completely waterproof — a great option for guys who like the look of suede but don't want to stress about stains.
What I Like
The value. At $190 for resoleable boots, these blow the competition out of the water. Anyone else making a boot like this would charge a solid $100 more.
The versatility. The design can be easily dressed up or dressed down. (But grab a smooth leather if you want to go business casual.)
The comfort. With a shock absorbing insole, these add modern comfort to the traditional construction.
The range of leathers. These come in smooth, suede, and waterproof suede to suit any needs.
What I Don't Like
The leather sole has a layer of rubber underneath it, so you're not getting the breathability of a straight leather sole.
No pull tabs. Actually, I hate the way pull tabs always wind up sticking out from under my jeans so this is a "pro" for me, but a lot of guys prefer them.
The Verdict
These are some of my most worn Chelseas and I can attest to how well they hold up with serious wear. They're also quite lightweight and that, combined with a layer of memory foam, make them feel almost like sneakers with a hundred percent more class.
4. Best Waterproof Chelsea: Ariat's Wexford
100% Waterproof
Ariat's Wexford Boot
This popular boot has an impermeable waterproof membrane to keep you dry no matter the conditions, plus it comes in a range of leathers and looks great out on the town.
Check Best Price
We earn a commission if you make a purchase, at no additional cost to you.
The best waterproof Chelsea is Ariat's Wexford.
This is the very, very rare example of a boot that's waterproof yet still looks stylish. I know that "stylish" isn't usually a priority for guys looking for waterproof boots, particularly if you're shopping with the famously outdoor brand Ariat — but hey, it doesn't hurt.
To be clear, the average guy doesn't need a waterproof boot if he's just encountering rain and snow. A Goodyear welted boot will be more than enough for that kind of wear. But if you are going to be ankle deep in muck for a good portion of the day, the Wexford is a real feat of engineering: it looks great, it's lightweight, and it has an impermeable waterproof barrier.
And because it's not welted or resoleable it's cheap: just under $200.
What I Like
It's comfortable all day thanks to the lightweight shank, which helps with stability.
It's not bulky or overbuilt like a lot of waterproof boots are. This can work under jeans out on the town, no problem.
Six leathers are available, including waterproof suede.
The value, these cost under $200.
What I Don't Like
It can't be resoled, but that's almost always the case with waterproof boots.
Modern construction like a rubber midsole and the waterproof membrane means it won't mold to the shape of your foot the way traditional boots do.
The Verdict
It's sleek but not too sleek, functional but not chunky, waterproof but not heavy, fashionable but not feminine. If you need something you can slosh around in and then wear out on the town, this is the best waterproof Chelsea by far.
5. Best Luxury Chelsea: Briselblack's Seventh
Ultra Exclusive
If money and time are absolutely no object and you want the best imaginable Chelsea boot you can buy? This is an impractical option for almost everyone, but there is no way to do a genuine list of the world's best Chelseas without mentioning Briselblack, formerlhy known as Benzein.
This is a tiny company of seven guys in Bandung, Indonesia, which has become the global epicenter of fine footwear. If you're new to this world that might sound bizarre, but guys who play in this space as much as I do know that Briselblack and Chelseas have become synonymous and many qualified folk call their hand welted Seventh boot the best Chelsea on Earth.
You can only order over their Whatsapp or Instagram, when you get imported leather (mine are waxed horsebutt from Italy's Maryam tannery) they cost about $500, and they'll take at least three months to be made for you. Most people won't have that kind of patience, but it's sort of like how any watch can tell the time, but some guys pay more for watches that are harder to make and embody years of skill building. If you want to wear a work of art, that's Briselblack.
What I Like
It's one piece of leather, which is very rare for Chelseas and means they conform to the foot better than anything else.
They're handwelted, which requires hours of skilled labor versus the seconds it takes to Goodyear welt a boot. Many find it more comfortable because of the thicker leather required.
The top notch components. My leather is vegetable tanned horse from a world famous Italian tannery, but you can get any leather you want.
They're customizable. Anything from the sole to the leather to the color of the stitching or the welt, these boots are all yours.
What I Don't Like
The order time, by a mile, is the worst thing. Depending on when you order, you could be waiting over six months.
The price, even for Indonesian boots, is high — mine cost $500, and with Indonesian leather they'd be over $400. Still, if they were made stateside they'd be $1000, easy.
The Verdict
To the average person they're not worth it, but for guys who want the best possible version of a Chelsea regardless of the time or money, there's no going past Briselblack.
6. Best Value Chelsea Runner Up: Astorflex's Bitflex
Wide, Comfy Toebox
Astorflex's Bitflex
Softness is the name of the game: suede uppers, a cushy crepe rubber sole, and a flexible "ideal stitch" construction that's still resoleable, these are great value Chelseas.
Check Best Price
Our Review
We earn a commission if you make a purchase, at no additional cost to you.
After Thursday the runner up for best value Chelsea is Astorflex's Bitflex.
This is a great option if you like Chelseas but don't like the narrow toebox they usually come with: the Bitflex has a lot of room in the forefoot which makes it look more casual, but it's very comfortable. It's even friendly on E width feet.
Made in Italy in a small workshop outside of Milan, they're resoleable, the suede is great quality, and they're just $215. It's really crazy value, but Astorflex is sold at really discerning places like Leffot in New York City, where everything else they sell is over twice the price.
Another cool thing is the crepe sole that Astorflex uses on most of their models. Crepe is really soft, flexible, and comfortable, and while it's not the most durable these boots will last a long time — especially because they're resoleable.
What I Like
The comfort. The combination of crepe sole and suede upper makes for a breathable, lightweight, and flexible boot.
The width. A lot of guys with wide feet have trouble buying Chelseas, but these are roomy enough at the toe to accommodate wider guys.
The price. Italian made, resoleable, and $215? It doesn't make sense, but I'm not complaining.
What I Don't Like
Not very versatile. The wide toebox is a boon for a lot of guys who like casual boots, but you might prefer a traditionally sleek look.
The durability. The sole is soft but crepe wears down pretty quickly.
No shank. This means they might not be ideal for long, long days on your feet. At least, not if you're susceptible to foot pain.
The Verdict
I'm really blown away by these boots. The price is bonkers, and the Bitflex stands out in the market as a wider and more casual option for guys who are concerned about how dressy Chelseas can come off. Add all that to the cushy crepe sole and it's no surprise I've seen these on a lot of guys on the streets of New York.
7. Best Dress Chelsea: Carmina
The Suit Chelsea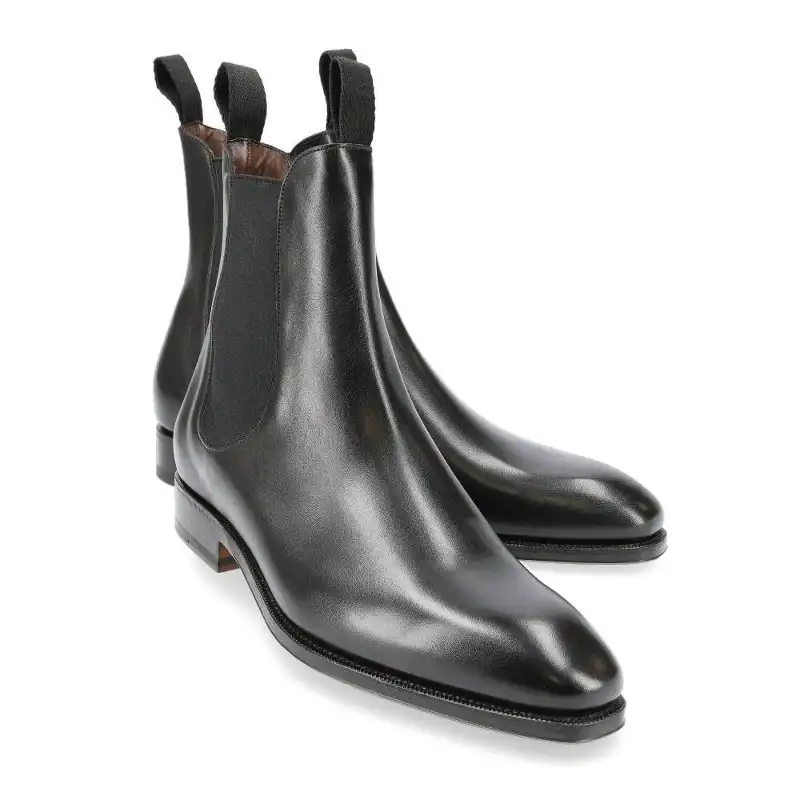 If you want something more luxury to go with that tailored suit (it is tailored, right?), definitely head over to Carmina Shoemaker.
Run by the same family on the Spanish island of Mallorca for over a hundred years, I was fortunate enough to visit their factory and find out how these intricately lasted Chelsea boots are made. They've truly perfected the dress Chelsea and refined it with cutting edge lasting techniques to make a boot that follows the shape of the foot wonderfully — but they have over thirty lasts to choose from, so you can get a boot that fits exactly the way you want.
Their most popular dress last for this boot, though, is the Simpson. With slightly pointed toe and elongated forepart, it's the last of choice for their more elegant models and will silence any concerns you have about dressing up a Chelsea.
With a leather insole, midsole, and outsole, this kind of construction is very traditional, comfortable, and flexible, easily conforming to your foot and making for a remarkably comfortable and lightweight boot. If you really want to make absolutely sure you've got the dressiest, sleekest, most delicately lasted Chelseas around, this is the crème de la crème of luxury Chelseas.
What I Like
Glossy box calf leather from Germany has great shine and a tight grain, earning its rep as one of the best leathers for dress footwear.
The variety of lasts. With over 30 to choose from, any kind of foot or intent can be accommodated here.
Three layer of leather in the sole make for a supremely comfortable, luxurious feeling.
An unusually slim Goodyear welt. Usually this construction is hard to dress up because it adds bulk, but you can see how sleek the boot is.
I've visited the factory and it's great to know that they're not only made in a developed country, but one that's gorgeous and spacious with true artisans perfecting their craft. (Seriously, check the video.)
What I Don't Like
They're not that versatile. This shouldn't be a surprise: it's a formal boot, not for t-shirts!
Leather soles don't have the best grip. I love them, but they're not for icy weather.
They're not cheap. A zillion years of history and craftsmanship in Western Europe mean these will run a good $570, but that's less than half the price of industry go-tos like Yves Saint-Laurent.
The Verdict
This is the formal Chelsea at its finest. Like I just said, for what you're getting, these can easily go toe-to-toe with luxury brand names like YSL, who mark up their boots because they know folks will pay for the brand name — not the quality of the product itself. Carmina are world renowned for all of their footwear but in particular their Chelsea. If your job requires slacks or a suit, it's worth seeing what the fuss is about.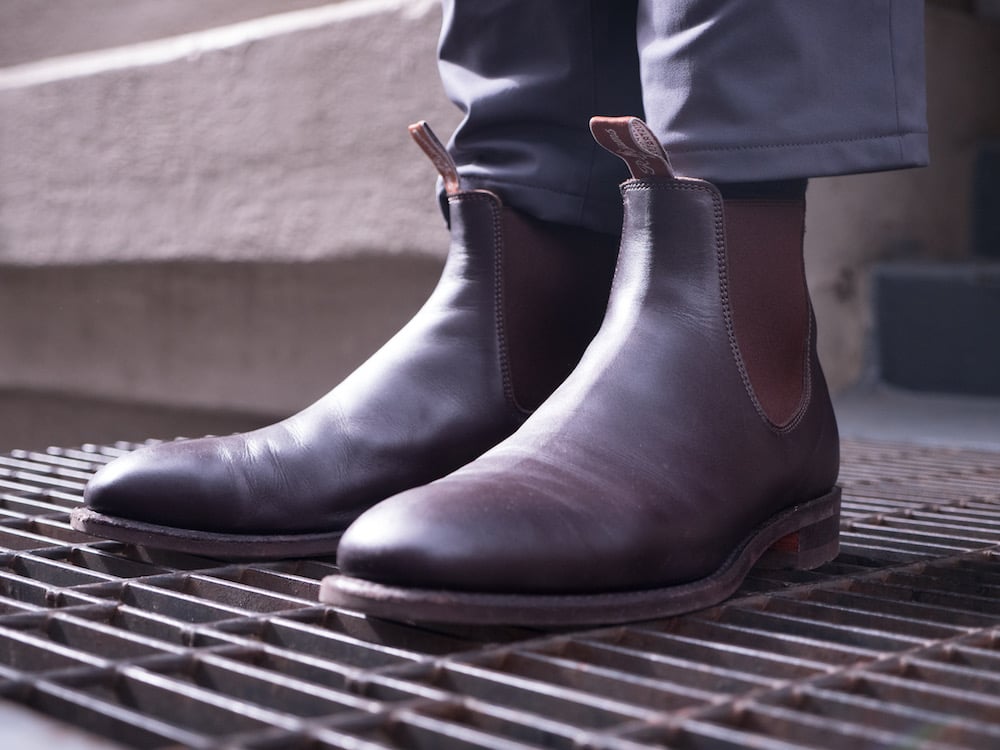 8. Best Luxury Chelsea Runner Up: RM Williams Comfort Craftsman
Wolverine's Favorite
The runner up for the best luxury Chelsea is actually more expensive than Benzein's because they're made in Australia, but they're a lot easier to buy and their reputation is sterling.
Every single male in the nation of Australia owns a pair of the RM Williams Comfort Craftsman boots, where they're worn everywhere from board rooms to sheep farms — Hugh Jackman even appeared nude in their commercials after he bought a stake in the company.
The Comfort Craftsman is ultra comfortable and resoleable, but the leather is the highlight. It's made with a single piece of leather wrapped around and stitched at the heel, so the whole boot conforms to your foot's shape much more readily than other Chelseas and without the potential for stitches irritating the foot. The leather is also an unusual yearling leather, so called because the animal is slaughtered on its first birthday. This makes it unusual combination of calfskin and cowhide: soft and with a tight grain like calf, but very hard wearing like cow.
What I Like
The wholecut leather means it's extraordinarily comfortable from day one and only gets better.
The yearling leather is a rare combination of soft and hard wearing.
They're quite versatile, easily dressed up or down.
What I Don't Like
They're pretty expensive, ranging from $539 to $590.
The slightly square toe isn't loved by everyone.
The Verdict
The Australian angle is a great conversation piece, plus it's always nice to be able to purchase boots from such a developed country. That raises the price, sure, but these are such a great combination of comfort, durability, and versatility. There's a reason every Aussie grandpa has had the same pair for decades.
9. Best Work Chelsea: Blundstone 990
The Everything-Proof Boot
The best Chelsea for work is Blundstone. This Australian brand is world famous for their casual Chelsea boots and plenty of folks work in their better known models like the 585 because, well, they're inexpensive and they look pretty good as streetwear. But for the same price as their city boots, you can get an unbelievably tough pair of Chelseas that'll meet the specs of a huge range of workplaces.
This one levels up by being heat resistant to 572 degrees Fahrenehit, it's electrical hazard resistant, oil and acid resistant, slip resistant, water resistant, and it has a steel toe. It's not resoleable, but the average work boot — that is to say, not a classically made heritage work boot but a modern day work boot — usually isn't resoleable anyway. Plus, the fact that it's not welted keeps the price relatively low at just $230.
What I Like
They're resistant to almost everything: heat, electricity, water, oil, and acid.
The steel toe will protect your toes on a jobsite.
There's a steel shank, unusual for a boot like this, and it'll help provide stability and prevent sore feet when you're standing all day.
The removable footbed offers arch support but gives you the option of using orthotics instead if you need to.
What I Don't Like
They can't be resoled, which is unsurprising for this kind of boot.
They're made in Asia but they have "Australia" all over the branding and the pull tabs. Deceptive!
The Verdict
It's hard to talk about Chelseas without talking about Blundstone and while their casual boots are no slouch, it's hard to recommend them when there are options like Thursday putting out better made Chelseas for a lower price. But when it comes to something you can wear to a job site, it's hard to go wrong with these overbuilt, everything-proof (OK, everything-resistant) boots.
10. Cheapest Chelsea Boot: New Republic's Sonoma
Inexpensive and Comfy
Note that the cheapest Chelsea is not the same as the best value Chelsea because I think the best value Chelsea will last longer than one sole.
But many folks don't consider it worth resoling an inexpensive boot anyway. In any case, if you have a really hard ceiling on $100, check out the very famous Sonoma boot from New Republic for about $85 or $90.
These boots have an undeniable reputation for comfort for a couple of reasons. The first is the crepe sole, which is super soft and comfy. The second is that the construction is cemented, which makes for a lighter and more flexible shoe. (Yes, there are some upsides to getting shoes that can't be resoled!)
The downsides are that they can't be resoled and the crepe rubber wears out fairly quickly, but if it's a weekend boot it'll last a pretty long time and they're really cheap; they basically cost as much as a pair of sneakers and will last much longer than Chuck Taylors.
What I Like
The price tag. These cost as much as a pair of sneakers, and pretty inexpensive sneakers at that.
The soft crepe sole.
The lighter weight and flexibility of cemented construction.
What I Don't Like
They can't be resoled when the crepe wears through — and crepe isn't the most durable sole.
It's not the most stable shoe because of the construction, sole material, and lack of a shank.
They're made in China. I actually don't care about this, but you might.
The Verdict
The Sonoma has a great reputation that can't be ignored. Purists avoid boots like this like the plague, but I don't want to write articles for purists, hobbyists, and reddit grouches. I want this content to be as useful as possible for as many people as possible and if you simply can't spend more than $100, the Sonoma is definitely the best Chelsea for you.
11. Most Versatile Chelsea: Parkhurst's Elmwood
Rugged and Versatile
Parkhurst's Elmwood
A great combination of sleek and hard wearing, the grippy sole and water resistant build makes for a Chelsea you can wear out anywhere.
Check Best Price
We earn a commission if you make a purchase, at no additional cost to you.
I was going to call this one the best "rugged" Chelsea but the Elmwood isn't exactly a hiking boot. Instead, I'm going with "versatile" because the Elmwood dresses up extremely easily while offering several more "rugged" features.
I'm sorry I've said "rugged" so many times in this article.
Parkhurst is a very small brand that has a very dedicated following among boot hobbyists. That's a group you probably don't belong to, but whose opinions you're probably a little curious about if you're this far into a Chelseas article. Parkhurst is universally adored among even the snootiest of boot nerds, and their first Chelsea boot is a great example of why.
Shown above in the Mahogany color, pay attention to the way the sole is grippy but not chunky, or how the vibrant leather has the kind of luster and depth that can work in any setting. Look even closer and you'll see a split reverse welt, which is like an extra flexible storm welt: it's more water resistant than your typical welted boot, but it remains something that works well in smart casual situations.
What I Like
The versatility, duh.
The water resistance. Not only are these made with a storm welt, but the elastic goring is a Gore-Tex weave that's great in wet weather and won't stretch out too fast.
The fit. Parkhurst weaves a kind of magic that makes the boots look sleek, while actually offering a lot of room in the forefoot.
The owner, Andrew. He's a cool dude, check out this interview we did.
What I Don't Like
The availability. Parkhurst often has difficulties keeping products in stock.
The Verdict
Small but mighty, Parkhurst deserves a spot among the great smart casual boot brands, particularly after they barely managed to survive the pandemic. It was touch-and-go as American factories were closing left right and center, but Parkhurst emerged and deserves as much support as they can get. Just be sure to pay attention to their sizing section; I wound up needing to order a half size smaller than my usual boot size.
12. Best Chelsea for Wide Feet: Adelante's Mendoza
Best for Wide or Narrow Feet
Adelante Mendoza
Their made-to-order model means they can produce footwear for just about any size or width, plus they have a huge focus on sustainability and business ethics.
Check Best Price
See More Models
We earn a commission if you make a purchase, at no additional cost to you.
This one's a no brainer. What's great about Adelante is that they managed to create a business model that's completely made-to-order, but without the months-long wait times you normally have to endure for MTO brands. They accomplished this by owning and running their own small workshop in Pastores, Guatemala that'll build and send your boots in under two weeks.
Besides the nice touch of knowing your boots were made just for you, their business model also allows them to offer a huge range of sizes and widths: up to size 17 and up to EEEEE width. Please note that most brands, if they even do offer wide sizes, will only go as far as E. Maybe EE. Adelante offers… well, you get it.
Founded by two American journalists and aid workers, they also have a massive emphasis on improving their workers' livelihoods, so there are no concerns about exploitation here. Adelante's craftspeople earn twice the local wage, plus they enjoy a range of other benefits you can learn about in the video below.
What I Like
The availability of sizes and widths. I'm a pretty normal 11D myself, but Adelante's model lets them sell all the way up to 17EEEEE. I've received multiple tearful letters from wide footed men who had never before been able to wear good boots.
The speed. Made-to-order in just a couple of weeks is unheard of. Usually you've got months to wait.
The sustainability. Adelante was founded by two Americans who wanted to bring more stability and prosperity to the shoemaking industry in Pastores, and they rigorously track their results.
The price. $305 for made to order, welted boots in impossible sizes? Get outta here.
What I Don't Like
Some find the outsole could be grippier.
Not everyone wants to wait for their boots. During the holiday season, I've seen the wait times have extended up to six weeks.
The Verdict
I first met Adelante's co-founder at a tannery in Mexico and I quickly became a fan of their mission and the products they make. They aren't made for factory floors, but if you want quality welted shoes that are making a difference, there's no company doing it like Adelante.
13. Best Chunky Chelsea: Red Wing's Classic Chelsea
The Chunky Chelsea
Red Wing's Classic Chelsea
With a work-friendly wedge sole, shock absorbing insole, and gorgeous American leather, these hit all the right notes for casual work or for streetwear.
Check Best Price
We earn a commission if you make a purchase, at no additional cost to you.
The last entry on our list is the chunky Chelsea, for guys who want a pull-on boot that's also roomy. All too many dudes have craved the convenience of a Chelsea but been thrown off by the sleek fit, be it because they have voluminous feet or because they just want to wear looser fitting jeans.
Whatever your reason for wanting a bigger Chelsea boot, these are definitely the best pick. Red Wing Heritage is the most celebrated manufacturer of heritage footwear in the United States, and by "heritage" we mean "made the old fashioned way": robust American leathers, thick leather midsoles, cork filling — footwear that'll last a million years and look cooler as they age. (Just like you will, right!?)
Red Wing's biggest complaint is that their thick boots are pretty tough to break in, so for their Classic Chelsea they added a footbed made of Poron, a kind of shock absorbing foam, to make it a little easier on the foot. The result is a hard wearing boot that's less likely to turn your feet into blister balls from the get go.
What I Like
They're comfy! Most of Red Wing Heritage's boots are made the old fashioned way, but the Classic has a softer insole that limits break in and helps shock absorption.
They breathe well thanks to an unusual mesh on the toebox's interior that helps to circulate air.
The classic leathers are made by Red Wing's own tannery in Minnesota and they're famously hard wearing and beautiful. The patina will be fire.
The roomy fit make for a rare silhouette that was definitely needed in the market as an alternative to all the slim Chelseas.
What I Don't Like
The things that make them comfy? By that I mean a lot of people were upset that old fashioned bootmaker Red Wing tried out newfangled foam and mesh in the Classic Chelsea. I think it's fine, but you know how purists are.
The way the leather's stitched together, with that one big panel for the forefoot and various seams between there and the heel… it's not the most aesthetically pleasing look to some guys.
The Verdict
I would have called this "the best Chelsea for loose fitting jeans" but I don't think many people are Googling that. But the Classic Chelsea is a rare build that doesn't demand a tapered leg, so these are a great pick for the average guy who doesn't love slim denim. I'm also a big fan of the innovative construction to improve comfort while retaining the things that made us fall in love with Red Wing: hard wearing leathers, timeless aesthetics, and American craftsmanship.
The History of the Chelsea Boot
The Chelsea does not have the same history of workwear and rugged frontiersmen as service boots and moc toe boots. Believe it or not, the first Chelsea was designed as a walking boot for Queen Victoria in 1837 by one J. Sparkes-Hall, who called them J. Sparkes Hall's Patent Elastic Ankle Boots.
Traditionally made with black calf leather, it caught on among the general public as a walking boot before gaining steam as a horse riding boot and later as the preferred boot of The Beatles.
None of this is really evoking the history of lumberjacks and warehouse workers the way some other boots do. But eventually, the broader population realized how great it is to have footwear that's both tough and easy to slip on, and it finally gained traction as a work boot in my motherland of Australia, where everyone from farmers and working men to the military have adopted extra tough versions for daily use.
What Are the Different Kinds of Chelsea Boots?
It's easy to think of them as slim and smart casual, but there are a few different general models you should know about.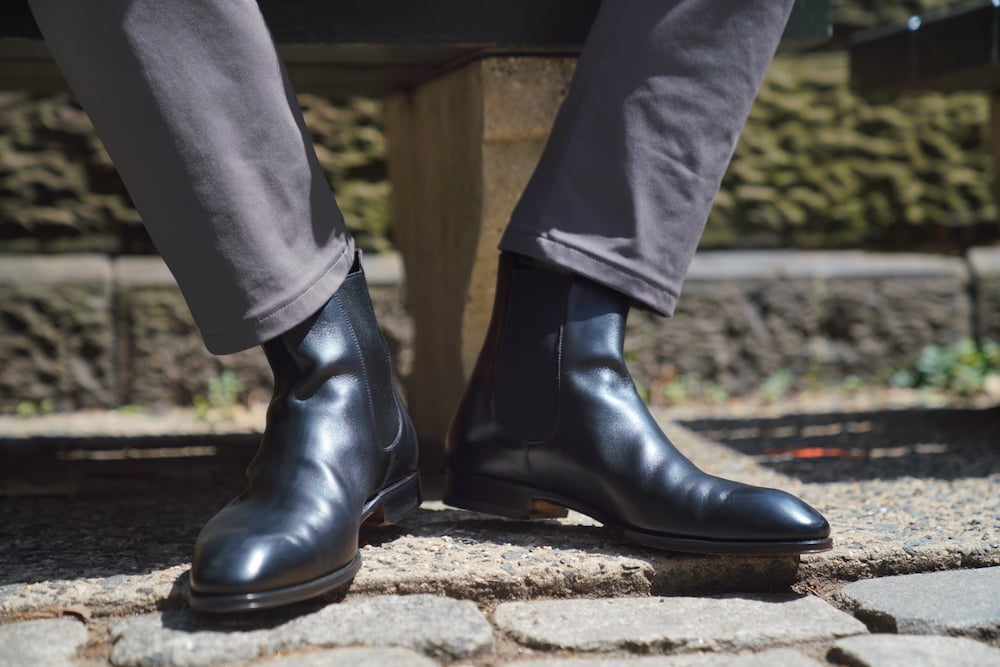 Dress Chelsea
Two factors are king, here: the fit should be slim and the leather glossy. When wearing any footwear with a suit, you want them to be about as slim as is comfortable — not necessarily with a triangular pointed toe, but since footwear gets more casual the chunkier it gets. Aim for slim.
The leather of choice for dress footwear is typically calf, because it has very little of the "grain" that makes a leather look rugged and outdoorsy. If it's on offer, box calf is considered the best dressy calfskin because of its aniline finish and smooth appearance.
Lastly, leather soles are the sole of choice for dressy footwear, and the good news is many find them supremely comfortable as well. If throwing down for luxury boots, try to get closed channel stitching like Carmina's, which covers the stitches under a flap of leather on the outsole.
Good examples: Carmina, Thursday's Cavalier, Koio's Trento, Ace Marks
Everyday Chelsea
The majority of the Chelseas on this list fall into this category. For more casual or smart casual wear, suede is typically the go-to: it looks great dressed down or in business casual environs. But a nice full grain leather also works very well under a pair of jeans with a leather or denim jacket (peep my Fermos above with a leather flight jacket and canvas trousers.)
Everyday Chelseas typically have a little more room for the feet than dress versions and usually come with rubber soles for more traction.
Good examples: Thursday's Duke, Koio's Trento, Parkhurst's Elmwood, Astorflex's Bitflex
Work Chelsea
Work Chelseas are popular because they're easy to take on and off — not because they're versatile, slim, or dressy.
Expect to find bulbous fits and plenty of room inside the boot for insoles and thick socks. Of course, there are plenty of OSHA-friendly specs like waterproof lining or electrical shock resistant soles.
Ideally, unless they're made with a flat wedge sole, work Chelseas will be made with a shank. This hard strip of material in the midfoot helps to add stability and reduce foot pain after long days on your feet.
Good examples: Blundstone 990, Ariat's Wexford, Jim Green's Stockman, Red Wing's Classic Chelsea
What's the Best Color for Chelsea Boots?
I obviously love every shape and color of Chelsea boots under the sun, but if I had to pick one leather: brown suede.
This is for an everyday Chelsea that you want to wear casually or in smart casual fits. Brown suede is the perfect vehicle for these situations: it's casual but not too casual, adds nice texture to your outfit, and the color matches a huge range of palettes.
The only color brown doesn't pair that well with brown is black. If you usually wear black jeans, I'd suggest a black or grey suede — sticking to suede helps to keep black boots from looking too formal.
But if you want a Chelsea that's easier to dress up, smooth black leather is the way to go. Especially because Chelseas aren't as easy to match with formalwear as lace-up footwear, erring on glossy black will hedge your bets and ensure it's seen as a dress boot.
Wrapping Up
I own enough boots to sink a ship and am delighted to have finally published this article to help absolutely any guy find the ideal model for his needs. This article has also been made possible by the tens of thousands of YouTube subscribers who have routinely shared with me their positive and negative experiences with brands and models. (You should subscribe, it's a great crowd.)
The Chelsea gets unfairly pigeon holed as a dressy-but-not-that-dressy kind of shoe, but this list has definitely shown that the right makeup can take you anywhere you want to go.
—-
Are Chelsea boots out of style?
No. The beauty of Chelseas is that they come in a variety of styles. The slimmer versions are ideal for tapered jeans while bulkier versions like Blundstone or Red Wing are better suited for loose jeans and casual wear. Suede is the most versatile material if you want a Chelsea that can be worn with anything — just match the boot to your pants and you'll be set.
What kind of jeans do you wear with Chelsea boots?
Most Chelseas are quite slim, so they match best with jeans or trousers that taper from the knee to the ankle. The idea is that you don't want the disconnect of a loose, billowing cuff and a slim Chelsea peeking out from underneath. But if you're wearing more bulbous Chelseas like Blundstones, a looser cuff is acceptable.
How formal are Chelsea boots?
Are Chelsea boots supposed to be loose at the top?
Because they aren't laced up, Chelseas are often a little loose at the top. The most important element of the fit with this kind of boot is your heel: if your heel isn't slipping, you can be confident in the fit.
Are Chelsea boots good for walking?
They were originally invented as walking boots! Chelseas are great for spending all day on your feet, just make sure if your Chelsea has a heel that it's constructed with a shank, which improves stability and reduces foot pain with long walks.
The following two tabs change content below.
Nick English
By day: Manhattan-based journalist with reporting experience on four continents, published in Vice, Men's Health, Popular Science, and a bunch of other places.By night: ravenous consumer of anything and everything related to high end men's boots.Stridewise is where I nurture a maniacal obsession with footwear and share my findings. Say hey:
[email protected]
.
Latest posts by Nick English (see all)