More and more American brands are outsourcing their production overseas, and look, that doesn't necessarily mean their products are becoming lower quality. Good and bad products are made in every country, and the producers' nationality has a lot less to do with it than their business practices.
But that doesn't mean there's no reason to shop American: maybe you like keeping as much of your money within your borders as possible, maybe you think it's bad for the global economy, maybe you don't love supporting an iffy government that taxes the factory, maybe someone lost a job to outsourcing and you don't want to contribute to the process.
Whatever your reason, there's a perfect American made boot for you.
Here's the list of 100% made in America boot companies. You can click on the link to take you to their respective part of the article. Again, just because a boot isn't made in America, doesn't mean it's not a great boot. We're only compiling a list of American-made boots because there are many people interested.
While many of Red Wing's work boots are made in Asia, you can be confident that 100 percent of the brand's casual line, Red Wing Heritage, are made in the United States.
Red Wing was founded over a hundred years ago by Charles Beckman and it gained prominence outfitting work boots for miners toiling inside Minnesota's Mesabi Iron Range. A really cool thing about them is that they own their own tannery, SB Foot Tanning Co, right by their factory in in the town of Red Wing, Minnesota. (I've visited it myself.)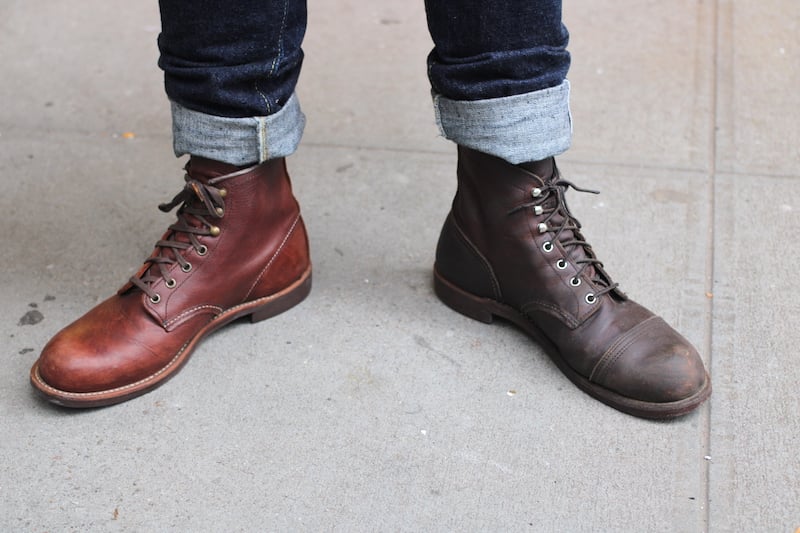 Red Wing Highlights
Probably the most popular shoe is the famous captoe boot the Iron Ranger and its captoe-free brother the Blacksmith, both seen above. The other boot to know about is their moc toe boots, often seen on Ryan Gosling and Drake. All of these boots are made with resoleable Goodyear welt construction, cork filling, and thick, robust leathers that will acquire a beautiful patina over time.
Who should buy Red Wing?
Guys who appreciate value; Red Wing price tag of ~$300 is very fair for American made boots.
Folks looking for a good all rounder; Red Wings are usually a man's first foray into Goodyear welts.
Men who want boots that are both high end and casual.
Who shouldn't buy Red Wing?
Guys who want boots they can dress up; Red Wing is a firmly casual brand
Our Top Choice!
Red Wing Heritage

The heritage line consists of designs that have not changed in a century and the boots can definitely last just as long if properly taken care of them!

Check Best Price Read Our Review

We earn a commission if you make a purchase, at no additional cost to you.
Want the most bang for your buck? The Vanguard is the best value American made boot at $265. Thursday Boot Company is an American company that was founded in 2014 and while most of their boots are made in Mexico, their Vanguard and Logger boots are completely made in the United States.
Thursday's Vanguard Boot Highlights
From start to finish, the Vanguards are made in the US. They don't ship in pre-made pieces from overseas and just stitch them together here so they can be technically made in the US. The laces are made in the US, the shanks are made in the US; the eyelets are made in the US, even the shock absorbing Poron in the sole is made in the US — which is why it has a slightly different feel to the Poron in the company's flagship Captain boot.
The Vanguards are pretty traditional as far as their construction goes: full grain leather, resoleable Goodyear welt, made in the US, and it's just $265. The only difference between this and the kind of boots you'd find a hundred years ago is the Poron, which helps with shock absorption and smell. Win win.
Who should buy Thursday's Vanguard?
Budget conscious guys who want exceptional quality and attention to detail without the hefty price tag.
Guys who like versatility; this low profile service boot can be worn with just about anything.
Folks who want to avoid a tough break in.
Who shouldn't buy Thursday's Vanguard?
Guys who want a bulkier work boot.
Thursday is a company that wanted to make out-of-box comfortable boots for a really low price, and they've done something pretty amazing with the Vanguard.

Here we're going with the tiny company called Parkhurst, based in Western New York, which we named as one of the most criminally underrated boot brands. Known for a great combination of dressy and workboot, most of their boots cost around $350. That's a remarkable price given they're made in the US with more premium materials than we've seen on this list so far, like Dainite soles and leather from Horween and CF Stead. Most are also made with split reverse welts, which is an extra water resistant and flexible kind of Goodyear welt.
The biggest issue with Parkhurst? They're so small they have a lot of trouble keeping boots in stock. Apologies if you find nothing for you at this link to their collection, but if you do, grab it fast.
Parkhurst Boots Highlights
Their best known boots are the Allen (I've got 'em in green) and the cap toe version, the Richmond. They're comfy, well priced, and the split reverse welt makes 'em extra water resistant. The leathers all come from the world's best tanneries and will age very well, and the versatile silhouette makes them easy to dress up and dress down.
Who should buy Parkhurst boots?
Guys who want a lot of bang for their buck; this price point is unheard of for these materials and construction.
Boot aficionados who appreciate the little details, like veg tanned midsoles and split reverse welts.
Anyone living in a wet climate that will benefit from the extra water resistant construction.
Men who value versatility; the dress/work boot hybrid makes these easy to dress up and down.
Who shouldn't buy Parkhurst boots?
Guys who want a more dedicated work boot.
Folks who prefer bulkier, less dressy boots.
Impatient guys who don't like having to wait for their boots; they have a lot of trouble keeping sizes in stock.
Parkhurst is a true success story of American manufacturing and deserves a spotlight for its accomplishments.
Oak Street Boot Makers was founded in 2010 in Chicago. (They're named after a short street in the city's Gold Coast neighborhood.) Their boots are 100% handcrafted in Chicago and most are made leather from Chicago, the famous Horween Leather Company. Their shoes and boots are made with Goodyear welts, stitchdown, or handsewn in the case of their moccasins.
Unlike Red Wing, Oak Street doesn't just make a few "heritage" styles or limited editions in America. They make the entire product here, from heel-to-toe, using no pre-assembled components from overseas. They import some leathers from England like CF Stead, but the boots are constructed in the States.
Oak Street Trench Boot Highlights
I have the Natural Dainite Trench boot, which is their most popular boot. There's a lot to like about the boot: Natural Chromexcel® leather uppers from Chicago's Horween Leather Company, Dainite soles, Goodyear welts, and a nice, simple aesthetic. It also comes in a variety of different leathers, including seasonal ones like an indigo roughout I sometimes see.
All the trench boots are Goodyear welted, and this shoe has a very simple, versatile service boot aesthetic. I just love this kind of minimalist boot that lets the construction and the leather speak for itself, plus the golden color of the leather is perfectly complemented by the rawhide laces. Remember, though, there are many other leathers and models available from Oak Street and if you're looking for something for date night, you can't go wrong.
Who should buy Oak Street boots?
Guys who like a simple aesthetic, nothing too fancy.
Folks who love the idea of Chicago-made boots with Chicago-made leather.
People who want sturdier boots than the lighter fare from places like Red Wing.
Who shouldn't buy Oak Street boots?
Those who don't want to spend over $500 on their footwear.
Guys looking for a more bulky, casual work boot.
There's a lot to like about these boots including the clean aesthetic, super high-quality leather, water resistance, and weight.
Simple Yet Luxury
The Weinbrenner Shoe Company is a manufacturer of military, work, and uniform footwear that was established by Albert H Weinbrenner in 1892 and they're currently headquartered in Merrill, Wisconsin.
Thorogood isn't actually its own company, it's a brand within Weinbrenner that formed in 1918, and 65 percent of Thorogood's boots are made in the United States.
An interesting fact about Thorogood is they're a very pro union company. The workers unionized in 1943 and in 2000 the workers took ownership of the company as an Employee Stock Ownership Plan.
Thorogood Moc Toe Highlights
Their most popular boot without a doubt is the Heritage moc toe, and it's the boot that probably does the best job of straddling the line of work boot and heritage boot. It's the boot that Brooklyn hipsters love to wear but it's also got an extra water resistant storm welt, the sole is resistant to a degree of electrical shock, it's certified by OSHA for some uses, and it's significantly harder wearing and better at shock absorption than many of its contemporaries.
Who should by Thorogood boots?
Guys looking for an affordable moc toe.
Anyone who prizes a water-resistant storm welt.
Those who prioritize shock absorption.
Guys who want to support unionized companies.
Dudes who actually need to work in their boots.
Who shouldn't buy Thorogood boots?
Guys who don't love the gaudy stitching, branding, and American flag.
Those who want a more traditional heritage boot with a leather midsole and thick leather.
One thing people either love or hate about Thorogood is their bright white stitching, Thorogood logo on the heel, and an American flag. But hey, it's a great reminder that you're buying American made.
We understand that for many of you, finding a rugged and durable boot is of the utmost importance. When we say rugged and durable, we're talking about boots that can stand up to the elements. Whether that's outside fighting wildfires, working hard on the rail lines, or spending hours on job construction sites, boots from Nicks can take a serious licking and keep on ticking.
So which is the best model for you? Well, it depends on your job. Nicks' selection has dedicated boots for firefighting, logging, and more. The best all rounders? Nicks' Urban Logger.
Nicks Urban Logger Highlights
These shoes are tanks. Heavy, well constructed, and made with seriously thick leather, they're boots that you won't soon forget and may never need to throw away. These boots are forged in the Pacific Northwest and the overall build quality, the materials used, and the reputation the brand has earned from thousands of owners all speak to the legitimacy of these truly rugged and durable boots.
The best part? They're completely customizable. Choose from twenty leathers, eleven widths, four kinds of eyelets, three kinds of heels, three outsoles, and many other elements to make boots 100 percent yours.
The downside? The wait time: expect three to five months.
Who Should Buy Nicks Boots
Guys who need heavy duty work boots
Men who love feeling indestructible in their footwear
People with unusual foot widths
Guys who like the freedom to customize their footwear
Who Shouldn't Buy Nicks Boots
Guys who want more casual boots that aren't as heavy
Folks who don't want to wait months for custom boots to be made
Penny pinchers; there are cheaper work boots
Nicks is the crème de la crème of serious footwear and while we picked the Urban Logger for its all-round utility, remember you can get boots specifically designed for firefighting, logging, boots that need safety toes, 10-inch shafts, and more.
It was difficult to nail down just one brand for this category. Arguments were had, tears shed, and friendships lost. Ultimately, we had to include both brands, so while they're more expensive — edging Nicks to the top spot — it's worth looking at their frenemy White's, also based in Spokane, Washington.
White's Boots Highlights
I own the MP Sherman boot in the video above and the flatter 350 Cruiser, both beefy lifesetyle boots that can take a serious beating. They have all the arch support and thick leather you need to handle most tasks both daily and work-based, and the fact they're handmade to the point of being handlasted makes them all the more worth the cost.
Like Nicks, White's has dedicated lines for different jobs including firefighting, farm work, motorcycle riding, and factory jobs, so you can find the right one for your needs, but if you're looking for lifestyle boots it could be argued they have more options for casual wear than Nicks.
Who should buy White's Boots?
Rugged men who want a rugged, durable boot that performs on and off the jobsite.
Urban dudes who want a well-made boot that will last as long as possible.
Anyone who wants to know the money they're spending will translate to longevity.
Who shouldn't buy White's Boots
Guys who want a stylish boot for the office; these boots are versatile, but not that versatile.
Anyone looking for a lightweight boot for walking, hiking or traveling.
Nicks and White's definitely have the hardworking man in mind when making their boots. With boots made specifically for Firefighters, Loggers, Ranchers, Motorcyclists, Outdoorsmen, and others, it's hard not to consider one of these two brands when you're needing some serious footwear.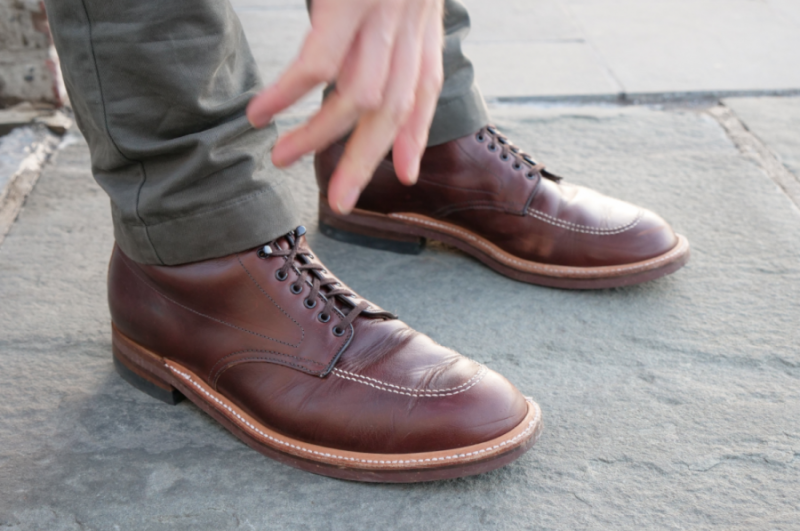 8. Best High-End American Boot Brand: Alden (~$600)
For the best high-end American boot brand, we're talking about Alden Shoe Company, which was founded all the way back in 1884 by Charles H. Alden.
They're the oldest shoe company in New England, and it's a brand that reminds you how important boots used to be. Alden was founded when boots had to be ultra durable and comfortable because people walked just about everywhere, and they've steadfastly remained in New England after hordes of bootmakers sent their manufacturing to cheaper countries.
Best Alden Boot: The Alden Indy ($607)
The most popular model without a doubt is the Alden 403, also known as the Indy — because Dr. Indiana Jones wears them in all of his movies. It's a great shoe with fantastic arch support, and while the 403 in Chromexcel leather is the most popular, you can also get it in suede, cordovan, and many other leathers.
The Indy is renowned for its comfort; the company has a history of making orthopedic footwear and podiatrists often recommend their boots for those who experience arch pain or discomfort after spending all day on their feet. (Of course, talk to your doctor if that's why you're shopping for boots.)
Add all that to the fact that they're made with a water resistant storm welt, the leather ages beautifully, and did we mention Indiana Jones wore them?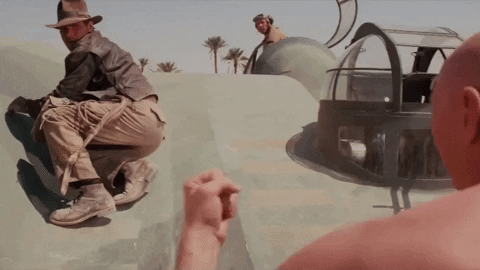 Who should buy Alden Indy Boots?
Guys who want to pay for boots that will last decades.
Men who love the way beautiful leather ages.
Folks who get sore feet from wearing sneakers all day.
Anyone who wants to wear Indiana Jones' shoes.
Guys who want a boot that can handle inclement weather.
Who Shouldn't buy Alden Indy Boots?
Dudes on a budget; these aren't cheap.
Guys who want boots you can wear with a suit.
Folks who want very grippy boots; the flat nitrile cork outsole is surprisingly grippy, but it's still not ideal for hiking.
Alden has put a lot of time and effort into providing footwear for every kind of foot, even offering more widths than practically any other boot brand. (Learn more in our list of the best boots for wide feet.) They're pricy, yes, but the combination of comfort, coolness, and New England craftsmanship is hard to beat.
It's hard to write a list about old-fashioned American shoes without touching on Allen Edmonds. They're currently headquartered in Port Washington, Wisconsin, and they were founded all the way back in 1922. While the brand started out making the formal and business footwear on which they built their brand — shoes like the 5th avenue, McAllister, and MacNeil — they started churning out more rugged men's boots in the 1950s.
Allen Edmonds Higgins Mill Highlights
It's pricy, yes, but this is a terrifically versatile boot with high quality materials. They've used rich, oily Chromexcel from Horween leather, a Dainite outsole, and a water resistant storm welt that elevates it above many other similar looking boots as far as functionality goes. The Higgins Mill are more formal than most workboots, but they're also more urban. It's slim enough that it looks great in fancier attire but it also works fine with dark jeans and a quality t-shirt.
Who should buy Allen Edmonds Higgins Mill
Anyone who wants to own a pair of decent American made boots.
Guys who like a slimmer, versatile last that can be dressed up and down easily
Folks who like the enhanced water resistance of a storm welt.
Who shouldn't buy Allen Edmonds Higgins Mill
Men who are picky about quality control; it's best to be able to inspect your boots in person, as the company has gained a reputation for so-so QC in recent years.
Dudes that prefer a more rugged workboot style.
When I compared Grant Stone's Diesel, Alden's Indy 403 and the Higgins Mill, I thought the Higgins Mill is the best all rounder. Makes sure you check out that comparison if you need further convincing.
Sure, Nick's has great options for customizing, but Wesco has over 300 billion configurations that are possible with their shoes. Also called West Coast Shoe Company, Wesco was launched in Oregon in 1918 and is a beloved institution in American footwear.
Wesco Hendrik Boot Highlights
Let's say you're building a Hendrik boot. You can build it with one of 4 different heights: 6, 7, 10 inches. They have 11 different leathers and you can have different leathers on 5 different parts of the boot. You can pick from 6 different leather linings, use different weights of Thinsulate for insulation, and pick from 10 options for outsoles, which include three kinds of winter-friendly Raptor soles. There are also different metals for the hardware, stitching in the upper or the sole, a dozen options for inserts.
You can make the most "you" boot possible with Wesco.
Who should buy Wesco's Hendrik?
Men who want a unique, custom boot.
Anyone who needs a specific configuration for their boot like 10 inch insulated boots with no-slip soles and a welder's tongue.
Who shouldn't buy Wesco's Hendrik?
Guys who suffer from decision paralysis. The customize feature might blow your mind.
Fashion focused guys may feel these aren't the trendiest of city boots, though some guys find their Johannes to fit that category.
Men who want to save cash; these are very pricy boots.
Wesco isn't the cheapest boot in the country but they're incredibly tough and can be made exactly to your specifications — if you're going to own boots that'll last for a decade, why would you want anything else?
Truman is a much younger company than everyone else on this list, founded in 2014 in rural Pennsylvania. Now based in Oregon, their boots are handmade by human beings, range in price from $399 to $520, and are made with either Goodyear welts or robust stitchdown construction.
Truman Boot Company Highlights
Truman has steadily grown throughout the years to carve out a niche as the American boot company with the coolest leathers, which have included shrunken bison, moose roughout, and black kudu. One of their most widely used is CF Stead's Rambler leather, which has come in colors like Squirrel (light blue), Black Burgundy, and the almost white Smoke Rambler. Note that the available colors changes based on the season.
The company's flagship is probably Java Waxed Flesh (above), a black-brown vegetable-tanned roughout that's exclusively made for Truman by Chicago's famous Horween Leather Company. That's a boot that's as unique and American as you can get.
Who should buy Truman Boots?
If you want a unique leathers that span every color of the rainbow, Truman has worked out a way to forge a masculine boot from it.
Guys who appreciate the talent, and care required for an actual handmade product.
Men looking for a less expensive alternative to the $700+ boots from Viberg. As a handmade, stitchdown, North American boot, Truman is seen by many as a fantastic and cost effective option.
Who shouldn't buy Truman Boots?
Men unwilling to pay the extra for this craftsmanship; they're well priced for what they are, but there are cheaper American boots on this list.
Guys looking for boots that can be dressed up.
Folks not interested in the typical lead time of 6 to 8 weeks.
Rancourt & Co was started in the 1967 by David Rancourt in Lewiston, Maine, who started in the shoe game by making handmade moccasins. He grew the moccasin business into a fully developed shoe factory, making grey label luxury calfskin loafers for some of the best brands in the world.
They still employ shoemakers, a dying craft in America, and some of them have four decades of experience. They employ workers who are skilled in shaping and fitting the leather to the last with simple tools.
They also use what they call Blake Welt Stitch Construction which enables them to produce more sophisticated footwear including their calfskin dress shoe collection. The benefits of a Blake Stitch Welt is flexibility and simplicity, because there is no rib and just a single row of stitching inside the upper attaching the outsole.
[Learn More Goodyear Welt Vs. Blake Stitch Vs. Cement — Which is Best?!]
Rancourt and Company Highlights
Rancourt is famed for their moccasin loafers and boots. This style of construction is considered uniquely American, and Rancourt's are completely handmade, with their site detailing the skill required to hand fit the leather to a last and hand stitch the leather with needles and waxed thread. This process and this style of construction make for a remarkably comfortable and flexible shoe.
The company also makes plain toe boots, their most popular being the Byron Boot below. For 395 bucks you get a wide variety of uppers from Horween's veg tan Essex leather to kudu suede. They use a 115 last, the same last they use for their dress shoes, and they're a delicate balance of dress and casual. They've got these great little details like Horween's Casco horsehide lining, which is soft leather but also tough as nails because it's horse's hide. These are touches I'd expect on a costlier boot.
Who should buy Rancourt?
Guys who like moccasin style construction; Rancourt is considered the best at this kind of craft.
You value careful finishing and top-notch materials. Rancourts are known for clean construction.
Anyone with narrow feet or wide feet; they have a large size range from 6 to 14 and widths from B to EE
Men who want refined lasts like the 115, which combine dressy and casual.
Durability minded guys who want to a resoling or refurbishing program.
Who shouldn't buy Rancourt?
Some people don't like the softness of the latex outsole common on many of their boots.
Rancourt makes a lot of different styles of footwear under their own brand and other brands, and you may not get the same level of customer service and care from the other brands. Their fans buy straight from the source at Rancourtandcompany.com, a unique company that makes handmade, American made, shoes and boots at scale without compromising quality.
[Related: Rancourt made our list of the best winter boots!]
Kreosote used to be called MYG Handmade. They were started in Missouri and are not your typical boot company. They're not made with Goodyear welt machines or with any kind of gemming fabric, they're made one at a time by a single pair of hands: JD Gabbard, who single-handedly builds 35 pairs of originally designed boots each year using traditional Cordwainer methods that require 50 + hours to complete.
Kreosote Highlights
What immediately jumps out about these boots is how stunning they look. The next thing is the price: they start at 1,400 bucks and top out at 1,600 bucks. That's not cheap, but the boots require immense skill and labor to produce, and they're made specifically to your foot measurements.
These are heritage in all the right ways. The uppers are constructed with full-grain leather and vintage sewing machines and the sole is attached using what's called a traditional German Welt. They have a 360 degree inseam stitched with wax thread, a steal shank, veg-tanned leather outsole, the stacked heel is attached with ten small wooden nail pegs, and it's all finished with an antique edging tool. A light cream and wax is added to provide extra water-resistance.
Who should buy Kreosote boots?
Guys who value an extreme level of craftsmanship.
Men who think patience is a virtue and don't mind waiting for great boots.
Folks who want completely unique, completely customized-to-their-foot boots.
People who want boots that are a conversation piece; you'll never get tired of telling the tale of these boots.
Who shouldn't buy Kreosote boots?
You really don't need $1,400 handmade boots and are happy just knowing these exist.
Guys who can afford $1,400 but don't want to wait a year for them.
I could go on and on about why these boots are really cool and special, and each style he makes is like reading a placard at a museum. His website is worth checking out if you're into super nerdy boot details.
Role Club is the brainchild of YouTube's Brian the Bootmaker, an LA-based cobbler who whose passion for making boots started in 2010, when he stopped into a shoe repair shop and became friends with the owner. He fell in love with the craft and learned the boot making trade, elevating his brand to one of the most coveted in high end heritage wear.
Popular Role Club Boots
Bran makes quite a few different styles of boots, all of which are handmade to measure. Like Wesco, you can customize your boots by choosing a style, leather, welts, l soles, heel, edge finish, and structured or soft toe box. The Engineer boots, Underdogs, and Lace to Toe all seem to be pretty popular. There's a fantastic selection of leathers from Horween like their Chromexcel, shell cordovan, steer hide, and horsehide.
[Related: Why Hand Welted Boots are Better Than Goodyear Welted]
Who should buy Role Club Boots?
Guys who want handmade boots that use great quality materials.
Anyone who doesn't mind the high price tag.
Men who like customized, made-to-measure boots.
Who shouldn't buy Role Club Boots?
You're not ready to invest in boots that cost four digits.
Just to note that Brian doesn't list his prices online, so if you're interested in a pair you'll need to contact him through a form on his site. Remember that these are handmade, which is a time-consuming process, also he uses some really high-quality leathers that are not cheap.
Founded in 2016, Mark Albert Barbera got into the boot business after he spent some time selling his own Chelsea boots on an extraordinarily successful Kickstarter campaign. On the back of that success, he launched Mark Albert Boots. The concept is pretty simple: sell made in America boots directly to consumers at a pretty low price point.
Mark Albert Outrider Highlights
Basically, you make the order ahead of time, they're produced in batches, and this lets them keep the costs very low. In that regard it has some similarities with Beckett Simonon and John Doe Shoes, except that (again), these shoes are made in America. Basically, they're great looking boots for a great price.
They sell a variety of heritage type footwear, the most popular models are the 5-inch tall Outrider and 6-inch Uptown. I've had a pair of Outriders for a while now, and I like that they are lightweight yet robust. The attention to detail is nice, they have a unique leather/poron insole, and most of the stitching is done freehand. Above all, the price is bananas.
The only downsides are the long wait time. If you like leather that develops character, then these are for you.
Who should buy the Mark Albert Outrider?
Guys who like lightweight boots.
Men who want out-of-box comfort from the leather/poron insoles.
Anyone who wants a freehand stitched boot for a great price.
Who shouldn't buy the Mark Albert Outrider?
Impatient people who don't want to wait for their boots to be made.
People who like their leather to maintain a uniform appearance, the oils and waxes in the pull-up leather will move around, discoloring at flex points.
Men who want a dressier or more formal boot.
Overall, these are fantastic boots at this price point. Again, the downside is the month-plus wait time, but they're under $300, they're made in America with American leather, they're super comfortable, resoleable, hand stitched, and available in a bunch of leathers. Note that the pandemic hit Mark Albert hard and it's unsure if they can still meet demand.

16. Helm Boots Muller (~$350) (Get 15% off with the code STRIDEWISE at checkout)
Helm is an Austin-based shoe company founded by Joshua Bingaman. The company started out making their boots in Turkey, but then they moved operations entirely to the States. Some boots are made in Brazil, but the Muller boot above is all American made.
Helm Boots Muller Highlights
Billed as a work boot you can dress up, Helm has shown an ability to modernize classic aesthetics. They take heritage fashion and give it a dash of modernity, like versatile designs and their signature white rubber midsole. They stand out in the crowded boot market by offering fresh twists on vintage styles. There aren't many shoes that can be worn with t-shirts or with khakis, but the Muller passes that test. Perfectly straddling the line of classic and modern, I adore the white midsole and feel that the toe and sole are both low profile enough to work with almost any ensemble.
Who should buy Helm's Muller
Busy guys who want one pair of boots they can do office work, manual work, and recreational time in.
Men who like a minimalist design.
Comfort-minded people who like flexible, lightweight boots with a cushy footbed.
Guys who like the unique look of the white midsole.
Who shouldn't buy Helm Boots
The white midsole is divisive; if you hate it, you hate it.
You can't stand tricky break ins; I got blisters on all three of my Helm boots.
You want more grip than the fineline rubber provides.
Some of Helm's boots are made in the States and some are made in Brazil, so if it matters, definitely check out the product descriptions.
American-heritage brand Russell Moccasin was started in 1989. Their boots are still handmade in a small town and popular amongst hunters and outdoorsmen.
Russell Moccasin Highlights
There's a lot to like about these boots. As I mentioned, they're handmade in America. They're also made in a moccasin style, which predates European settlers in North America and is an early example of footwear designed for outdoor use.
Contemporary moccasins are popular as loafers, driving shoes, and work boots like Red Wing's classic Moc Toe. What sets Russel apart from these brands is its focus on hunting and customization while adding very few modern elements like cork or modern foams like EVA to their boots. Instead of these materials, Russel adds layers of leather that mold to your feet.
While Russel's focus on old-timey heritage construction and materials is very cool, they also offer a few modern upgrades. They'll add a bit of poron to their double and triple vamp boots. For their single vamp boots, you can add a poron sock lining.
The customizability of these shoes is a huge selling point. They have a wide range of leather, sole, lacing systems, linings, vamps, heel counters, insolation, and inserts. You can get them custom fit to your feet, and they'll make any size you want, from a 2.5 to an 18.
You can build the perfect boot for your foot shape and the climate you live in. They aren't just for hunters. They also make motorcycle boots, oxfords, chukkas, chelseas, and casual moccasins.
Who should buy Russell Moccasins
Guys who want hand-made American excellence
Anyone who needs an amazing hunting boot
People who like or need customization, especially if you have large or small feet
Who shouldn't buy Russell Moccasins
You need a boot today. They have a long wait list
Guys on a budget, these boots start at $459 for their Knock-A-Bout boots.
They are very cool, very unique boots. Two big downsides are kind of inevitable when your buy small-batch handmade in American products — they are more expensive than other brands on this list, and they take up to 10 months to a year to get a pair made.
17. Origin Maine
Origin Maine is a 180-degree turn from Russel. Instead of a small mid-western company, you get a much larger, more modern company that makes their boots in the USA. Their marketing is a bit too in-your-face, and it's tough to find technical details about the boots as there's a lot of fluff. Origin got into making apparel by creating an American-made Gi for Brazilian jujitsu before expanding into boots, denim, and even supplements.
Origin Maine Highlights
But marketing is usually a bit irritating, and small established brands like Russel are few and far between. Many guys like Origin's boots because they break in quickly, are well built, and aren't crazy expensive for made-in-America boots. They use 100% American-made boots with American-made components.
Origin makes a few different styles of boots, you can choose between a few different soles — a mini-lug, a wedge sole, and a commonado sole. The wedge soles come in black and white. They add poron in the midsole for extra shock absorption. The combination of cemented soles and poron makes a boot that's fairly easy to break in.
I think the most interesting are their Bison boots. They use American Bison hides tanned in Maine.
Who should buy Origin Main Boots
Guys who want rugged, bulky boots
Anyone who likes customization but doesn't need million different configurations
Who shouldn't buy Origin Main Boots
You want a more stylish boot you can wear to work and on the weekends
Guys who want a Goodyear lasted, resolable boot.
One thing about Origin that's a bit vague is whether or not these boots are reasonable. According to their website the "toe is down and out stitched" while the heel and sides are cemented. I don't know exactly what "down and out" stitching refers to, but I'd imagine a cemented and stitched sole could be difficult to resole.
Wrapping Up
I hope this list helped you guys find some great American made boots in your price range and style. All of these companies are American owned and all of the boots highlighted are American made. Whatever your priority or your budget, you'll find something on this list to suit your style and your needs.
[Related: My list of The Best Boots for Men]
FAQs American Made Boots
What boot companies are made in USA?
Red Wing Heritage Boots and some Red Wing Work Boots
Thursday Boots makes their Vanguard boots in America
Parkhurst
Oak Street
Thorogood
White's Boot Company
Alden
L.L. Bean
Wolverine
Wesco
Truman
Kreoset
Roleclub
Mark Albert
Chippeway
Helm
Nick's Handmade Boots
Who makes the best boot?
Best Overall: Red Wing Heritage (~$330)
Best Value: Thursday Boot Company Vanguard ($265)
Best Dress/Work Boot Hybrid: Parkhurst (~$350)
Best City Boots: Oak Street Bootmakers' Trench (442-$470)
Best Value Work Boot: Thorogood: Heritage Moc Toe ($239-274)
Toughest Work Boots: Nicks Handmade Boots' Urban Logger (~$560)
Also Consider for Work Boots: White's MP Sherman ($670)
Best High-End American Boot Brand: Alden (~$600)
Best Smart Casual Boot: Allen Edmonds Higgins Mill ($445)
Best Customizable Boots: Wesco Hendrik (~$700)
Coolest Leathers: Truman Boot Company ($445)
Best Moccasin Boot: Rancourt Baxter Boot ($340)
Most Exclusive: Kreosote ($1,400+)
Role Club ($1,000+)
Mark Albert – Outrider (~$300)
Helm Boots Muller (~$350) (Get 15% off with the code STRIDEWISE at checkout)
Are keen boots made in America?
Most Keen boots are made overseas in Mexico, Thailand, or other countries. Some Keen boots are assembled in Portland, Oregon.
Where are boots made in USA?
Boots are made across the USA. The Pacific North West has a high density of boot makers, but boots are made in Minnesota, Maine, and the East Coast.
Is Ariat American made?
Most Ariat are made in China or Mexico.
Is Timberland American made?
Most Timberlands are not made in America, but they do have limited-release boots that are made in America.
Are Red Wing boots made in USA?
All of Red Wing's Heritage boots are made in the USA. Many of their work boots are made in the USA, but some are made overseas.
What men's boots are made in USA?
There are many boots made in the USA here are a few.
Red Wing Heritage Boots and some Red Wing Work Boots
Thursday Boots makes their Vanguard boots in America
Parkhurst
Oak Street
Thorogood
White's Boot Company
Alden
L.L. Bean
What is the best all around boot?
We think the Thursday Vanguard is the best all-around made in the USA boot. The price and quality are fantastic. Red Wing's Heritage Boots are also fantastic.
Are Carhartt boots made in the USA?
Carhartt boots are not made in the USA. They are made overseas by a grey label manufacturer, some people consider Carhartt boots to be cheap and poorly made.