It's here: the ultimate boot showdown.
The question of Red Wing versus Wolverine has been the most hotly debated since time immemorial (or at least since online message boards were invented) and with good cause. The two companies' flagship boots — the Iron Ranger and the 1000 Mile — are true icons of American footwear. Both companies are super old, both boots are considered by many as the perfect entry level boot, they both have 270-degree Goodyear welts, and they both have cult followings. These are some of the most popular boots in America and because they're so close in price, well, people are constantly comparing the two.
Which comes out on top? While they have a lot in common, there are also a lot of key differences to take into consideration, particularly with regard to the leather, the sole, and most importantly how they aged — I have owned and worn both boots for months and unlike a lot of comparisons out there, I didn't buy try on both boots and return one after walking around my living room. I've trudged through storms, hiked through blizzards, conditioned and re-conditioned these bad boys. And I think theres a pretty clear winner.
[TEAM RED WING? SHOP THE IRON RANGER IN 6 LEATHERS HERE]
[TEAM WOLVERINE? SHOP THE 1000 MILE HERE]
First Glance
Red Wing Iron Ranger
I own the Amber Harness Iron Ranger, which is the most popular version of the boot. (Yes, they've darkened a bit since I bought them — Obenauf's Leather Oil did a great job of keeping the leather moist over the years, but Red Wing's own boot oil probably would have been better for maintaining the color.)
The defining feature of the Iron Ranger is the toe cap, which critics correctly call bulbous but I really like. It really emphasizes the fact that unlike the 1,000 Mile it's not a remotely dressy boot. This is comfortably a work boot, designed to be reminiscent of the footwear Red Wing used to make for the iron miners toiling inside the Mesabi Iron Range in Minnesota.
The functional aesthetic is further emphasized by the triple stitching, the shiny nickel eyelets, the thick oil-tanned leather, and the sole. The sole has traditionally been cork but if you're buying Iron Rangers today, you're in for a super functional Vibram sole; Red Wing changed all of the models' soles from cork to Vibram in summer 2018.
Wolverine 1000 Mile
It's instantly apparent that this is a more versatile boot. There's no toe cap, there's much less triple stitching, and the eyelets are more subdued. Like the Iron Ranger it has a 270-degree Goodyear welt and a cork midsole but the shoe aims for the title of all-rounder.
It's a pretty wide, to be fair — there are no illusions that this can double as a dress shoe, but the Red Wings are more outdoorsy and knockaround. The 1000 Mile is less eye catching, less unique, and blends more easily into khakis and a button down. Can you wear it with a suit? No. Is it inconspicuous? For sure.
The leather is prettier, though, and less raw around the edges than Red Wing. Wolverine has opted for the world famous Chromexcel leather from Horween Leather Company, which has a rich pedigree and a richer depth of color, which I'll discuss in more detail in the next section.
[Related: The 10 Best Dress Boots]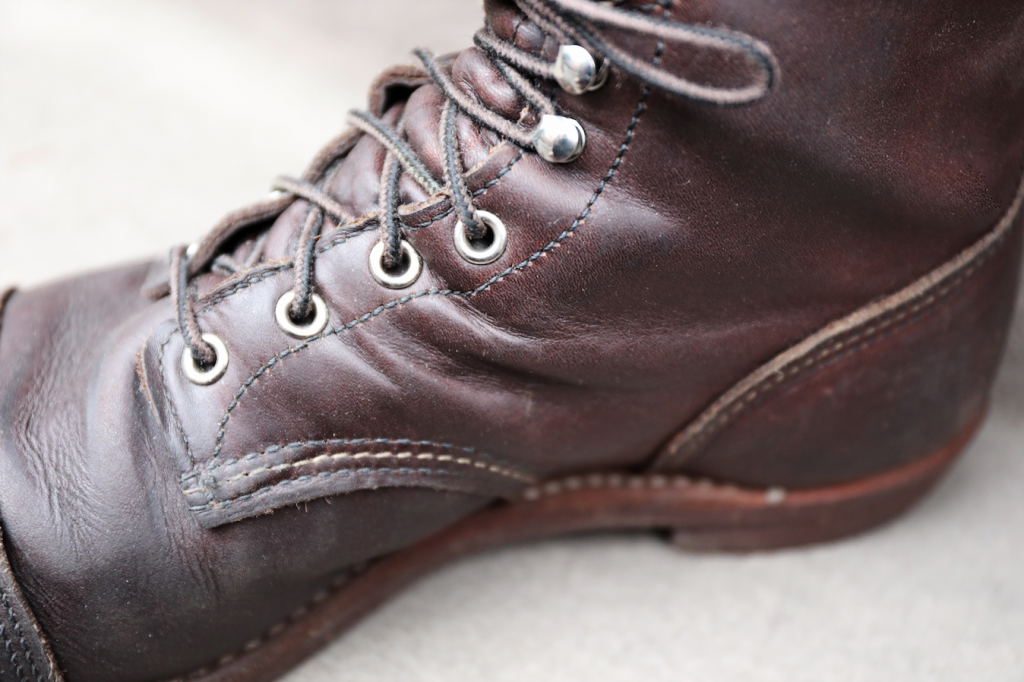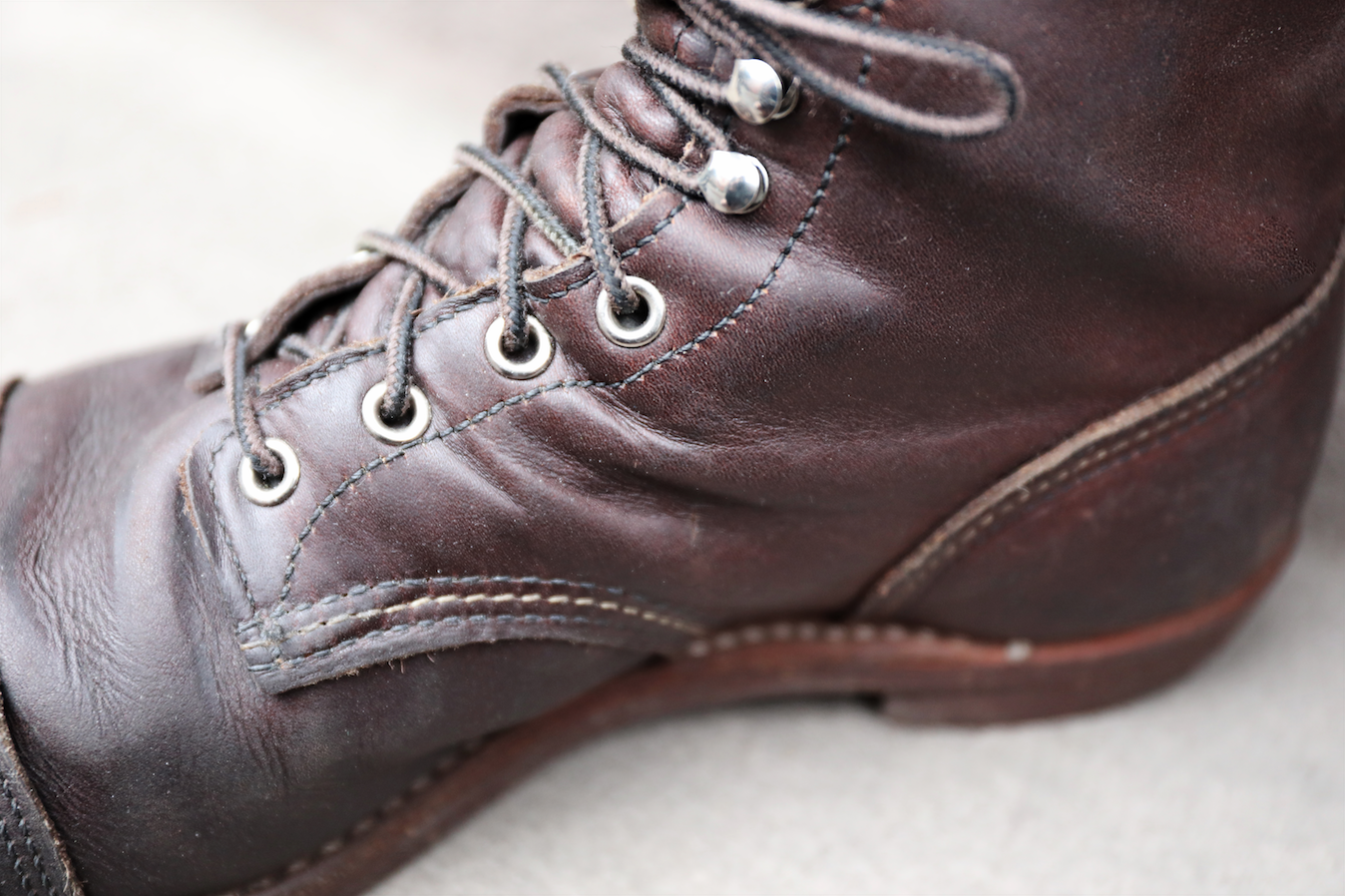 Red Wing vs Wolverine Leather
Red Wing Iron Rangers
Oil-tanned leather
Harder to wear in
Aged very well
This is an oil-tanned leather and to be honest, it's a little hard to tell where it comes from. Red Wing proudly owns their own tannery, S.B. Foot Tanning Company, but the language on their site doesn't actually state that this boot's leather is made there. (It's much clearer for certain leathers, like their Roughout.)
In any case, it's a nice, full grain leather that's remarkably thick, certainly more than two millimeters. That means they're no fun to wear in (expect blisters) but over the year that I've owned them, the leather has slowly and molded to the shape of my foot. That's the thing with full grain leather: it becomes more you as it ages. This boot was more rugged and stiffer than Wolverine's, but it can take more of a beating.
As I mentioned above, I conditioned my Iron Rangers with Obenauf's Leather Oil and it worked a treat; the only complaint I have is that it darkened them a lot. People still like them, but I might have gone with Red Wing's mink oil-based leather oil if I'd known the leather would change so much. (And if I weren't so squeamish about using mink oil.)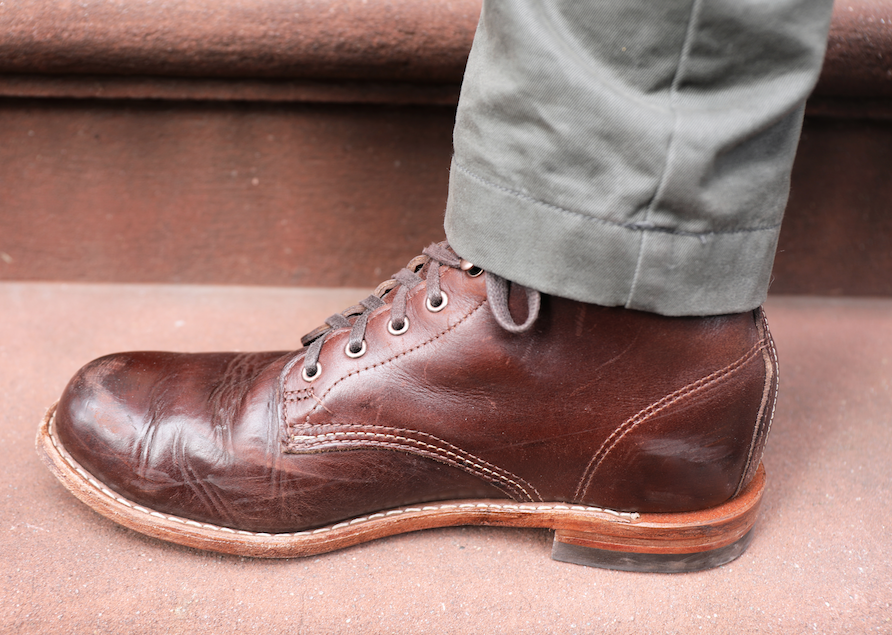 Wolverine 1000 Mile
Chromexcel leather
Creased significantly
Plenty of loose grain
Chromexcel is a beloved leather from Horween Leather Tannery in Chicago that's used in a ton of high end men's boots, from super-expensive boots like the Viberg Service Boot and the Alden Indy 403 to regular-expensive boots like the Allen Edmonds Higgins Mill. It's a combination tanned leather that's made with 89 separate processes over 28 working days, during which the leather is stuffed with oils and waxes to produce an impressive depth of color. When compared to the Iron Ranger, the top finish is quite a bit more vulnerable to scratches and nicks, which is probably the biggest complaint with Chromexcel.
The leather is pretty hard wearing, though, and when it comes to taking care of Chromexcel you can be comfortable with just using Venetian Shoe Cream, which Horween themselves recommend. Wolverine likes to suggest their own leather conditioner that's made from mink oil and pine pitch, but you don't need to reinvent the wheel, here. VSC works fine, but Saphir's Renovateur is also one of Horween's favorites if you're more partial to a shiny boot.
Now, I've worn better Chromexcel than this. It was much easier to wear in than the Iron Ranger, but within one week the boot developed ugly creases all over the the shaft and the toe break. No, I wasn't using shoe trees, but this was one week of wear. I can only conclude Wolverine's leather selection isn't top notch.
[Related: Venetian Shoe Cream vs Saphr Renovateur]
Sole
Red Wing Iron Ranger
Cork or Vibram outsole
Cork midsole, leather insole
Steel shank
My pair have a flat nitrile cork outsole, but as mentioned above if you bought your pair during or after summer 2018, you probably got the updated version with a 7-millimeter thick Vibram sole. Vibram is a great Italian rubber that has superb grip in rain and snow, but even my cork soles had decent grip, much better than the 1000 Mile.
After the outsole there's a steel shank for arch support and stability plus a cork midsole and leather insole, both of which slowly molded to the shape of my foot. That sole combined with the (reluctantly) malleable leather made for a shoe that really fits like a glove after the gnarly break-in period.
The Goodyear welt is also worth mentioning since it boosts water resistance, but both boots have the same welt so it's not great for comparing the two.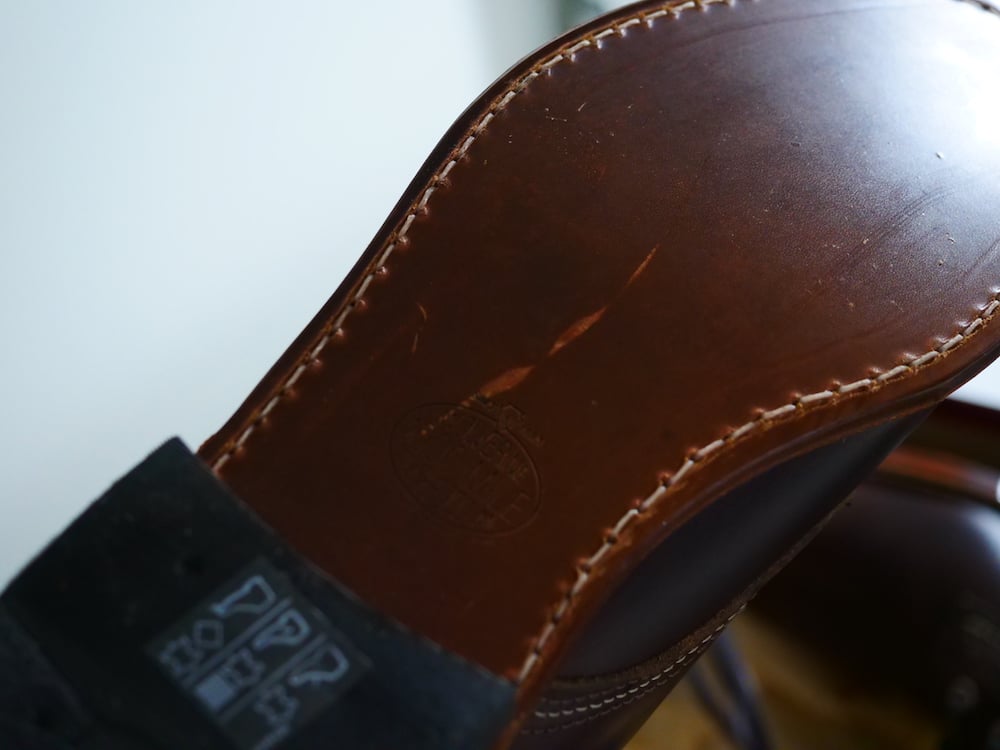 Wolverine 1000 Mile's sole, fresh out of the box
Wolverine 1000 Mile
Leather sole
Vibram heel
Cork midsole, leather insole
No steel shank
Less durable heel
The undisputed loser of this section, Wolverine's flat, butyl-treated leather sole has very poor grip. While it does gradually improve as it gets worn in, you're rewarded with a very ugly, scraped up outsole that I didn't love at all.
There is a Vibram heel to help reduce slippage and absorb shock, and I do have to hand it to Wolverine in that regard: it absorbs shock better than the cork sole from Red Wing. But since that shoe now has a Vibram sole I'm confident that today's Iron Ranger has eclipsed the Wolverine in this regard.
There's also no shank, so a dress boot, plus the heel of my 1000 Miles started to detach after about a month of wear. The Iron Ranger, on the other hand, has no issues with the heel after more than a year.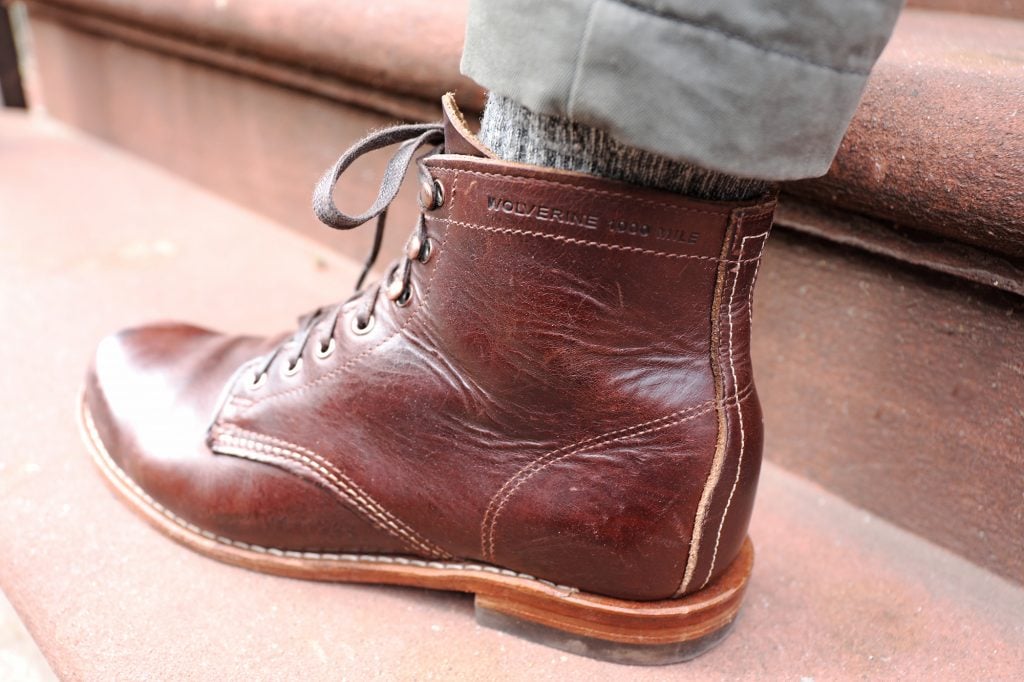 Red Wing Vs Wolverine Sizing
Order a half size down from sneaker size for both boots
Red Wing has more arch support with shank
1000 Mile has better heel support
The sizing is about the same for both brands: you should order a half size down from your sneaker size. I'm between an 11.5 and a 12 on a Brannock device but I'm a solid size 11 in both the Red Wing and the Wolverine boots.
Width-wise, Red Wing has D and EE, Wolverine D and EEE. Folks with narrow widths are out of luck.
Red Wing vs Wolverine Price
Red Wing Iron Ranger
Both on Amazon and on Red Wing's official site, these shoes run about $349.99. The price can fluctuate a bit and on Nordstrom in particular, they frequently go on sale for under $300. But if you want a pair of these bad boys today, head to Amazon for the best price.
[TEAM RED WING? SHOP THE IRON RANGER IN 6 LEATHERS HERE]
Wolverine 1000 Mile
One pair will set you back $385 on Wolverine's site but they're also a little cheaper on Amazon, selling for anywhere between $320 and $360. It's rare to see them under $350, though, so Red Wing is the clear winner on price.
[TEAM WOLVERINE? SHOP THE 1000 MILE HERE]
Red Wing Iron Ranger Vs Wolverine 1000 Mile: Who Wins?
I wouldn't hesitate to recommend the 1000 Mile if you were trying to decide between the two and you wanted a more formal boot that wouldn't look as out of place with nice khakis. If versatility and dressiness is what you're after, the Wolverine — while far from a dress boot — is your best option.
But if you're just looking for a high quality boot you can wear with jeans or khakis, go with the Iron Ranger. It's cheaper, it has better grip, it's better at supporting the foot, and most importantly it ages much, much better.
[Related: My list of The Best Boots for Men]
The following two tabs change content below.
Nick English
By day: Manhattan-based journalist with reporting experience on four continents, published in Vice, Men's Health, Popular Science, and a bunch of other places.By night: ravenous consumer of anything and everything related to high end men's boots.Stridewise is where I nurture a maniacal obsession with footwear and share my findings. Say hey:
[email protected]
.
Latest posts by Nick English (see all)