I'm continually surprised by how many bad boots are on the market. Think about it: these shoes need to go from concept to capital to production with hundreds of steps along the way. Companies need to be formed. Leather needs to be tanned. Websites need to be created. Entire businesses are formed around products that are just plain bad.
There are countless things that can go wrong with a boot and I've seen them all: iffy arch support, slippery soles, lousy lasts… and then there are the issues that you can't pick up on when you're trying boots on in a store, like leather that creases too fast or heels that detach after just a few weeks. And no matter how many boots I own — and I own a truly ridiculous amount of boots — I always gravitate toward a small group of favorites.
Out of every boot I own, these are my five all-time favorites.
This is a really phenomenal shoe and to this day, it's my favorite boot.
The guys who started the company were fed up with the fact that most good boots are expensive simply because of the brand's value and not because of the actual quality of the materials and construction. With that in mind they came up with their own leather, Thursday Chrome, to compete with Horween's esteemed Chromexcel® and they devised their own rubber soles which, in my opinion, feel and perform just like the expensive Dainite soles you see on expensive shoes.
But Thursday's Captain boot is in no way an imitation of somebody else's product. It's a wholly unique product that's meant to be the perfect hybrid boot, a combination of dressy and casual that I think completely succeeds.
The shoe also has a 360-degree Goodyear welt that's subtle and close in to the vamp, so while it's very water resistant it doesn't have any of the chunkiness that you typically get with a full Goodyear welt, plus there's Thursday's secret sauce: the Dura EVA comfort strip, an addition to the insole that's often used in athletic shoes. It results in a boot that, after a few days of breaking in, feels a lot more like a pair of sneakers than a quality leather boot.
While it's rare for a boot to be this comfortable, perhaps the most remarkable aspect of the boot is the price: $199. With materials and construction worth at least twice that, this is inarguably the best value boot on the market and in my opinion, the best boot, period.
[Shop the Captain boot in eight different leathers here.]
2) Toughest Boot: Truman's Java Waxed Flesh
It's important to note that I'm talking about the toughest fashion boots, here — I'm not looking at boots that can withstand magma or fire, rather boots that look great when worn out on the town and are still tough as nails when they need to be. For that, I had to go with Truman.
This company is a big time competitor of Viberg and compared to Viberg I found these boots fit better, are more flexible, and they're significantly less expensive. In my unpopular opinion Viberg boots are overpriced and overconstructed but when I wear a pair of Truman boots I feel indestructible.
A heavy boot with a Commando sole that's tough as nails, the leather is a roughout leather from Horween that's a deep, dark java brown with a waxed finish that makes it very resistant to the elements. The leather is also thick, but it has no break in. The construction is solid, in line with the kind of boots you see from Nick's or Dayton, and the double stitchdown welt makes for an unusually water resistant shoe as well.
It's not that there are no downsides: stitchdowns are a little harder to resole, they're not very well lasted, the stitching isn't symmetrical, and it takes a good few weeks to get a pair made. Clocking in at $540 a pair they're not crazy cheap either, but I like these shoes quite a bit more than my $695 Vibergs and relative to their boot nemesis, they're both cheaper and tougher.
[Check out Truman's Java Waxed Flesh here.]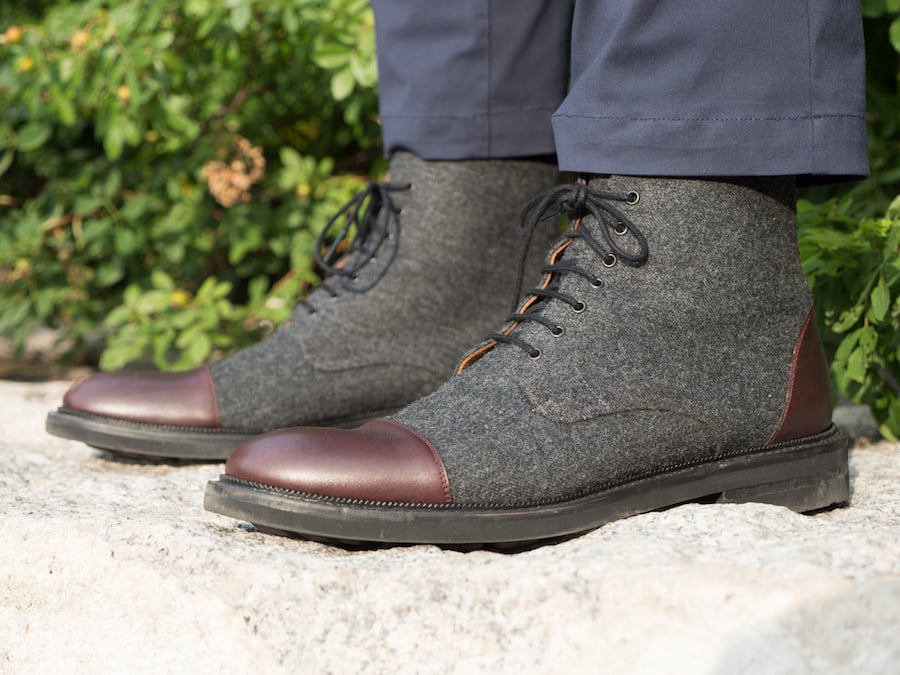 The most distinctive, the most unusual, most eye-catching boot, in my opinion, is the Jack boot from Taft. A direct to consumer brand founded by Kory and Mallory Stevens in 2013, they're good at online marketing and if you spend as much time reading about boots as I have, you've probably seen this boot  advertised online.
I'll admit that I didn't love them when I first saw them, but they're so unusual that I kept thinking about them and eventually I had to pick up a pair. I'm glad I did.
Fully lined with silky smooth calfskin, the upper is raw Portuguese wool with oxblood crust leather on the toecap and counter. There are other color combinations available, some more unusual (like white wool and copper leather) and some more subdued (like black wool and black leather) but the grey/oxblood combination is the company's signature boot.
Sure, you can make the argument that these eye catching boots are less versatile than a pair of plain brown beater boots. But when I have a chance to wear them — say, with blue chinos and a grey blazer, a navy suit at a wedding, blue jeans and grey/black coats — I love to bust them out.
The rubber sole is also super soft and they breathe better than you'd expect, though the downsides are the leather scratches very easily and it's not the best boot in wet weather.
But if you know the forecast and you've got an outfit that works, they're fun boots to wear and at $250 a pair they're relatively easy on the wallet.
[Check out the boot here and don't miss the other varieties.]
I know that when a lot of guys talk about "mid-range boots" they're talking about boots in the $500 to $750 range but for my money, when a guy starts spending over $300 on shoes he doesn't typically consider them "low tier." With that in mind, I'm going with the Allen Edmonds Higgins Mill as my favorite mid-range boot.
This shoe has been described as like the Wolverine 1000 Mile and the Alden Indy had a baby, a description that I quite enjoy. I'm a big fan of Red Wing's Iron Ranger, which also falls into this category, but it simply isn't as versatile as the Higgins Mill. Modeled after the boots loggers once wore in Maine, these boots have a nice, basic service boot aesthetic and they're really easy to dress up or dress down — I've worn them with t-shirts and I daresay they can be worn with a not-too-formal blue suit.
They're also durable. These shoes rock a full 360-degree storm welt, a type of Goodyear welt that's extra resistant to water and grime, and the sole is also made from the famous medium density Dainite rubber, which is a great combination of grip, durability, flexibility, and softness.
The biggest downside is that Allen Edmonds isn't amazing at quality control and a lot of folks complain about getting loose grain in their leather. But if you can go to a store and do your own QC, I think these are solid boots.
[Shop Allen Edmonds' Higgins Mill boots to nab your own pair]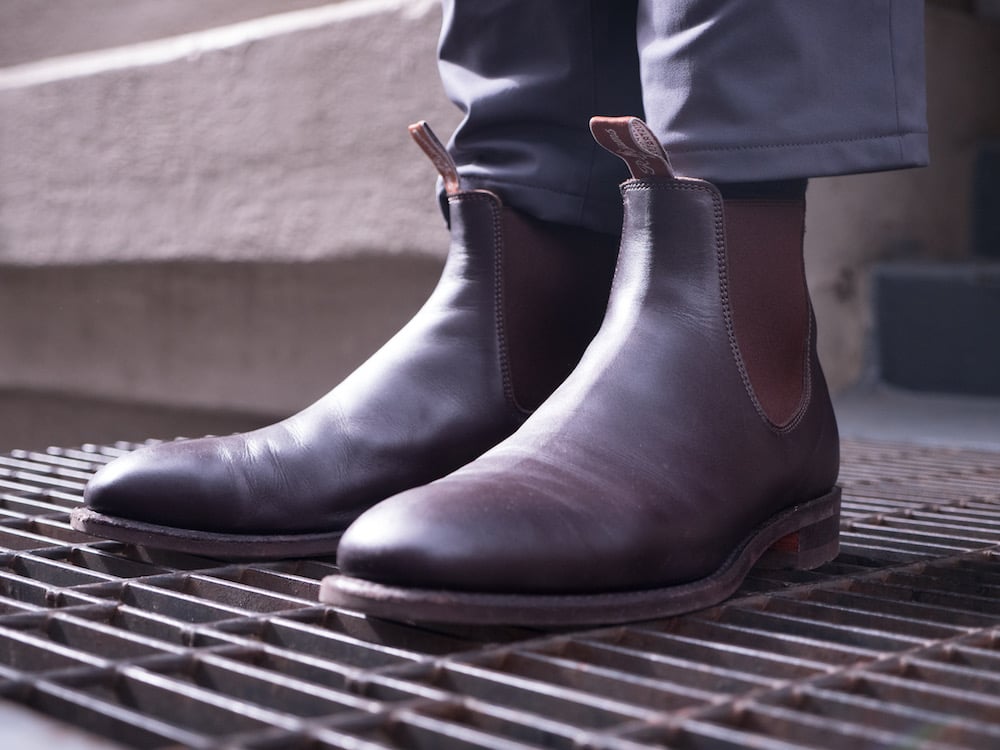 Finally, my favorite calfskin boot is definitely the R.M. Williams Comfort Craftsman. I find a lot of calfskin boots hit or miss — I didn't love the Frye Jones Lace Up and I really didn't love the Astoria from To Boot New York — but if you're down with a Chelsea boot, I think the Comfort Craftsman is an excellent choice.
Technically made from yearling leather (meaning the calf is slaughtered at a year old) the leather is both buttery soft and surprisingly tough, which is why it's a favorite of both farmers and businessmen in its native Australia. It doesn't crease or scratch easily and with a nice subtle Goodyear welt, you can expect to keep your feet dry whether you're running around a paddock or you just get caught in the rain when you're out to dinner.
It's also one of the most comfortable boots I've ever worn in my damn life. Made with whole-cut leather, an "airport-friendly" fiberglass shank, and a rubber sole that's surprisingly great at shock absorption, these are shoes I literally don't want to take off when I get home. This sounds like an exaggeration, but I'll sit on my couch in these as though they're slippers.
It's a little pricy at around $550 for a pair, but you can usually get them for cheaper at bootsonline.com.au if they have your size and you're happy to pay shipping. Good luck!
Wrapping Up
I haven't tried every boot on Earth, but I'm very confident in my picks for the best boots on the market right now. I took into account value, comfort, quality, fit, and aesthetics to land on these five and while I believe any of these would be a great addition to a man's wardrobe, I firmly believe Thursday's Captain Boot is the best of the five.
The following two tabs change content below.
By day: Manhattan-based journalist with reporting experience on four continents, published in Vice, Men's Health, Popular Science, and a bunch of other places.By night: ravenous consumer of anything and everything related to high end men's boots.Stridewise is where I nurture a maniacal obsession with footwear and share my findings. Say hey:
[email protected]