I'm continually surprised by how many bad boots are on the market. Think about it: this footwear needs to go from concept to capital to production with hundreds of steps along the way. Companies need to be formed. Leather needs to be tanned. Websites need to be created. Entire businesses are formed around products that are just plain bad.
There are countless things that can go wrong with a boot and I've seen them all: iffy arch support, slippery soles, lousy lasts… and then there are the issues that you can't pick up on when you're trying boots on in a store, like leather that creases too fast or heels that detach after just a few weeks. And no matter how many boots I own — and I own well over a hundred pairs — I always gravitate toward a small group of favorites.
Enough is enough. I'm sick of seeing men doing their feet a disservice. So today, I'm going to unveil the best boots for men to buy in 2022. Out of every boot I own, these are my ten all-time favorites.
What Makes The Best Boots? My Criteria For Selecting These 10 Boots
Before the list of the best boots, I wanted to start off by sharing the criteria I used in making my selections. 
The main factors I looked at were value, comfort, quality, fit, and aesthetics. Together, I feel that these five variables make up a fair representation of the best boots. Let me quickly explain my thought process behind each of these:
Value: When it comes to boots, you almost always get what you pay for. With that said, you can consider value instead: this speaks to what you get compared to what you pay. If I say a boot has great value, it means the brand could be charging more for the quality they're offering.
Comfort/Fit: Of course, the best boots need to be comfortable. Whether you wear them for a few hours or the entire day, you want your boots to be soft yet supportive, ideally with a measure of shock absorption. Oftentimes, you won't even notice you're still wearing the most comfortable boots!
Quality: The best boots are more or less synonymous with the highest quality boots — at least, to a certain point. The materials used should be premium, and the boot needs to be built to stand the test of time.
Aesthetics: Finally, I considered the aesthetics that a boot provides. This is all about appearance, and sure, it may be a bit surface level — but the best part about building out your collection is having a boot for every occasion!
Do you want to learn more about my criteria when I rank boots? Check out our my boot review process for a more in depth understanding.
Now that you know what I had in mind when compiling this list of the best boots, I'm officially ready to unveil my #1 pick with you: The Thursday Boot Company's Captain Boot.
Versatile dress/work boot hybrid
Wide variety of leathers
Just $199
This is a really phenomenal boot and despite my eye-wateringly huge collection, it's the one I wear the most.
The guys who started the company were fed up with the fact that most good boots are expensive simply because of the brand's value and not because of the actual quality of the materials and construction. 
They were also after boots that were neither dainty dress boots nor heavy work or hiking boots — the idea was to make a new kind of boot that you can wear with anything and won't cost you an arm and a leg. And, in my opinion, they nailed it.
Thursday's Captain boot is a wholly unique product that's meant to be the perfect hybrid boot, a combination of dressy and casual that I think completely succeeds.
The shoe also has a 360-degree Goodyear welt that's subtle and close in to the vamp, so while it's very water-resistant and easy to resole, it doesn't have any of the chunkiness that you often get with a full Goodyear welt. On top of that (literally) there's an EVA comfort strip, a kind of foam that's often used in athletic shoes. It results in boots that, after a few days of breaking in, feel a lot more like a pair of sneakers than hard-as-nails work boots.
Perhaps the most remarkable aspect of the boot is the price: $199. This is inarguably the best value boot on the market and in my opinion, the best boot, period.
[Shop the Captain boot in 12+ different leathers here.]
Made in Chicago
Sturdy construction
$442 – $470
The runner up for the best boot overall is the Trench boot from Oak Street Bootmakers.
These are beautiful leather boots with really robust construction. They're made in Chicago with leather from the city's famous tannery, Horween Leather Company. It's a really sturdy, versatile, and resoleable boot with extra thick leather in the upper and sole, and it has the kind of design simplicity that lets the construction and materials speak for itself.
It's also totally made in America (even the packaging is sourced domestically), but at about $460 it's not cheap, so it's hard to recommend for everyone. They go on sale several times a year, though, and if you're happy to get one with a leather sole then the boot is about twenty bucks cheaper.
More versatile than most moc toes
High quality, Italian vegetable tanned leather
$370
Next up is the best moc toe boot, an absolutely classic casual style that really elevates any informal outfit. The Brass Boot from Grant Stone is a completely unique, very versatile boot from a company that's better known for making really nice footwear that's a bit more dressy than this — the Brass Boot is their first attempt at a work boot type boot.
That might not mean it's perfect for electrician work so much as it means it's roomy, it's sturdy, it's muscular, and it goes great with casual outfits. But this moc toe is just a little sleeker than your average moc, and I've even seen guys say they can wear them with button-downs and a blazer just as easily as with old jeans and a t-shirt.
The Brass Boot's the leather is spectacular quality (this golden one is Italian vegetable tanned leather that will age beautifully) and it's a great pick for guys who don't own a lot of boots and want one pair that pairs well with almost anything.
[Shop the Grant Stone Brass Boot here!]
American made
Iconic aesthetic
$299
The runner up is Red Wing's Moc Toe, which is the moc toe of moc toes. My Charcoal ones are my oldest pair of boots and they're absolute classics. Everyone from Ryan Gosling to Drake has a pair, usually in the golden Oro Legacy leather that matches with practically everything.
I prefer the Brass Boot because of its leather quality and, again, I think the silhouette is more versatile — you simply cannot dress up a Red Wing moc toe — but Red Wing's is cheaper at $299 to $349 (depending on the leather), plus it's made in the USA. 
[Shop the Red Wing Classic Moc here!]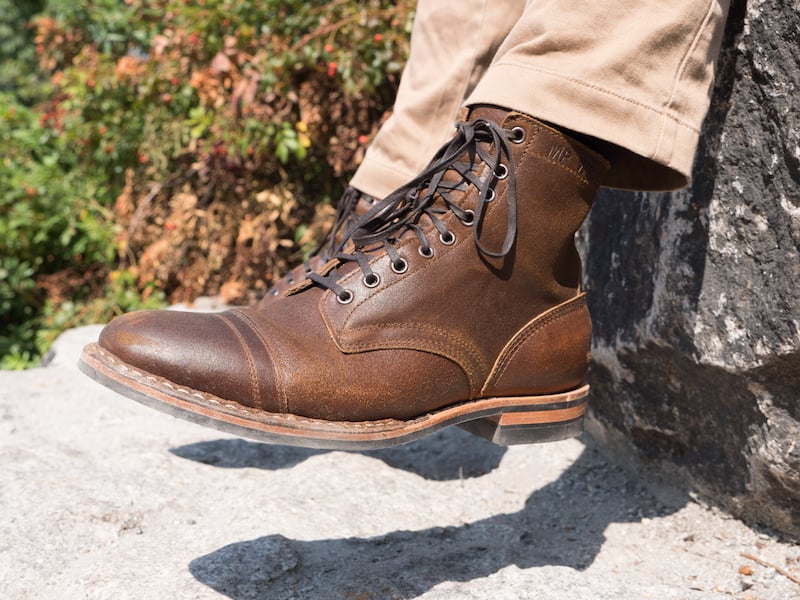 Handsewn stitchdown construction
Very thick, tough leather
Modeled after military police boots
$650 – $670
It's important to note that I'm not looking at boots that can withstand magma or fire, rather boots that look great when worn out on the town and are still tough as nails when they need to be. For that, I had to go with White's.
Made with a leather upper, midsole, and insole about twice as thick as you find in cheaper brands, the boots are so substantial you'd swear you're wearing a cow on either foot. But it's not just the weight that matters to purists: these boots are made with handsewn stitchdown construction, which is far more laborious and time-consuming for craftspeople than the standard Goodyear welt found on the other entries on this list.
For guys who appreciate craftsmanship, durability, and made-in-USA goods, White's can't be beaten.
[Shop White's MP Sherman here!]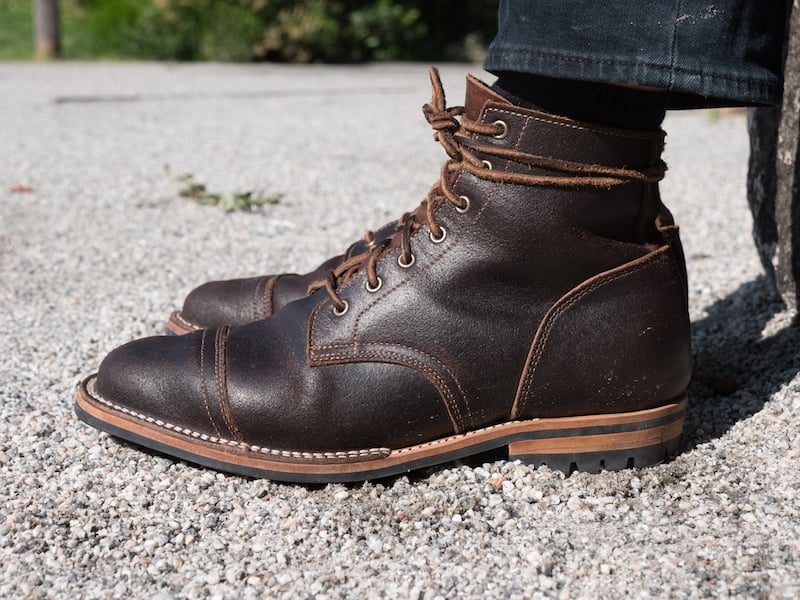 Made in Oregon
Wide range of cool leathers
$399-$460
An all-American brand founded in Pennsylvania and now based in Oregon, Truman Boot Company stands out in the marketplace for its spectacular construction, pretty good value (they're practically all under $460, a good deal for made-in-USA boots), and their leathers.
My boots are made with the company's flagship Java Waxed Flesh, a roughout leather from Horween that's ultra-durable and scratch-resistant, and it ages beautifully, lightening over time and revealing a golden nap underneath. But Truman has the most innovative leathers in the game, from bright red to sky blue, deep green, and more.
When I wear a pair of Truman boots I feel indestructible and, well, cool. There, I said it.
[Shop Truman Boot Company here!]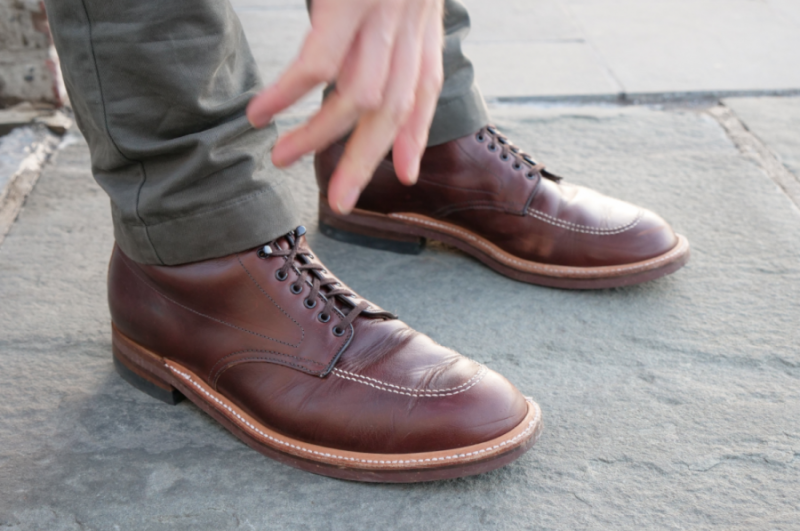 Extraordinarily comfortable
Made in New England
Worn by Indiana Jones
$600-$690
"Luxury boot" doesn't necessarily mean "dress boot;" everything on this list can be worn casually. I'm talking about leather boots that are truly legendary in the industry for their history, their quality, and, sure, for their price. Both leather boots in this section come from companies founded in the 19th century and both cost well over $500.
The first is the American-made Alden 403, better known as the Indy because this is the boot Indiana Jones wears in all his movies. If that's not the coolest hook ever, I don't know what is.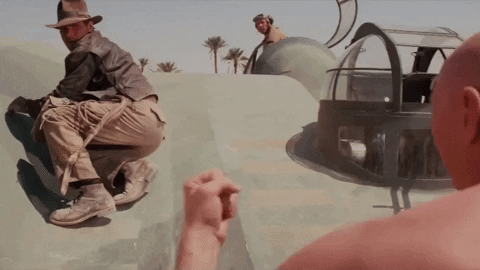 It's a really cool design that's unique and eye-catching, yet subtle. The boot also has a storm welt for extra water resistance (handy when you're swimming onto German U-boats), plus Alden makes them in New England from start to finish. 
Founded in 1884, the company has a surprising history of making orthopedic shoes. That emphasis on anatomic correctness may be why they come in more widths than almost any other brand, from B (extra narrow) to EEEE (extra, extra, extra wide).
The Indy is often recommended by podiatrists for people with foot pain because they're such comfortable, supportive shoes. Especially if you're on your feet all day. And especially if you need to survive a nuclear explosion in a fridge.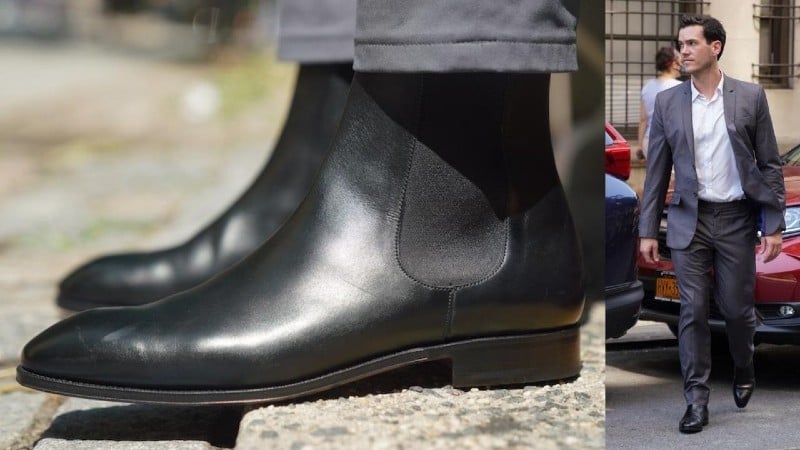 Made in Spain
Luxurious French box calf leather
Three layers of leather in the sole for softness underfoot
~$525
The next best luxury boot is Carmina's Chelsea Boots. This is a Chelsea boot with a very rich history: it's made on the Spanish island of Mallorca and the family's history of shoemaking there stretches back to 1866. In fact, we visited Mallorca ourselves to find out just how Carmina boots are made.
The company is well known for their elegant lasts. A few highly regarded aspects are that the upper is made with box calf leather, a celebrated French calfskin that's known for its smoothness and vibrance; the sole is three layers of leather, which many consider the ideal construction for softness and comfort; and there are many interesting touches from their precision craftsmanship like the sole's high stitches per inch and closed channel stitching.
These high end components can be seem a little complicated for the average joe, but I go into more detail in my full review.
[Shop the Carmina Chelsea here!]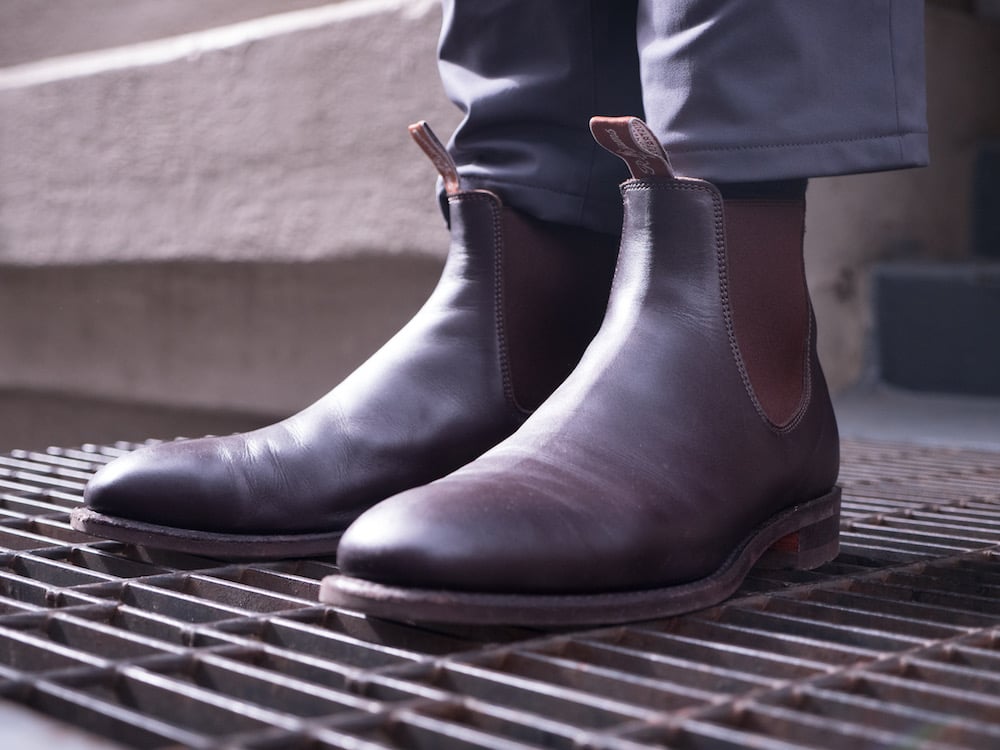 Made in Australia
Yearling leather is a great balance of soft and tough
Versatile aesthetic
~$550
Chelsea boots are a fundamental part of any guy's wardrobe and the best has to be R.M. Williams. Now, you might think I'm biased because I am Australian and every single Australian owns a pair of these boots, but they have a solid reputation here in the United States as well.
The yearling leather (that's a year-old calf) is a great mixture of soft and tough, and I'd say it's one of the most versatile Chelsea boots you can get. It's not uncommon to see them worn with a suit in Australia, which is where they are proudly made; in Manhattan dressing up Chelsea boots is a tad more controversial, but these boots can definitely be worn with a t-shirt or with a blazer.
Not everyone likes the slightly square toe but they're insanely comfortable (I sometimes forget to take them off when I get home), they last forever, and Hugh Jackman does their commercials, so ~$550 may be perfectly justifiable for you.
[Shop the R.M. Williams Comfort Craftsman!]
Extra water resistant construction
Robust, casual aesthetic
~$350
The final boot on this list is also the most underrated: the Ranch leather boots from Taylor Stitch.
Taylor Stitch is a clothing brand, not a dedicated footwear brand, so that might be why everyone slept on this boot upon its release — but it's really solid. The design is great, the leather is tough, the sole is grippy, there's some firm but supportive foam in the insole, and the boot has a storm welt like the Alden Indy for extra water resistance.
They're simply terrific daily beaters. It's rare to see a Chelsea that nails the "rugged" look so well, and they're much cheaper than the Chelseas from R.M. Williams or Carmina. 
[Shop the Taylor Stitch Ranch boot!]
Wrapping Up My List Of The Best Boots
Well, there you have it: the best boots of 2021 as reviewed by someone who owns more boots than I'd like to admit! I haven't tried every boot on Earth, but I'm very confident in my picks for the best boots on the market right now. 
I took into account value, comfort, quality, fit, and aesthetics to land on these five and while I believe any of these would be a great addition to a man's wardrobe, I believe Thursday's Captain Boot is the best of the five.
But that's just me. Everyone has their own preferences, and I'm confident that the perfect boot is waiting for you on this list. Whether you prefer Chelsea boots, hiking boots, cowboy boots, or ankle boots—  just make sure you do your due diligence before buying a pair and make sure it is worth the money!
The following two tabs change content below.
Nick English
By day: Manhattan-based journalist with reporting experience on four continents, published in Vice, Men's Health, Popular Science, and a bunch of other places.By night: ravenous consumer of anything and everything related to high end men's boots.Stridewise is where I nurture a maniacal obsession with footwear and share my findings. Say hey:
[email protected]
Latest posts by Nick English (see all)