Founded in 2014, Thursday Boot Company is one of the newest (and maybe most talked about) boot companies out there. When they were students, founders Connor Wilson and Nolan Walsh encountered a problem many of you have probably experienced: good boots are really expensive. And cheap boots fall apart too easily, and work boots are too clunky for the office, and fashion boots can be too dainty and feminine.
Sensing a gap in the market, the two launched the direct to consumer Thursday Boot Company with the goal of delivering the perfect hybrid boot at a low mark-up.
Today they sell a wide variety of men's and women's boots, dress shoes, and accessories, almost all of which cost under two hundred dollars. Do they really stand up to the test? I ordered a pair of their most popular boot, the Captain, to find out.
[Shop the Thursday Captain Boot here!]
Thursday Captain Boot Overview
There are eight different kinds of Captain boots right now, I picked up their 'Brown' color, which is a bit more of a dark brown with hues of burgundy. The upper is made of what's called Thursday Chrome leather — I'll discuss it in more depth in the next section, suffice to say that out of the box these boots are very handsome. The leather is approximately 1.8 millimeters thick, thinner than you'll find in more workhorse-y boots like The 1000 Mile (which is a little over 2.0 millimeters) but thicker than the 1.0 millimeter leather uppers you might find on a dress shoe or something from a department store.
A distinguishing feature is the toecap, but these aren't your dad's work boots. The silhouette is streamlined with a sleeker toe box, making for a very sensible-looking boot that can work with an old t-shirt and jeans or with a pair of slacks. They'd certainly be at home in a business casual environment, where they'd fit far more comfortably than something like the Iron Ranger would with its much more bulbous, informal toe box.
It's an understated boot, but the simplicity works in its favor. The brass, double backed washers and flat wax laces add to the clean look, there's a full 360-degree Goodyear welt that's subtle and almost blends right into the vamp, and there's a low-profile studded rubber sole. The sole is custom made by Thursday Boots, so it doesn't have the long-standing reputation of Vibram or Dainite, but it feels similar and I expect these to hold up well in inclement weather. I love my Iron Rangers and my Indys, but this outsole beats cork nitrate or leather any day.
Handsome and understated were my first impression, but the best thing? No quality control issues. I remember reading a few wry reddit post on Thursday Boots' lack of QC in their initial Kickstarter days, which I confess made me a little skeptical. (Although you've always got to take reddit commentary with a grain of salt.) When I got my Captains, I scoured them with a fine tooth comb: no loose threads, no loose grain, no welting issues, not even any discoloration. That scored big marks right out of the gate, since I've come to expect QC issues of boots three times this price.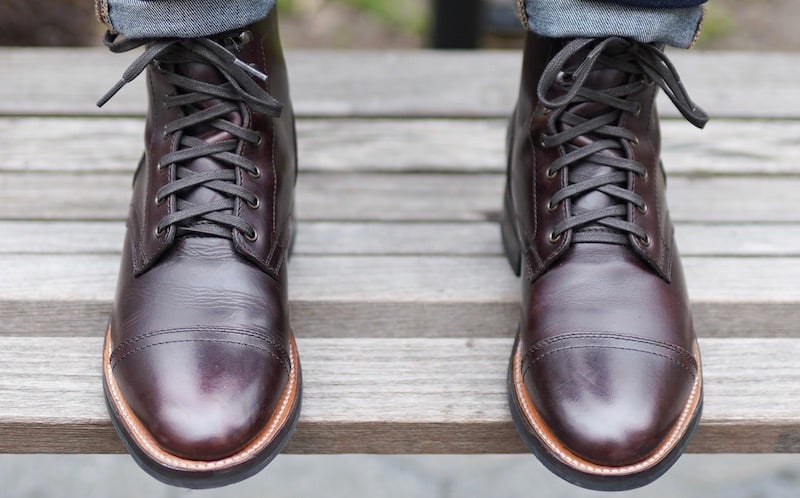 Thursday Captain Boot Leather
Thursday Chrome leather
Has similarities with Chromexcel
Great color consistency
Doesn't scratch easily
So what the heck is Thursday Chrome? For starters it's a custom-developed full hide leather that's strikingly similar to Horween's Chromexcel®. Thursday says that one hundred percent of their leather comes from the Tier 1 United States cattle, and it's processed at the Le Farc tannery in the leather hub of León, Mexico. Le Farc won a gold medal from Leather Working Group in 2009, was named one of the two best tanneries in the Americas by World Leather Magazine in 2013, and they process leather for a wide variety of American boot companies.
Thursday Chrome is similar to Horween's Chromexcel®, a combination tanned leather that's used in many high quality boots, from Allen Edmonds to Viberg to Thursday's Captain Boot in Natural Chromexcel. Chromexcel takes 28 days to make and is jam-packed with oils and greases, including beef tallow and beeswax, to imbue it with a particularly rich lustre and depth of color. That process is called "hot stuffing" and while Horween's recipe is proprietary, Thursday clearly does something very similar with their Chrome.
The leather is so consistent it almost looks like top grain — almost too perfect. Be patient. After a couple of weeks of wear, my shoes did indeed develop character and light creases and began to look well loved, while certainly remaining handsome enough for more dressed up wear.
The funny thing is that after weeks of heavy wear they looked loved, not abused. One of my biggest gripes with Chromexcel is that the top finish is pretty vulnerable to scratches and nicks, and even in the first few days of wear they'll develop some ugly scrapes. Boot lovers are told to love our scratches and the stories they tell — and I do — but I still want my boots to last at least a few weeks before they look like they've been through a war. The Thursday Chrome is definitely more durable in this regard. I wasn't trying to beat them up, but they did a great job of withstanding daily wear and tear. In other words, they aged just right: they got character, but not scars.
Note that there are several different kinds of leather used on different Captains: there's a black Thursday Chrome, there's one made from "brandy full grain leather" that's closer in color to Red Wing's Amber Hearness, there's a more subdued and less shiny "terracotta" leather for a more rugged look, and of course the Natural Captain featuring Horween's Chromexcel. All of these captains are sold direct-to consumer through thursdayboots.com.
Thursday Captain Boot Leather Care
Only needs conditioning 2 to 3 times per year
Rub with a clean, dry rag
Apply Venetian shoe cream or similar product
Buff with horsehair brush
The leather care is super straightforward. Thursday seems to have intuited that boot care can be pretty confusing, so they have an easy-to-follow, gif-filled guide on their site that makes things simple.
First, rub them down with a clean, dry rag. Then dab some leather balm on the rag and work it into all their creases. (Thursday recommends Venetian shoe cream, though something like the mink oil-based Saphir's Renovateur would probably work just as well if you're trying to make them extra shiny.)
Once you've worked the balm into all the creases, gently wipe the boot down until there's just a thin film of balm on the shoe. Buff it with a horsehair brush, let them dry for ten minutes, and they're good to go. How often you should condition the boots depends on how often you wear them, but given how moist Thursday Chrome already is you should be fine with caring for the boots two or three times per year.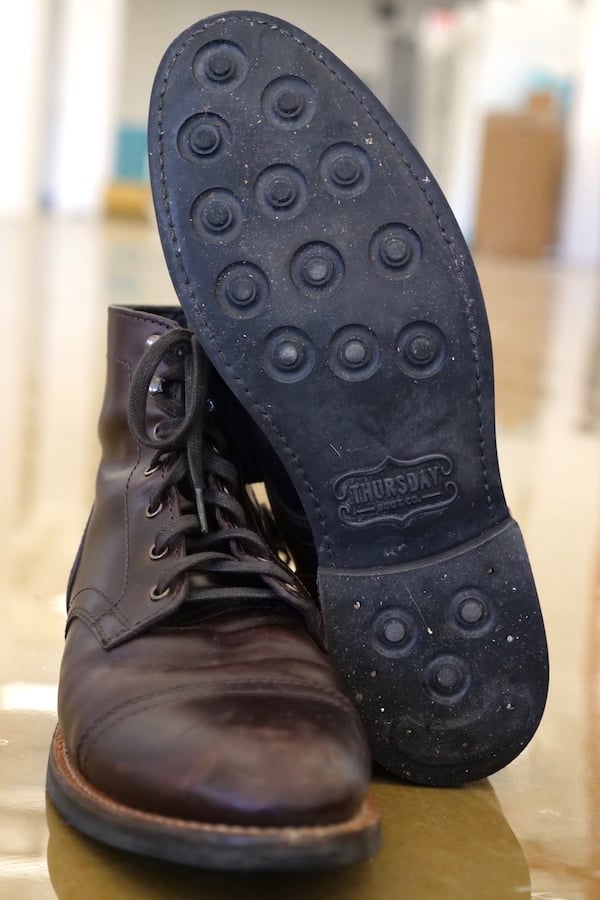 Thursday Captain Boot Sole
Rubber outsole
Cork-bed midsole
Anti-fatigue steel shank
Soft leather lining
Dura EVA comfort strip
I mentioned the nifty, studded rubber outsole and after a lot of wear I found it offered excellent traction, as expected. It looks a lot like the Dainite sole on the Higgins Mill, but Thursday makes their own rubber that works just as well, in my experience. I wore these during several particularly grueling storms and didn't once find myself skittering into a gutter, as I have with other brands.
Sure, those studs might not be quite as "classic" as a smooth leather or oak sole, but it's pretty low profile and far from ostentatious. (Plus the studs on the heel form a neat little smiley face.)
The sole is secured to the boot with a classic 360-degree Goodyear welt, widely considered the best way to welt boots. It's durable, water resistant, and most notably it makes the boots far easier to resole so that they are really built to last. A lot of competitors go with 270 degrees, leaving the heel without stitches running around its base, because some guys find a slimmer heel more aesthetically appealing. As I mentioned earlier, this is a very subtle welt and unlike some bulkier boots, the sole doesn't extend particularly far from the vamp at all. All this means Thursday welts their boots in an aesthetically pleasing way that works great with a 360-degree welt without looking too "functional."
So that's the outsole. Then there's a cork-bed midsole, an anti-fatigue steel shank for arch support, soft leather lining on the inside, and their secret sauce: the "Dura EVA" comfort strip. This is the key to Thursday's famous comfort. Often used in athletic shoes, the EVA comfort strip has been updated and upgraded many times throughout several iterations of their boots. Today it's called a custom made Dura EVA comfort strip, which Thursday says has a bit more bounce than older models.
Thursday Captain Boot Fit & Sizing
Order a half size small
Widths come in "standard" or "wide"
Cork mid-sole/comfort strip combo takes a few wears to break in
I'm between 11.5 and 12 on a Brannock device and while all my sneakers are 12, almost all of my boots are 11, because it's super common for boots to run large. That's my size in Red Wings, Wolverine, and lo and behold, it's my size in Thursday Captains.
They're available in two widths, and the approach here is a little unusual. "D" is considered the normal width for boots, and widths go B, C, D, E, EE, and EEE. Thursday threw all that out the window, offering just two widths: Standard, for D or E widths, and Wide for EE or EEE widths. They say the D is "slightly wider in a few areas to make the fit more comfortable" and state,
Many customers who wear EE widths have had success ordering ½ size larger to accommodate their feet for footwear in our Standard width. Similarly, many customers who purchase C widths have had success ordering ½ size smaller to accommodate their feet for footwear in our Standard width.
Thursday sells direct to consumers so it's tough to try before you buy, but they've got free shipping and returns anywhere in the U.S., so you shouldn't feel nervous about accidentally getting the wrong width or size.
The leather did not need much breaking in. The outsole didn't need breaking in. But the insole + cork + Dura EVA combo did take a few wears to conform to my feet. The first time I wore these boots, I was a little put off by the combination of cork-bed and comfort strip, which felt a little like I was walking on sand.
Be patient. All my concerns melted away as the insole and midsole molded to the shape of my foot over a few wears and ultimately felt like I was wearing a sneaker. There's a ton going into the comfort here: leather lining, Dura EVA strip, cork-bed midsole, and shank. That's some very serious and totally unique dedication to comfort and the Captain succeeds on all fronts in this regard. Thursday went the extra mile and it shows.
Thursday Captain Boot Price
Thursday's pricing is freaking incredible. The Captain and practically all of their boots are $199 on both their official site and Amazon, an insane steal for the quality and comfort. Given the quality of the materials and the construction, they are offering an exceptional deal. I doubt they could be making much profit on these boots with their current prices, but as a consumer, I can't say I'm complaining much.
[Shop the Thursday Captain Boot here!]
Thursday Captain Boot: To Buy or Not to By?
These boots have full hide leather from American cows, Goodyear welts, superb grip, surprising durability, and irresistible comfort. When I heard this leather was similar to Chromexcel I was expecting something that looked great but scratched easily. But I've been wearing these boots for a really long time and I've even taken them on a lengthy trip to Colombia. I really put them through the ringer and while they're not unmarked, I was very impressed by how much punishment they could take while looking relatively well cared for.
The main criticisms I can see someone having are that these aren't really the boots you'd want for hiking or outdoor work, the insole and midsole isn't the good old fashioned leather and cork used by the legacy brands, and since they sell direct to consumer, you can't try them on for size before buying them. (But again, returns are free, so I wouldn't sweat it.)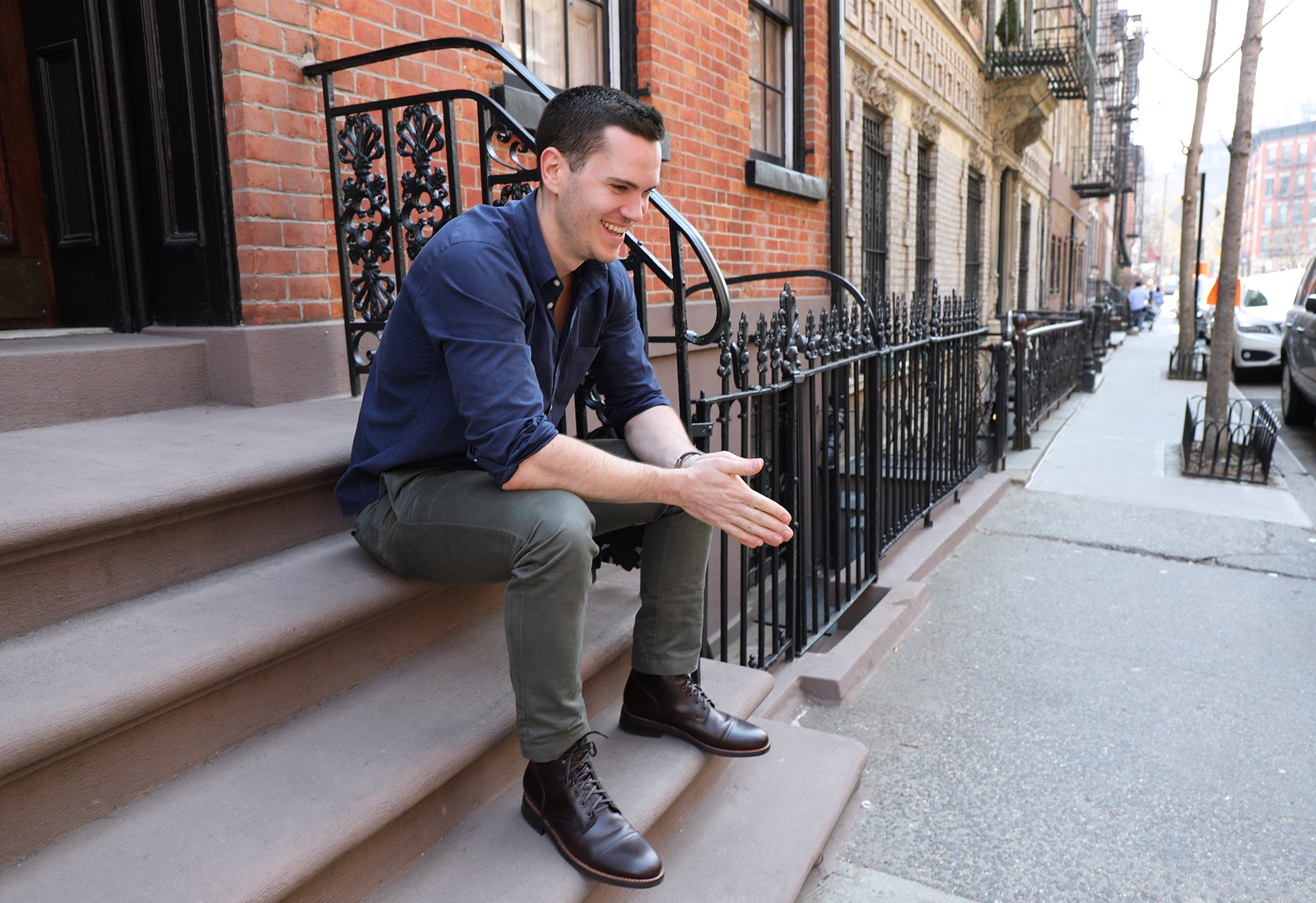 It's also true that nobody really knows how well these boots age because they're such a young company — there are no ten-year-old Thursdays out there. But based on the construction and leather quality, my bet is that these will measure up well against the bigger brands.
While nothing is perfect, no other boot in the industry has impressed me the way the Captain has. The welt, durability, design, comfort, brand, and above all the price have completely seduced me.
A lot of critics look at Thursday's price tag and warn, "You'll get what you pay for." With the Captain, you get much, much more.
The following two tabs change content below.
By day: Manhattan-based journalist with reporting experience on four continents, published in Vice, Men's Health, Popular Science, and a bunch of other places.By night: ravenous consumer of anything and everything related to high end men's boots.Stridewise is where I nurture a maniacal obsession with footwear and share my findings. Say hey:
[email protected]