In an industry where a lot of companies are over a hundred years old, Grant Stone is quite a newcomer. It was co-founded in 2016 by Wyatt Gilmore, a guy whose family has a rich tradition in Goodyear welted shoes: His grandfather Floyd worked at Alden for sixty years but Wyatt spent over ten years racing motocross around the United States before enrolling at the very famous D. W. Frommer's bootmaking school. He eventually went into business with his father Randy, another Alden veteran, and the two of them set up shop in… Xiamen, China.
Yup, this is a shoe brand that charges more than Red Wing for a pair of resoleable boots, but the only thing from China is the box. Their leather is from the world's most famous tanneries in Italy, France, England, and the United States. The welts are from Massachusetts. The leather laces are made in Kentucky. The lining is from Milwaukee.
And to be honest, the product itself is proof of the skill and craftsmanship needed to create it — which is to say, you can be confident this was made by artisans, not sweatshops.
That "made in China" rankles some of their potential consumer base, but we're here to tell you: these boots punch far above their weight and deserve their reputation as some of the best value on the market.
I ordered a pair of their famous Diesel boots in Crimson Chromexcel to see what the fuss is about.
Grant Stone Diesel Boot Pros and Cons
Got someplace to be? Here's a quick rundown so you can decide if these boots are right for you.
Pros
World class leathers and materials
Terrific quality control
Durable, resoleable, and water resistant
Versatile design suitable for smart casual and business casual wear
Vegetable tanned leather lining and heel counters
3 widths available
Free sizing exchanges
Cons
Some object to "Made in China"
Less flexible and lightweight than cheaper brands
A little too dressy for baggy jeans
Grant Stone Diesel Boot First Glance
"Not flashy, but built for longevity"
360-degree Goodyear storm welt
Leather lining
Sturdy, but not clunky
The company says they call this boot the "Diesel" because,
it reminds us of something which may not be flashy but is built for strength and longevity.
I'd agree with that. The first thing I thought when I took these out of their box was their heft; they may look a little like Thursday's President boots to the untrained eye, but these have considerably more weight to them from the thicker leather uppers and the thicker leather midsole and insole. They're very solid boots and while they're not as Hulk-like as a pair of Vibergs, they're still substantial shoes.
Aesthetically, it's a great all rounder with a basic service boot look to it, meaning the toe is fairly low profile and not as chunky and voluminous as boots styled after old work boots like Red Wing's Blacksmith. The Diesel is sturdy but not clunky, making for a boot that's extraordinarily versatile. Given its gently tapered toe, it's particularly well suited for smart casual or business casual wear, but the boots will match with just about anything so long as your trousers aren't wide and baggy. (That's a look better suited for chunky boots.)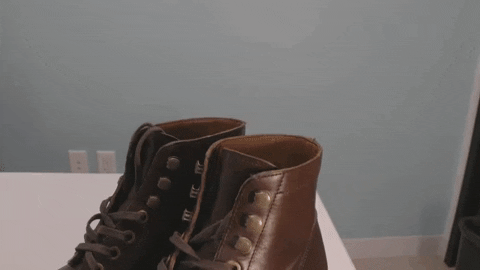 Grant Stone Diesel Boot Leather
Available in an array of different, high quality leathers
Chromexcel is their most popular leather
Great depth of color
We reviewed the boots in Crimson Chromexcel, a slightly reddish brown that matches with just about anything.
This leather is the flagship boot leather from Chicago's Horween Leather Company, and it's seen in boots from every brand you can name, from $199 Thursday boots to $800 Vibergs. It's hard to say this quantitatively, but it's America's favorite boot leather: it's tough but not inflexible, and it ages wonderfully. Check out the natural (undyed) Chromexcel on these Rancourt boots for an example.
This boot comes in Black, Crimson, Natural, Navy, and Color #8 (that's burgundy) Chromexcel, but the Diesel's popularity has led to an array of other leathers, some of which are seasonal or one offs. These include (or have included) green kangaroo, a golden vegetable tanned leather from Italy called Saddle Tan, ostrich, and the gray kudu you can see below.
All the leathers are from extremely reputable tanneries: Chicago's Horween, England's CF Stead, and Italy's Badalassi Carlo.
Grant Stone Diesel Boot Sole
Rubber sole, leather midsole, cork midsole, steel shank, leather insole
Not light, but not too heavy
Storm welt offers extra water resistance
Grant Stone started out with a lot of leather soles on their shoes, and my kudu pair above comes with a leather sole, but most of them are made with a rubber sole they devised themselves. Similar to Dainite, it's medium density and it's a good combination of traction, flexibility, and give. I spent many afternoons trudging around Brooklyn in these and I can confidently say the grip is solid. The bonus is that because the lugs are recessed, the boot still looks flat when viewed from the side — no Commando-style lugs offsetting the boot's smartness.
So you've got the rubber outsole, there's also a leather midsole and a layer of cork in there too, plus a steel shank for stability, and everything is topped off with a vegetable tanned leather insole and a vegetable tanned leather lining.
It's unusual to see so many layers in a boot and it does have a good amount of heft. Again, I wouldn't call these shoes heavy but if you're comparing this shoe with the Higgins Mill (which a lot of people do) a big difference is the weight. The Diesel is just a little more assertive when you walk; you can feel the weight, but in that special way that speaks to a boot's quality.
[Further Reading: Grant Stone's Moc Toe boot reviewed!]
I also want to point out the Goodyear welt construction, this one is technically a split reverse welt. Wyatt Gilmore got in touch with me to explain the difference:
A split reverse welt is basically a flat welt, with a split half way through it. When attaching it to the shoe, the split is first spread apart then pushed against the side of the shoe. A storm and split reverse look similar because they both have a lip but the dead give away is the rounded top edge on the lip of the storm. The split reverse looks rougher. Mainly because the edge of the leather can be seen on this, unlike the storm.
He added that there isn't a huge difference in function between the split reverse and storm welts, which are both very water resistant versions of the standard Goodyear welt and offer some more protection from muck and dirt getting into the welt. (Few people realize that Goodyear welts do require regular cleaning.) The reason some prefer split reverse welts is they're a little more flexible than storm welts.
Grant Stone Diesel Boot Sizing and Fit
Order a half size smaller than usual
Sizes 6.5 to 13 available
D, E, and EEE widths available on most Diesel boots
No blisters during break in
Soft on the heel
At the moment, the boots run from sizes 6 to 13 and after some consultation, I learned that they run a half size large, so I ordered a size 11, which is pretty common. My "true size" measured on a Brannock device in a shoe store is 11.5 and I'm a size 11 in Red Wing, Thursday, Wolverine, Chippewa, and many others.
Just note that if you've mostly worn sneakers, they tend to size small: I'm a 12 in most sneakers, 11.5 on a Brannock device, and 11 in most boots.
The Diesel is in made on what's called the Leo last and most models come in D and E widths, with some (like the Crimson Chromexcel) also available in EEE. It took a few years for Grant Stone to develop their wide lasts, but it's great that they're available today.
Another surprise: for leather this thick, the break in period was fine. I didn't experience any blisters, there's no heel slip, the sole wasn't too stiff, the upper softened relatively quickly. There's also some soft leather at the heel and the shock absorption there is pretty great, but the sole is much harder along the rest of the insole — there's more heel support than arch support. But overall I liked the way the shoe felt: the sole is heavy enough to feel like you're wearing a boot, but nowhere near as heavy as some brands that go really overboard on the sole weight.
Grant Stone Diesel Boot Price
When I got mine a pair of these cost $380. The price varies a little depending on the leather — kangaroo is $10 cheaper, ostrich is almost $500 — but the majority of the models are $380. You can't buy them anywhere else, so no use snooping for deals on Amazon.
If these boots were made in the United States, they'd cost well over $500, probably over $600. There's zero doubt about that. The closest American-made comparison would be Alden's plain toe boot, which costs $650 at a minimum.
What makes it worth more than, say, an American-made Red Wing? For starters, Red Wing doesn't make boots like Alden: the former is modeled after old work boots, the latter is much easier to dress up. Brands like Grant Stone and Alden look great as casual wear but can also be worn with dressy slacks and a tie if the situation calls for it. Red Wings are bulkier and more casual.
The Diesel, as a smart casual boot, is unparalleled with regard to value. It's a product enjoyed not by guys who need workwear, but those who like precise craftsmanship, great quality control, skillful stitching, and finer details. It's similar to boots sold by Alden and Viberg in that regard: it's for guys who want well made, casual and smart casual footwear. And Grant Stone uses the same leathers and materials for several hundred dollars less than those North American brands.
So don't look at this as an alternative to the classic American work boot, see it as an embodiment of skill and craftsmanship that will last many, many resoles. As a boot like that, when compared to the alternatives, the value is tremendous.
Are Grant Stone Diesel Boots Worth It?
So what's the verdict? They're worth it.
I discussed this in the last section, but these have the kind of quality and build that would cost hundreds of dollars more if they were made stateside. The split reverse welt and the many-layered sole make for a very sturdy, durable boot that's lighter than a Red Wing but more assertive than a dress boot.
It's a boot made for guys who want to be able to dress a boot up on date night and guys who care about materials and skill. It's not a dress boot or a work boot but for guys looking for something in between, this is the best value you'll find.