This post may contain
affiliate links
that at no additional cost to you, I may earn a small commission from.
Looking to buy the best-fitting steel-toe boots?
When it comes to assessing the fit of your new steel toe boots, there are a good number of factors to keep in mind. We'll check out some techniques you can use to find your fit and ensure you don't waste your hard-earned money.
Generally, your steel toe boots must be adequate to keep your foot securely in position without pinching or squeezing them. We'll look at how to buy boots to get a proper fit and how the most popular steel toe boots are sized.
"Steel toe on left boot is digging into side of my toes. And the right boot has a spot digging into my ankle. Had to put a wad of paper towel around"
That's a review we read that we don't want you to ever have to write.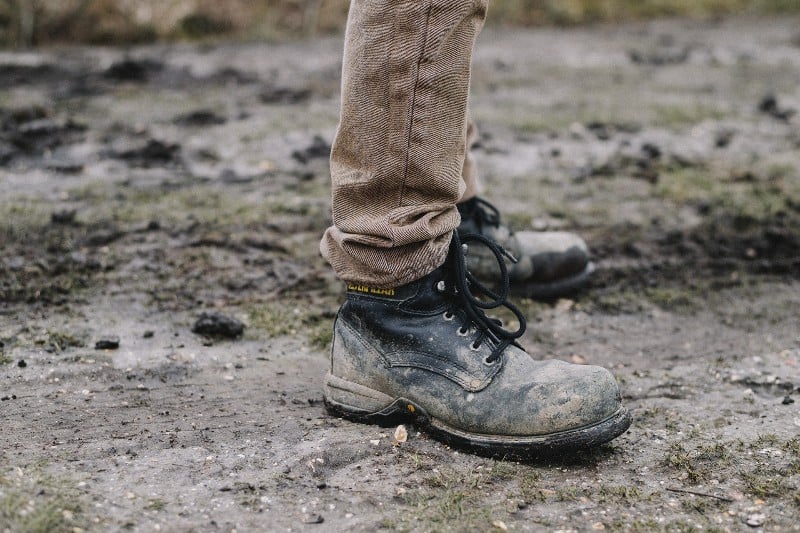 How to Wear Steel Toe Boots Properly
Does a steel toe work boot hurt your toes? If this is the case, your work boots are too small for you.
Do your foot or heel slide around in your work boot when walking? If that's the case, your work boots are too big for you. The question here is how tight the boot ought to be.
Should Your Steel Toe Boots Size Up or Down?
Steel toe boots are typically heavier and more difficult to fit than conventional boots, which is understandable given the additional protection they provide to your feet.
Steel toe boots are often worn with thick socks since they are heavier and more durable. As a result, you may need to purchase steel toe boots the same size as your sneaker or even half a size larger than your ordinary footwear, especially if you fall between two sizes: if you're a 11.75 size up to a 12. Remember that with most boot companies, you order at least half a size smaller than your sneaker.
Whenever you wear footwear with thick socks, your toes may fit comfortably or have a little place to breathe within the shoe. For your feet to feel comfortable when walking and working, you'll need a half-size up steel toe boot than your regular footwear because of its arch support.
This guide will explain in detail the step for adequate boot fit.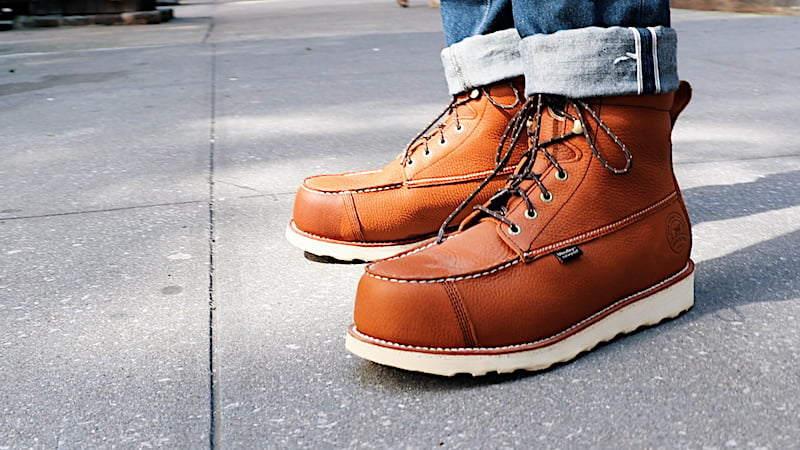 What should a pair of well-fitting boots feel like?
Many factors attribute to the proper fitting of footwear; it's essential to know if your boot it's tight or loose to avoid heel slippage.
Boot comfort
Your feet change sizes during the day. As you work your feet swell and comfortable work boots have enough space for your feet to swell without causing discomfort. There should be plenty of space in the toe box to allow your toes to move a little, you should feel any pinching or pressure. Also, the heel shouldn't move more than a quarter of an inch.
It should also feel as if the arch support is correctly in line with your instep to provide you with all-day comfort while you walk in boots.
Secure Heel and Supportive Boots
You want to make sure that your heel doesn't move more than a quarter of an inch, or else you'll get blisters. You also want the boot to feel snug against the sides and top of your foot so that your toes don't slide into the steel toe if you're walking on a decline.
Your instep should be exactly where the boot's arch support is located. Lastly, you'll want to ensure that boot's flex point lines up with your foot's natural flex point.
Try to make sure your work boots fit to avoid heel slippage, blisters, and stubbed toes.
You may want zero heel slippage, but remember that as the leather conforms to the shape of your foot, it'll mold to your heel and slight slippage will reduce.
[Related: How to Avoid Boot Blisters]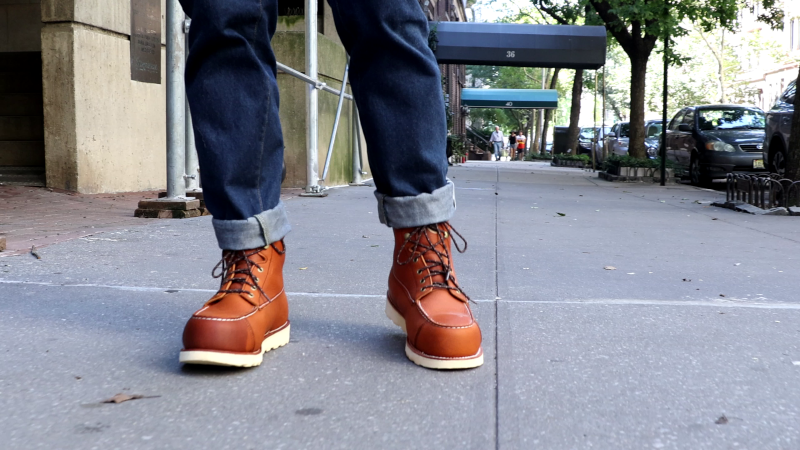 Boot Fitting: Laces vs Slip-on Steel Toe Boots
Most boots have a lace-up system so you can adjust the fit to your comfort, this is great for people who have high volume feet and people who have low volume feet.
If you have low-volume feet, make sure the boots aren't too loose as you lace them up. Your feet should not be able to slip within the boots because this will cause hot patches on your feet.
If you have high-volume feet, lace-up boots make sure the boots aren't too tight on the sides and top of your boots. If you're sizing up a half-size make sure that your foot's flex point lines up with the boot's flex point located at the widest part of the foot and boot.
If you're buying safety toe slip-on boots like Red Wing's SuperSole 2.0, this can be difficult for low-volume feet because there will be too much room. You can fill up some of this space with thick socks and insoles.
For high-volume feet, make sure that you can get the boot on easily and that there's not too much movement in the uppers.
Great value
Lightweight carbon fiber toe
Very comfortable
The Keen Roswell lace-up boot is a very comfortable work boot that fits a wide range of feet, and scores high on safety, comfort, slip resistance, electrical shock resistance, and puncture resistance. I should point out this isn't a steel toe boot, it's a carbon fiber safety toe. Carbon fiber is often a bit more expensive than steel, but it's also lightweight, which I like if I'm on my feet all day.
It comes in regular and wide widths, which is great for guys who need a bit of extra room.
It's also a great value. You get a ton of protection for under $16o bucks, which is rare in the high-quality work boot business.
[SHOP THE KEEN ROSWELL MID HERE]
Made in the USA
Steel Toe
Resolable
Red Wing has been making safety toe workboots since they were invented, since then they've perfected the science and have created some amazing boots.
The SuperSole 2.0 is one of those boots. If you're foot isn't too high- or low- volume these boots are super comfortable and will last years of heavy use in rough conditions.
You might notice they're a bit more expensive than the Keen. That's because they're made in America and resolable, but even with heavy use you can expect to get 5 years out of these boots before they need a resoling, plus you don't have to get a new pair when they wear out.
[SHOP THE RED WING SUPERSOLE HERE]
How Do You Know If Your Work Boots Are Too Tight or Loose?
The following are the fitting tips that will help you determine if your work boots fit properly.
Wear the same socks that you will wear with your steel toe work boots
The first time you wear work boots, wear them with the same socks you'll be wearing later. You won't be wearing them without socks in the future. This will allow you to get a better fit for the boots. Test your boot during the afternoon, when your feet tend to be at their biggest.
Also, ensure that your heel stays in place and your feet feel snug properly in your new pair of boots.
Checking the boots' flex
When your work boots are properly fitted, your feet should feel a little resistance where the boots flex, but not so much that it hurts your feet or causes hotspots.
Walk in the boots to check for comfort
Try them on to see if they're comfortable and fit right. Take a walk inside to see how they feel on your feet. Make sure to do this indoors, that way you can return the boots if they don't fit well.
Examine to see if they fit your heel slips when walking up the stairs or on an incline, your feet slide forward when you walk on a decline, or your toes feel pinched. If the footwear provides you with the desired level of comfort, then go for it.
Even when you are searching for boots that have a snug fit, also, check for hot spots and uncomfortable areas.
Pay attention to any movement of your feet inside the boots
As you lace up the boots, pay attention to how your feet move. If, after lacing on your boots, your feet remain in the same position without hurting, you have most likely selected the correct size.
If, on the other hand, your feet move to the sides or forward, you've selected the wrong shoe. One other thing to look for is whether the work supports your ankles; if it doesn't, don't buy them.
Pay attention to whether it has adequate room for your foot to move and use your index finger to check if it is narrow or tight.
Your feet should not feel cramped
This is something more to keep in mind when purchasing boots. If your toes are cramped, your work boots are too small.
Buy work boots that have the right fit in order to prevent blisters.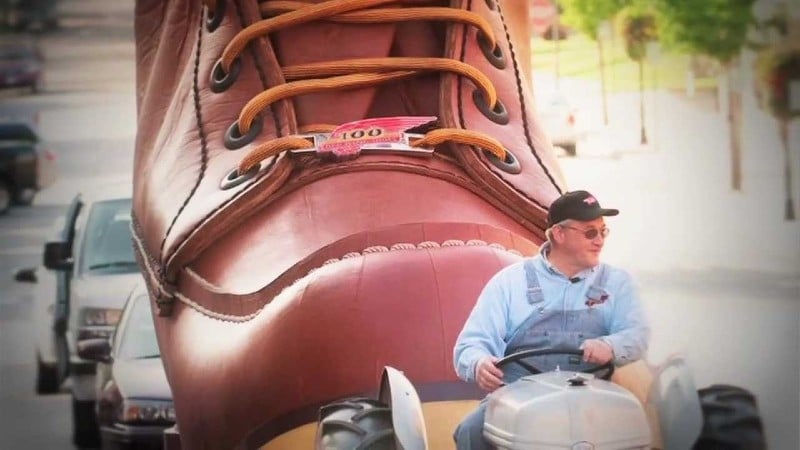 Can You Increase the Size of Your Steel Toe Boots?
If you own a steel toe boot you might want to try and widen them. There are a few things to do to make it a bit wider, but you won't be able to actually stretch the steel toe. You can compress the foam underneath and around the steel toe to get a small amount of extra room, but you probably don't want to be messing around with the structural integrity.
This guide will give you simple hacks for widening your steel toe boots' leather components.
Wear the steel toe boots for a longer period than usual
When you first get your steel toes, make it a habit to wear them for 10-15 minutes each day for a few weeks. This will help the boots break in faster and your feet will begin to feel at ease inside the steel toe boots.
Try them on with a pair of thick socks. This will not only improve the amount of space within your boots, but it will also make them more pleasant for your feet.
Try to bend the sole of the boots back and forth a few times each time you wear them. This will help the boots break in faster and loosen them up.
If you follow these procedures for four weeks, your boots will be comfortable to wear and the right size for your feet.
Stretch your Steel Toe Boot with Boot Stretching Spray
Stretching sprays provide the same function as rubbing alcohol in loosening the leather fibers and widening the boots' leather.
Spray the entire boot or the area that has to be enlarged with this product. Then go to work in your work boots to let the spray size your boots to your feet's size.
How to Use Leather Stretching Spray
Leather stretching spray is used by professional cobblers, it works by relaxing the fibers in leather making it more flexible and maliable. It's great for breaking in new boots and stretching leather.
It's very easy to use, we recommend Fiebing's Shoe Stretching spray after noticing it on the workbench of our favorite cobblers. There are simple instructions included.
How to stretch out steel toe boots with leather stretching spray:
Spray the inside of the boots with the spray
Wear the boots. The spray will speed up the natural stretching or break-in time.
Repeat the process as needed
[SHOP FIEBING'S SHOE STRETCH-IT SPRAY]
Using Mink oil or leather conditioners to stretch steel toe boots
Mink oil is a working man's leather conditioner. Use this if you have rugged leathers, and if you're working in dry, hot conditions, or at a rugged worksite. It can darken your leather, these aren't your going-out boots — these are your work boots!
You can put mink oil on the inside of your boots to soften them up and help them stretch, you can put it on the outside, or both.
How To Use Mink Oil
Apply the mink oil all over your boots, then allow the oil to soak thoroughly overnight in your boots. Remove the excess oil from the boots with tissue paper. Allow the boots to dry before wearing them to work.
[SHOP RED WING'S MINK OIL HERE]
Use a boot stretcher with your steel toe boots
A steel toe stretcher is a gadget used to stretch boots to the proper size (length and breadth). In your boots, place the stretcher. Set the desired size in the stretcher and then stretch the boots by turning the lever.
For one or two days, leave the stretcher inside the boots in the same arrangement.
[Grab a high quality boot stretcher here]
Can You Shrink Steel Toe Boots to Fit Better?
No, but you can shrink the size of the interior.
If you're working with heavy objects you're required to wear steel toe boots. (Naturally, we cannot sacrifice our safety.) However, we must confess that the discomfort it causes our feet, as well as the bruises and blotches it leaves on our feet, are worth noting.
Ignoring the pain/ tight area for an extended length of time can result in serious complications with your spinal cord and feet. So, better late than never, we should begin taking precautions to prevent further injury to our bodies from steel toes.
As we mentioned if your boots are too tight you can try and stretch the leather, but what about if they are slightly too big?
Place an insole inside your boots
One of the main causes of foot pain is that your boots are not properly fitted to your feet. In other words, due to incorrect size, your feet move a lot inside the shoe.
The trick is to put an insole in your work boot to fill up the extra room in your feet. This occurs because each foot is unique, whereas shoe designers create boots based on a typical foot shape.
Insoles will help to fill up the extra space in the boot, preventing movement and so reducing foot pain.
We did a huge list of our favorite workboot insoles, but here's our number one pick.
If you aren't getting enough support for your older work boots, or your feet are just a tad too small for your boots, you should check out Superfeet's Copper Memory Foam insole. They are by far the most comfortable insoles we have ever used.
Superfeet color codes their insoles to indicate the arch type they are designed for. Blue Superfeet is also designed for low or medium arches and people with plantar fasciitis. Green Superfeet are made for guys with high arches that need additional support for their work boot insoles.
While they are all great, the Copper Memory Foam works for almost all types of feet and boots.
[SHOP SUPERFEET COPPER MEMORY FOAM]
Wear a thick pair of socks
Thick socks serve much the same effect as the adding insoles, they help fill up extra space and extra cushioning. Wearing a thick pair of socks adds cushioning around our foot which creates a more comfortable layer.
Certain materials like wool and polyester also reduce friction and help prevent problems caused by heel slippage.
Why this sock?
First, it's inexpensive and functions great. They're also simple, with no loud colors or patterns, which is what I want from my work clothes. Also, there's not much branding; I'm not a big fan of wearing large visible logos.
They are functional in so much that they wick moisture and don't easily lose their shape. I can't really say it enough, but I hate when socks lose their shape and fall down while you're working. These socks do a great job keeping their shape and lasting long than any other $14 sock I've worn.
[SHOP THE HYLETE ATHLETIC SOCK HERE]
Cotton Pads
You might wonder what role cotton pads play in your steel-toe boots. Simply glue the cotton pads in one or two layers inside the heel of your shoes.
Now insert your feet into the steel toes and enjoy the pleasure of a soft shoe, as the heels will no longer pain you. This is a simple cure for your problem that requires no additional investment.
Purchase a Lace-Up Steel Toe
Lace-up boots help keep your feet in place within the shoes without moving. The laces can be adjusted to fit the heels according to the shape and size of your feet.
Laced shoes offer better ankle support which is the biggest difference between them and most boots.
Slip-on boots don't work great for people with low-volume of flat feet, your feet will swim in the boot, moving independently of the leather and causing blisters.
Steel toes without laces may not fit accurately to the shape of your feet, causing pain in your heels. You can choose from a variety of laced steel toes on the market or have one made specifically for you.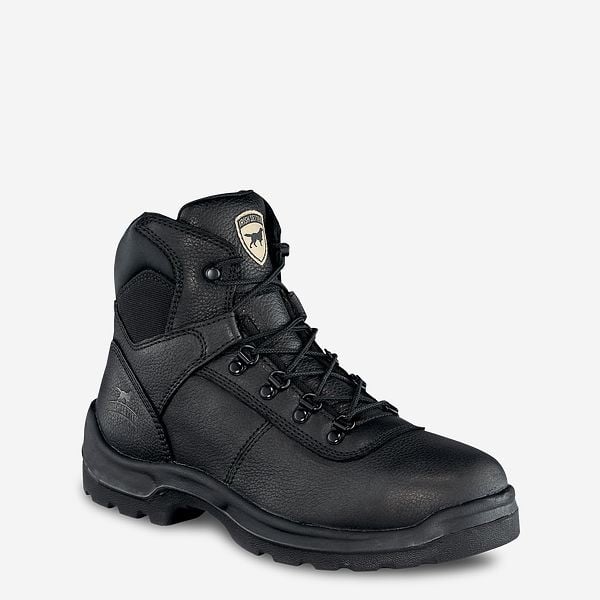 OK, earlier I listed my favorite safety toe work boot, the Keen. I chose that boot because it's inexpensive and functions really well, but I kind of cheated because it's not technically a steel toe boot, it has a carbon fiber toe. That has some advantages over a steel toe, but also some guys don't want fancy modern materials like carbon fiber — they want classic tried and tested materials like steel.
So I choose Irish Setter's Elly because it functions amazingly, it's only 145 bucks, and it's very comfortable for most guys. Irish Setter is owned by Red Wing, so you get a lot of benefits from this boot that's you'd find in one that $100 more. It's not made in America or resolable, that's why the price is so low, but it is very functional. It also comes in wide sizes, so if your feet are cramped measure your foot and try a wide size if appropriate.
[SHOP THE IRISH SETTER ELLY HERE]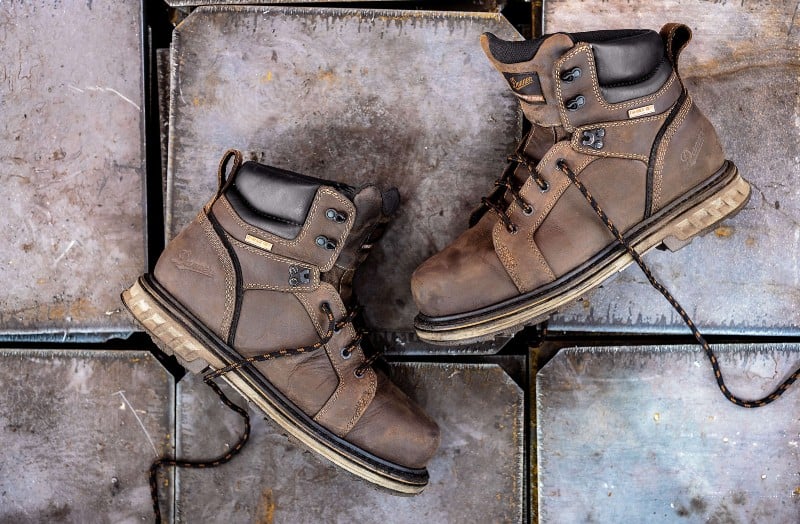 Where Should My Toes Be In a Steel Toe Shoe?
Steel toe boots, more precisely steel toe caps, can be uncomfortable to wear all day. As a result, you should be cautious about where your toes lie inside the boots.
The first thing to remember is that the front of your toes shouldn't come into contact with the front of the steel toe caps, as this will injure them and create pain or blisters.
The toes should also have extra space at the sides of the toe box, meaning your foot shouldn't feel pressure from the sides.
Overall, your toes should have enough space inside the steel toe box to breathe and move without hitting the front end of the boots, while still feeling secure.
Any work boot you want to buy, ensure it has a proper fit with little toe room space.
Conclusion
Steel toe boots are naturally safe and they comply with your worksite's safety code. But, they could cause foot injuries like plantar fasciitis, ingrown toenails, flat feet blisters, and more if they're not fit properly.
While there is hardly anyone who doesn't want a pair of custom work boots, it's important to know whether your new boots are loose or tight, and you should check the footwear for ankle support and toe room.
Buying online? Just buy two sizes and return the pair that doesn't fit. We hope that these fitting tips are helpful.
How tight should steel toe boots fit?
Steel toe boots and shoes must fit snugly around the top and sides of your foot but your toes must move in the toe box without touching the boot and with no pressure. If you feel any pressure on the toes, then work boots are too small.