It is surprising how many boot companies don't offer wide options for their boots.
It makes more sense when you realize that these businesses need to make new lasts — foot-shaped blocks of wood used to create the fit — when they want to offer wider sizes. Creating new lasts is incredibly laborious and expensive, and many smaller boot companies simply can't afford to offer wide widths for all of their products. This is always to the chagrin of a significant portion of the consumer base; every time a drool-worthy new boot is released, there's always someone in the Reddit comments bemoaning the lack of wider widths.
Bemoan no further, because some companies take the extra time to make a selection of boots for the wide-footed guy. It doesn't matter if you want a $200 comfortable, casual boot, or a $600 sleek, dressy boot, there's something on this list for your wide feet. Let's go!
[Related: What Exactly Is a Last, and Why Is It So Important?]
1. The Best Overall Boots for Wide Feet: Adelante (~$285)
With a focus on ethical manufacturing, Adelante produces extremely handmade boots in Guatemala. In fact, I even had the chance to visit their workshop and make a pair myself. Without training, it took me five full days to make a very imperfect boot — fortunately, their craftsmen are much more skilled and efficient.
All of their boots are under 300 bucks, which is crazy at this level of quality. They use high end materials and quality leathers from Lefarc, one of the world's most sustainable tanneries.
What's great about Adelante is that all of their boots are made to order, so they have the ability to customize the fit to your foot and they can accommodate just about any width: from C to EEEEE and all the way up to size 17. If you add up the quality materials, construction (like hand lasting), and customization, boots like Adelante from anywhere else would cost way over $500. While a lot of made-to-order companies in developing countries take months to deliver, Adelante's turnaround is just 10 days — and they send you a video of your boot being made to foster an intimate connection with your new footwear and your expert craftspeople who got it to you.
Who should buy Adelante boots?
Guys with unusual feet; if you have extremely wide feet they can customize the fit.
Anyone who cares about ethical manufacturing; the workers are paid double the local wage, have health insurance, and more perks so you can feel good about your purchase.
Who shouldn't buy Adelante boots?
Guys who want a huge variety of styles to choose from; there are service boots and Chelseas, but no moc toes, split toes, or cap toes just yet.
2. Runner Up for the Best Boot for Wide Feet: Alden Indy ($607)
In all my years of obsessively buying shoes, I've never seen as many widths offered by any brand as Alden. It doesn't how matter how wide or narrow your foot is, Alden has the perfect fit for you — if you can afford 'em.
Alden Indy Boot for Wide Feet Highlights:
Alden is well known for making anatomically correct lasts; indeed, their boots have a long history as orthopedic boots. The 403 model, better known as the Indy — the very boot worn by Indiana Jones — has long inside counters and a Thomas heel, and it's actually a favorite for guys with flat arches and other foot problems because the last is so well made and the boot's so supportive and well balanced.
The very refined last is one reason it's the best for wide feet, the other is that they simply go really, really wide. In American sizes, D is the normal standard width for shoes, and E or maybe EE is 'wide.'
The widths you can get for this boot are B, C, D, E, EEE, and EEEE. This is the only brand I've seen that does EEEE.
Read the review of the Alden Indy here or make the purchase here.
Who Should Buy the Alden Indy?
Guys with wide feet, narrow feet, really narrow feet, and really wide feet. You can get EEEE with these!
Any dude who loves feeling like Indiana Jones. (Who doesn't?)
Men who need extra water-resistant boots — these are snappy shoes, but they're also made with a robust storm welt.
Who Shouldn't Buy the Alden Indy?
You're on a budget and can't afford the ~$570 price tag.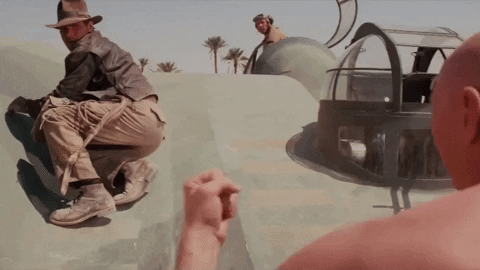 Two more things you should know is that one: they are expensive, but two: This is the boot Indiana jones wears in all of his movies. That's why it's called the Alden Indy. It's not a cheap boot, but it is Indiana Jones's boot and it's the only quality boot I can think of if you're unlucky enough to have EEEE feet.
[Like it? Shop the Alden Indy boot here!]

Nick's is very different to Alden. Alden is snappy and refined, while Nick's is an all star Pacific Northwest boot company. That's where they make the really serious boots for firefighters, loggers, and other burly man jobs. The Urban Logger is their best boot for guys that want something that works in the city and in the dirt.
Nick's Urban Logger Highlights
This is more a list of boots that I think are cool as opposed to boots that are ideal for firefighting or cutting down trees, so I'm focusing on Nick's extremely famous and beloved signature casual boot, the Urban Logger.
These boots are available in all widths off the shelf in brown waxed flesh or you can get made to order (MTO). With the MTO option you can pick your leather, how hard the toe is, the height of the shaft, and you can pick from a jaw dropping 11 widths. There are so many widths that I'm almost inclined to believe they're just making up new ones: they offer AA, A, B, C, D, E, EE, F, FF, FFF, FFFF.
So there's no chance these boots won't fit you, and they're about as much as the Aldens at $549.
Who Should Bear Nick's Urban Logger?
Guys who need super solid work boots.
Anyone who wants a durable, well-made wide boot that will last a lifetime. Honestly, if you've had a tough time finding boots that fit right and are durable, these are a great option.
A person whose foot is so wide that they can't buy ANY shoes, ever.
Who Shouldn't Buy Nick's Urban Logger?
Urban men who don't need a full-on, rugged boot. These bad boys are heavy and need time to break in; not everyone needs that.
Guys who are saving their pennies and don't want to pay over $500.
So those are the two boots on this list, Alden and Nick's, that are the widest I've ever seen and they also are over $500. The next one is I guess the best value wide boot that is pretty damn wide.
[Like it? Shop Nick's Urban Logger here!]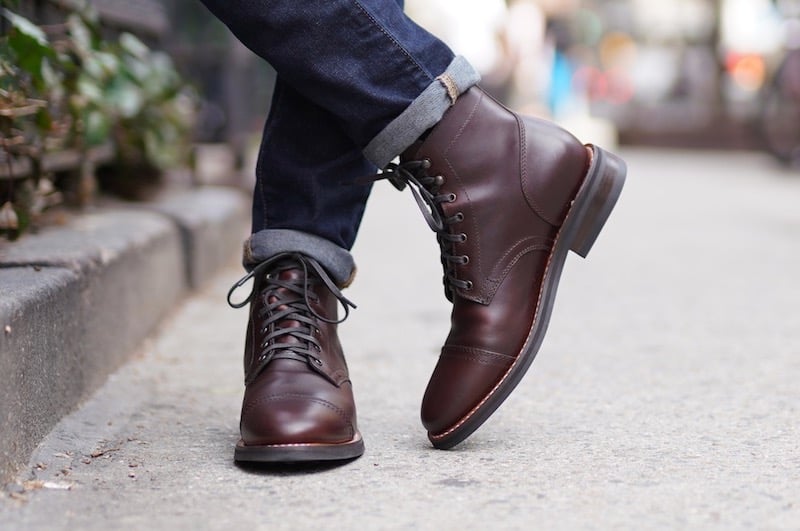 If a company does wide sizes, they'll usually go with E or EE. But Thursday Boot Company does things differently: their standard width fits D and E and their wide fits EE and EEE. So it's impressively wide. Now, you can't get all of Thursday's models in wide widths, but you can get their flagship boot, the Captain, in six leathers.
Thursday Captain Boots Highlights
The Captain is just a great all-around, daily driver of a boot. Thursday offers the wide Captain in their classic Brown and Terracotta (I own both) and also Black and Natural Chromexcel.
You can also get two options in their extra tough Rugged & Resilient leathers: Arizona Adobe and Black Matte. The Brown and the Arizona Adobe colors are the most popular ones for the Captain, and you can get 'em if you have wide feet.
The best part? They're just $199 per pair.
Who Should Buy Thursday's Captain Boots?
Men who value versatility; these boots are a dress/work boot hybrid that work great with a t-shirt or in business casual settings.
Guys who like comfort; Captains are made with shock absorbing EVA foam for a slightly more sneaker-like feel than your average boots.
Anyone who likes a good deal; $199 is a bonkers price for boots of this quality.
Who Shouldn't Buy Thursday's Captain Boots?
Guys who want something they can go hiking in.
Thursday is storming the boot industry with their low prices and versatile lasts, and it's great that our wide-footed brethren can get in on the action.
[Like it? Shop the Thursday Captain boot here!]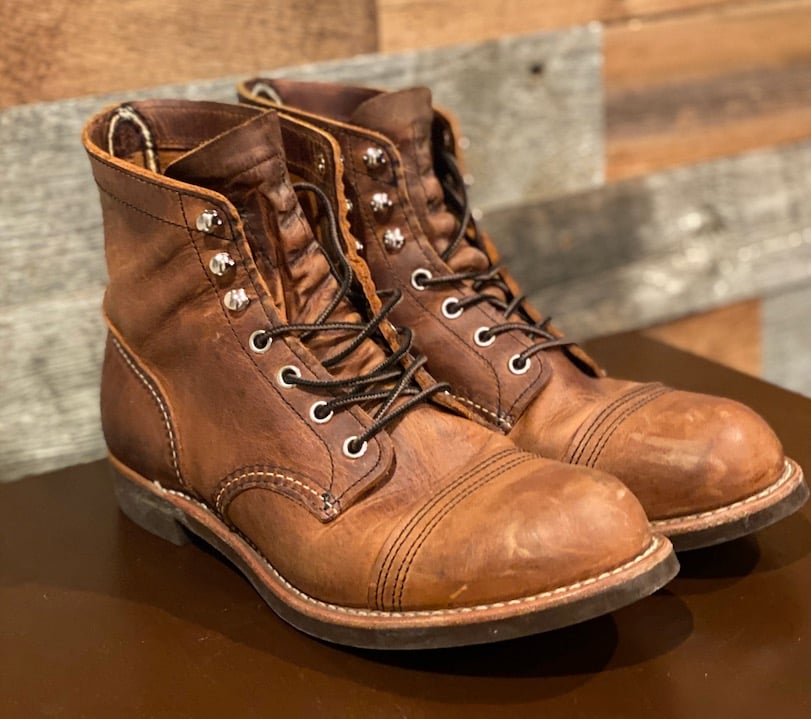 You can't talk about boots without talking about Red Wing. They make my first pair of boots, probably your first pair of boots, and they have wide sizes. Not for all of their boots, but the good news is your wide feet don't mean you'll miss out on one of America's most iconic boots: you'll be glad to know the flagship Iron Ranger comes in wide sizes.
Red Wing Iron Ranger For Wide Feet Highlights
A timeless, rugged cap toe design, the boot is named after the Mesabi Iron Range in Minnesota, where Red Wing used to out fit the miners. Made with thick, full grain leather and an extra, protective layer of beefy leather over the toes, it's not easy to dress up but it's an absolute icon of casual wear. Just ask Bradley Cooper or David Beckham, who are often seen wearing theirs.
It comes in EE widths, which probably fits EEE because I find the regular D width to be pretty roomy, given its bulbous toe. It's a superb boot that ages well and can handle almost anything.
[Related: Red Wing Iron Ranger – Is It Really the Ultimate Boot?]
Who Should Buy Red Wing Iron Rangers?
Guys who want classic, timeless, all American boots; these are the boots guys are thinking of when they think 'cool boots.'
Anyone looking for wide boots that are beautiful, versatile, durable, and has good grip
Guys looking for a boot that ages well; these look better with age.
Who Shouldn't Buy Red Wing Iron Rangers?
Heavier guys who prefer soft insoles; these are very traditionally made.
Guys who want out-of-the-box comfort; they're very hard to break in.
Men looking for something that works in formal situations.
Iron Rangers have a reputation as the best first boot a man can buy — the ultimate entry-level boot for guys who want to level up from sneakers and cheap chukkas.
[Like it? Shop the Red Wing Iron Ranger here!]

While I'm on Red Wing, I'm just going to say it: they make the best moc toe for wide feet too. It comes in D and EE.
Red Wing Moc Toe Highlights
The leather doesn't need much care, they're far cheaper than most of Red Wing's other boots, they're super comfortable, and they look damn cool. (Just ask Drake and Ryan Gosling who, that's right, own them in the Oro Legacy color.) The downsides are they're even harder to dress up than Iron Rangers and the spongy crepe sole wears down faster than something sturdier, but as a proud owner of these boots, I think the softness is a worthy reason to get them.
[Related: Red Wing Moc Toe Review]
Who Should Buy Red Wing's Moc Toe?
Anyone who wants high quality, very casual boots you can wear with a t-shirt; moc toes are always cool.
Guys who are intrigued by Red Wing but don't want to pay over $300 for their boots.
Men who like the idea of boots with softer soles.
Who Shouldn't Buy Red Wing's Moc Toe?
Heavier guys who need boots with shanks; this boot is shank-free.
Guys who want boots they can dress up.
This was my very first boot and my Iron Rangers were my second pair. I'd recommend the company to anyone who wants to wear America's soul.
[Like it? Shop the Red Wing Moc Toe here!]


7. Best Service Boot for Wide Feet: The Grant Stone Diesel ($285-$370)
Grant Stone is a company that makes what many consider Alden quality boots but at a much lower price point. The leather, construction, and quality control are what you'd expect to see on a boot well over $500. The low cost is because they're made in China, but in a lovely resort town managed by the American Wyatt Gilmore.
The Grant Stone Diesel for wide feet Highlights
I decided to feature their most popular shoe, the Diesel, as the best service boot — that's a boot with a low profile, plain toe that's reminiscent of the footwear soldiers wore in the World Wars. They're fantastic boots, dressier than almost anything else on this list, they're low profile and have robust construction that includes a leather midsole, leather insole, and a water resistant storm welt. They come in D, E, and EEE, plus they're about $300.
[Related: Grant Stone Diesel Boot Review]
Who should buy the Grant Stone Diesel?
Men with wide feet who want a high quality service boot for a great price.
Real boot connoisseurs; these get highest marks from Reddit aficionados.
Guys who like boots that are versatile enough for business casual environments.
Who shouldn't buy the Grant Stone Diesel?
Guys who prefer more rugged, work boot aesthetics. (For that, check out their Brass Boot.)
People who prefer not to buy boots made in China; everyone agrees the quality is superb, though.
Grant Stone's Diesel is a sharp, versatile boot that's available in several different leathers to suit just about any wardrobe; so long as you dress like an adult.
[Like this boot? Shop Grant Stone's boots here!]


R.M. Williams is Australia's favorite boot, it's fantastic, and it comes in wide widths. Note that in Australia they call normal width G and the wider one H, so you should be ordering in H. This is the Chelsea boot and while it's not quite as wide as EEEE, it's the best Chelsea in the entire world.
R.M. Williams Chelsea Highlights
R. M. Williams is not just Australia's most famous boot, it is a true blue icon of Australiana. If you're an Australian male, you own a pair of R. M. Williams. (Or your dad does. If no one does, your citizenship needs to be revoked.) The company is, in fact, so Australian that they outfitted the Australian army with thousands of black Craftsmans to wear in military parades.
Despite the timeless Australian roots, the footwear has serious appeal outside of Australia. Bill Clinton wore a pair to his second inauguration, and today they export to 15 different countries.
[Related: R. M. Williams Review – The National Boot of Australia]
Who should buy the R.M. Williams Comfort Craftsman Chelsea?
Men who want a unique, eye-catching, quintessentially Australian boot.
Guys who prioritize comfort; they have this name for a reason.
Anyone who prizes versatility; these are worn with everything from shorts to suits down under.
Who shouldn't buy the R.M. Williams Comfort Craftsman Chelsea?
The average joe who doesn't want to spend this much money on Chelseas, even if they are so much more comfortable than most other boot companies.
They really take Chelsea boots to another level. They use amazing leather, and above all these are literally some of the most comfortable boots I've ever worn.
[Like this boot? Shop R.M. Williams' Comfort Craftsman here!]


9. Best Chukka for Wide Feet: Idrese Hudson ($445)
Idrese is a pretty underrated brand. I've tried their sneakers and their Chelseas. I'm not a huge chukka guy myself, but I think that's because chukkas work best in business casual situations and I seldom dress that formally. Except when I was telemarketer. Man, that job sucked.
Idrese Hudson Highlights
If you're looking for a nice chukka, then look at Idrese. Their Hudson is sold in EE widths and can be made in EEE on their custom platform. They're really classy, they're Goodyear welted, Dainite outsole, full grain Italian leather uppers (or suede if that's your bag), they're a lot neater and smarter than a lot of chukkas. I think you can wear these to the office with confidence, but check out all their leathers to find something less dressy if that's what you need.
[Learn More About Leather: The 9 Best Leathers for Boots]
Who Should Buy the Idrese Chukka?
Guys who want a wide, business casual boot.
Anyone who wants good value; it's rare to find these materials at this price point.
Who Shouldn't Buy the Idrese Chukka?
Guys who prefer the kind of slouchy chukkas you can wear with shorts.
Idrese boots are all handmade in Spain at the Same workshop as Ferragamo & Louis Vuitton. So you know your wide sized boots are going to be decent and a great value.
[Like these boots? Buy 'em here and use the code STRIDEWISE for $15 off!]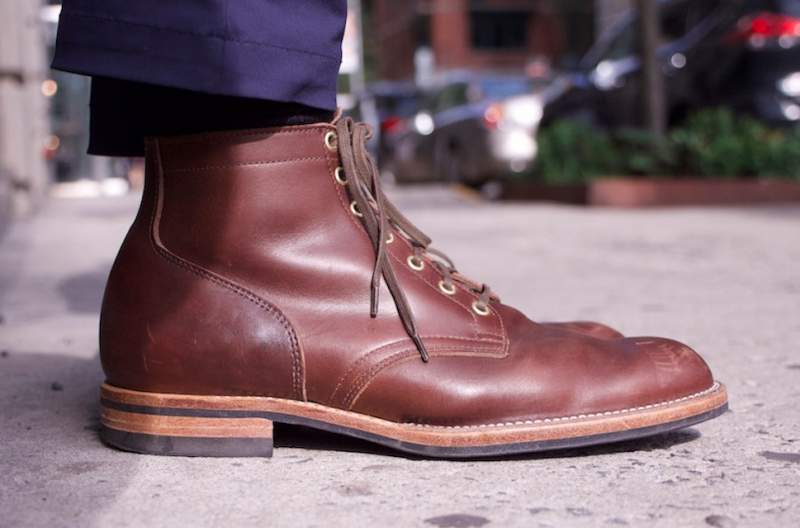 10. Fanciest boot for wide feet: Viberg Service Boot ($760)
I wanted to finish with one of the best known boot brands among purists. Viberg boots are not cheap — around $700 a pair — but in the realm of high end casual wear, Viberg is broadly seen on Reddit as the best you can buy, a brand with mythic quality control.
Viberg boots for wide feet highlights
Their signature Service Boot, made on the 2030 last, is available in D, E, and EE, offering a nice amount of precision. (Note that when I wrote my review a couple of years ago, it was only available in E.) Chelseas and hikers and derby boots that all come in wide widths as well, so if you want the priciest casual boots you can get, why not treat yourself?
[Related: Are Vibergs Worth It?]
Who should buy Viberg boots for wide feet?
Guys who want to try what many consider the best boots money can buy; the quality control is astounding.
Anyone who is tired of creasy, grainy leather; Viberg's clicking is superb.
Who shouldn't buy Viberg boots for wide feet?
Budget minded guys who don't have tons of cash to through around for a pair of boots.
Viberg isn't for everyone, but we didn't have enough time to go into all the reasons why Vibergs are worth it. For that, check out this essay and make up your own mind.
[Like these boots? Shop the Viberg Service Boot here]
11. Allen Edmonds ($445)
Allen Edmonds is one of the best-known American shoe makers, founded in 1922 they have 100 years of shoe making experience, they also have a great selection of boots for wide feet.
They make E-EEE width for a wide variety of their popular styles like the Higgen's Mill boot.
Who should buy Allen Edmonds boots for wide feet?
Guys who want a classic boot at a good price; they have regular sales.
Anyone wants a range of wide sizes; you can get a huge selection of styles from sneakers to boots.
Who shouldn't buy Allen Edmonds boots for wide feet?
Budget-minded guys they are a good price but still pretty expensive.
12. White's Boots
While Allen Edmond makes high-end casual boots, White's makes boots for workers. They specialize in work boots for loggers, firefighters, and other jobs that require foot protection.
Their boots are available off the rack or customized. All of White's boots are hand-stitched using the stitch down construction, which is similar to a Goodyear welted boot but doesn't have a welt, instead the upper is attached to the midsole and outsole.
White's Boots are famous for being durable boots that last for a long time, even if you're using them in very harsh conditions.
Who should buy White's boots for wide feet?
Guys who want a burley durable boot; these are built for loggers and firefighters in the Pacific North West.
Anyone who wants customizable boots; White's does custom boots.
Who shouldn't buy White's boots for wide feet?
Urban guys who want something a bit more casual and dressier.
Thorogood is another classic American heritage boot brand. They specialize in work boots and produce a lot of models with safety toes and electrical hazard protection.
Their popular heritage styles include the American Heritage Round work boots made with durable and comfortable materials like Poron footbeds that help with shock absorption.
They are also fairly priced at $215 – $260 bucks.
Who should buy Thorogood boots for wide feet?
Guys who want an affordable comfortable work boot, they are among the best value boots on the list.
Anyone wants a nice looking casual boot; durable for the worksite and nice enough for the bar.
Who shouldn't buy Thorogood boots for wide feet?
Guys who want a dressier casual boot nice looking boots, but too casual to dress up.
Wrapping Up
There are a lot of brilliant companies that are very good for wide footed guys looking to buy boots, and each has their own pros and cons depending on the look and/or function you're going for. There are also several companies that, when you see their name, you know that it's gonna be good. If you've read this far, you've got a pretty extensive list of brands that will sell you the best wide sizes for your next pair of boots.
The following two tabs change content below.
Nick English
By day: Manhattan-based journalist with reporting experience on four continents, published in Vice, Men's Health, Popular Science, and a bunch of other places.By night: ravenous consumer of anything and everything related to high end men's boots.Stridewise is where I nurture a maniacal obsession with footwear and share my findings. Say hey:
[email protected]
Latest posts by Nick English (see all)