Full disclosure: I'm actually a massive cheapskate.
I spent all of my 20s as a student, intern, volunteer, or broke journalist and at this point, penny pinching is just in my DNA.
I own some expensive boots now, sure. But for a long time I was laboring under this delusion that you just can't get a good pair of boots for less than three hundred dollars. That's a part of why my first pairs of boots were Red Wings; I just thought three hundred was the you need to spend on sturdy daily beaters.
But that's not the case! In the years since I moved to Manhattan and bought my first pair of boots, I've learned of several brands that offer high quality, durable, and sexy footwear for less than two hundred bucks. Now, since I first published this article, a lot of the brands have fallen off the list (thanks, inflation) but there are still a few you can trust. First up?
Versatile aesthetic
Wide variety of similarly-priced boots
Free shipping & returns
$199 per pair
This company makes really high quality shoes for any price point, but the fact that their flagship Captain boot costs $199 is mind blowing. They have a couple of more expensive models, like the Vanguard, but they've got a ton of service boots like the Captain and the President, they've got a moc toe called the Diplomat, two different Chelsea boots, and they're all $199.
So that you know where I'm coming from, I have a basic, 5-point checklist I run through that my favorite boots have to meet:
1. Resoleable construction
Usually this means a Goodyear welt, although a lot of cobblers can also handle less common construction methods like Blake stitches or stitchdown. Thursday uses the classic Goodyear welt, a way of attaching the upper to the sole that makes the boot really water resistant and very easy to resole. This way, you don't need to throw away your beloved boot when you've worn it so much that the sole is coming apart.
2. Full grain leather
Not bonded leather, not genuine leather, full grain leather is made from the outer layer of the animal's skin — the part that's facing the elements when the animal's alive — and it's the kind of leather that looks best from the get go and ages well to boot. It's worth noting that a combination of resole-ability and full grain leather is best, because they both mean longevity. One without the other is like walking with one foot.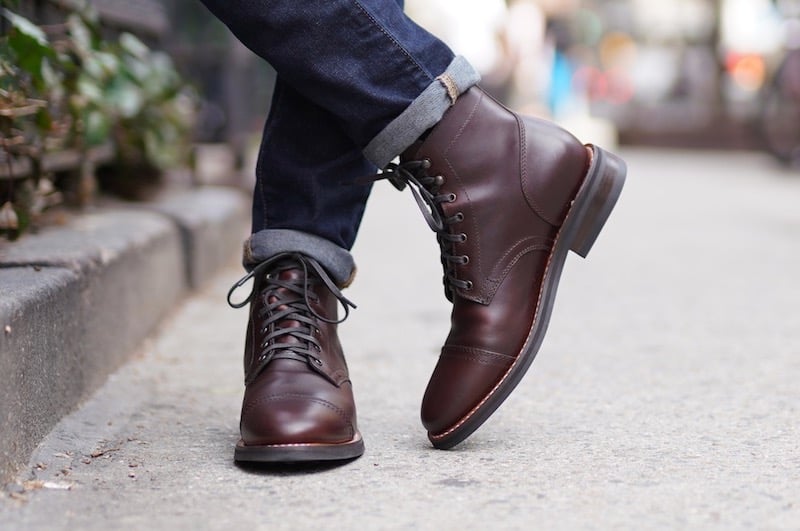 3. A shank
This is a strip of hard material, usually steel, that's placed under the insole to provide stability and arch support to the shoe. It also helps the shoe to maintain its shape over time. As you may have noticed, these qualities — Goodyear welt, full grain leather, and shank — all extend a boot's lifespan, thereby improving its value for money.
4. Good grip
And personally, I prefer a low profile as well. You can contrast that with a Commando sole, which has great grip but is very chunky, or a leather sole, which is nice and flat but has crummy grip. Thursday has a nice, flat, rubber sole with recessed lugs that offer great grip while keeping a sleek profile.
5. Free shipping and returns
Especially if a brand is direct-to-consumer and you can only buy them online, they should do free returns and exchanges in case the fit isn't right.
Thursday Boot Company ticks all of these boxes, plus the shoe has this really nifty dress boot/work boot hybrid aesthetic. Many find work boots too clunky for the city and dress boots to be too dainty for daily outdoor wear, but Thursday's Captain melds these two styles and gives you the best of both worlds. It's tough, but it's leather lined and goes with just about any outfit you can come up with.
[SHOP THE THURSDAY'S BOOTS HERE]
Versatile aesthetic
All leather sole
Free shipping & returns
Long wait time
A little rounder in the toe but still very versatile and well priced, the Dowler Cap Toe boot from Beckett Simonon is one of of my favorite boots. Made with full grain Italian calfskin with a profile that does a great job of straddling dressy and casual, it's available in five different leathers and can be worn with almost anything.
The downside with this boot is that unless they happen to have your size lying around, it's made to order: you can expect to wait about two, maybe three months from the time you order the shoes to them arriving at your front door. This economical model is how they keep the price so low, as they save on inventory and don't need to rent as much warehouse space, and there's also an argument to be made that it's also more environmentally friendly, as this approach helps reduce waste and energy consumption.
Still, they're great quality shoes that are worth the wait: they have full grain leather, a shank, free returns, they can be resoled, they've got a flat sole, the works. The sole is flat because it's a leather sole, which doesn't have the best grip on Earth, but it is soft, flexible, and breathable. (The breathability is why Texans tend to prefer leather soled cowboy boots.)
Like Thursday, they've got a ton of other options for the same price: Chelseas, Jodhpur boots, you name it. If you click around their website, you might find that all the boots I'm talking about are actually closer to $230 — but if you use the code STRIDE at checkout you get 20 percent off. That takes it way under $200, and it works on any of their shoes, bags, or belts.
[SHOP BECKETT SIMONON'S BOOTS HERE!]
[Related: The 10 Best Dress Boots]
Next is Oliver Cabell, a curious company in that their prices have changed a lot over the years, but unlike most brands that are increasing their prices, Oliver Cabell seems to be trying hard to get them lower and lower.
Today, their terrific Chelsea boots are just $199. They just changed their prices in mid-2022, and I made sure to write to them and double check this wasn't a one-off special or anything — and it isn't. These are a brand new entry to the sub-200-dollar benchmark.
These Chelseas are also made in Italy with Italian suede and they're lined with Italian leather for extra comfort. One way they stand out from the brands i've mentioned so far is their emphasis on crepe rubber soles which are super soft and really, really comfortable. They're also Blake stitched so they're more lightweight and flexible than Goodyear welted boots. This makes them a tad harder to resole and not quite as water resistant, but most cobblers can still resole a Blake stitched boot.
For $199, this is very considerable value, especially for Italian made footwear.
4. John Doe Shoes
Maybe the cheapest made to order boots
Available in huge variety of quality leathers
Relatively short wait time
Most boots between $180 and $230
This Mexico-based company calls themselves John Doe because they spend all their cash on production and not on marketing, so in that respect they're a "no name" brand. In the way John Doe isn't a name, know what I mean?
Anyway, they've done a terrific job with their shoes. The 420 boots above are technically $210, but a) it's 10 bucks, come on, and b) they have a ton of high quality shoes under $200 including plenty made with leather from Horween Leather Company and C.F. Stead, which we put on our list of the best tanneries on Earth. You can even get moose leather or shark leather boots from these guys, and for under $250 at that.
Goodyear welt, shank, full grain leather, these shoes have the works. The downside is they're also a made to order company, but there are two upsides:
The wait time is a lot shorter than Beckett Simonon, about three to four weeks, and,
Because they're made for you, they're totally customizable: leather, sole, what kind of Goodyear welt, the whole lot.
My main complaint is that their site is really hard to navigate (they need to hire a UX consultant) but if you can make it to the checkout page and if you can wait a few weeks, you'll be glad you did.
[See my full review of John Doe Shoes]
5. Indonesian Boots
Handmade
European style boots
Long wait times
Worth boots that cost twice the price
This one's a pretty broad category, but if you're interested in crazy high quality boots and you're interested in saving money, this is something you need to know about.
Indonesia makes really good boots.
If you want some old world, authentic, hand made boots, Indonesian brands are worth looking at. Many of them even hand stitch their Goodyear welts, something that nobody does because it's so time intensive — Santalum, the company that makes the Mile 85 boots, only makes four pairs of boots per week because of how labor intensive it is.
And they often wind up at under $200. Santalum's Mile 85 and Plain Toe Service Boots cost under 200 bucks and they've got a shank, full grain leather, they're resoleable, all that jazz. If $200 is your limit, Santalum and Chevalier are your best brands, but Sagara, Txture, and Junkard are also fantastic and will give you the kind of boots you'd spend over $600 for in Europe for well under $350.
The ordering is the hardest part: not only are you likely to spend a good 50 bucks to get them over to the States, not only is it usually best to work out all the details over email (most of the companies, like Benzein, don't even really have a website), but you'll often have to wait a few months for them to get built.
The upside is you can often get them made to your foot's individual measurements. Get boots like a king for a pauper's price with Indonesian boots!
[Learn more: The 8 Best Indonesian Boot Brands]
Runners Up
Golden Fox Boondockers
These boots need more attention: they're made with full grain leather, they've got a steel shank, they've got Goodyear welt construction, and they're under $150. Is the leather that great? No. Are the inners? No. Could they do with speed hooks? Yeah. Is the outsole made of crepe, which isn't very durable? Yes. But they're solid, and because of that Goodyear welt, you can go and get them resoled if you like. Get a pair here.
Timberland 6″ Premium Waterproof Boot
A classic in every sense, the classic Tims aren't Goodyear welted nor do they have a shank nor is it made with full grain leather (that's nubuck), but they are totally waterproof, totally insulated, they have great shock absorption, and they cost just $170-ish. And of course, the street cred is second to none. Get yours here.
Wrapping Up
Who says you can't get a good pair of boots for under $200? Not everything on this met that 5-point criteria of the first entry, but by now you know enough about boots to make the right decision for your wardrobe and your individual needs. Think I missed anything? Let me know in the comments below.
The following two tabs change content below.
Nick English
By day: Manhattan-based journalist with reporting experience on four continents, published in Vice, Men's Health, Popular Science, and a bunch of other places.By night: ravenous consumer of anything and everything related to high end men's boots.Stridewise is where I nurture a maniacal obsession with footwear and share my findings. Say hey:
[email protected]
Latest posts by Nick English (see all)