Full disclosure: I'm actually a massive cheapskate.
I spent all of my twenties as a student, intern, volunteer, or broke journalist and at this point, penny pinching is just in my DNA.
I own some expensive boots now, sure. But for a long time, I was laboring under this delusion that you just can't get a good pair of boots for under $300.
But that's not the case! In the years since I moved to New York and bought my first pair of boots, I've learned of several brands that offer quality, durable, and handsome footwear for less than two hundred bucks.
Since I first published this article a lot of the brands have fallen off the list (thanks, inflation) but I've been regularly updating it and there are still a few you can trust. First up?
1. Thursday Boot Company – Captain
Versatile aesthetic
Wide variety of models
Free shipping & returns
$199
This company makes really high quality shoes for any price point, but the fact that their flagship Captain boot costs $199 is mind blowing. They have a couple of more expensive models like the American-made Vanguard but the vast majority of their footwear rests comfortably under the $200 threshold, including their moc toe Diplomat, plain toe President, and Chelsea boots.
So that you know where I'm coming from, I have a basic, five-point checklist I run through that my favorite boots meet:
Resoleable construction: Usually this means a Goodyear welt, although a lot of cobblers can handle other construction methods like Blake stitches. Thursday's classic Goodyear welt makes the boot very water resistant and very easy to resole. Combined with durable upper, you don't need to throw away your beloved boot when you've worn the sole down.
Full grain leather: Not bonded leather, not genuine leather, full grain leather is made from the outer layer of the animal's skin — the part that's facing the elements when the animal's alive — and it's the kind of leather that looks best on day one and on day one thousand.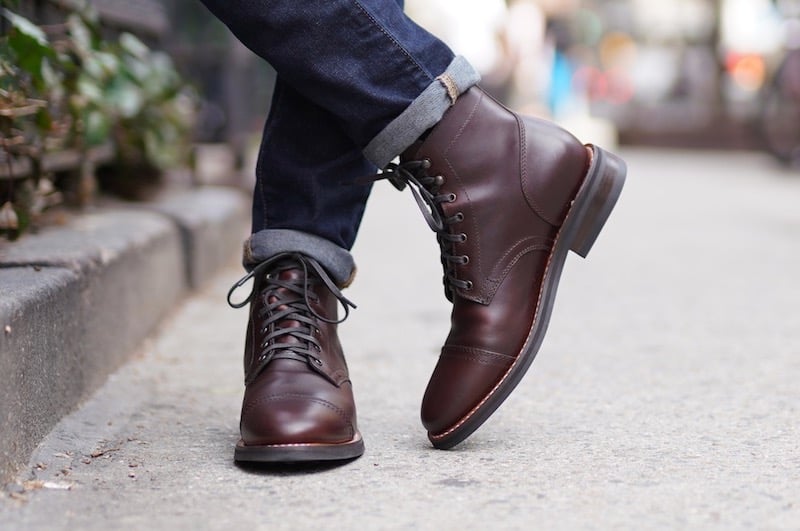 A shank: If there's a heel (as opposed to a flat, wedge sole), you want a shank. : is is a strip of hard material (usually steel) that's placed under the insole to provide stability and arch support to the shoe. It also helps the shoe to maintain its shape over time. As you may have noticed, these qualities — Goodyear welt, full grain leather, and shank — all extend a boot's lifespan, thereby improving its value for money.
Good grip: Dress boots are another story but for a daily beater boot, you want to minimize slips. Thursday's nice, flat, rubber sole has recessed lugs that offer great grip while keeping a sleek profile. Compare that with a leather soled dress shoe, which has the same look from the side but crummy grip.
Free shipping and returns: Especially if a brand is direct-to-consumer and you can only buy them online, they should do free returns and exchanges in case the fit isn't right.
Thursday Boot Company ticks all of these boxes, plus the shoe has this really nifty dress boot/work boot hybrid aesthetic. Many find work boots too clunky for the city and dress boots to be too dainty for daily outdoor wear, but Thursday's Captain melds these two styles and gives you the best of both worlds. It's tough, but very comfortable due to the leather lining and shock absorbing insole — and with over a dozen leathers to choose from, yours can match with just about any outfit you can think of.
2. Beckett Simonon – Dowler Cap Toe Boot
Versatile aesthetic
All leather sole
Free shipping & returns
Long wait time
A little rounder in the toe but still very versatile and well priced, the Dowler Cap Toe boot from Beckett Simonon is one of of my favorite boots. Made with hardy, full grain calfskin with a profile that does a great job of straddling dressy and casual, it's available in five different leathers and can be worn with almost anything.
The downside with this boot is that unless they happen to have your size lying around, it's made to order: you can expect to wait about two, maybe three months from the time you order the shoes to them arriving at your front door. This economical model is how they keep the price so low, as they save on inventory and don't need to rent as much warehouse space. This approach also helps reduce waste and energy consumption.
They're great quality shoes that are worth the wait: they have full grain leather, a shank, free returns, they can be resoled, they've got a flat sole, the works. The sole is flat because it's a leather sole, which doesn't have the best grip on Earth, but it is soft, flexible, comfortable, and breathable. (The breathability is why Texans tend to prefer leather soled cowboy boots.)
Like Thursday, they've got a ton of other options for the same price: Chelseas, Jodhpur boots, you name it. If you click around their website, you might find that all the boots I'm talking about are actually closer to $230 — but if you use the code STRIDE at checkout you get 20 percent off. That takes it way under $200, and it works on any of their shoes, bags, or belts.
[Related: The 10 Best Dress Boots]
3. Wolverine BLVD Boots
Slimmer silhouette than most Wolverines
Thinner leather as well
Made in Mexico
$199
Wolverine, of course, is best known for his adamantium claws and the 1000 Mile boot, which is a staple of American heritage footwear. That boot is currently 385 dollars but in a very transparent attempt to compete with Thursday they've released their BLVD line at $199 a pair.
The line has several entries now: a cap toe, chelsea, wingtip, and even a cowboy-style pull on boot. The cap toe really is a lot like Thursday's Captain with regard to the slimmer-than-a-work-boot silhouette, than what Wolverine typically offers, they're made in the same city as Thursday's: Leon, Mexico, which I actually visited last year.
The BLVD has fairly thin leather but for a casual city boot, especially one that's resoleable, it's an impressive creation. Bonus: if you go to their website, they usually hit you with a popup to sign up to their newsletter for which they reward you with a 15 percent discount.
4. Urban Shepherd Boots
All stages of sourcing and production take place in Portugal
Goodyear welted
Thick top grain and full grain leather
The factory has been making shoes for 5-generations
Most boots are around €195 or roughly $191; but this conversion rate won't last forever
This boot company sources all of its leather in Alcanena, Portugal, and then constructs its boots at the next city over in Benedita.
Having only came into the scene recently, they have already made a name for themselves by being one of the best bangs for your buck. Currently, with the exchange being in favor of the dollar, you can get these boots for around 191 dollars, and for only $191, Urban Shepherd offers everything that a $300+ boot does. The features that I'm talking about are a Goodyear welt construction, full grain leather uppers, leather midsoles, leather insoles, and even Vibram outsoles.
Some drawbacks for this brand are that their boots only come in 2 colors, "natural" and black. For those looking to widen their wardrobe's color palette, this brand may not be for them. In addition, there are no half-sizes in their collection. So this means that if you're in between sizes, then you might have to sacrifice comfort for an affordable boot.
5. BLKBRD Shoemaker
Indian made
Newer brand
Hand welted construction is very rare and laborious
14,200 Rupees = ~USD175
BLKBRD is a very new shoe brand with a variety of dressy styles, including the rare button boot, but many of their boot designs like the storm welted Dixon or veldtschoen Luchador, are surprisingly versatile.
There are very few reviews of this brand out there but having handled a pair of Luchadors myself, I was very impressed it the value for money. Sure, the Indian leather on my pair was nothing to write home about, but if you really need to keep things under $200, I would put BLKBRD among the best value for money.
Why did I choose the Luchador boot? It's their made with veldtschoen construction, which is very unusual — like stitchdown but with a welt, it has tremendous water resistance and is the way we used to make boots as waterproof as possible before Gore-Tex and Wellington boots came along.
Whichever model you choose, you may not have the perfect proportions of a Viberg boot, but there's absolutely no arguing with the value.
[Learn more: There aren't really any Indonesian boots for under $200 anymore, but you should still check out our guide to Indonesian boot brands]
6. Jim Green – Razorback
South African made
2.2mm full-grain leather
Stitchdown construction
Around $180-$200
If there's an award for being the most ecologically responsible boot brand, then that award will go to Jim Green. This brand makes affordable stitchdown boots that are worn by African rangers protecting endangered wildlife. And for around $180, you can own these super cool boots too.
Relatively recently, this brand blew up in various online forums, and for the right reasons. They're known as one of the few boots in the sub-200 dollar range that is made with a stitchdown construction. The benefits of a stitchdown constructed boot are that it's extremely repairable and even more water resistant than a boot made with a Goodyear welt.
In addition to being stitchdown, these boots are made with locally sourced leather that is of decent quality. For most of their boots, you will find either 2.2mm thick nubuck or smooth leather. This thickness is actually greater than a lot of the workbooks on the market.
Scrolling through their website or Amazon store, you will definitely find a boot that fits your lifestyle and budget.
7. Siete Leguas
Buyer must speak Spanish
Wide range of styles
Tons of styles in the $140-$200 range
Mexican made
This Mexican boot brand is a little less well-known than most other options on this list but that's because you will need to know Spanish in order to navigate the site. If you are fluent in Spanish, consider Sieta Leguas a hidden gem.
Oh their site, you will find moc-toe boots, harness boots, cowboy boots, Chelsea boots, and cap-toe boots all in the $140-$200 range. These Goodyear welted boots are made in Mexico using locally sourced leather.
8. Stacy Adams Madison Cap Toe Boot
Kidskin leather upper and liner
Leather outsole
Goodyear welted
Chinese made
~$150
This boot is a Goodyear welted boot that is made in China. Originally, all Stacy Adams was made in the USA but over time, cost-cutting measures and outsourcing had moved all production overseas. This resulted in the brand's decline and slumber until now.
Recently, with the popularity of well-made footwear, Stacy Adams came out with a budget-friendly boot that rivals others in this price range.
Their Madison Cap Toe Boot has kidskin uppers and liners. For those who don't know, kidskin is a type of goat leather that is very soft and thin. Due to the thinness of the leather, this boot lacks insulation and will wrinkle heavily. But if you asked me, that is to be expected of a mass-produced $150 boot.
9. Golden Fox Boondockers
Goodyear welted
Soft crepe sole
Made in China
~$139
Modeled after World War II boots but with some stylistic redesigns, this is probably the most influential welted boot (influwelted) at this price point. Golden Fox needs more attention: they're made with full grain leather, they've got a steel shank, and they're under $150. Is the sole that durable? No. Is the welt plastic? Yes, and this means you probably won't be able to resole it more than once.
But they're very comfortable, the leather is nice, they fit with most any wardrobe, and they've got that cool vintage military cachet that's so hard to come by.
Runners Up
We had a pretty exhaustive hunt around the market and those previous six entries are your best bets for boots that can be resoled — meaning, boots with praiseworthy durability — for under two hundred dollars.
But so you can have more options to choose from, we've included some boots below that are well reviewed and considered pretty good value for money. You just won't be able to resole them.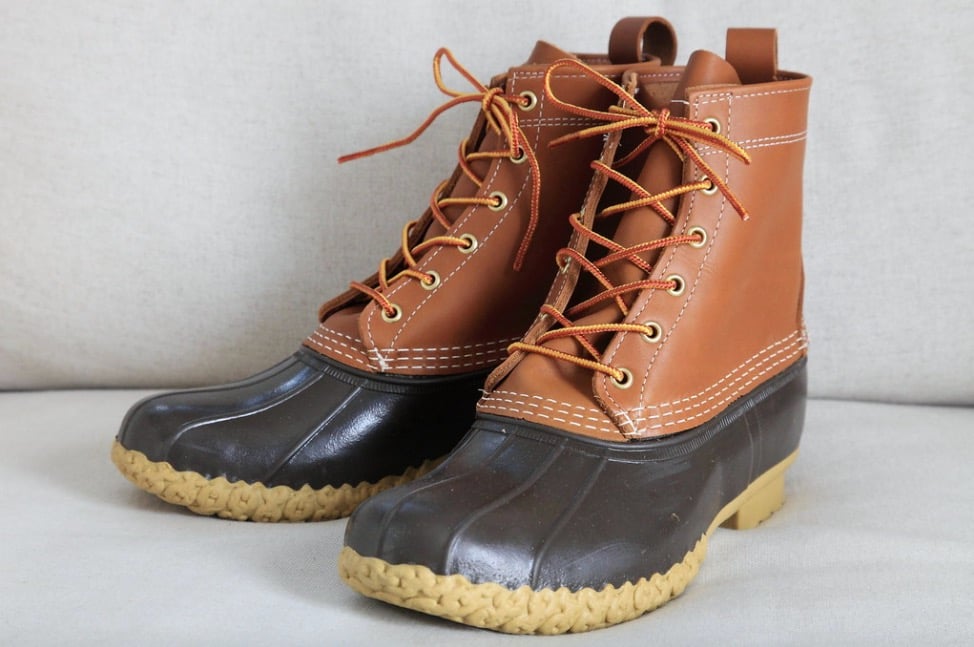 11. The LL Bean Boot
Waterproof (not just water resistant)
Still made in the USA
Hard to resole
$149
Maybe the most iconic waterproof boot on the market, this is the defining feature of the Bean Boot: it may not be welted, but it is so waterproof that you can stand in a puddle for as long as you like. This is why everybody and their dog wears Bean Boots as soon as it starts raining here in New York City.
An important caveat: all the welted boots I've mentioned will do great in the rain, even if they're not technically waterproof. They're water resistant, which will keep your toes perfectly dry in a storm.
But if you really need waterproof, the Bean Boot is a universally accepted option that is still, after all these years, made in the United States. If you wear through the sole no cobbler can resole them, but LL Bean will — so long as you're comfortable mailing them and paying for them to do it in house.
12. Nisolo's Daytripper Chukka
Big emphasis on ethical manufacturing
More of a short boot than a chukka
No carbon footprint
$180
The reason Nisolo stands out to me is that it's a B Corp, a term that's meaningless to most people but it carries a lot of weight: B Corps meet extremely rigorous standards for sustainability and worker treatment — in fact, these boots even have a net zero carbon footprint. There's no denying that these factors are becoming increasingly important for consumers and even though the Daytripper Chukka takes a sustainability hit for their inability to be resoled, they remain great value.
Their first boot produced and their flagship model for under two hundred dollars is the Daytripper, which is a taller than average chukka boot that's available in three leathers. All of them are certified by the Leather Working Group, meaning you're guaranteed there's none of the pollution that chrome tanning can produce in poorly regulated facilities. The shoes are extra comfortable too owing to their leather lining and shock absorbing insolesth.
In short: they're handsome boots and it's worth checking out their site to see the two hundred sustainability metrics they use to minimize or eliminate their social and environmental impact.
13. Johnston & Murphy – Cody
Flexible construction
Shock absorbing insole
Full grain leather
$199
Many of this popular brand's footwear offerings are under two hundred dollars, though the one with the most accolades may be their wingtip boot known as the Cody.
Johnston & Murphy take advantage of the fact that it can't be resoled by emphasizing comfort instead, producing a remarkably flexible boot with two layers of foam in the insole and midsole designed to maximize shock absorption. In other words: if you're used to sneakers, you'll feel right at home in this boot. (Maybe even moreso than in welted footwear.)
14. Blundstone – 500 Chelsea Boot
TPU outsole with a comfortable foam midsole
steel shank
chrome tanned uppers
~$209 (up until recently they were $198)
The reason why Blundstones are so popular today is that they're a boot that you wear while walking on cobblestone streets, on farmland, or on the factory floor. In fact, this is why their founder, John Blundstone created these shoes over 150 years ago. John Blundstone wanted to make a boot that would be acceptable in all settings of his life.
Today, these boots, including their most popular model, the 500, are made with a chrome tanned upper that is cemented together to a foam midsole and TPU outsole. Combining these components with a steel shank gives you unparalleled comfort throughout the day.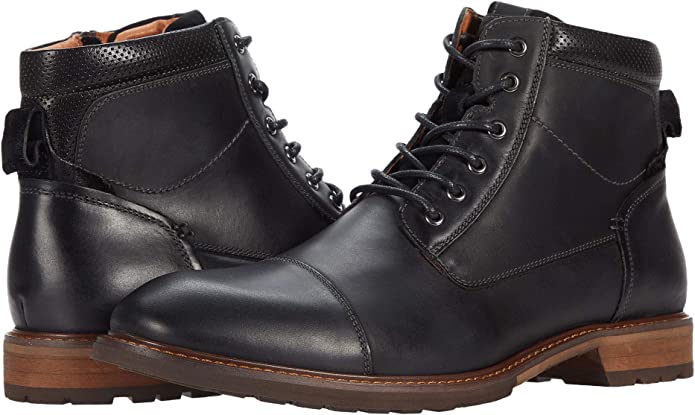 15. Florsheim – Lodge Boot
cement construction
Ortholite High Reboud insoles for comfort
~$140
Florsheim offers Goodyear welted shoes in their most popular styles but for the budget-minded shopper, their cement-constructed Lodge boot is not a bad substitute.
Due to their imitation stacked heel and welt, the Lodge appears way more expensive than they actually aisre. To an untrained eye, this boot could pass for $300 shoes. Under normal circumstances, this would not be ideal but if you're someone who rarely wears boots, this could be an excellent choice.
16. Cole Haan – Classic Plain Toe Boots
Waterproofed leather
Decorative stormwelt
EVA footbed with leather arch support
~$200
Unlike most of the old American brands that have shifted production overseas, this brand is not afraid to modernize and embrace the new trends in men's footwear. A lot of the brands mentioned directly above still want to give the facade of being a company that produces shoes traditionally but not Cole Haan.
On their website, you can find boots in the sub $200 range with chunky soles that looks like they're meant for sneakers, and silhouettes that could be used for the runway.
Those are cool and all but if you are someone who enjoys the look of a heritage-style boot then Cole Haan's Classic Plain Toe Boot might be for you. These are cemented boots made with waterproof leather and as a nice touch, they added a storm welt to the edge.
Are they worth it? In terms of design, yes. However, at $200, you can also start to buy entry-level Goodyear welt boots that will last way longer than this.
Wrapping Up
Who says you can't get a good pair of boots for under $200? Whether you want longevity or comfort, there's something for every customer on this list. We think we've provided enough information that you can make the right decision for your individual needs and your wardrobe. Think we missed anything? Let us know in the comments below.