When most people think of cowboy hats, they think of the iconic American company, Stetson, but a company who may not be as well known here in the US — but is just as rugged and iconic — is the Australian company, Akubra.
Akubra has been making quality fur felt hats since it was founded in 1874 in Hobart, Tasmania. They've provided hats to the Australian military starting in the 1940s and as of 2015 they've produced over 2 million hats for the armed forces down under. They've also made a few hats for big Hollywood films like the classic "Man from Snowy River", "Australia", but here in the US they're probably best known for the iconic "Croc" from the blockbuster film "Crocodile Dundee". They proudly continue to make hats in Australia in Kempsey, New South Wales.
Needless to say, Akubra knows a thing or two when it comes to making hats.
Akubra Campdraft Aesthetics
Although they're known for their bush and western hats, one of their most versatile hats (and my personal favorite) is the Campdraft. The Campdraft is an open crown fedora fur felt hat with a 5 ½ inch crown, 2 ¾ inch bound edge snap brim and a ½ inch ribbon band. It is fully lined with a reeded roan leather sweatband. Roan leather is a soft and flexible sheepskin. Since this is basically the only part of the hat that rests on your skin, this attribute makes roan leather the best choice for quality hatmakers. The best hats use "reeded" sweatbands. The reed is basically a plastic wire which runs through a ribbon in the leather band designed to conform and hold to the shape of the head.
Campdraft Material and Colors
Like most quality Akubra hats, the Campdraft is made of Akubra's Imperial Quality Fur Felt. Quality fur felt is determined by the type of fur used and the felting process. Akubra uses rabbit fur. Not only do they cut the fur from the skin themselves for better quality control, but they are one of few companies who make their own hats from start to finish.
Fur felt hats are shower-proof, which means they can be worn in light to moderate rain, with little chance of damage or losing its shape. After being in the rain it's best to let it dry naturally. Do not put it near a heater as this may cause it to shrink. Wool hats, on the other hand, are porous and tend to not shed water very well. Fur felt hats can easily be reblocked if they lose their shape and are smoother to the touch. Wool hats tend to lose their shape quicker and are a bit harder to reshape.
The Campdraft is available in three colorways: Silverbelly, Black and the hard-to-find Bluegrass Green.
[Related: The Stetson Stratoliner Review of the Most Iconic American Fedora]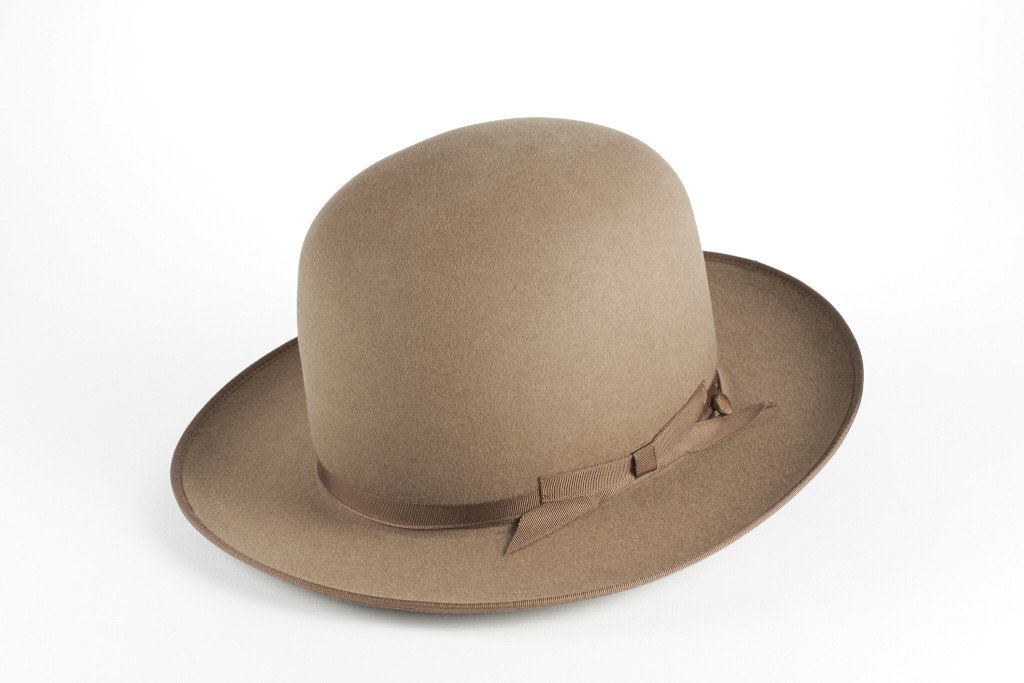 Campdraft Price
The Campdraft is moderately priced between $139 – $160, depending on the dealer. This is a very good price for a hat of this quality. Note: As of this writing, the Campdraft is not available on the Akubra website, but can be found from numerous vendors such as Everything Australian, Australian Gear and David Morgan.
Campdraft Care and Storage
The Campdraft is a tough hat and is made to take a beating, which makes care for this hat very simple. Brushing the hat every few weeks to remove any dust with a quality hat brush is pretty much all the care it needs.
When not wearing the hat, it's best to lay it flat on the crown to keep the brim from losing its shape. If you prefer, you can also snap the brim back up and lay it flat on the brim. Once the hat starts losing its shape (which will most likely take years to happen) the hat can be reshaped by using steam to reshape it. This can be easily done by using the steam from a tea kettle or clothes steamer and reshaping the crown and brim. It's not difficult, but it does take some practice. If the hat has completely lost its shape, it's best to take it to a professional hatter for reblocking.
The hat, like most quality fur felt hats, is water resistant. It can be worn in the rain and left to air dry. Unless it was caught in a torrential downpour for hours, it should retain its original shape. Note: Never dry the hat near a heater as this will cause the hat, and more specifically, the leather sweatband to shrink. Air drying is always best.
Pros
In my opinion, Campdraft has a lot going for it.
First is the price. If you're looking to buy your first quality hat, but don't want to break the bank, you can't go wrong with a Campdraft. Price between $140 – $160 this is a great way to see what a quality fur felt hat can do.
Second is the all-around size. The crown height and brim size work great with practically all head sizes. It's not too small to make you look like a hipster, not that that's a bad thing, but not too large where people will ask you where you left your horse. It also runs true-to-size. For example, I wear a 57 (or 7 ⅛) and the Akubra fits me perfectly in that size.
Third is the quality/construction. Akubra is known for their well made hats and quality fur felt. It holds its shape extremely well. This is a hat that, unless you lose it, will be with you for a long time and will continue to look good as well.
A bonus for me is that it comes with an open crown. An open crown, which means the top of the hat, also known as the crown, has not been pre-shaped and has a domed top, which allows you to give it your own personal crease in the crown. You can do anything from a Cattleman's Crease or a Diamond Shape crease to a classic fedora crease.
Cons
As beautiful as the Campdraft is, it's not the best on humid summer days. Fur felt can get pretty hot. Personally I don't know how the cowboys did it. If you live in a part of the world with a humid climate, then a straw or hemp hat would be a better option.
How to Buy Akubra Campdraft
Also, there are rumors that Akubra may have discontinued this hat, so I strongly suggest you grab one as soon as possible. As I mentioned earlier this hat can be found on sites such as Everything Australian, Australian Gear and David Morgan.
So if you're looking for the perfect hat for a walkabout in the bush or Sunday brunch in the concrete jungle, the Akubra Campdraft is the perfect choice.
The following two tabs change content below.
Eric Rodriguez is a New York City-based self-proclaimed "hip", 50-something living in Williamsburg Brooklyn, who loves to discuss important topics such as self-esteem, confidence, men's style/fashion, fitness, beard and hair grooming, hats, boots, watches and anything else men think about.
Latest posts by Eric Rodriguez (see all)