Whether you're a sneakerhead or not, there is no denying that sneakers have earned their place as staples in any wardrobe.
They're easy to walk in, come in every color, and have an ever-growing repertoire of styles. All of these factors make them extremely popular and relevant in fashion year after year.
While it's safe to say that they pair well with most outfits, some sneakers are more versatile than others. For our money, the most versatile style is the leather court trainer, which is what you'd probably recognize as the "minimalist sneaker." These are low-profile sneaks with a clean silhouette that makes them as suitable for shorts and t-shirt as for going out with a smart leather jacket.
There are numerous brands that sell this type of sneaker but we've narrowed down the top choices on the market to make your shopping experience a little smoother. Keep scrolling past our picks for some helpful guides and frequently asked questions, but right now, let's get to what you came for.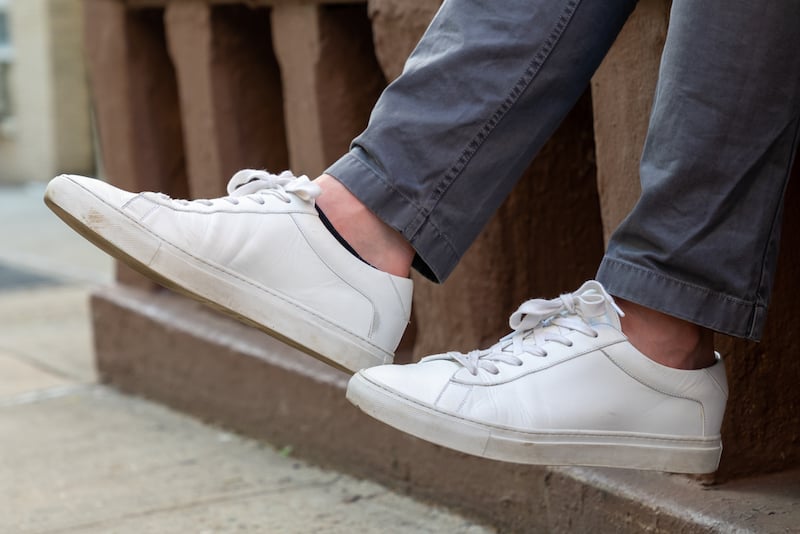 1. Best Leather Sneaker: Koio – Low Top Capri Sneaker
Italian made
Sustainable, certified leather
Slim, but a roomier toe than competitors
No half sizes
As a brand, Koio's focus is sustainability and fair treatment of its workers. The leathers that this brand uses are from LWG Gold-rated tanneries, meaning they were audited by the Leather Working Group to meet the highest standards of sustainability, worker treatment, waste disposal, and more — all issues that plague poorly regulated tanneries that work with chrome tanned leather.
All of Koio's workers are paid about 15x the world's average for shoemaking, making Koio one of the best companies to work for in the industry. Add all that to their groundbreaking regenerative line, which uses vegetable tanned leathers from "regenerative" farms in the Swiss Alps that help to restore Alpine ecosystems, and you've got a unique brand that blends ethics and style so seamlessly that, frankly, you don't even need to know about their sustainability practices to love these elegant, minimalist, go-with-anything luxury sneakers.
Key Highlights
Over 20 different leather options from Gold-rated tanneries.
Margom cup outsole.
Fitted with removable OrthoLite® Hybrid™ insoles for comfort and shock absorption
Lined with soft cow leather.
Made in Tuscany, Italy
Now, onto the sneakers. The Capri is a low-profile, sleekly designed sneaker that aims to elevate your style while taking attention away from your feet. Depending on which of the twenty or so colorways you get, the Capris will either be crafted out of suede or full-grain calfskin, but there are models that use a combination of both materials.
For the sole, Koio went with Margom's cup sole. This is a big deal: Margom is one of the highest-regarded sole manufacturers in the luxury sneaker industry. The hard-wearing rubber sole is typically considered the gold standard.
While being slightly more expensive than the next options on this list, Koio's price tag is reflective of its meticulous leather selection process, its fair wage guarantee for workers, and for its proud, 100% Italian heritage: everything down to the shoebox is made in Italy using Italian materials.
Koio Capri Sizing Guide
Slim, but roomier toe than many competitors.
No half sizes; size up if in between.
Koio doesn't produce half sizes. Get your normal sneaker size for a perfect fit. If you are in between sizes, size up. They tell you to size down, but we found success sizing up.
2. Best Value Leather Sneaker: Thursday Boot Co. – Premier Low Top Sneakers
If you've been in the boot game for a while, Thursday Boot Company shouldn't come as a surprise for making the best value footwear out there. This direct-to-consumer brand sources its leather from renowned tanneries like Horween and Lefarc and has an emphasis on giving customers the highest-grade product for as little as humanly possible.
Retailing for only $129, these Premier Low Top sneakers are an absolute steal for a versatile, minimalistic shoe.
Key Highlights
16 leather options
Soft deerskin liner
Shock absorbent performance footbed
Padded tongue and collar for comfort
Dual-density rubber outsoles for durability and traction
Made in Mexico
$129
As for its design, the Premier Low Top sneaker is extremely minimalistic. There are no excess leather panels used to create design patterns, and the only visible branding is a small embossed logo on the heel label. The sneaker comes in over 16 colorways, is lined with sheepskin leather, and has dual-density rubber outsoles.
The main differentiator with industry leaders like Koio and Common Projects are the wider fit, which is good news for guys who can't squeeze into some of the Italian fare. The White colorway also has visible nickel eyelets, which turns off some customers who want as "clean" a look as possible.
Thursday Premier Sneaker Sizing Guide
Available in half sizes
Order your usual sneaker size
Thursday Boots produces this sneaker in full and half sizes. A rare but appreciated feature! It fits like your regular sneaker, so just buy your usual sneaker size.
3. Best Customizable Leather Sneaker: Idrese – Nuno
Idrese is a newer brand in the scene founded by Chicago college student, Jawad Malik. Jawad had the vision to deliver custom-made, high-quality footwear at an affordable price to customers and did just that with Idrese. After making a commercial breakthrough with its dress shoes, the brand added some sneakers to its ever-growing catalog and they quickly became a fan favorite.
Key Highlights
Full-grain Italian Nappa leather uppers
Margom cup outsoles
Cork and metal shank (very rare)
Made in Spain
Lengthy wait time
The Nuno is their signature sneaker and like its competitors, the Nuno is crafted from Italian Nappa leather, has Margom soles, and a minimalist design. Currently, Idrese produces this shoe in 3 colorways and each production run is made in small batches. This means once they sell out, you will need to wait a month or two for more to be produced in the next cycle.
An aspect of this sneaker that stands out is how thick the uppers are. The leather on the Nuno measures out to be 1.9mm thick and for a sneaker, this is insane! The added thickness helps prevent creases from forming as you wear the shoes. In addition, there is also a dual cork and metal shank under the footbed to help with stability when you walk. This is unheard of in sneakers and it means they confer more stability and comfort-over-time than competitors.
Idrese Nuno Sizing Guide
Get your normal sneaker size for a perfect fit.
If you are in between sizes, size up by ½ as they run a little narrow.
Idrese doesn't produce half sizes, so size up if you're between sizes.
A big bonus we haven't mentioned yet: Idrese allows customers to customize their own sneakers on their website. Pick anything from turquoise leather to leopard print fabric for your uppers!
4. Best Vegan Leather Sneaker: Clae – Bradley Cactus
Clae is a Los Angeles-based brand that started in 2001. They have a commitment to innovating classic designs for the modern lifestyle and their dedication to finding new ways to make existing concepts refreshing can be seen in their vegan sneaker made not from the usual polyvinyl chloride you see in vegan leathers — it's completely made of cactus.
Key Highlights
Cactus-based leather uppers
Eco-friendly recycled cardboard packaging
Cotton canvas lining
Molded EVA footbed
Natural rubber soles
$170
The Bradey sneaker is designed in LA and crafted in Zacatecas, Mexico. It is the world's first sneaker with uppers made entirely out of cactus. Clae developed this entirely plant-based leather with Adriano Di Marti, a Mexican company whose's vision is to produce and market plant-based leather alternatives. What is great about their cactus leather is that production is done with the plant's mature leaves, so not even any plants had to be destroyed for the production process.
For added comfort, the shoes have a canvas liner and a molded EVA footbed for shock absorption. Although at $170, a cactus leather liner would have made this shoe a little nicer, the canvas is not a bad material. It is breathable and the EVA footbed is comfortable. Lastly, the soles are made from natural rubber extracted from the latex sap of Hevea trees.
Clae Bradley Sneaker Sizing Guide
Get your normal sneaker size for a perfect fit.
Sizing goes from men's size 4 to size 13, and half sizes are available.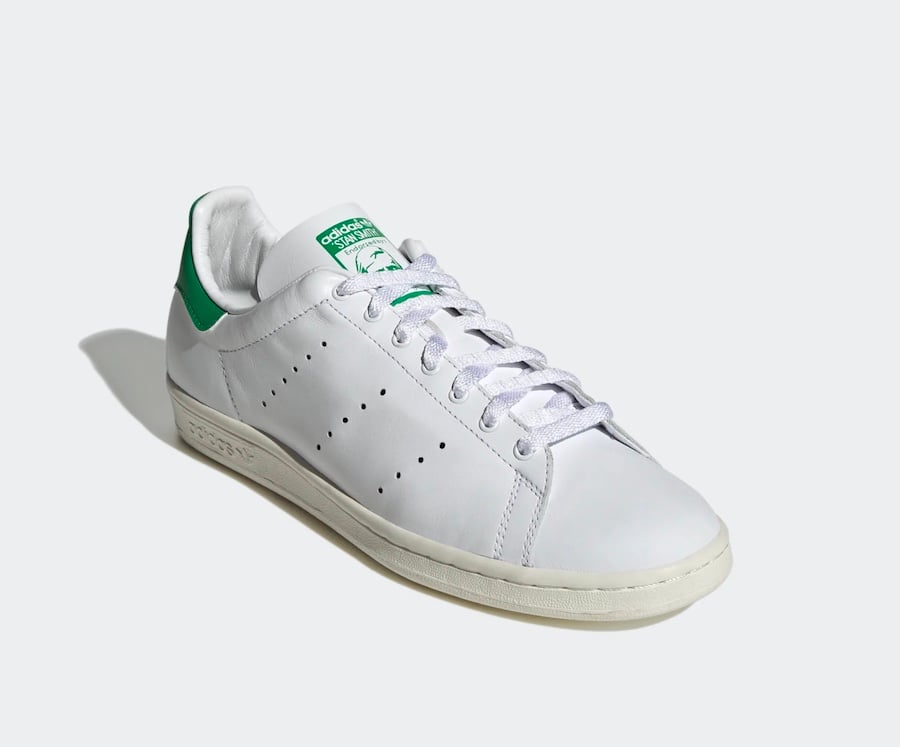 5. Best Classic Leather Sneaker: Adidas – Stan Smith 80s
Adidas needs no introduction and neither does the Stan Smith. After the sportier, less minimalist Superstar fell out of favor, the simple and accessible Stan Smith basically became Adidas's unofficial mascot and reigned over the fashion world. Me, my mom, Meghan Markle, and even President Obama were seen in a pair or two.
Key Highlights
Leather Uppers
Leather Liners
Rubber Outsole
Chunkier than most minimalist sneakers
Made in Asia
This version of the Stan Smith we're highlighting (the Stan Smith 80s) is a reproduction of the ones sold in the 1980s, when the shoe had a leather upper. If you prefer vegan or you just like saving money, the current model is completely vegan.
The Stan Smith 80s is made by the ever-expansive Adidas corporation, but by no means does this mean it is a bad shoe. The materials on the Stan Smiths are very decent considering the fact that you can buy it for around $80 on sale. Most Stan Smiths have uppers and liners made from leather and while you can't expect the highest grade material, they do their job well and will not deteriorate as long as you clean and condition them.
A common complaint about his shoe is that it lacks arch support. A quick remedy for this is swapping out the insoles for a more orthopedic one — or accepting the fact you paid under $100 for a shoe, so what can you really expect, here. What the shoe lacks in comfort, it makes it up in style. I really can't think of a more accessible shoe that goes well with every outfit than the Stan Smiths. Just note that it's a bulkier fit than the sleek, European models we've focused on — and it's made in Asia.
Adidas Stan Smith Sizing Guide
The Stan Smith comes in sizes 4-14 and has half sizes. Get your normal sneaker size for a perfect fit.
6. Most Sustainable Leather Sneaker: Nothing New – Deluxe
Nothing New is a brand that specializes in producing shoes with as much recycled material as possible and with the Deluxe, everything from their uppers to their outsole is completely upcycled from something else. Known for their Better Canvas sneakers, they invigorated their collection in 2022 with a line of upcycled Italian leather sneakers — all the style and durability, but no carbon footprint. Yup, Nothing New buys carbon offsets and donates to environmental charities to eliminate the carbon footprint of their operation.
The brand offers various sneakers that are made from upcycled leather material, which are made with a Global Recycle Standard (GRS) certification to ensure there's no human or ecological harm being wrought, but we will focus on the Deluxe as it is the most similar to the sneakers above. On their site, you can find many more selections that resemble popular brands like Vans and even Alexander McQueen.
Key Highlights
Each shoe is carbon neutral
Upcycled Italian Leather Uppers
Stitched construction to reduce glue usage
Durable Outsoles Made From Rubber & Cork
$160
The Deluxe is a very simple, minimalistic sneaker that doesn't look too different from the other ones on this list. What sets this pair apart is that it is actually carbon neutral and made from recycled materials. The uppers on these shoes are made from discarded Italian leather that is then upcycled.
For the heel counter, Nothing New uses 100% recycled fishing nets, and for the outsoles, the brand uses a blend of recycled rubber, recycled cork, and natural rubber.
Nothing New Deluxe Sizing Guide
Order your usual sneaker size
These fit slightly smaller than your true-to-size Brannock sizing so for a good fit, go with your regular sneaker sizing.
View this post on Instagram
7. Best Luxury Sneaker: Crown Northampton – Derby
Crown Northampton is an English brand founded by Chris Woodford. Woodford and his family have a long history in shoemaking but it wasn't until 16 years ago that Woodford decided to start his own brand. His brand has a large array of stitchdown constructed boots and of course, sneakers.
Key Highlights
Luxurious leather options like veg tan calfskin and even shell cordovan
Fully leather lined
Hand-stitched and finished
Sustainable Lactae Hevea soles
Oak bark counter & stiffener
~USD556
It was very difficult narrowing down a specific pair of Crown Northampton sneakers to showcase on this list. All of their offerings are unique and deserve a mention on this list. However, the Hand-Stitched Derby is their premium (of the premium) line, including vegetable tanned leather uppers and even a version made of Horween's Shell Cordovan for 685 pounds.
The Derby is part of the brand's hand-stitch line. It has a low profile silhouette, hand-finished construction, is made to order, and is crafted out of some of the most luxurious leathers out there — veg tan calf, shell cordovan, buffalo, you name it. All of these factors make this sneaker the best option for guys who want the absolute best made sneaker on the market.
Currently, the brand offers this Derby in Horween's Color 8, Bourbon, Black, and Dark Cognac shell cordovan. If the shell doesn't interest you, they also have calfskin and bison, and kudu leather in all sorts of colors. Every Derby sneaker will have an oak bark counter & stiffener, cork filling, and Lactae Hevea soles. If you're looking for a premium sneaker, this is the one for you.
Crown Northampton Sizing Guide
Order your true British size (usually 1 size larger than US, so size down)
Crown Northampton sneakers have a similar length to Nikes and New Balances. They have men sizes UK 3 all the way to UK 14, including half sizes. For those who are not aware, UK sizes are 1 size larger than US sizes. If you're a US 9, then you would be a UK 8.
Go with your true size. However, Crown Newhampton also includes the insole length on their sizes. If you are unsure, take your best-fitting shoe and compare the insole's length (cm) to what the brand has listed for your size.
8. Beckett Simonon – Reid Sneaker
Beckett Simonon is another direct-to-consumer brand that sells myriad affordable, yet elegant footwear. What separates them from Thursday Boot Company is that when placing an order, expect at least 2-3 months before receiving your shoes, as this company crafts its products in limited runs. The lead time might be long, but it's well worth it for the value — they're $135 with 'STRIDE' used at checkout — and the environmental factor. Producing shoes in small batches ensures that every item is sold and this helps the company lower its carbon footprint/waste.
Key Highlights
6 leather (calf skin) options from a Gold-rated tannery from Arzignano, Italy.
Vachetta leather liner for breathability and comfort.
Natural rubber outsole
Made in Colombia
Takes 1-2 months to arrive
$169
The Reid sneaker comes in 6 colorways and is shaped on a streamlined last to give it a sleek silhouette. The design is extremely minimal, even more so than the Premier Low Top. There is absolutely no branding, embellishments, or decorations on the sneaker which makes it the perfect shoe for dressing up a casual outfit. Currently, the Reid retails for $169 but there's always a 20% discount available. Use STRIDE at checkout for yours.
Beckett Simonon Sneaker Sizing Guide
Half sizes available
Buy half a size smaller than your regular sneaker size.
Beckett Simonon also produces this sneaker in full and half sizes. Note that the Reid sneaker has a generous instep volume, and most guys like to go down a half size.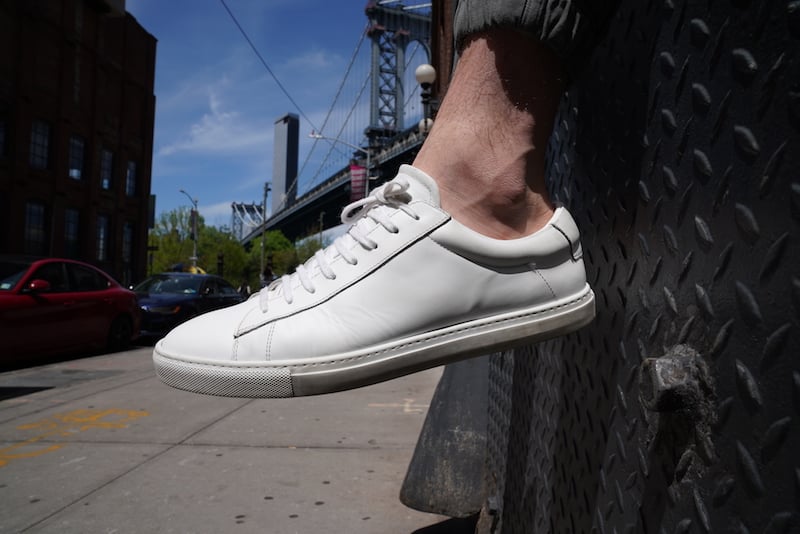 9. Oliver Cabell – Low 1
To put it simply, Oliver Cabell is a brand that makes luxury footwear at a fair price. They are so confident about their prices that they are even willing to tell you what their production cost is. On their website, every listing will include a breakdown of the material and labor costs to ensure customers know why they are paying what they're paying. They are by one of the only few companies to do this and we love the transparency — but the shoes ain't bad either.
Key Highlights
Over 50 styles with numerous colorways and patterns.
Margom cup outsole
Lined with cow leather.
Made in the La Marche region of Italy.
$220

Their Low 1 sneaker is a classic court shoe with a streamlined design. In total, there are over 50 different color variations available and all of which are crafted out of full-grain, chrome tanned leather or top-quality suede from Italy. They sell plenty of other patterns that include classics like hi-top sneakers and German Army Trainers, all of which are largely unbranded besides the company's name on the tongue and heel.
Other aspects of the shoe include padded heel collars, a leather heel counter, and a leather liner. All of this adds to the comfort and will prevent or lessen slippage when you first put the sneaker on.
Sizing Guide
Get your normal sneaker size for a perfect fit.
If you are in between sizes, size up by ½.
Oliver Cabell doesn't produce half sizes but they do make sizes from a US 5 to a US 14. Size up if you're between fits.
10. Greats – The Royale
Just shy of being a decade years old, the brand started in Brooklyn in 2014, priding themselves as being the first sneaker brand born in Brooklyn. Seeing that Brooklyn is one of the streetwear capitals of the world, they had some big shoes to fill. Fortunately for Greats, they did not disappoint and were even acquired by Steve Madden in 2019.
Although this list only highlights the Royale due to its insane popularity, Greats also makes over a dozen leather sneakers that are equally high quality and stylish.
Key Highlights
Full-grain leather uppers
Lined with breathable soft leather
Custom rubber soles made with the same material as Morgom soles
Footbed with antimicrobial properties and cushioning
$189
For years, Greats' Royale has been an affordable alternative to the Common Projects Achilles. The production used to be done in Italy but the brand has since moved manufacturing to Portugal and Mexico. This was in part due to cost-cutting measures as well as supply chain issues. Although some claim that quality has diminished, over time, the shoes are still made from full-grain leather, completely leather lined, and equipped with custom Italian rubber soles that are similar to Morgom soles.
Sizing Guide
Order your normal sneaker size
The Royale comes in men's sizes 7-15 and has half sizes.
Are Leather Sneakers Waterproof?
Many brands use misleading marketing tactics and will use the words waterproof and water resistance interchangeably. Although they have similar meanings, they are not the same. In short, waterproofed shoes will keep your feet dry no matter how much it precipitates. Water-resistant shoes will only protect your feet for so long before they start to get wet.
Generally speaking, leather and water don't mix well but all leather, even untreated leather, has a degree of water resistance.
What you want to really look at is the construction, though. While the uppers are water resistant, you probably can't walk through puddles because these shoes are either cemented, stitched, or a combination of both.
Waterproof vs Water-Resistance
Waterproof is when the entire shoe is impervious to water. This means the shoes are sealed tight and no amount of H20 will penetrate them. This can be achieved by treating the leather with waxes or silicon polymers . As the substances are layered on top of the shoe, it seeps into the leather's pores and clogs them. As a result, water will bead off like raindrops and your feet will remain dry.
Another method to make shoes waterproof is by lining them with a semipermeable membrane that prevents water from coming in. Gore-Tex is a popular lining that manufacturers use to waterproof shoes.
Water resistance, on the other hand, is when a boot can only withstand moisture. Prolonged exposure to the elements will saturate the uppers enough for them to leak. But how are shoes tested for their water resistance?
In order for a shoe or boot to be labeled 'water-resistant', it must undergo a pressure test. Any footwear that comes with this label should be able to withstand up to 200 millimeters of water pressure.
Remember: your sneaker's leather upper is water resistant, but the construction isn't. Don't step in water.
Are Leather Sneakers Business Casual?
Business casual is one of those elusive terms that nobody really knows the meaning of. It is highly subjective from workplace to workplace. For some offices, it can mean jeans and a polo shirt, in others, it's khakis and a blazer. The rule of thumb is that if you work in a setting that requires formal attire, then leather sneakers would not work.
However, if the day-to-day attire is not as formal, then wearing leather sneakers would be just fine. In order to pull off this look, make sure the leather sneakers are similar in color enough to dress shoes. Black, brown, and even white sneakers would work best with a button down. If you wear more adventurous patterns or playful colors, you risk appearing too casual for the office.
Are Leather Sneakers Easy To Clean?
Leather sneakers are one of the easiest sneakers to clean. This is because leather does not absorb moisture very well. All you need is a damp rag and a little bit of cream leather conditioner afterward.
To start, brush the sneakers with a brush to remove any dust on them. Then wipe them with a damp cloth to get stubborn, dried-up stains. If things are still dirty, grab a gentle leather cleaner like Cobbler's Choice. Lastly, wait for the shoes to dry and apply a thin coat of conditioner on the.
Leather vs Canvas Sneakers
Fully leather or canvas sneakers are great footwear choices to elevate a minimalist wardrobe. They are a much cleaner alternative to athletic sneakers. But how do these materials compare?
Pros and Cons of Leather Sneakers
Leather sneakers reign supreme in terms of long-term durability and comfort. Firstly, leather is insanely ductile, meaning it will mold and shape to the shape of your feet. Every step you take can be seen as an investment toward the comfort of the shoe. When the shoe gets dirty, it is easy to clean and with proper care, it will never look overly worn.
Perhaps my favorite benefit of leather sneakers is that when it rains, I don't need to immediately run for cover. As mentioned above, leather has weather-resistant properties that make them wearable for a short amount of time in the rain.
The downside of leather is that it makes the shoe a bit heavier than canvas and a quality pair will cost significantly higher than canvas.
Pros and Cons of Canvas Sneakers
Canvas sneakers are classic. Whether it's Vans, Converse, or another brand, people have been enjoying them for decades. So what makes them so popular?
People like canvas sneakers because they are lightweight and have a high degree of breathability. Canvas, which is densely woven cotton, is very porous so air passes through them very efficiently. The thin nature of the canvas also makes them very flexible and comfortable for long hours of walking.
The benefits of canvas also contribute to its disadvantages. The many pores on canvas fabric make them very susceptible to leaking when it rains and the thin fabric will degrade over time at the flex points. Once canvas breaks there isn't much you can do to fix it.
Canvas also looks worn more quickly than leather. Many like the "beat up" look of shapeless canvas sneakers but if you like a cleaner look, go with leather.
Are Leather Sneakers Worth It?
Leather sneakers are absolutely worth it. Sure, the upfront cost can be high, but stylish men treat this 'must have' footwear as an investment. This is because these shoes will last for as long as the sole remains functional. The design of most leather sneakers, and especially the ones on this list, are timeless and will never go out of style. They are modeled after traditional court shoes and are comfortable as they are durable. You can dress them up or down depending on your preference.
Leather sneakers are far superior to ones made from synthetics or fabric because, with the latter, you will end up replacing them year after year. Over time, this will cost way more than owning a pair of leather sneakers and maintaining the from time to time.
Wrapping Up
Leather sneakers are a good alternative to boots if you want something you can wear with shorts, something easier to throw on, or you miss the supple comfort of that rubber sole. The sheen on the leather sneakers gives the shoe a more classy appearance while not sacrificing the comfort of this type of shoe. They are the perfect middle ground between a sports trainer and leather boots.
Are leather sneakers good?
Yes! Leather sneakers are comfortable, will elevate your personal style, and will last much longer than textile sneakers.
Are leather sneakers comfortable?
Yes. Over time, leather sneakers will mold to the shape of your feet.
Do leather sneakers breathe?
Yes. Leather is semi permeable which means particles of air or water is able to pass through.