If you're interested in clothes, and chances are that you are, then at some point you've asked yourself that eternal question:
Can I pull off a hat?
You feel like a brimmed hat could be cool,l but you don't want to look like you're playing dress up as a cowboy or a 1930s gangster. If only there were a city-friendly hat with a bit of the ruggedness of a cowboy hat and without the overstated elegance and cliché of a fedora.
Fear not, there is: it's the Stetson Open Road.
[SHOP STETSON'S OPEN ROAD COLLECTION HERE]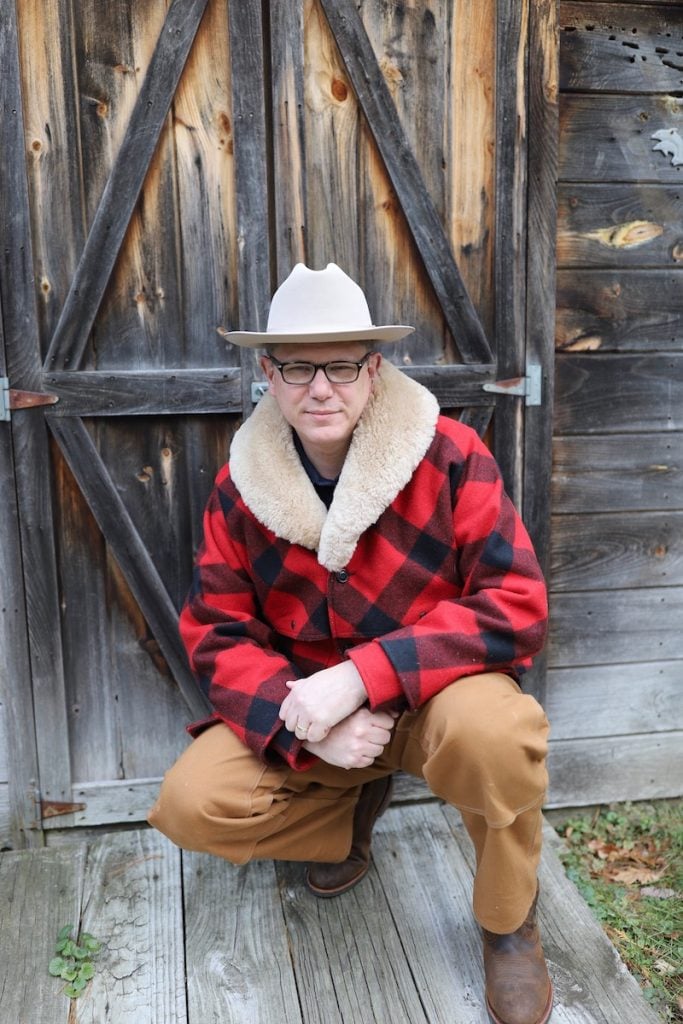 The Stetson Open Road's History
Originated in 1930s-40s
Worn by presidents, musicians, and everyone in between
The Stetson Open Road was introduced somewhere around 1940, although some sources show it as early as 1937 with a wider ribbon. A Stetson catalogue from 1938 does not include it, but since hats were so customizable (then as well as now), it is difficult to pinpoint exactly when it emerged. Why this matters is that this hat carries an amazing amount of history for over 80 years.
This hat has been worn by Presidents, lawmen, musicians, artists, and actors. This style of hat was so identified with President Lyndon B. Johnson that it was referred to as an "LBJ" for over a decade, but Presidents Truman and Eisenhower wore one as well. John F. Kennedy was offered one and famously refused it. Harvey Keitel wore it fighting vampires in "From Dusk till Dawn." Shakey Graves has worn it performing, also Leon Bridges. It's range is so broad owing to its flexibility and adaptability. It carries an air of authority, competence, creativity, edginess, and grit.
These days you are as likely to see it in Brooklyn as West Texas, and it pairs with a variety of styles. Dressed up or down, this hat adds an exclamation point on your look; a dash of insouciant cool.
If you have read this far, you want to wear a hat. Let's get that out of the way. Now ask yourself whether it's going to be this one. Let's talk about the particulars and my experience with this iconic hat. I own the Stetson Open Road Royal Deluxe in Silverbelly.
The Stetson Open Road's Aesthetic
Narrow, stiff, flat brim (2.75")
Fairly tall cattleman's crown (4.25")
Narrow ribbon for a band
What makes an Open Road an Open Road is its relatively narrow brim, at just 2 ¾". By comparison, a typical cowboy hat has a 4" brim. Another important feature is that the brim is dead flat, giving a certain seriousness to your eyes.
Crown Height
The crown height is still fairly tall at 4.25", without feeling out of proportion. Crown height should balance your face and chin. 4 ¼ works well with a variety of faces. Too low and it will give off a G-Man vibe and too high will feel like Daniel Day Lewis in "Gangs of New York."
Its form is well balanced, working on a variety of faces and head shapes, and with both men and women. It also features a very narrow Grosgrain ribbon around the crown finished with a small unobtrusive bow. Some modern versions have a cattle brand pin (that I thought was a key until I took a good look at it). The brim is bound in matching Grosgrain.
Brim
Its brim is 2 ¾. This is wide enough to shield your eyes from sun and rain, but not so big to become floppy or to hide the face beneath it. Unless you steam it and curl up the sides, it will remain flat and provide another horizontal line to parallel your eyes, mouth, and chin.
Crown Shape
When the hat was first offered the "open" in "Open Road" also referred to the fact that the hat was sold with an open crown. This means that the top of the hat was left rounded and unstyled so the hat could be finished however the wearer wanted. This was either as a fedora or with the now essential Cattleman Crease. This is the traditional crown shape for a Western hat and is now part of what makes an Open Road.
My head size is 7 3/8 and that is a large, but still average head size. The hat's dimensions work perfectly for me. The crown acts as a perfect balance to my fleshy chin. I wear it level with my narrow eyes and it suits my face perfectly.
My only gripe is that the hat does not come in a long oval. Heads come in two types: round or long oval. If you were to look down at my head from above it would resemble an oval rather than a circle, so if you put a round hat on my head, it stretches slightly from front to back. This warps the brim slightly. It would be nice if Stetson offered the hat for both head shapes. Granted most people would never notice, but it's my job to notice these things.
Stetson Open Road's Materials & Colors
Available in straw, hemp, pricy furs, or the more common felt
The "6x" series offers a harder, stiffer hat
~$140 for straw
~$155 for hemp
~$205 for 6x
This hat is offered in a variety of colors, materials, and finishes. Each has its advantages.
The Straw Open Road
If you are looking for a Summer hat or if you live in the more pleasant latitudes, then a straw Open Road either vented or unvented may work for you. They also have a very handsome Hemp Straw Open Road. All of these are perfect for warmer weather. The vents help the hat to breath and the bleached straw helps to repel the sun. The natural straw has that tobacco hue for a nice tropical feel. These hats are tough, lightweight, and have all the character of an Open Road. Just be aware that they may become stained by the oils in your hair and skin and over time can dry out and crack, if not properly stored and maintained.
[Related: The 10 Best Straw Hats for Men]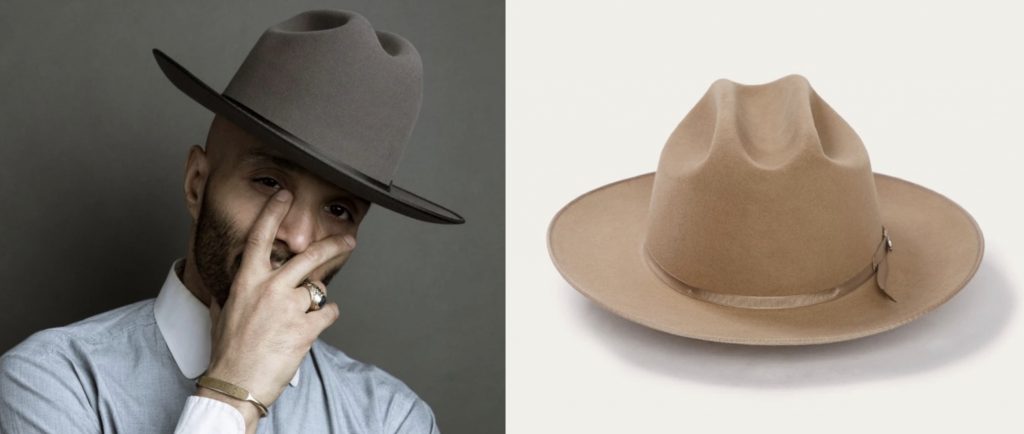 The 6x Open Road
The most basic felt Open Road is the Open Road 6X Cowboy Hat. This hat is made in Western felt and so it is a bit thicker and stiffer. Western felt was designed for working outside, so this may the best hat for you if you are particularly hard on hats or if you like the idea of just being able to toss your hat on a booth at a bar or on a bed at a house party without the fear of it getting damaged, This hat strays a little bit into helmet territory and is closer to its cowboy origins. It comes in the classic Silverbelly, Black, Caribou, Chocolate, and Fawn. Silverbelly is the color associated most with the Open Road. Beside the material, this hat is identical to its slightly more expensive cousin.
The Royal Deluxe Open Road
The Open Road Royal Deluxe Hat is the perfect marriage between the hat's Western roots and its crossover appeal. Royal Deluxe felt is a mix of furs: beaver, wild hare, and rabbit pounded thinner and softer to the same weight and feel as dress felt. It is still very tough, but not as rigid as the 6X. It has a soft feel and is more flexible on the head. It comes in Cognac, Natural, Sage, Black, & Caribou. I prefer this style.
The Silverbelly Open Road
I bought this in Silverbelly because it is the signature color for the Open Road. In retrospect, I feel that it is a touch too light giving it both a dressier feel and making it more prone to staining. In retrospect, Cognac, Caribou, & Natural would be better colors. Natural is the lightest of the three and is close to Silverbelly, but without that moon glow luminance. Either of these would match easier with the sort of clothes you are likely to wear with it: trucker jackets, Mackinaws, and field coats. Of course, the black hat has a look and power all of its own. Imagine pairing this with a Buffalo plaid jacket.
The 1865 Distressed Open Road
The most interesting version of this hat is the 1865 Distressed Open Road Royal Deluxe. This hat uses the same fur felt as the Royal Deluxe, but aged as if by the wardrobe department in a film to make the hero's hat look lived in and well loved. They also add a distinctive feather to the ribbon; not sticking up Dandy style, rather wrapped around level with the bottom of the crown. It's distinctive and interesting. Perhaps it was influenced by the kind of vintage hats Johnny Depp wears. It looks equally striking on women.
I have decided that once my Silverbelly gets worn out, I will replace it with a new one, and then add a similar finishing touch to capture the look of the 1865 Distressed. I love the idea of the wear, but would rather get there honestly by many years of wear and love.
The Pure Open Road
The final iteration of this hat is the Pure Open Road and by "pure" they mean pure beaver. This hat is impressive in its specs since pure beaver is a superior material known for its softness and strength. I have pure beaver hats from the 1930s that still look as if they were made yesterday.
This hat is an heirloom piece and is only in limited production. It comes in Alabaster, which is a very light white, Phantom Grey, Tobacco, and True Blue. In my opinion, pure beaver is best if you intend to wear this hat on dressier occasions. The color and all around feel of this hat push it into much more refined territory than I believe the Open Road was intended. Phantom Gray and Tobacco appear to be the most versatile colors. I am just impressed that this hat exists.
[SHOP STETSON'S ENTIRE OPEN ROAD COLLECTION HERE]
Is Stetson Open Road's Waterproof?
To evaluate the performance of this hat, you have to ask yourself "What is it that you really want this hat to do?" It's most important job, really, is to look cool and, yes, it performs that function flawlessly.
"Does it keep me warm?" Kind of? At least the top of your head. Remember, when hats were common people wore earmuffs when it got cold.
"Does it keep the rain off of my head?" Yes, it does, but should you stand out in the soaking rain with it? No. Get a waxed cotton hat or something else. Eventually, rain will wash away the stiffeners in the felt and that is the kind of aged lived in look you do not want.
This hat performs, but it's best to think of it as a fashion accessory and to treat it as such. Too much exposure to snow or rain will mean a trip to a hatter for a re-block sometime up the road.
Nevertheless, I have worn it in the elements dashing from the house to the car, from the train to the museum. Rain. Snow. You have to hold onto it in the wind. Do not let this hat blow away across a cityscape. Not only will you look silly chasing after it, but you know that it is going to roll through every oil slick and antifreeze puddle before settling in a pile of trash. Mine has held up amazingly well. When it was soaked, I allowed it to dry naturally away from any heat that might shrink it. It looks nearly as new as the day I unboxed it.
Stetson Open Road's Construction
I have had my Open Road for five years now and it has held up wonderfully. The Silverbelly, for how light as it is, has been remarkably stain resistant.
Making quality hats is still a very hands-on process. All of the Open Roads are made by hand in Garland Texas. Those of us who follow these things have seen ups and downs with Stetson's Quality Control. They have been doing quite well for the past several years and considering their relatively affordable price point, the level of finish is commensurate with the price.
All of the felts are very nice quality for modern felt and are well-finished. Some felts can have lumps or discoloration. I have not seen this on any of the recent Stetsons.
Where you will see problems is in the stitching of the brim that can be of inconsistent width along the binding. The tacks that hold the ribbon to the crown are very visible. Plus, with the Open Road, the ribbon is so narrow that it doesn't easily conceal the stitching of the sweatband to the hat beneath it. This would not be a problem if the tacks to keep the ribbon on were better placed. On mine, these are visible in the back.
The sweatband is very high quality leather. It is attached perfectly, as is the Satin liner. The sweatband is quite comfortable and doesn't get too slick even in the hottest of weather.
Overall though, these are very tough and well made hats, especially for the price. If anyone gets close enough to criticize a stitch here or there, tell them to back off.
How to Wear a Stetson Open Road
If this is your first hat, you will feel a little self-conscious as you start wearing it. Push through that. Hats draw attention to you, but most of that is quiet admiration. Even the criticisms that you hear are just the expressed insecurities of people who wish they had the courage to pull it off.
The Open Road is very versatile, but does better with the more casual end of the menswear spectrum. You could wear it with a suit, and give your more formal clothes a Western seasoning.
This hat really shines with heritage menswear. Red Wing boots, cuffed selvedge jeans, a chambray shirt, a French Chore Coat, and topped with the Open Road Royal Deluxe Hat in Cognac is perfection. It goes great with trucker's jackets in aged waxed cotton or even heavy plaid Mackinaw.
Are you busy in the workshop and wearing Moc Toe boots, Carhartt overalls with a T Shirt underneath and you suddenly need to run out for supplies? Put on an Open Road in Natural and it's a look. It pairs well with denim, flannels, and wool.
I wear mine with my Filson Tin Cloth Short Lined Cruiser jacket, jeans, and my Red Wing Blacksmiths in Copper Rough. I wear it out shopping, out to dinner, or walking through the park with my family. It always makes me feel a bit more interesting.
This is a hat for creative types, for people who choose to work with their hands, for expressive individuals that want to tap into 80 years of heritage and forge their own place within it. This hat is for you.
Stetson Open Road Price
~$140 for straw
~$155 for hemp
~$205 for 6x
$230 for Royal Deluxe
$395 for Pure Open Road
All of these hats are handmade in Texas. This alone is impressive. The fact that the straw hats range from $135 to $145 is very fair. The Hemp hats are slightly more at $155. This is a decent value for these and they are priced competitively. Even some imports have similar costs and you would have to pay twice as much more for a similarly finished Panama.
It is with the fur felt Open Roads that we see the best value. The Open Road 6X Cowboy Hat is a good value at $205. This is a tough hat and similarly priced offerings from a company like Akubra, who makes the quintessential outdoor Australian hats, are in the same range to slightly higher.
I think that the Open Road Royal Deluxe is a great value at $230. This is a very high quality felt with a nice soft finish to the touch, imprecisely styled for a modest price for fur hats. If you hunt around or wait for a sale, you can find them for less.
Even the Pure Open Road at $395 is a relative bargain for pure beaver. Pure beaver can be very expensive and similar offerings can range above $1,000.
Given Stetson workwear roots, all of these hats are fairly priced and will give you years of enjoyment.
[SHOP STETSON'S OPEN ROAD COLLECTION HERE]
Stetson Open Road Hat Care
The best thing that you can do for your hat is to save the box it came in or buy a hat box and to store it in there upside down. Make sure that there is plenty of room and that you aren't stuffing it in. Always rest your hat on its crown so that the brim will not distort and this is especially true when storing it.
If your hat gets dirty, the best thing to do is to ignore it. Consider it as part of the experience. Maybe consider wearing a black hat so that you won't notice anyway. If you must clean it, it's best to use a very mild soap diluted in plenty of water before applying and to spot clean it with a clean sponge. Allow it to dry and then brush it after.
Speaking of brushes, you need a hat brush.
A hat brush will sweep away any loose dirt and keep your felt fresh.
If your hat gets completely destroyed, it's best to send it off to a hatter. They will professionally clean, re-block, and finish your hat. It will come back looking brand new. Prices for this vary by location, but average around $75.
[Here's our favorite hat brush on Amazon]
Wrapping Up
The Stetson Open Road is the perfect first hat and it could easily serve as your only hat. It is just that versatile. The best thing about the Open Road is how it amplifies the individuality of its wearer rather than slathering over their personality and replacing it with its own. It is a hat that brings out more of who you are and does not overwhelm you. It's a great way to express yourself beneath it.
It's also wonderful owning something from this heritage brand. Stetson is as associated with hats as Band-Aid is to bandages and it frankly feels like a privilege to own a hat from an American company founded in 1865 still producing hats here and mostly for under $250. Giddy-up!
The following two tabs change content below.
Timothy Steiner
Tim Steiner has written about Mens Fashion and travel in "Classic Style" and other publications. He has a collection of Barbour jackets, Tweed suits, and Filson coats. His interest range from travel, fountain pens, watches, to manual typewriters. He is a banker by day and writes fiction and articles by night. He lives in Acton, MA at the edge of the woods with his wife and daughter.
Latest posts by Timothy Steiner (see all)