Whether you lift a couple times a week or you're a bodybuilder, chances are you've had issues with finding shirts that fit off-the-rack.
Popular brands cater their clothes to fit the majority of the population, which usually means there is an emphasis on boxy, traditional fits for the average body type or slim fits as the alternative. Neither of these fits follow that ideal "V" shape of a fit guy: broad at the chest and shoulders, tapered at the waist.
You've probably tried your luck with slim fits and found that that while they're more flattering than "classic" fits, the buttons "gap" at the chest. Meanwhile, traditional fits will house your chest but flap at the waist, appearing baggy and unflattering.
Made-to-order tailoring services are an expensive and inconvenient endeavor, so what's your alternative? Finding a niche brand that makes athletic fit shirts.
One thing that's important to emphasize: almost everyone can wear athletic fits. If you're slim, they make you look more athletic. If you're a little overweight, size up and it'll look flattering. If you're very overweight you'll be out of luck, but it's still an extremely versatile fit.
1. Best Overall: Teddy Stratford
15% Discount!
Teddy Stratford Shirts
A tapered, modern fit that works on most body types, these shirts come in both stretch and classic materials. Use code "STRIDEWISE" for 15% off!
Get the Discount
Read Our Review
We earn a commission if you make a purchase, at no additional cost to you.
Teddy Stafford stands out in the crowd of athletic fit shirt brands for a few reasons.
They use traditional fabrics. Most companies focused on athletic fits make their shirts from stretchy, spandex-heavy textiles as though you're going to work out in them. We get why you'd think athletic dudes want more mobility but a lot of us just want a shirt that fits well, made with nice fabrics. Teddy Stratford does both: there are plenty of shirts with stretch but there's no shortage of shirts with great quality flannels, dressy gabardines, and more.
They come in casual and dressy options. Most brands just stick to dressier fare, figuring athletic dudes want to wear sweats and tees when they're off the clock. Teddy Stratford has a range of casual shirts, from checkered flannels to oxford cloth button downs, that make you look great in casual situations.
They have an invisible zipper closure. To be honest, the first two points were enough for us to rank this the best athletic fit shirt brand and we could take or leave the zipper, but hear us out: you can't see it, it makes putting the shirt on a breeze, and it makes doubly sure there's no possible way buttons will gap at the chest.
Another neat feature that these shirts have is their patented stay-down collar, which uses a strip of plastic running from the collar to the shirt that keeps it from laying flat with wear. No more sloppy looks in rumpled material.
Pros
Flattering fit
Cotton shirts are made with 100% long-staple Egyptian cotton
Collar will remain crisp throughout the day
Zipper prevents button gaps
Casual and dress options available
Both natural and stretch options available
Cons
Zipper may require extra care when cleaning (no clam shell presses allowed)
Some fabrics may need to be washed prior to wear
The zipper is a little weird, let's be honest
Some of their styles that we like include their All Season Flannel and their bestselling NYTD shirt, a casual button down with two chest pockets of which I own three.
[Further reading: Why Teddy Stratford Is the Best Athletic Fit Shirt]

2. The Most Fits: Mizzen+Main
The Most Fits!
Mizzen + Main
With dressy and casual button downs available in two fits that come in Regular or Tall, Mizzen + Main deserves a spot among the greatest athletic fit brands.
Check Best Price
We earn a commission if you make a purchase, at no additional cost to you.
Mizzen + Main is another company that makes both casual and dress shirts, and with fits available in Trim and Classic that are sold in both Regular and Tall, they win for the brand with the most fits. If you're reading this there's a good chance you have an unusual body type, and Mizzen + Main has you covered.
For people with an athletic body type, we recommend the regular fit. Despite being "regular", Mizzen + Main's cut is designed to make larger guys look polished and sharp. They achieve this by taking their slim fit silhouette and enlarging the chest and bicep area. In addition to these modifications, there are darts behind the shirt to give it a tapered look.
One of our favorite Mizzen + Main shirts that fit into the heritage style is the Upstate Flannel. It is a wrinkle-resistant midweight flannel shirt with 2 flap pockets and hidden buttons on the collar.
The main downside of the brand is they don't seem to use classic materials like Teddy Stratford; everything is stretch, but a lot of it is "just" two-way stretch so the fabric doesn't appear too much like a workout shirt.
Pros
2 different fits
2 different lengths
Casual shirts come in "untucked" fit
Stretch fabric
Tons of styles — even a tuxedo shirt!
Cons
Shirts aren't 100% cotton
Many styles require the item to be hang dried
3. Best Value: State And Liberty
Best Value
State and Liberty
With everything under $100 (for now), this brand is the best value in the athletic fit button down game — and they sell stretchy coats, chinos, and hoodies to boot.
Check Best Price
We earn a commission if you make a purchase, at no additional cost to you.
Another brand that makes clothes exclusively for athletes is State And Liberty. They boast a big collection of dress shirts and casual shirts in the under 100-dollar range, which makes them a very rare breed in this space and makes them the most affordable we've found.
Aside from the attractive price, some of the brand's features that stand out include having metal collar stays that come with each shirt and the impressive array of formal wear. Plus, given the shirts out of spandex and polyester, having suits that are made from the same type of fabric will help consumers match their outfits better.
Pros
High degree of stretch
Formal wear and coats available
Durable metal collar stays
Very affordable
Cons
All shirts are stretch fabrics (though this may be a 'pro' for you)
Material doesn't drape or breathe like natural fabrics
4. Widest Variety: Bonobos' Athletic Fit
Widest Variety
Bonobos' Athletic Fit Shirts
This gigantic brand smartly devoted some of their resources toward making athletic fits for a wide variety of shirts to suit any style.
Check Best Price
We earn a commission if you make a purchase, at no additional cost to you.
If you have been in the style world for any amount of time, you're probably no stranger to this brand. They made headlines a few years ago when they were acquired by Walmart and people on the internet went haywire speculating if the quality will go down. Luckily for everyone, it did not.
Bonobos made this list because of the degree of freedom they give you when ordering a shirt. Not only is there an athletic fit option, but for certain shirts, there is also an option to select your neck size and arm length. Too many brands focus on the width of the arms but neglect other areas of the body such as the size of your neck.
Pros
High degree of customization
Many style options
Can be purchased at steep discounts during sales
Cons
None of the athletic fits are made without stretch
5. Rhone – Commuter Shirt
King of Stretch
Rhone Commuter Shirt
This stellar workout apparel brand blew up when they introduced their Commuter line: office staples in stretch fabric and athletic fits.
Check Best Price
We earn a commission if you make a purchase, at no additional cost to you.
Rhone is a brand that is performance inspired and they make clothes for people with an active lifestyle. Their catalog includes activewear as well as business casual selections. By far, their most popular shirt is the Commuter Shirt.
The Commuter Shirt is an office-friendly button-up made with Italian four-way stretch fabric that provides excellent comfort and mobility. What's special about this fabric is that it utilizes their in-house GoldFusion technology that helps prevent stains and odors.
When it comes to fit, this shirt comes in two styles, Slim and Classic. The Slim is more geared toward a Men's Health body than a bodybuilder while the Classic could work for recreational powerlifters who are larger, but need a tad more room in the waist than a bodybuilder. To accommodate their shirts for athletic builds, Rhone widened the chest and waist while keeping the shirt's overall silhouette.
One of our favorite features of this shirt is the hidden button collar. Under the collar is a button that when fastened, will keep your collar upright and stop it from spreading.
Pros
4-way stretch fabric
Resistant to stains and odors
Hidden button collar
Two fits for two levels of fitness
Cons
Not ideal for people who don't like wearing synthetic fabrics
Not as dramatic a chest-to-waist drop as Teddy Stratford; more subtle silhouette
6. Barbell Apparel – Motive Shirt
If you follow strongmen on Instagram, you've seen the likes of World's Strongest Man competitors Martins Licis and Nick Best promoting Barbell Apparel, a brand that started out in workout clothes but expanded to dressy button downs for the athletic dude.
Despite the promotion of XXXL strongmen, this is a shirt that will look plenty flattering on the average guy who bench presses once a week. It stands out in the market for its remarkable four-way stretch material that's wrinkle proof and odor resistant, so you'll always be ready if there's an Atlas stone that needs hoisting.
Pros
Seriously stretchy
Very flattering proportions
No wrinkle fabric
Resistant to sweat and odor
Cons
Made with polyester and spandex, these aren't great if you like natural fabrics
Slightly shiny fabric doesn't look very natural either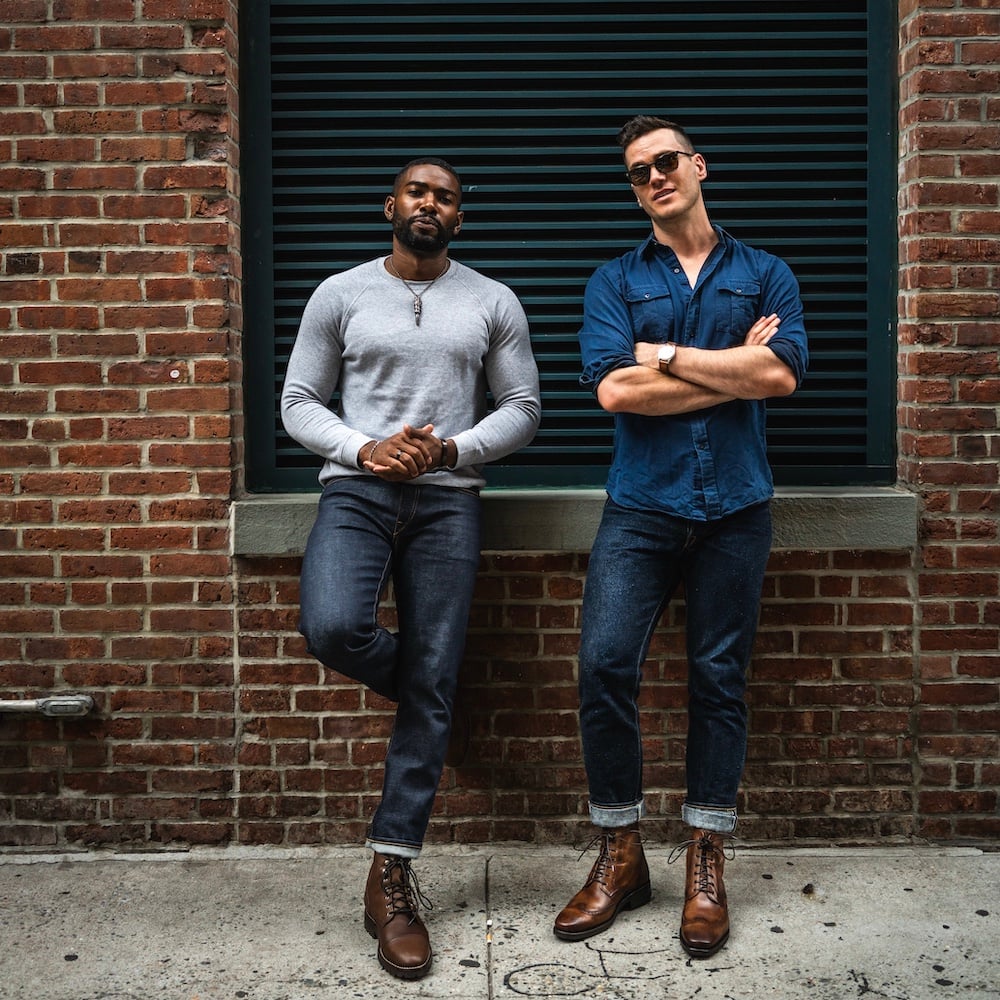 Wrapping Up
It's 2020-something and it's still remarkably hard to find brands that cater to broader chests and narrower waists (we can thank the obesity epidemic for that) but thankfully, these brands have done the heavy lifting to produce shirts that make just about anybody look like they lift — even if they don't! This writer spent a decade in the fitness industry before moving over to fashion and rest assured, there's nobody making better button downs than the brands on this list.
Teddy Stratford definitely takes home the prize for having both wonderfully classic materials and stretchy options but whichever you prefer, you've got your next button down waiting for you.
The following two tabs change content below.
Nick English
By day: Manhattan-based journalist with reporting experience on four continents, published in Vice, Men's Health, Popular Science, and a bunch of other places.By night: ravenous consumer of anything and everything related to high end men's boots.Stridewise is where I nurture a maniacal obsession with footwear and share my findings. Say hey:
[email protected]
.
Latest posts by Nick English (see all)