I've bought at least half a dozen shirts from Teddy Stratford over the last 5 years, and I finally convinced them to give me a discount code — STRIDEWISE for 15% off — so I'd have an excuse to do a video on the only button-down shirts I wear.
Whether or not you lift weights, it is a good idea to get an athletic fit button-down. And honestly, if you've got a bit of a belly you can just size up and I think you'll find the fit to be flattering. A really big belly might not work, but if you're
very slim
or muscular
or if there's a little belly
or if you carry some extra fat around your chest that makes itself known by pulling your chest buttons apart
I've found the perfect button down, after many, many years of searching. And weirdly enough, the design was inspired by a very strange feature on the Royal Thai Police uniform: a zip.
Trust me, it'll make sense.
For the video below, I teamed up with my buddy Troy to be our model for Guy-Who-Does-Not-Lift-And-Still-Looks-Great-In-These-Shirts, and I brought my Overweight-But-Not-Obese pal Wing to model for those guys. Keep scrolling!
Overview: Finding a Well Fitted Button-Down Shirt
Before I had this blog about clothes and boots, I actually worked in the fitness industry for many years:
While I'm not the biggest guy, I've always had trouble finding button downs that fit. For me they tend to either be baggy at the waist or have a "straight up and down" fit that makes buttons gap at my chest, even if I barely train chest. And I think for most guys — athletic or not — that buttons-gapping-at-the-chest thing happens pretty often if you don't want to wear baggy button downs.
For most guys — athletic or not — that buttons-gapping-at-the-chest thing happens pretty often.
If you decide to start searching for athletic fit shirts — which basically means they have room in the chest and taper a bit at the waist — you will find companies that cater to that fit. I've purchased from before, brands like Rhone and Mizzen + Main. However, brands like these typically make their athletic fit shirts with weird, stretchy materials., assuming that athletic folks want shirts that feel like workout clothes and move more easily with their bodies.
But we don't want stretchy shirts! I mean, not always. Most guys, I think, want shirts that fit well and are made with quality materials. (Crazy idea, right?) I want a good linen shirt for summer, or a denim shirt for casual wear, or a nice broadcloth for more formal occasions.
And that company, the company that makes the only button downs I wear, is Teddy Stratford.
This is a true endorsement from me. I've been wearing these shirts for years in my YouTube videos at Stridewise and long before I had this blog at all. The gif above, taken from a supplement review, is from several years ago, and I'm sporting my now-extremely-worn NYTD Blue.
But Teddy Stratford aren't as popular as I think they should be, which is why I made this article.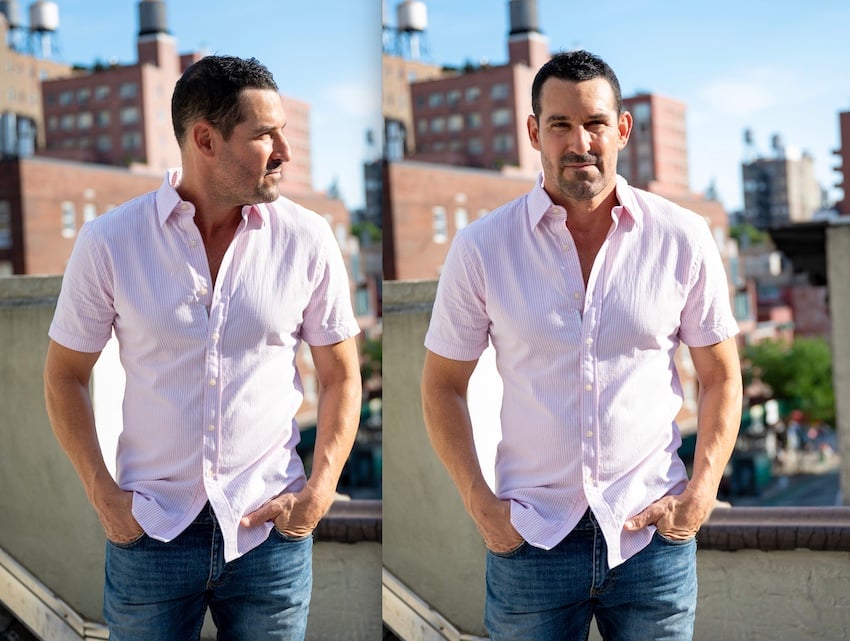 Teddy Stratford: Fit
Larger chest, trimmer waist
"Zip fit" keeps buttons from gapping at the chest
Let's talk about the fit before we talk materials.
Teddy Stratford has the biggest chest-to-waist drop of any brand out there, tapering at the waist while giving you plenty of room on top — but they even look good if you don't lift. Behold Troy Barmore, Stridewise editor and guy who hasn't seen a gym since high school: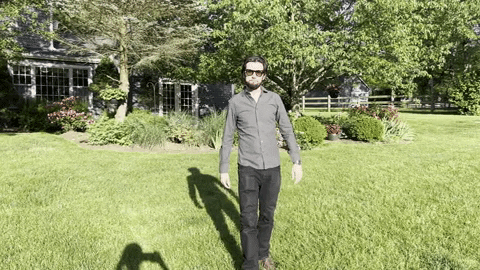 When you said you were gonna send me one of your favorite athletic fit shirts, I was a little skeptical. I'm not nearly as "fit" as you are, but you know, I gotta say, while I wouldn't say I look "swole" or "jacked" or anything like that, there is some taper that gives me a little more of that shape and definition. It nearly gives the perception that I go to the gym occasionally. So, pretty good!
The Zip Fit
Yes, these shirts have an invisible zipper running down the middle.
Bryan, the dude who founded Teddy Stratford, spent a lot of time in Thailand, where police uniforms zip up the middle underneath the buttons. Apparently, that offers something of an advantage in a struggle: you can't slip a hand between the buttons to get a grip. When pulled over for a traffic ticket, Bryan realized this would make a great solution to the eternal gapping problem that dudes have with slimmer fitting button downs — but again, it's good for lots of body types. Here's our stocky pal, Wing, who ordered a size up. Roll those sleeves up and you've got a winner.
Now, athletic fit shirts don't need a zipper if they just give you room in the chest. I don't particularly care that it has a zipper. But I love the fit and the materials, so I'm a total devotee of the brand. (I've also heard some people say the zips are great for people with disabilities or motor difficulties who struggle with doing up button after button, so that's a nice potential benefit as well.)
Another lesser-known design cue in this shirt but one the company actually managed to patent, is the stay-down collar. Bryan always hated his collars collapsing or spreading, as many shirts do, so he made an interlocking system with plastic collar stays. You tuck the collar stay into a buttonhole under the collar, and it keeps the collar stiff and ensures it never spreads open. Want to wear tie? Just take the collar stay out.
Teddy Stratford Materials
This brand helpfully divides their collection into dressy and casual, and even if you do like those stretchy fabrics I condemned above, you can find examples of those in their store too.
When they're cotton, their shirts are 100% long-staple Egyptian cotton woven in Turkey. The longer fibers of long-staple cotton make for an extra silky and durable fabric with a great hand feel.
Their best-known shirt is the NYTD Blue, which I was wearing for years before I learned that the blue cotton is technically denim. This casual shirt comes in several colors now, and it's signified by the two flap chest pockets, which I love because they make the shirt nice and informal while still making you look put together. It also helps to keep your nipples from poking through. Above are some blurry phone pictures of me in the gray flannel version.
I've also got a couple of their linen shirts, like this short sleeved version which, thank God, also has chest pockets that are essential for hiding nips when you're wearing lightweight linen. Teddy Stratford also has dressy fabrics too like wrinkle-resistant broadcloth on their dressier shirts, I have their casual off-white oxford shirt, there are Western shirts, and a ton more fabrics and styles. Note that a lot of their offerings are seasonal, so not everything will be in store at all times.
Teddy Stratford Price
They cost $100 to $150, and if you know a thing or two about materials, you'll probably be comfortable with the prices. Nobody can tell there's a zip here, the dressy ones work perfectly in formal environments, and the casual materials are superb as well.
Once again, I've got a discount code 'STRIDEWISE' for 15% off that you can use, and I'd love it if you did. Plus, if you sign up for their emails, you'll get emailed discount codes pretty regularly, so that's a handy tip.
Teddy Stratford Pros
High quality materials
Flattering fit
No gapping at buttons
Collar always stays crisp
Both casual and dressy options available
Teddy Stratford Cons
Not ideal for very overweight guys
Zipper can get damaged if being professionally cleaned in industrial clamshell press
Some of the fabrics need a wash before wearing
Wrapping Up
This is my favorite shirt brand, man. I no longer have to make the decision between nice material and a nice fit, these guys pulled it off. It's shocking that I have had so much difficulty finding someone that does both of these things at the same time — fit and material — but Teddy Stratford did their homework. After years and years of buying their shirts, I'm delighted to have an excuse to talk about them. With free returns and a 15 percent discount, I think it's about time you start talking about them too!