I'm a little embarrassed to admit this, but I harbor a deep love for punk and pop punk. This applies to both music and style. In high school, I was definitely wearing a lot of black, jeans with zippers and safety pins, and plenty of black combat boots. To this day, I love the feeling of a combat boot —comfortably snug on your foot and powerful, capable of walking or kicking through anything.
When I saw the Nora boots by Grant Stone, or at least the all black "Waxy Commadner" pair I thought to myself, "Now, that's a boot that can take on anything."
The Nora boots are not combat boots, but they give off a similar vibe: powerful, yet also very practical.
Grant Stone Nora Pros & Cons
Here are some quick pros and cons of these boots.
Pros
Stylish and durable
Available in a range of colorful leathers
Resoleable Goodyear welt construction
Comfortable micro-studded rubber sole
Water resistant, ready for anything
Cons
Difficult break in
A bit pricey
How Grant Stone Makes the Nora
Made on their Luna last, Grant Stone's Nora boots take a classic men's boot style and give it an upgrade with meticulous attention to detail and quality craftsmanship. I was instantly drawn to the strong lines of these boots as well as the visible stitching around the sole.
That stitching is called Goodyear welt stitching, and it's a great indicator of quality. Grant Stone makes all of their shoes with Goodyear welt construction because it improves the water resistance, durability, and longevity of the product. Most women's boots can't be resoled, but the Noras can, so they'll last for years and maybe even decades.
Founded and manufactured in Xiamen, China and Southwest Michigan, Grant Stone has been perfecting the craft of shoemaking for 15 years. Their mission is to deliver non-disposable footwear that fits properly and supports craftsmanship. The unboxing experience is actually luxurious: my Nora boots came in a sturdy box with soft fabric and shoe bags inside to keep the boots protected during shipping. Grant Stone also sent along a handy shoe-horn and an extra pair of laces. Now that's a quality experience!
Grant Stone Nora Leather
Durable leathers from world renowned tanneries
The Nora boot by Grant Stone uses extremely high quality leather to create a durable boot that will last for years. While the style of the waxed matte leather is stunning, the stiffness of the material made the break-in period more of a challenge than I would have liked. I have no doubt that with time, the leather will eventually soften up.
It's worth noting that the Nora boots come in other color options, including a classic Saddle Tan leather, and this stunning Black Chromexcel with a tan base. I think that the reverse kudu leather Grant Stone uses in the Sky Blue colorway would significantly improve the fit and comfort of the Nora boots. The texture of the reverse kudu looks soft and supple, which would make for an easier break-in period than the black Waxed Commander version that I have.
I'm a bit bummed to be struggling to break in the waxed leather, because I honestly love the style. The Charles F. Stead Waxed Suede is water-resistant and incredibly durable. It requires little to no maintenance and it just looks amazing! I love the matte style and slight texture. It's clear that Grant Stone has a keen eye for materials and they do not skimp on quality leather.
Speaking of high-quality leather, the Nora boot has a buttery-soft kip lining that is actually quite comfortable. The lining feels soft and smooth against my foot and allows me to slip in and out of the shoes easily.
The Nora boots' insole, welt, and midsoles are made from full-grain, vegetable-tanned leather. Vegetable-tanned leather uses plant-based raw materials to tan the hide instead of heavy metals, making for more eco-friendly boots.
All of these leather components make up the sleek shape and design of Grant Stone's Nora boots. The leather welt is made in Massachusetts and is meticulously designed to offer strength and endurance to these boots. The full-grain leather heel counters are also key to the quality and fit of the Nora boots. Heel counters sit at the heel of the foot and create the structure of the shoe while conforming to the foot of the wearer. I actually think it's incredibly punk that Grant Stone has thought about the performance of each of these small leather pieces to create an overall shoe that can withstand anything.
Grant Stone Nora Sole and Construction
Goodyear welt construction
Water resistant
Can be resoled
In addition to quality leather, the Nora boots exemplify durable construction. These design features are exactly what makes Grant Stone's boots so sturdy.
To start, their boots are built with Goodyear welt construction. What is Goodyear welt construction? It is a time-honored technique that involves stitching the upper, sole, and insole together with a strip of leather in between, known as the welt. This construction method not only locks out water and increases durability, but it also allows for easy resoling and repairs, making the Nora boots a long-lasting investment.
Another standout feature of Grant Stone's Nora boots is the rubber micro-studded outsole. The micro-studded rubber offers excellent grip and traction, while also providing a durable and sturdy base for the shoe. It's perfect for navigating wet or slippery surfaces, making these boots an ideal choice for both inclement weather and everyday wear.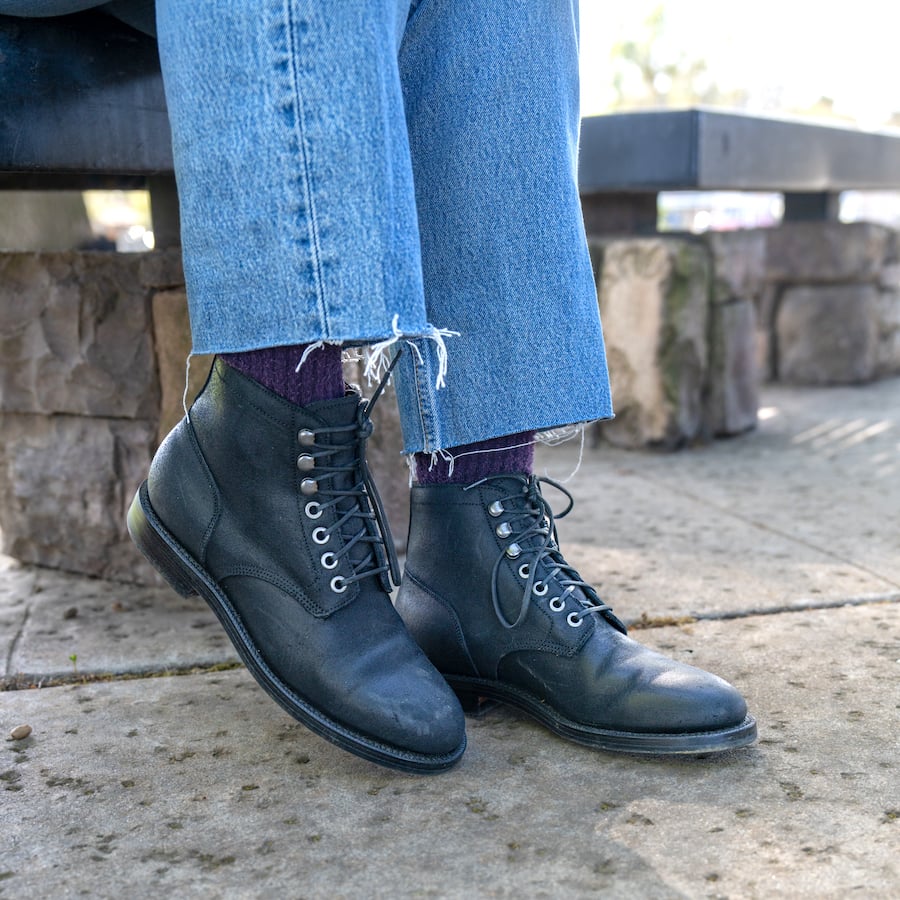 The vegetable-tanned leather insole is the backbone of the Nora boot and offers excellent support, acting almost like a personalized orthotic. Meanwhile, the cork filler beneath it naturally absorbs impact and helps fight moisture inside, creating a boot that will mold to the shape of your foot over time in a way you haven't experienced if you haven't tried boots that are this high quality.
Finally, the triple-rib steel shank provides essential support when weight is being transferred from the heel to the ball of the foot. This feature is particularly important for those who spend a lot of time on their feet, as it helps to reduce fatigue and improve overall comfort.
Despite my struggles with the fit of the Nora boots, my feet felt perfectly supported from underneath. I didn't feel any pain in the bottom of my feet or my hips (this is where I usually feel it if I'm not wearing supportive shoes) after walking in these boots for a few hours at a time. The internal elements and micro-studded rubber soles on Grant Stone's Nora boots have been carefully designed to create a balanced tread that provides all-day comfort.
With a meticulously designed, supportive, and comfortable sole, the Nora boots are well suited for those who are always on their feet. They're a well-crafted, versatile, and stylish choice for anyone looking for a pair of boots that will last for years to come.
Grant Stone Nora Sizing and Fit
I could tell the Nora boots were well-designed as soon as I saw them. With a short ankle shaft and ¾" heel, the silhouette is both functional and stylish. I wholeheartedly approve of the brass eyelets and waxed cotton laces that Grant Stone chose for the Nora boots—they add that touch of punk rock that I love.
I was really excited to try Grant Stone's Nora boots, but ultimately I found the fit to be disappointing. I ordered my tried-and-true size 8 and found the Nora boots were simultaneously too large and too small for my feet. My foot pops up in the heel when I walk, and the top of the toe box presses down on the top of my foot. I considered swapping for a size down to prevent the heel popping up, but I worried that the toe box would be even tighter if I did.
I thought the Nora boots would break in after a few wears, but I've worn them ten times to date and they still feel too stiff. The way the leather folds on the top of my foot causes pain in my toes, while the friction in my heel causes blisters. It's possible that the issue may be the shape of my arch or heel, but regardless I'd definitely suggest reaching out to the company before ordering. It can't hurt to get some advice on your ideal fit!
Despite my experience with the fit of the Nora boots, I can see that they are sturdy and durable — a perfect boot for city dwellers or anyone who walks a lot. I am still a big fan of the sleek design and sturdy details, and I might keep trying to wear them just because they look so great with jeans.
Grant Stone Nora Price
Grant Stone's Nora boots ring in at $328. If these shoes had fit me more comfortably, I might say the price is totally worth it seeing as the durability and style are absolutely there.
Wrapping Up
Grant Stone clearly puts a lot of work into making their boots high-quality and long-lasting, and the Nora boots really do feel powerful when you put them on. I love the attention to detail both in the construction and design, so if you can get your perfect fit, I'd definitely say that Grant Stone's Nora boots are a great investment!