One of my many masochistic traits is an undying attraction to difficult people. Give me an emotionally unavailable, hard-to-please, uncompromising, kinda rude individual and I will dive in headfirst, determined to make them my best friend.
I like a challenge, you see, and getting someone difficult to appreciate you is very satisfying. This is why I love cats. It is also why I love Dr. Martens boots.
Dr. Martens Sinclair Boots Pros and Cons
Got somewhere to be? Here's the long and short of this review and what you need to know if you want to pull the trigger on these boots I've worn for the past three years.
Pros
Tough leather with distinctive pattern
Slimmer and more tapered than the classic 1460 boot
1.9″ heel height
Very water- and weather-resistant
Iconic look and brand
Cons
Removable zipper piece is just aesthetic; you need to lace these
Laces come undone easily
Socks don't stay up in these
Tough break in
Not really resoleable
Only comes in whole sizes
Re-Platform Yourself
Who Is Dr. Martens?
The story of Dr. Martens begins in 1901 with the Griggs family of Wollaston, Northamptonshire (that's in England, FYI). For six decades they were known for their sturdy, no-frills work boots, and not much else. Meanwhile, in post-war Germany, one Dr. Klaus Maertens, a 25-year-old soldier recovering from a broken foot, created an unprecedented air-cushioned sole (rather than the usual hard leather sole) to help himself heal.
He showed his prototype to a mechanical engineer named Dr. Herbert Funk, and the two partnered up, using old military supplies to make their shoes. Widescale production started in 1947, and by 1959, they began advertising their now quite popular invention overseas.
Bill Griggs saw it in a trade magazine and bought the license, tweaking the design slightly (hello to that iconic yellow welt stitch) and gave them their "bouncing soles" slogan. Skinhead types in the 1960s quickly took them up as a symbol of rebellious working class pride, and celebrities like Pete Townshend of The Who followed suit.
Through the decades that followed, various subcultures adopted the boot as their own, from the punks and goths of the '70s to the scooter boys of the '80s to the grunge kids of the '90s, and then on. The brand almost went bankrupt in 2000, but came back strong thanks to the high fashion world in the aughts, and has stayed strong ever since.
Dr Martens Sinclair Platform Boot: The Look
"Milled" leather is tumbled for softness
Leather embossed with a pebbled pattern
Slimmer and more tapered than the classic 1460 boot
Removable zipper piece is just aesthetic; you need to lace these
Laces come undone easily
My Doc of choice is the Sinclair Milled Nappa Leather Platform Boot.
The milled nappa is a durable, pebbled, supple leather that looks very casual and rugged despite the softness it acquired from extra tumbling at the tannery.
The footbed has a slimmer, more tapered shape that is very flattering. It boasts a rugged 1 ½ inch platform and a 1 ⅞ inch heel for maximum height (and, sure, attitude), and a removable zipper or "jungle piece zip" that I have never over the course of three years removed.
I thought from looking at the pictures that when you have the zipper piece in, you don't have to deal with laces. This was incorrect.
I will say that the zipper situation was one of my first disappointments with these boots: I thought from looking at the pictures that when you have the zipper piece in, you don't have to deal with laces. This was incorrect. You still have to tie these boots every time you wear them. You have to double-knot them in fact, after zipping, and then thanks to their slippy round laces they will likely still come untied at least 3 times over the course of your day.
But damn if they don't look cool as hell.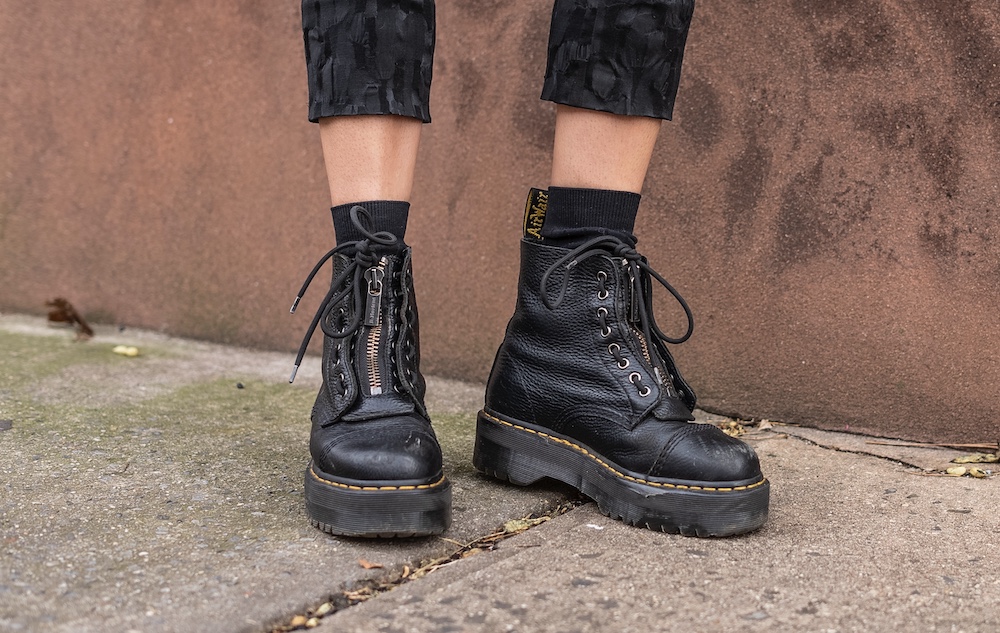 Dr Martens Sinclair Platform Boot Sizing and Fit
Only whole sizes available
Size down, even if you're a whole size
Docs annoyingly only come in whole sizes, which means even if you've been a solid size 9 since high school, you're going to have to go out on a limb and get a size 8. I did not realize this, and got my usual size 9, which absolutely did not fit. And since they were a Christmas gift from my brother (that I picked out for myself—highly recommend) the strict 30-day return window had passed. So I had to make do. And make do I did, with high-arch Superfeet insoles that take up half a size, and thick socks.
Further Reading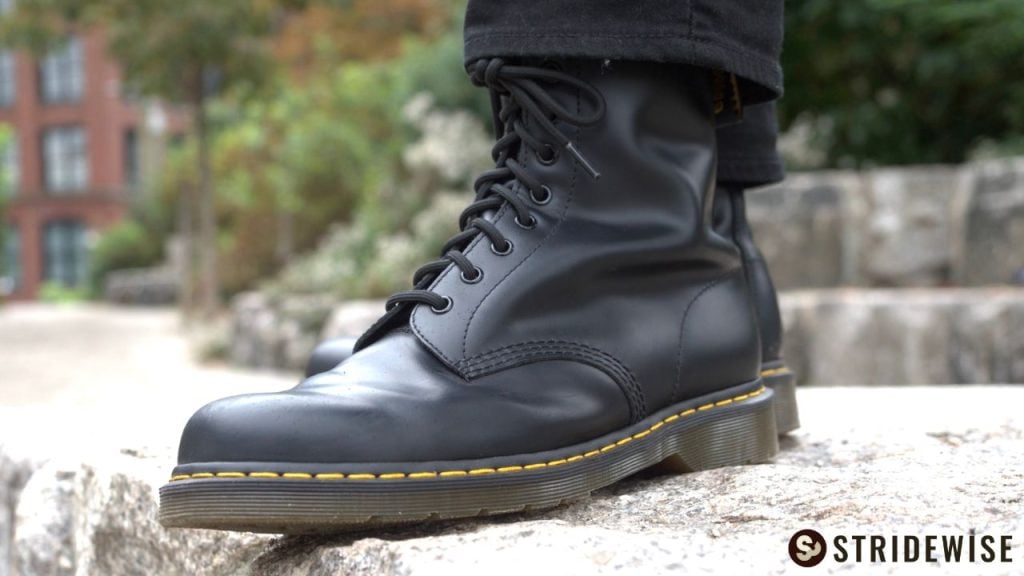 [Further Reading: 4 Tips to Fix Too-Big Boots]
Which brings me to my next problem. Perhaps because these shoes are too big for me, or perhaps because I have wobbly little deer ankles, or perhaps because of how these boots are constructed, I can't find a single sock that will stay up in these boots. Not even Bombas. Not even the special Dr. Martens socks. My solution has been to either wear tights with socks over them or two pairs of socks at once. This is my advice to you.
They also took me weeks to break in, though when they finally did I felt like I'd accomplished something.
Dr Martens Sinclair Platform Boot Leather and Construction
Goodyear welted, but not really resoleable
These boots are made well with Goodyear-welted lines, heat-sealed at 700°C and reinforced with the brand's signature yellow welt stitch (which the editor of this blog will note means that it's not really a Goodyear welt, and thus can't really be resoled, though some cobblers can do it — read his rant here).
The very soft and supple pebbled leather is water resistant, wears in nicely, and is certified by the Leather Working Group (LWG): a collective of tanneries, brands, suppliers, technical experts and NGOs that aim to raise environmental standards throughout the industry. While it's famously difficult to ascertain the origin of Dr. Martens' leather — they told us "either Asia or South America" — that they're certified by the LWG is important. Scores of poorly run tanneries have caused irreversible damage to their workers and waterways, and demanding more from your leather is an important role for the consumer. An LWG certification means you're getting it.
Dr. Martens is also in the process of developing more sustainable materials, with a commitment to 100% by 2040. Right now, their 50/50 Recycled Poly Tract collection includes 50% post-consumer recycled polyester in the uppers (instead of standard virgin polyester), and their Airwair heel loops include 50% post-consumer recycled polyester.
I personally find the signature Airwair soles quite comfortable, especially when paired with my Superfeet insoles for arch support. I've walked and danced in these boots for hours. The sock problem, the rubbing problem, and the untying problem are my only complaints. Though I guess that's a lot of complaints.
Dr Martens Sinclair Platform Boot Price
These boots cost $200, which is more than Thursday's comparable combat boot, though not by much. I'd argue that you're paying an extra $20 for those thick platforms. $200 seems fair to me, given how often I wear these babies.
Re-Platform Yourself
The Bottom Line
Look, these boots are a pain in the ass, especially if you accidentally buy them a size too big like I did.
But they're also still my favorite boots.
I have not to this day found a single outfit that isn't enhanced by the addition of the Sinclair. You can wear a stupid frilly pink dress and look like a badass by adding these. You can wear them with black lingerie to a BDSM-themed party and transform into the dick-stomping domme you always dreamed of being. You can swap out your sandals and pair them with shorts and a t-shirt for a summer look that keeps you safe from subway pee (sandals in NYC always feel like a questionable choice).
I have a million pairs of shoes in my closet but still wear these guys 60% of the time. You see, like difficult people and cats, these boots will fight you when you try to love them, but once you win them over, you're bonded for life.
The following two tabs change content below.
is a James Beard nominated writer and the Culture Editor at Bon Appétit. She was born in Texas and raised in Massachusetts but spent some highly formative years in Atlanta and Chiang Mai, Thailand. Now she lives in Brooklyn where she may or may not be thinking about writing a book.
Latest posts by Hilary Cadigan (see all)