It would be easy to call the Classic 8" LL Bean Men's Bean Boot "iconic," and accurate as well, but the Bean Boot does something more. It transcends this categorization to "symbolic."
It is symbolic of Autumn in New England, of thick wool sweaters over flannel shirts draped over jeans. It is symbolic of an imagined American wholesomeness that traces a roped-sole footprint path back into the past through the hunters and outdoorsman who originally used these boots in the early part of the last century, to its crossover to Preppy culture somewhere in the late 1950s, then its brief Instagram fueled viral popularity around 2011 and now unto us.
It is also symbolic of the brand that made them. The Bean Boot is representative of LL Bean, as anyone who has seen their marketing or the Beanmobile can attest. The Boot also has this essential quality of Maineness about it, the State where they were invented and are still made.
So, now that a colorful wave of sorority girl posts of Bean Boot wearing college students has subsided, is it safe to wear them again? Yes, and it always was; as long as they are the classic ones.
Now, as recognizable as these boots are, there are many misconceptions about them. I have multiple pairs of these boots. My oldest pair I bought around 1992 and they are still going strong. So I am the perfect person to dispel some of the myths, to share some of its secrets, and to take you on a tour of these interesting and wholly original boots.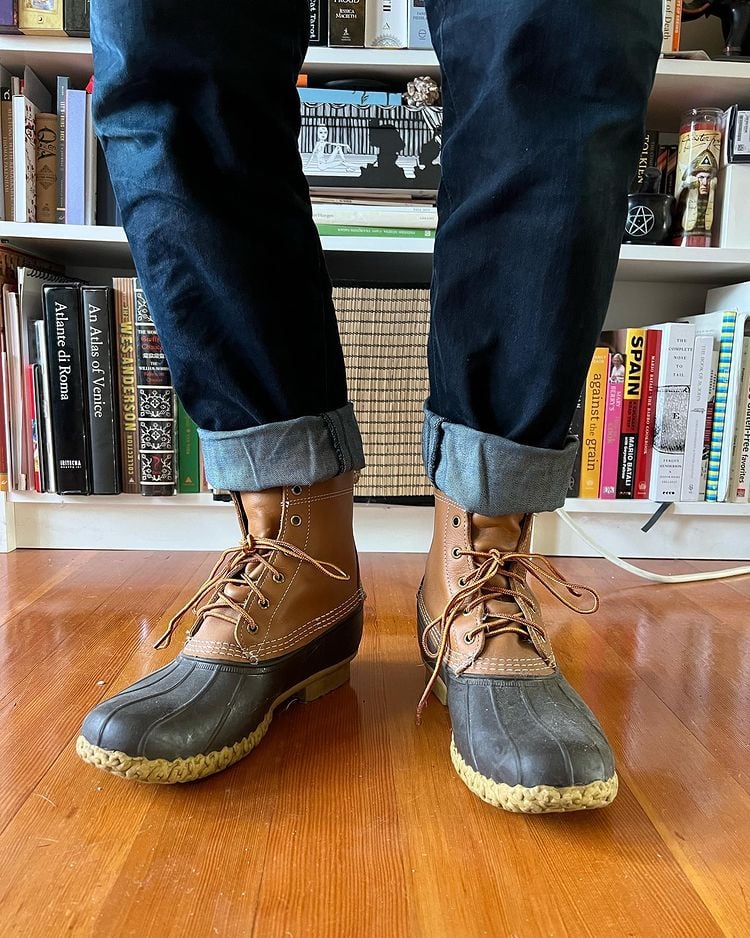 The Pros and Cons of Bean Boots
Got somewhere to be? Here's a summary of this review.
Pros
Very inexpensive at less than $150
Iconic style
Bottoms are replaceable, possibly multiple times
Long lasting
Made in Maine
Cons
Lack vertical stability
It would be a stretch to call them comfortable
Only match jeans and flannel shirts
Slippery bottoms
View this post on Instagram
The History of the Bean Boot
The story goes that in 1911, Leon Leonwood Bean wanted hunting shoes that would keep his feet warm in the damp Maine Woods. Hunting boots in those days were leaky and they would stiffen and harden as they dried. Wholly unpleasant.
He took a size 7 1/2 galoshes and had a cobbler stitch a boot upper to them and the boot was born.
Later iterations would lead to the Maine Hunting Shoe. Of the first 100 of these sold, 90 were returned, and he replaced each one. Through this act, a retail legend was born — LL Bean is still known for their generous return policy.
By 1917, after securing a supply of more rugged bottoms from the U.S Rubber Company, the Bean Boot as we know it was formed. Although it has morphed into hundreds of variations, the basic design has changed very little and both the Maine Hunting Shoe and the Bean Boot are still available today.
Around 2016, after these boots became hyper trendy through social media, production peaked at nearly one million pairs, then settled down precipitously once the trend trailed off. Nevertheless, as anyone who has ever been outside in the rain in the cold months can tell you, they remain a very popular boot.
View this post on Instagram
How to Style LL Bean Boots
The Bean Boot is divisive. As many people will tell you how ugly they are as will tell you how much they love their bulbous rubber bases and lace up, doughboy, gaiter-style uppers. They are their own thing and their own category. Anything you may find similar out there is a derivative.
If you think of these as dorky swollen messes of rubber and leather, then I would challenge you to think of them differently, romantically.
These boots carry a legacy of lakeside evenings, rag wool sweaters, and autumnal activities. Nothing balances out a plaid shirt like a pair of jeans trailing into Bean Boots, often tucked in.
This is definitely a casual boot. It is almost a chore-boot in the same sense as there are chore jackets. These are boots to slide into before heading out to walk the dog, or to pick up some wood for the firepit and then for sitting around it. These are boots to wear when the ground is a combination of melting snow, slush, puddles, and melting salt. The rubber bottoms will be unfazed.
These Boots are a preppy staple and so if you have Norwegian Sweaters, flannel shirts, puffer vests, Barbour Jackets, Barn Coats, chinos or jeans, they will work amazingly well with all those Boston Brahmin associations. I wear mine with everything from jeans to chinos topped with a flannel shirt or ragg wool sweater and a Filson Mackinaw.
For me, it's more about when I wear them than with what. Since I rarely lace them, I wear them when I want to run out fast and want an easy boot to slip into. I also wear them when there is salt and slush and mud and water and anything else that might ruin a pair of Red Wings. I wear them when I am feeling unironically wholesome with my family doing some quintessential New England activities in all of their Wes Andersonian gloriousness.
These boots have a certain schlumpiness and I am all about embracing this. They are Hygge in motion; a moveable coziness, and they deserve a place in everyone's wardrobe.
Can You Hike In Bean Boots?
Why risk damaging a pair of heritage boots with that seeping salt stain rising from the welt when your Bean Boots are impenetrable? This is why everyone needs a pair. They handle salt like no other boot; you just rinse them off in a puddle.
These are boots to wear for casual walks in the woods, but nothing too demanding. You don't want to endure too much flex or uneven ground with these. They will keep the ticks out, but are very unpleasant to hike in.
I love wearing them on easy hikes through the woods near my house, through gentle meadows, soft beds of dried pine needles, and muddy trails. There is a creek that I can step into the shallow parts, but not above the triple stitching of my boots. I love the way the soles feel against the ground, transmitting some of the feedback of the micro-topography. I feel that they are unsuited to more demanding terrain.
The charm of Bean Boots is that they are outdated technology, like camping out in a canvas tent. There is a certain nostalgic appeal, but there was a reason why technology and innovation moved forward.
How LL Bean Boots Are Made
Half hides of full grain cowhide leather that's specially tanned for heightened water resistance, arrive at their 130,000-square-foot factory in Brunswick, Maine. Cutters strategically work around the imperfections in the leather and then the "Clicker Cutter" stamps out the shape.
Then a splitter planes each piece and bevels the edges. Sewers then stitch these pieces together in seven distinct stitching steps. An eyelet machine punches brass grommets into the leather uppers.
The bottoms of the shoes are made from thermoplastic rubber for superior cracking and leaking resistance, at the Bean plant in Lewiston, Maine. They begin as rubber pellets that are melted down and injected into the mold for the soles. The LL Bean logo is added to the back of the heel separately.
Rubber cement and double-sided tape hold the upper to the bottoms before the sticker sews them together permanently with waxed cotton thread in three rows. There is also an integrated sock liner to reduce sweat. A steel shank adds torsional rigidity and an inner sole makes them more comfortable. Approximately 1,500 pairs of these are made per day.
Bean Boot Sizing and Comfort: How LL Bean Boots Fit
Oversized; order 1.5 sizes down
Narrow, Medium, and Wide widths available
These boots fit strangely. They are oversized and most of us who have worn them for years make up the difference through the strategic use of socks.
I suggest that if you can make it to one of their retail locations, go in and try them. I wear a pretty reliable 10 wide in most brands and I purchase these in a 9 wide and have had excellent results — with a thicker sock.
If you don't live near one of their stores, then I suggest that you follow their instructions.
LL Bean Recommends:
With light or midweight socks: Whole sizes, order one size down. Half sizes, order 1½ size down. Example: 9 or 9½, order a size 8.
Ignore their advice at your peril, but first decide how you want to wear these boots. Are these going to be your cold weather about town chore boot? Then you may want to opt for thicker socks to give you more insulation. The one thing these boots are not is warm; rubber bottoms and pliant leather do not amount to a warm boot, unless you elect for one of their insulated options.
I have always been suspicious of people who wear thin socks with their Bean Boots. It just isn't a pleasant combination. These boots are thin enough that you want some more cushioning and insulation.
The thing about the fit with these boots is that you do not want your feet to be swimming in them. As it is they have very little vertical rigidity and so if they are too oversized, you may find yourself with a twisted ankle. You just want to leave just enough room that a nice thick sock fills the space and provides extra warmth.
Also, I wouldn't exactly call them comfortable. They are comfortable in the sense that you don't need to worry about anything getting on them and ruining them. The uppers grip your shins tightly enough, especially if you actually lace them. The bottoms are more expansive and have quite a bit of flex. They remind me of the snow boots my mother made me wear to school when I was in grammar school. Like those, these boots have a feeling of generic sizing no matter how exactly you size them.
Strangely, this all becomes part of their charm, but it's best to know what to expect.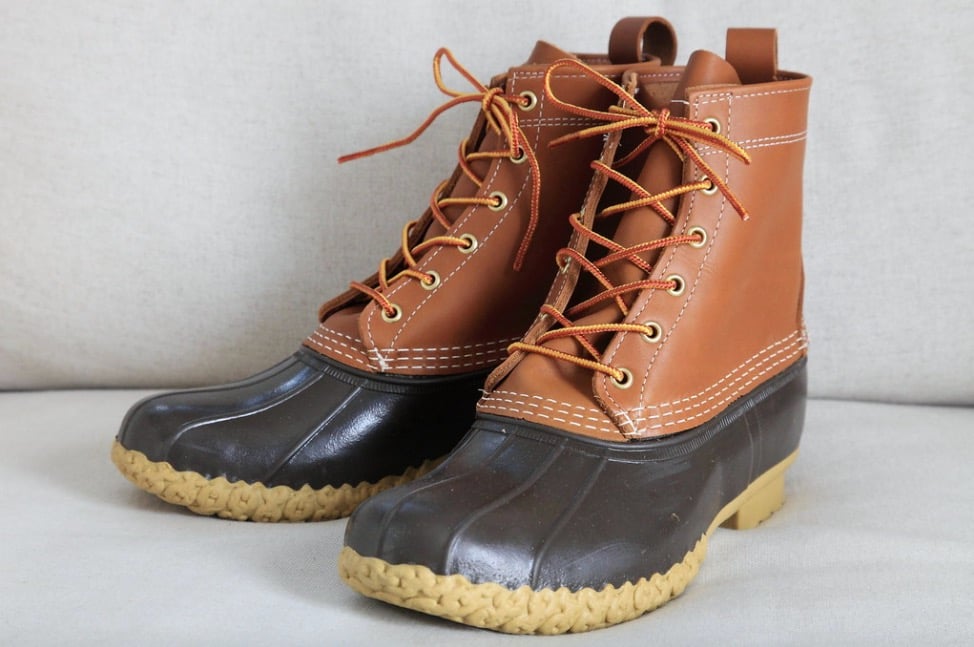 LL Bean Boots Materials
The thermoplastic gumshoe footbed is of very high quality and none of mine have ever dried out, cracked, or leaked through, and this includes the pair that is 30 years old.
They also wear remarkably well. I am still on my original bottoms after 30 years. If your world is mostly paved then they will wear down and eventually wear through. However, $40 and a month-long stay at LL Bean will have them refurbished and good as new.
The leather uppers are carefully selected to avoid blemishes discoloration. The stitches are all heavy duty and well placed. I have never seen loose stitches or threads that haven't been trimmed. I have seen some unevenness between the uppers and the gum shoe, but as long as there isn't a significant gap, I think that some variation in this in a handmade boot is to be expected.
These are excellent boots that are very inexpensive considering that they are made in the US.
Are LL Bean Boots Waterproof?
These boots are impenetrable up to the line of the gumshoe bottoms. Beyond this, they are water resistant the same way a dress watch is: sure it can handle 30 meters of pressure, but do you really want to go swimming with it? The answer is, no. You do not.
In the same way, the LL Bean Boot is not a waterproof boot. It is waterproof for puddles and shallow snow but only up to the triple stitch line that secures the gumshoe to the upper.
Up unto the 90s, these boots were shipped with ketchup style packets of Sno-Seal to further enhance their weather resistance. Now, the leather itself is tanned to be more impervious. Nevertheless, leather is not an impenetrable barrier. These are not Wellies. If you realize this and keep the water below the triple-stitched line, you will be fine.
The rope sole pattern is an interesting choice for traction and it works well enough on normal surfaces. In snow sometimes it can get impacted into the pattern making them slick. Crampons are sold separately for a reason.
Where to Buy LL Bean Boots
If you find yourself close to an LL Bean Outlet (locations here), these boots are readily available in a variety of styles and colors for two-thirds of their original prices. This was true even when there were long waitlists for ordering them at the main LL Bean site.
If you do not live close to one of their stores, then I would take advantage of their easy return policy. Gone are the days when you could return an LL Bean product after many years if it failed you. This is because a wave of people were monetizing the return policy by flipping LL Bean items from eBay and Thrift stores and demanding cash payments. They now have a 1-year generous return policy. You can try them on at home and return them if your foot is swimming in there.
Conclusion
Embrace the Schlump. Break out your jeans, flannel, and cable knit sweaters, gas up your wood-sided 1983 Jeep Grand Wagoneer, hit the Kancamagus, and go leaf peeping .Find a lake where the Loons are singing. Get out there. Be an outsider.