This post may contain
affiliate links
that at no additional cost to you, I may earn a small commission from.
Sometime in early September it happens. It's usually one of those darker mornings or after a rainstorm: there is a feeling in the air, a slight bite, that reminds us that autumn is only a few weeks away.
It's time to switch wardrobes, and the correct jacket is essential. You want to nail your look. There are apples to be picked, pumpkins to be carved, leaves to be raked. You will also need protection against the wind and the rain. There is one jacket that is as autumnal as pumpkin spice, and nearly as fragrant, and it comes to us from England.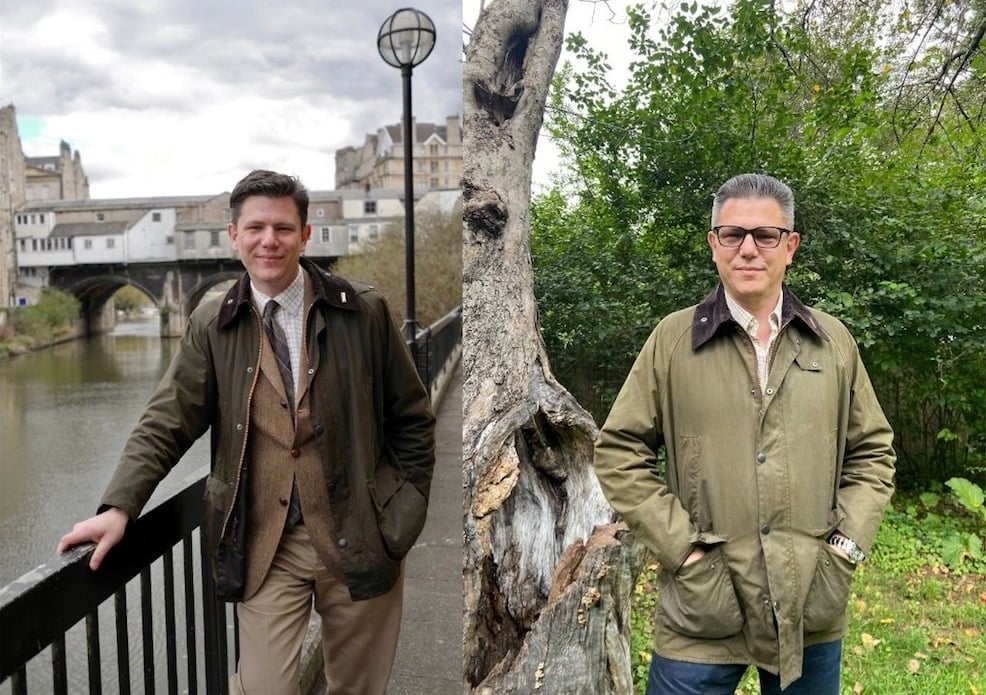 The Barbour Bedale Jacket
Named after a small market town in North Yorkshire, the Barbour Bedale was originally designed by Dame Margaret Barbour for equestrian sports. It has a relaxed cut, but the length is shorter to accommodate the saddle. It lacks the game pockets that span the back of Barbour's Beaufort jacket and the length that characterizes the Border. It has ribbed cuffs to keep the elements from going up your arms and a generous corduroy collar that feels comfortable against your cheeks when it is buttoned up and the throat latch is snapped in place. It shares the same heavy duty brass colored two-way zipper, hand-warmer pockets, and billowed pockets below as the other models. And of course, the iconic olive green color.
Although it has been offered in many colors through the years, you most often see it in Olive or Navy. Navy is associated with more of an urban look and is much more common in the streets of London than Olive. In the US, Orvis is only offering it in Olive.
I bought mine in the traditional Olive that is somewhere between military drab and the color of moss. It is a nice neutral green that pairs nicely with the blues of denim and the earth tones that characterize my autumn wardrobe.
[SHOP THE BARBOUR BEDALE JACKET HERE]
Pros
This jacket is made in the UK in South Shields.
Quality materials and craftsmanship
Indestructible performance and dependability
Distinctive and recognizable style
Breathable
Cons
Expensive
The fit can be odd for some
Snap on hood pops off too easily
The internal pocket is almost useless
This jacket has an association with Northeast prep culture, but it need not. A tailored fit tweaks it entirely. A pair of selvedge jeans, flannel shirt, and an olive wax cotton jacket projects an outdoorsy air mixed with worldly sophistication. So you're actually wearing a brand originally associated with British agriculture, similar to Carhartt's origins.
The Bedale was first released in 1980 and was part of Dame Margaret Barbour's transition of the company from a supplier to English farmers and sportsmen to a lifestyle brand. The brand was founded in 1894 in South Shields in the North of England where jackets like these are essential. The firm was quickly recognized the world over for supplying tough outerwear for adventurers and laborers. They supplied the military for two world wars, acquired three Royal Warrants (basically this is the Monarchy saying that this is good stuff), and five generations later, it is still family owned.
This is the perfect transitional jacket, and not just because you can purchase a wool liner that will take you well into winter. This is a jacket that takes you out of the idea of summer and into cozy thoughts of changing leaves, bonfires, and comfy sweaters. Something about its fragrant fabric, fine corduroy, and rain resistant coziness takes the sting out of losing the nicer weather.
[Related: The 7 Best Waxed Jackets for Men]
Barbour Bedale's Waxed Canvas
The Barbour Bedale comes in two different materials: Thornproof and Sylkoil in the Classic version. I have both, but I find myself wearing the Sylkoil over the Thornproof, although there are advantages to each. Both materials are basically two different finishes over 6 oz. cotton.
Thornproof Canvas
Thicker, more tear and water resistant
The Thornproof version is the thick glossy waxed cotton that feels a bit like Kevlar and does a wonderful job of protecting you from rain, thorns, and jumping dogs. It is what many of us think of when we hear the phrase "waxed cotton." It has a rich earthy smell that is associated with Autumn.
Thornproof is produced by running the cotton through heated rollers that seals the wax in and gives it a thick glossy finish. It feels thicker and seems more rainproof than the Sylkoil version.
Be forewarned that the Thornproof can transfer to lighter materials around it; tan car seats or light purses. My wife has special "Barbour purses" that are dark enough not to matter. This is the reason that I do not wear it as much; it puts a film over everything from iPhone camera lenses to the crystal on my watch. Also, the thickness feels less comfortable and does not drape as well.
Sylkoil Canvas
Lighter, more pliable, less water resistant
The Sylkoil is lighter, thinner feeling, softer, and more pliable, but still just as tough. In my experience, they are less water resistant. Sylkoil is from an older manufacturing process going back to the very origins of waxed cotton. They call it an "unshorn" wax. This means that the wax finishing is applied to the cotton straight from the loom, when the material has a slight fluffiness to it giving it more area to hold onto the wax and also giving it a matte finish and more softness than the modern technique.
The Sylkoi is my favorite. It is lighter, thinner, softer, and more pliable, but still just as tough. In my experience, is slightly less water resistant, but this is more than made up for by the fact that they are much more comfortable to wear, and you don't worry when you lean up against something light and delicate.
Sylkoil is from an older manufacturing process going back to the very origins of waxed cotton. They call it an "unshorn" wax. This means that the wax finishing is applied to the cotton straight from the loom, when the material has a slight fluffiness to it, giving it more area to hold onto the wax and also giving it a matte finish and more softness than the modern technique.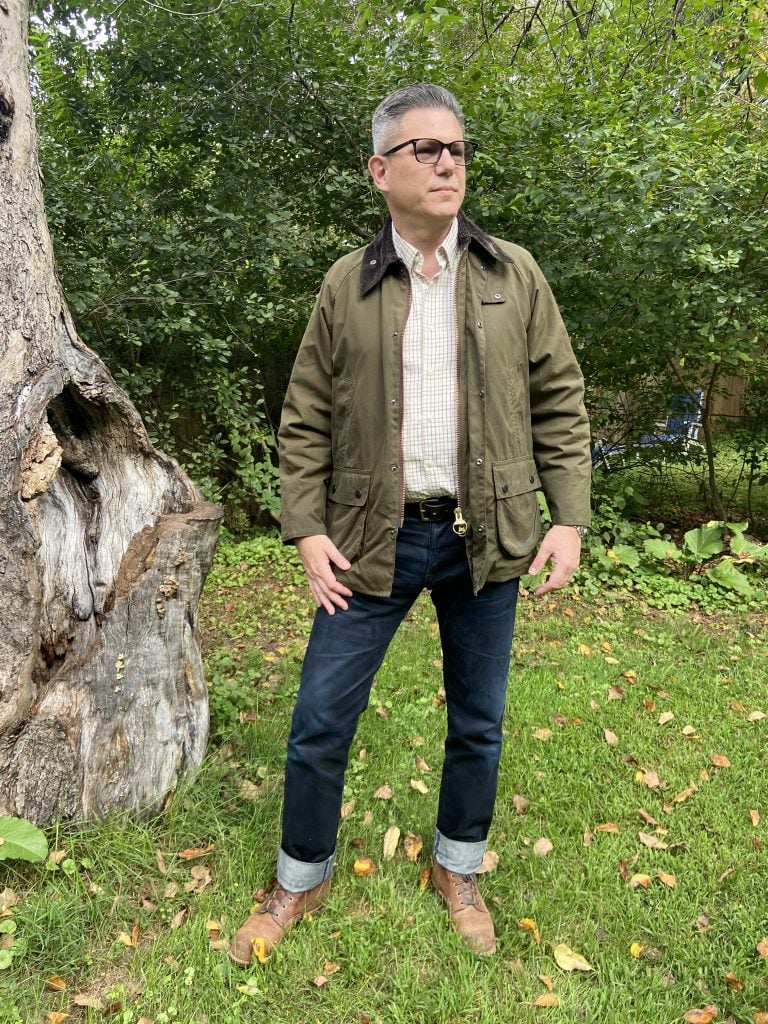 I have had my Sylkoil Bedale jacket for ten years and I can tell you that it is every bit as tough as its Thornproof version, and the fact that the wax is more integrated into the cotton makes it less noticeable when it wears away. It has worn more evenly over time and has given it a nice variation in finish. The Thornproof will have areas of missing wax at the stress points, but the Sylkoil looks more like a patina.
All waxed cotton requires occasional re-waxing if you want the jacket to be at peak water resistance. I have never re-waxed my Sylkoil Bedale and I have worn it to shovel snow over a thick sweater last winter. The snow still slid off it and the water did not soak through.
Many people prefer the look of a thoroughly distressed jacket, especially in a vintage version. You can re-wax it yourself or send it back to Barbour's North American headquarters in Milford, NH. Both materials look great, drape perfectly, and provide years of performance.
Barbours are heirloom jackets; often passed down through the generations.
[Love waxed canvas? Check out these great heritage backpacks]
Barbour Bedale Jacket Insulation
The jacket on its own is not insulated. It is lined with a beautiful cotton tartan worthy of the Battle of Carnarvon, but it doesn't provide a ton of warmth.
I wear it like this down to about 35 degrees Fahrenheit. The advantage to this is that it is also light enough for those cooler summer rains. It is very versatile.
However, Barbour offers a Polarquilt Waistcoat Zip-in Liner that looks stylish on its own or zipped into your Bedale. (It will however set you back an additional $140.00.) A Warm Pile Waistcoat Zip-in Liner is available as well. I recommend wearing a nice thick sweater underneath when it gets colder. If you size the jacket for layering, it could be worn in all but the coldest of days. I prefer something like a fisherman's sweater that is thick enough for warmth, but has space in its weave for the air to circulate. This works for me until parka weather. The waxed cotton blocks the wind and the sweater provides warmth.

Water Resistance
While Thornproof is tougher, practically speaking, both are very effective even in the wilderness
Barbour's performance and water resistance are legendary. Waxed cotton is the natural GORE-TEX. If your shirt underneath and the sizing of the jacket allows air to circulate, it is quite comfortable. The jacket will keep you dry in downpours, with the rain rolling away like the polished hood of a Range Rover.
These are also great for more than just Starbuck's runs. The Thornproof nature of waxed cotton makes it great for hiking through the woods. Thorns and brambles will not penetrate its waxy thickness. Sylkoil is not as robust, but still tough enough. I have used mine as a tarp to sit on the wet ground and have draped it over a rock for padding. I pushed through the brush in the woods behind my house and the jacket shielded me from the sharp twigs.
I have even worn mine in a microburst to clear rain-spout from a leaking porch. It kept my core dry, but raising my arms allowed the water to seep into the cuff, soaking them and my shirt up to my forearm. However, for normal rain, for dashing from a cab into your building, you will be warm and dry.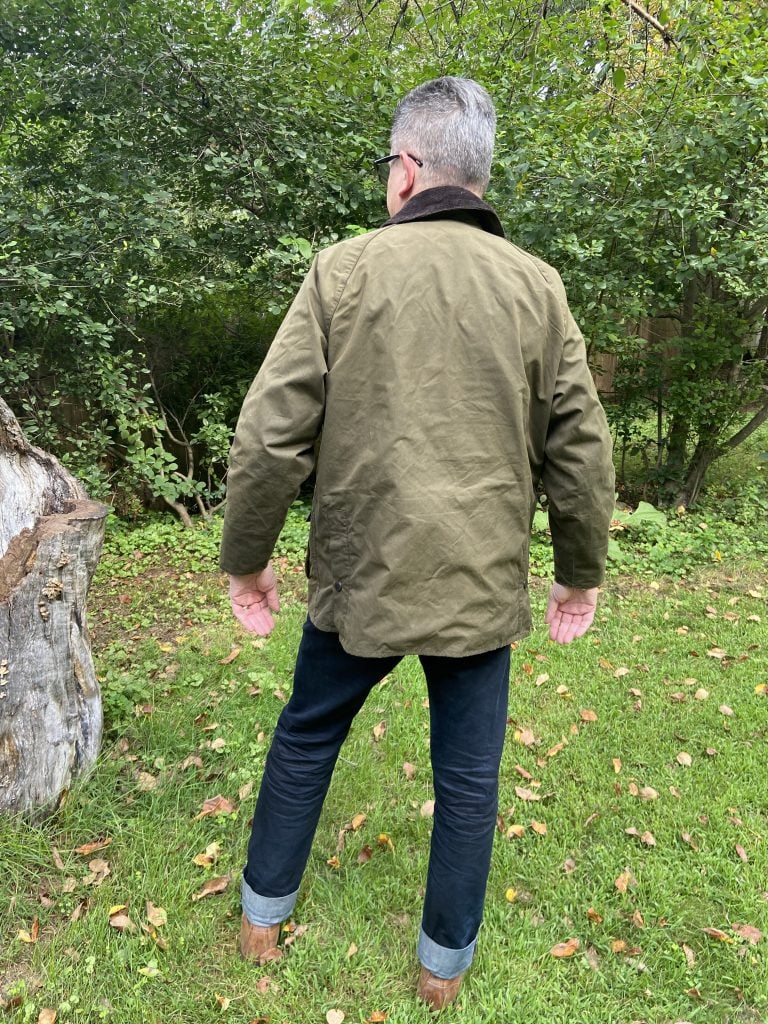 But after time, the wax wears away, usually first from the elbows and shoulders. If it wears away enough, the water can soak through. Depending on how often you wear it and how hard you are on it, these jackets need regular touch ups for maximum protection — though after ten years, I have not touched up my Sylkoil Bedale. It provides enough protection, has aged nicely, and feels just perfectly lived in for me. I probably should rewax and I am considering it; it is a bit like deciding the right moment to get your boots resoled. You know you should, but they just feel that comfortable.
When you are ready, Barbour offers tins of its Thornproof dressing for around $20.00 that are easy enough to sponge on. There are multiple YouTube videos on how to apply it or you could send it back to Barbour or another re-waxing service.
The performance of this jacket as a raincoat is greatly enhanced by their snap-on hoods. These come in matching materials and can snap on to any Barbour jacket. They will keep the rain from dripping down the back of your neck and soaking your back. However, you need to pull the hood up very gently and once you pull it up, you cannot touch it, no matter how tempted you are because the snaps that hold it on will pop right off with the slightest of force. I have done this more times in more rain storms than I care to admit. Trust me, it is not fun.
These hoods cost another $50, but can be found at the company's outlets, Orvis' outlets, or eBay for much less.
[Shop the Thornproof or Sylkoil hoods]
Barbour Bedale Jacket Construction
Barbour's well crafted construction is well known and especially in its core heritage jackets that are made in South Shields. One of the first things you will notice is the heavy-duty zipper with the oversized pull embossed with Barbour across from it. This is the type of zipper you would expect on a boat cover and not a jacket. I have never had one wear out and if it did, you could simply send it back for a repair. Remember, this is a European jacket and so the zipper is on the left, but it will take you about 5 seconds to adjust to this, if you notice at all.
Similar to the zipper, the snaps are robust and engraved with the Barbour name in a circle. These are blackened and work reliably well. Once again, I have never had one of these fail or tear out and I have been wearing Barbours since the 1980s. These secure the double storm flap over the zipper for added protection.
The stitching is tight and well finished, if unremarkable. There is no interesting or decorative thread work here, but loose threads are rare. The stitching is reinforced at stress points like at the bottom corner of the Moleskin-lined hand-warmer pocket. If you weigh these too often and put too much stress on them, they will give out over time — I did this to my Bedale. A few deft stitches by you or your tailor will take care of this, but I would have appreciated more robust stitches at the stress point..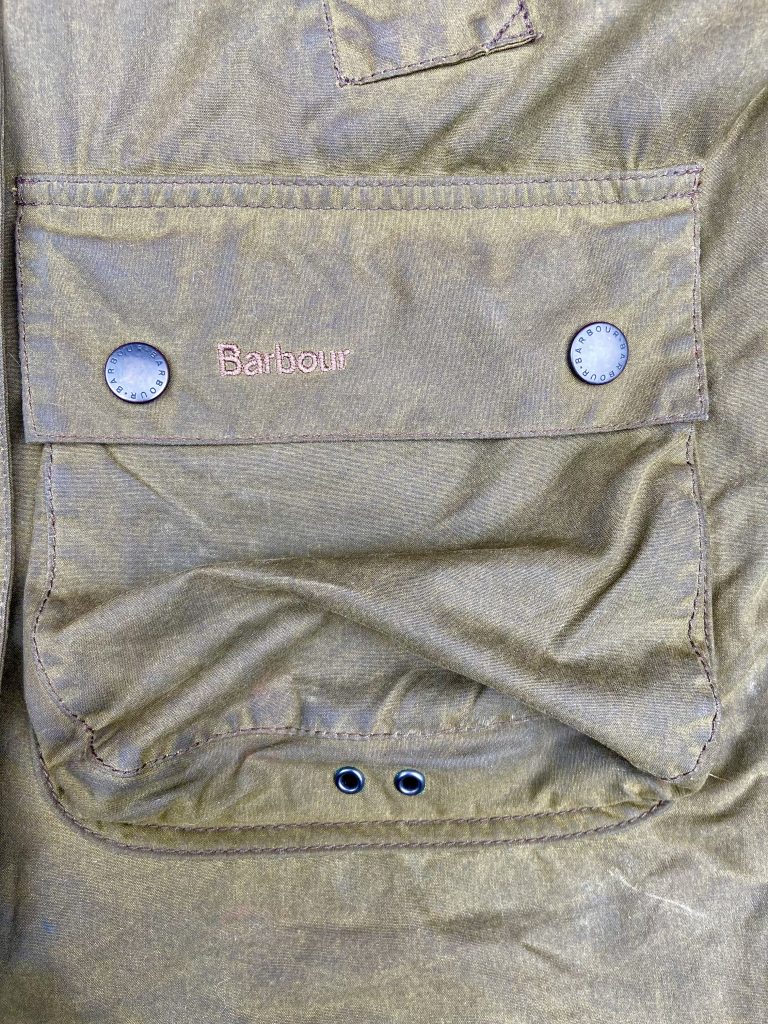 The large front pockets are well-stitched and can hold all your essentials. Each has two open rivet drainage holes in case they fill with water. Three similar holes provide ventilation at the armpits. These are welcome additions to maximize circulation. I do not sweat much, but if I did, I would probably size up for increased airflow.
The cuffs are tough and have not frayed after many years of heavy use. The lining is also robust. There is a shallow inside pocket sewn into the lining that secures with a square of Velcro that is a bit of a disappointment. It can hold a small wallet. Most people will use the front pockets, but I prefer internal pockets for this so this is a constant annoyance for me since even an iPhone Pro will be mostly protruding.
The collar is made of a wide wale corduroy that may be perhaps oversized to American sensibilities, but there is a method to its shape; it directs rain and water away from your neck and down the front of the jacket. I frequently turn mine up for added protection, especially with the throat latch that secures my neck from the elements. However, when not in use, it tends to swing not always unobtrusively under the collar. There is a handy snap to secure it to.
[For more heritage coat goodness, check out the Filson Mackinaw review!]
Barbour Bedale Sizing and Fit
Loose fit designed for movement
Size down for tailored fit (sleeves can be lengthened)
Order your usual suit size
The Bedale is cut generously to allow for movement on horseback. You can size it down if you want it to be more tailored. If this throws off your sleeve length, they can be adjusted by sending the jacket back to them. Lengthening it gives it a customized look since they stitch a ring of waxed cotton onto the sleeve. This is expensive, however, coming in at around $100 and with a several week waiting list. Most people just leave them and make due. You could size up to get more room for thicker sweaters underneath.
The Bedale is waist length and this makes it perfect. The Barbour Beaufort has a nice three-quarter length, but can look a little slouchy in proportion, especially for shorter guys. There is something about a waist length jacket that makes a man look more heroic as it adds bulk to the chest and emphasizes the length of the leg. Plus it is much more comfortable for movement in cars and subway seats.
One of the advantages of the Barbour Bedale is that it is sold in a variety of sizes from 30 up to 56. I wear a 44 suit and mine is a 44. It fits my 6'2" 205 pound frame perfectly. I often suffer with a short sleeve length and for my Barbour Border jacket, I have had to have the sleeves lengthened. The Bedale has a more accommodating fit and the sleeves work well with my 36" dress shirt arms. I recommend starting with your actual size and size up or down depending on what works.
If you want an extremely tailored fit, it may not be the jacket for you. I would recommend the Barbour Beacon Sports, which is the descendant of the Commander jacket made famous by Daniel Craig in "Skyfall."
The Bedale's short length makes it a very versatile jacket. It looks equally at home in the field or in Washington Square Park. The olive green is very familiar at this point and works well with everything from jeans, chinos, T-shirts underneath for festivals, or heavy flannel shirts while running errands. For me, it's classic weekend wear with a Tattersall shirt, jeans, and a pair of Red Wings.
Peruse the #barbourbedale on Instagram and you will see all the various ways you can style it.
Barbour Bedale Jacket Cost
I once put mine under the muddy tire of my Jeep so that it would regain traction. I took it home after, hosed it off, and it was none worse for wear. Worth every penny.
The coat costs $395.00. It's another $140.00 for the liner and $50.00 for the hood. If you need alterations, you can add another $100.00. That's a sizable investment. They are much less in the UK; around £190.00 or $260.00 USD. So if you're traveling, they are a nice item to bring home.
This is what I did. They can also be had on eBay for much less and will be already broken in.
Once again, we have to ask ourselves if nearly $400.00 is worth it for a glorified raincoat? Well, it has over a hundred years of history, it is made in the UK, and is as British as a Sunday Roast. It also has the Royal Warrant of The Queen, Prince Charles, and the Duke of Edinburgh; his for the next two years, if you're into that sort of thing.
You get a lot of history and a lot of performance for your money. If you don't want to start the journey with it on day one, I suggest you find one used. They can be found for half that, especially off season.
For me, yes, it's worth it. I once put mine under the muddy tire of my Jeep so that it would regain traction. I took it home after, hosed it off, and it was none worse for wear. Worth every penny.
[SHOP THE BARBOUR BEDALE JACKET HERE]
https://www.youtube.com/watch?v=Mglw9EYoBBI
Barbour Bedale Jacket Care
Spot clean with sponge/cloth
Don't use soap
Do not dry clean
Maintaining your Barbour is easy. Keep it in a warm dry space and allow it to air out. If it gets soiled, spot clean it with a sponge or damp cloth. Do not use soap, never dry clean it, and absolutely never put it in the washing machine. Washing a Barbour kills it. It will remove all the wax and make it a mottled mess. Treat it like a pair of precious selvedge jeans. If it gets incredibly stinky, immerse it in cold water and allow it to dry naturally. Barbours are like ducks; they don't mind the water and it rolls off of them.
Re-waxing is an important part of maintaining the jacket. There are many opinions in regards to when you need to do this, enough to fill a separate article. Suffice it to say that at some point you will feel it necessary to reapply the Thornproof dressing. It's $20 for the tin and the satisfaction of doing it yourself.
There is a risk: if you over-apply it, it will become a sticky mess, but there are YouTube videos that will walk you through.
You can send it back to Barbour, but I can tell you from experience that it can take three months to get it back and it costs $50 for the re-wax and another $20 for shipping. I drop mine off at their Milford, NH headquarters and pick it up when it's ready. I have several Barbour jackets so I can make do while I wait.
Wrapping Up
A Barbour jacket was once a subtle signifier of status and wealth. Originally, they were exclusive to equestrian circles in the US: old money types with old Volvos and expensive watches that would recognize one another at the Devon Horse Show by their jackets with a subtle nod.
Now, thankfully, they have become much more democratic on both sides of the Atlantic. They are now more likely to be seen at a music festival like Glastonbury than a polo match or fox hunt. Yet it carries all those Tweedy trappings with it; Diana smiling under her hood, Charles at Balmoral, Kate Middleton dashing to an event in suburban London.
For me, it's the image of it hanging on a peg at the back of a door in Cornwall, or huddling in a snug in a pub in Cambridge. My wife and I wore them in Venice one November when we got engaged, dashing in a light Dolomite rain on the way to the Guggenheim. That same jacket had been to Paris, to Philadelphia. It's on a peg now in my entranceway in Massachusetts. It's always within reach.
It's a jacket for life and it carries all these memories with it. Yes, it's worth it.