Sometimes, the way they used to make cold weather coats is still the best way. Enter what I think is the best and most famous wool coat ever: the American made Filson Mackinaw Cruiser.
If you're not already familiar with this absolutely legendary coat, you're probably familiar with its buffalo plaid coat look. That's because this coat has been imitated countless times, but never duplicated — this is the OG coat that launched all the copycats, but the Mackinaw Cruiser is the one that deserves the spot of the best wool coat. It'll never rip, never fall apart, and never fail you.
It was first patented in March 1914, when it was made from blankets and hung below the knee. (Fun fact: When Filson was founded in 1897, they were called C.C. Filson's Pioneer Alaska Clothing and Blanket Manufacturers.) The version I own was released by the 1920s, though, and Filson says it was "originally designed to protect timber cruisers during long days in the woods." Indeed, this bulletproof jacket soon became a common sight in logging camps.
Also available in Charcoal, Forest Green, an almost black Navy, and Cobalt and Black, this buffalo plaid colorway — a pattern sometimes called the Pennsylvania Tuxedo — is the most iconic version of this extremely iconic jacket.
[SHOP THE FILSON MACKINAW CRUISER IN 5 COLORS HERE]
Filson's Wool
Pros
24oz virgin wool
Sourced in North America
Super warm but breathes well
Naturally antimicrobial and water repellent
Retains ~85% of insulation when wet
Cons
Unlined; pretty itchy
Not the best at wind resistance
Heavy
Let's first talk about the material.
This is 24-ounce virgin wool from a small herd of hardy sheep in the northwestern United States and Canada. (Yup, even the wool is American.) It's dense, it's heavy, it feels like a whole sheep sitting on your back, and the weight is also attributable to the fact that the wool is boiled. This shrinks it and makes the weave tighter, so you get all the warmth and toughness of a slightly larger amount of wool.
Now, this is not cashmere. This is not merino. And while I might get in trouble for saying this, this is not that comfortable.
I mean, it moves well, but this is the scratchy kind of wool you'd make a carpet out of. Unless you're wearing a turtleneck or a scarf it might itch your neck (although I may have a bit of a wool sensitivity, as even merino wool t-shirts are itchy on me.) But hey, this wool is not about babying your skin, it's about giving you a thick, tough barrier of protection and warmth from the elements that will last for decades.
Insulation
You also need to wear long sleeves because it's unlined, but there are good reasons it's unlined: this is a coat that breathes extremely well. It is unbelievably warm (I wear it on the coldest New York winter days) but it never gets stuffy. Wool has this unique ability to keep you warm in cold conditions without overheating you and making you sweat, which can be a big problem in cold environments — if you're wearing this in the wild, sweat-wet clothes can freeze and put you on a path to hypothermia.
So the properties of breathability and insulation are huge.
The range of temperatures in which you can comfortably wear it is much greater than synthetics.
Water Resistance
This wool is also naturally water repellant, partly because of the weight and partly because of the lanolin in the wool, so there's no need for a synthetic coating.
Even if you happen to get hit with so much water that it can't all bead off the coat, this wool can absorb as much as 30 percent of its own weight without becoming damp or clammy, plus it retains 80 to 90 percent of its insulation even when soaking wet. You might be surprised by this, but the Mackinaw Cruiser really is shockingly good in the rain.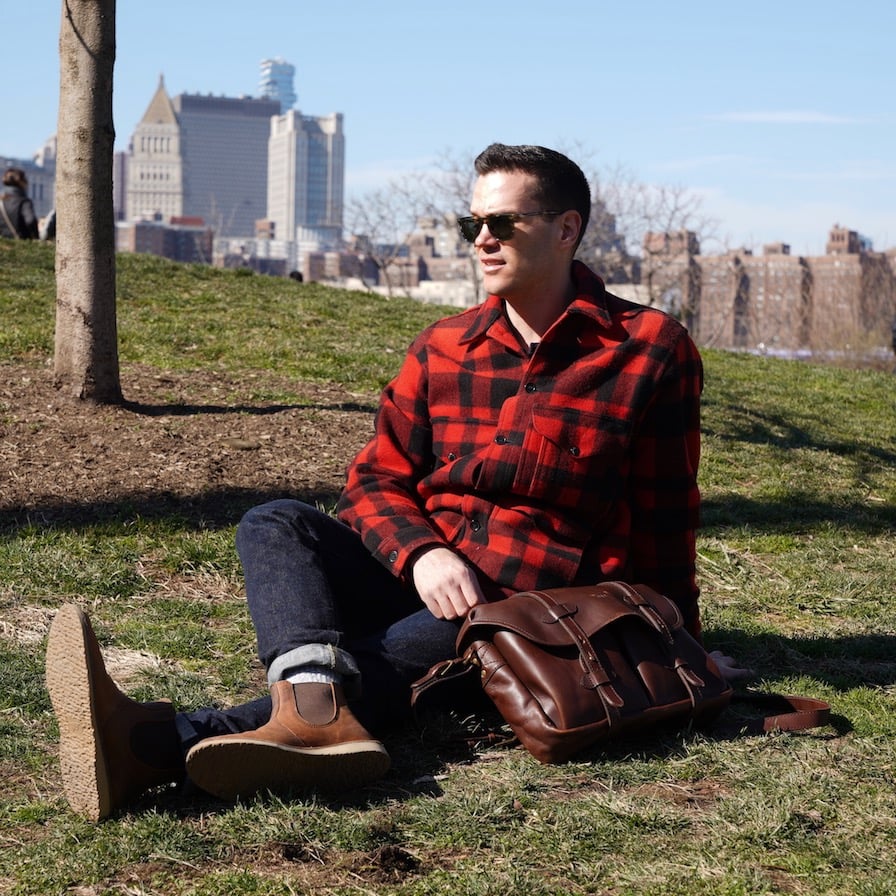 Battle Readiness
In short: the breathability is huge, the insulation is huge, the water resistance is huge, it's nice and quiet, it's naturally antimicrobial and antibacterial and odor resistant — so you seldom need to clean it — it also won't catch alight when you're tinkering with a campfire (actually a risk for a lot of synthetic materials) and it's just really tough. The fibers can be bent and flexed 20,000 times without breaking and it won't tear or snag. Guys everywhere use this for hunting and bushwhacking and yard work and then, well, they keep using it. Because the Mackinaw Cruiser endures anything you can throw at it.
Besides the itchiness, the only real complaint I hear is that it's not the absolute best jacket in the world for wind resistance. It's reasonably wind resistant, but if you're somewhere with a lot of biting, icy winds, some guys might want to put a shell over it or a windbreaker underneath it.
Filson Mackinaw Construction
Nine total pockets
Pen holders on right chest pocket
Snap flap closure
Huge "map pocket" on back of coat
Loose fit
It's a pretty plain Jane coat without any crazy features, but I'll mention the pockets. There are nine of them in total, including an inside pocket, and given how much volume there is to carry junk in your pockets, this thing can practically double as a bag.
The front pockets are all snap flap closure, the ones on the bottom also have hand warmer pockets underneath them — there's nothing worse than a winter coat without hand warmers — and the the left pocket has an extra pocket on top of it for pens and small utility tools.
The back of the jacket is double lined, and here you've got the most inventive and unusual thing about the jacket: the whole back of the coat is a gigantic pocket with two snap closure entry points. I understand this pocket was originally for a map, but I'll usually have my gloves, beanie, and scarf stashed in there. Again, these pockets really are like having an extra bag with you, and it's why I don't mind the bulky fit — speaking of which, let's talk about the fit.
Filson Mackinaw Cruiser Fit & Sizing
Intended to be worn baggy
Large is for 43-45″ chests
Classic fit, not "modern" or slim/tapered
This is the classic Alaska fit. (For a while there was a slimmer "Seattle" fit, but it isn't made anymore.) I typically wear a 42″ to 44″ chest, and I picked up the Large size. Importantly, a Large fits like an Extra Large, and you're meant to buy your size — not size down.
Importantly, a Large fits like an Extra Large.
I would have been fine with a Medium, but there are four reasons to get your usual size:
It's easier to layer.
When working or hiking, it's easier to swing your arms with a looser fit.
It's a thick winter outer layer — people just usually wear them baggy. You don't usually see slim parkas on a guy.
I actually do carry gloves and beanies and such in the back compartment. If I had a more form fitting size, that would make me look like I had weird growths on my back. I've even walked around town with a pair of sneakers sitting in the back pocket, and you couldn't tell.
Of course, it's totally up to you how big you want your coat to be, and it'll be fine if you size down. I just think you're sacrificing a little bit of the coat's utility when you do.
Filson Mackinaw Cruiser vs Double Mackinaw
Extra layer of wool on sleeves and top half of torso
Pattern is less dense
Fit is less baggy
I also bought a Double Mackinaw, so I thought I'd quickly compare the two.
The fit isn't as baggy as the regular Mackinaw. Because I (erroneously) thought the Large was too large, I bought a Medium, and while a Medium Mackinaw would have fit well enough, I couldn't even button up the Medium Double Mackinaw.
Besides the sizing, the only real differences are that the pattern is blockier and there's an extra layer of wool buttoned over the sleeves and the top half of the torso.
It's a lot warmer and more wind resistant, of course, but again, don't size down. (I'm selling this on eBay now, it's just too small.)
Filson Mackinaw Cruiser Price
When I bought the coat, cost $395 and I firmly believed that was great value. Predictably, the price has since risen to $495.
I am comfortable saying that a lot of Filson's stuff, like my $390 backpack, is more expensive than it needs to be. I just don't think that's the case with this gigantic, indestructible coat that can last for multiple generations. I know more than one guy who got his Mackinaw from his dad and plans to give it to his son. This is an heirloom, like family luggage or a great leather jacket or a watch, except it doesn't need any care or upkeep.
Honestly, I expect the price to keep climbing, because people will pay it. So, I think you should get a Mackinaw sooner rather than later.
[SHOP THE FILSON MACKINAW CRUISER IN 5 COLORS HERE]
Filson Mackinaw Cruiser Pros and Cons
Pros
Warm yet breathable
Resistant to odor, bacteria, tearing
Made in North America with North American wool
Lifetime guarantee
Handy map pocket
Versatile look
Cons
Good but not amazing at wind resistance
Collar isn't big, doesn't cover neck much when flipped
Heavy
Itchy (though I may have a wool sensitivity)
To sum up: the wool is stupid warm, breathable, well insulated, water resistant, odor resistant, rip and tear resistant, fire resistant — remember people beat out fires with wool blankets — antibacterial, antimicrobial… you get it. The wool' s great. It'll take anything you throw at it, it's the incredible hulk of coats. This wool is The Truth.
I'll emphasize here as well that it's also made in America with North American wool. That's a big deal, and its what convinces a lot of dudes that it's worth the extra money.
The build quality, stitching, and the overall attention to detail is top of the line and worth every penny.
And the Mackinaw Cruiser is very stylish, man. It looks great. The bright buffalo plaid here was originally meant to make sure you won't get mistaken for a deer, but I think will find it a great excuse to have a coat that's not black or brown or grey. The design is both functional and stylish. It looks great out on the town.
And it will one million percent last you the rest of your life.
The following two tabs change content below.
Nick English
By day: Manhattan-based journalist with reporting experience on four continents, published in Vice, Men's Health, Popular Science, and a bunch of other places.By night: ravenous consumer of anything and everything related to high end men's boots.Stridewise is where I nurture a maniacal obsession with footwear and share my findings. Say hey:
[email protected]
.
Latest posts by Nick English (see all)