Back in the good ole days, you could get LL Bean replacement laces for your iconic 8'' duck boots by invoking the magic of their lifetime guarantee. Alas, gone are the days of one of outdoor apparel's most generous return policies: LL Bean's stuff no longer comes with that warranty, and loyal customers are left with few options when their Bean Boot laces wear out.
Somewhat surprisingly, LL Bean does not sell replacement laces online, which may be a problem if you want to maintain that classic Bean style. So, to save you a bit of time wading through hundreds of lace options, we've put together a list of durable replacement LL Bean laces for your favorite waterproof boots.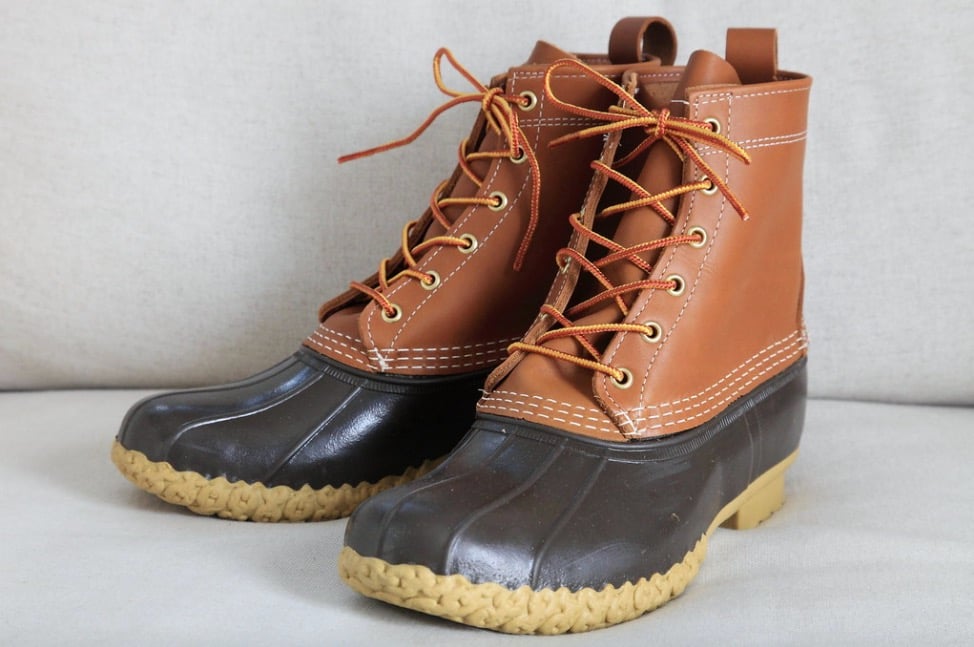 What Length Laces Should You Get?
While it may be a bit obvious, the best way to answer this question is to simply measure the old laces. If you've already thrown them out, or you dug out your Bean Boots from summer storage only to find someone 'borrowed' your laces for cordage (sorry dad), then the next best solution is to count the number of eyelets on the boot. This is less precise, but fortunately, most lace companies will list the number of eyelets they recommend for their length of lace.
Keep in mind that the shape of the laces (flat, round, square leather), the spacing of the eyelets, the width of your feet, the thickness of your socks, and how loose or tight you like your boots, all affect the length of replacement laces you'll need. If in doubt, most boot companies recommend going up one length.
Best Replacements for Classic LL Bean Laces
If I close my eyes and imagine a pair of classic LL Bean Duck Boots, one of the more distinctive features is the round, gold and tan LL Bean laces. Fortunately, there's no shortage of round, gold and tan laces out there for sale. Choosing which pair to order among a sea of similar products is another story.
Red Wing Taslan Gold and Tan Laces
At some point, work boot companies decided that the official boot lace color should be gold and tan. So, it's not too surprising that the classic LL Bean shoelace is practically identical to Red Wing's Taslan lace — they're even both made from Taslan, a high-tech and waterproof woven polyester.
Red Wing makes a 63-inch Taslan lace that should fit your 8'' inch LL Bean Duck Boots. The pros are that these laces are made in the US, and Red Wing has a great return policy, so you'll be able to return them if they don't fit. The downside is that they will only replace 32'', 36'', 48'', and 63'' LL Bean boot laces. So anything higher than an 8-inch boot, and you're likely out of luck.
Danner's Gold and Tan Replacement Laces
Moving from the midwest to the Pacific Northwest, stalwart American boot maker Danner sells a classic gold and tan, round bootlace. They're perfect if you're worried that 63'' won't replace the laces for your 10'' LL Bean duck boot, and you still want Made in America quality. They come in 54″, 63'', 72'', and 84''.
Cobbler's Choice Tan and Yellow Kevlar® Laces
Both the Redwing and Danner's are fairly standard nylon laces. If you're looking for something a little bit different for your replacement LL Bean laces, you may like Cobbler's Choice: they add the durable, synthetic material Kevlar® to their laces. (Yep, that's what goes in bulletproof vests.) The pro here is durability but adding a bullet proof material to a lace also doubles the price to 12 bucks a pair. The downside is that the tan and yellow laces only come in 59 inches.
Cheap LL Bean Replacement Laces
Red Wing and Danner's laces are over $6 for a pair, the Cobbler's Choice is double that at $12. Add the possibility of shipping and handling, and you're looking at close to $12-18 for a pair of laces. Are there cheaper alternatives? Sure.
Kiwi Brand Laces
Kiwi make a gold and brown "no-tie" outdoor shoelace for just $2, plus it's braided for extra durability and to reduce the odds of them coming undone. They come in 45'', 54'', 60'', and 72'', the potential downsides being it's not red and the 72″ ones need to be bought three at a time.
White's Brand Laces
White's boots offer a slightly less expensive lace at starting $4.50 for their 80''. This is mostly useful for higher boots, as they only come in 80", 90″ or 108″.
Leather Laces
When it comes to best-selling LL Bean footwear, there's more than just gold and tan laces. The uber comfy Camp Mocs like the Signature Handsewn Jackman Ranger Mocs, are all immensely popular, and all come with leather laces. Over time, leather can become dry and brittle if you're wearing these indoors and outdoors, and they'll eventually snap. Here's what to do when that happens.
Cobbler's Choice
Cobbler's Choice is the official replacement lace of choice for Thursday Boot Company. While their kevlar laces are a bit pricey and limited on sizes, their leather laces have the benefit of coming in 5 colors. They're average priced for the quality at $12 — if you want laces that look like LL Bean, go with Burgundy or Copper. Unfortunately, they only come in 54″.
Danner Leather Laces
Yep, Danner again. They make quality products produced in the US, and given that low-quality leather laces have a propensity of snapping, which is irritating, we're looking for quality in our leather LL Bean replacement laces.
Danner's leather laces come in 46'' and 63''. If these are too long for your boots, they recommend that you cut them to size — that's the beauty of leather laces. The 46'' are $16 per pair, making them the most expensive on this list. The 63'' are a slightly better deal at $18 for 63'' of leather.
Red Wing Leather Laces
Red Wing has a wide range of colors for their leather boot laces, so you're more likely to find an appropriate color to replace the stock LL Bean leather laces. They come in black, burgundy, chestnut (above), and dark coffee. They're all 80'', so for a three eyelet mock, you may get away with just cutting one lace in half, which is great as these are $14.99 a pair. These are well-priced, high-quality laces.
White's Boots Leather Laces
White's Boots sells a well-priced leather lace that fits a 10-inch boot for $8.99. This is the best value for 80'' lace. The downside is that they come in only one color.
Red Laces for LL Bean Boots
For those looking so do something different, a red lace looks great with the classic LL Bean look. If you want to go with a more heritage look, you can check out a few waxed cotton options
Conclusion
Regardless of your preferred style of LL Bean boots, there's a quality replacement lace out there. Prices swing pretty wildly from the premium Cobbler's Choice to almost too cheap Kiwi brand laces. Heavy hitters in the heritage boot scene like Red Wing offer quality and decent prices, and brands like White's Boots offer durability at low prices. Whatever your flavor, we've got you covered with this article!
The following two tabs change content below.
Karl Wasson
Karl is an IT product manager living in South East Asia who gets a kick out of durability and dependability. He believes form and function are not mutually exclusive. When he's not working, he's searching for the best bespoke menswear in South East Asia and beyond.
Latest posts by Karl Wasson (see all)