Reigning Champ's hoodies are probably the most talked about sweats you'll see in the high-end fashion corners of the internet, like Grailed and Reddit's r/malefashionadvice. These sweats, at well over a hundred dollars a piece, are considered by many as the greatest on Earth.
When you want elevated basics — the best version of something you can get — your search shouldn't end at the best boots or best jackets. Hoodies and sweatpants remain a core part of the modern guy's wardrobe and when guys search for the best, Reigning Champ's checkout page is usually where people wind up.
I finally caved and wound up there myself, and to make this review as useful as possible I bought four items: heavyweight and midweight versions of their hoodies and sweatpants. I found them to be comfortable, durable, stylish, and more breathable than polyester blends.
Reigning Champ is based in Vancouver where they make all of their products: basic, stripped-down classics that let the materials and craftsmanship speak for themselves. Everything is made in Canada and these sweats are all one hundred percent cotton.
I picked up a hoodie and sweatpants in midweight "Desert Rose" (ie. grayish pink) and a relaxed fit hoodie and slim sweatpants in heavyweight black. The Desert Rose hoodie is their standard fit, the heavyweight is relaxed, and both sweatpants are slim. Note that right now, the heavyweight hoodie is only available in relaxed fit — so you get to see how both fits look.
Below I'll get into the material, construction, and fit before running through the pros and cons.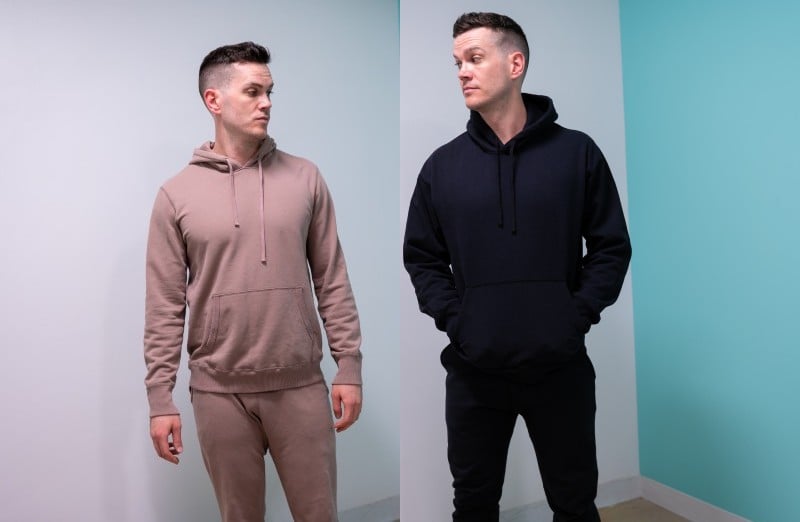 Reigning Champ Material
100% cotton
Loopback terry cloth back on the midweight
Brushed fleece back on the heavyweight
"Oh, they're just cotton?" I hear you thinking. "Aren't all sweats made of cotton?"
No! Most hoodies are partly, if not mostly, if not entirely polyester. That makes sense, since it's cheaper, you can get really soft polyester clothes, it holds its shape better than cotton, and it's pretty durable; it usually doesn't pill or fray as easily as cotton. (Debatably.)
Pilling, by the way, is when fibers break, group, and tangle together, making a garment look like it's covered in fuzz or lint. I think of piling as like acne for clothes: it's not pretty.
But while polyester is a little less like to pill, it also traps odor and sheds microplastics. The durability is a double-edged sword, because it means it doesn't biodegrade. Sure, some guys don't care about sustainability, but a lot of guys do and it's one reason why they prefer natural fabrics like cotton over synthetics like polyester, which is made from petroleum.
Reigning Champ Midweight Hoodie Material
Loopback terry cloth
Softer and more resistant to stretch than typical cotton sweats
What you should know about the Reigning Champ gear, though, is that they've solved a lot of these fraying and warping issues with cotton.
For the Midweight Hoodie, they uses a very tightly woven terry pattern, also called loopback. That has a lot of significance: the tight weave helps it to retain its shape and makes it really, really soft on the inside.
This loopback has a flat face, meaning it looks plain on the outside and the loops are on the underside, giving it the kind of softness and comfort that is atypical for thicker cotton. In fact, it's the kind of softness people usually only get from polyester, and many say the soft underside feels better and softer than any $40 polyester hoodie.
Reigning Champ Heavyweight Material
Brushed fleece on underside
Takes time to break in
The heavyweights feel thicker, tougher, and warmer, and they don't fold or drape as well as the midweight. While the word 'heavyweight' obviously is more attractive to a lot of guys looking for a tough, burly hoodie, it's worth noting that they take longer to break in and become comfortable. The midweight was comfy from day one, the Heavyweight Hoodie is a bit more like cardboard when you first get it — some guys say it takes a season or two to really get soft and comfortable.
Note that the heavyweight isn't made with the terry cloth; it's brushed fleece. It feels softer and furrier on the skin and is warmer than the midweight, naturally.
The heavyweight is warmer than most cheap jackets and is better suited for withstanding inclement weather than lying on the couch. If you're planning to wear a jacket over your hoodie, wear it mostly indoors, or it doesn't get that cold where you live, I'd go with the midweight.
The Downsides of Cotton
Are there downsides to cotton sweats? The biggest one I've found is that since cotton isn't as good at wicking moisture as polyester, it takes a very long time to dry and it isn't as ideal as polyester blends if you're planning to work out in these. They also don't stretch as much as sport-focused sweats that are made with elastane.
That said, Reigning Champ more durable and eco friendly than polyester. They're just better suited for casual wear than exercise.
Features
Relief ribbing to enhance stretch
For guys who worry that slim fits hamper mobility, that's partly true. The relaxed fit obviously has more room at a slight sacrifice of the body-hugging warmth and modern aesthetic of slim fits.
Reigning Champ helps to remedy the stretchiness problem with relief ribbing: it runs down the sides of the midweight hoodie and it's in the crotch of both the midweight and heavyweight sweatpants. This ribbing expands and lets the fabric move with you, plus the panel in the crotch keeps the crotch seam from fading and stretching out, which I love.
The knit cuffs will last longer than most elastic, though they do get a little looser with wear than if they were polyester. I've found they stretch more in the midweight than the heavyweight.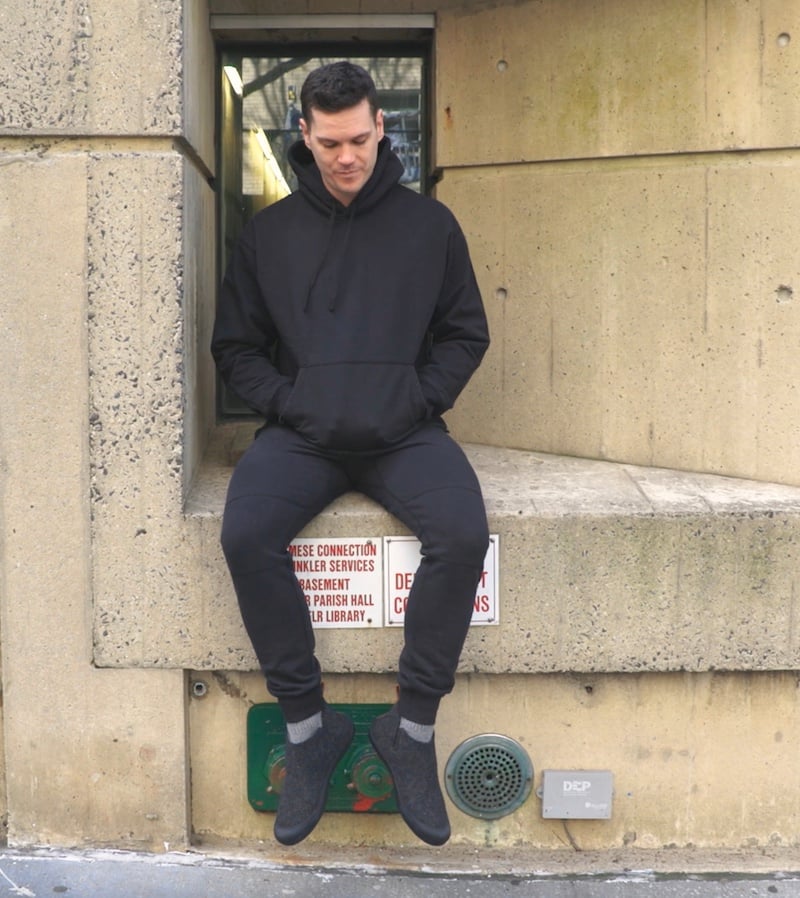 Reigning Champ Fit
Hoodies
I got a Large in both hoodies: I'm 6 feet tall, 200 pounds, my chest is about 44 inches and I usually wear a large or 42 inches because brands typically do vanity sizing. My waist these days is 34 and my thighs are 26 inches, so I got their medium bottoms.
The main thing to know about the fit is that they are longer and slimmer than the average hoodie, which makes sense given they're targeting the well-to-do city guys who are comfortable spending almost $300 on a hoodie and sweatpants.
If you're a huskier guy, size up in the Standard or switch to a Relaxed, which has a more baggy, vintage look that brings to mind the time when hoodies were cut loose so you had more ease of movement.
Sweatpants
As for their less famous sweatpants, you probably don't need me to tell you slimmer fits are slimmer fitting but I do want to point out that while they taper, there's still plenty of room in the thigh. (This is great for me, because I'm doing a squat program at the moment and nothing is fitting my thighs anymore.)
What I love about the heavyweight fabric is that it's thick enough that there's never a chance of your junk being visible at the crotch. (Hey, we can talk about this stuff.) It's not a big issue with the midweight sweats either, but while you still want to make sure things are compact down there when wearing the midweight ones, the heavyweight ones never present an issue.
But the rise is a little bit higher on the midweight ones, so if you have a big butt that might be worth noting. After a fair amount of wear on both, I found the rise on the midweights to be about a half inch higher than heavyweight.
Reigning Champ Price
Pros
Durable
More eco friendly than polyester
Warmer and holds shape better than most cotton
Various color and weight options
Relief ribbing adds mobility
Made in Canada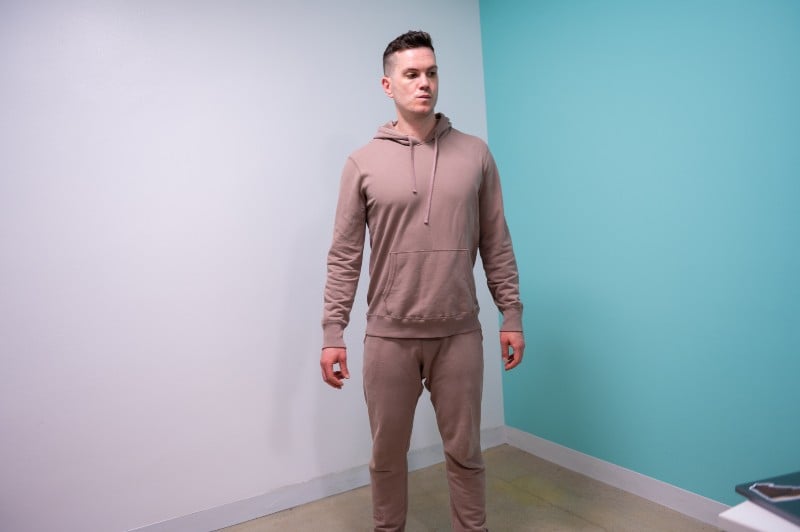 Cons
Expensive
Doesn't wick moisture as well as polyester; takes ages to dry
Cuffs stretch out a little
Not as stretchy as spandex blends; not really suited for working out
The pros are these are more durable than just about any other sweats or cotton sweats you're likely to find. They'll age really well and develop character, the stitching is really solid, they've got premium rib cuffs and hem, the relief ribbing on the sides of the hoodie and the crotch of the pants is huge for mobility and durability, and the wide range of colors and weights — lightweight, midweight, and heavyweight — really add to the versatility of their selection as well.
They're 100% cotton and more environmentally friendly than polyester, and they have those touches like the tight weave terry and brushed fleece that make it softer and more comfortable than most cotton garments. These are elevated sweats.
Reigning Champ is also made in Canada, a very developed country with strong labor laws and living wages. The minimum wage in Vancouver is more than two times higher than America's federal minimum wage, so you can be pretty confident the workers are being treated better than Uniqlo.
The obvious downside is that they're expensive. As 100% cotton, these also aren't quite as stretchy as sweats with elastane. (You can still squat in them, you just feel a bit more resistance when you do it.) Lastly, they take a long time to dry and aren't ideal for working out.
But if you want cool, stylish, urban, durable, eco friendly, labor law-friendly hoodies and sweatpants in any color, weight, or fit, Reigning Champ is a great choice.
The following two tabs change content below.
Nick English
By day: Manhattan-based journalist with reporting experience on four continents, published in Vice, Men's Health, Popular Science, and a bunch of other places.By night: ravenous consumer of anything and everything related to high end men's boots.Stridewise is where I nurture a maniacal obsession with footwear and share my findings. Say hey:
[email protected]
.
Latest posts by Nick English (see all)