This post may contain
affiliate links
that at no additional cost to you, I may earn a small commission from.
Are Allbirds really the world's most comfortable sneaker? I wore them in for a few weeks to find out.
Allbirds is an interesting company, and if you read anything on their website you'll quickly learn that they have a real commitment to sustainability. The wool is sustainably sourced, the laces are made from recycled bottles, the sole is made with sustainable castor oil instead of petroleum, and the company is even a certified B Corp. That's a phenomenally difficult certification to get and it comes with extremely rigid standards: everyone involved in the production process needs to be paid a fair wage, the company's disposal practice get looked at, from top to bottom you need to be trying hard to be as sustainable and environmentally friendly as possible.
Their mission is resonating with the market. The company started out on Kickstarter in 2014 and today they're valued at over a billion dollars. (Leonardo DiCaprio going in as an investor can't have hurt.)
Their flagship Wool Runner isn't really a shoe for sneakerheads: it's super plain, really minimalistic, there's no interesting designs, it's just one piece of wool sewn together at the back. But for people who want comfy, squishy shoes and who would rather wear sweatpants or athleisure wear — that's dads and dudes in the startup scene — they're a perennial favorite. (I say that as someone in the startup scene in New York. Sometimes, it seems like these guys wear nothing but Allbirds.)
Obviously, the weirdest and most remarkable aspect of the shoes is the fact that they're made of wool. So let's take a closer look.
Sweatpants for Your Feet
Allbirds Wool Runners
This ultra soft and flexible shoe is made with eco-friendly materials for an experience that's easy on the feet and the planet.
Check Best Price
We earn a commission if you make a purchase, at no additional cost to you.
Further Reading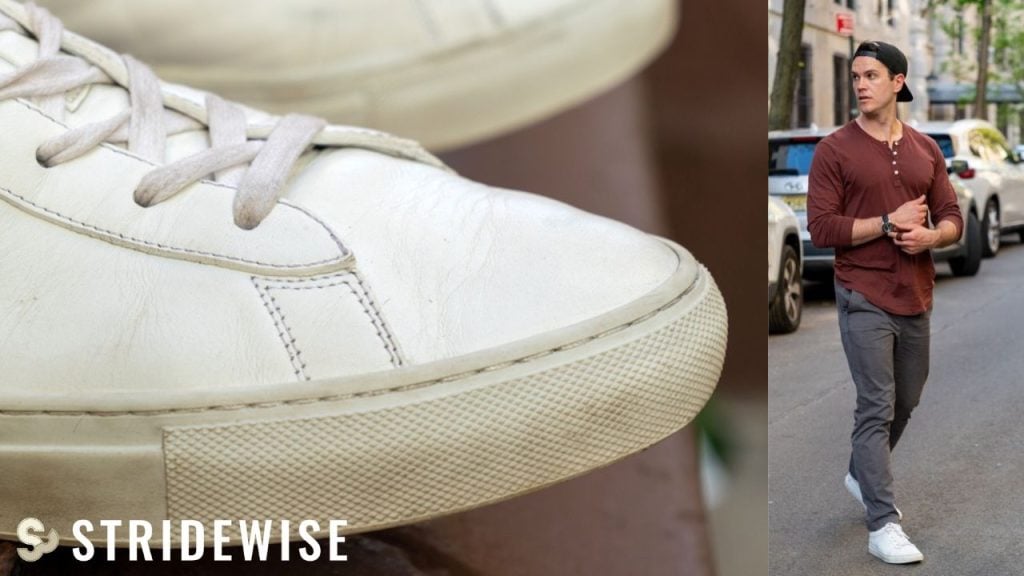 Are Allbirds Wool Runners Worth It?
Got somewhere to be? Here are the pros and cons of this iconic woolen sneak.
Pros
Super lightweight
Very soft sole
You can slip 'em on while they're tied
You can get away in them without socks; they're not itchy
The wool doesn't smell, dries quickly, and is machine washable
Money back guarantee
Very eco-friendly
Sheep are free roaming and well treated
Cons
They're bad in the rain
No half sizes
So soft underfoot they're a little unstable
Not ideal for spending all day on your feet
The toebox deflates
They're not for working out in (nor are they marketed as such, to be fair)

Allbirds Wool Runner Materials
Wool upper
High standards for sustainable and ethical farming
Very lightweight
Easy to wash
Like the name states, the full outer construction for the Allbirds Wool Runner is composed of wool: New Zealand Merino wool, in fact.
Merino wool is thinner and softer than regular wool, and while I can't wear Merino wool t-shirts (seems I have a slight wool sensitivity), I can wear Allbirds sneakers — even without socks. They proudly advertise that their wool is not itchy, and even on my wussy, extra sensitive skin, they're right.
The fibers of the wool are are 20% the diameter of human hair and because they're grown on beasts that spend a lot of time outside, it's moisture-wicking and temperature regulating. The particular beasts that supply your wool provide it to ZQ Merino, the world's leading ethical wool brand. It's a pretty interesting company: to get their certification the sheep need to be free to roam, able to forage for feed, have access to shade and shelter, and be monitored regularly for disease and illness. The farmers are even required to have a Land Environmental Plan, meaning they need a plan to keep their property sustainable for generations to come.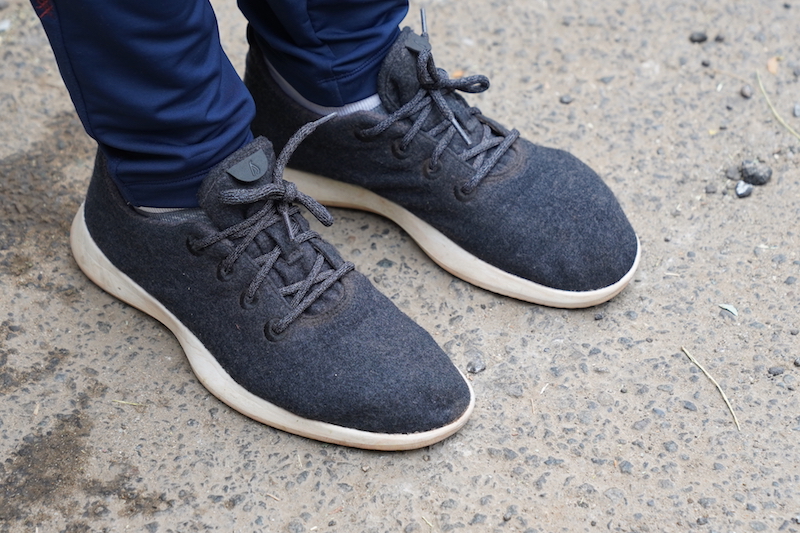 Merino wool is the softest wool, so it's not the strongest wool you can get. That would be something like Romney or Suffolk wool, but that's scratchy and usually used for stuff like rugs and upholstery. (Or my very itchy Mackinaw Coat.)
In short: the wool is comfy, it's not scratchy, and it's that soft and moisture-wicking that the shoes can be worn without socks.
You should note, though, that the minimalist wool construction means it's a pretty flat shoe. It has next to no volume, and it further deflates the longer you wear it. Many users say that they'll notice their toenails scratching the underside of the wool as the shoe ages.
Allbirds Wool Runner Sole
Lightweight, low density foam
Made with sustainable castor oil instead of petroleum
Padded insole helps reduce moisture and odor
The outsole is a very lightweight, low density foam. Technically it's a rubber and foam polymer, that's curved with what they call an S-curve to mimic the
anatomical flexibility of your feet and give you natural weight distribution as you stroll.
The extremely squishy (more on that later) rubber sole is made with sustainable castor oil, another component of the company's sustainable hook.
Finally, there's a padded insole which is lined with merino wool. The insole is intended to help with moisture wicking and odor reduction.
Allbirds Wool Runner Fit & Sizing

No half sizes
Size up to nearest size
A big bummer with Allbirds is they have no half sizes, which is a massive blind spot and it disadvantaged me.
Now, you should order large, and I mean really large. I'm an 11.5 in a Brannock device, I got a 12, and they're still a little small. I think I would have preferred a 13 tied real right — you might be able to tell in these photos that my toes sometimes stick out over the edge of the shoe a little.
Now, the wool stretches, and it's soft, and has no stitching except at the heel. So a slightly tight shoe wasn't irritating and it was far from a dealbreaker. I'm just saying a 12.5 would have been perfect and they didn't have one. Boo.
Anyway, go large when you order.
Are Allbirds Comfortable?
They're comfortable
But the sole is so soft it's a bit unstable
Not great for exercise
Here we go.
Is it soft? Is it squishy? Hell yes. You'll hear me say this a lot in the video, but:
these shoes feel more like slippers than sneakers.
Now, this has upsides and downsides. The upsides, well, it feels like you're walking around town in slippers. It feels like a naughty secret, like you should be wearing these shoes with pyjamas, like they're only for indoor use, but no. They're outdoor shoes. There's not a lot of structure and there aren't even any seams on the inside of the shoes to cause irritation, which is very unusual for a sneaker.
I was able to wear these without socks. Never before in my life have I gone sockless, and while I wouldn't recommend doing that all day in the middle of summer, it's no big deal if I just need to slip these on to run out for a coffee. They're wholly unique in my shoe collection.
The main downside of a very thick and squishy sole is that it's not stable. That's just how the world works, and unlike some sneakers like the Chuck Taylor All Stars, which have a hard, compression-resistant sole, Allbirds' sole is so squishy that I've almost rolled my ankle a few times just walking around Brooklyn. Just by navigating the world, which is what a shoe is meant to be able to do, I've wobbled.
On a similar note, don't be fooled by the name: they're not for running, or for any athletic endeavors. They are called runners, but the shoes are from New Zealand, and in Australasia (where I'm also from) the word "runners" can just mean "sneaker," not a shoe that's actually made for running.
The Wool Runners should not be run in. Too squishy, too little ankle support, and too little arch support.
Plenty of people who have flat arches find they need to put in their own insoles with these shoes. I'm not complaining, I'm just saying that when you get the delight of a soft and pillowy sole, the laws of physics also mean it's a bit unstable.
So, people are not far off the mark when they say it's like walking around in a pair of slippers. That's exactly what a lot of people want, and if that's you, then that's great, buy yourself a pair! I like 'em. Just remember they're not high performance shoes.
[Related: Check out my Nisolo review, maybe the most ethical boot manufacturer]
Allbirds Wool Runner Price
They cost $110.
That's pretty affordable. If that's an insulting price for wool stretched over rubber, you do have to remember the tremendous amount of work behind the scenes to ethically make a shoe like this. I won't repeat all the stuff I've already said about the sustainable farms and recycled laces and the fact that it's a B Corp, but I think it's a very solid price, all things considered.
If you just want a shoe with a wool upper and you don't care about all that sustainability malarkey, you can check out the cheaper knockoffs from Dr. Scholl or Urban Fox, just know that they're generally considered less durable.
Sweatpants for Your Feet
Allbirds Wool Runners
This ultra soft and flexible shoe is made with eco-friendly materials for an experience that's easy on the feet and the planet.
Check Best Price
We earn a commission if you make a purchase, at no additional cost to you.
The Takeaway
Sweatpants for your feet. Well, more like slippers: they're great for doing nothing, not great for doing something. But they're super comfy, very ethical, and you get a money back guarantee. There's very little risk in pulling the trigger with these shoes, and I'm glad I did.