Looking for the best waxed jackets for men in 2023? You've come to the right place.
Jackets made of waxed canvas are tough as nails, last forever, repel water, and look great. I'd go as far to say that they rival leather jackets as the best combination of rugged, stylish, and durable outerwear a guy can own.
The ideal fabric for an everyday, do-anything jacket, waxed jackets pair perfectly with jeans and elevate any outfit from casual to 'casual-but-well-put-together.'
I've tried a ton of them and found that waxed jackets tend to fall into two categories: super rugged, functional, outdoorsy ones and more fashion-forward ones that take their style cues from denim jackets and chore coats more than hunting and hiking apparel.
In this article, we'll land on this list of the best of the best waxed canvas jackets: the best overall, best value, thickest, coolest, best for hunting, and a lot more, with a couple of runners-up and honorable mentions along the way.
Why Wear the Best Waxed Canvas Jackets?
Why should you take the time to discover the best waxed jackets on the market? I'll give you four reasons:
1. Waxed Jackets Are Tough as Nails
Canvas is extraordinarily dense cotton that's incredibly resistant to tears and abrasion. I've torn open a leather jacket on a nail before; that won't happen with these. Canvas and twill (remember that denim is a kind of twill) have always been the go-to fabrics for workwear for this very reason: if you buy a good one, you won't need a second for a very long time.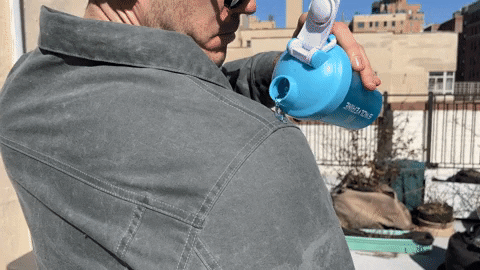 2. Waxed Jackets Are Water Resistant
Adding a layer of wax to your jacket makes it water resistant. Wax is hydrophobic, and as you can see in the gif above, water rolls right off of it. It's not as waterproof as Gore-Tex, as the wax wears away with time, especially on the stress points like the elbows. But anyone can rewax their jacket with ease.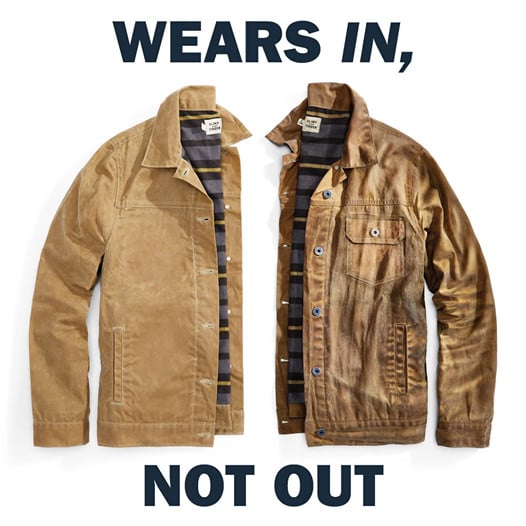 3. They Look Cool as Hell
Wax is a patina cheat code. Adding subtle color variations that deepen with age, a well loved waxed jacket looks as cool as well loved leather boots. They simply look better with age and reflect how hard you've worn them. Canvas is also the kind of hardwearing fabric that softens with wear and an older jacket brings to mind well loved jeans. Lots of things get uglier with age, this jacket won't.
4. It's Kinda Like Leather, But Cheaper
We love leather jackets as much as the next guy, but the best American-made leather jacket will run you a solid $900. The best American-made waxed canvas jacket is under $300, and still does a great job of evoking a similar rugged and resilient vibe.
[Further reading: The Best Waxed Canvas Backpacks]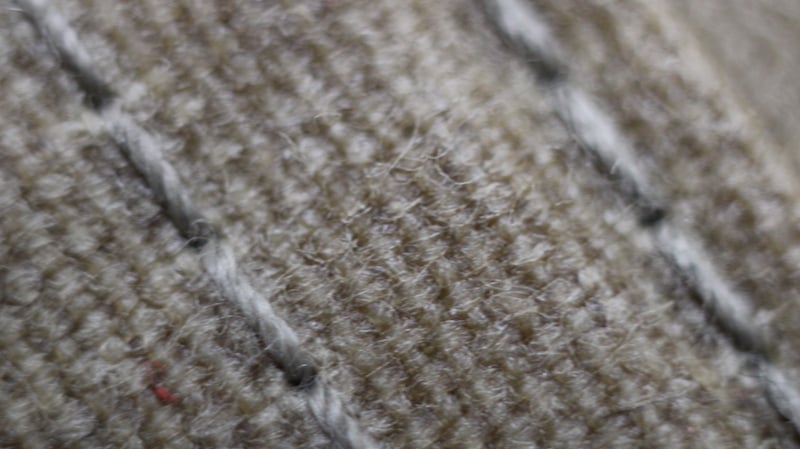 The Best Waxed Jackets For Men
Let's cut to the chase: what are the best waxed jackets for men in 2023?
In this breakdown of the hottest picks currently on the market, we'll offer 10 of the best men's waxed jackets. No matter your price range, style preferences, or use case, we've got a pick for you on this list. And, the first pick on this list is the official jacket for punching zombies.
1. The Best Waxed Canvas Jacket: Flint and Tinder's Flannel-Lined Trucker Jacket
Short, trucker jacket style
Flannel lined for comfort and warmth
7 oz canvas
Available in 8+ colors and 2 fits
Made in USA
Price: $298
It's no coincidence that this is the most popular waxed jacket on the scene — it's Flint and Tinder's flagship model and has well over three thousand reviews on Huckberry.
It rocketed to pop culture prominence when worn by Pedro Pascal on The Last of Us, but this trucker style jacket was already an institution.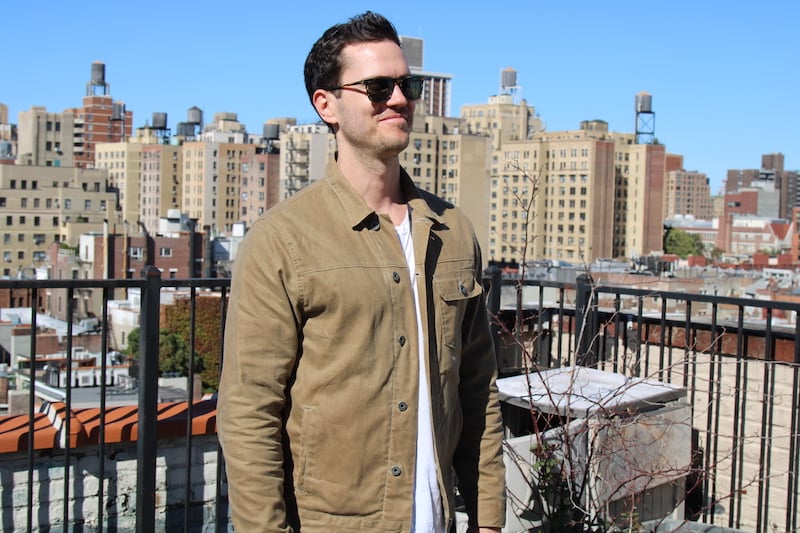 It's so popular that two fits have been released ("Classic" and "Tall") and it comes in at least a half dozen colors at any given time, and these two elements — the array of fits and colors — are reason enough to put it at the top of this list. The Flannel-Lined Waxed Trucker even spawned several "sequels" that include a wool-lined version (it's not that much warmer) and a longer, hunting-style offering.
But there's no beating this original. Stylish, minimalist, and lined with polyester flannel to elevate the comfort, it deserves the fame. Not too slim and not too boxy, the fit is just right, and I'm a big fan of the waist. cinch buttons to customize the fit for more athletic builds.
Perhaps most importantly, Flint and Tinder's Flannel-Lined Waxed Trucker is absolutely tremendous value: if you want a waxed canvas jacket that is made in the USA — the canvas is even from New Jersey — it's pretty damn hard to get it for a better price.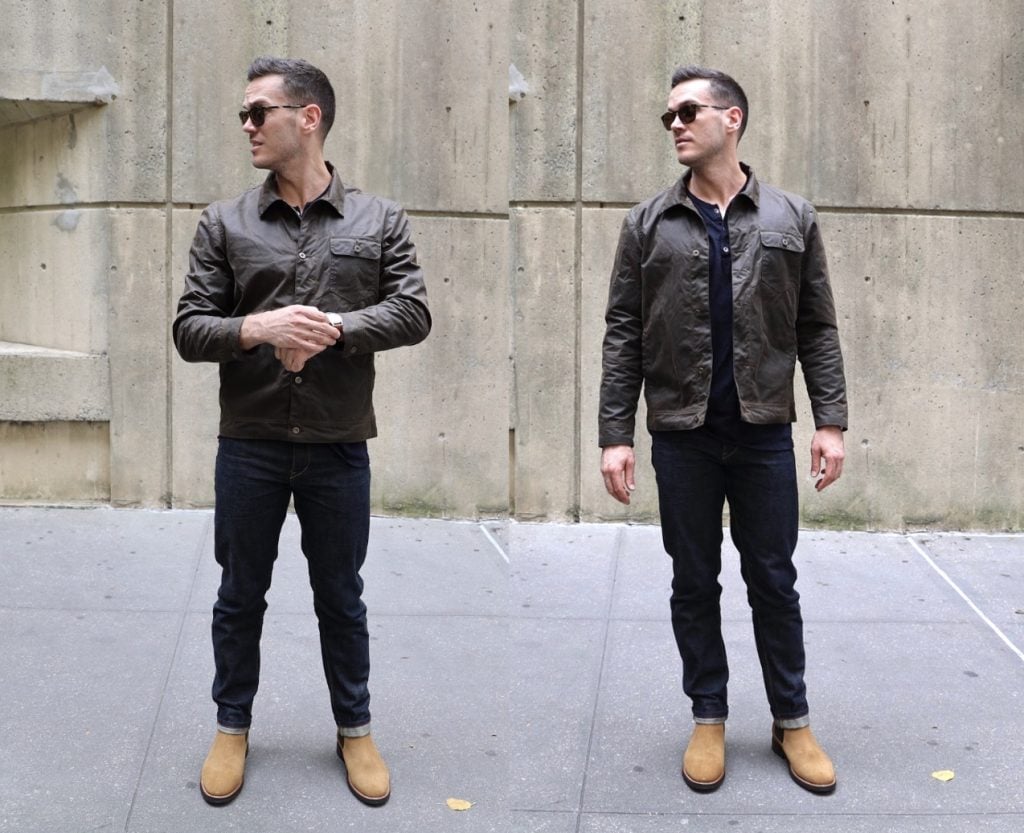 2. Best Value Waxed Jacket: Thursday's Field Jacket
10 oz canvas
Cotton body lining
Longer, more modern fit than Huckberry
Made in Portugal
Price: $280
For the best value waxed jacket, I'm going with the Waxed Canvas Field Jacket from Thursday Boot Company. This company is better known for their phenomenally well priced boots, and after a few years of refining their leather jackets they recently entered the cotton game with two lines of denim and canvas offerings.
The Field Jacket is unbelievably similar to Huckberry's but with some very cool bonuses that some guys will love. It's a little cheaper at $280, the canvas is thicker at 10 ounces (that's almost 50% thicker), the body lining is cotton flannel rather than the polyester flannel you get on Huckberry, it's warmer, and lastly it's longer by about two inches. That's important to note because waxed jackets (and all vintage jackets) are typically pretty short and boxy, but guys who like more modern fits prefer them a little longer and leaner.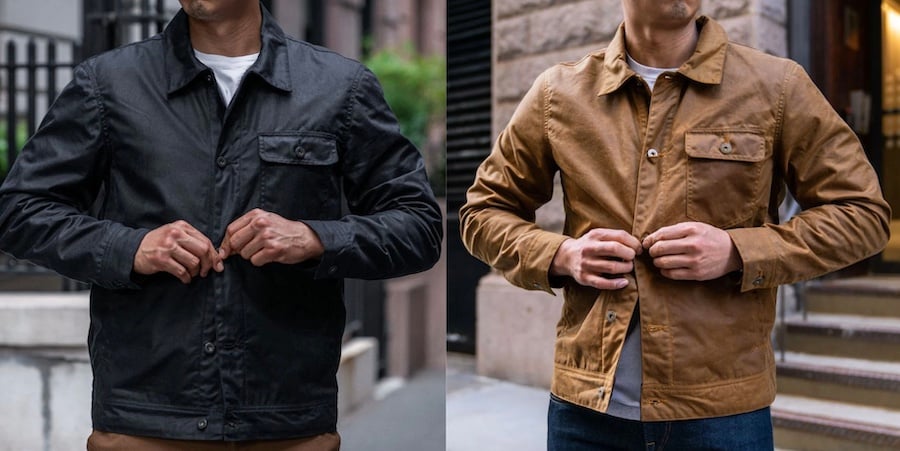 I didn't put it at number one because a lot of guys value the wide range of colors and fits at Huckberry, plus they don't have waist cinches which I really like to improve the fit, and Thursday's jackets are made in Portugal rather than America, which some guys value. But if that stuff doesn't matter to you, Thursday's jacket has thicker canvas, better lining, and a more modern fit for 20 bucks less. That's a pretty great deal.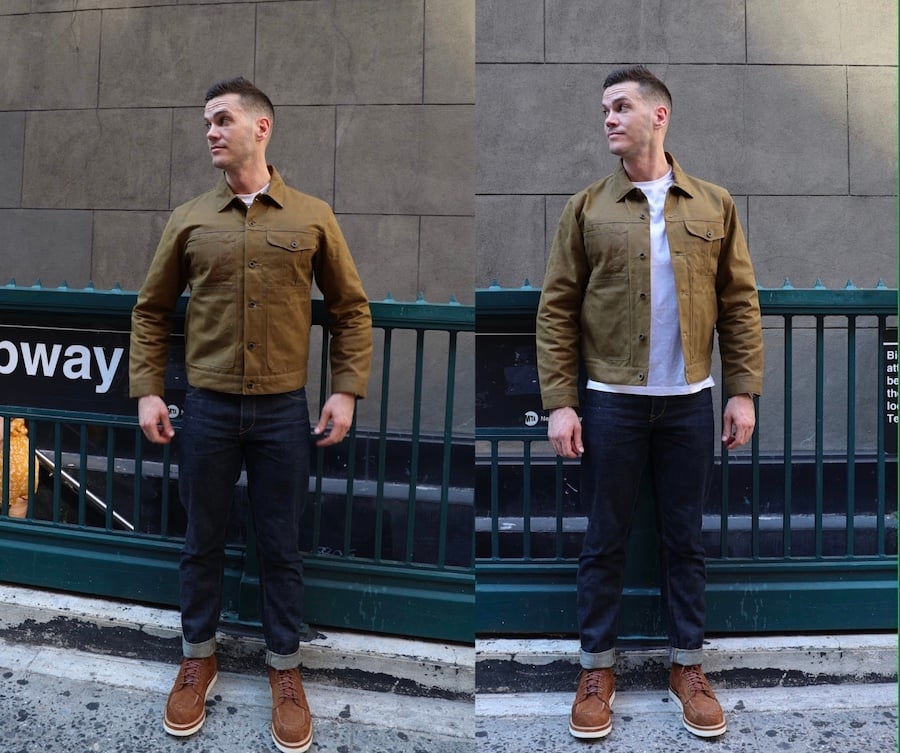 3. Toughest Waxed Jacket: Filson's Tin Cloth Short Lined Cruiser
14oz canvas, super thick
Outdoorsy look
Free lifetime repairs
Size down for more modern fit
Tall sizes available
Made in Bangladesh
Price: $350
At 14 ounces per square yard, this canvas is literally twice as thick as Huckberry's, a point that Filson explicitly makes on their site.
Now, that thickness is a double edged sword. It does make a meaningful difference for durability if you're using this for yard work, labor, or what have you. If you're simply wearing them casually — not that there's anything wrong with that — the thickness will just give you bragging rights and an extra protected feeling.
The Short Lined Cruiser will take more damage and last for longer, but it's also boxy and stiff as all hell when you first get it. It takes a long time to break in and get more comfortable, so you want to be prepared for that.
The aesthetic is decidedly more functional and less "fashionable" if that's a concern for you. If you wear this in Manhattan, you'll look more like you're visiting town than if you live here. I know that's obviously not a concern for everyone, but some guys worry they'll look like they're playing farmer dress up in these jackets, and Filson's might toe the line a little for some of you.
But hey, it's a great jacket. It has a cotton lined body, the canvas is about the thickest you'll find, you can get four colors, and it comes in tall sizes. I suggest sizing down if you want it to look like what I'm wearing in the picture above because Filson makes their stuff big and roomy so it's easier to swing your arms and do work in. If you prefer slimmer or more modern fits, size down.
It is more expensive at $350 and it's also not made in America like it used to be, which some people resent. That said, I know without a doubt that a lot of guys reading this will see Filson's Tin Cloth Cruiser and say "Ah ha, that's what I'm looking for."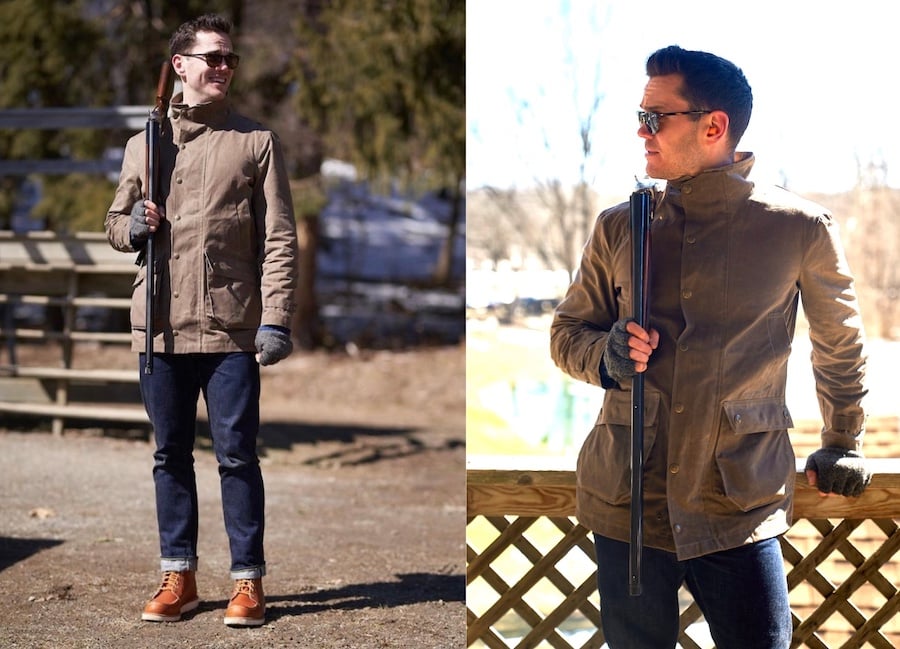 4. Best Waxed Hunting Jacket: Tom Beckbe's Tensaw Jacket
Longer, hunting jacket look
Brimming with functional pockets
Tall sizes available
Made in USA
Made with 8 oz or 6 oz canvas
Price: $495
Waxed jackets are typically either stylish and modern or functional and outdoorsy. Tom Beckbe merges both of these aesthetics to make a lovely, hunting style jacket that won't look too out of place when worn out on the town.
Tom Beckbe is a heritage-inspired hunting apparel company, but their flagship jacket has become a cross-cultural phenomenon for good reason.
First and foremost, this is a hunting jacket. It's practical, full of pockets, and comes in enough sizes and lengths that you can easily find one that's roomy enough to allow complete mobility when out in the field.
But while it's far from the world's dressiest jacket or even the dressiest waxed jacket, it does a good job of pulling double duty as a functional jacket and as something you can wear to dinner with a more preppy style. Tom Beckbe did a wonderful job crafting a jacket that can go from the field to a restaurant — maybe not fine dining in a lord's manor, but it would certainly fit in at a steak house. It looks a lot cooler and more subtle than most functional outdoor apparel while exuding a timeless, rugged look.
It has set-in sleeves that provide the more trim look you find in British shooting jackets — essentially, the shoulder area extends down sleeve — and they used gusseted underarms and a bi-swing back to allow more mobility.
If you buy your usual size, you'll get a jacket with a relaxed fit that allows for a lot of mobility and a variety of body types. If you prefer a more modern or slim look, I recommend sizing down and ordering the "tall" version like I did. For reference, I'm usually a Large, but I'm wearing a Medium Tall in the picture above.
Tom Beckbe's Tensaw is made in America and built for function and style in a way that's hard to pull off.

5. Coolest Waxed Jacket: Rogue Territory – Supply Jacket
Minimalist design
Dresses up fairly easily (for a waxed jacket)
10 oz canvas, unlined
Made in USA
Worn by James Bond, Ryan Reynolds, and James McAvoy
Unforgivingly slim
Price: $325
This is far and away the best waxed jacket for those looking for the most stylish, modern pick. It's much easier to dress up and wear around the city than the outdoorsy Tensaw jacket or firmly casual Flint and Tinder trucker.
The Supply Jacket has become its own pop culture phenomenon after being worn (for about two seconds) by James Bond in No Time to Die. Since then, it had a starring role on Ryan Reynolds in The Adam Project (characters have multiple discussions about it), Boyd Holbrook had a modified version in The Predator, and the grey version adorned James McAvoy in Split.
With two hand warmer pockets, one slim exterior welt pocket on the chest, and an interior one that mirrors it on the left side, it's pretty bare bones and it's hard to carry a lot. But sleek is the name of the game, here: it's unlined, slim, and almost shacket-like. With nickel buttons and a classic collar, you can wear this over a casual button down or any old t-shirt with ease, plus it comes in a ton of different fabrics if you're interested in trying a version made with denim or sashiko.
The identifying mark is the extra button hole between the second and third buttons, which is meant to be reminiscent of when men had an extra slit for their pocket watch. That extra hole has become a core part of the brand's identity and is featured on most of its jackets, for better or worse. Most people will think you've missed a button.
The fit is the biggest issue with the jacket: it's very slim.
The fit can be very flattering, especially given the fact that most American waxed jackets are relatively boxy and cut for greater mobility, but guys with bellies will have a problem. The jacket works best on slim guys, after that huskier guys can try sizing up. Guys looking for an athletic V-taper are at the biggest disadvantage: it doesn't taper at the waist and there are no button cinches to help you along.
My advice? Accept the possibility that you might not button it up. Think of it like a leather jacket: they always look better unzipped, right? Take that approach with Rogue Territory's Supply jacket as well. If it looks good buttoned up it's a bonus, if it doesn't then tell yourself you weren't planning to wear it like that anyway.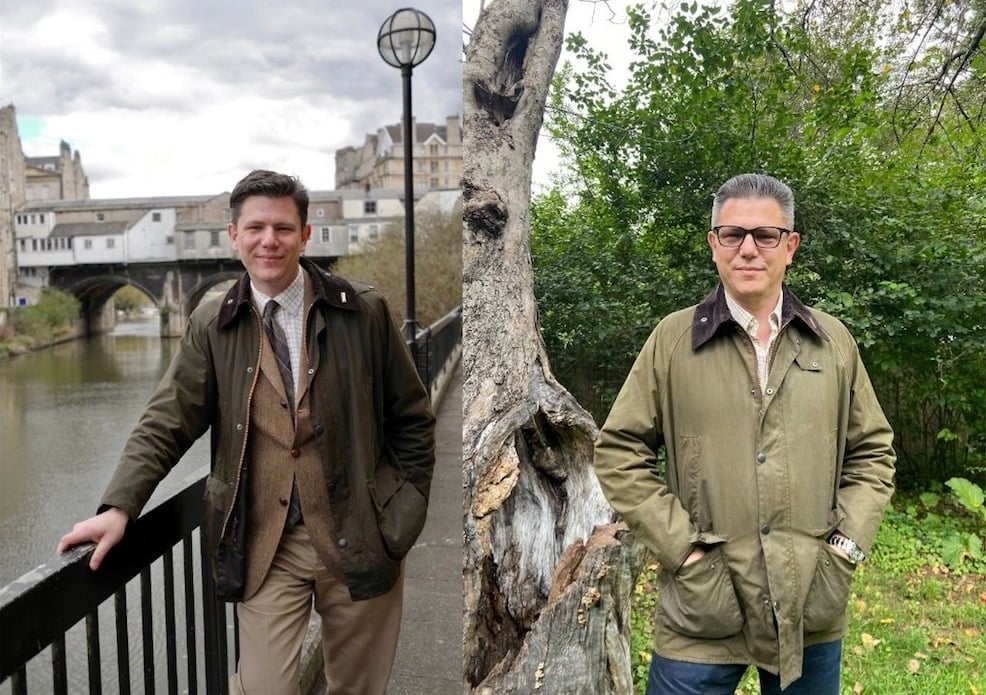 6. Best Barbour Waxed Jacket: The Bedale
6oz canvas
British institution
Bedale is the shorter and slimmer jacket; most versatile
"Sylkoil" shell has a more wet look than "Thornproof" option
Price: $398
There's no shortage of pictures of the Royal Family wearing their Barbour jackets on fox hunts so if you want a jacket with serious pedigree, Barbour is the brand for you.
With the longer cut, corduroy collar, and heavy zippers, it's a decidedly different look from the American fare we've covered thus far. It's not entirely clear if this jacket, or how much of it, is still made in England, but it's still made the same way it always has been, with hardy-but-lightweight 6 oz waxed canvas, corduroy accents for comfort, and a length that's shorter relative to the model it's often compared with, the Beaufort.
Your basic options from Barbour are the Bedale, the Beaufort, and the Ashby. I've got a video comparing them all below but the basic framework is that the Ashby is trimmer and shorter, coming off as more urban; the Beaufort is longer and has a game pocket; and the Bedale sits between the two: not too long and rural, not too short and urban.
With Barbour, you're given two different options for canvas: the wetter Sylkoil or the dry finish Thornproof. Sylkoil is more outdoorsy looking, Thornproof is more subtle. That's about all you need to know to make your decision.
In the spirit of compromising between urban and rural, we suggest a Thornproof Bedale for the most versatile Barbour jacket. It gives you the trademark British look without looking too much like you just wondered out of a grouse-infested Scottish moor.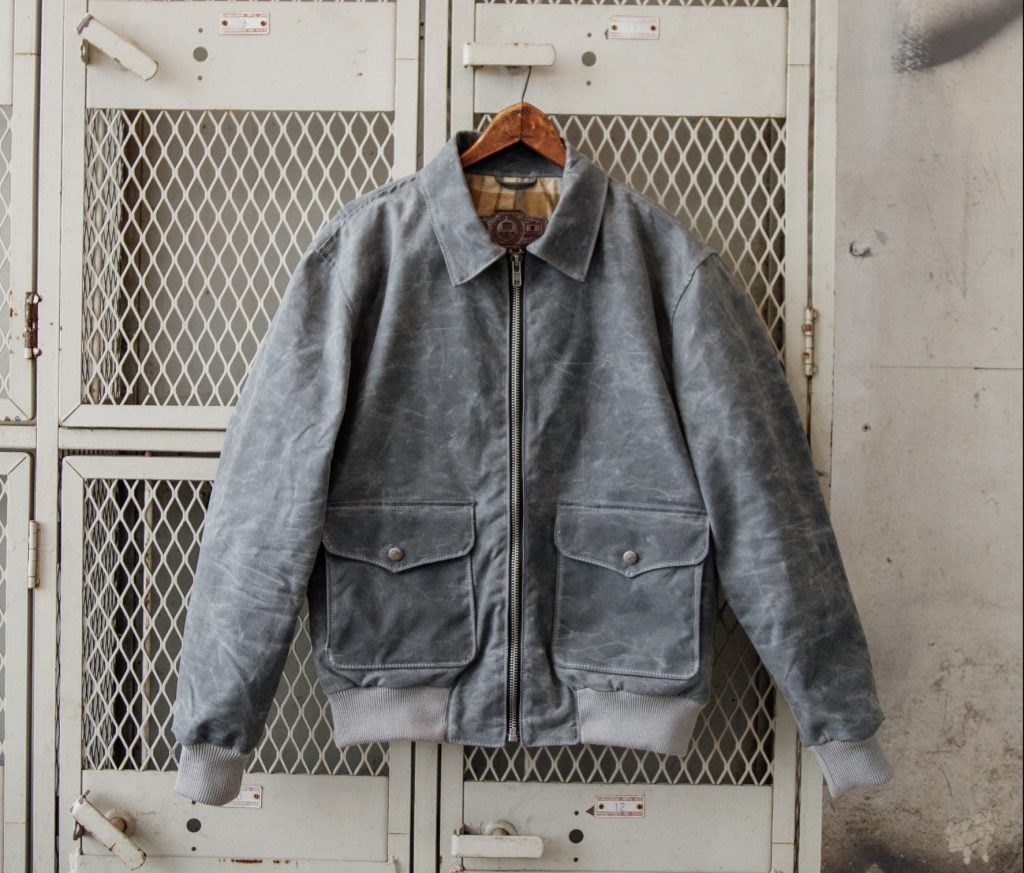 7. Best Waxed Bomber Jacket: Bradley Mountain's G-1
12 oz canvas
Flannel lined sleeves/pockets
Unique, more streetwear friendly look
Made in USA
Cost: $398
Next up another really interesting and brand new entry is Bradley Mountain, I've owned their backpack for many years and while they have quite a few waxed jacket offerings, what I'm most excited about is the G-1 Bomber.
This is unlike any other waxed jacket I've seen. Clearly reminiscent of WWII inspired leather bomber jackets, Bradley Mountain makes the waxed version in two canvas colors (and a leather one for good measure) and despite the vintage pattern, the G-1 instantly comes off as more urban and modern than the other entries on this list.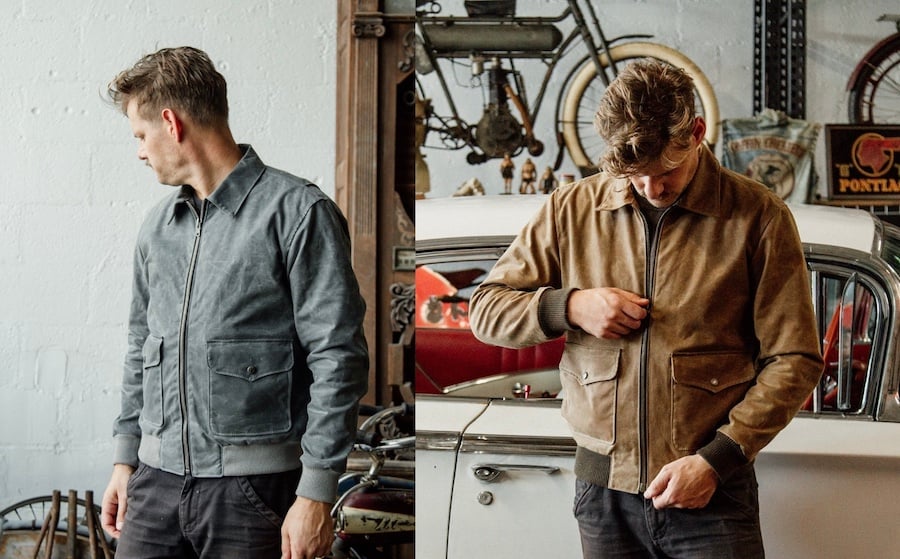 The canvas is thick at 12 ounces, the shoulders are gusseted for mobility, the sleeves and pockets are lined with flannel, and everything's made in America.
I thought the sizing would work like Filson and picked up a medium but it was too small, so get your usual size. Bradley Mountain's G-1 Bomber is a very cool entry in the space that does a great job of disrupting the sea of truckers and hunting jackets.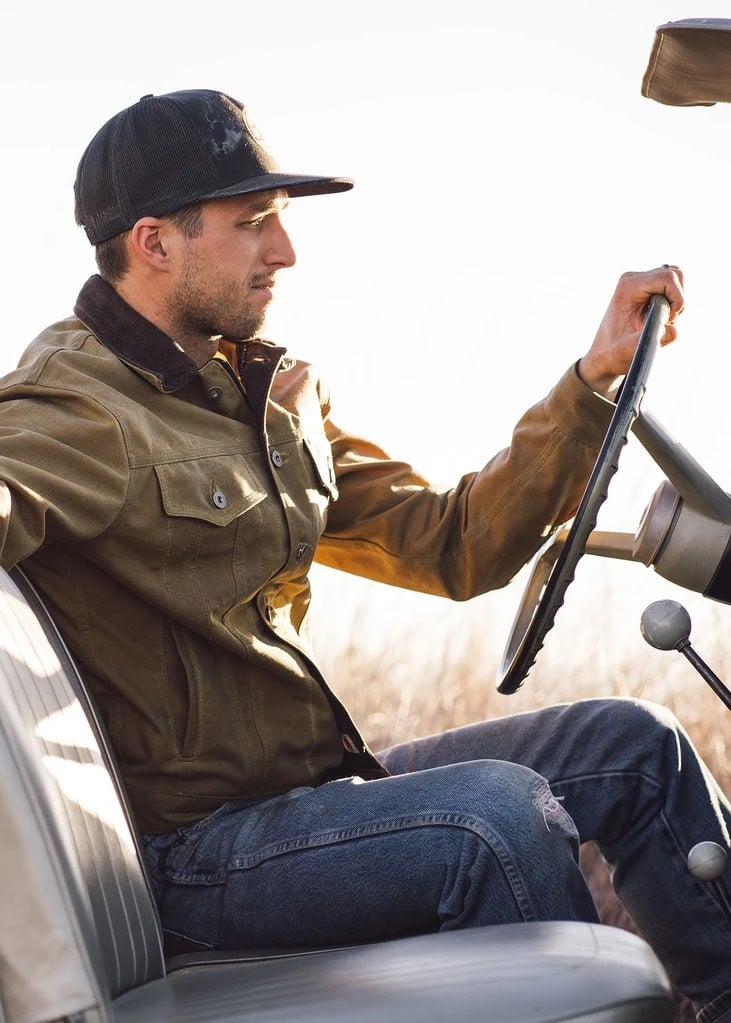 8. Runner Up Best Value Waxed Jacket: Iron and Resin's Rambler Jacket
Trucker style jacket
10.5 oz waxed canvas
Corduroy accents for comfort
Made in USA
Price: $275
A runner-up for the best waxed canvas jackets from a value standpoint is Iron and Resin, a brand that anyone reading this should check out. This motorcycle-inspired brand has a considerable collection of canvas jackets that will definitely have the style you're looking for. It's worth noting that some are made in the US and some aren't: the Cruiser is popular, but the Rambler is their most popular and this one's made in the United States, selling for $275.
You might see that price tag of $5 less than Thursday and consider this jacket to be the best value on the list, but keep in mind the Rambler is unlined. A lack of lining keeps the price down and makes for a less warm jacket, but paradoxically it's more stuffy feeling: waxed canvas has a wet feeling against the skin, with the layer of wax diminishing the breathability. Lined jackets feel nicer on the skin, but it's not a huge deal if the weather is chilly and you're not exerting yourself too much. (And if you really want an unlined one to save money or to wear in warmer weather, Flint and Tinder has one for $228.)
Anyway, Iron and Resin's Rambler jacket is still legit. The canvas is very thick at 10.5 ounces, there's a zipper under the buttons, it's a bit broader in the shoulders so has a slightly athletic look, and the corduroy collar feels nicer on the neck than most of the other options on this list, so the Rambler may tick your boxes.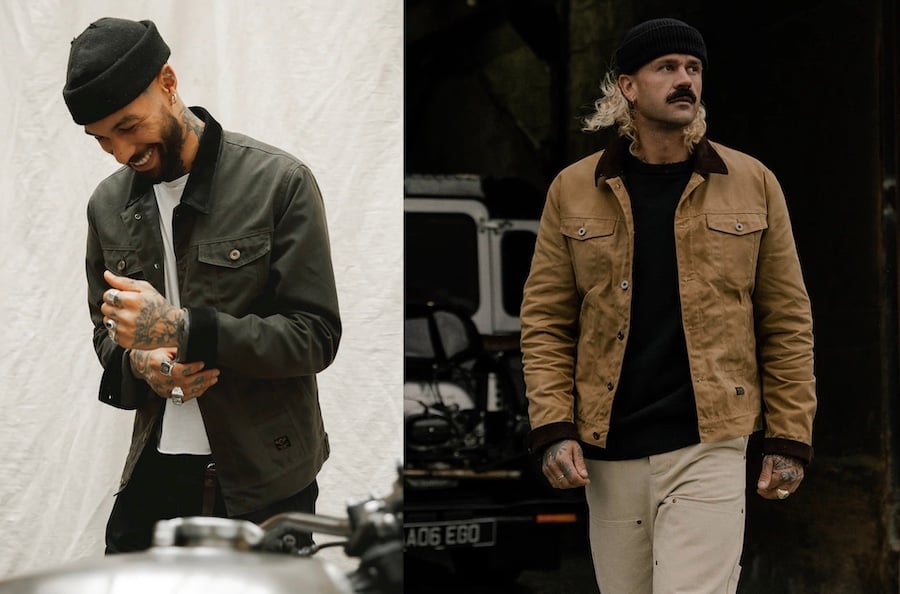 9. Cheapest Decent Waxed Jacket: P & Co's Wayfare
17 oz canvas
Polyester lined
Made in China
Price: $215
To be clear, I haven't handled this jacket, but I've got a few DMs from experienced viewers about this brand and it seemed it warranted inclusion.
This is probably the best value if you don't care where it's made. P & Co's Wayfare is made in China with 17 ounce waxed canvas, it's polyester lined, and costs just $215 right now.
They have some cool, sustainable touches, like their studio runs on renewable energy, there's no plastic in their packaging, and they do tell you the name of the factory in China that makes their stuff in Xiamen, which is more transparency than you usually get for made in China goods. Personally, they need to do a bit more to sell me on sustainability than just claiming their office headquarters (not their factory) uses renewable energy but in any case, the Wayfare is thick and cheap.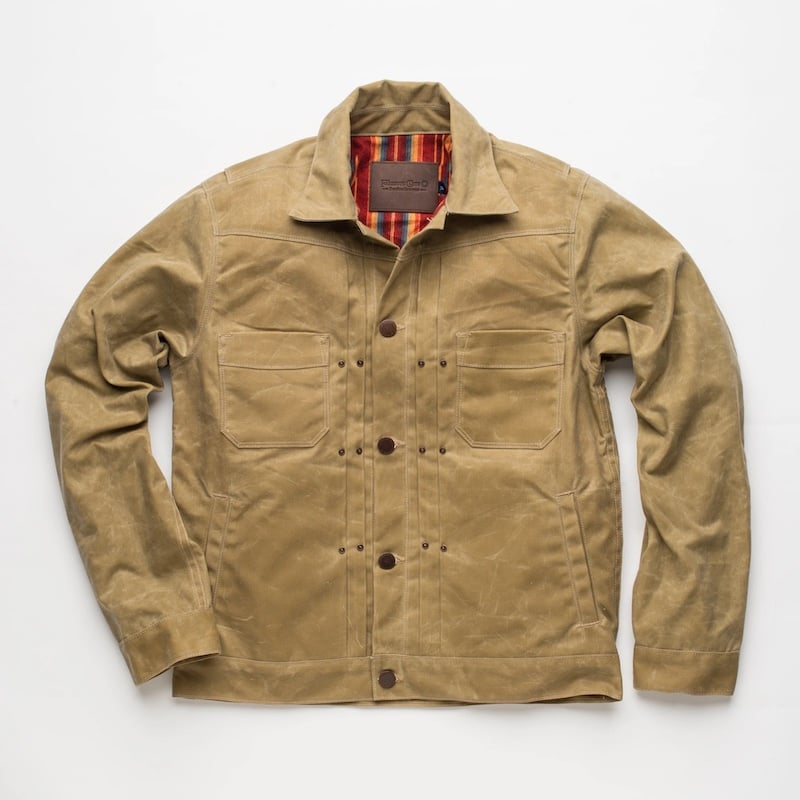 10. Also Consider: Freenote Cloth's Riders Jacket
10 oz canvas
Nice balance of classic ranch jacket design and a riding jacket
More forgiving fit than Rogue Territory, if a hair less versatile
Made in the USA
Price: $450
This is another terrific option if you're after the coolest waxed jacket on the market. The Rider jacket is crafted with a pleated design that's described as a combination of a classic ranch jacket and a riding jacket. This makes for a piece of outerwear that does a lovely job of being both distinct and not too ostentatious. It's unlike anything else on this list, but it's not loud at all.
Strictly going by aesthetics, I think it's more interesting to look at than other brands, especially because it has a cool southwestern print on the Japanese-made blanket lining.
Made with 10 oz Martexin waxed canvas that's sourced from the United States, the attention to detail is superb: the jacket and its metal trims are custom made in Kentucky and the leather patch even comes from SB Foot Tanning, the tannery owned by America's favorite boot company, Red Wing.
Another reason this is an excellent choice for anyone seeking the best men's waxed jacket: the fit is looser, making for a nice balance of a work jacket you can rake leaves in and wear to a bar afterward.
Honorable Mention: Ship John's Wills Jacket
24 oz twill
USA made
Available in Long sizes
Takes SEVERAL YEARS to arrive
Price: $598
To some, the best waxed jacket is synonymous with the thickest waxed jacket. The thickest waxed jacket I've gotten my hands on is the legendary Ship John Wills Jacket. This is the only entry on this list that's made from twill rather than canvas, though the practical differences are minimal: they're both extremely dense, tear resistant cotton, twill just has a more complex weave, so instead of canvas' slight cross hatch look, there are more prominent diagonal lines, or "wales." (Denim's a kind of twill, you'll notice the same pattern on your jeans.)
My buddy Troy has had his Wills jacket for over three 3 years and filmed the video review that we've embedded above. He's thoroughly obsessed with it and loves how it's aged.
Why isn't it in the top 10? Because it's so popular, and Ship John is so small, that you need to wait LITERAL YEARS for your jacket to arrive. We've seen waits as long as three years for this sucker. We can't, in good conscience, recommend a product that's so unfriendly to the consumer.
But hey, some guys like salivating for three years. Ship John opens up for sales only once every month or two (via an e-mail signup you'll need to get on) and they always shut down orders that same day — usually that same hour — because there are so many people clamoring to get their hands on this jacket.
We're not about to say whether it's worth all that time and money or not, but you can't walk about waxed jackets without mentioning the legendary Wills. It is a thoroughly bombproof super jacket.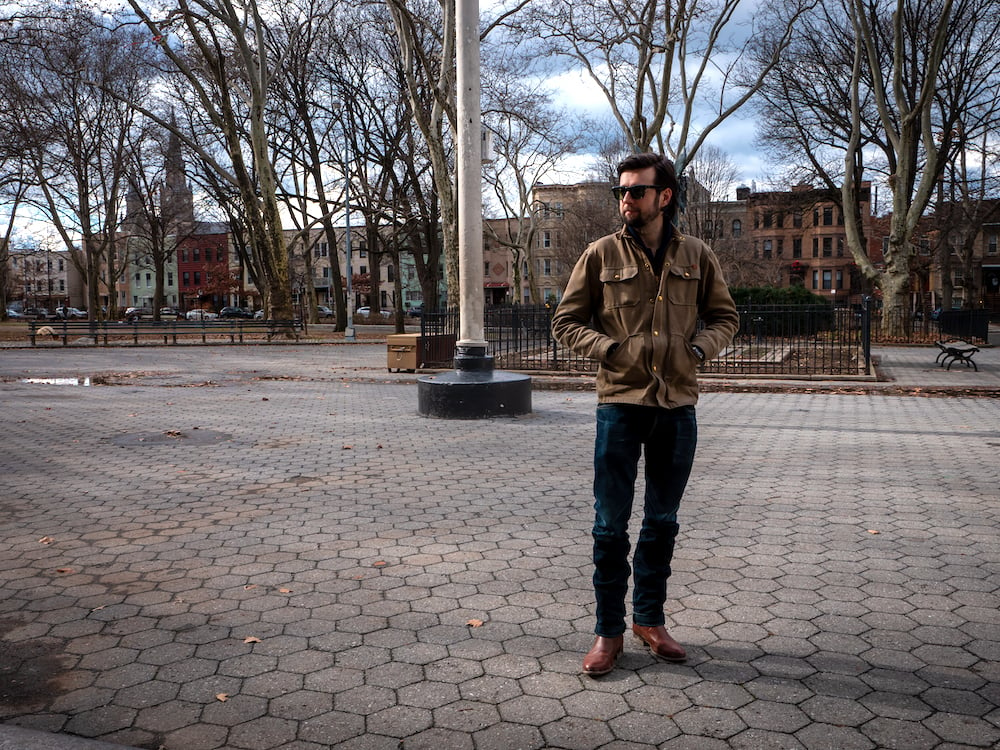 Wrapping Up The Best Waxed Jackets Of The Year
There you have it – the best men's waxed jackets currently on the market in 2023. I have zero doubt that you've found the best waxed jacket for you on this list. From thickest to dressiest to most functional and more, there's something for everyone here. Whichever item you go with, it'll last for years, look better as it ages, and look damn cool as it does. Let us know in the comments which one you went with.