Waxed canvas jackets are tough as nails, last forever, and look great — I'd go as far to say that they rival leather jackets as the most rugged, stylish, and masculine item of clothing a guy can wear.
They might not be quite as versatile as leather jackets, but canvas jackets pair perfectly with denim and elevate any casual outfit to 'casual-and-well-put-together.' I've tried a ton of them and found that waxed jackets tend to fall into two categories: super rugged, functional, outdoorsy ones and more fashionable ones that take their style cues more from denim jackets and chore coats than jackets for hunting and hiking.
In this article, we'll land on this list of the best of the best waxed canvas jackets: the best overall, the coolest, the best value, and the toughest, with a couple of runners up and honorable mentions along the way.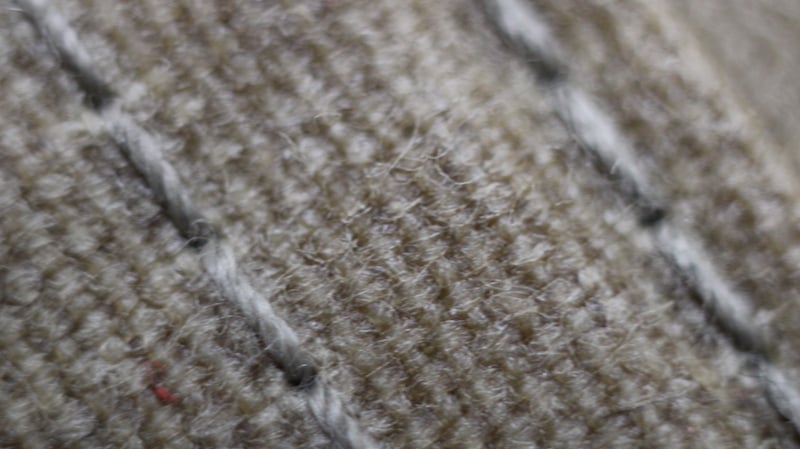 Why Waxed Canvas Jackets?
I'll give you four reasons:
1. It's Tough as Nails
Canvas is very densely woven cotton that is extremely durable and resistant to tears and abrasion. Designed for withstanding old timey bushwhacking, you don't need to worry about twigs or thorns slicing it open — something that actually did happen to a leather jacket of mine in the past. Leather can get cut open a lot more easily than canvas, a fact that could build a hypothetical case that it's a better jacket material than leather.
2. It's Water Resistant
Legend has it that adding wax to canvas is a practice that came about when seamen realized their sails caught more wind when they were wet. To mimic the effect they coated them in wax, which resulted in the canvas blocking both wind and rain. Eventually, mariners applied this strategy to their coats and the practice spread to the tents and jackets of outdoorsmen.
3. They Look Cool as Hell
Three, waxed canvas looks really cool. We're all guys here — we can admit that coolness is an important factor in buying a jacket. What's more is that, like jeans and leather boots, waxed canvas acquires a lovely patina as it ages, meaning it gets cooler looking as it gets older and more beat up. The cotton softens, the wax gives it a lot of depth of color, you'll get honeycomb-like creases around flex points, the color undulates throughout — it's great.
4. It's Cheaper Than Leather
I don't want to spend a ton of energy comparing canvas and leather jackets here, but canvas is masculine as all hell and you won't tear your jacket on thorns and nails like you can with leather — and it's way cheaper, too. It's a solid alternative if you want a badass heritage jacket but can't afford the price tag of leather.
Anyway, let's get to the picks!
[Related: The Best Waxed Canvas Backpacks]
The Best Waxed Canvas Jackets
The first pick on this list is the jacket that combines those two categories the best. In my opinion, it'll appeal to the widest range of dudes.
American made
Functional
Nice balance of outdoorsy and stylish
Made with 8-ounce or 6-ounce canvas
The best jacket on this list, is the Tensaw Jacket from Tom Beckbe. Maybe I'd call it the best designed jacket.
Why? As mentioned in the introduction, waxed jackets are typically either stylish and modern or functional and outdoorsy — the Tensaw Jacket merges both of these worlds to make a beautiful fusion. This is a jacket that looks great in the field and out on the town.
Tom Beckbe is a heritage inspired hunting apparel company and I'm the first to admit that some of their stuff is a little too 'southern dad' for a lot of guys, but their flagship jacket has become a veritable phenomenon for good reason.
The Look
First and foremost, this is a hunting jacket. It's practical, full of pockets, and comes in enough sizes and lengths that you can easily find one that's roomy enough to allow complete mobility when out in the field.
But while it's far from the world's dressiest jacket or even the dressiest waxed jacket, it looks more at home when worn out on the town than some of its British contemporaries, like Barbour and Belstaff. Tom Beckbe did a wonderful job crafting a jacket that can go from the field to a restaurant — maybe not fine dining a lord's manor, but it would certainly fit in a at a nice steak house. It looks a lot cooler and more subtle than most functional outdoor apparel but it remains a timeless, rugged look. The Tensaw is a bombproof jacket that can actually hold its own both in the forest and here in Manhattan.
[Read the full Tom Beckbe Tensaw Jacket review]
The Fit
The fit and build are a blend of traditional, functional elements and some more modern style inspired choices. It has set-in sleeves that provide the more professional look you find in British shooting jackets — essentially, the shoulder area extends down sleeve — and while this can restrict range of motion they used gusseted underarms and a bi-swing back to allow more mobility. The contrast between the two is why you get that nice, professional vibe and it contrasts beautifully with the functional vibe.
If you buy your usual size, you'll get a jacket with a relaxed fit that allows for a lot of mobility and a variety of body types. If you prefer a more modern or slim look, I recommend sizing down and ordering the "tall" version. (That's what I did: I got a Medium Tall instead of a Large.)
Price
It costs $495, and it comes in 3 colors.
[SHOP THE TOM BECKBE TENSAW JACKET HERE!]
Slim, modern fit
Minimalist design
Dresses up very easily (for a waxed jacket)
10 oz canvas
Made in America
F*cking James Bond wears it
As I said earlier, there are two categories of waxed jacket: the functional ones and the stylish modern ones. This is far and away the best stylish and modern waxed jacket, plus it's much easier to dress up and wear around the city than the Tensaw jacket.
Oh, and did I mention James Bond wears it in No Time to Die?
If you're in the market for a waxed jacket one that leans in to minimalist coolness, it's the supply jacket. James Bond wearing something is the best seal of approval of coolness that anyone could want, but even before No Time to Die made it explode in popularity, the Supply Jackets was already a massively influential entry in heritage fashion. James Bond could have worn a British waxed jacket, but he didn't. He wore American.

The Look
It's very simple: two hand warmer pockets, one slim, exterior welt pocket on the chest and one interior one that mirrors it on the left side. It's hard to pack much into these pockets but sleek is the name of the game, here: it's unlined, slim, and almost shacket-like. With nickel buttons and a classic collar, you can wear this over a casual button down or any old t-shirt with ease, plus it actually comes in a ton of different fabrics if you're interested in trying a version made with denim or shashiko.
The only real potential downside, besides how slim it is, is the unusual extra button hole between the second and third buttons. It's meant to be reminiscent of when men had an extra slit for their pocket watch and it's become a core part of the brand's identity, but most people will think you've missed a button.
Fit
This is the biggest potential issue with the jacket: it's very slim. The fit can be very flattering, especially given the fact that most American waxed jackets are relatively boxy and cut for greater mobility, but guys with more square frames may have a problem. To be honest, the jacket works best on slim guys, after that it's better on huskier guys (provided they have big arms as well), and I think athletic guys are at the biggest disadvantage: it doesn't accommodate v-shaped torsos very well.
My advice? Accept the possibility that you might not button it up when you buy it. Leather jackets always look better unbuttoned and take that approach with this jacket as well: if it looks good buttoned up it's a bonus, if it doesn't then tell yourself you weren't planning to wear it like that anyway.
Price
This costs $295, and you can get a wool-lined version for a hundred bucks more. This is actually pretty decent value: for an American made waxed jacket, it's very rare to find one under $300.
[SHOP THE ROGUE TERRITORY SUPPLY JACKET HERE!]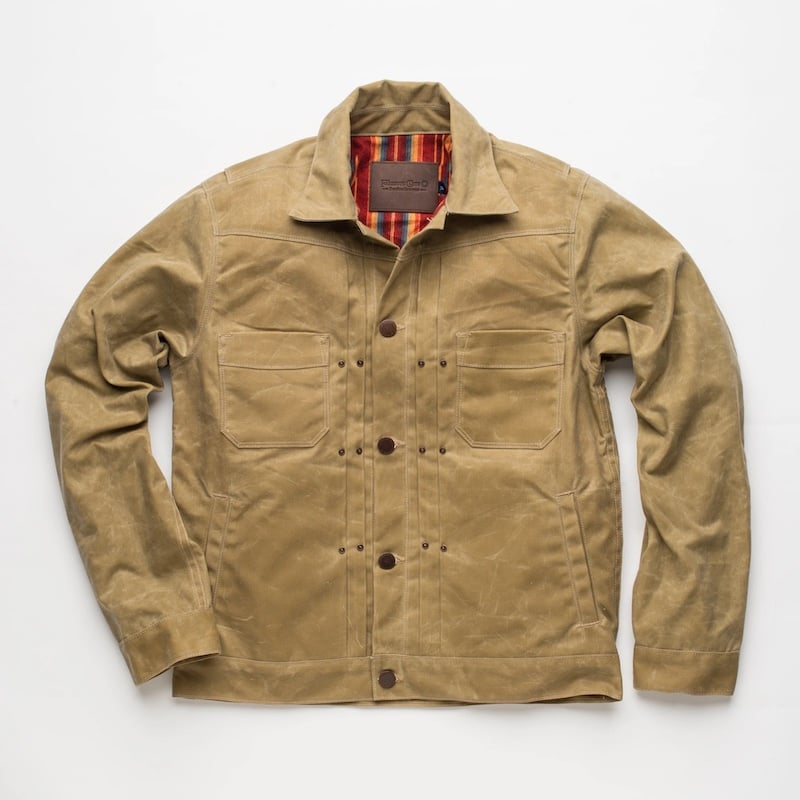 Made in the USA
10 oz canvas
Nice balance of classic ranch jacket design and a riding jacket
Close attention to detail
More forgiving fit than Rogue Territory, if a hair less versatile
Available in some five colors, this is another terrific option is you're after the coolest waxed jacket on the market. (I'd also nominate Bradley Mountain and Red Clouds Collective as serious contenders.) The Rider jacket is crafted with a pleated design that's a little reminiscent of trucker jackets, described as a combination of a classic ranch jacket and a riding jacket. I think it's more interesting to look at than the other two brands I just mentioned, especially because it has a cool southwestern print on the Japanese-made blanket lining.
Made with 10 oz Martexin waxed canvas that's sourced from the United States, the attention to detail is superb — the jacket and its metal trims are custom made in Kentucky and the leather patch even comes from SB Foot Tanning, the tannery owned by America's favorite boot company, Red Wing.
Another reason this might be a better bet than Rogue Territory: the fit is looser, making for a nice balance of a work jacket you can rake leaves in and a jacket for wearing out.
Price
It costs $400 right now, about the same as Rogue Territory's own lined jacket. This is about par for the course for a lined waxed jacket made in the US.
4. Best Value: Flint and Tinder – Lined Trucker Jacket ($268)
Type 1 trucker jacket style
Flannel lined for comfort and warmth
7 oz canvas
Available in 9 colors
Made in USA
The best value waxed jacket is from Flint and Tinder, and it's probably no coincidence that it's one of the most popular waxed jackets on the scene — it has well over a thousand reviews on Huckberry and is Flint and Tinder's flagship model. (Rivaled only by their 10-Year Hoodie.) You may have baulked at the cost of the jackets so far, but I'm telling you: if you want a waxed canvas jacket that is made in the USA — the canvas is even from New Jersey — it's pretty damn hard to get it for under $300. Rogue Territory's is $295, but it's unlined: Flint and Tinder's is lined with toasty warm flannel and it's under $270.
Look
It's similar to a Type 1 Levi's jacket, a trucker jacket that the brand used to be well known for, and the Flint and Tinder jacket ticks many of the same stylistic boxes: dual hand pockets, a chest pocket with button flap closure, and adjustable waist buttons,.It also comes with a snazzy media pocket that is the perfect size for a smart phone.
It's a classic fit, as opposed to an athletic, modern, v-shaped fit. This means it's relatively straight-up-and-down and short at the torso, like classic denim jackets. Note that it's also available in a wool lined version for colder months.
Price
My recommendation is the flannel lined version of the trucker jacket, which is $268, or about 25 bucks less than the next cheapest I found — Rogue Territory's unlined jacket. Again, a lined waxed jacket made in the US usually puts you in the ballpark of $400. Note that Huckberry (who owns Flint and Tinder) also has pretty regular sales, so keep an eye out for deals.
[SHOP THE FLINT AND TINDER LINED TRUCKER JACKET HERE!]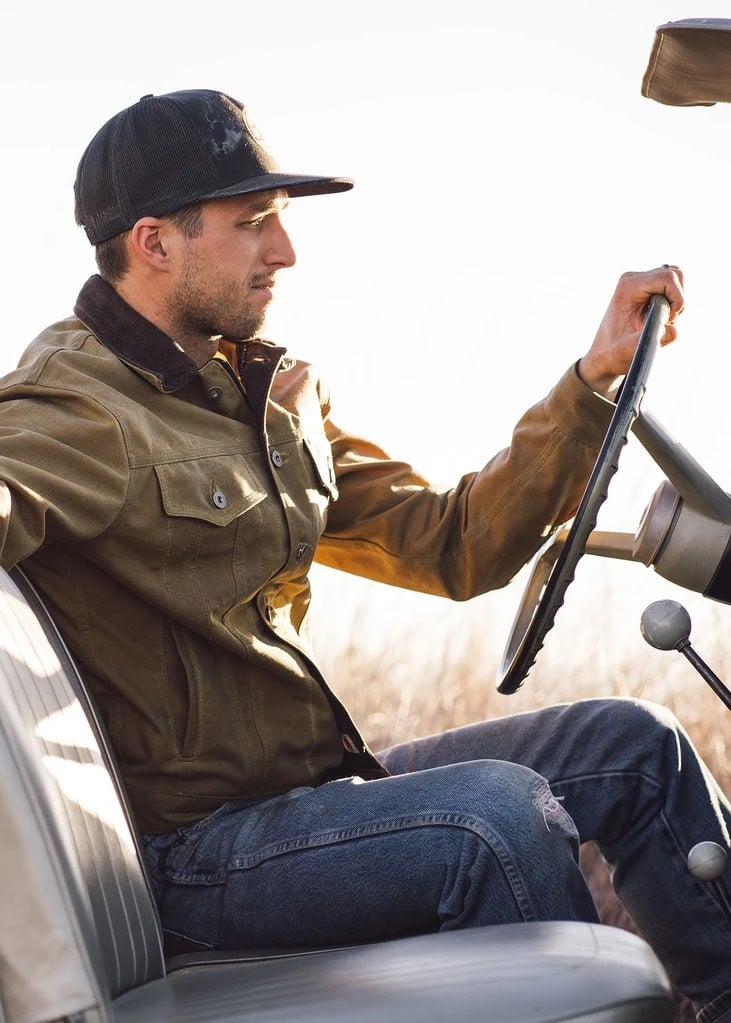 5. Best Value Runner Up: Iron and Resin – Rambler Jacket ($275)
Trucker style jacket
12 oz waxed canvas
Corduroy accents for comfort
A runner-up for the best value is Iron and Resin, a brand that anyone reading this should check out. This motorcycle-inspired brand has a considerable collection of canvas jackets that will definitely have the style you're looking for, though it's worth noting that some are made in the US and some aren't — but if country of origin isn't a matter of concern for you they've got some great deals, like this (currently-sold-out-but-maybe-it'll-return-or-something-like-it) $190 Mechanic Jacket.
Iron and Resin is a motorbike focused brand, but their canvas jackets are pretty everyman. Their first model ever produced is the Rambler jacket, which differs from some of the other entries on this list with its corduroy accents. This makes for a slightly less minimalist look, but it definitely brings greater comfort to your neck and wrists. It's also a bit broader in the shoulders and fits athletic guys pretty well.
Price
It's 275 dollars, so practically the same price as Flint and Tinder. Again, I'd encourage you to click around their site: their slightly pricier Mojave Jacket, for example, is stunning.
[SHOP IRON AND RESIN'S RAMBLER JACKET HERE!]
6. The Cheapest Decent Waxed Jacket: Taylor Stitch – Long Haul Trucker Jacket ($188)
10 oz organic cotton
Collar and cuffs made from organic corduroy
Front welt hand warmer pockets, two interior pockets
Made in China
There are cheaper options than Flint and Tinder, if you don't mind that it's not made in the USA. Many folks consider waxed jackets to be something of a symbol of rugged, hardworking Americana, so they tend to like them American made, but if you'd rather save some cash and get something cool… check out Taylor Stitch's flagship jacket, the Long Haul.
If you gravitate toward this sort of heritage or classic Americana type clothing, but you don't love the boxy workwear fits that it tends to come in, Taylor Stitch is the place to shop. They use the same fabrics and design elements but with more modern fits — high arm holes, longer fits — plus they're cheaper than their heritage contemporaries because they're mostly made in China. The canvas, though, was developed by Halley Stevensons in Scotland.
The Long Haul is the brand's most iconic midweight jacket and it comes in several versions with different fabrics, including selvedge denim, wool, and more. For the time being it's also in waxed canvas and it's worth emphasizing that it's made with organic cotton. If this sounds like a meaningless frill to you, it isn't: organic cotton produces half as much carbon dioxide, 70 percent less water, and 100 percent fewer pesticides than regular cotton to it's actually a cool, environmentally friendly touch.
Price
It's $188 right now, far and away the cheapest waxed jacket I've seen after the apparently-discontinued Mechanic Jacket from Iron and Resin. It's a really good deal for a jacket of this quality.
[SHOP THE TAYLOR STITCH LONG HAUL JACKET HERE!]
7. Thickest Waxed Jacket: Ship John – Wills Jacket ($498)
USA made
24 oz twill
Very hard to order
Decidedly pricy
The thickest waxed jacket I've gotten my hands on is the legendary Ship John Wills Jacket. This is the only entry on this list that's made from twill rather than canvas, though the practical differences are minimal: they're both extremely dense, tear resistant cotton, twill just has a more diagonal pattern on it (like your favorite jeans — denim is a kind of twill) because of it's more complex weave.
My buddy Troy has had his Wills jacket for over three 3 years and filmed the video review that we've embedded above. He's thoroughly obsessed with it and loves how it's aged.
There are two hurdles with this jacket: the price and how hard it is to order. Ship John opens up for sales only once every month or two, and they always shut down orders that same day — usually that same hour — because there are so many people clamoring to get their hands on this jacket. But if you're patient, it is a thoroughly bombproof super jacket you'll fall in love with.
Roomier than The Ridgeline, twill this thick takes some time to break-in and soften up — it can usually stand up on its own when it's fresh out of the box. But the headline is that despite its 25 oz weight, the Wills isn't restrictive to wear due to the brilliant pattern used and little design touches like the gusset-esque pleats on the back panel.
Price
The downside is that at about $495 it's the priciest on this list, though it's worth remembering that it's more than twice as thick as any other entry on this list but not twice as expensive. So, maybe it's good value? Plus this is not a big company; Ship John is a small, independent operation and you can rest assured that the extra dollars you're paying are going to the right place.
[SHOP THE SHIP JOHN WILLS JACKET HERE!]
Bonus: The Thickest Jacket I Own: Tanuki – Yoroi Jacket ($365)
25 oz unwaxed canvas
Oversized fit
Unlined
Softened with enzyme wash
Made in Japan
I thought 7 would be a good number to end on, but I want to do an honorable mention of the Tanuki Yoroi jacket. It's canvas, but it's unwaxed, so doesn't perfectly fit into the title, but it's insanely thick: 25 ounces per square yard, thicker even than the Ship John jacket, especially given the fact that it's unwaxed. (The weights of these other jackets includes the wax; Ship John is 18 ounces unwaxed.)
Usually, canvas this thick is too rough to wear, but Tanuki washes it with biodegradable enzymes so that it's softened up when you get it.
I recently wore this jacket all over Guatemala and felt indestructible in it. Mine is blue because I wanted a blue jacket that I could wear with jeans and I don't love denim on denim, but the Yoroi (meaning "armor" in Japanese, appropriately enough) is also available in Olive and I have a feeling it'll be out in tan as well, given Tanuki makes pants out of this same fabric and one of the models is tan.
View this post on Instagram
Wrapping Up
I have zero doubt that you've found the ideal waxed jacket for you on this list. From thickest to dressiest to most functional and more, there's something for everyone here. Whichever item you go with, it'll last for years, look better as it ages, and look damn cool as it does. Let us know in the comments which one you went with.
The following two tabs change content below.
By day: Manhattan-based journalist with reporting experience on four continents, published in Vice, Men's Health, Popular Science, and a bunch of other places.By night: ravenous consumer of anything and everything related to high end men's boots.Stridewise is where I nurture a maniacal obsession with footwear and share my findings. Say hey:
[email protected]