This post may contain
affiliate links
that at no additional cost to you, I may earn a small commission from.
I don't want to alarm you, but a lot of hoodies are crap.
It's the same as t-shirts or jeans: when an item of clothing becomes so overwhelmingly popular, every company wants to make their own version of it and you wind up with countless shoddy imitators.
Thin material.
Way too much polyester.
Stress points that tear.
Sloppy fits.
A year ago, I started buying up hoodie after hoodie in an effort to make the definitive list of the best on the market. I can say without a shadow of a doubt that I've landed on the five best hoodies: the top two are the best, warmest, and most durable overall, then I've got the best for under $60, the best for working out, and the most ethically made.
Pros
Completely made in the USA
100% combed ringspun cotton, ages well
Reinforced elbow pads
Thick, durable
Slim, athletic silhouette
Cons
Quite pricey
Warranty is only for manufacturing defects
American Giant famously sold out of this product for over a year after Slate called it "the greatest hoodie ever made," and while it's easy to roll your eyes at marketing hyperbole, this hoodie really is worth the hype.
Its big selling point is that it's totally made in the United States: the fabric and thread are dyed in South Carolina and it's cut, sewn, and finished in North Carolina.
But whether or not made in the US matters to you, this burly, beefy hoodie is spectacularly well made, which might not come as a surprise once you learn that the company actually hired a former industrial designer from Apple to design it.
Material
The thick, 13-oz-per-square-yard material is 100% combed ringspun cotton with a nice textured, rugged exterior.
Just about everything else on the market is made with a cotton-polyester blend, and because American Giant is all cotton it's less likely to become brittle and tattered with washing and drying, it's more abrasion resistant, and it looks better as it ages. As a side note, it's a lot harder to make a hoodie that's fuzzy on the inside when it's 100% cotton, so the company puts it through a machine that picks individual loops of thread out of the fabric instead. It isn't cheap, but it's better.
Details
All this is topped off with nice, metal-tipped drawstrings, brass zippers, a double-lined hood, reinforced elbow pads — a boon for those of us who slouch and get a lot of wear on their forearms — and a stretchy rib side panel for extra mobility.
There's also double needle straddle-stitching with high-strength thread, which is always the same color as the hoodie you buy. It's a small detail, but it's one of many that reinforce the fact that this is not your average hoodie.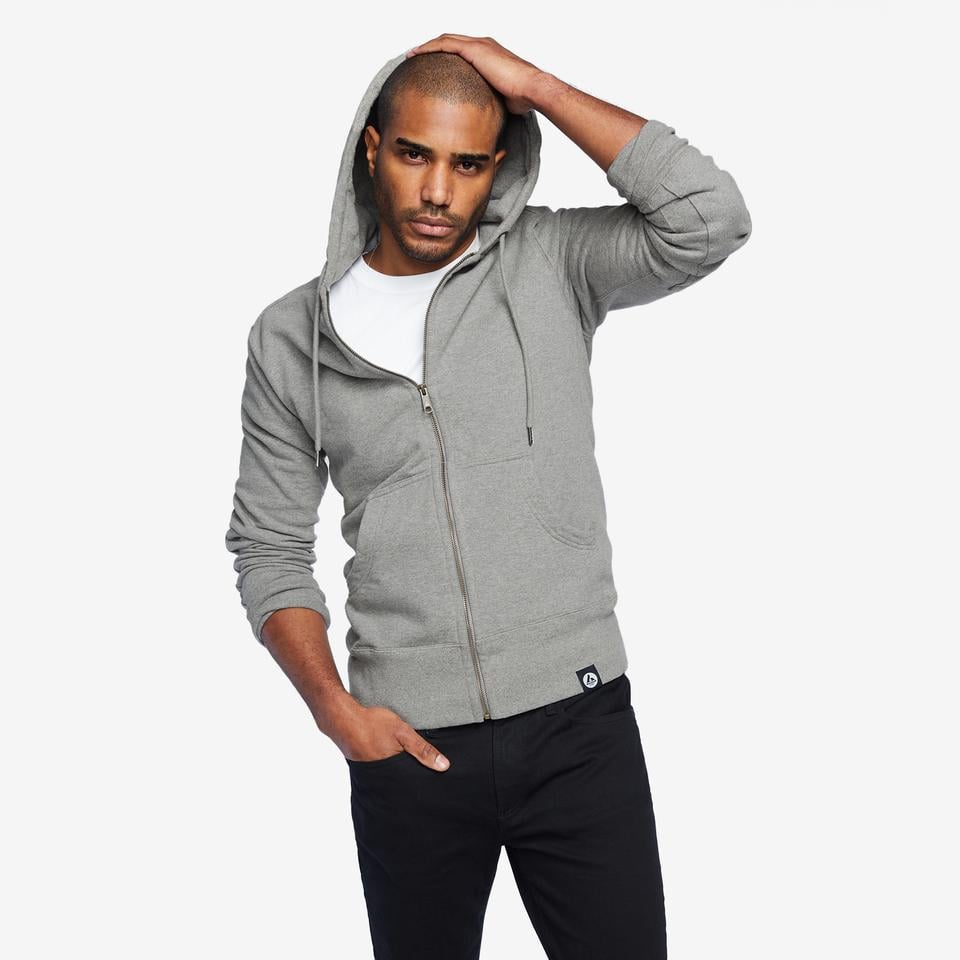 Fit
This is a modern, athletic fit: broader around the chest and shoulders, slimmer around the waist, less baggy around the arm holes and a little long in the torso. (This way you don't flash your belly button when reaching overhead.) Men's clothes are usually either slim or a boxier "classic" cut or they're cut closer to the body. Your preference will depend on your body type and overall style (read: how baggy your pants are) but I find this slimming and flattering.
Price
$138. Yes, you can buy four Old Navy hoodies for that price, but every one of them will fall apart before an American Giant hoodie will. It has a real heft and durability to it and it just gets better with washes.
There is a warranty, but it's the main downside besides the price: it only covers manufacturing defects, not normal wear and tear.
World's Best Hoodie?
American Giant's Classic Full Zip Hoodie
The world famous hoodie that sold out for over a year when it was first launched — that's how much the public adores this heavyweight, all-cotton, all-American-made classic.
Check Best Price
We earn a commission if you make a purchase, at no additional cost to you.
Want a really good warranty? Check out…
2. Runner Up: Flint and Tinder 10-Year Hoodie
Pros
Made in the US
Has an inner pocket
10-year warranty for any kind of damage
Cons
Not 100% cotton
Wrist cuffs aren't very elastic
More boxy fit
[Buy the Flint and Tinder 10-Year Hoodie here!]
Material
This company was actually started on Kickstarter, where they became the most successful crowdfunded fashion item of all time.
Like American Giant, this is also made in the United States from American materials. The cotton is from the Mississippi Delta and it's cut, sewn, and finished in Los Angeles. The material is 23 ounces per square yard, but while it's worth noting that this is 30 percent polyester — so it might not age quite as well as the top pick — it's softer and a little thinner, so it's easier to layer under your jacket.
Details
Metal-tipped drawstrings with the F&T logo on 'em, heavy duty grommets with brass zippers, and the hoodie is double lined for warmth.
Fit
While the top pick is a modern, athletic fit, Flint and Tinder went with more of a loose, classic fit. It's not baggy, but the fit is more straight up and down: a little looser at the waist, less tapered, and more relaxed.
I'll note I didn't love the wristcuffs, which aren't as elastic and edge over my wrists a little.
Price
Its list price is $118 — sometimes it's marked down.
You might consider this better value than American Giant, though, because this has a 10-year warranty against any damage. Did you fall into a ravine and tear up the sleeves? Set yourself on fire? Trip into a volcano? If you survived and you want a replacement hoodie, Flint and Tinder will send you one free of charge.
[Buy the Flint and Tinder 10-Year Hoodie here!]
3. Best Hoodie for Under $60: Champion LIFE Reverse Weave Hoodie
Pros
Inexpensive
Two-ply hood
About 80% cotton, 20% polyester
Nice and thick
Cons
Very relaxed fit
Not made in America
Long wristcuffs
[Buy the Champion Reverse Weave Hoodie here!]
Material
Lest you think of me as an elitist bastard who only spends over $100 on hoodies, this is the best for under $60.
Made in Honduras with a blend of 80 percent cotton and 20 percent polyester — the ratio varies depending on the color, but it actually has more cotton than Flint and Tinder — this is a nice, thick hoodie with 12 ounces of material per square yard, and the hood is double lined for extra warmth.
Details
This is a pullover hoodie and there's not a lot of sophistication to the drawstrings or grommets, but there are stretch ribbed side panels for ease of movement and there's plenty of spandex in the trims, cuffs, and hem. The wristcuffs aren't loosening any time soon. Importantly, it's double stitched at stress points (eg. the shoulder), which is very rare for this price point.
A possible downside is the Champion logo on the arm, and some versions of this hoodie also have one on the chest. I prefer no logos on my clothes, but hey, that's just me.
Fit
Baggy. It's a baggy ol' hoodie. I picked up a large (my normal size) and perhaps I could have gone with a medium, but whatever size you go with this will never be a slim fit: it's boxy and the arm holes are huge with plenty of extra material. That's no big deal; it's just a hoodie for lounging or perhaps exercising in, not for looking modern and fashionable. For most people, loungeyness is what they want from a hoodie.
Price
$60 at most, and I've seen them drop as low as $36 on Amazon.
[Buy the Champion Reverse Weave Hoodie here!]
4. Best Hoodie for Working Out: Myles Everyday Hoodie
Pros
96% cotton, 4% spandex
Made with French terry
Wicks moisture
Water repellant storm cotton
Little pocket for keys/credit card
Cons
Attracts lint pretty easily
Not everyone loves the reflective tab
Waist is a little wide
Material
Now, a lot of water resistant hoodies out there feel like they've been sprayed with some kind of weird chemical that makes the material kind of… crinkly… but Myles has a better solution to drizzly runs.
This is 96 percent cotton and 4 percent spandex, so it's a really good blend for athletic endeavors, and it's from French terry, so it's soft as hell and it's great at wicking moisture.
It's not any old French terry/spandex, though. This has a storm cotton finish, which makes it water repellent without sacrificing comfort or breathability: it allows water vapor to pass from the skin out into the environment, so you can keep cool and dry underneath it, while keeping rain from passing from the outside to your skin.
Should you wear it in a torrential downpour? No, it's not that amazing. But if it's raining a little and you still want to go for a run, it works. And even if it's not raining, again, it's breathable and stretchy in the right places.
Details
The main "detail" would be the storm cotton finish, but the hoodie also comes with stretch ribbed side panels for extra mobility during training, there's a reflective tab at the base of the neck to give you some more visibility when you're running in low light, and there's a hidden pocket in the hand warmers to keep your key and credit card.
Fit
If you watched the video above, you might have thought that I could have gone a size larger, but I'm personally a fan of tighter fits on workout clothes. That said, this isn't quite as athletic as one might anticipate: it's a pretty classic, straight fit from shoulders to waist. The main complaint I hear about the hoodie is that it doesn't taper a lot at the waist, leading some to feel it looks a tad boxier than it should for modern workout apparel.
But you might think of it as a more democratic fit: more friendly on more body types, and maybe better at encouraging the unfit to get to the gym.
Price
$98.
[Buy the Myles Everyday Hoodie here — this light blue color isn't available anymore!]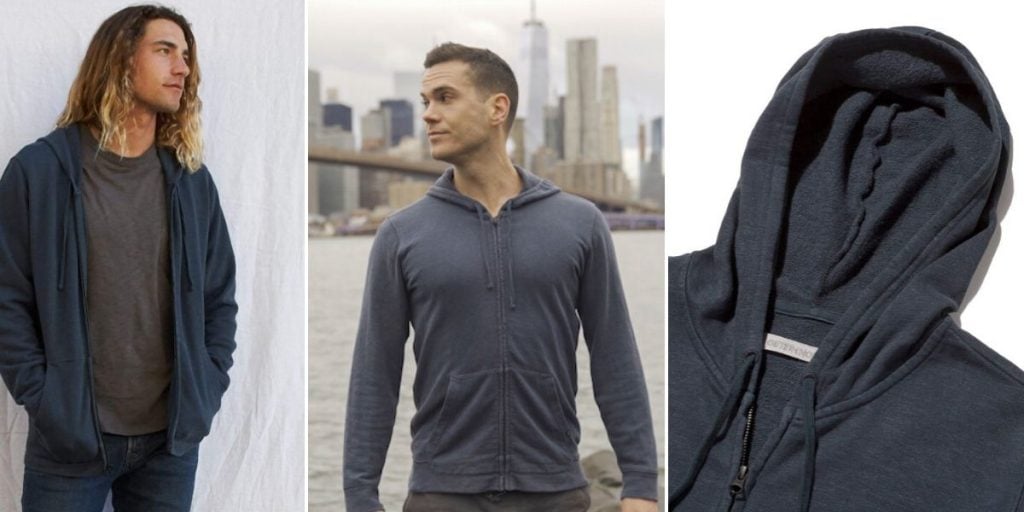 5. Most Ethically Made Hoodie: The Outerknown Sur Hoodie
Pros
Made with hemp and organic cotton
Made in Fair Labor Association- and Bluesign-certified factories
Materials require far less water and pesticides to grow than conventional
Cons
Made in China
Not the warmest hoodie
Looks a little worn in even when new
The most eco friendly, most sustainable hoodie comes from Outerknown, the decidedly granola surfer bro apparel company founded by Kelly Slater, widely considered the greatest professional surfer of all time.
Material
So over 90 percent of Outerknown's products are made from organic, recycled, or regenerated materials. Their board shorts are made with recycled fishing nets, for example.
For this hoodie, the material is an almost even split of organic cotton and hemp. Conventional cotton accounts for over 25 percent of the world's pesticide use but Outerknown uses organic cotton, which requires 90 percent less water to grow. Fifty-five percent of it is hemp, which also requires very little water and no pesticides to grow.
Now, it is made in China, which you might not find that great for your carbon footprint. But Outerknown only works with factories that follow Fair Labor Association and Bluesign standards, so they really do put a lot of work into making this an ethical product.
Details
There's not a lot to talk about, here — it's a product and a brand that really leans into simplicity. Besides the kangaroo pockets (which, I should note, aren't amazing at holding your phone), the only really interesting thing here is that the inside is designed to be fluffy like a towel. That's evocative of the surfer image, again.
Fit
It's not a form fitting hoodie and it looks a little worn in when you first get it, which isn't surprising given the way the brand carries itself. This is a chill, surfer dudebro type of company. It's a relaxed, beachy, dad-on-the-porch type of fit.
Price
$128.
[Buy the Outerknown Sur Hoodie here]
Wrapping Up
I am supremely confident in this list of the best hoodies on the market. American Giant is the warmest and the most durable, Flint and Tinder has the best warranty and a softer feel, Champion is a terrific money saver, Myles is as good for pull ups as it is for snuggling on the couch, and Outerknown has the ethical angle down pat. Let me know what you think of these products below, and sound off with your own favorites!