Satchel & Page is a direct to consumer brand that focuses on really, really good leather. It's not that design isn't a priority for them, rather the products are purposefully simple in order to draw attention to the quality of the leather itself — there are no unnecessary buckles, bells, or whistles. When I'm asked if I can recommend a really high quality bag, I almost always send guys to their website, and they're always instantly converted.
The product I'm reviewing here is their Mailbag, which I've been using around Manhattan for the last year (albeit during a lockdown, so it hasn't seen quite as much wear as one of my bags normally would). Inspired by US Postal Service mailbags from the early 20th century, this is an iconic design and Satchel & Page's rendition of it is superb.
The star here is obviously the leather. So why does it stand out so much? Let's take a look at it, then we'll check out the construction and features, the price, and wrap up with some pros and cons.
Satchel & Page's Leather
6 – 8 ounces/yard
Vegetable tanned in Tuscany
Sourced from French cattle
Hot stuffed with oils
Shoulder cut leather
This leather is 6 to 8 ounces per square yard, it comes from French cows, and it's tanned and finished in the town of Ponte a Egola in Tuscany, Italy. The tannery is small, run by the same family for three generations, employing just 14 workers, and wholly dedicated to making vegetable tanned leather. Tuscany is something of a headquarters for vegetable tanned leather and with this bag comes a sticker that says it's certified by the Genuine Italian Vegetable Tanned Leather Consortium, a group of artisans who are dedicated to preserving the ever dwindling number of veg tan leather craftspeople.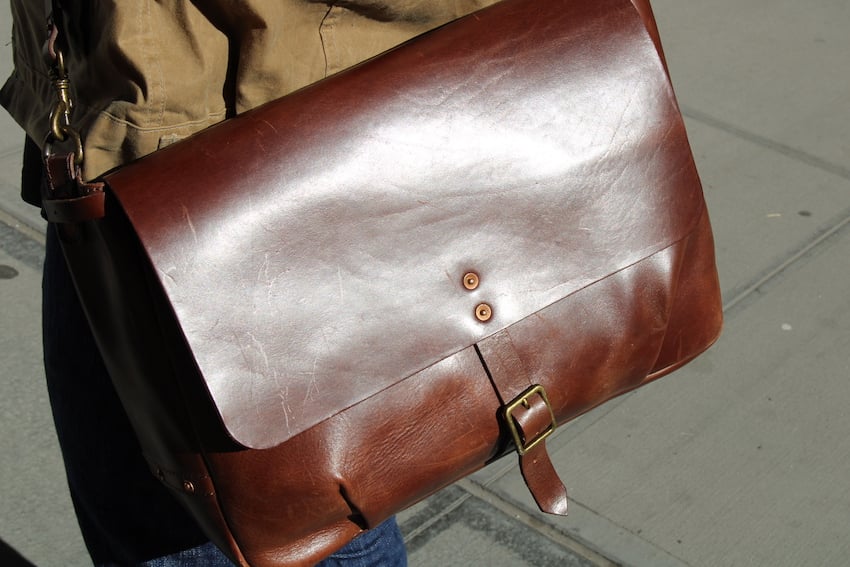 If you're not aware, 90% of all leather on earth is chrome tanned, and it's exceedingly rare to find vegetable tanned leather goods. Chrome tanning was invented in the 19th century and takes a day or two, it's harsher on the hide, and it doesn't age the same way. The upsides are that it's soft, breaks in easily, dyes easily, and is inexpensive.
Veg tanned leather typically takes at least a month to make, it's two to four times more expensive, it's heavier, takes longer to soften, and it has a deeper, richer, and more complex color profile than you usually get in chrome tanned leather. Indeed, you can feel the weight behind veg tan leather, you can feel the difference — it's a heavy duty, everlasting material.
[Learn more: Chrome Tanned vs Vegetable Tanned Leather]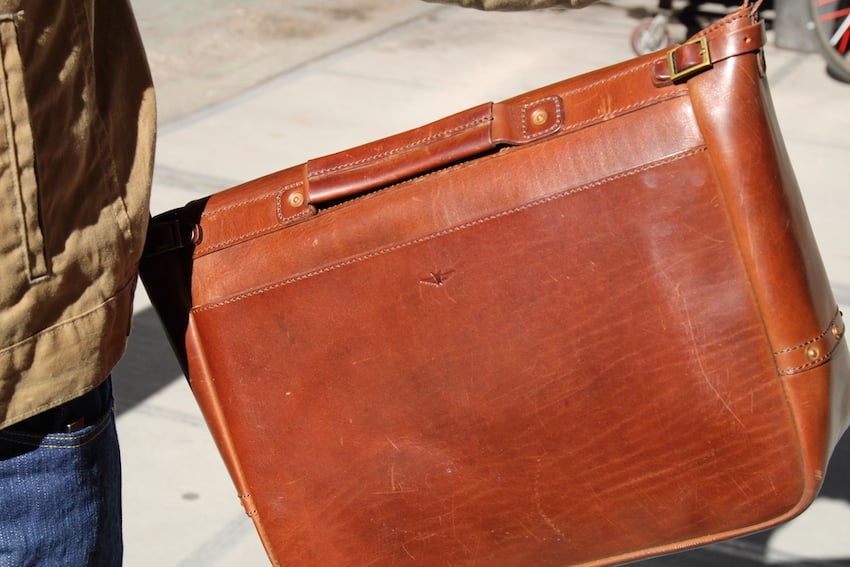 An interesting feature you don't see on chrome tanned leather is these wrinkles from the hide, which is an indicator that it's shoulder cut leather. That's something you almost never see specified, but a trimmed double shoulder is roughly 3 by 4 feet and it grows on either side of the spine, perpendicular to it. Because of the shape, you get a nice, consistent piece of leather. (Leather along the belly often isn't amazing, near the neck and the hind are kind of hit or miss, and many leatherworkers prefer shoulder cut stuff for its consistency.) For smaller bags like this that don't need tons of leather, you can make these large panels out of a single piece of hide.
The leather's color comes from oils, so it's very natural and can have some slight variation because each hide absorbs oils differently.
All in all, it's phenomenal stuff. Not too dull, not too shiny, just a beautiful rich, complex leather that'll age very well. No corners have been cut.
Satchel & Page's Mailbag Construction
Weighs 4lb
Measures 12″ x 16″ x 4.5″ = 14.1 liters
Unlined, spacious
Laptop sleeve
Key chain
Exterior sleeve
No breakable parts
Copper rivets
This bag is 4 pounds, measures 12 inches high, 16 inches wide, and 4.5 inches deep, so it carries a bit over 14 liters. There are no dividers limiting storage in the interior and it's actually very spacious. The Mailbag is capable of transporting a lot of gear, but it's not a cumbersome bag.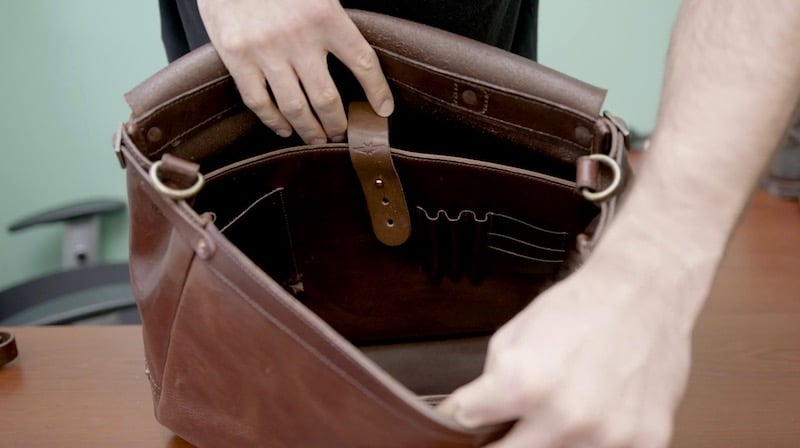 Pockets-wise, you've got an exterior sleeve for stuffing magazines and on the inside there's a laptop sleeve with a great snap closure to secure your computer in place. On the sleeve itself you've also got pockets for pens, cards, and a wallet, as well as a keychain. While "rainproof" would be an overstatement, it's worth noting there are cinches on either side of the bag's opening to help seal of the interior of the bag from rain or snow.
The thread is polyester 277, very heavyweight stuff often used for horse saddles and that kind of thing, and their bags are made with a combination of hand and machine stitching. depending on the application.
Lastly, we should talk about the rivets. Satchel & Page note on their site that 95% of bags use rapid rivets and 5% use copper rivets like these: solid copper, hand set rivets, which are about the most unbreakable you can find. The way the rivets work is that you have a burr and a rivet: the rivet goes through the leather, the burr does on top, and then it's ball peened over by hand, making one solid piece that isn't hollow and won't come apart. Rivets are the most durable way to protect stress points on a bag and hand set copper rivets are the most durable way to do that.
This bag will last forever.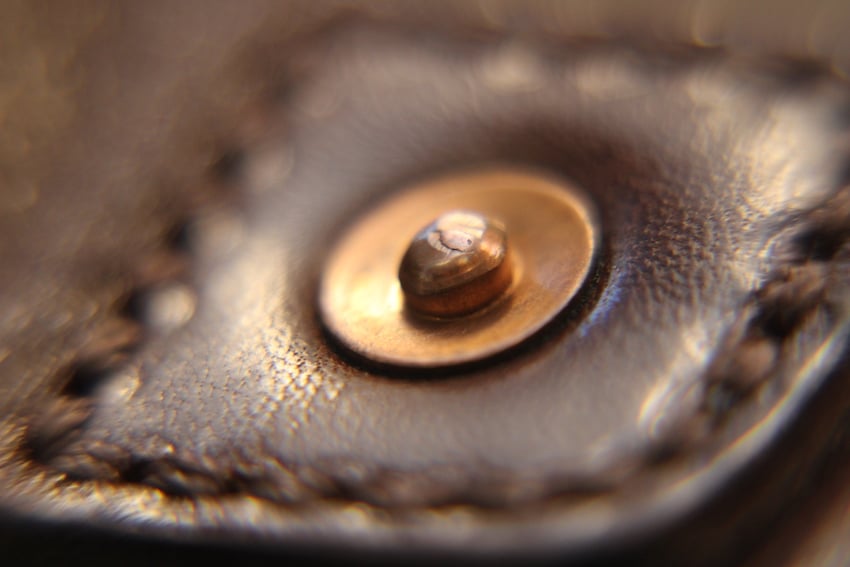 Satchel & Page Mailbag Price
$535.
And that is indeed good value. For this quality leather and craftsmanship, that it's all single pieces of vegetable tanned leather, it's shoulder cut, the rivets, the finished edges, and so on… this is remarkable value. It isn't the cheapest bag on Earth, but I don't think there's anything out there that's this high quality at this price point if you're taking into account that it's tanned and made in Italy.
Satchel & Page Mailbag Pros
Fantastic vegetable tanned leather
Relatively inexpensive
No breakable parts
Ultra durable rivets and thread
Finished edges
Minimalist yet functional
Will last for decades
Satchel & Page Mailbag Cons
Leather is stiff, takes time to break in
Some prefer lined bags
Some prefer zips
Only one color available
This is a stunning piece. The leather is thick, heavy, durable, oily, and beautiful, and it'll age beautifully — once it's ready to be handed down to the next generation, it'll look even better. The durability and patina potential are such huge factors here, and the edges are even burnished and oiled by hand to ensure they don't fray over time. It's an heirloom piece.
It's spacious; I never like it when bags have dividers to help you arrange your belongings because it limits what you can stuff into it. The Mailbag is roomy, it has minimal pockets but the laptop sleeve and exterior pocket are still very functional.
The design is wonderfully simple: no zippers, no unnecessary buckles, no logos. It's just a great, clean, minimalist, durable, rugged look that's masculine but not over the top. I love that it looks and feels like a luxury item, but it looks casual enough that it's not flashy. I don't feel weird carrying it in everyday settings, but it'll also look great in a boardroom. That's rare.
The Mailbag bag is worth every penny. Your descendants will thank you.