Ready to discover the best leather bags for men in 2023? You've come to the right place. Whether you're seeking the best leather men's satchel or a quality leather duffel bag, we've got something for you on this list.
I've written a lot about men's leather bags. Some are great, some not, some are great but they're just stupidly overpriced. I've used enough to be at a point where I'm pretty comfortable making a comprehensive list.
We're going to look at the best casual leather bags for casual wear, the best formal briefcase for work, the best leather duffle for travel, and even the best leather camera bag. To gauge what's best we looked at the hardware, construction, design, and of course, the leather itself.
Our Criteria For Ranking The Best Leather Bags For Men
Before I share our picks for the best men's leather bags currently on the market, let's talk about what makes the best bag in the first place. There are a few important criteria that you should take into account when shopping for yourself. These include:
Leather quality
Bag construction
Aesthetic
Function
Value
Leather
The general rule is to look for full grain leather. Many brands shave the leather down to make it softer and easier to work with, but this sacrifices not only durability but aesthetics: full grain leather ages more beautifully to get that great patina people associate with a well loved leather bag. Full grain includes the outer layer of the hide, called the grain, and it means the leather is thicker and longer lasting.
When aging beautifully is your priority, you should also opt for vegetable tanned leather. Practically all leather is either chrome tanned or vegetable tanned: chrome tanning is cheaper and it does make for softer leather, which is a fair enough priority for footwear. Vegetable tanned leather is better for bags, though, because the tanning process is easier on the leather's fibers and it looks better as it ages. It's the way we've made leather for thousands of years; chrome tanning was invented in the 1850s and while it has its uses, "veg tan" is better for bags.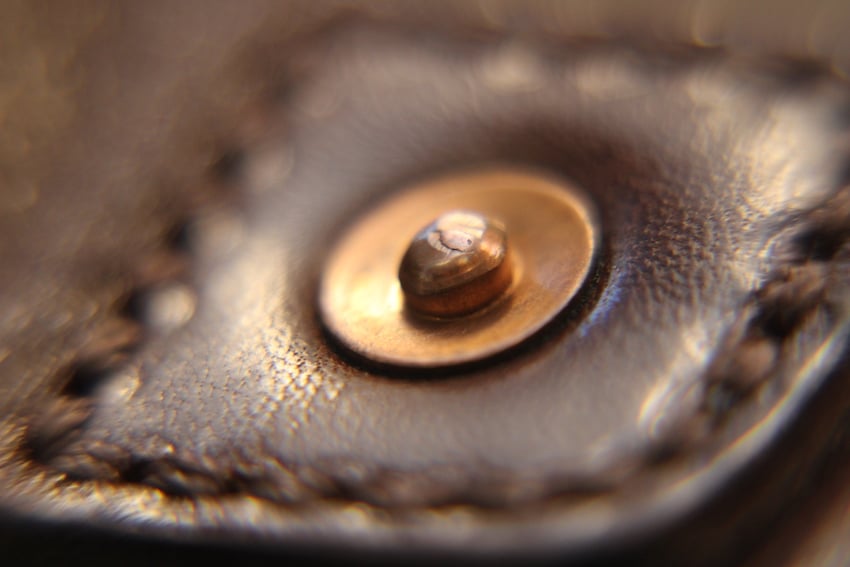 Construction
Not only does a bag need to be crafted from durable, high-quality leather, the bag also needs to have been carefully crafted.
For one, that means as many single pieces of leather as possible. Many brands stitch together a lot of separate pieces that would otherwise be scrap, calling it a design element, but really it's to save money — creating more places for the bag to rip while they're at it.
You also need reinforcing in the right places in the right way: the main stress points are the handle and where the straps attach. They should be secured in place with rivets rather than stitching. When they do use them, most companies use rapid rivets, but double cap rivets are more heavy duty and durable, and they look better than tubular rivets, another hardwearing option.

Aesthetic
Obviously, this is subjective, but we think it's fair to say guys like simplicity in their apparel and especially their bags: if your bag is busy, it'll clash with something even as innocuous as a plaid shirt. We also understand the elephant in the room: men worry about leather bags looking too feminine.
To that end, we've emphasized single pieces of leather, minimal stitching, clean corners, timeless aesthetics, and just enough hardware to keep the bag looking too, well, soft dainty. You're busy, but you don't want your bag to be.
Function
Just enough pockets to be practical, not so many it's overloaded or draws the eye. A lot of people prefer bags with no "breakable parts," which means no zippers. This means your bag will need no maintenance beyond some occasional leather conditioner (we like Lexol), but we appreciate the functionality of zippers and included bags with and without them on this list.
The main goal is to be able to keep your gear organized and secure.
Value
Leather is mysterious. Most people don't know how to tell the difference between vegetable tanning and chrome tanning, full grain and genuine, luxury and bargain basement. Because there's so much to learn, companies can get away with charging astronomical prices for a bag that's just as good as one you can find elsewhere for less. We've been covering leather goods here for the better part of a decade, and know what to look for to ensure that a bag has a reasonable price tag that reflects its quality. (We're looking at you, Prada.)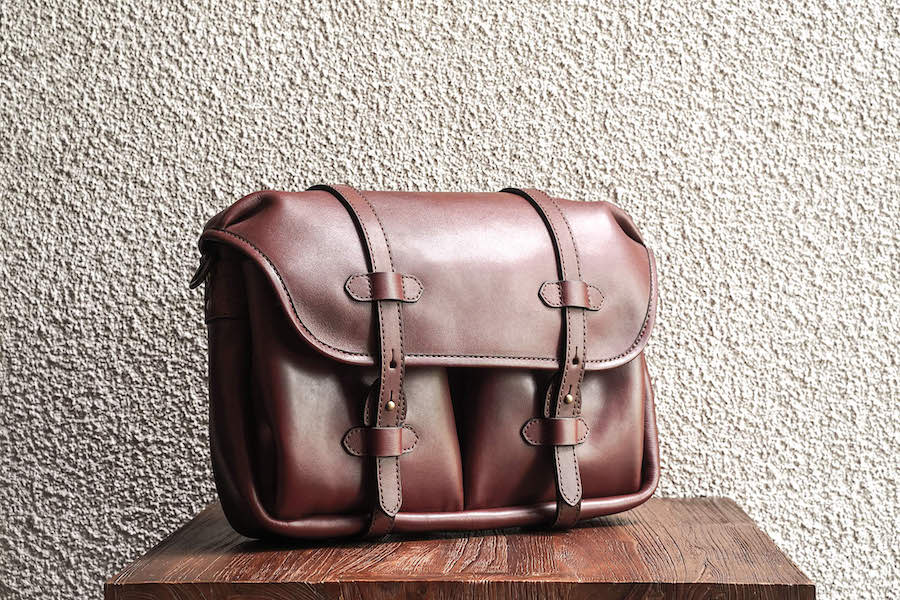 The Best Leather Bags For Men In 2023
Let's get right into our list of the best leather bags for men in 2023. As I said in the intro, there is something for every man on this list. However, I figured it'd be fitting to start our list of the best men's leather bags with, well, the absolute best. And in our opinion, the Cravar is a no-brainer #1 choice for any man seeking a quality, fashionable, and durable leather messenger bag.
1) The Best Men's Leather Messenger Bag: Cravar: F.C. 15
Pros
Full-grain, pit-tanned, vegetable tanned leather from Cravar's own tannery.
Good value for money
Metal doesn't touch metal; no jingle-jangly bits.
Great customer service via Instagram
Five leather colors (and 4 cotton options) available
3 sizes available
Cons
No laptop sleeve (For that, grab Cravar's Rana.)
The Sunbrella lining is easier to clean than cotton, but can pill with time
I am completely obsessed with my handcrafted F.C. 15 bag made by a tiny independent company called Cravar, based in the Indonesian capital of Jakarta.
Why did I land on this leather bag?
For one, I know a lot of guys stress that if they're going to get a leather bag it's going to look like a purse, and Cravar did a great job of making this look like the kind of rugged, masculine bag Indiana Jones would wear. It looks outstanding with a canvas or denim jacket, a wool coat, and anything in between.
Cravar's Leather
Not only is it full grain leather, but it's Cravar's own pit tanned vegetable tanned leather that they devised just for their own bags. Think of it as slow cooked leather: it takes months to make and it's tanned only with all natural tannins found in bark and leaves. This means that it is hardier and ages well and while it's usually very expensive, Cravar's bags are pretty well priced because they're made in Indonesia, a country that's the best kept secret in the world of fine leather goods. (Don't worry, shipping's free.)
Cravar's Design
It ticks all the boxes for what we're looking for: riveted stress points, single pieces of leather wherever possible, no breakable parts, and it's both easy to open on the go and easy to close securely.
Other cool design cues here include the water resistant closure system that keeps rain from coming in the corners, the load bearing body straps that encircle the bag, and the pass-through for attaching to rolling luggage.
Note that there's no laptop sleeve, but Cravar's Rana bag fixes that problem. Why not just make that the best messenger? Because it only comes in brown leathers. The F.C. accounts for over a third of Cravar's sales, so it gets more variety.
My large F.C.15 costs $415, and if this were made in the United States it'd certainly cost well over $500 — plus, unlike Indonesian boots, there's no waiting period for the product to be made and shipping is included with the price.
2) Best Leather Satchel: Satchel & Page's Mailbag
Pros
Italian veg tanned leather from French cow hides
Leather certified by The Genuine Italian Vegetable-Tanned Leather Consortium
Shoulder cut leather; better consistency and nice tight fibers
No breakable parts
Minimalist design
Secure laptop sleeve
Cons
Just one color available
Buckle closure system slow to open on the go
Unlined, so harder to clean
Before moving onto something a little dressier, I want to highlight another one of my favorite messenger bags: the Mailbag from Satchel & Page. This satchel is more versatile than the casual Cravar: it's great dressed down and looks good dressed up.
Satchel & Page's Leather
We obviously love Cravar, but we have to say it: the leather is better on the Mailbag. Tanned in Tuscany in a family owned facility that's gold rated for sustainability by the Leather Working Group — a certification that matters in a world of polluting tanneries — the balance of sheen, depth, and durability is unmatched by anything else we've seen.
Stuffed with oils and sourced from French cattle, the company emphasizes shoulder cut leather, which is which is particularly firm, stretch resistant, durable, and consistent in appearance.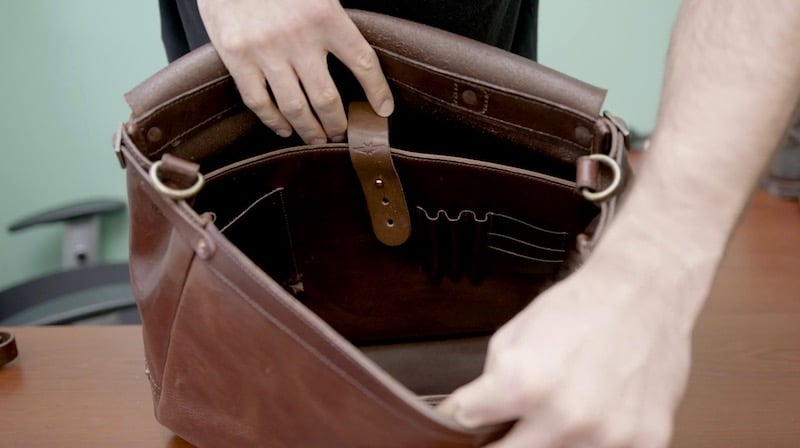 Satchel & Page's Design
This bag is unlined and has a stud-secure laptop sleeve, a rear pocket sleeve, a handy key chain, and a couple of interior pockets that can fit a wallet, cards, and pens. It's a really good balance of functionality, with nothing you don't need. (We love a key chain; no more digging around your bag when you need to get inside and use the bathroom.) The rivets are top notch, too: rapid rivets, hand set, made of solid copper. That's about as unbreakable as you'll find.
The bag costs $535, a little pricier than Cravar but great value for this extra premium leather. Single cut pieces of veg tanned, shoulder cut leather, the rivets, the finished edges, none of that is cheap or common. The fact that it comes from Italy as well sets this bag in league of its own.
Check out the rest of Satchel & Page's collection too if you're looking for travel bags, leather briefcases, or even a cool leather jacket.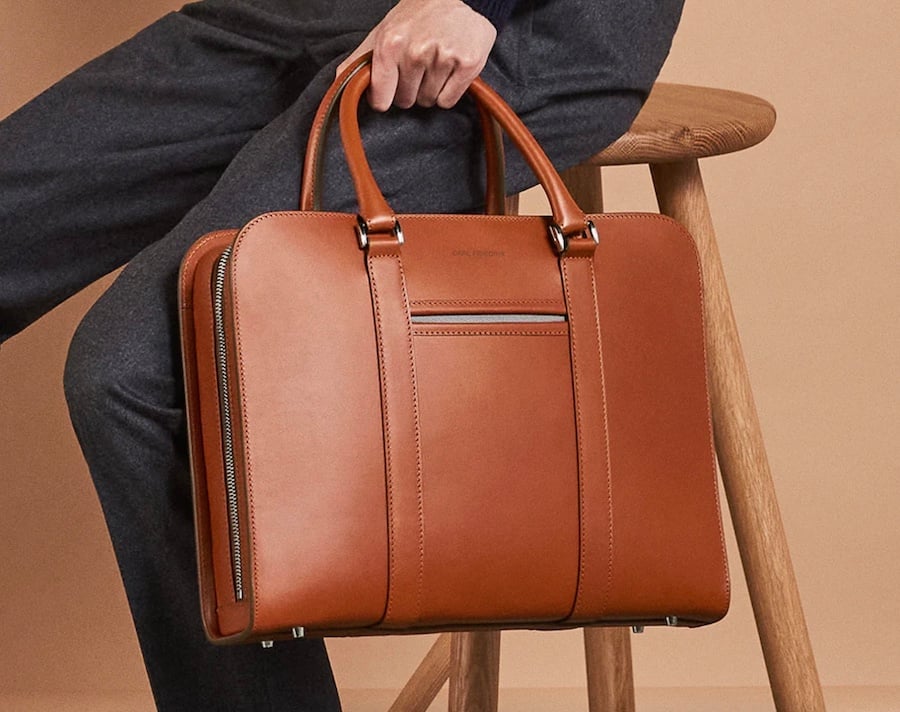 3) Best Leather Briefcase for Work: Carl Friedrik Paliss
Pros
Italian vachetta leather
Sharp lines, ultra minimalistic
Individually polished zippers
Rigid structure, stands upright
4 colors available
Cons
Not very roomy; it's hard to bring a lunch with you
Front pocket is very slim
Not everyone loves nylon for lining
If you need something for the office? If you want to impress the kinds of guys who carry Prada, Coach, or Louis Vuitton…. you could pay four or even five figures for bags from those companies, or you can get the same quality from Carl Friedrik.
I even cut one of these in half with a leatherworker friend in the video below. We only found quality.
Carl Friedrik's Leather
The big deal with bags like this is that they use vachetta leather. It's vegetable tanned like Cravar, Italian like Satchel & Page, and what elevates it even further is that vachetta leather is usually made from calfskin and it's very fatty, making it buttery soft. It's also typically unfinished, leaving the hide exposed. It's seriously premium stuff that's identical to what the highest quality luxury brands use, but this one comes in at well under $1,000.
Carl Friedrik's Design
The hardware is all silver nickel-finished and the zippers are from Bergamo, Italy, and every tooth in the zip has been individually brushed and polished. It zips super smooth and unlike some bags (like a lot of the ones from Filson) the zipper is soft and won't scratch your computer, your documents, or your hand. (Seriously, I've lost flesh on Filson zippers.)
Depending on the features you select, like a pass through to attach it to a rolling suitcase and personalized monogramming, the price is under $700.
The Palissy briefcase I'm reviewing here is not trying to be an inexpensive version of something like Frank Clegg's $1,500 briefcases, it's more like an inexpensive version of a briefcase from Prada, Louis Vuitton, or Coach — bags that are often over $4,000.
This is simply a great, minimalist look that really works well in any professional setting and is far cheaper than comparable bags from luxury brands.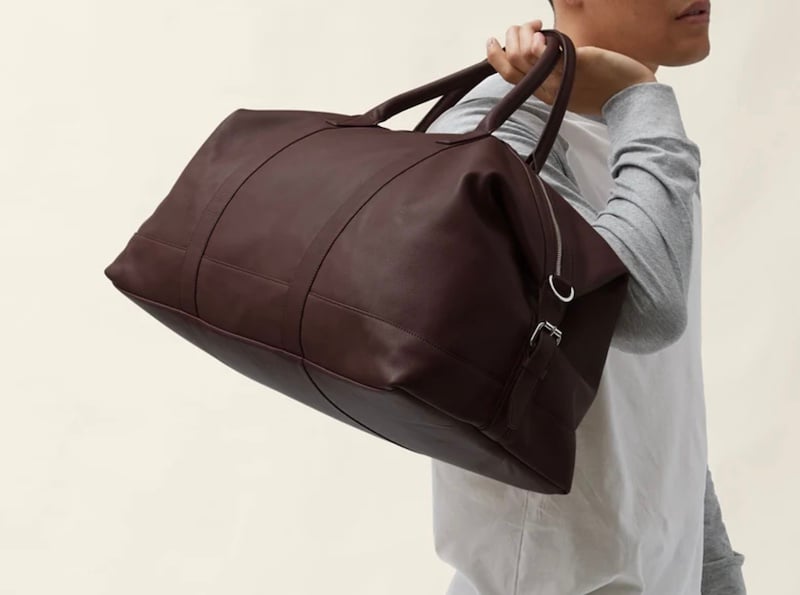 4) Best Men's Leather Duffle Bag: Leatherology's Kessler Duffle
Pros
Option for chrome tanned or vegetable tanned leather; priced accordingly
Leather from European, LWG-certified sustainable tanneries
2 sizes and 6 leathers to choose
Extremities can "snap" closed to reduce bulk
Monogramming available
Sustainable cotton lining
Attaches to rolling luggage
Cons
Only buffalo is available for the veg tan options
The bags are made in China, if it's an issue
Leatherology is a solid brand that uses terrific leather but, by making the bags in China, keeps the price within reach of the average guy. With several interior and exterior pockets and the ability to expand or contract with its snappable corners, this is one duffle that's more than a glorified sack.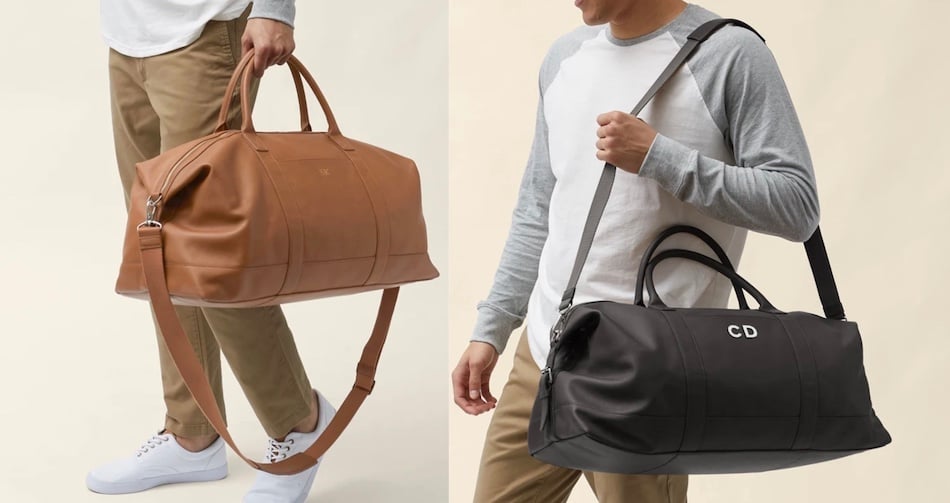 Leatherology's Leather
It matters that the leather is from Gold-rated tanneries from the Leather Working Group, a non-profit that audits tanneries to ensure they're not polluting the local environment or harming their workers — something that's very easy to do with chrome tanning. When prices are as low as Leatherology's, and the leather's chrome tanned, I immediately think about the environmental damage the leather is creating, but nope. They've got that Gold-rating. Phew.
What's cool about the Kessler is that while all the leather is full grain, you get the options of chrome tanned or buffalo leather that's vegetable tanned — and you pay more for the more expensive leather, less for the cheaper one. A really nice touch.
The buffalo leather is dramatic and grainy, so you can't get the more consistent hides you might prefer with a higher quality leather, but it looks great.
Leatherology's Design
At 50 liters, the medium is the perfect size for a carry-on bag and it attaches to your suitcase handle to help you run through the airport. This is a great feature because duffels can be uncomfortable to carry with a shoulder strap for long periods of time. But if you do need to use the shoulder strap, it's made from a nice padded nylon so it won't cut into your shoulders the way pure leather shoulder straps need to.
The large, meanwhile, is a whopping 71 liters.
The bag actually expands when you unsnap the corners, so it can hold a surprising amount of stuff, and with pockets aplenty, optional monogramming, and cotton lining that's certified sustainable by the Better Cotton Initiative, you've got a seriously solid bag at an exceptional price.
5) Best Leather Backpack: Satchel and Page's Leather Backpack
Pros
Fantastic vegetable tanned leather
Attaches to rolling luggage
Ultra durable rivets and threads
Finished edges
Interior pockets
Will last for decades
Cons
Suede interior is far from stainproof
This is a fantastic carry-on bag. Like the Mailbag, Satchel & Page's backpack has a simple and modern style and just enough features to make it practical without being noisy. It almost looks too good to beat up.
Satchel & Page's Leather
Satchel & Page uses amazing leather for this backpack. It's a bit different from the Mailbag's leather, it's only 6 ounces per square yard and comes from US cows rather than French. But like their other leather, it's tanned and finished in the town of Ponte a Egola in Tuscany, Italy. The tannery is small, run by the same family for three generations and employing just 14 workers — this stuff is guaranteed to impress even the stuffiest leather snob. Note that it comes in both brown and black leathers, when you can get 'em.
Satchel & Page's Design
With hand hammered copper rivets, antique brass hardware, and waxed polyester thread, the construction is as durable as it gets, and it's surprisingly functional as well: separate laptop and tablet sleeves for easily removing your devices, interior zippered pocket with key clip, two interior open pockets for smaller items, and the back section is padded for comfort.
It even zips completely open right down to the bottom like a clam shell, making it surprisingly easy to organize and unpack. If you like to be organized but you don't want a billion pockets to rifle through on the go, this bag is perfect.
The design can not be beat, and it can be paired with any outfit on Earth.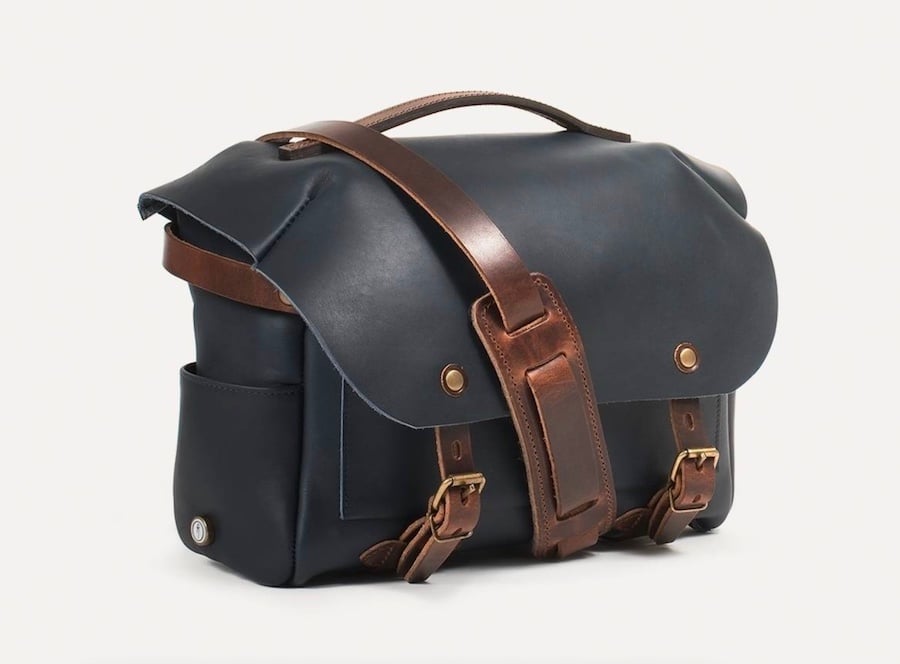 6) Best Leather Camera Bag: Bleu de Chauffe's BDC Camera Bag
Pros
Full grain, vegetable tanned leather
Available in two sizes
Made by hand in France
Great QC and attention to detail
Cons
The closure system (fake buckles) is polarizing
Just one color currently available
Bleu de Chauffe is a small brand based in Southern France where they make everything by hand — your bag will even be personally signed by the craftsman.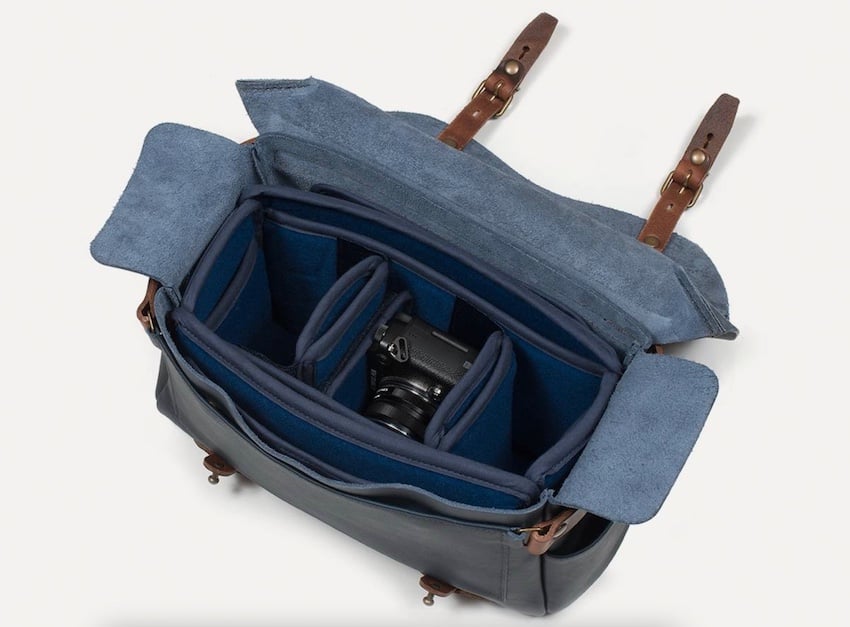 Bleu de Chauffe's Leather
Even though it's vegetable tanned leather, which is far more difficult to dye, Bleu de Chauffe sell bags in blue, chestnut, black, brown, green, and even camo leathers. The camera bag, at the time of writing, just comes in blue, but we may get more leathers soon. Blue leather might sound weird, when you've got a nice grey wool coat or a canvas jacket, this'll look a lot better than a brown leather bag.
It has a natural finish and is surprisingly soft for veg tan leather, while the interior of the bag is similar to suede, finished with a velvety touch.
Bleu de Chauffe's Design
It's really high-quality leather, it's fully vegetable tanned, the stitching is absolutely immaculate. It comes with a comfortable leather shoulder pad lined with natural felt, a leather handle that makes it comfortable to carry by hand, a removable zippered cotton pocket, and integrated padded compartments for your camera pieces.
Designed for mirrorless and DSLR cameras, it's bristling with slots and compartments for SD cards and lenses — or you can tear out the velcro compartments and just use it as a damn cool satchel.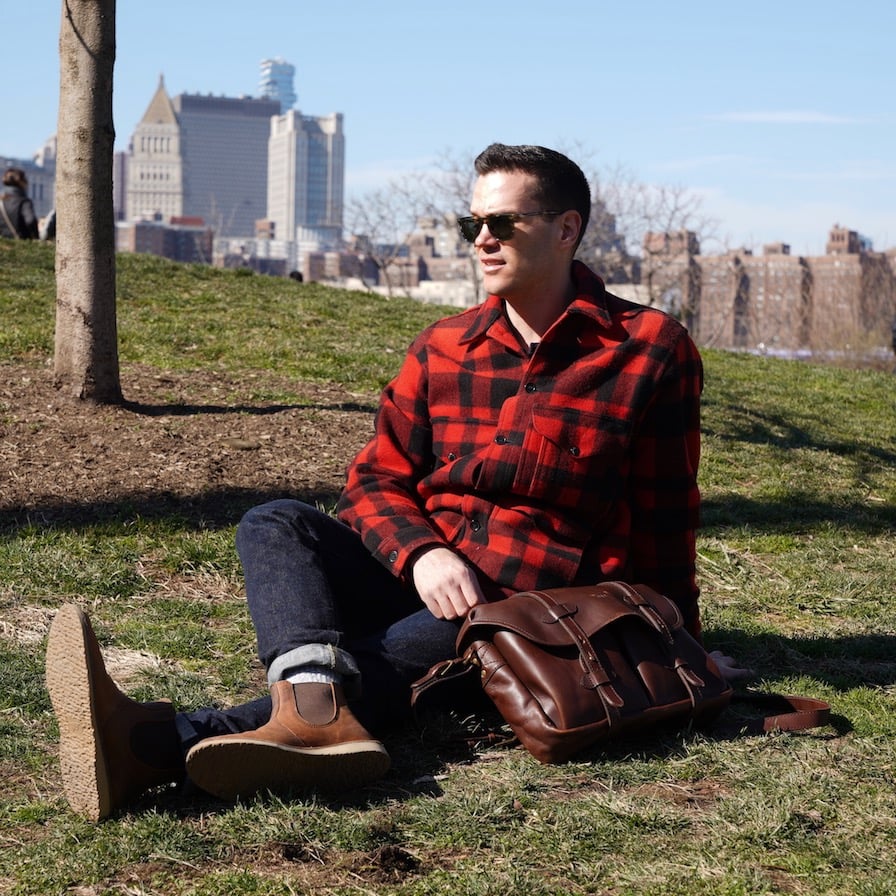 Closing Thoughts On The Best Leather Bags For Men This Year
Those are our exhaustively researched picks for the best leather bags for men! We should emphasize that most of these companies offer everything else on this list: Cravar also has briefcases, Carl Friedrik also has duffles, and so on. So we suggest you pick the brand that really nails your aesthetic, and then buy the type of bag you need from that brand.
These bags are stunning in their own right. But to truly unlock the look you're going for, you need to carefully consider the rest of your outfit. For further inspiration, take a look at our reviews of the best boots and the best waxed jackets to tie the whole look together!