Ready to discover the 6 best leather bags for men in 2022? You've come to the right place. Whether you're seeking the best leather men's satchel or a quality leather duffel bag, I've got something for you on this list.
I've written a lot about men's leather bags. Some are great, some not, some even cost up to a thousand dollars, and I've used enough to be at a point where I'm pretty comfortable making a comprehensive list.
But just to be as thorough as possible, I asked Brock from the men's style blog The Modest Man to help me put together the definitive leather bag list.
We're going to look at the best bags for rugged dudes, for work, for travel, and for anyone looking for a smart casual bag. To gauge what's best we looked at the hardware, construction, design, and of course, the leather itself.
Here's what we learned.
Our Criteria For Ranking The Best Leather Bags For Men
Before I share our picks for the best men's leather bags currently on the market, let's talk about what makes the best bag in the first place. There are a few important criteria that you should take into account when shopping for yourself. These include:
Leather quality
Bag construction
Aesthetic
Function
Value
To truly be considered the best men's leather bag, it must check off all these boxes. Not only does a bag need to be crafted from durable, high-quality leather – the bag also needs to have been carefully crafted. That means strong, reliable straps, strong buckles/buttons, etc.
On top of these two important factors, the bag also needs to look good – what good is a quality bag if you're not proud to show it off? Of course, function matters as well. Many of these bags are practical – serving a very specific purpose, such as the camera bag you'll find later on. Along with all this, these bags provide excellent value for the money. They're by no means cheap – but you get what you pay for.
Armed with this important information, you're ready to learn what we deem to be the best leather messenger bags currently on the market. We'll also share some of the best men's satchels, duffel bags, backpacks, camera bags – you name it. There truly is something for everyone on this list – no matter what you're shopping for!
The Best Leather Bags For Men In 2022 Unveiled
I'm not going to waste any time today – let's get right into our list of the best leather bags for men in 2022. As I said in the outlook, there is something for every man on this list. However, I figured it'd be fitting to start our list of the best men's leather bags with, well, the absolute best. And in our opinion, the Cravar is a no-brainer #1 choice for any man seeking a quality, fashionable, and durable leather messenger bag.
1) The Best Men's Leather Bag: Cravar: F.C. 15
Pros
Looks rugged. If you want a leather bag that doesn't look like a purse, this is for you.
Full-grain, pit-tanned, vegetable tanned leather from Cravar's own tannery.
Great value for price
Metal doesn't touch metal; no jingle-jangly bits.
Great customer service via Instagram
Cons
No laptop sleeve (For that, grab Cravar's Alpha)
No zippered pockets for extra security
I am completely obsessed with my handcrafted F.C. 15 bag made by a tiny independent company called Cravar, based in the Indonesian capital of Jakarta.
Why did I land on this leather bag?
For one, I know a lot of guys stress that if they're going to get a leather bag it's going to look like a purse, and Cravar did a great job of making this look like the kind of rugged, masculine bag Indiana Jones would wear. It looks outstanding with a canvas jacket, a chambray shirt, and anything in between.
[SHOP THIS F.C. 15 BAG IN 5 LEATHERS HERE, SEE MORE CRAVAR BAGS AND COLORS HERE]
Cravar: F.C. 15's Leather
2mm thick
Vegetable tanned in pits
Made over 2.5 months in Yogyakarta
Quite smooth
Not only is it full grain leather, but it's Cravar's own pit tanned vegetable tanned leather, which a lot of people love because it's a really old-fashioned way of making leather. It's very natural and less harsh on the hide than the much more common and inexpensive chrome tanned leather. This means that it is hardier and ages better, and because it takes so much longer to make veg tanned is more expensive. But Cravar's bags are extraordinarily inexpensive because they're made in Indonesia, a country that's like the best kept secret in the world of fine leather goods.
The load-bearing straps are both made of just one piece of leather. Cheaper bags use scraps glued together. The same goes for the rest of the bag. A single piece of leather on the back, the flap and the front, even the front pockets are one long strip of leather.
[Related: The Best Waxed Canvas Backpacks]
Cravar: F.C. 15's Construction/Features
15.75″ x 12″ x 4.15″
2 load bearing body, stud-secured straps
2 front pockets, 1 external sleeve
Single pieces of leather wherever possible
Fits onto travel bag
Other cool design cues here include the water resistant closure system that keeps rain from coming in the corners, the load bearing body straps, and the pass-through for attaching to rolling luggage.
Great bags also have rivets at the stress points for maximum durability, and this bag has tons of them: on the handle, between the pockets, and on the shoulder strap.
Note also that there are no zippers, no buttons, nothing breakable, and it's also an unusually quiet bag because metal doesn't touch metal anywhere on the bag.
The customer service is also fantastic. Their owner, Yoki, has flawless English and will answer any of your questions on the company's Instagram DMs.
Perhaps my favorite feature is the stud closure system: it's easy to open and close it on the go, with no time consuming buckles to fidget with. Note that there's no laptop sleeve, but Cravar's Alpha bag fixes that problem.
It's available in four leathers, three cheaper twills, and three sizes, so there's something for everyone here.
My large F.C.15 costs $415, and if this were made in the United States it'd certainly cost well over $500 — plus, unlike Indonesian boots, there's no waiting period for the product to be made and shipping is included with the price.
[SHOP THIS F.C. 15 BAG IN 5 LEATHERS HERE, SEE MORE CRAVAR BAGS AND COLORS HERE]
Pros
Italian veg tanned leather from French cow hides
Shoulder cut leather; better consistency and nice tight fibers.
No breakable parts
Minimalist design
Secure laptop sleeve
Cons
Just one color available
Buckle closure system can slow you down
No zippered pockets
Before moving onto something a little dressier, I want to highlight another one of my favorite bags: the Mailbag from Satchel & Page. This is a really cool leather goods company and if you're the kind of guy who would rather have Italian leather, this is the company for you. Satchel & Page's bags are made in Italy and the leather is vegetable tanned in Italy the old fashioned way.
[SHOP THE SATCHEL & PAGE MAILBAG HERE]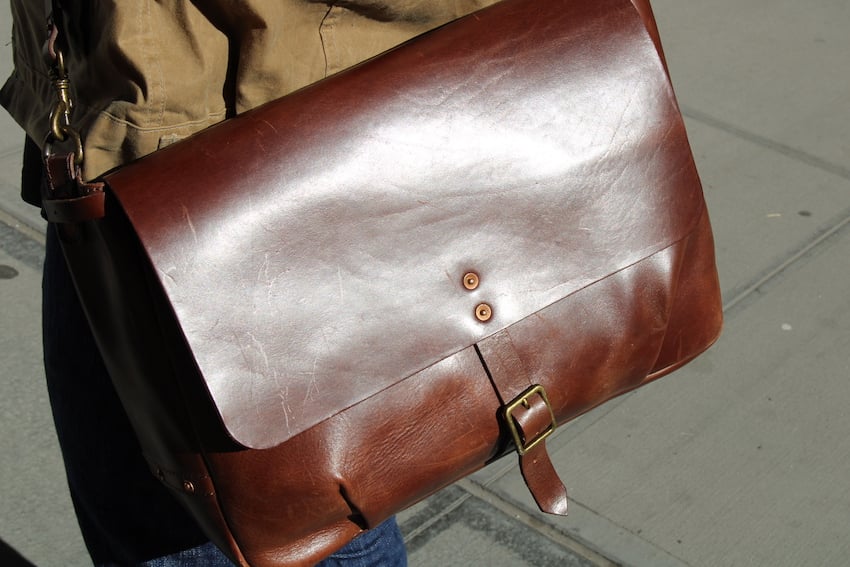 Satchel & Page's Leather
6–8 ounces/yard
Vegetable tanned in Tuscany
Sourced from French cattle
Hot stuffed with oils for lustrous appearance
Shoulder cut leather
Specifically, it's vegetable tanned leather that's sourced from French cowhides and tanned in a small Tuscan tannery with just 14 workers. A couple of interesting features that differentiate it from Cravar's veg tan leather are that it's shoulder cut leather, which is known for its consistency, and it has a bit of a fuller, more vibrant appearance because the leather's been hot stuffed with oils.
[Read More: The Best Leather Backpacks]
Satchel & Page's Mailbag Construction/Features
Measures 12″ x 16″ x 4.5″ = 14.1 liters
Unlined, spacious
Stud-secure laptop sleeve
Key chain
Exterior sleeve
Copper rivets
This bag is unlined and has a secure laptop sleeve, a rear pocket sleeve, and no breakable parts.
This 4-pound bag measures 12 inches high, 16 inches wide, and 4.5 inches deep, so it carries a bit over 14 liters; there are no dividers limiting storage in the interior and it's actually very spacious without being cumbersome. I also want to point out the rivets: Satchel & Page note on their site that 95% of bags use rapid rivets and 5% use copper rivets like these: solid copper, hand set, and about the most unbreakable you can find.
The bag costs $495, great value for the quality and craftsmanship put into making this bag, those single cut pieces of veg tanned and shoulder cut leather, the rivets, the finished edges, none of that is cheap or common. The fact that it comes from Italy as well sets this bag in league of its own.
Check out the rest of Satchel & Page's collection too if you're looking for travel bags, leather briefcases, or even a cool leather jacket.
Pros
Italian vachetta leather
Sharp lines, ultra minimalistic
Individually polished zippers
Rigid structure, stands upright
Clean, even stitching
Cons
Not very roomy (it's hard to bring a lunch with you)
Front pocket is very slim
Not everyone loves nylon for lining
So what if you need something for the office? Well, both Cravar and Satchel & Page make office-friendly leather briefcases but if you want the best of the best, if you want to impress the kinds of guys who carry Prada, Coach, or Louis Vuitton…. you could pay four or even five figures for bags from those companies.
Or you can get the same quality from Carl Friedrik.
Both Brock and I have handled briefcases from Carl Friedrik and been really impressed. A previous incarnation of this bag is Brock's Bolton briefcase; the Palissy was changed so that it opens flat, for a very sleek and professional touch.
[SHOP THE CARL FRIEDRIK PALISSY IN 5 COLORS]
Carl Friedrik Briefcase's Leather
Vachetta leather
Vegetable tanned
Produced in Tuscany, Italy
~2.2mm thick
The big deal with bags like this is that they use vachetta leather. It's vegetable tanned like Cravar, Italian like Satchel & Page, but what elevates it even further is that vachetta leather is usually made from calfskin and it's very fatty, making it buttery soft. It's also typically unfinished, leaving the hide exposed. It's seriously premium stuff.
Another thing I really like about this bag is the hardware. The hardware is all silver nickel-finished from Foshan, China, except for the zippers, which are from Bergamo, Italy — and every tooth in the zip has been individually brushed and polished. It zips super smooth and unlike some bags (like a lot of the ones from Filson) the zipper is soft and won't scratch your computer, your documents, or your hand. (Seriously, I've lost flesh on Filson zippers.)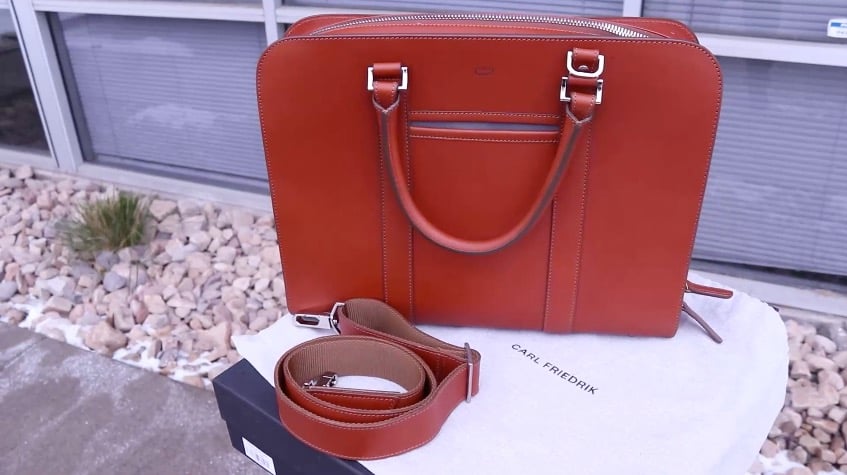 Depending on the features you select, like a pass through to attach it to a rolling suitcase and personalized monogramming , the cost is $660 to $770.
At first glance, the brand's emphasis on saving money with a DTC business model had me thinking it was the briefcase version of Thursday Boot Company or Beckett Simonon: a high-quality product at a surprisingly low cost. But the Palissy briefcase I'm reviewing here is not trying to be an inexpensive version of something like Frank Clegg's $700 briefcases, it's more like an inexpensive version of a briefcase from Prada, Louis Vuitton, or Coach — bags that are over $1,000 and often over $,4000.
This is simply a great, minimalist look that really works well in any professional setting and is far cheaper than comparable bags from luxury brands.
[Carl Friedrik's Briefcase Review: Prada Quality for Under $600?]
Pros:
Full grain leather
Padded laptop sleeve
Zippered internal pocket
Extremities can "snap" closed to reduce bulk
Attaches to rolling suitcase
Cons:
Shoulder strap isn't leather
Unusual number of features elevates the price a little
Brock's criteria for selecting a great leather bag is great leather, great hardware, and brand transparency. For these reasons, the best pick for a travel bag is Daveed's Duffle. It has lots of storage, plus — unusually for a duffle — it has an interior laptop sleeve and zippered pocket for your passport and valuables. In other words, it's not just a glorified sack like most of its competitors.
The Daveed Duffle's Leather
Full-grain German-made Nixburg Bullskin®
Aniline dyed
Sustainable and ethically sourced
Daveed uses a type of leather they market and trademarked as Nixburg Bullskin, a full-grain steerhide tanned in Germany from German bulls. It's soft and aniline-dyed, so there are no waxes, and it will develop a lovely patina with age and wear.
[SHOP THE DAVEED TRAVEL DUFFLE HERE]
It's the perfect size for a carry-on bag and it attaches to your suitcase handle to help you run through the airport, which is great because duffels can be uncomfortable to carry with the shoulder strap for long periods of time. But if you do need to use the shoulder strap, it's made from a nice padded nylon so it won't cut into your shoulders the way pure leather shoulder straps need to.
The coolest feature? The bag actually expands when you unsnap the corners, so it can hold a surprising amount of stuff — enough for a good four to five days away, in my experience.
The bag costs $645.
It's not an insignificant cost but for a full grain leather bag that's made in Canada and packed with features and quality, this is great value.
</a name="satchel-and-page-leather-backpack">
Pros
Fantastic vegetable tanned leather
Attaches to rolling luggage
Ultra durable rivets and threads
Finished edges
Interior pockets
Will last for decades
Cons
Only one color available
Suede interior is far from stainproof
This is a fantastic carry-on bag. Like the Mailbag, Satchel & Page's backpack simple and modern style and just enough features to make it practical without being noisy. It almost looks too good to beat up.
Satchel & Page's Leather
Vegetable tanned and finished in Ponte a Egola, Italy from US hides
Certified by the Genuine Italian Vegetable Tanned Leather Consortium
Thickness: 6 oz
Leather used for shoulder straps is tumbled for softness and comfort
Satchel & Page uses amazing leather for this backpack. It's a bit different from the Mailbag's leather, it's only 6 ounces per square yard and comes from US cows rather than French. But like their other leather, it's tanned and finished in the town of Ponte a Egola in Tuscany, Italy. The tannery is small, run by the same family for three generations and employing just 14 workers — this stuff is guaranteed to impress even the stuffiest leather snob.
With hand hammered copper rivets antique brass hardware , and waxed polyester thread, the construction is as durable as it gets, and it's surprisingly functional as well: separate laptop and tablet sleeves for easily removing your devices, interior zippered pocket with key clip, two interior open pockets for smaller items, and the back section is padded for comfort. IIf you like to be organized but you don't want a billion pockets to rifle through on the go, this bag is perfect.
The bag costs $565. Far from cheap if you're used to nylon Herschel bags, but again, we're talking about the best of the best, here. At this price point, you can be confident you've got a just-about-perfect product without the worry that you've overpaid.
[SHOP THE SATCHEL & PAGE BACKPACK HERE!]
Pros
Full grain, veg tanned leather
Comes in a variety of colors
Made in France
Great QC and attention to detail
Cons
The closure system (fake buckles) is polarizing
Not big enough for a 16-inch laptop
Lastly, I think we have to include Bleu de Chauffe, a French brand also known as Bruno's Artisans. They're all over Instagram, check out @corymahlke and @marshal_rigma for some really cool pictures of them, and I love their color selections. Even though it's vegetable tanned leather, which is far more difficult to dye, Bleu de Chauffe sell bags in blue, chestnut, black, brown, green, and even camo leathers. Mine is blue, and while I know blue leather might sound weird, when you've got a nice grey wool coat or a canvas jacket, this'll look a lot better than a brown leather bag.
[SHOP BLEU DE CHAUFFE'S BAGS HERE!]
Bleu de Chauffe's Leather
Full grain, vegetable tanned, water resistant leather
Natural finish, soft to the touch
Leather with a 'velvet' finish on the reverse
It's really high-quality leather, it's fully vegetable tanned, the stitching is absolutely immaculate. It comes with a comfortable leather shoulder pad lined with natural felt, a leather handle that makes it comfortable to carry by hand, a removable zippered cotton pocket, and an integrated felt sleeve for smaller laptops and tablets.
The materials and the quality control is great, but there are some complaints with the design. My buddy Troy really dislikes this bag because he doesn't like the closure system — it looks like buckles, but it's actually a hidden stud that closes the bag — plus the handle isn't reinforced. But you probably won't be carrying anything so heavy as to damage the construction; rather it's a great bag for your camera, documents, or a lightweight laptop.
At $415 for a unique, French made, veg tanned bag, I'm floored by the price.
[SHOP BLEU DE CHAUFFE'S BAGS HERE!]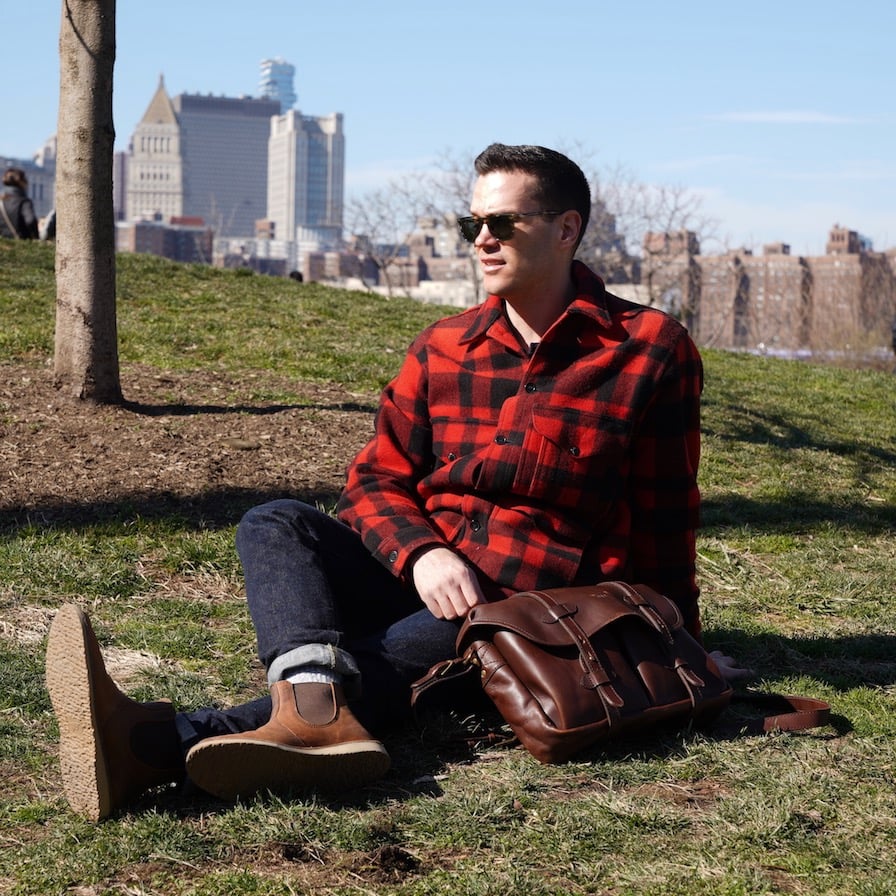 Closing Thoughts On The Best Leather Bags For Men This Year
Well, there you have it! Those are our exhaustively researched picks for the best leather bags for men! We should emphasize that most of these companies offer everything else on this list: Cravar also has briefcases, Carl Friedrik also has duffles, and so on. So we suggest you pick the brand that really nails your aesthetic, and then buy the type of bag you need from that brand.
And remember – these bags are stunning in their own right. But to truly unlock the look you're going for, you need to carefully consider the rest of your outfit. For further inspiration, take a look at our reviews of the best boots and the best waxed jackets to tie the whole look together!
The following two tabs change content below.
Karl Wasson
Karl is an IT product manager living in South East Asia who gets a kick out of durability and dependability. He believes form and function are not mutually exclusive. When he's not working, he's searching for the best bespoke menswear in South East Asia and beyond.
Latest posts by Karl Wasson (see all)