We love leather backpacks and leather bags, but at such high prices, you have to be careful to pick a fantastic product and not, an overpriced, ho-hum book bag.
We've reviewed a wide range of leather bags, from those that cost a thousand bucks to some that cost a third of that, and what's hardest to find is a leather backpack that's both practical and beautiful.
I've compiled the best leather backpacks for a range of uses: a classy office-ready bag, a rugged everyday bag, a durable unisex bag, a high end luxury backpack, and more. We'll discuss the leather, construction, hardware, design, and of course, the price. For an in-depth look at our selection criteria you can scroll to the end of this article but for now, let's get straight to the picks.
Pros
Beautifully designed; if you like a clean, elegant look, this is for you
Italian, vegetable tanned leather
Excellent quality and good value for the price
Loaded with pockets, compartments, and sleeves
Cons
Just one color available
Not for outdoorsmen
Satchel & Page is a very cool leather goods company out of New York and inspired by 1940s prewar Americana. They build very durable, simple leather backpacks and bags using extremely high-grade vegetable tanned leather from Italy
Why is Satchel and Page's leather backpack the best leather backpack?
First, it actually looks good. A lot of leather backpacks that are designed for the office can look a bit feminine — not necessarily a bad thing, but not what most guys want. Other leather backpacks look super rugged to the point of over-designed, and buying an expensive bag that you can only wear with jeans isn't the most convenient option at this price point.
This bag is both sleek and minimalist and bristling with hidden features.
Satchel & Page Backpack's Leather
6 oz leather
Tanned and finished in Ponte a Egola, Italy
Gold Rated for Sustainability by LWG
Certified full grain, Italian, vegetable tanned leather
Finished and dyed to enhance the character of the leather
The leather used for shoulder straps is tumbled for softness and comfort
There is just so much to say about this leather, but in short: it's the best I've ever seen for bags.
The depth of color and character is phenomenal, even when it's fresh out of the box; Satchel and Page use some of the highest quality leather on earth. Vegetable tanned leather is how all leather was made until chrome tanned leather was invented in the mid-19th century. Veg tan is more durable and ages more beautifully than most any other leather you're likely to find today — at least 95 percent of all leather on Earth is now chrome tanned.
Satchel and Page source and select U.S. cowhides for their backpack without correcting it with chemicals or sanding, so you can see the minor, beautiful little imperfections and color variations that add to the overall character of the bag. It looks antique and well cared for like it was in a museum, but not beat up in a way that comes off as casual. It's also very soft and a joy to pick up and sling over your back. Even the shoulder straps, which are normally too tough for comfort on leather bags, have been tumbled for softness, padded, and lined with suede for comfort.
The last point about the leather I want to make is that it's environmentally friendly. One of the downsides of veg tanned leather is that it can take a lot of water to make, but Satchel and Page only use leather that has the Leather Working Group's Gold Standard certificate, so you know they are making this leather in the most environmentally friendly way possible — it's even been certified by The Genuine Italian Vegetable Tanned Leather Consortium. This is a bag that can last several lifetimes and look better with each passing day.
Construction/Features
17″ x 12″ x 4.5″ (15 liters)
4lb
Suede-lined interior
Laptop sleeve fits a 16" MacPro
Separate tablet pocket for (up to 12.9")
Interior zippered pocket and key clip
Fits onto a travel bag
Padded and suede-lined adjustable straps
Exterior zippered pocket with area for phone, small notebook, passport, pens, and cables.
Padded back for comfort
This is a well-designed bag. The laptop sleeve fits up to a 16″ MacBook Pro and they've also added a compartment for a tablet.
That's usually all I demand for vintage bags like these, but there's also suede lining, a zippered internal pocket, a front exterior pocket for organizing all the items you'll travel with (including a passport), and there's a pass-through luggage strap so you can attach it to your suitcase.
Quality backpack manufacturers reinforce stress points by adding rivets, which Satchel & Page added to the shoulder straps and carry handle where most of the weight will be felt.
Some backpack manufacturers will offer a variety of colors, but this bag only comes in brown.
This leather backpack costs $575. Not inexpensive but it has a lifetime warranty, and because Satchel & Page is a direct-to-consumer brand, you can be confident this would cost a lot more if it was sold in stores.
The Best Bag!
Pros
Vegetable tanned leather
Large laptop sleeve
Padded shoulder straps
Exterior water bottle holders
Riveted stress points
No breakable parts
Cons
No zippered pockets
Shaped more like a slim rectangle than most backpacks
We also had to include Cravar's Workpack, made by a tiny independent company in Indonesia that has become world renowned for their quality.
The only reason this isn't our favorite backpack is that we travel and commute a lot, so we prefer an external zippered pocket for security and ease of access. That said, this bag has no breakable parts and it's more secure from pickpocketers, so choose what's best for your needs.
View this post on Instagram
Cravar's Leather
2mm thick
Vegetable-tanned in pits
Made over 2.5 months in Yogyakarta, Indonesia
Available in Fox. (medium brown) and Espresso (dark brown)
This leather isn't quite as lustrous as Satchel & Page's, but it certainly holds its own and if you peruse the brand's Instagram, you'll see dozens of happy customers showing how wonderfully it ages.
Vegetable tanned in a series of pits with increasingly higher concentrations of tannins, Cravar developed this leather strictly for their own products and they keep the cost lower than Satchel & Page's by being made entirely in Indonesia.
Construction and Features
10.6″ x 16.5″ x 5.3 " (15.2 liters)
Lined, spacious
Stud-secure laptop sleeve
Key chain
Exterior sleeve
Copper rivets
Note that there are two backpacks from Cravar: the Workpack (15.2-liter capacity) and the Daypack, (21 liters). The Workpack can hold a 15″ laptop, the Daypack a 15.6″.
It has 5 inside pockets, bottle holders on the side, a big front pocket that's big enough to store A4 documents, there's a luggage handle slot on the back to attach to your suitcase, and a spacious main compartment that's lined with Sunbrella, a synthetic material that's similar to canvas but it's easier to clean and doesn't pill.
The oversized flap makes it water resistant and a leather drawcord helps to further secure the interior, all without any zippers. The flap-and-strap approach does make it look more old timey than Satchel & Page, but for many customers that's exactly what they want from a leather bag.
The last thing we'll point out about this bag is the brass hardware and handset rivets, which are only found on 5 percent of backpacks. They are very durable, look very cool, and the studs are easier to open and close on the go than a buckle system.
The bag costs $459, which is a great price for the veg-tanned leather, copper rivets, and padded straps.
Check out the rest of Cravar's collection too if you're looking for other great leather goods like briefcases and shoulder bags. Learn more in my video review of their F.C. Messenger Bag.
[Related: The Best Leather Bags for Men]
Pros
Premium Italian vachetta leather
Very elegant, minimalistic look
Attaches to rolling luggage
Individually polished zippers
Clean, even stitching
Available in 3 colors
Cons
Not a ton of pockets and sleeves
Recessed front zipper pocket is hard to access if the bag's very full
The nylon canvas lining puts some people off
If you want something that will impress CEOs and guys who only buy luxury bags that cost four figures, check out Carl Friedrik.
This is a direct-to-consumer brand that focuses on making Prada-level bags that are affordable to mere mortals. If you just want a very nice leather backpack and don't want to pay 2,500 bucks for it you'll like Carl Friedrik.
[SHOP CARL FRIEDRIK'S BOWEN BACKPACK HERE]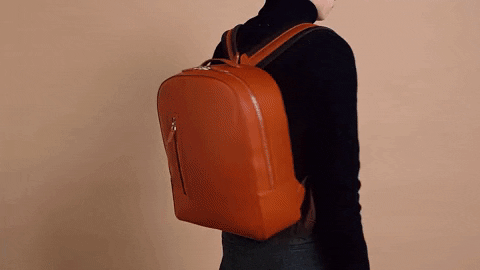 Carl Friedrik Bowen Leather
Italian Vachetta leather
Vegetable tanned
Produced in Tuscany, Italy
Carl Friedrik's signature material is vachetta leather. Like the Cravar and Satchel & Page backpacks it's vegetable tanned, but there are a few key differences with vachetta, which is widespread among luxury brands.
Vachetta is distinguished by its high fat content, which gives it a buttery soft feeling, plus its typically unfinished with the surface of the hide exposed. It's from calfskin instead of cowhide, it's loaded with fats, and this vachetta comes from a small, family-run tannery in Florence, Italy.
Unlike both of the other bags we've looked at, this leather backpack comes in three colors: Cognac, Chocolate, and Black.

Construction and Hardware
Custom gunmetal hardware from Portugal
Silver nickel finished zippers from Italy
12.5″ x 15.3″ x 5.9″ (18.5 liters)
One zip pocket, two fabric pockets, two penholders, and a padded laptop sleeve
There are a fair few pockets in the interior, but this isn't a bag for guys who want a technical feature-rich hiking backpack. It's for guys who enjoy the minimalist aesthetic that's inspired by German and Swedish design.
What I really like about this bag is the hardware: custom-made matte gunmetal for the rivets and buckles, and individually polished silver-nickel zippers from Bergamo, Italy. These have a stunningly smooth look and feel to them: unlike some other high end zippers, these won't scratch your laptop or limbs (I'm looking at you, Filson!).
Even though this is a simple design, you still get an integrated luggage strap, a padded back that provides airflow, and just enough pockets and sleeves that you aren't frustrated.
It starts at $630 for the basic backpack, and you can add a monogram to an internal card or a tag for $35 or $65.
There's a lot to like about Carl Friedrik's emphasis on using super high-end luxury materials while charging much lower prices than other brands who make similar products.
Pros:
Very thick leather
Pockets made from a single piece of leather
Extremely durable components
Available in 4 colors
100-year warranty
Cons:
Best for outdoors, casual environments
Bulky design, not for guys who want a sleek modern look
Chrome tanned leather
Saddleback Leather Company has amazing leather, durable hardware, and transparent advertising. I recommend taking a look at their website; they might write some of the clearest and most entertaining marketing copy out there. (Their tag line is "They'll fight over it when you're dead.")
It's very rugged and outdoorsy looking. If you want a bag that you can depend on, as in 12,000 ft above elevation in the Rocky Mountains, this is that bag. Something for serious adventurers — or at least, guys who want to look like serious adventurers.
Saddleback's Backpack Leather
Thick full-grain, water-resistant leather
Pigskin lining
Few pieces of leather for durability
Saddleback has their "lowest possible seam-feet approach to design." When it comes to any leather product, fewer pieces of leather equates to fewer seams and greater durability. Whole cut leather boots and shoes are considered some of the highest quality, and the same goes for leather backpacks.
A brand for backpackers, hikers, and travelers, these are meant to get set down on dirty floors, dragged over abrasive surfaces, and thrown around by baggage handlers.
Features and Construction
No breakable components
Medical grade stainless steel
Padded shoulder straps
Lots of pockets and sleeves, great for work, traveling, and hiking
Fits a 15″ MacBook Pro
This bag has all the features of durability we've discussed: lots of rivets and few seams, and the stitching is spaced out because fewer holes also equate to increased durability.
It's a good size to take as your carry-on and day bag while traveling and is about the same size as the other bags on this list at 14 liters.
Saddleback added padded shoulder straps that are both durable and comfortable, and the pocket design is clever: they close with secure buckles, but with sleeves behind them so you can put your phone or travel documents in the quick access areas while moving through airport security, then transfer them to a secured pocket when you want them to be more protected.
There are no zippers or buckles because of their "no breakable parts" design philosophy — if you've ever owned an expensive hiking backpack and had the plastic buckles break, you'll appreciate this. Their stainless steel clasps are rated to hold up to 750 lbs without breaking, so unless you're carting around a white dwarf star, you should be fine.
Lastly, you can fit a 15″ MacBook Pro in the laptop sleeve. If you work in a casual office, or from home and like to travel, this bag is really great.
The bag costs $539. It's not a cheap bag, but your bereaved relatives could be fighting over it after you've shed your mortal coil, so that's pretty cool.
The most rugged!
Pros
Inexpensive
Veg tanned leather
Versatile unisex bag
Comes in 2 colors
Cons
Zippers aren't technically unbreakable
Doesn't fit 16″ laptop (Maxes out at 15″)
Country of origin unclear
Technically it's marketed at women, but look, it's unisex
This bag is a great value and works well for folks who carry smaller laptops or tablets — it won't fit a 16-incher, but it's a terrific everyday bag with a simple and sporty style.
Madewell's Lorimer Backpack Leather
Vegetable tanned leather
Tannery has gold rating from LWG
The headline is veg tanned leather for under $300 bucks. That's very inexpensive and very uncommon at this pricepoint, which can only be explained by the fact the bag is "imported" — no info as to where from. You also get two colors to choose from; if you want something a bit more professional looking you can get true black and if you want something more casual you can get English Saddle, which is brown.
Features and Construction
Wrapped zipper pulls
Lots of pockets
Casual look
15.5″x 11.37″ x 4.75″ (13.7 liters)
This is essentially a leather version of something like an Eastpak bag, so you get a simple design but the durability of leather.
I wouldn't recommend it if you're carrying heavy, dense things for long periods of time because the leather straps aren't very padded, but if you're looking for a bag to carry a tablet, water bottle, a sweater, and little things this bag works really well.
I'd say it's as functional as a purse: it's perfect for lots of little things but will get uncomfortable if there are heavy items. Also, the biggest laptop it can hold is 15 inches.
The bag costs $228. It's just over half the price of most of these bags on this list. There are fewer features, but that very well could be a selling point for many people.
Budget Friendly!
How to Choose the Best Leather Backpack
I wrote an entire leather backpack buying guide you should check out, but I'll put the main points in this article to save you a click.
Leather
The leather is one of the most important features of a leather backpack. You want to buy something that's both durable and aesthetically pleasing, which is why I've chosen a lot of vegetable tanned leather: it's very durable and acquires a lot of character as it ages
The fewer pieces of leather the better; seams and stitches can tear, plus it just looks better. Using a small amount of leather pieces increases the price, though, because it's harder to make the bag from scrap.
Components
Components include pockets, zippers, buckles, magnets, velcro, padding, lining, flaps, and rivets. The guiding principle is fewer is better, except for rivets, which are very important to reinforce stress points like straps.
I like zippers for ease of access but they are also a breakable component, so many prefer studs or buckles. (They can break too, but it happens much less often.) Backpack buying is often an exercise in compromise: few bags have everything you want. That's partly because you can't easily design a pocket to have both convenience and security; if a pocket is easy for you to access, it's probably easy for a thief to access. Lightweight bags are easier to carry than heavyweight, but they're less durable. A simple design will look nicer and have fewer parts than a feature-rich design that might offer more practicality, and so on.
Size, Fit, and Comfort
Another balancing act is finding the right sized leather backpack.
Most leather backpacks I like hold between 14 to 18 liters. I think that's the sweet spot for a bag that's right for daily use and has a combination of elegance and practicality: bulky leather bags can easily look more out-of-place than bulky canvas backpacks, but a ~16-liter bag can be used for everyday carry, for work, as a carry on when you travel, and even for a hike. (If you're OK with the weight.)
Fit and comfort are also important. I have broad shoulders and use my bags during all seasons, so I prefer adjustable straps that can fit over winter jackets and t-shirts.
Comfort at this size means cushioning. Some leather backpacks have unpadded leather straps, which look cool but dig into the skin when the bag is loaded up.
Brands
Lastly, I like to choose brands that are transparent, which means they tell you where they source their leather, hardware, and any other materials. I also don't want to have to call them to find out if my 15" laptop and laptop sleeve will fit the bag; good companies invest in good product descriptions and tend to make high-quality products.
The bags I've chosen meet all of these requirements, which often means these are going to be a bit higher priced than cheaper alternatives but they are far more likely to last a lifetime.
Wrapping Up
The Satchel & Page backpack changed my view of leather backpacks and inspired this list. I also can't go past Cravar's consistently make high-quality, uniquely designed leather goods. If you want something super classy that'll pass any CEO's sniff-test, checkout Carl Friedrik — probably the best value if you are willing to drop $600 bucks.
Whatever backpack you choose, you can be confident we've collected the absolute best for your purposes here.
The following two tabs change content below.
Karl Wasson
Karl is an IT product manager living in South East Asia who gets a kick out of durability and dependability. He believes form and function are not mutually exclusive. When he's not working, he's searching for the best bespoke menswear in South East Asia and beyond.
Latest posts by Karl Wasson (see all)