Ever since I published my first review on Dr. Martens 1460 boots, I've been asked to compare it to the shoe's twin, Solovair. Why?
For starters, the boots are practically identical, but the two brands also share a very storied history. Solovair — whose name just comes from "Sole Of Air" — were the manufacturers of Dr. Martens in Northamptonshire, England for decades. Back then they were sold under the license "Dr. Martens of Solovair."
Solovair hasn't really caught on in the United States the same way Dr. Martens has, but many consider Solovair the real Dr. Martens because when Dr. Martens moved most of their production to Asia, cutting ties with Solovair, Solovair didn't stop manufacturing boots. They used their facility to make boots that are extremely similar to the Dr. Martens they used to make, but started selling them under the name of Solovair.
Make sense? Dr. Martens stopped paying Solovair to make their boots so they could make them overseas, but Solovair just kept on making boots under a different name. So which one is better? Here's what we're looking at:
The Original Docs!
Solovair Black Hi-Shine Derby Boot
Solovair Black Hi-Shine Derby Boots are made in England and provide wearers with a clean yet modern design. The silhouette is classic and the brand offers this boot in a myriad of leathers.
Check Best Price
We earn a commission if you make a purchase, at no additional cost to you.
Wait, Why Not Compare Solovair With the "Made in England" Dr. Martens?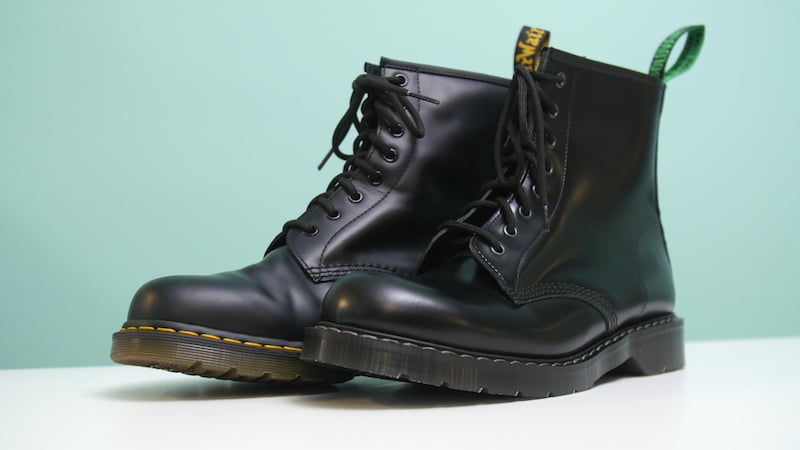 While they do sell a British-made Dr. Marten, 99 percent of all the company's boots are not made in England. The flagship 1460 boot is made in Asia. Dr. Martens even says on their site that this made-in-Asia boot is "The original Dr. Martens boot." It's what the vast majority of people buy and it's the company's principle product, so it makes the most sense to compare these two models.


Dr. Martens vs Solovair Aesthetic
8 eyelets
Glossy, corrected grain leather
Bouncy rubber sole
Vibrant pull tab
Solovair is snubbier and glossier
Dr.

Martens

has yellow stitches
Both shoes are pretty similar. The Solovair has a glossier leather, but they're both made with shiny, corrected grain leather — meaning it's been smoothed down to eliminate the grainy, skin-like appearance of full grain leather — they both have 8 pairs of eyelets, a bouncy rubber sole, triple stitching along the sides, and single stitching at the counter and along the eyelets.
Where they differ — and we're just talking about when you first look at the boots, the exterior — is that the Solovairs have a slightly snubbier look and the stitching is much more muted. A lot of guys don't love the trademark bright yellow stitching on the Dr. Martens, so they find the more sober stitching on the Solovairs to be more versatile. Then again, other guys think the yellow stitching is almost the whole point of getting a boot like this.
The stitching along the sole actually serves different purposes on each boot, but first, let's check the leather.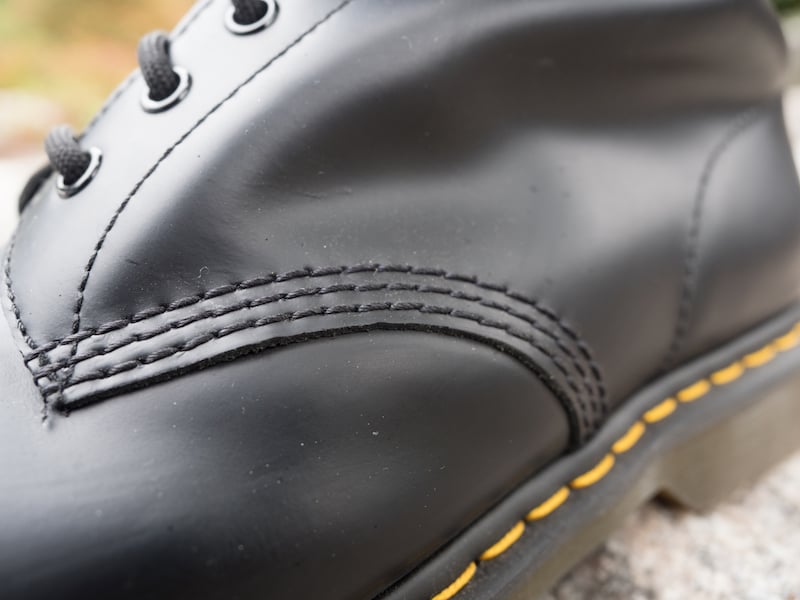 Dr. Martens vs Solovair Leather
Dr.

Martens

from "South America or Asia"
Solovair European tanneries and cattle
Both smooth and glossy
Solovair's is thicker and more robust
Solovair has this "hi shine" leather and a matte, "greasy" leather, whereas the 1460s are more of a medium shine.
Dr. Martens doesn't say a lot about the origin of their leather. When I called them up to find out, all they said was that it comes from "South America or Asia," which is a pretty broad net of 5 billion people to cast.
Solovair is a little more precise, guaranteeing that it's from European tanneries and European cattle, a fact that'll please the purists for whom made in England — or at least made in Europe — is really important.
As previously mentioned, both leathers are corrected grain, meaning it's remarkably smooth to touch, but the leather on the Solovairs is significantly more robust. The Dr. Martens has a much looser fiber structure and "floppier" feel; there's more integrity to the Solovair's leather. To be clear, neither of them are examples of amazing boot leather, but Solovair's is thicker and less plasticky. This also means they come with a tougher break in, but it'll be worth it in the long run.
[Related: The Best Types of Leather for Boots]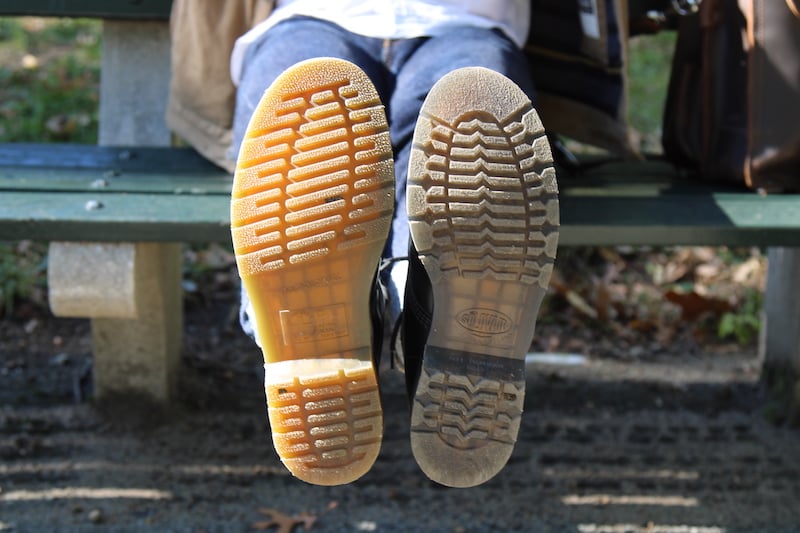 Dr. Martens vs Solovair Sole
Dr. Martens
Rubber outsole
Cork midsole
Polyurethane foam insole
Hard to resole
No shank
The sole is what Docs are famous for, and it's my favorite thing about the boots. In fact, Dr. Marten made the soles of his first boots with discarded rubber from the German Air Force (he was a doctor in the German army in World War 2) and they were originally marketed as a solution to age related foot pain. That's why they're so soft.
The shock absorption is fantastic, the rubber is soft but not too soft, and it's a delight to walk around in. The footbed is made with a polyurethane foam that compresses over time, though, and that coupled with the absence of a shank means that the shoes aren't so great for long term wear or for all day wear. Many people report no problems, but factory workers and folks who have to be on their feet for a living tend to note that they don't prevent foot pain the way that well made, pricier boots do.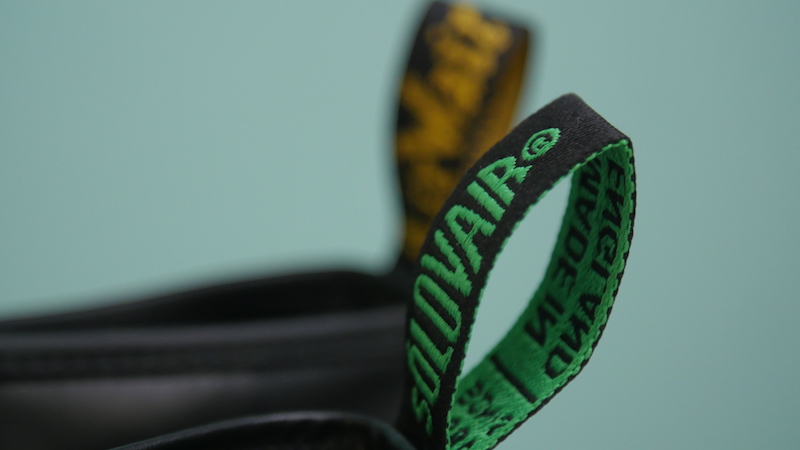 It's also worth noting that Dr. Martens can't really be resoled. The boots are advertised as having a Goodyear welt, but it's not really a Goodyear welt. The upper is heat sewn to the sole with flame, which is cool and all, but it's very hard to resole. Some cobblers specialize in resoling Dr. Martens if you're happy to mail them your boots, but your average cobbler won't be able to.
In summary: it's a nice soft sole, has great shock absorption, but isn't great if you're on your feet all day.
[Related: The 8 Best Boot Soles You Should Know About]

Solovair
Rubber outsole
More padding under heel, less under toes
Wood shank
Resoleable
A little more rigid than Dr.

Martens
This shoe also comes with a rubber outsole that's a tiny bit less springy, but not to a significant degree.
Regarding the rest of the boot's construction, there's more foam under the heel but less padding under the toe relative to the Docs. But the big thing to note is that Solovairs do have a shank. It's made of wood, not steel, so it's a bit more liable to break over time if you happen to aggressively bend the particularly bendy sole. But nonetheless, the consensus is that Solovairs are more comfy than Docs when spending all day on your feet — and the boot's shape holds up better over time as well.
The non-yellow "welt" stitch on the Solovairs, meanwhile, is actually decorative. It's a second stitch, which is hidden on the inside of the boot, that's keeping things together. But the take home message here is that the Solovairs are resoleable.
In summary: Solovair's sole is a tiny bit more rigid, but the foam under the footbed is better quality, the arch support is much better, the stability is better, and they're resoleable.
[Related: Dr. Martens vs. Timberland]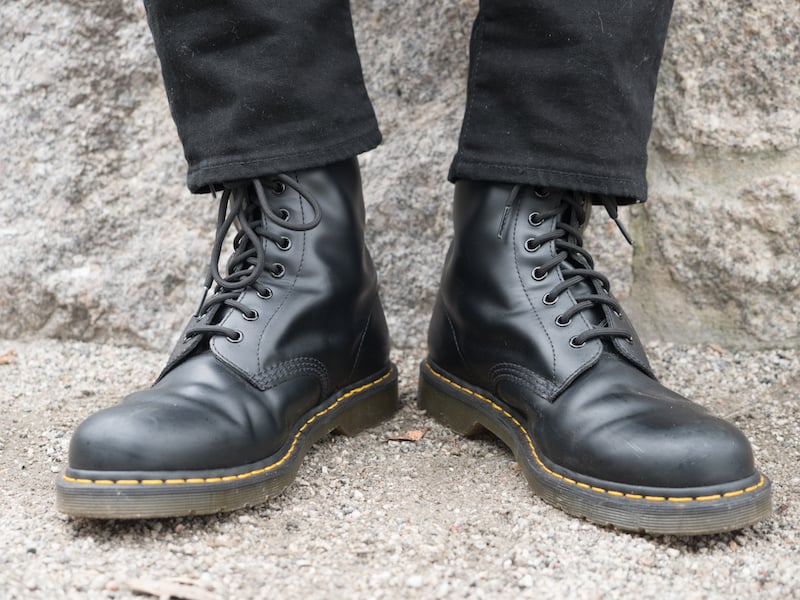 Dr. Martens vs Solovair Sizing
Dr. Martens: Size down to the nearest whole size
Solovair: Use British sizing (usually one whole size down from US sizing)
One of the most surprising things about Dr. Martens is that they don't offer half sizes. It's perhaps the most recognizable boot brand and on Earth and they don't make half sizes. As someone with an 11.5 shoe size, this is frustrating. The company recommends sizing down half a size to one full size to find your fit. I went down to an 11 and it's a little big, but a 10 would be too small. So I'm stuck with a blobby, not so great fit on the Docs.
Further Reading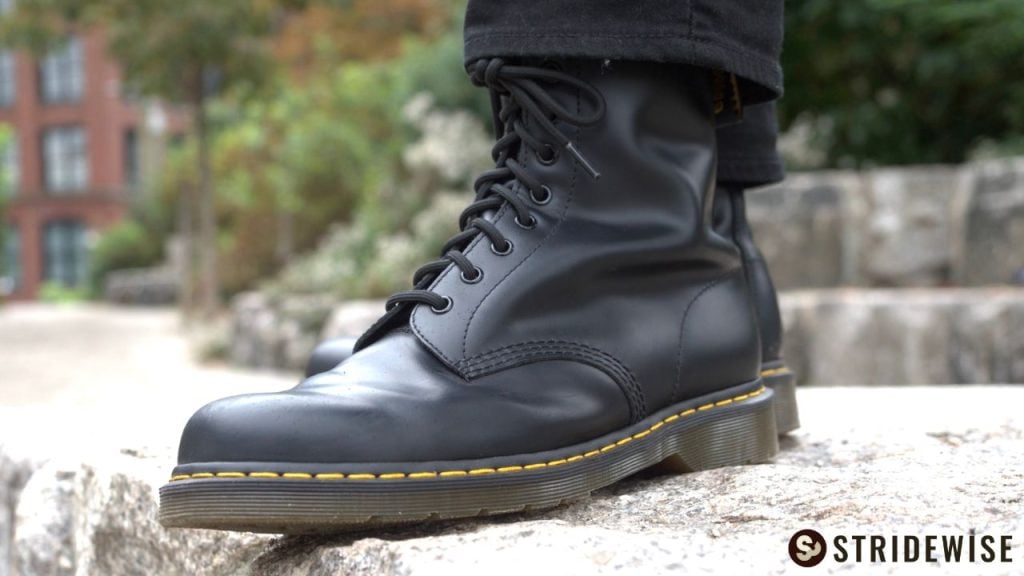 Solovair does offer half sizes, but they use British sizing. This means when you get your confirmation e-mail it'll show the British size, but the good news is their site will give you both options, so when you're picking a size it looks likes this:
Usually, your British size is one full size down from your true size in US sizes.
In short: I'm the same size (10.5) in both Dr. Martens and Solovair. But Dr. Martens doesn't offer my size, so I had to go with a slightly-too-big 11 for Docs, 10.5 UK/11.5 US for Solovair. If you're using your US size as a reference with Solovair, it'll be your true size, the one you'll get on a Brannock device in a shoe store. That's typically half a size smaller than your sneaker and half a size bigger than your boot.
Dr. Martens vs Solovair Price
Solovair: $215
Dr.

Martens

: $150
Dr. Martens vs Solovair Pros & Cons
Here are the main benefits of each boot:
Dr. Martens
Softer outsole
Leather's more comfy (at first)
Much cheaper
Solovair
Better quality leather
Maintain shape better
Resoleable
Better arch support
[Related: My list of The Best Boots for Men]
I feel like the best line that summarized what advantages the Docs may have was in a review I saw on Gear Patrol:
As far as cultural cachet is concerned, Dr. Martens has it in spades (…) The yellow welt stitching is almost as iconic as the Levi's red tab
In the short term, the Docs' soles are softer, the leather's more comfortable (because it's thinner), and it's way cheaper.
I think it's fair to say that most people who want Dr. Martens buy them because they like the look and the heritage. It's possible, though, that they'd spend a little more if they could find boots that look like Dr. Martens but are higher quality.
If that's you — if you'd spend a little more to get something similar but better — you should get Solovairs. At first, they're less comfy because of the more rigid leather and arch, but long term they're much more comfortable, they keep their shape better, the leather is better quality, and you can resole them. So they'll last much longer.
Are Dr. Martens and Solovair the same?
Solovair and Dr. Martens are not the same. They are similar, Solovair used to produce Dr. Marten boots in the UK, but not Dr. Martens are made in South East Asia and other countries. They use different leather, soles, and branding.
Do Solovair make Dr. Martens?
Solovair no longer makes Dr. Martens boots. They are different brands. Solovair used to make boots for Dr. Martens in England before Dr. Martens moved production overseas.
What is the difference between Doc Martens and Dr. Martens?
Doc Martens and Dr. Martens are the same brand. Customers shortened the name Doctor Marten to Doc Marten because it's shorter and easier to say.
Are Solovair boots hard to break in?
Solovair boots are not difficult to break in but they do have thicker leather than Dr. Martens and take longer to break in because they use more durable materials.
Are Doc Martens and Solovair the same size?
They are not the same size. Solovair uses UK and US sizes on their website. Solovair also comes in half sizes. Doc Martens do not come in half sizes.
Does Solovair run big?
Solovair runs about a half size big. If you are a size 11, you want to try a size 10.5.
What is the difference between Dr Martens and Solovair?
While they look very similar there are notable differences. Dr. Martens are mostly made in South East Asia, and Solovair is made in the UK. Dr. Martens use thinner, cheaper leather. They also have their proprietary outsole called the AirWair sole.
Is it better to size up or down in Doc Martens?
It's best to size down to the nearest whole size. For example if you are a US 11 size down to a US 10. Dr. Martens do not make half sizes.
The following two tabs change content below.
Nick English
By day: Manhattan-based journalist with reporting experience on four continents, published in Vice, Men's Health, Popular Science, and a bunch of other places.By night: ravenous consumer of anything and everything related to high end men's boots.Stridewise is where I nurture a maniacal obsession with footwear and share my findings. Say hey:
[email protected]
.
Latest posts by Nick English (see all)