When I wanted to up my hoodie game, I was torn between two different products: American Giant's Classic Zip hoodie and Flint and Tinder's 10-Year Hoodie.
After nearly 2 years of wearing both, when I want a hoodie that's fuzzy and perfect for lounging, I find myself grabbing the 10-Year Hoodie every time. It's even become my go-to for wearing to the gym.
The more relaxed, "classic" fit makes this easy on a variety of body types and the fact that it's 30 percent polyester means it's easy to wash, dries quickly, and has a more plush feeling on the skin. And that 10-year claim? It's a bona fide guarantee, so you can be confident you'll get your money's worth.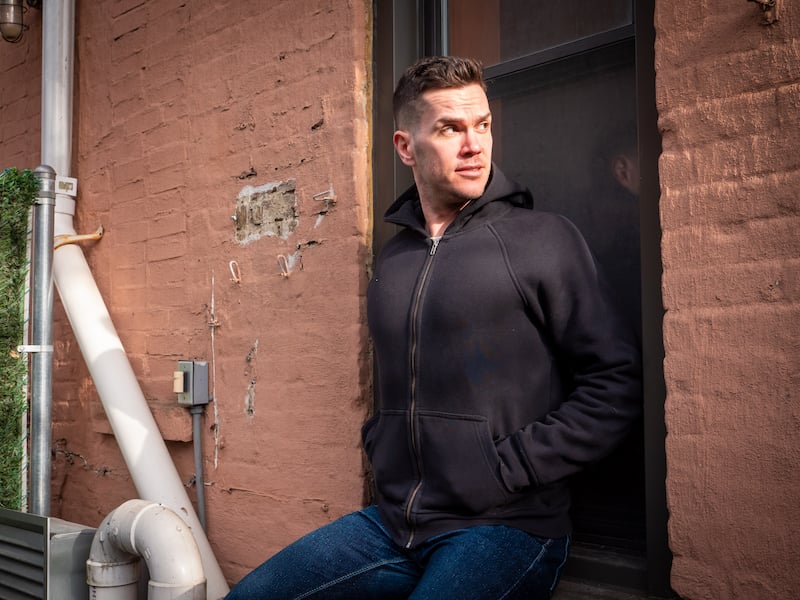 Overview
Keep in mind that we are talking about the most successful crowdfunded fashion item on Kickstarter — it's pretty darn popular — so there are tons of people out there who adore this hoodie and over 700 of them left reviews on Huckberry's site. Since it was released in 2013, there are still people wearing the first generation of this hoodie — they're still under warranty.
Who should buy Flint & Tinder's 10 Year Hoodie?
Guys who want American made; this is cut, sewn, and finished in Los Angeles and even the cotton is from Mississippi.
Anyone who wants a relaxed (but not baggy) hoodie that works with a wide range of body types.
People who want an internal pocket that fits your phone just right.
Men who want softness; with polyester in its blend, it's remarkably soft for something so durable.
Tall guys; this comes in regular and tall sizes.
You're a buy-it-for life sort of person who'll love their warranty.
Who shouldn't buy Flint & Tinder's 10 Year Hoodie?
Guys who prefer tapered or slim fits.
Anyone who doesn't like polyester blends and would rather buy 100% cotton.
Sleeve rollers out there might find the elastic in the cuffs lacking.
Flint & Tinder's 10 Year Hoodie Fit
What does a classic hoodie shape entail? Basically, it's a straight cut, not tapered like other more athletic hoodies. With some competitors, the chest will be about an inch wider than the waist, but Flint and Tinder's chest and waist are about the same.
This works well for guys who have a bit of a belly, or they think they might grow one in the next ten years. If you just want something comfy to throw on to do yard work or enjoy a movie marathon on the couch, it's very easy to wear. After all, hoodies are meant to be a comfy top, not a flattering casual shirt.
Note that this hoodie also comes in Tall fits that are about two inches longer.
American Giant Material
70/30 Cotton/Polyester Blend
12 oz. weight
Material is from the United States
While some guys who like to "buy it for life" prefer natural fabrics like cotton, wool, and hemp, I understand the appeal of synthetic fabrics like polyester fleece.
Fabric
70% cotton, 30% polyester
Seventy percent of the fabric for this hoodie is made with cotton sourced from the Mississippi Delta, the rest is polyester.
I have a sort of love-hate relationship with polyester. It has real benefits: 100 percent cotton hoodies take ages to dry, plus polyester has a better thermal value when wet.
It's less expensive than pure cotton while still being soft, warm, and durable. In fact, I find the cotton-poly blend to be softer and snugglier than similar hoodies that are 100% cotton, so combined with the cost savings, it's a pretty good fabric.
The main benefit for an item of "tough" winter wear like the 10-Year Hoodie is that the polyester makes it softer. It feels less burly and outdoorsy than 100% cotton, which is oftentimes exactly what we want from a hoodie: coziness. It comes in a little stiff, but it softens up a ton with some wear and washes.
The blend is soft and not super thick, so it works well as a thermal layer under a shell like a lined waxed canvas jacket or waterproof nylon. It's an unpretentious everyman's thermal.
Note that while the material was once listed as 24oz per square yard, that was a miscalculation on the part of Huckberry, who have updated it to 12 ounces — a little heavier than your average jeans, but the fabric is thicker because of the materials used.
Construction
Metal-tipped drawstrings
Sturdy grommets with brass zippers
Double-lined hood for extra warmth and wind resistance
If you're paying over 100 bucks for a hoodie, you want to make sure that it's going to last for 10 years.
To help get you to the end of a decade of use, Flint and Tinder beefed up the grommets and uses brass zippers, which have a better life span than cheaper materials like plastic.
Flint and Tinder 10 Year Hoodie Price and Warranty
At $128 this isn't a cheap purchase, especially for a cotton-polyester blend — except with that warranty, it's 12 bucks a season. Less than a Chipotle bowl!
The name isn't just marketing, it's a guarantee: you could beat the heck out this working on your car or snag it on branches while hiking and they will give a new one as long as it's within 10 years of your purchase date.
In short, even though polyester has a reputation for becoming brittle and wearing out from wash and dry cycles, there are plenty of photos of old 10-year hoodies that are standing up just fine. Yours is guaranteed.
Wrapping Up
I have a lot of great hoodies, but this is the one I usually wear. It just slips on more easily and feels more comfy than my more burly, outdoor fare, and I love the internal pocket for stashing my keys and phone if I want to warm my hands in the front pockets. I like the idea that I don't have to worry about wrecking it, despite the price. Great warranty, great fabric, this is a classic, durable hoodie that you can wear for 15 years.