It's time to get a new hoodie and this time you want a good one — a really good one. You've graduated from the thirty-dollar polyester ones from Uniqlo and Champion and now you want quality and longevity. And if you're Googling things like "best hoodie," you've probably come across two big names: American Giant's Classic Full Zip Hoodie and Flint and Tinder's 10-Year Hoodie.
They're both made in the United States and are practically the same price. To help you navigate this hooded conundrum, I'll share my experience, having owned both for over a year.
So, which one should you buy!? It was hard to decide which factors make one hoodie better than another hoodie. They aren't the most complicated pieces of clothing. But the most important things are the material and the fit. These two are both quite different in this respect. So I'll talk about the fit, the material, the price and warranty.
Summary
Need a new hoodie right now? Here's a summary of pros and cons of each of your options.
Who should by the Flint & Tinder 10-Year Hoodie?
Guys who prefer a more relaxed fit; this one has a "classic" fit that's looser and accommodating to more body types
Men who prioritize softness. As the only hoodie with polyester in its blend, it's the softer of the two.
People who will mostly wear their hoodie indoors.
You want an excellent warranty that will replace your hoodie if pretty much any damage befalls it.
Guys who want an internal pocket that fits their phone; American Giant doesn't have one.
Who shouldn't buy the Flint & Tinder 10-Year Hoodie?
Athletic guys who need the extra room in the chest of the American Giant.
Guys that prefer the durability of an all cotton blend.
People who like more form fitting hoodies.
Folks who roll their sleeves up a lot; American Giant has better elastic cuffs.
[SHOP FLINT AND TINDER'S HOODIE HERE]
Who should buy American Giant's Hoodie?
Guys with an athletic build or a narrow waist; American Giant has an athletic cut.
Those who find some hoodies too short in the torso; American Giant's is long, but not too long.
Men who like a "tank-like" hoodie; this is thick, textured, and abrasion resistant.
Dudes who like 100% cotton, which will keep its strength and shape after washing and drying repeatedly
Who shouldn't buy American Giant's Classic Full Zip Hoodie?
Guys who want more of a soft, cuddly sweatshirt for lounging around. American Giant is fantastic for that, but it's the less indoorsy of the two.
Men prefer an internal pocket.
Those who want the world's best warranty; this one's only against manufacturing defects.
The short and stout; this is more idea for leaner bodies.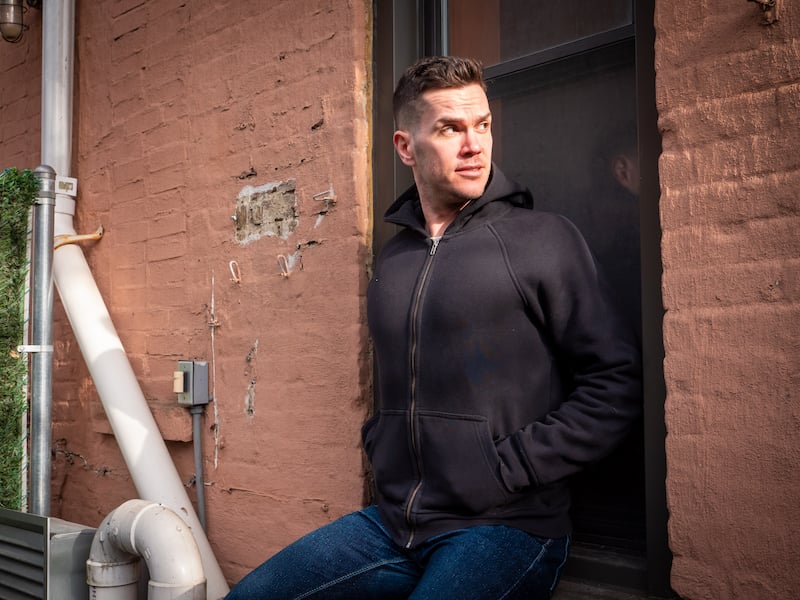 American Giant vs Flint and Tinder: Fit
The American Giant Classic Zip has an athletic look, a.k.a. tapered, modern, or v-shaped.
The Flint and Tinder 10-Year Hoodie has a classic, or relaxed, look that's friendlier on more body types.
For most guys, this is the most important part of the product and as noted above in those handy bullet points, Flint and Tinder is "classic" and American Giant is "modern."
As far as measurements go, I measured both Large sized hoodies as having the same sized waist — 19 inches across when laid flat — but American Giant had over two more inches of the circumference (1.3 inches when laid flat) at the chest.
Flint & Tinder's 10-Year Hoodie
The Flint and Tinder has a fit that's often called classic or relaxed: it's more straight up and down than American Giant and it works on a wider variety of body types. It's a better pick if you don't work out or if you need to suck your belly in on more form fitting garments.

The American Giant's Classic Full Zip Hoodie
In addition to having a wider chest, American Giant's Large is also taller than Flint and Tinder. I clocked the zipper from bottom to top on American Giant at about 24.7" while Flint & Tinder is 23.5.
Personally, I prefer American Giant because I have an unusually long torso and I also like to lift weights.
But the simple answer to how they fit is that American Giant has an athletic fit and Flint & Tinder has a classic fit. Which is best for you depends on your own needs, but note that since publishing the video above American Giant has released a relaxed version of their hoodie.
American Giant vs Flint and Tinder: Material
The Flint and Tinder is a polyester blend.
The American Giant Classic Zip is 100% cotton.
Both source their material in the USA.
When buying clothes, we're looking at the type of material — is cotton, nylon, polyester, wool, or a blend — and how it's processed and put together. And the material is very different between the two.

American Giant's Classic Full Zip Hoodie
American Giant uses a thick, 13-oz-per-square-yard material that is 100% combed ring spun cotton with a nicely textured, rugged exterior.
Just about everything else on the market is made with a cotton-polyester blend, and because American Giant is all cotton, it's less likely to become brittle and tattered with washing and drying, it's more abrasion resistant, and it looks better as it ages.
As a side note, it's a lot harder to make a hoodie that's fuzzy on the inside when it's 100% cotton, so the company puts each hoodie through a machine that picks individual loops of thread out of the fabric instead. It isn't cheap, but it's worth it.
Flint & Tinder's 10-Year Hoodie
Like American Giant, this hoodie is made in the United States with American cotton — this material is sourced from the Mississippi Delta. However, it is 30% polyester, which might be seen as a downside by some consumers, but it has benefits.
The main thing to note is that the cotton/poly blend makes this hoodie a little softer and less burly and rugged when compared to American Giant. I'd say it feels a little more natural to lie around the house in the Flint & Tinder hoodie than the American Giant one because of that cozy softness. The American Giant feels a bit more like a tank that can take on anything. It's even got reinforced elbow pads to resist abrasion, so I typically wear American Giant more when I'm outside, Flint and Tinder when I'm snuggling on the couch.
To be clear: both are absolutely fantastic hoodies both inside and outside the living room. You won't be disappointed by either. It's just true that as someone who owns both, I'm more likely to wear the softer and looser Flint and Tinder if I'm on the couch watching a movie, American Giant more if I'm going out in the wind and snow.
American Giant vs Flint and Tinder: Price & Warranty
That's a $10 difference so I'm going to say they both cost the same amount of money, practically speaking.
The warranty is important, though: American Giant's protects against manufacturer defects while Flint and Tinder's protects against literally anything. If you fall into a volcano and burn your hoodie, they'll replace it if you survive and if you send it back within ten years of your original purchase. It's a far better warranty than American Giant.
Wrapping Up
Both are great hoodies that will last a super long time and look better as they age. Objectively, they are both very high quality and you'll (subjectively) be happy with either.
Personally I prefer American Giant because I like a more athletic fit, I have a longer torso, and I consider it tougher — it's heavier, it's 100% cotton, it'll patina, and it's got these reinforced elbow sleeves.
Flint & Tinder makes a great hoodie, the relaxed fit is friendlier on more body types, it's a bit softer and cozier, it feels better for wearing around the house, it has an internal pocket, and the warranty is much better.