Even though it doesn't refer to leather quality, or style, or country of origin, or the material of the sole, it's fair to say that the words "Goodyear welt" have become synonymous with high quality footwear. In fact, the number one online forum for discussing high-end men's boots on Reddit decided to take the term as its mantle. (You can check them out on r/goodyearwelt.) Here, we want to explain why it has such a stellar reputation and explore the more popular alternatives that can be found in men's footwear. Is Goodyear welt really the be all and end all?
So What Is Goodyear Welt?
"It's definitely a sign of high quality," says Steven Taffel, founder of Leffot, a high-end New York boutique specializing in classic men's footwear. "It's very traditional, it's very sturdy, and in my opinion it's the best way to sole a shoe."
There are also several different kinds of Goodyear welts, but here we're talking about the term as it's generally defined. A Goodyear welt is the construction that is used to attach the upper of the shoe to the sole of the shoe. The welt is almost always a strip of leather (though it can technically be rubber or plastic) that runs along the perimeter of shoe's sole. It gets sewn to the upper before it's attached to the sole, and then the strip gets sewn to the sole. It's a way of connecting the two.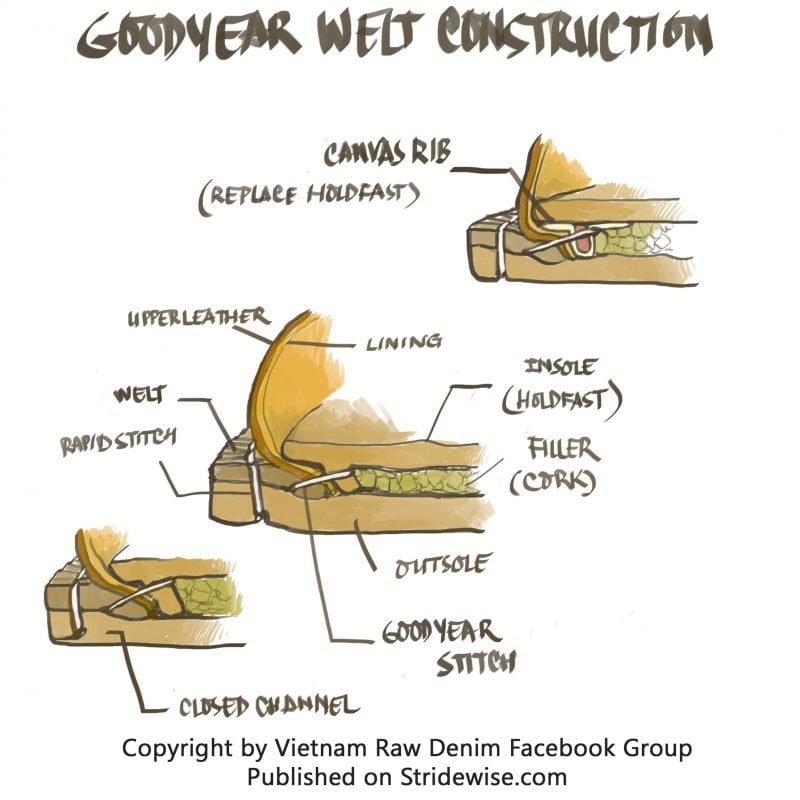 What's important is that not only does this improve water resistance, this results in a buffer of sorts: because it's not part of the sole or the upper, it makes it far easier for the shoes to be resoled.
"It allows it to be taken apart and resoled over and over without changing the fit, as long as it's done on the same last it was originally made on," says Taffel.
Remember, Goodyear welts aren't restricted to any particular sole. Vibram, leather, dainite, and anything in between can be part of a Goodyearwelt boot. It just refers to the way the upper is attached to the sole.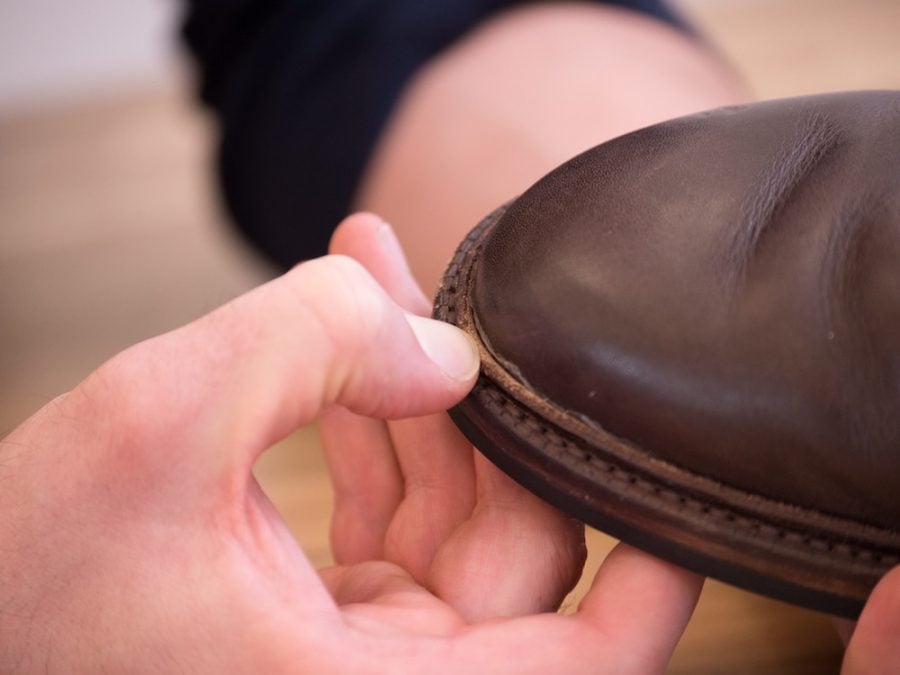 A storm welt on the Grant Stone Diesel Boot, with some plastic from the construction process remaining.
Goodyear Welt Vs. Storm Welt
Considered a kind of Goodyear welt and sometimes called a split-reverse welt — although a split-reverse welt, as seen in Parkhurst boots, is more flexible — the storm welt uses the same construction as a Goodyear welt but with a slightly different welt. While most shoes use what's called a flat welt, a storm welt is wider. Why? That allows for the welt to bend upwards, so that there's more of a seal around the barrier between upper and the mid-sole.
It's a little more water proof and it adds extra protection to prevent muck and water from getting stuck under the boot's upper sole. Aesthetically, some guys aren't fans.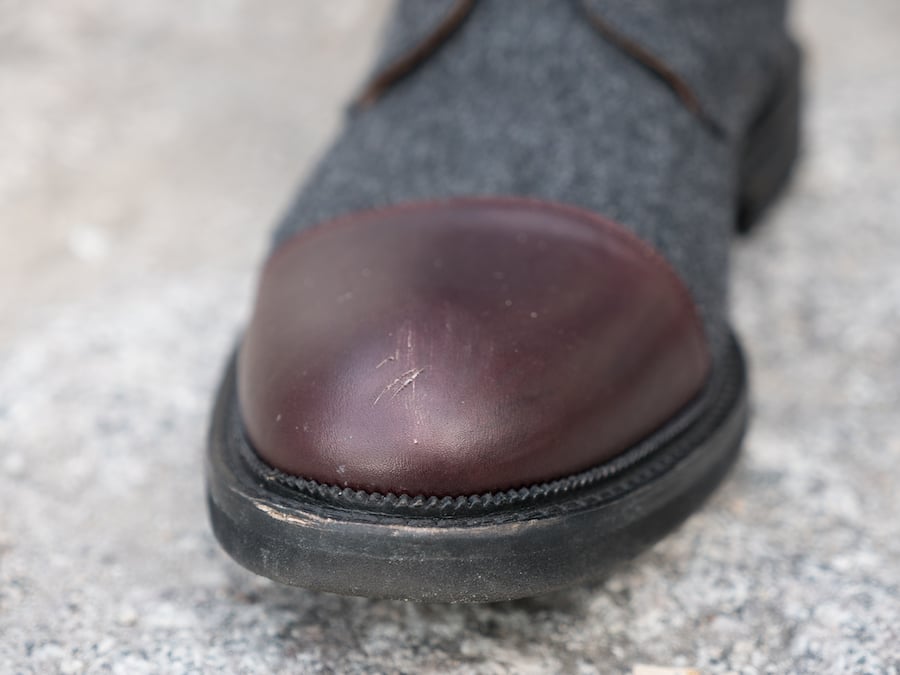 The Taft Jack boot is a popular Blake stitched shoe that has a decorative welt to make it look more like a Goodyear.
Goodyear Welt Vs. Blake Stitch
Of course, there are plenty of other ways to go about attaching shoes to soles. When talking high-end footwear, the Goodyear welt is often contrasted with the Blake stitch.
"The Blake stitch is used more in Italian shoes, where the upper is sewn directly to the sole," says Taffel. "It generally creates a more flexible type of shoe."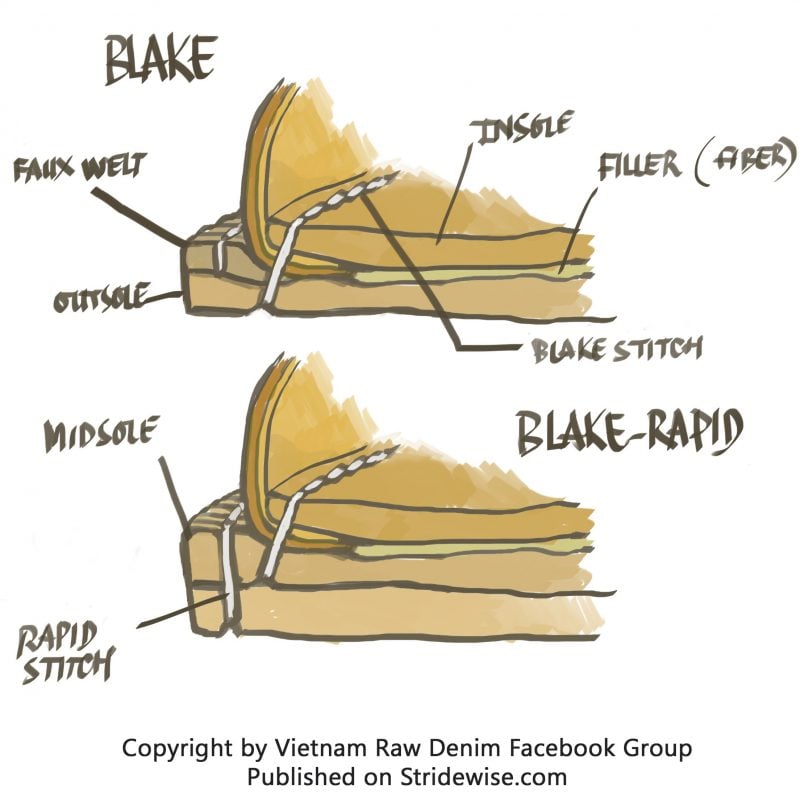 That flexibility is because it has fewer layers, which also results in a more discreet welt. Like Goodyear welts, the Blake stitch is practically always done by machine, since it requires stitching on the inside of the shoe. Because it's simpler, it's cheaper — but it's harder to resole because you need a specific Blake machine to do so. It's also less water resistant because it allows direct access to the foot from the exterior. It's not necessarily bad, but it's for more delicate footwear.
A cemented sole on the classic Chuck Taylor All Star from Converse.
Goodyear Welt Vs. Cementing
The cheapest and most common way to sole a shoe is called cemented construction, also known as "stuck on construction" in the UK. Yes, the name makes it sound pretty rudimentary and inelegant.
That's because it is. Cementing requires attaching the sole to the upper with some form of adhesive, and it while it makes for far cheaper shoes and it makes sense for the gummy, rubbery soles of sneakers, it's not considered a great way to sole boots. It totally prevents the ability to resole: once the sole starts to peel away, the shoe is more or less done.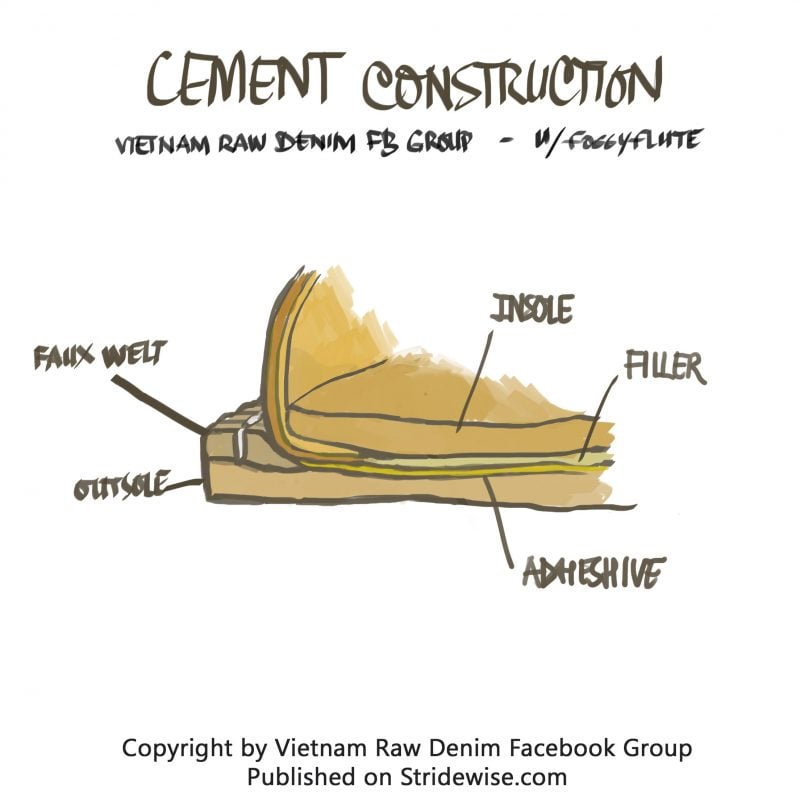 Welt This Way
We haven't covered all of the ways of attaching soles to shoes here, but these are the best known methods — and it's fair to say that Goodyear welts have become shorthand for quality footwear. While the Blake stitch still allows for relatively easy resoling, Goodyear is easily the best in terms of durability, solidity, water resistance, and longevity.
[Related: My list of The Best Boots]
Images courtesy of Nghia Hoang at the Vietnam Raw Denim Facebook group.
The following two tabs change content below.
Nick English
By day: Manhattan-based journalist with reporting experience on four continents, published in Vice, Men's Health, Popular Science, and a bunch of other places.By night: ravenous consumer of anything and everything related to high end men's boots.Stridewise is where I nurture a maniacal obsession with footwear and share my findings. Say hey:
[email protected]
Latest posts by Nick English (see all)