Taft is a direct-to-consumer footwear company that was founded in 2013 by Kory and Mallory Stevens and less than three years later, the two of them had bootstrapped their company to considerable success. A 2017 Forbes profile put the company's value at $15 million, with 30,000 customers and annual revenue of $5 million.
The boots are made in Europe with European leathers and thus far they're sold exclusively online, which means their products are often cheaper than their competitors. I've actually tried out and reviewed their Dragon boot, which was their first Goodyear welted model — check out my review of it here — but far and away their most popular boot is the Jack boot. This model in grey and oxblood is pretty much synonymous with the brand, and it makes sense. It's an extremely unusual shoe and easily one of the most distinctive on the market today.
I've seen the Taft Jack boot everywhere. Their digital marketing strategy is on point so if you've ever looked up boots online, you've probably been sent ads for these shoes in your sidebars. I'll be honest, the first ten times I saw these, I wasn't a fan. But after the eleventh and twelfth time… they got under my skin. They're compelling in their uniqueness, and I started to wonder if they'd look all right with a few of my clothing items and before I knew it… they were arriving at my doorstep.
So what does it have to offer beyond looks?
Taft Jack Boot First Glance
Unique aesthetic
Combination of wool and crust leather
Lightweight
Flexible
Blake stitch
These boots have a lot of personality and whether or not that's a good thing will depend entirely on yours. I'm going to overuse the words "distinctive" and "unusual" and "unique" in this review because it's hard to find other words to describe these boots.
The upper is a combination of grey wool with oxblood leather toecaps and counters, and there's something about the combination of this kind of grey with this kind of red that really go well together. The Jack boot is available in a bunch of other colors ranging from plain old black-on-black to tan-on-rainbow but again, this is the signature shoe. I once heard someone say that it looks like something the Great Gatsby would wear, and I can see what they meant.
It's also lightweight, very svelte and flexible, partly because it has a Blake stitch (as opposed to a Goodyear welt) and partly because it has a very soft rubber sole. It's also fully lined with calfskin so while all of these things do have their downsides, it's makes for a pretty comfy boot with a nice, soft step.
Taft Jack Boot Materials
Natural, raw wool from Portugal
Crust leather on toe cap and counter
Leather is chromium free
Fully lined with calfskin
Normally this section is called "leather" but this is a rare example of a boot that doesn't have a leather upper — not entirely, anyway. The shoe is made in Europe and the upper is mostly raw Portuguese wool.
The leather on the toecap and the counter is vegetable-tanned crust leather, also just called vegetable crust leather. So what's crust leather? It's leather that is dried after tanning but it hasn't been dyed or undergone additional finishing. Some see crust leather as a sort of intermediary stage in leather production, it's sometimes considered semi-finished. I think Taft just picked crust leather so they could paint it themselves, and that is worth emphasizing: this hand painted leather, which is a pretty cool touch.
The leather is also chromium free, which is a lot better for the environment than chrome-tanned leather and is typically more expensive and time consuming. So while you're not getting a lot of leather here, the leather you do get is pretty nice, although it is pretty vulnerable to nicks and scrapes.
[Read more in my guide to leather myth busting.]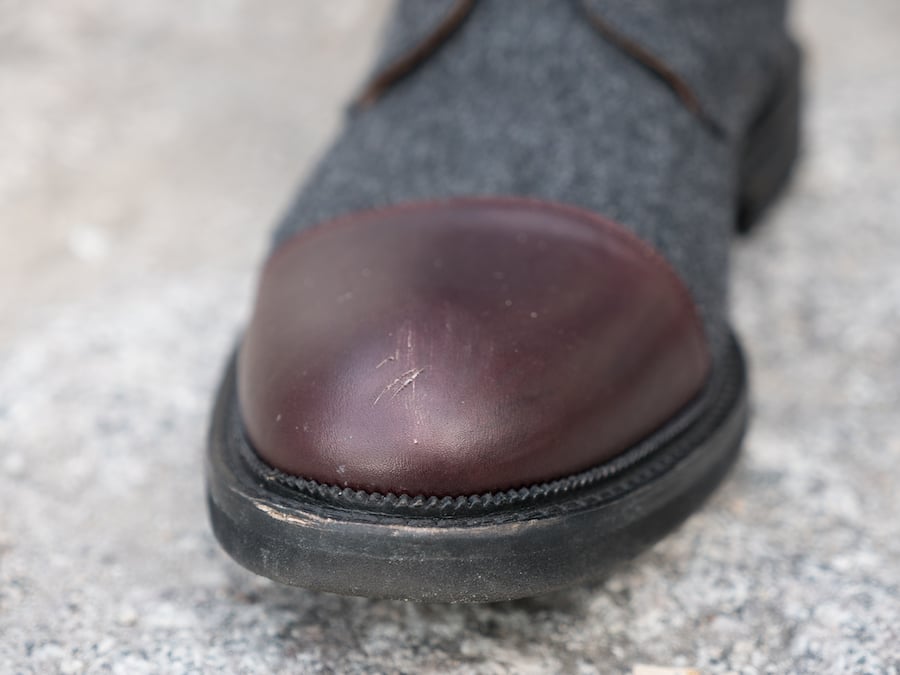 Taft Jack Boot Care
Wool: use all purpose upholstery cleaner
Leather: use Kiwi's oxblood polish
Leather scratches easily
Boot isn't great in wet weather
I don't know if "dressy" is the right word for this leather, but it's not particularly hardy. Typically, when I wear in boots, I don't deliberately damage them but I don't coddle them. I stomp around Brooklyn, I run for subways, all that jazz. Even with that kind of regular, day-to-day use, my Jack boots accrued some ugly scratches in the first two days of my wearing them. I had to check myself and remember that these aren't exactly Iron Rangers. So when it comes to taking care of these shoes make sure you don't treat them too roughly.
What about products? For the leather you want to use Kiwi's Oxblood Shoe Polish and for the wool use a regular all-purpose upholstery cleaner.
That's what Taft told me, and I want to take this opportunity to say that Taft's customer service is quite good. There's a chat feature on their site, they respond to emails very fast, and the founder Kory pretty much always appears on Reddit's Goodyearwelt sub whenever the brand is mentioned.
Now, the first thing you might have thought when you heard that this has a wool upper and a Blake stitch is that it's not going to go well in wet or snowy weather. The truth is a little more complicated than that. The boot is fully lined with calfskin leather so the upper isn't terrible in the rain, and Taft described the sole as water resistant.
Note that I'm using language like "not terrible" and "water resistant" as opposed to "good" and "waterproof." This shoe is certainly nowhere near as good in wet weather as their Dragon boot, which has a Goodyear welt and waterproof suede, and when I spoke to Taft about wet weather they said,
A little water shouldn't hurt or go through the wool, but if you get it super wet it will go through the wool and affect the leather lining somewhat.

The sole will not be water proof but since it is rubber, it will hold up well in wet conditions. None of our shoes are completely water proof.
So the shoe could be better in the wet weather and the line about water affecting the lining isn't encouraging. But you shouldn't look at these boots and think they'll be as water resistant as a wool sweater.
Taft Jack Boot Sole
Full rubber lug
Memory foam and wood shank
Soft, flexible sole
Blake stitched
In some other colors this is available with a leather sole but the pair I got comes with a full rubber lug. After the lug there's memory foam, a wood shank for stability and arch support, another layer of leather, cork, then the leather lining.
This is the info that Taft gave me in an e-mail, but I want to point out that nowhere on their site do they mention the memory foam or the cork. It seems like something they'd want to advertise and it's a little confusing why it's not discussed in their official materials.
In any case this sole is comfortable. The rubber lug is very, very, very soft and has a lot of give. The flipside of a soft sole, especially one with a heel as high as the Jack boot, is that it doesn't feel super stable. That's just kind of how soles tend to work: hard but stable, soft but not so stable. Choose your tradeoff.
The rubber also isn't crazy durable, as you can see in these images it has had a few nicks taken out of it. But again it's comfortable and the grip is pretty decent as well.
The upper is attached to the sole with a Blake stitch. Sometimes Taft has said that it's Blake-Rapid stitch and other times they say it's just Blake stitch. There is a difference, but generally speaking, when compared to a Goodyear welt, the Blake stitch has fewer layers in the sole. In fact, the upper is typically attached directly to the sole which results in a shoe that's flexible, dressier, lighter, and it's definitely easier to wear in. The first time I wore these was at a wedding in Maine and I can attest that they're very easy to dance in.
The downside of the Blake stitch is it's a little harder to resole, it's less water resistant, and it's just a bit more delicate. I wouldn't say it's better or worse, it's just more common in dressier shoes than outdoorsy ones.
That said, Taft emphasizes that this is a resolable Blake stitch on their site, so maybe it's easier to resole than some other Blake stitches, but I'd wager not as easy as a Goodyear welt. In any case, Taft's blog recommends that once the sole is wearing down you should get rubber taps inserted, like just extra rubber placed on the bottom of the sole, before you go to do a complete resole. That'll prolong the life of the shoe.
Taft Jack Boot Fit & Sizing
Order a half size down
No half sizes or other widths
No break in
If a boot fits true to size, I'm pretty much always a size 11.5, but with this shoe I'm a size 11. That's pretty common in boots — I'm an 11 in Red Wing and Wolverine and Thursday and Viberg and so on — and I'm lucky that Taft runs a bit large because they do not offer half sizes. That's going to be a downer for a lot of potential buyers, but they could always introduce them later.
It's also not available in any other widths, though I didn't find it as narrow as I did the Dragon boot, probably because of the different materials. But the good news there's no break in, it breathes well, as again, the sole is nice and flexible.
Taft Jack Boot Price
The price can change at any time but right now, a pair of these shoes will run you $295. That's cheaper than most high quality boots but to be honest, for a direct to consumer company that's selling a boot that's mostly wool and rubber, I was expecting something just a little cheaper.
The Verdict
These are very distinctive, unusual, eye-catching boots. I get a ton of compliments on them. Fashion-wise, very distinctive shoes won't go with quite as many outfits as you might think — that's the necessary flipside of wearing strange shoes — but if you dress very plainly or very colorfully, they can be a great addition to an outfit. If you're in between those two categories you might have some trouble; I don't really like wearing them with plaid, personally, since I think it results in a little too much going on in an outfit. Then again, I'm a pretty boring dresser.
When you do find an outfit they work with, they work very, very well. The shoes are also quite comfy, flexible, and lightweight.
The downsides are the lack of other widths and half sizes, it's not great in wet weather, the sole isn't very durable, and they don't feel all that supportive. They're also pretty expensive for what you're getting.
But if you know the forecast and you know the outfit, I can promise you'll get compliments in these.
The following two tabs change content below.
Nick English
By day: Manhattan-based journalist with reporting experience on four continents, published in Vice, Men's Health, Popular Science, and a bunch of other places.By night: ravenous consumer of anything and everything related to high end men's boots.Stridewise is where I nurture a maniacal obsession with footwear and share my findings. Say hey:
[email protected]
.
Latest posts by Nick English (see all)