This post may contain
affiliate links
that at no additional cost to you, I may earn a small commission from.
Note: This boot's been discontinued. Check out our Parkhurst Allen boot review for a look at their flagship model.
Parkhurst is a newer boot company that was established 2018 but has already made a sizable impact on the industry. Based in Buffalo, New York, the company makes everything in the United States with materials from the United States — except for the rubber outsoles, but even those are imported through a third generation mom and pop shop in Pennsylvania.
Parkhurst's goal is threefold: to bring manufacturing ba ck to the United States, to do so at a great price, and to combine dress and work boot aesthetics to make the most versatile boot there is. In the 'hybrid boot' aspect it's not unlike the Thursday Captain Boot but there are a few things that help it to stand out, including the broguing detail, the split reverse welt, and an unusual Texon insole that I'll discuss below.
Let's take a closer look at the aesthetic below.
[SHOP PARKHURST'S BOOTS HERE!]
Parkhurst Delaware Boot First Glance
Hybrid dress/work boot
Broguing along toe cap
Fully lined
Split reverse welt
This is a pretty sleek cap toe boot made with natural Chromexcel leather and a Dainite sole, both mainstays of nicer men's boots. It's also fully lined with glove leather, so it doesn't feel as rough and outdoorsy as an unlined boot like the Wolverine 1000 Mile.
But that's kind of the point with the Delaware: to combine elements of dress boots and work boots. The founder, Andrew Svisco, told me that the goal is "to offer something that's moving away from the traditional clunky American workboot, something with a sleeker profile but not too sleek."
Again, it's still a little unusual with the broguing along the toe cap, which is meant to strike a balance between a wingtip and a plain toe without overloading the boot with broguing.
Another differentiator is that this has a slightly wider last than you might expect. Some sleeker boots have a tendency to squish the toes in the toebox, but the Delaware is just wider than a D width, while not looking as wide as a more casual boot like the 1000 Mile.
The leather is great and there were no major quality control issues, though if you look really closely at the right toecap you can see that some of the stitching runs through the holes in the broguing instead of around them. It's not something anyone would notice unless you were standing on their face and I didn't consider it a big fault, especially given the remarkable cost of the shoes.
[Related: See our review of Parkhurst's Allen boot, the Delaware's plain toed cousin]
Delaware Parkhurst Boot Leather
Natural Chromexcel leather
Combination vegetable and chrome tanned
Hot stuffed with animal fats
Ages well
Parkhurst has a good range of leathers these days, including ones we've reviewed in green kudu and natural veg tan, but the Delaware comes in natural Chromexcel. It's about the most popular leather you can find in American boots — it's a combination tanned leather that includes both vegetable and chrome tanning. This makes it both durable and relatively supple, plus it produces a nice depth of color. (Though that's more apparent in the brown Chromexcel.)
Apparently when it debuted in 1913 the tanning process included whale oil, but these days it's got some other animal fats like food grade beef tallow, along with plenty of other oils and waxes that are jammed in there with a process called "hot stuffing."
The trick with Chromexcel is that it's pretty prone to creases and loose grain, but my pair of Delawares had pretty tight grain and while they did crease a little along the toe break, it didn't do so to unusual degree. This boot is only available in natural Chromexcel for now, but I think this color makes for a great addition to a wardrobe and I find myself wearing them more often than I thought.
The Delawares star in this video about Chromexcel leather care above!
Parkhurst Delaware Leather Care
Top finish vulnerable to scratches
Condition with Venetian Shoe Cream
Parkhurst suggets Nikwax
This kind of leather, for all its pros, its pretty vulnerable to scratches and nicks. That said, it really isn't hard to remove them with a good conditioning.
There are two products that get recommended for Chromexcel a lot: Venetian Shoe Cream and Saphir Renovateur, which produces a bit more of a shine. These products get the nod from Horween Leather Company, who produce Chromexcel, but Parkhurst themselves suggest Nikwax's Leather Conditioner.
Chromexcel is a pretty hardy leather and doesn't need much conditioning if you're OK with the scratches that will inevitably accrue, so condition as often as suits your preference, but you should probably stick to a minimum of two or three times a year. I actually made a full video of myself conditioning these boots — to watch it, check out my Venetian Shoe Cream review.
Parkhurst Delaware Boot Sole
Dainite outsole
Texon insole made from recycled cellulose
Fully lined
Split reverse welt
Now this outsole is Dainite, widely considered a great compromise on grip, aesthetics, flexibility, and durability, plus it's got these cool recessed lugs that offer decent grip but it still look flat when viewed from the side. A lot of brands try to mimic Dainite, but the Dainite brand itself it's pretty much only ever seen on brands that cost over three hundred bucks, and even five, six, and seven hundred dollar boots usually default to Dainite.
The heel is stacked leather, which they make themselves just outside of Buffalo, and Parkhurst offers heel replacement and resoling services for when you run through the sole. It's not free but still, if there are no cobblers in your area it might be worth the postage.
[Learn more: The 6 Kinds of Boot Soles You Should Know About.]
There's a leather midsole and there's some cork underneath the leather, and the aforementioned Texon insole, which is made from 85% recycled cellulose. Texon is pretty soft and flexible (it's used in some athletic shoes at Nike and Reebok) but this particular type of Texon was developed just for Parkhurst. They told me they thought it'd help reduce the boot's carbon footprint (or bootprint), which is pretty neat.
As I mentioned it's also fully lined with glove leather, and between the Texon and the glove leather there's a thin strip of foam for extra cushioning. An interesting touch is that the boot's leather inlay is cut from the same hide of leather (as in the same animal) as the vamp, toebox, and quarters in the interior of the boot.
Note the welt curling up onto the upper.
Finally, the sole is attached to the upper with a Goodyear welt, technically it's a split reverse welt, which is somewhat like a storm welt in that the welt curls upward over the upper to result in extra water resistance. (The welt is in one piece with a storm welt, with a split reverse welt it's cut into three or four pieces, so it's a tad more flexible.)
Parkhurst Delaware Boot Fit & Sizing
Order a half size down
Width is between D and E
No break in
Decent shock absorption
I ordered a half size down (so an 11 for me; my true size is 11.5) and there's just one width available right now, which is a bit limiting but as a new company it's not surprising and that may change in the future. That width is ever so slightly wider than a D and although I'm normally a regular D width, I found myself really enjoying the extra room. As mentioned, many sleeker, dressier boots tend to mash the pinky toe, but the Delaware offered a pretty roomy toebox without sacrificing the sleek aesthetic.
As a fully glove lined boot made from Chromexcel, I'm pleased to report that I didn't have a tough break in at all. This is not quite as rugged and thick cut as some other Chromexcel boots and as a result the boot looks a tad dressier, but also the leather isn't as stiff or hard to break in. All the layers in the sole did make for a shoe that's not especially flexible, particularly when compared to something like a Blake stitch, but the good news is that all the Texon and foam made for pretty decent shock absorption.
[Related: The 10 Best Dress Boots]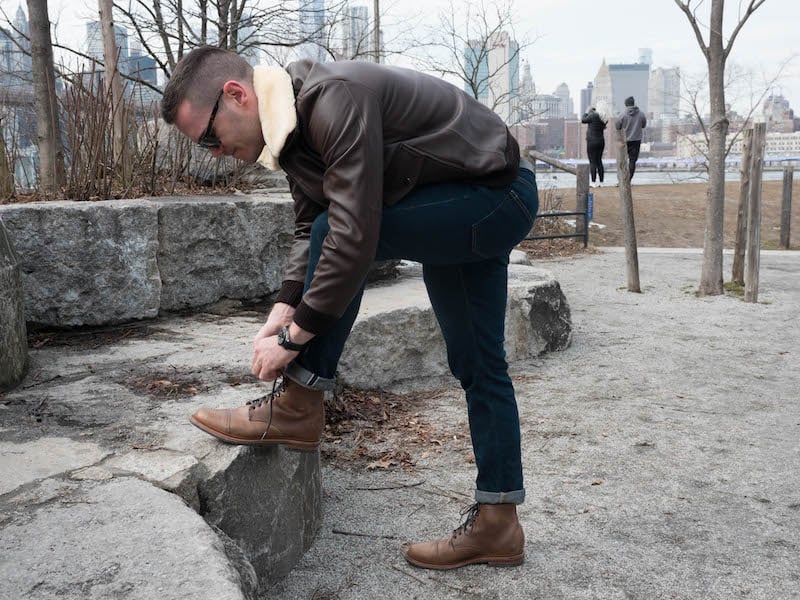 Parkhurst Delaware Boot Price
Right now, the boots cost $350. For a Chromexcel boot with a Dainite sole that's completely made in the US with US materials (yes, except for the outsole), I found that to be a pretty remarkable price — I would have expected at least $400 for a shoe like this.
[SHOP PARKHURST'S BOOTS HERE!]
Parkhurst Delaware Boot Pros & Cons
Pros
Versatile aesthetic
Not-too-tight toebox
Fully lined
Well priced
Water resistant and flexible
Cons
No other widths available
Not the best arch support (you pay extra for that)
Minor QC issues with broguing on right boot
I was pretty happy with my Delaware boots. They're versatile, comfy, well priced, and the split reverse welt makes 'em extra water resistant. Some turn up their nose at boots that don't have leather insoles, but Parkhurst tells me they're soon switching to leather insoles anyway. In any case, for something totally made in the US, I think you get good value for money.
[Related: My list of The Best Boots]