This post may contain
affiliate links
that at no additional cost to you, I may earn a small commission from.
Cleaning the stitching on your cowboy boots goes together like rodeos and steers.
The one thing you can count on with cowboy boots is the stitches; they are everywhere. Indeed, there's stitching on the shaft, vamp, and welt. Cowboy boots are a work of art made of leather and white stitching.
The good news
Assuming you've picked the right fitting cowboy boots, keeping this leather footwear in good condition doesn't involve much more than a damp cloth, shoe polish, or cream and wax. To take care of colored stitching, you will also need a brush and some leather cleaner. Taking some before and after images might be fun.
Cleaning the stitching
Everyone who has ever had to polish cowboy boots will tell you cleaning the stitches is their least favorite part of their ownership.
Like it or not, stitches are part and parcel of these iconic boots. They are not merely for structural integrity; the stitching is part of what makes cowboy boots so unique and beautiful. Besides these two aspects is the boot brand itself. Their stitching is often part of the brand identity, a signature that tells you who manufactures the boots at a glance. The stitching signals everything you need to know about who is behind the boots.
Cowboy boot stitching
It is integral to the boot and the bootmaker. But the downside to this particular feature is keeping the stitching clean and its original color. No matter how careful, it is inevitable your boots will become dirty sooner or later. Shoe polish isn't the answer, as it merely serves to change the stitching's color.
Don't fret. There are plenty of ways to clean boots and shoes and return their just bought shine.
The best technique to remove dirt, dust, and salt stains?
Below we outline the top 3 ways to clean those pesky threads. As you will doubtlessly be aware if you are already a fan of this footwear, there are many different kinds of stitching, including white stitches and colored stitching. And the same holds for shoes as well.
Getting rid of dirt and salt is no mean feat, and there's no one-size-fits-all technique, unfortunately. No single method can apply to your shoes and boots. And a suede shoe is another story entirely. However, as you will discover, the wax pencil is your ally. So is diluted vinegar for salt stains.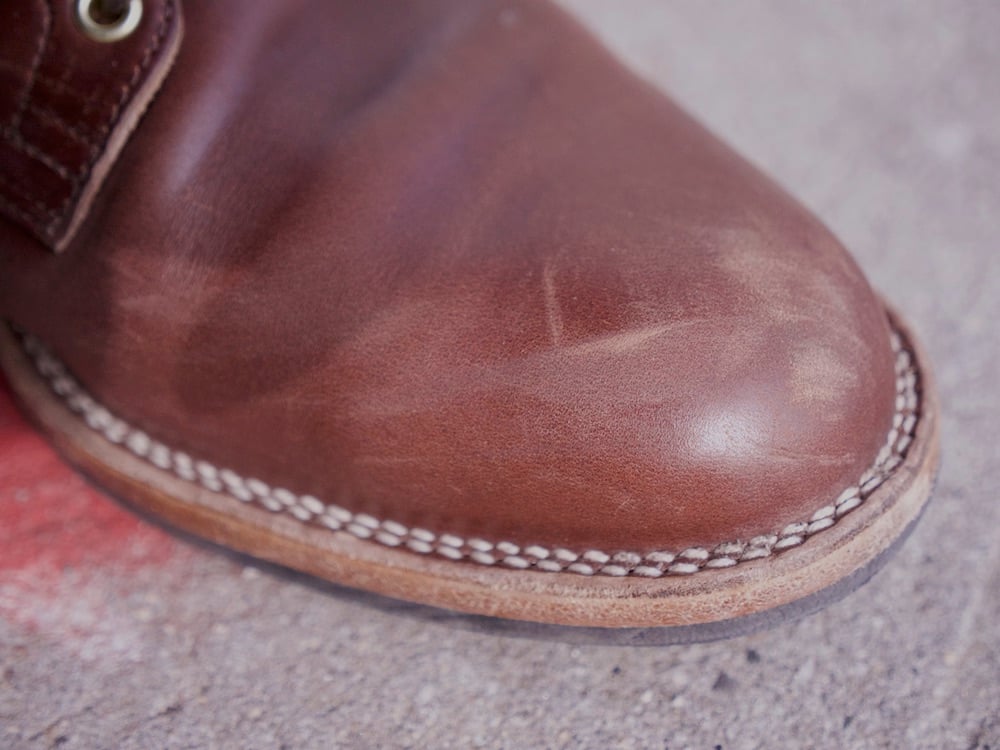 Cleaning white or cream stitching
Dark-colored leather or suede boots will almost always have a white threading feature, for sure. This is to give some welcome contrast to the boot rather than using a similar color.
There's no escaping the fact that white will get very dirty very quickly and require a rub and polishing. Those of you who like polishes and polishing will take a shine to this guide.
Method 1: Use a white pencil
This is a shoeshine polish trick for white stitching. Get a white lead pencil and color every single inch of white thread that you can. It takes a small amount of time, but the results are worth it. This method is pretty effective and reliable. However, the downside is that you are looking at half an hour per boot, and once you start, you have to continue to the end. Of course, you don't need to do it in one sitting.
Method 2: Combine a small brush with soap
The other option is to take the bull by the horns, scrub away, and remove more dirt or salt first. A toothbrush and dish soap is ideal for this as toothbrushes are easy to hold, and the bristles go where you need them to go. Salt is best removed with diluted vinegar.
However, if you are tackling the threadwork on the shaft and vamp, a small horsehair brush is a safer option as you are less likely to scratch the leather.
Pro tips
Always use painter's tape
Mask off the shoe leather you don't need to clean before using your brush and soap. This is particularly crucial if your boots are made from any exotic leather. Getting soap on these types of leather does them no good at all.
Exotic leathers
Always use specialized products, such as leather cleaners and leather conditioners. Do not go anywhere near boots or shoes made from exotic leather with laundry soap or laundry detergent. Do not pour bleach near them either to avoid accidental splashing. Instead, always use a clean cloth.
Method 3: Use a bleach pen
Another popular technique to put a shine onto a shoe or boot stitching is to use a bleach pen. However, you don't want to use more bleach than necessary. The pen contains bleach rather than polish, so it's crucial you tape off the surrounding leather. And you should also consider the sole.
Bleach not only removes stains, but it will also discolor leather, distort the dye evenly, and any other fabric, including suede.
For best results
It's highly recommended that you use the bleach pen with soap and a toothbrush. This combination will take good care of your shoes and boots and should be carried out before you polish them.
First, use the soap to polish the threadwork, then use a dry cloth to wipe off any excess moisture. Continue to rub and rinse carefully until everything is dry and clean. You could use a hair dryer at a low heat setting to help.
The next step
Spread all the threads with the liquid bleach and then wait for approximately five minutes. Be careful not to get any of the bleach on your fingers. If you do, immediately wash and rinse them.
After the appropriate time, take a soapy toothbrush and remove all the bleach you can find. Leaving it on any longer than necessary is never a good solution. A good rubbing should remove all the cream.
Lastly, use a dry, not wet, rag
Remove any lingering residue and remove the painter's tape. Then, stand back and admire the fine quality job you have done. It is images like these that will stick in your mind forever.
Cleaning colored threading on cowboy boots
The tips are largely the same here; you can still use some of the wet methods previously outlined using a small brush. Remember to apply the Pro Tips portion above: painter's tape is your friend.
But there are a couple more things to take into account when dealing with colored threads.
The biggest consideration for colored threading
Never use a bleach pen on colored stitch-work, as this will cause the dye to fade.
Many people, before polishing, prefer to use wax pencils to restore the thread color and give it new life. This is also an effective technique. Who knew that owning Western boots or a regular shoe style could involve so much creativity?
How to protect white stitch-work on cowboy boots?
Sadly, the fact is there's no foolproof way to safeguard white threadwork when you're wearing your boots. Apart from never wearing them, the only thing you can do is to keep them stored in a dry, well-ventilated cupboard. This will at least stop the stitch-work from growing dark over time.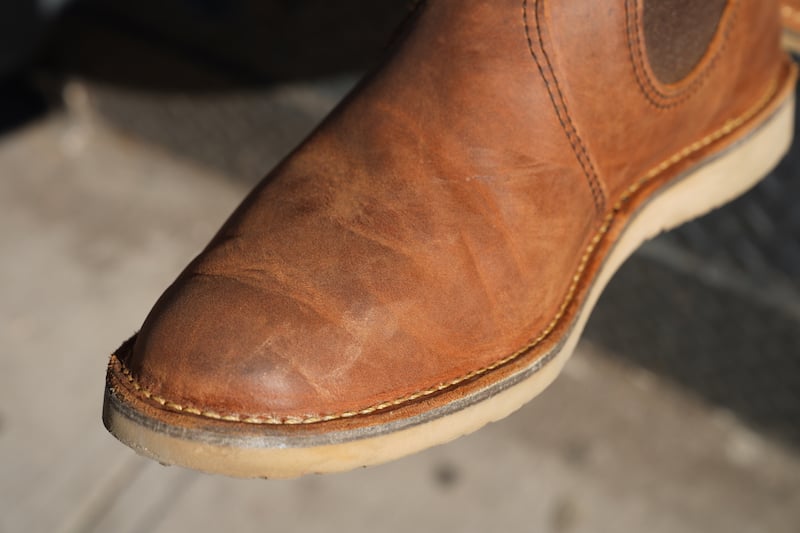 The alternative
Only wear your white-stitched boots on special occasions and avoid anywhere that's dirty and muddy. But that kind of stuff is a solution that requires a second sturdy pair for working.
Cowboys boots are beautiful and should be shown off. But the price tag of white stitch-work is a dedication to regular cleaning. Unfortunately, there's no genie in a bottle to do that for you. Owning a dressy pair of boots sure has its challenges, but we have compiled some further handy tips below you will want to know about.
Protecting white stitch-work when polishing
Painter's tape is your best buddy when you want to buff up white threads from the sole upwards. Yes, it can be a touch fiddly, but persevere. Using painter's tape to cover the leather will save you heaps of time and heartbreak later on.
In a way, it's therapeutic to sit there in your socks without a shoe, wax pencil in hand, quietly removing salt and dirt. The biggest thing is weighing up whether a neutral polish might be a better way to polish cowboy boots.
Some final thoughts
Firstly, you can teach yourself how to clean stitching with a brush and soap in conjunction with a bleach pen. Secondly, you can obtain the original color of the stitching by using a white pencil or colored wax pencil.
Ultimately, you won't be able to protect the stitching when you are out-and-about. It also calls into question whether all of this is necessary. On the other hand, some people do care about and take pride in their footwear. Others really don't care what happens.