I've been boring the internet with my highly detailed, lovingly crafted reviews of leather conditioners for months and months — and had a pretty steep decline in YouTube views as a result — but if you're reading this, then you're in luck. You don't have to read the other reviews because this, my friend, this is the concluding paragraph. This is the show.
These are the best conditioners on the market.
I've tried the top 5 conditioners on Amazon, I've tried newcomers to the industry, I've tried some niche favorites, I daresay I possess one of the most extensive conditioner collections of all time.
So in this roundup I'm going to name:
Cobbler's Choice is the best leather conditioner for boots. In my review I used it on 700-dollar Viberg boots — boots you really don't want to mess up — and couldn't have been happier with the results. Why?
Most conditioners will do a good job of moisturizing leather or improving weather resistance or covering up scuffs, but Cobbler's Choice does all three with aplomb.
Most conditioners will do a good job of moisturizing leather or improving weather resistance or covering up scuffs, but Cobbler's Choice does all three with aplomb
The only leather conditioner I've found that actually discloses its ingredients, it's made from triple filtered beeswax for water resistance, a blend of seed oils to soften and nourish the leather, and some naturally occurring lipids that catalyze the seed oils and help them penetrate the leather. So not only is it effective, it's also all natural — no silicone, petroleum, alcohol, nothin'.
I put 'em on Chromexcel leather, which is pretty much the most popular leather for nice men's boots, and it did a phenomenal job of covering up scuffs, moisturizing leather, and boosting water resistance, all while barely changing the color at all. The softening of the leather also means it can be really useful for helping you break in tough boots, so I'd probably recommend these on any pair of Red Wing Heritage boots, which are notoriously tough to break in.
Covers up scuffs
Moisturizes leather
Increases water resistance
Doesn't change color much
Can help with tough break ins
All natural ingredients
Inexpensive
Best All Rounder
Cobbler's Choice Leather Conditioner
Made with all natural ingredients like beeswax and seed oils, this offers the best balance of waterproofing and color preservation.
Buy Now
We earn a commission if you make a purchase, at no additional cost to you.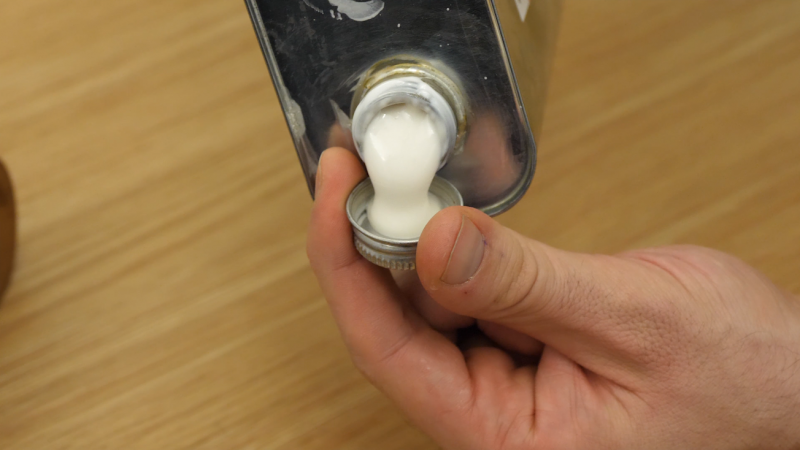 This product is the go-to for many boot lovers because it's well-priced and does a great job of conditioning and softening almost any type of leather. The ingredients are secret, but the company's owner told me it's made from a blend of six or seven waxes, each with their own purpose. (For example, one's for moisturizing, one's for shine, one's for preserving, and so on.)
It contains no silicone, which many prefer to leave out of their conditioners because it creates a tough coating that's very hard to remove, and it's a superb, neutral product that will extend the lifespan of your boots and help to cover up scuffs without significantly darkening the leather, as you can see in my video review. Bonus: it makes for a great base for polish as well.
Pros
Medium shine
Can be used on many leathers
Doesn't change color much
Well priced
Cons
Not the best at waterproofing
Contains petroleum distillates
[Buy Venetian Shoe Cream here]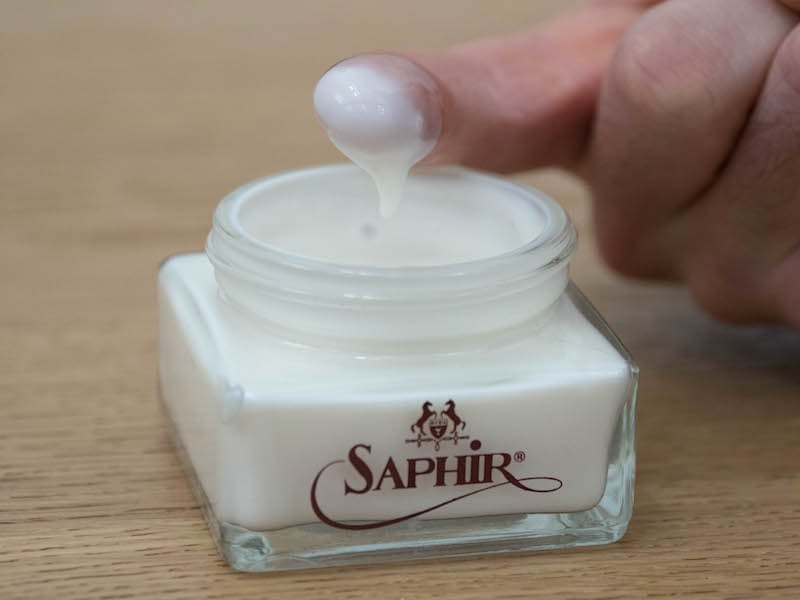 This is a terrific product. I'm putting it at number 3 because it is phenomenally expensive at about $10 per ounce, more than three times the cost of Venetian Shoe Cream, but that notwithstanding it's a fabulous conditioner.
It stands out on this list as the only product with mink oil, which is more shelf stable than other animal fats, and it's blended with a variety of waxes for conditioning, shining, and producing a great patina as the boots age. Of all the conditioners on this list, this one's probably the best at bringing some shine back to your boots, plus it works on just about every type of leather and it won't change the color much.
Pros
Produces really nice luster
Eliminates scuffs
Practically solvent free
Doesn't change color very much
Cons
Really expensive
Not great for waterproofing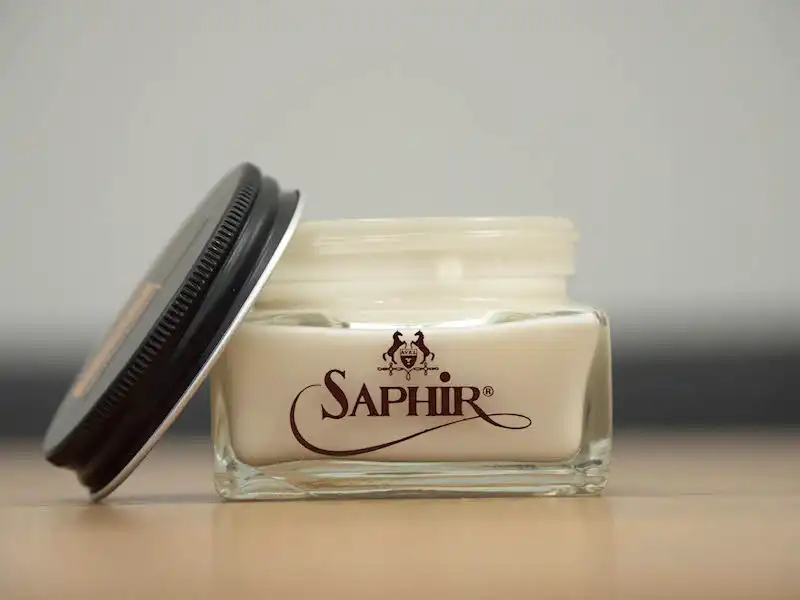 Saphir Renovateur
This conditioner nourishes leather with essential nutrients to prevent dryness. Due to its ingredients, this conditioner will not alter the color of your goods.
Check Best Price
Read Our Review
We earn a commission if you make a purchase, at no additional cost to you.
09/27/2023 07:27 pm GMT
So you've just got some boots you want to be able to wear in muck, grime, and rain without worrying about getting your toes wet and without worrying about dirt getting too deep into your shoe's construction. Well, first off, make sure you're getting Goodyear welted shoes, but second off, get some Huberd's Shoe Grease.
It is vitally important that you understand it will darken your leather boots. I tried it on some Chromexcel Captain boots and they were never the same again: blotchy, oily, their famous depth of color ruined. But if you have some tough leather boots, like a pair of Red Wings I used in my review, and you just want them to be able to withstand the elements? Huberd's is great.
With no artificial ingredients or solvents, it's full of beeswax and pine pitch that needs to be softened before applying, but then it hardens and creates a nice barrier around the leather that can handle anything you throw at it.
Pros
Creates water resistant barrier around boot
No solvents or synthetic compounds
Cons
Darkens leather
Smells like bacon
Now, if you are very committed to the color of your leather and you don't want one pixel of the color to change, I get it. I've got some boots, like my ever-so-slightly red Blacksmiths, that I'm very protective of. For that, I'd go with Bickmore's Bick 4.
The only conditioner on this list that's wax free, it's made with a proprietary blend of emulsifiers and conditioners that do an astonishing job of softening the leather without darkening it at all. It's not the best product for waterproofing or fixing scuffs or penetrating really deeply into the leather — you'll probably find you need to use a few coats — but given it's the cheapest of these five entries and it's the best at preserving the color, it's a great, low-risk buy.
Pros
Very inexpensive
Conditions and moisturizes without altering color
Cons
Not the best at removing scuffs
Not the best at improving water resistance
Wrapping Up
Good lord, I tried a whole lot of conditioners to land on this list, and you can see every one of them on this list. I'm very confident with these picks, but if you've got a product you prefer, let me know in the comments! I'm always looking to optimize my boot habit.
[Related: My list of The Best Boots for Men]
FAQs Best Boot Leather Conditioners
What is the best way to condition leather boots?
The best way to condition leather boots is to first clean them with a horsehair brush and add then add a small amount of leather conditioner and, add more if the leather seems very dry.
How often should I condition my boots?
How often you should condition your boots depends on how often you wear them, the environment you live in, and the type of leather your boots are made of. For example, a forest firefighter will condition their leather boots more often than someone who only wears their boots once a year. We recommend conditioning your boots 1 - 2 times per year unless you live in a dry environment or wear your boots frequently.
What do you condition boots with?
We recommend using a boot conditioner such as Cobbler's Choice, Venetian Shoe Cream, Saphir Renovateur, Huberd's Shoe Grease, or Bickmore Bick 4. Each conditioner is different and they work best for different leathers and outcomes like water resistance.
Is it OK to put hair conditioner on boots?
While boot conditioner and leather conditioner are similar we cannot recommend using hair conditioner on boots because there may be ingredients that damage the boots. We recommend using a boot conditioner.
What is the best thing to put on leather boots?
The best thing to put on leather boots is a boot conditioner. Other products may damage your boots.
What do you put on leather boots to condition them?
You can put leather conditioner on your boots to conditioner them such as Cobbler's Choice, Venetian Shoe Cream, Saphir Renovateur, Huberd's Shoe Grease, or Bickmore Bick 4.
What is the best thing to condition leather with?
The best thing to condition leather is boot leather conditioners like Saphir, Cobbler's Choice, or Bickmore.
When should you condition leather boots?
You should condition most boots at least once a year. If the leather feels dry you should condition your boots. How often depends on how often you wear your boots and the environment. Be Careful not to over-condition your boots because it can rot the leather and stitching.
The following two tabs change content below.
Nick English
By day: Manhattan-based journalist with reporting experience on four continents, published in Vice, Men's Health, Popular Science, and a bunch of other places.By night: ravenous consumer of anything and everything related to high end men's boots.Stridewise is where I nurture a maniacal obsession with footwear and share my findings. Say hey:
[email protected]
.
Latest posts by Nick English (see all)