Launched in 2019, Nothing New is a small but disruptive brand with an unwavering commitment to sustainability — but the shoes also have style in spades.
Bearing a resemblance to classic basketball sneakers like the Converse Chuck Taylor and PF Flyers, the flagship "Better Canvas" sneaker is made from recycled plastic — but you'd have no idea it wasn't canvas if you weren't told.
While today the company has expanded with a range of Better Leather offerings (instead made from recycled leather), the Classic Low Top and High Top models are what I spent the summer wearing in.
By utilizing recycled materials, carbon offsets, and a circular economy approach, this company has pioneered a new standard for eco-friendly footwear, but the price is so solid that they're a fine choice for those who couldn't care less about their carbon footprint!
In this article, we delve into the world of Nothing New shoes, examining their design, construction, and overall performance.
Nothing New's Sneaker Materials
12oz "Better Canvas" made from recycled plastic
Sole is mostly recycled rubber and cork
Stitched, not glued
Carbon neutral
Part of each purchase goes to wind farms, biofuel companies, and reforestation organizations
One of the key factors that sets Nothing New apart is their use of 100% post-consumer recycled plastic in their sneakers. By repurposing discarded plastic bottles, they divert waste from landfills and oceans significantly reducing the carbon footprint associated with the production of new materials. Even conventionally grown cotton, remember, wastes tons of water per year, relies on pesticides that contaminate soil and water, and releases enormous amounts of greenhouse gases. (165 million tons per year, according to one estimate.)
The laces are also recycled, the binding is made from recycled cotton, outsole is mostly recycled rubber and cork, and even the eyelets are made from a copper and zinc alloy that's certified conflict-free.
Beyond the Materials: The Virtuous Circle
Nothing New adopts a circular economy model they call The Virtuous Circle: when your sneakers are worn out, mail them back and you'll get $20 off your next pair. The sneakers you return are either donated to charity or disassembled so that as much as possible can be recycled into yet another pair of sneakers.
Nothing New Sneaker: The Upper
Post-consumer recycled plastic
Certified by Global Recycle Standard
5.6 plastic bottles repurposed per pair
160 gallons of water saved per pair compared to conventional canvas
12oz per square yard makes them thicker than Chuck Taylors
Crafted entirely from 100% post-consumer recycled plastic, Better Canvas is a material that has already served a previous purpose as a water bottle, packaging, another form of plastic waste before being transformed into a sustainable textile for your feet.
But the sustainable features don't stop there. The heel counter of the upper is crafted from post-industrial recycled fishing nets, actively contributing to reducing marine pollution and promoting the conservation of ocean ecosystems. This unique approach not only helps clean up our seas but also adds a distinctive touch to the sneaker's design.
More interested in its functionality? The good news is that it's darn tough. As we found in our comparison of Nothing New vs Converse, this upper is 12oz versus Converse's 10oz, so you can be confident in the durability.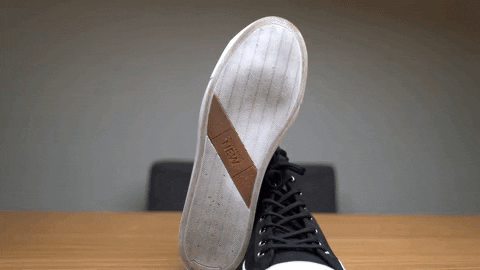 Nothing New: The Sole
Recycled rubber, recycled cork, and natural rubber
Upper is stitched, not glued, to the outsole
We know: that's not all recycled. It's mostly recycled, with Nothing New sheepishly noting on their site that,
While we originally wanted the outsole to be made entirely of recycled material, after testing various combinations we opted to use virgin natural rubber in addition to recycled rubber and recycled cork in order to maximize flexibility and traction and longevity.
Moving to the insole, Nothing New incorporates an Ortholite Eco Step, designed with sustainability and comfort in mind. This insole utilizes a combination of recycled rubber and oils derived from castor beans, replacing petroleum-based components you'll find in other Ortholite insonles. With lower density in the arch than in the metatarsal region, it manages to offer more arch support than you'd expect for such a minimalist, flat-soled sneaker.
It's important to note that there's no glue in these shoes: the uppers are stitched to the soles. This is extraordinarily rare and makes for a more durable sneaker with a sole that's less likely to come away from the upper, particularly at stress points like the toe break. (This is always the first place I get holes on my Chuck Taylors. After months in my white Nothing New low tops, this hasn't happened.)
Nothing New: Fit & Sizing
Order your usual sneaker size
This is probably a half size larger than your "true size"
No wide widths
Sneakers are tricky to size because if you check your shoe size on a Brannock device in a shoe store, you'll probably find your feet are a half size smaller than most of your sneakers. Nothing New follows that pattern, so just order your usual sneaker size. My true size is 11.5, most of my sneakers are 12, and I'm a 12 in Nothing New.
Nothing New: The Price
Low top: $95
High top: $108
The Low Top Nothing News are priced at $95, while the High Top Nothing News are priced at $108. They're pricier than Converse, sure, but those are light canvas glued to regular rubber; I think it's pretty clear why these sneakers are worth more. (And don't forget, you get $20 off your second pair when you mail back your first!)
Pros and Cons
Pros:
Sustainability: Nothing New sneakers are made from recycled materials, such as post-consumer plastic and recycled rubber, reducing waste and environmental impact.
Durability: The stitched construction of Nothing New sneakers contribute to their long-lasting durability, making them a reliable choice.
Style: Nothing New offers a range of stylish designs and colors, allowing wearers to express their individuality while making a sustainable fashion statement.
Comfort: The sneakers are designed with comfort in mind, featuring shock absorbing insoles and a design that secures the foot better than competing models.
Ethical practices: Nothing New holds certifications from reputable organizations like Global Recycled Standard, Better Cotton Initiative, and the International Labor Organization.
Cons:
Higher price point: Compared to some traditional sneaker brands, Nothing New sneakers may have a higher price. However, this reflects the use of recycled materials, durable construction, and ethical practices.
Not "all natural": Some folks only want natural material on their feet, and these are indeed made from plastic.
Sole isn't completely recycled: A small amount of virgin rubber was used to improve durability, but this may not cut the mustard with die hards.
Wrapping up
Making a positive impact on the world doesn't always require being the most ethical person on Earth: it can stem from the accumulation of small decisions. Choosing to buy Nothing New sneakers is one such decision that is easy to make. By opting for these handsome sneakers, you contribute to a better future without compromising on your personal style.
It's all well and good that they're made of cool materials, but after months of wear, I can attest that they wear extraordinarily well: the stitched construction keeps the sole from delaminating and the sole hasn't worn down as fast as my Chucks. Nothing New has made sneakers that are as ethical as you could want while accommodating a stylish look and serious durability.