Today, I'm comparing perhaps the most iconic sneaker of all time to what is definitely the most eco-friendly sneaker of all time and if you think that sounds like comparing apples to oranges… look at them.
Look at these shoes.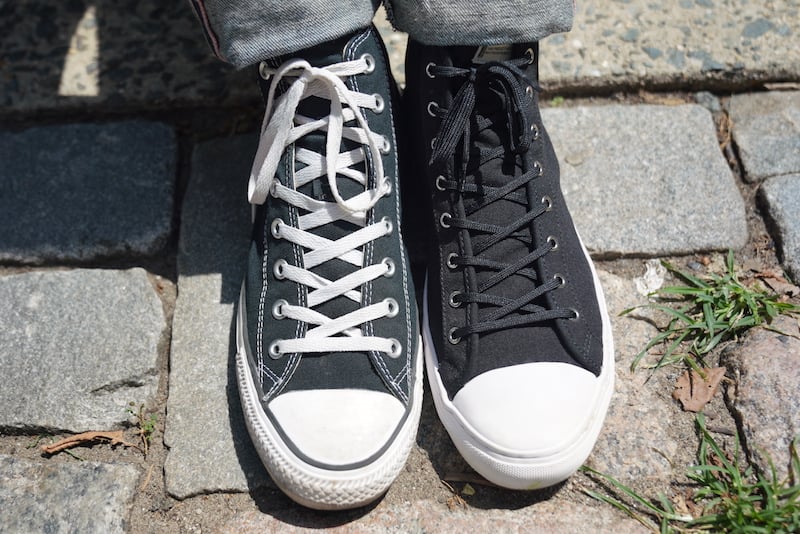 Like most guys, as soon as I saw Nothing New, I wondered how they'd stack up against the Converse All Star, so I've been wearing in my Nothing News all summer so I could give you the review you deserve. (And I've been wearing Chuck Taylors for twenty years, so believe me, I know them inside and out.)
Nothing New is a pretty new company that was launched in 2019, and while they might look and feel like canvas sneakers, they're actually made from recycled plastic — and you would have no idea it wasn't cotton if I hadn't just told you that. The "canvas" is thick and durable, and the sole is stitched to the upper instead of glued, conferring serious durability.
As for the Chucks, you've probably worn them. According to The New York Times, 60 percent of all Americans own or have owned a pair, and 100 million of them are bought every year. The first shoe to be endorsed by a celebrity athlete (The Akron Firestones' Charles H. Taylor) they've been Converse's signature shoe for almost a hundred years, worn in every niche, welcome in any fashion playbook. I've easily owned a dozen or more pairs throughout my life, which hasn't been difficult because they tend to wear out after a year on my feet.
If you're in the market for some toe capped, rubber soled, classic canvas sneakers, I think it's a good idea to compare these two.
Converse vs Nothing New: The Upper
At first glance, these look like they're made from the same stuff, but there's a lot more than meets the eye.
It's worth remembering that the Chucks can be found in hundreds of different colors and patterns. Nothing New keeps things simple: whatever color you get your shoes, the stitching is the same color — unlike the white-on-black you see below — and they're even available with colored toecaps and soles if you like fully monochromatic shoes. That's an option Converse doesn't offer in as many colors, but the Nothing News I grabbed were regular black canvas with white toecap.
Eco-Friendly Style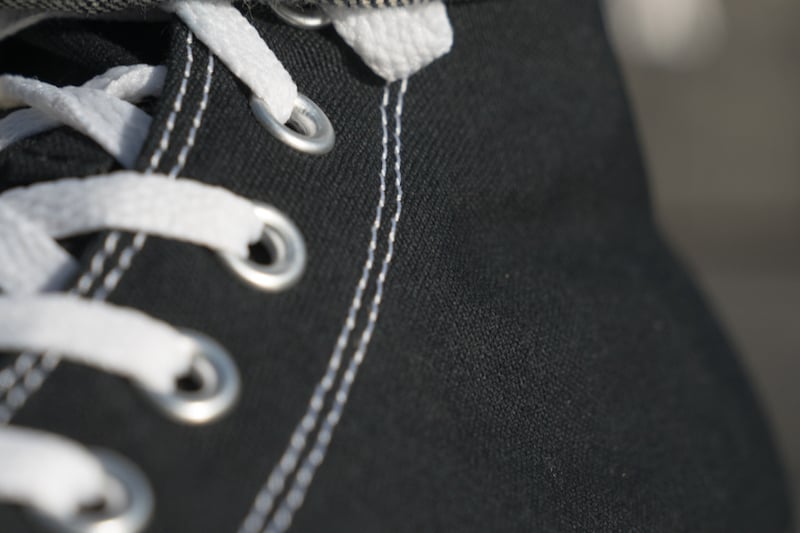 Converse
10oz (or less) canvas
Double stitched along eyelets/cuff
White contrast stitching
Available in countless colors/patterns
This is cotton canvas, it's double stitched up along either side of the eyelets and along the top of the collar, and it's under 12 ounces. I know that because the newer Chuck 70 is made with 12-ounce canvas that's significantly thicker; I'd put the regular Chucks at 10 ounces or less. It's not the toughest material on earth, but it's not meant to be. It's meant to be lightweight, comfy, and inexpensive.
The Timeless Classic
Converse Chuck All Stars
The Chuck Taylor All Stars is a classic, breathable canvas sneaker with a vulcanized rubber sole. Largely unchanged for almost 100 years, it is still a popular and stylish choice today,
Check Converse.com
Check Amazon
We earn a commission if you make a purchase, at no additional cost to you.
[Related: See my full review of the Chuck Taylor!]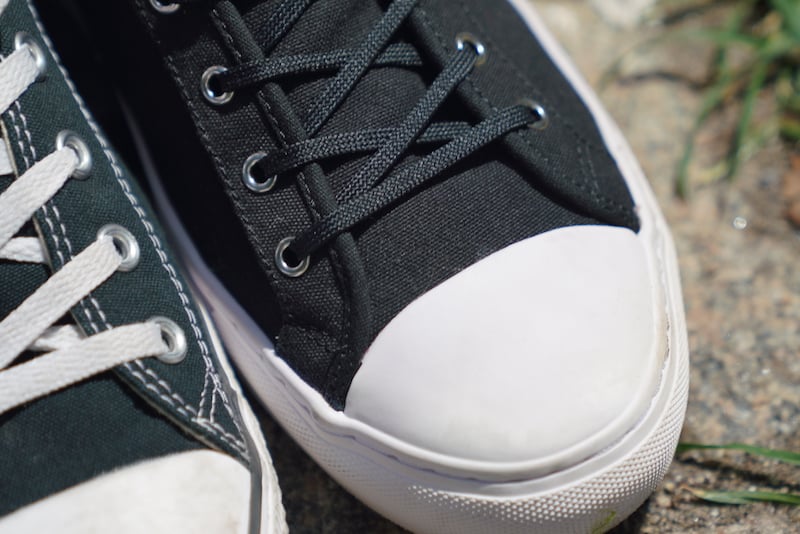 Nothing New
12oz "Better Canvas"
Monochrome stitching
Canvas panel on eyelets and shaft
Made from recycled bottles and fishing nets
For starters, Nothing New's canvas is thicker at 12 ounces.
Another big difference is they have eyelet panels and yet another layer of material running along the inside of the panels and the top of the shaft, securing the stitching. By contrast, Converse is all the same piece of canvas, so Nothing New has thicker, more durable construction.
Then there's the unbelievably cool material itself, which they call Better Canvas™. It's made from 100% post consumer recycled plastic, so it's already been used as a water bottle (or packaging, or something) before it made its way to your feet — and you can recycle your shoe when it wears out.
On top of that, the heel counter is made from post industrial recycled fishing nets, the eyelets are made from certified conflict-free copper and zinc, and the stitching is made with recycled cotton sourced in partnership with the non-profit Better Cotton Initiative.
So Nothing New's construction is both more eco-friendly and more robust and durable than the Chucks.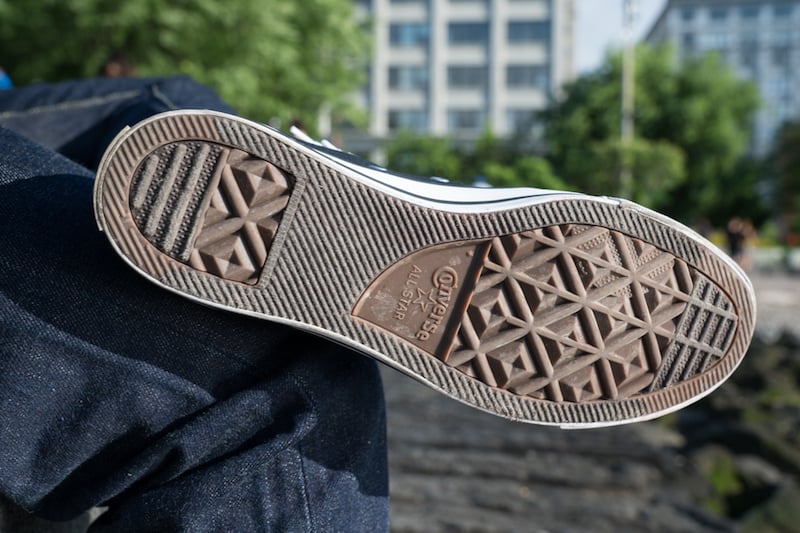 Converse vs Nothing New: The Sole
The sole isn't 100% recycled on Nothing New, but there's still a lot to talk about. Let's start with the Chucks.
Converse
Cemented sole
Vulcanized rubber
Like the rest of the shoe, the outsole is pretty uncomplicated, here: it's vulcanized rubber, which is very stable and hard. (That makes it great for deadlifts and squats, by the way.)
Vulcanizing means the rubber is heated with sulfur to make it harder and stronger. Like most rubber, it's resistant to biodegradation, but vulcanized rubber emits sulfur when it's heated in order to affix it to the canvas upper. This is called cemented construction, which basically means it's been glued. If you've owned a pair, you probably know that it takes very little time for the glue to come unstuck at the toe break where your foot flexes.
There's also a very low density foam on top of the rubber outsole and a tiny bit of extra foam under the heel. The shoes are largely considered as having no real support, which is why they're so good for lifting weights and so bad for running,
Nothing New
Stitched construction
Sole: recycled rubber/cork, virgin natural rubber
The really big construction difference between these shoes is that the Chuck Taylors are glued to the sole whereas Nothing New is stitched.
It's much more expensive to stitch, but this eliminates the environmental waste and sulfur emissions associated with vulcanized rubber shoes and, more practically, it makes them far more durable. In the three-ish months I've been wearing them in, my Chucks would have started making holes at the toe break — that hasn't happened in my Nothing News.
Nothing New's outsole is made with a combination of recycled rubber, recycled cork, and a small percentage of virgin natural rubber.
The insole is an Ortholite Eco Step, which is partly made with recycled rubber and they replace the petroleum with oils derived from castor beans. It has lower density in the arch than the metatarsal, so some find the arch gets a tad more support without being overbearing. I can't say I noticed a huge difference with regard to support, but I did find Nothing New to provide marginally better instep support.
[For another eco friendly sneaker with a castor oil sole, check out my Allbirds review]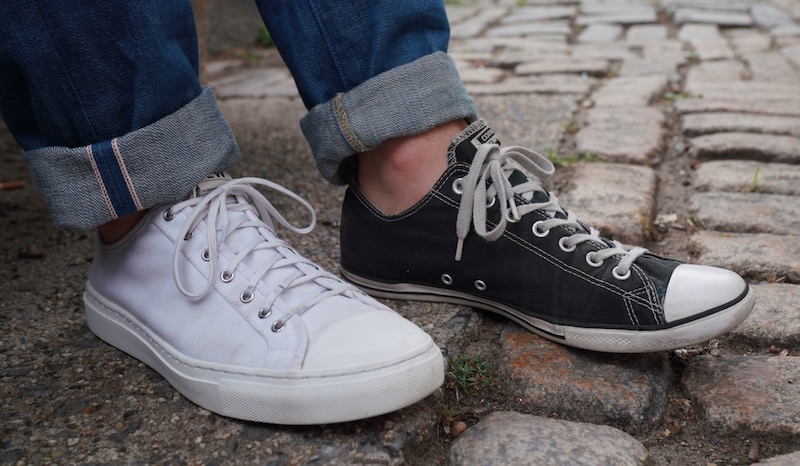 Converse vs Nothing New: Fit & Sizing
Chuck Taylor: True to size

Nothing

New

: Size up half a size
This section's pretty simple: I sized up half a size for Nothing New and went true to size for the Chucks.
Both feel pretty similar on the foot: they're lightweight and have great shock absorption.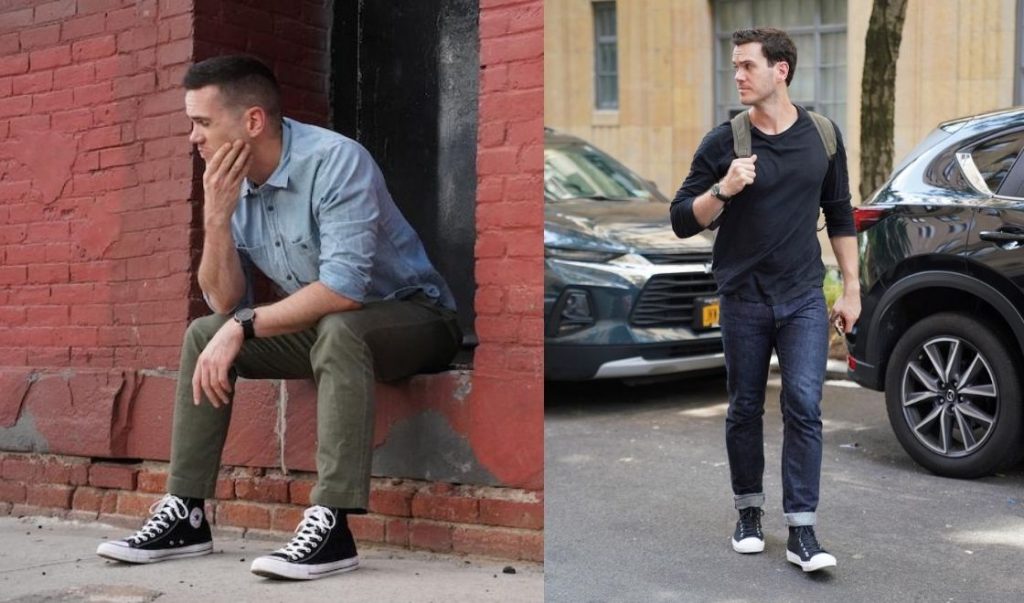 Converse vs Nothing New: The Price
So, Nothing New is just under double the price.
Now, if you've read this far, you know I think it's clear that Nothing New is more solidly constructed: the canvas is thicker, it's reinforced better, and the stitched construction is far more longlasting and durable.
The stitched construction alone is worth the extra — it really is way more expensive than gluing them, and I've never seen stitched sneakers at this pricepoint — but when you also take into account the work that goes into turning used plastic into badass shoes and all the certifications from places like the Better Cotton Initiative, Global Recycle Standards, the labor conditions all meet those set by the International Labor Organization…
Plus, you're effectively making a charitable donation with your purchase because in order to make the shoes carbon neutral, part of each purchase goes toward wind farms, biofuel companies, and reforestation organizations.
The last thing that makes Nothing New worth the extra (and I probably should have mentioned this earlier) is the fact that when they wear out, you can send them back to the company, they'll donate or recycle them for you… and give you 20 bucks off of your next pair.
Eco-Friendly Style
The Timeless Classic
Converse Chuck All Stars
The Chuck Taylor All Stars is a classic, breathable canvas sneaker with a vulcanized rubber sole. Largely unchanged for almost 100 years, it is still a popular and stylish choice today,
Check Converse.com
Check Amazon
We earn a commission if you make a purchase, at no additional cost to you.
Converse vs Nothing New: The Final Word
I think the main upsides with the Chucks are that you can get them in endless colors and patterns, and that they have a lot of cultural cachet. They're one of the most popular sneakers of all time and there's a certain comfort that comes from wearing an institution in footwear. I get that more than most people.
And they're cheaper! For many, that's the most important thing.
But from a practical standpoint, Nothing News are much more durable. The canvas is thicker, there are multiple panels reinforcing the stitching, and the stitch construction will last longer. I've worn through one pair of Chucks every year since I was seventeen (my first pair was red) and after a long summer of wearing my Nothing News, I know they'll last longer.
That probably settles it for a lot of folks, but we can't really ignore the environmental aspect.
Now, I'm not a huge save-the-planet guy. But if I'm picking between two sneakers that look practically identical but one is made from recycled materials, won't contribute to the 600 million pairs of shoes that wind up in landfills every year, funds wind farms, and it lasts longer while looking just as cool as the most iconic sneaker of all time? Yep, I'll pick that one. The price difference is more than balanced out.
Again, I don't claim to be the most ethical guy on Earth. I just think that helping the world comes from lots of little decisions. Buying Nothing New is one that was easy to make.
The following two tabs change content below.
Nick English
By day: Manhattan-based journalist with reporting experience on four continents, published in Vice, Men's Health, Popular Science, and a bunch of other places.By night: ravenous consumer of anything and everything related to high end men's boots.Stridewise is where I nurture a maniacal obsession with footwear and share my findings. Say hey:
[email protected]
.
Latest posts by Nick English (see all)