This post may contain
affiliate links
that at no additional cost to you, I may earn a small commission from.
Is mink oil the fountain of youth for your boots?
I decided to pick some up to see if they could work on some four-year-old Thursday boots. Now, these boots have never been conditioned and a lot of the damage, like deep gashes in the leather, is beyond repair. (They're not mine; I borrowed them from a buddy who has no respect for fine footwear.)
Sof Sole was founded in 1991 and is better known for their athletic shoe inserts, but somewhere along the line their mink oil wound up the most popular mink oil on Amazon. Let's try it out.
[Get the lowest price for Sof Sole Mink Oil here!]
Sof Sole Mink Oil Ingredients
5 to 15% mink oil
55 to 85% tallow
About 10% glycerol
Now like most shoe conditioners, we don't get an ingredients list with this but I did get a list of the Sof Sole Mink Oil Ingredients from the company that reveals this is actually just 5 to 15 percent mink oil.

That explains the low price; the majority of the product (55 to 85 percent of it) is actually tallow, which is fat from beef or sheep. I wouldn't be surprised if you could cook eggs in this stuff.
It's also about 10 percent glycerol, an emollient that belongs to the alcohol family of organic compounds. This might help with cleaning properties.
[Does it matter if there's petroleum in your boot conditioner?]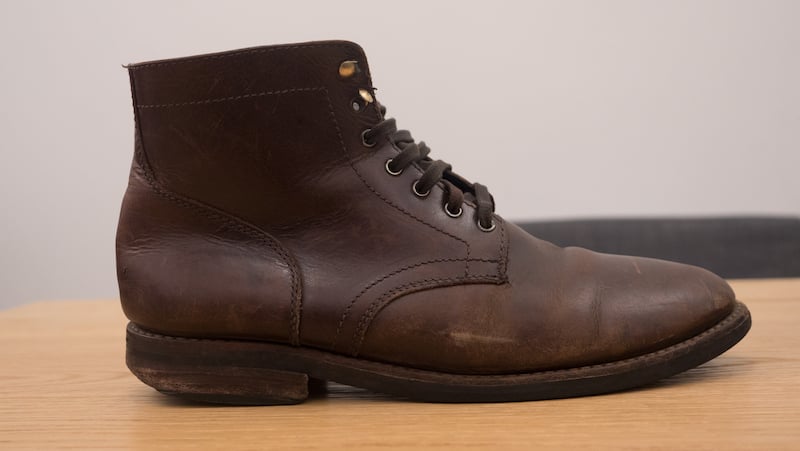 Why Use Mink Oil On Boots?
Mink oil is rendered from fat removed from the pelts of minks destined for the fur industry. When I first got into boots it seemed ridiculous to put mink on leather, but the reason it's so popular is that it's way higher in unsaturated fats than most animal sources: 75 percent of it is unsaturated, so it has better oxidative stability and it's less likely to go rancid than vegetable oils. It also has a relatively long shelf life and can stay chilling in the pores of your leather for a long time without starting to stink.
Indeed, it penetrates very deeply into the leather, helping to make a water resistant barrier around it that also helps to protect against perspiration stains and salt. So it's popular for use on hard wearing boots and it's standard issue in some militaries.
It also has a reputation for darkening leather. A lot.
[See my guide to waterproofing nice boots!]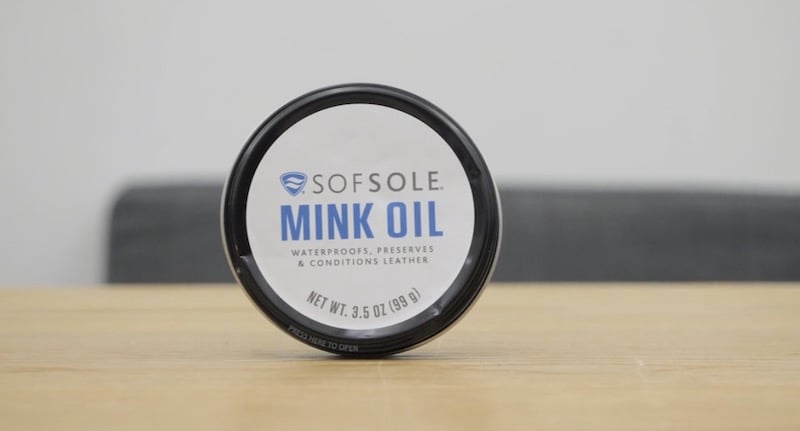 How to Use Sof Sole Mink Oil
1) Generally, these sorts of products need to be heated up before applying so it sinks into the pores before drying. Some people put mink oil in a coffee cup and microwave it then use a cloth to apply it, but I just heated it up in my hands and rubbed it in.
2) Rub it deeply into the creases and cracks of the leather.
3) Wait a few minutes and wipe away any excess — important because the residue can attract dirt and dust easily.
4) They say, "For best results we recommend applying one coat, letting it dry completely, then applying a second coat." These boots needed it, so I did.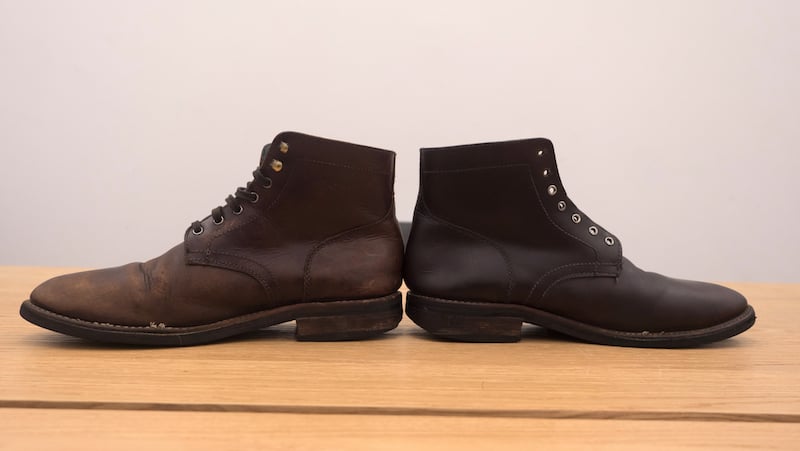 Sof Sole Mink Oil Results
Darkens leather
Leather is softer
Improves color consistency
As you can see, the leather darkened significantly. A few days later it had lightened up a bit, here's what it looked like three days later: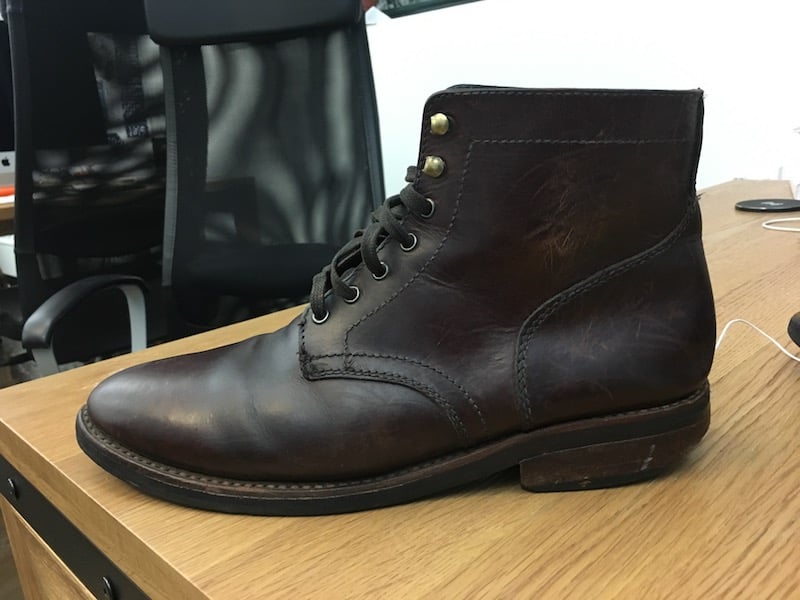 [See my review of Thursday Boot Company.]
But the rumors are true: mink oil, or animal fat anyway, does indeed darken leather.
Still, the color consistency did improve and the leather became noticeably softer. The downside is that it's not great on shiny, dressy leather — while it's great for water resistance, it makes it a lot harder to get a good shine.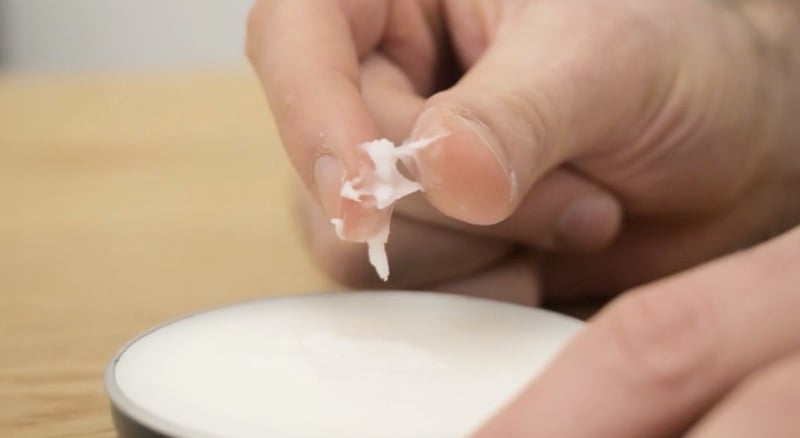 Sof Sole Mink Oil Price
You can pick up 3.5 ounces for $3, so it's 85 cents an ounce.
[Buy Sof Sole Mink Oil on Amazon here for the cheapest price]
Now that's very cheap for mink oil, but remember that this isn't actually mink oil. It's really hard to compare different mink oil products because few disclose how much mink oil they contain. Red Wing's Mink Oil, for instance, is $3.33 per ounce but I'm unsure how much of that is mink oil. (It's also got lanolin and silicone.)
Blue Ribbon sells a mink oil that costs $1.25 per ounce but a lot of people doubt whether that's real. Normally, pure mink oil products are closer to $20 to $50 per ounce.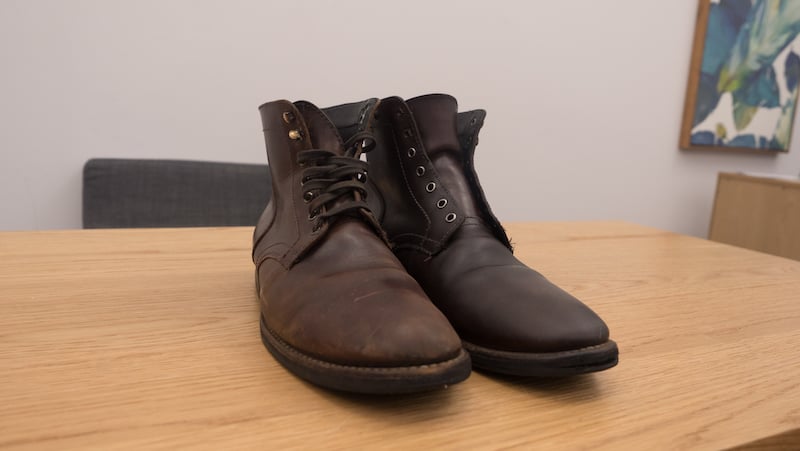 Sof Sole Mink Oil Pros & Cons
 Pros
Improves water resistance
Inexpensive
Improves color consistency
Softens leather
Cons
Darkens
Makes it harder to get a shine
Just ~10% mink oil
This product is easy to use, super cheap, and it will improve the water resistance of your shoes. The main downside is that it darkens the leather a ton and it's not great on nicer, dressier leathers. But if you don't care about maintaining your color and you just want to smooth out blemishes and make your boots more outdoorsy, this is a reasonable pick.