Saphir's Renovateur is the crème de la shoe crème. It is the fanciest, schmanciest, priciest leather conditioning product you're likely to find and it has developed a serious cult following among boot aficionados.
Of course, we're talking about the Medaille d'Or Saphir Renovateur not the regular Renovateur you get in a blue lid. (It also comes in a spray — the different types can be a little confusing.) Medaille d'Or (that's "gold medal") is frequently described as "liquid gold" and its purported miraculous abilities to restore, condition, and shine leather are the stuff of legends.
I decided to try it out on a pair of my beat up Allen Edmonds' Higgins Mills to see how it held up to the test.
[For the lowest price, grab a tub of Saphir Renovateur on Amazon here!]
Saphir Renovateur Ingredients
Nobody outside of Saphir really knows for sure.
We know it's mink oil based. Mink oil is made by rendering fat from mink pelts. It's popular on boots because it's unusually high in unsaturated fats for an animal product, so it's more stable and has a longer shelf life than many other fats.
[See my full breakdown of Red Wing's Mink Oil here!]
It's also mixed with a variety of waxes that are intended to condition, shine, and produce a soft patina as the boots age.
But like its competitor Venetian Shoe Cream — my review here — the precise formula is kept a closely guarded secret.
However, I did manage to get a Safety Data Sheet from Avel, the company that manufactures it. While it doesn't have the exact ingredients, I found out a few things that may be useful.
The pH is neutral — which should banish fears about it eating into the leather — and it contains isoparaffin (a mixture of mineral oils derived from petroleum), ethoxylated isotridecanol (a long-chain primary fatty alcohol) and some coconut fatty alcohol as well.
Interestingly, the product is marketed as solvent free. But it does indeed contain some alcohols, although I don't think it's enough to warrant any concern. (Let me know if you're able to work out from these numbers how much alcohol is actually in there, but I'm pretty sure it's infinitesimal.)
The main reason people get concerned about alcohol and petroleum in their conditioners is that they worry that it can strip the color from the leather. But Renovateur is the conditioner of choice for the most obsessive boot guys on Earth, so I don't think that should be a big issue.
[Read our full article: Does Petroleum Really Matter in Boot Conditioners?]
How to Use Saphir Renovateur
I elected to use this on my scuffed up Higgins Mill boots for a couple of reasons. Firstly, I love these shoes — I named them as one of my top 5 boots you can buy, period — and second, they're made from Horween Leather Company's famous Chromexcel leather. It's a combination tanned leather that's enormously popular on boots at just about every price point and I knew this would be the most useful leather to work with for my audience.
1. Brush the boot down with a horsehair brush or cloth
After taking the laces out, brushing the boot down with a horsehair brush — I like this one from Kiwi — is a smart move because it helps to warm the waxes and oils in the leather itself. Obviously, it also helps to remove dust, which is important because you don't want a lot of impurities being pushed into the leather once the cream is applied. It's not a bad idea to get a smaller, stiffer brush (like a toothbrush) to help with this.
A lot of people like to use a leather cleaner like Saddle Soap before they condition their boots, which is an option if your boots are really grimy.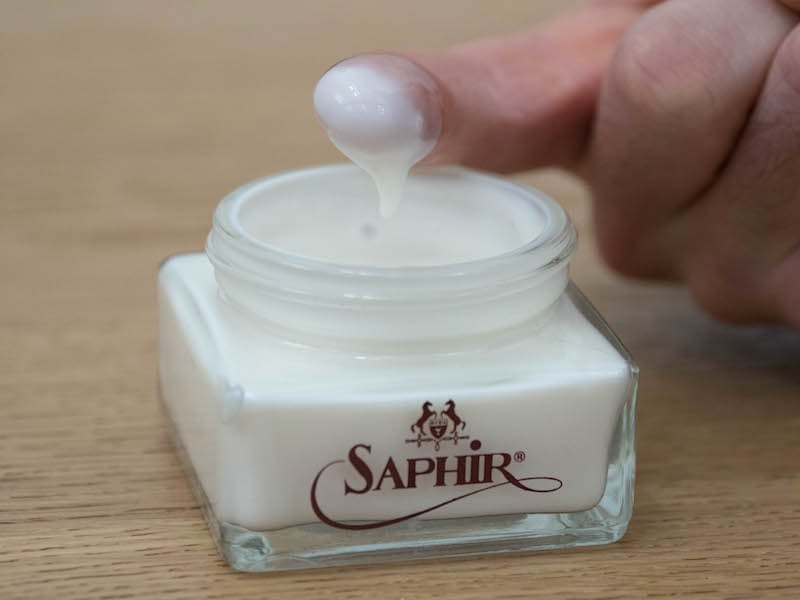 2. Work the cream into all the creases
You can use a cotton cloth or, if they're clean, you can use your hands like I do. Renovateur is quite malleable and it takes longer to sink into the leather than some other conditioners, so I found using my hands to be an easy method.
You really don't need to use much, here — less is more. Certainly make sure you've worked it into the scuffs, but there's no need to overdo it. Some people insist that this 75 milliliter tub should last a hundred treatments. I wouldn't do that far, but it shouldn't be empty after a handful of uses.
3. Buff with a horsehair brush
This can help to produce a nice luster. Leave the boots for 24 hours before wearing.
Saphir Renovateur Results
Scuffs be gone! This really produced a remarkable luster and restored consistency to the boot's color. Renovateur is a little more oily than Venetian Shoe Cream and it darkened the boot a little more, but only by a shade or so. Don't worry too much about darkening — even though it contains mink oil, the color should lighten over time. If you're really worried about darkening the leather, though, I'd recommend something like neatsfoot oil, but note that it doesn't condition quite as deeply as Renovateur.
Saphir Renovateur Price
It's pricy.
Cheaper brands like Lexol and Bick go for about $1 per ounce. Saphir's main competitor, Venetian Shoe Cream, comes out to about $3 per ounce. Fancier, all natural products like Cobbler's Choice and Otter Wax are between $4 and $7 per ounce.
Saphir's Renovateur costs a whopping $9 an ounce. My little jar is 75 milliliters, or 2.5 ounces, and it costs about $25 depending on what you pay for shipping.
The biggest downside of this product is probably the price, but hey, it's a damn good conditioner.
[Convinced? Pick up Saphir Renovateur on Amazon here!]
Saphir Renovateur Pros & Cons
Pros
Produces really nice luster
Eliminates scuffs
Smells better than many competitors
Works on every nice leather out there
Practically solvent free
Doesn't change color very much
Cons
Pricy
Some criticize it for giving a great shine but not giving great weatherproofing
Proprietary ingredient list
No pigment, so it's a bit harder to hide scuffs
The truth is that this is not the the best product if you're really dedicated to weatherproofing your boots. For that, you might want to seek out a dedicated polish or maybe consider waterproofing sprays, though most people would advise against this for nice leathers.
If you want boots that will hold up against the elements as well as possible, you could go with something like mink oil or Obenauf's. But those will darken the leather and clog the pores and keep your shoes from developing a great patina.
If what you're after is a boot that will age beautifully and with character, Renovateur is a fine product. I'm not convinced it's worth this much more than Venetian Shoe Cream, but I'm very happy with the results.
The following two tabs change content below.
Nick English
By day: Manhattan-based journalist with reporting experience on four continents, published in Vice, Men's Health, Popular Science, and a bunch of other places.By night: ravenous consumer of anything and everything related to high end men's boots.Stridewise is where I nurture a maniacal obsession with footwear and share my findings. Say hey:
[email protected]
.
Latest posts by Nick English (see all)