This post may contain
affiliate links
that at no additional cost to you, I may earn a small commission from.
So what is mink oil?
Mink oil is a leather conditioner that is traditionally made from a mink's abdomen fat. While it is mainly used by shoe enthusiasts and leather workers today, this oily balm has its roots in Native American material culture. Long ago, indigenous populations such as the Chippewa used mink oil as a skin conditioner. They discovered that mink oil absorbed quickly and made their skin extremely soft.
The ubiquity of mink oil as a leather conditioner actually began in the 1950s (Versatile Mink Oil: An Under-Appreciated Resource, Ward 2017). After the end of the second World War, the popularity of fox fur coats was supplanted by that of a mink, particularly, the American mink. This new market for mink fur left a trail of byproducts that included the animal's fat. Manufacturers found use of this readily available resource and began rendering the fat to make their own mink oil leather balms.
[Related: The 5 Best Boot Conditioners on the Market]
Benefits of Mink Oil
Mink oil did not get the name recognition that it has from nowhere. For a while, it was the go to conditioner that workers relied on to maintain their leather goods. People in construction, farming and other industries noticed that constant friction made their leathers dry and mink oil seemingly reversed the damage.
What mink oil does is that it replenishes the leather's natural oils that are lost during usage and to a lesser extent, during the manufacturing process. The loss of oil makes leather more susceptible to cracking, which may lead to the fibers separating and the leather deteriorating faster than it should. Mink oil not only replenishes the missing oils but it also lubricates the fibers so they can be more flexible and durable.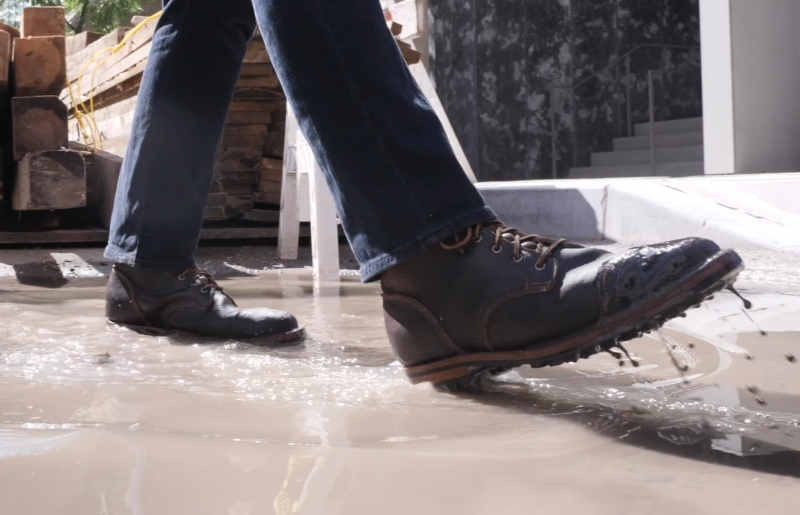 Does Mink Oil Waterproof Boots?
Another benefit of mink oil is that it can make your boots become more water resistant. That is to say, your boots will be able to take on light to heavy rain or the occasional snowstorm (for a short duration).
This is not the same as saying your boots are waterproofed. Given enough time exposed in the rain, your socks will, one day, begin to feel wet! In order for your boots to be truly waterproofed, you need to have a special liner inside the upper made from gore-tex or a similar material.
But back to mink oil. When applied correctly, mink oil fills and penetrates the pores of the leather creating a coat that can repel moisture. But how does it work? The science behind this is actually quite simple. Water is a polar substance and oils are a nonpolar substance. Polar and nonpolar substances do not like to mix. When they come into contact with one another, they separate. Many of us have probably seen this principle in action while making chicken noodle soup! The oils float to the top away from the water.
[Related: The Right Way to Waterproof Nice Boots]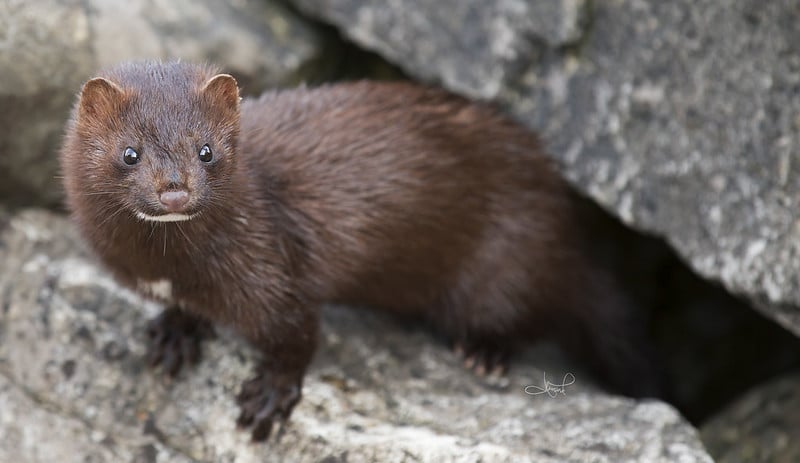 Does Mink Oil Go Bad?
As long as you keep your mink oil in a cool space, and away from heat, your tub should last for years.
This is because the fatty acids used to make mink oil are very stable. Although it is high in unsaturated fats, it is not as reactive to oxygen as other animal fat or vegetable oil. By having greater oxidative stability, mink oil has a very little chance of going rancid when stored properly.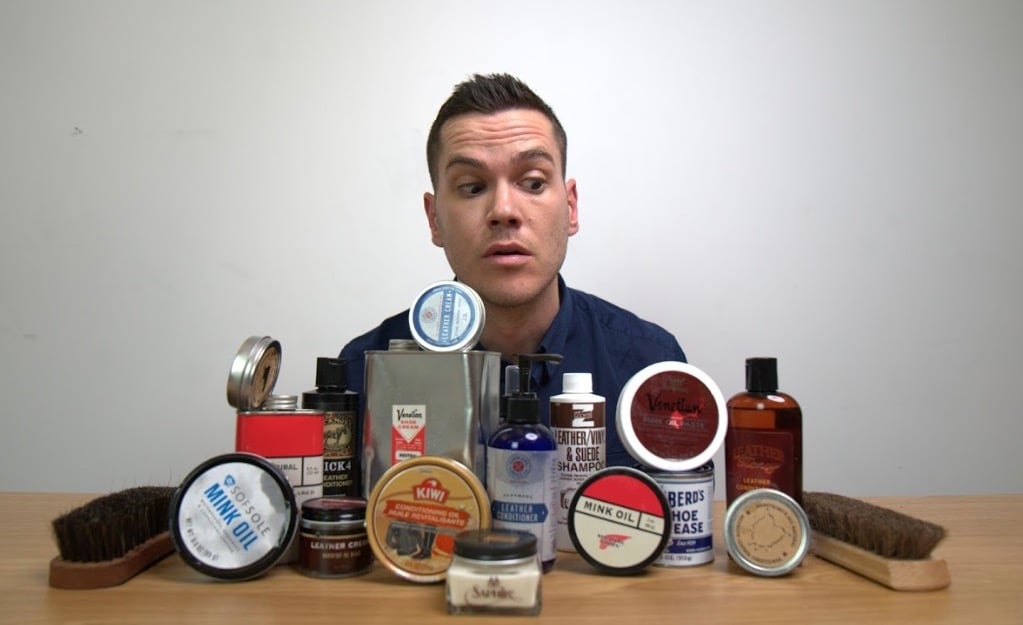 Best Mink Oil Alternatives
Despite its popularity, for some people, mink oil is no longer the poster boy for leather conditioners (and for good reason). I asked the founder of David Armstrong, of Armstrong's All Naturals, for his thoughts on the matter.
"In the 21st century, mink oil is derived almost exclusively as a byproduct of mink fur farming for the fashion industry, mostly for fur coats," he says. "While mink farms exist predominantly in China, some states in the US and many countries in the EU have already banned, or are beginning to outlaw fur farming due to animal welfare and environmental concerns."
Armstrong brings to light an issue that's often ignored when it comes to our love of leather and other animal products: the environmental impact of our actions. It seems pretty clear that mink oil production has a link to the mistreatment of animals. Now, obviously, leather boots carry their own baggage of animal mistreatment — potentially, anyway — but if there are options available for boot conditioning that don't have the same baggage as mink oil, you might want to give them a try.
One mink oil alternative is neatsfoot oil. Some people may find neatsfoot oil more forgiving because it is a byproduct of the existing cattle industry. Again, the cattle industry is not free from its own problems, but in my opinion, it is still an industry that needs to exist as it provides food for our growing population. This is unlike the mink farm industry, which exists mainly to satisfy our own vanity.
[Love Red Wing? See the differences between Red Wing's Boot Oil and Mink Oil]
Mink Oil Alternative 1: Fiebing's Neatsfoot Oil
Fiebing's Neatsfoot Oil contains 100% neatsfoot oil, which is oil from the rendered shin and feet bones of cattle. This all natural conditioner has been used by workers for centuries and many believe that it is best to use natural animal oils to replenish the lost oils in leather. It needs to be mentioned that this conditioner will darken your leather.
But are there leather conditioners out there that are not based entirely on products of slaughter at all? The answer to that is yes.
Mink Oil Alternative 2: Bickmore Bick 4
Bick 4 isn't the sort of product that will deeply penetrate the pores of your boots and improve water resistance like mink oil, but Stridewise did name it the best conditioner for preserving the color of your boots. Made from a proprietary blend of natural emulsifiers, conditioners, and moisturizers, it keeps the leather moist and supple without darkening it a smidge. That'll extend the lifespan of your boots, it just won't waterproof them as well.
Alternatives 2 – 5 may contain beeswax. This is a byproduct of the honey industry, so there's no mass slaughter of bees taking place, however it does mean the product isn't technically plant-based.
Mink Oil Alternative 3: Armstrong's All Natural Leather Oil
Armstrong All Natural Boot/Leather Oil contains palmitoleic acids found in mink oil however, theirs is gathered from plant-based sources.
Armstrong's All Natural manufactures a boot oil that mimics the nurturing properties of mink oil without relying on the fur industry.
[Read the founder of Armstrong's All Natural's op-ed: "You Use Too Much Boot Conditioner"]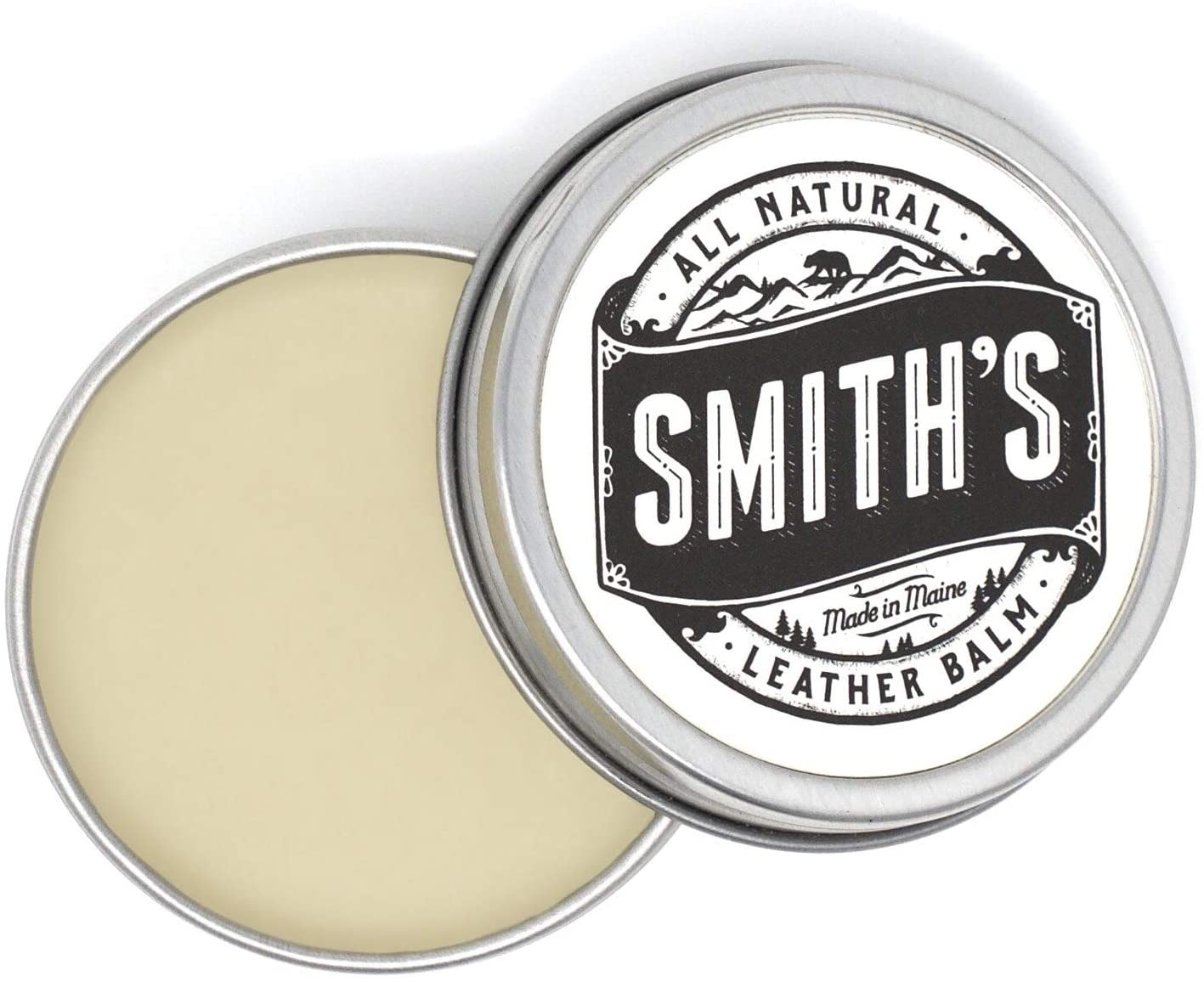 Mink Oil Alternative 4: Smith's Leather Balm
Smith's Leather Balm is another brand to look for. In my conversation with the owners, they mentioned that they "wanted a formula that could be safely applied by hand, [both] quickly and easily." But in order for that to happen, they decided their recipe needed to be free of petroleum, animal fats, and potentially toxic chemicals. So they devised a conditioner that relied on plant based ingredients.
The husband and wife duo behind the brand wanted something so safe that you can leave the excess on your skin after you've finished conditioning, so they're transparent with the ingredients list: organic cocoa butter, organic beeswax, and 100% pure sweet almond oil.
Aside from the beeswax, which acts as a barrier against moisture, all the other ingredients help to condition with vitamins and moisturizers.
[Related: Does It Really Matter If a Conditioner Has Petroleum?]
Mink Oil Alternative 5: Obenauf's® Heavy Duty LP
Obenauf's® Heavy Duty LP contains beeswax and other natural nourishing ingredients. The great thing about this product is that beeswax not only protects the boot from moisture but also keeps the body's natural oils in. Seeing that this is a wax based product, it is best used on chrome-tanned leather. For an Obenauf product for oil-tanned leather, see below.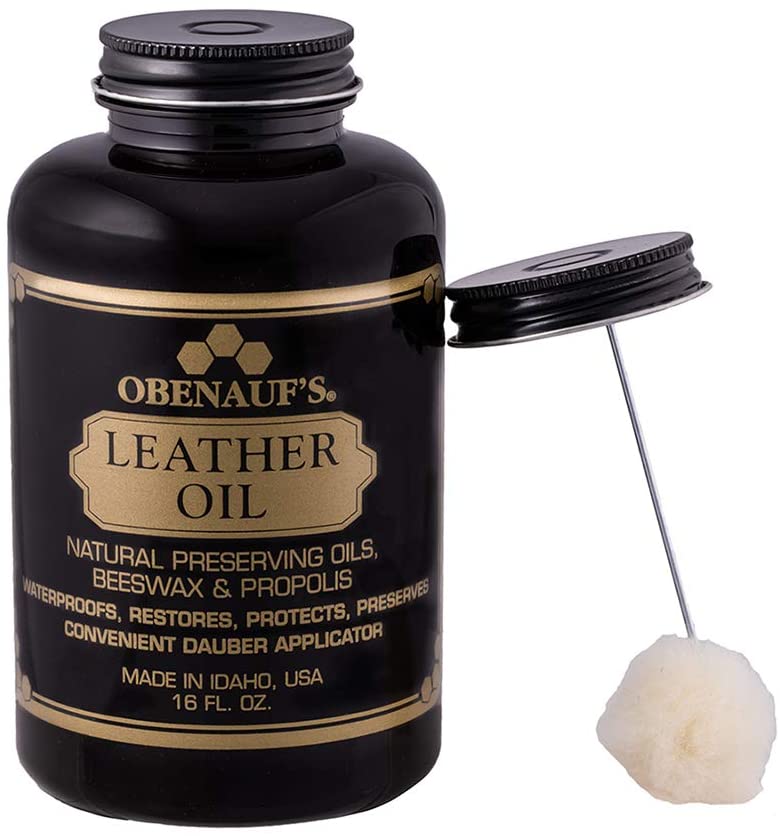 Mink Oil Alternative 6: Obenauf's® Oil For Moderate Conditions
Obenauf's® Oil For Moderate Conditions also contains beeswax and natural conditioning oils. This conditioner is similar to one listed above except it is more suited for oil-tanned leather and vegetable-tanned leather. Obenauf says that this product is great for hydrating leather that gets a lot of sun exposure during the summer months. This balm is formulated to heal cracks and restore leather discolorations caused by sunlight.
Alternatives 6 and 7 may contain animal products. Their use is a little different as well. They are reserved for dress shoes and more elegant style boots. If you use mink oil or wax heavy conditioners on your dress shoes, you will find that it may not shine too well.
Mink Oil Alternative 7: Venetian Shoe Cream
Venetian Shoe Cream is a well respected conditioner that is used by many boot companies. Although its formula and true ingredients is a well guarded secret, we do know — per our review — that there are six or seven different waxes and no thickeners or silicone or waterproofers. What this conditioner does is nourish the leather and gives it a little bit of shine (a wonderful added bonus).
Mink Oil Alternative 8: Saphir Renovateur
Saphir Renovateur is another one of those conditioners that hides their full ingredient list. What we do know is it's a combination of mink oil and waxes. It's often used as a base layer on boots as a conditioner and as a leather prepper for high shine finishes.
It's not quite an alternative to mink oil as the ingredients do contain mink oil, but Renovateur will not darken your leather. It's not all mink oil, after all; it also contains a variety of waxes that are intended to condition, shine, and produce a soft patina as the boots age. Watch the video from my Saphir Renovateur review below.
Mink Oil vs Neatsfoot Oil
Both of these products are widely available and produced by many brands. Asking which one is "better" is not helpful, as each tin may have a slightly different effect on your boot. However, I can offer you some advice.
With neatsfoot oil, you know you are getting 100% natural ingredients from cattle. The natural oil is great for the leather but can also be acidic to the stitching thread, which might cause an issue in the longevity of your footwear.
Now, when it comes to mink oil, a lot of it these days isn't made from mink fats at all. A lot of available gunk is made from a mixture of melted pig fat and silicon. Take a look at Sof Sole Mink Oil, for instance. We reviewed the stuff and even though the name of the product is "Mink Oil," it's only 5 to 15 percent mink oil!
Like neatsfoot oil, there have been reports of mink oil rotting away the stitching on the people's boots. The good news is that most cases of rotting occurred on boots stitched together by cotton thread. Most boots today are stitched with nylon threads, so it should not pose a huge issue whether you use neatsfoot or mink oil.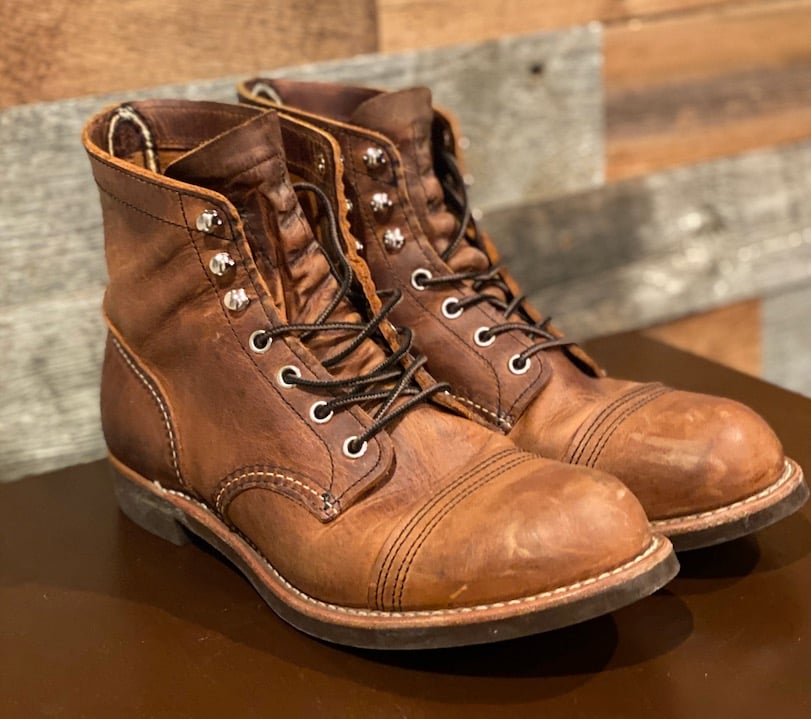 Will Mink Oil Destroy My Boots?
The short answer, no. The long answer well… it might. It all depends on the usage, how much you are applying and how often.
Mink oil is a conditioner for working leather. This means you should use it for leather goods that see a lot of wear and tear. Even for daily beater boots, an occasional coat to remedy dryness or to prolong water protection is more than enough. Applying too much mink oil or using it too frequently will soften the leather too much and clog the pores of the leather, preventing any ventilating from taking place.
This will accumulate moisture (that means your sweat — yuck!) that can lead to bacteria and mold growth. The presence of these pests will not only make your feet stink but also deteriorate the leather.
Shoes trees may help with this issue, but I have personally used too much mink oil in the past and have gotten some mold in my boots and shoe trees. When this happens, the best thing you can do is give your boot uppers a saddle soap wash, and disinfect the insider/footbed with a diluted vinegar solution. After that, leave your boots outside on a sunny day to kill any remaining spores.
Another thing to consider is that mink oil will darken your leather significantly and take away the natural shine of your boots. Depending on the type of leather, it may even give it a matte look. I do not personally see this as damage but I know some people prefer the stock color of their leather. If thats you, something like Venetian Shoe Cream or Saphir Renovateur is a better bet.
[Further Reading: Mink Oil vs Saddle Soap and When to Use Each]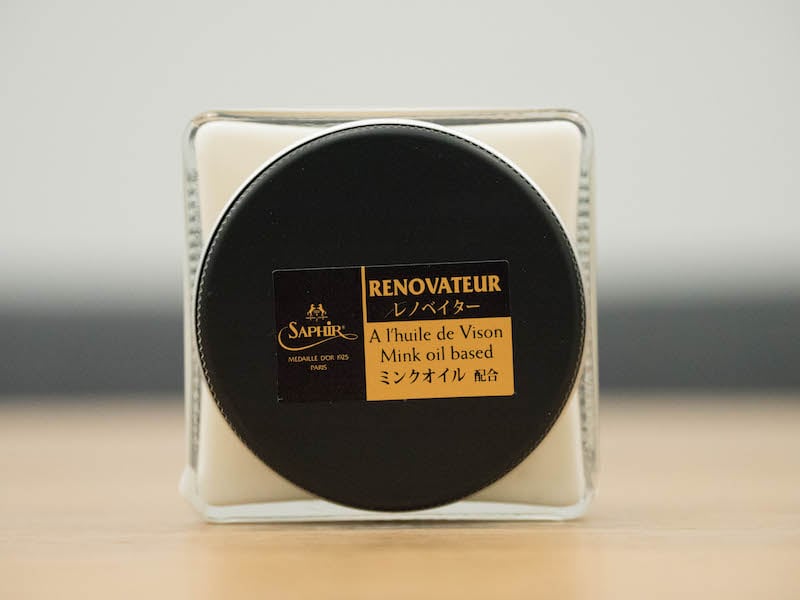 The Takeaway
Mink oil, love it or hate, it's here to stay and will continue to be the go-to conditioner for many people. The product has been around for a while and proves to be very useful in a working environment.
However, it is still that, a working man's conditioner. It's meant for rugged leathers and workers who deal with a lot of friction at the jobsite/farm. Hikers and workers generally do not care that their shoes are darkening because they expect that to happen.
For the average commuter, however, the somewhat debatable negative effects of mink oil may not be something to ignore. If you would like to maintain the color of your boots, shine them for a special occasion, or waterproof them, then mink oil products are not suitable for you. Please refer to the some alternatives that I have listed above to fit your needs.
Featured image via tsaiproject, licensed under CC BY 2.0
FAQs
Should I use mink oil on my boots?
Mink oil is a great product to add oils back into your dry leather boots. It also adds water resistance to leather. Mink oil will darken your leather permanently and give it a matte look, we recommend other conditioners if you want to preserve the look and feel of your leather boots.
Does mink oil weaken leather?
Used properly, mink oil will not weaken the leather. Applying too much mink oil or applying it too frequently will soften the leather too much, clog the pores in the hide, and prevent airflow.
Is mink oil good for new leather boots?
This depends on the type of leather and how long the boots have been sitting in the store or factory. Leather dries out over time and this leads to cracking. Most leather boots have been treated with oils and waxes to prevent them from drying, but if your new boots have been sitting in the store for a year or more the leather will dry out. If the leather feels dry add a very small amount of mink oil or leather conditioner to your boots.
Why do people put mink oil on boots?
People put mink oil on boots that are used frequently in tough conditions like high temperatures, wet conditions, or muddy dirty environments. Mink oil works as a protective coating for the leather.