Don't make the same mistake I did.
Don't lose your Red Wings to the wrong conditioner.
Take a look at these Red Wing Iron Rangers, perhaps the most beloved American heritage boot on the market. This is what they looked like when they arrived on my doorstep versus how they looked after applying a conditioner that blocked the pores and made them very water resistant — but darkened the leather a ton.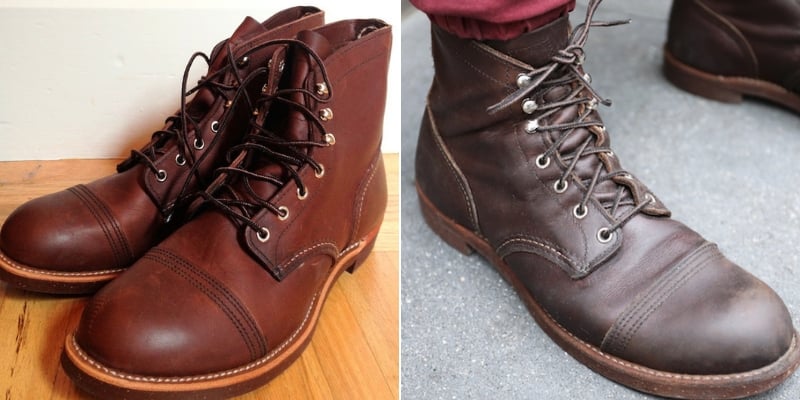 [Love the look? Pick up your own Red Wing Iron Rangers here.]
Now, they're still terrific boots. The leather hasn't been damaged. But I confess that I was looking forward to the rich patina that a lot of guys on Reddit like to show off in their old, well-aged Iron Rangers.
So what's the best product for taking care of your Red Wings? It depends on how you wear them and what you want out of them. Today we're taking a deep dive into the best products for conditioning Red Wing boots. I spoke to no less than six Red Wing representatives at a variety of different stores and I confess I was surprised by what I learned.
[Read my review of the tough as nails Red Wing Iron Ranger here!]
Why Red Wing Boots?
Red Wing is an enormously popular brand of both work and heritage boots, so popular that the term "red wing boots" receives about as much search volume on Google as just the words "men's boots" — more than Wolverine, Frye, and Alden put together. At this point, they're more or less the default boot: when a guy makes his first step into grown up, tough, Goodyear welted boots, his first purchase is usually a pair of Red Wings. (Mine was.)
In fact, they're so popular that they have their own tannery, SB Foot Tanning Co, out in Minnesota, which produces about 6 million linear feet of leather per year. Now, Red Wing makes a ton of very high quality work boots and among the more fashion-inclined, they're perhaps better known for their Heritage line. While Heritage boots are extraordinarily well crafted shoes, they're a bit more focused on the look and appeal of old-fashioned boots than the kind of footwear that's resistant to electrical current, or acid, oil, and other things people look for when they need to outfit themselves for certain blue collar jobs.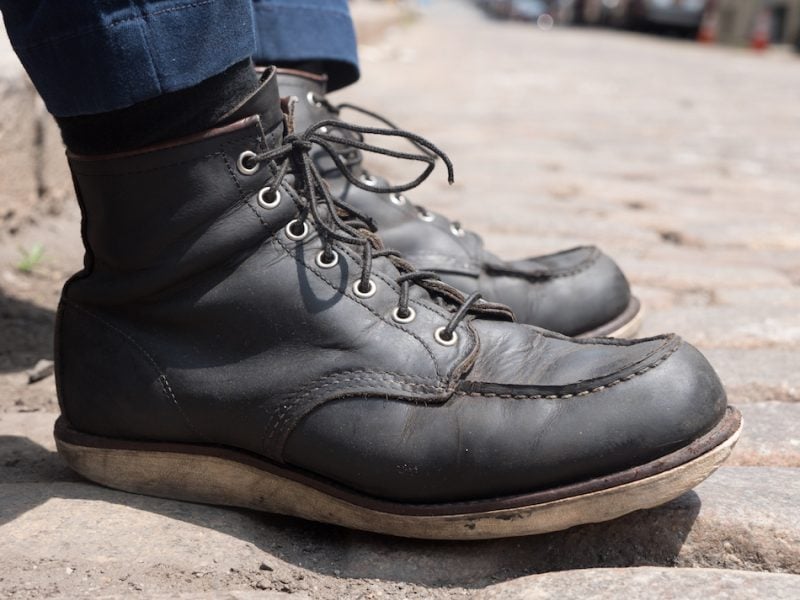 [These are my first boots — don't miss my review of these Red Wing Moc Toe boots in the Rough and Tough leather.]
Almost all of their Heritage boots are made with oil tanned leather. While you might hear different advice for their shoes made from roughout, suede, or their fancier smooth finished leathers like their teak featherstone, everyone I spoke to at Red Wing said you don't need to use different products on different Heritage boots. I'm aware that some leather snobs might disagree with this, but one hundred percent of Red Wing's representatives I spoke with said that whether you've got their famous Amber Harness or their Charcoal Rough and Tough or a different Heritage leather, if it's oil tanned then this article applies to you.
[Related: My list of The Best Boots for Men]
Why Use Mink Oil?
Mink oil is made by the rendering of fat that has been removed from mink pelts that are destined for the fur industry. It's unusual among animal fats because it's super high in unsaturated fats: 75 percent of it is unsaturated, but it has better stability than other unsaturated fats like vegetable oils. So mink oil is a lot less likely to go rancid and it has a long shelf life — it can stay in your boots for a long time without going bad.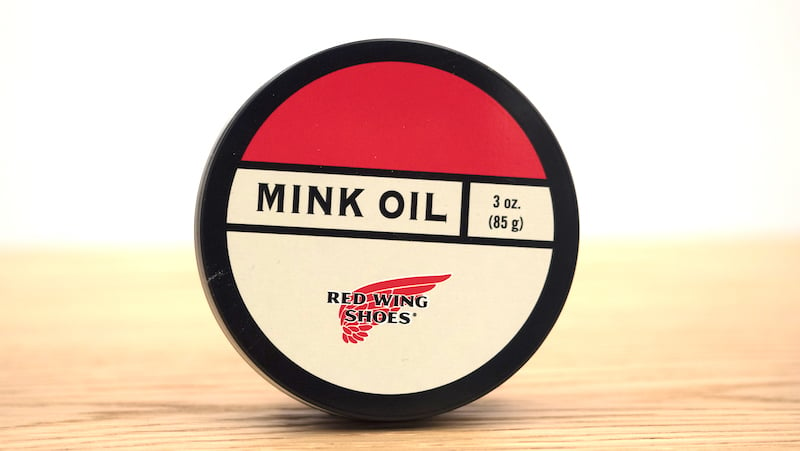 Red Wing Mink Oil vs. Boot Oil: Ingredients
Red Wing's "Mink Oil" isn't actually just mink oil: it also contains lanolin, which is a wax secreted by wool-bearing animals (typically sheep), and silicone, a synthetic polymer made from silicon and oxygen and some other elements.
[Pick up some Red Wing Mink Oil here.]
Red Wing's Boot Oil is also made from mink oil, but it's silicone-free and has added pine pitch. That's made from the sticky sap in pine trees, which are known for being pretty darn tough and weather resistant, as far as trees go. Pine pitch has had many uses over the years, including as a popular topical ointment for eczema and other skin conditions, but it also has a long history of being used as a preservative. On boots, the idea is that it helps to provide a barrier to the elements.
[Shop Red Wing Boot Oil.]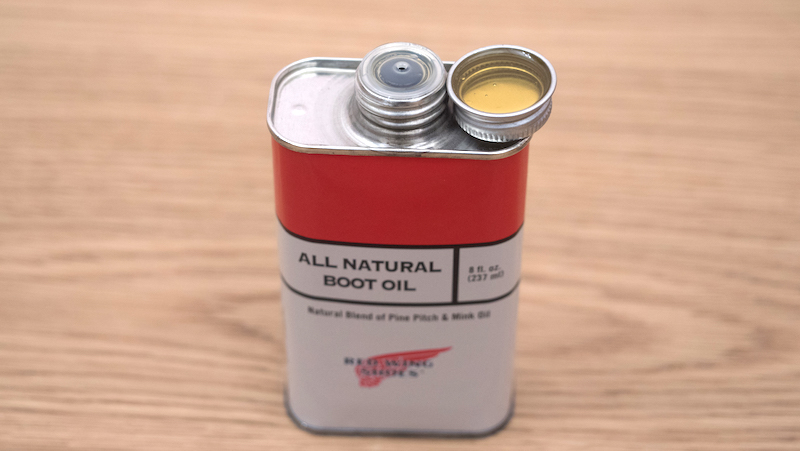 Red Wing Mink Oil vs. Boot Oil: Effects
Now, I actually used Obenauf's Leather Oil on my Iron Rangers, which is a mixture of beeswax, propolis, and oils. It darkened them a ton and over the years I've often said to myself, "If only I'd use mink oil then this wouldn't have happened."
But that's not really the case.
Mink oil will darken your boots a good two or three shades, maybe more. The reason for this is that mink oil penetrates the leather deeply and clogs the pores, forming something of a weather resistant layer on the outside. You'll often see it recommended for boots that are very hard wearing: serious workboots, militaries often recommend it for their soldiers, the sorts of jobs where the patina and lustre of a boot is the last thing on anyone's mind.
I need to emphasize again that darkening doesn't mean you've damaged the leather. It does indeed condition it and makes it more resistant to the elements. The way one employee at Red Wing HQ put it: "We're not saying there's anything wrong with it, but we're finding other products that work better."
[Further Reading: Saddle Soap vs Mink Oil and When to Use Each]
So should you use Boot Oil? Probably not if darkening is a big concern of yours, because the Boot Oil still contains a big dose of mink fat.
I'm afraid that everyone I spoke to was pretty split on what the difference is as far as the effects of Mink Oil and Boot Oil go. Some said the Boot Oil is more ideal for dry climates, others said there's no real practical difference. Something you do often hear about pine pitch is that when it's combined with mink oil it helps the mink oil to stay in the boot for longer, which is why it's said to be a tad better for conditioning while also meant to make the boots more able to withstand extreme temperatures. Boot Oil doesn't seem to require as many reapplications.
If I were to summarize all of my research I'd say that the Mink Oil is more about waterproofing while the leather oil is more about waterproofing and conditioning, but both products are pretty heavily geared toward weather resistance and both will darken the leather.
How to Maintain the Color of Your Red Wings
If you just want to condition and moisturize your boots without them darkening, you might think about using Red Wing's Leather Conditioner, which is a paste with ingredients that are pretty much the same as the Boot Oil with a little beeswax added to it for even more weather resistance. So it'll still darken the leather, it's not all that different to the Boot Oil.
If you want something more gentle, something that will maintain the color, get you a nice, rich patina, and keep your boots from winding up like mine?
Red Wing's Leather Cream is what you want to go with. Made with neatsfoot oil — that's the rendered shin and feet bones of cattle — it's specifically designed for Red Wing's fancier Heritage boots. It conditions and moisturizes the leather, helping it to last for as long as possible, all without coloring the leather or penetrating as deeply as the other products. Grab your own tub of it here.
Note that because it doesn't moisturize quite as profoundly, it may require more frequent applications. (Perhaps every month or two depending on how hard you wear them and how much you care about all this.)
Wrapping Up
That's my discussion of Red Wing's best leather care products for their Heritage boots. Mink Oil and Boot Oil are great for toughening your boots to the elements but if you want to maintain your color, Leather Cream is definitely your best bet.
Do you use other products from other companies on your Red Wings? Let me know in the comments below.
The following two tabs change content below.
Nick English
By day: Manhattan-based journalist with reporting experience on four continents, published in Vice, Men's Health, Popular Science, and a bunch of other places.By night: ravenous consumer of anything and everything related to high end men's boots.Stridewise is where I nurture a maniacal obsession with footwear and share my findings. Say hey:
[email protected]
.
Latest posts by Nick English (see all)