If I told you what I was wearing was meant to be a boring tool, used and abused, and resoleable — you would assume I'm wearing a boot, right? But a Nike sneaker? Nope! Not in a million years.
But that's the ethos behind the General Purpose Shoe (GPS) by Nikecraft and Tom Sachs. From Tom Sachs' website, they describe these sneakers as "designed for extended play" and "made to be scuffed, shredded, patched, glued, scrubbed, and thrashed again."
It's refreshing to see Nike and a hyped collaborator encouraging their consumers to wear their shoes, instead of just keeping them on ice to resell on StockX. Now whether that works, only time will tell.
To get an idea of why these shoes are different and really, why you should care, it's important to get some history of the mind behind this whole project.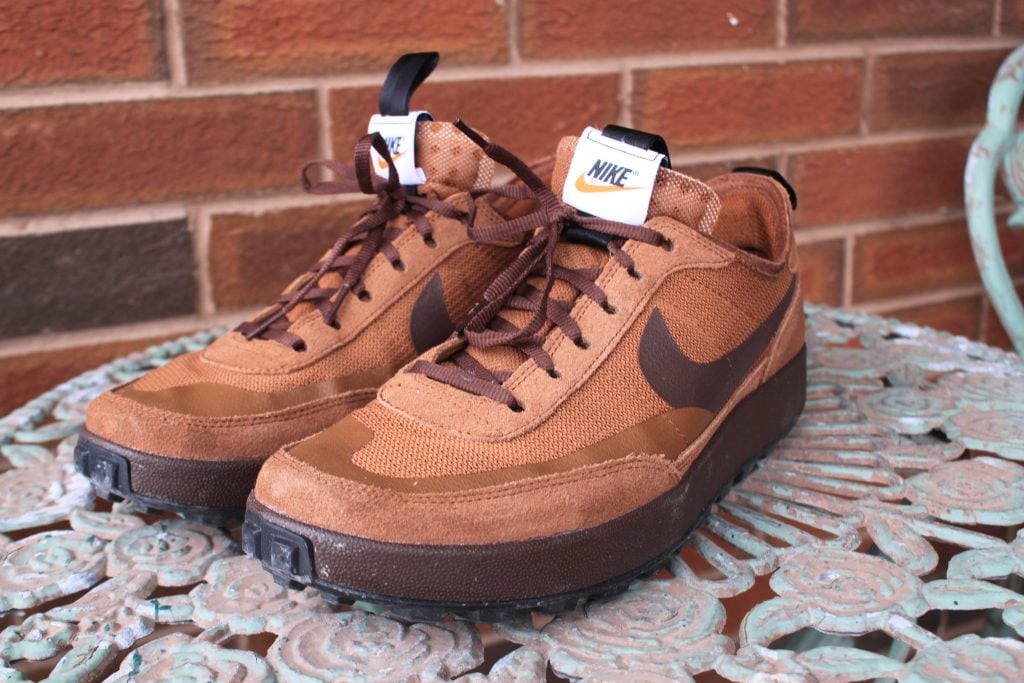 Who is Tom Sachs?
Tom Sachs is an American sculptor and installation artist that has been operating out of New York for 30 years. He started his career working in Frank Gehry's furniture shop, and has spent his career skewering consumer culture such pieces as "Prada Deathcamp", "Hermes Value Meal" and my personal favorite "Tiffany Glock".
It's somewhat ironic then that after these sculptures, he not only collaborated with Nike years later, but that his shoes would resell for tens of thousands of dollars. In an interview with GQ he stated, "Reselling is embarrassing for the people who do it". Regardless, the Tom Sach's Mars Yard 1.0 is currently listed for upwards of $15,000, with the 2.0 coming in at just over $10,000.
His goal with these GPS shoes, however, was to create a sneaker that was available to anyone to purchase if they wanted it. Coming in at a modest $109.99, the releases so far have all sold out, but new colorways and restocks appear to be coming quickly.
The release plan has been unique for this type of collaboration as well, with a mixture of online stores, Nike SNKRS app, and boutique sneaker stores. The sunflower yellow "Studio" colorway was even released directly at Kohls. While they have been tough to find, the resale price for the latest colorway is currently hovering around 10-20% over retail, depending on your size.
The Shoes
The upper is made from a durable knit synthetic material with a tight, even weave to repel a few water drops but still be breathable. There are suede overlays around the toe, heel, and eyelets for added strength, with a PVC overlay on the toes that adds some structure but tends to crack as the shoes break in and will not help much with waterproofing. The Nike swoosh is also overlaid in PVC on the side with Nike debossed into a suede panel on the collar.
The tongue is non-gusseted, with a highly breathable mesh that has just enough padding not to feel the laces dig in. Nylon pull-tabs on the tongue and heel allow easy slip on if you prefer keeping your laces tied and loose.
The insole is a generic Nike non-descript foam pad on top of a 3-piece sole construction. The footbed is anatomically designed and has a surprisingly amount of arch support. The midsole is a hard EVA foam inside a gum rubber casing. The outsole is a rubber NikeCraft waffle pattern, which makes the shoes suitable for any environment. I wore these in the snow and found them to have a surprising amount of traction.
The midsole is just soft enough to be comfortable while still providing support. If you are used to boots these are a welcome change from the ultra soft midsole foam that is increasingly popular with many athletic shoe brands.
[Further Reading: The 10 Best Leather Sneakers for Men]
Tom Sachs Nikecraft General Purpose Shoe Sizing and Price
Order a half size down from your usual size
The GPS shoe runs slightly large. I went a half size down and I think the kit is perfect. While mis-sizing these too big wouldn't be the end of the world, the anatomical footbed is best experienced with proper fit.
On the surface, the price seems too good to be true at $109.99. Based on the quality I see in these sneakers as compared to a typical Nike, I would consider them worth buying under $175 on the resale market.
[Most places have sold out, but you might find a pair on StockX]
Are Tom Sachs Nikecraft General Purpose Shoes Durable?
I've had these for a couple weeks now and have put them on every day when I get home. They even made a couple appearances on casual Fridays. Wearing them has been a bit of a surprising experience. They have required a breaking period not unlike the boots I'm used to wearing most days.
It's been a late winter in Ontario, and they've seen snow and slush and puddles. My feet have stayed dry and the outsole is incredibly grippy. I would have no problem taking these on a hike through the forest or on a trail. My only real complaints are with the tongue, which tends to bunch up when putting them on. A gusseted tongue would not only help keep the water and dirt out, but also make them easier to slip on and off.
The triple brown is a fall/winter look, but it is not dissimilar to many of the boots I wear, and I've found that most days they don't catch my eye like a typical pair of sneakers would. They blend in. Which is kind of the point.
The ads themselves refer to the shoes as boring. Their entire ethos is that your shoes shouldn't be the most exciting thing about a person. And these most definitely are not exciting. But they are cool.
Conclusion
It's always a tough job reviewing a limited product because the majority of your readers might not have a chance to buy them. You know those one-off boots made from leather not produced in years 'cause the one tanner died… well you get the picture.
But with sneakers there are aftermarket buying opportunities. You are going to pay a premium to be sure, but if you want it bad enough, you can get it.
So, should you get these? The long and short answers are: yes. But buy them for you. Don't expect anyone else to care about them. Don't buy them because they are a hyped pair of sneakers. Buy them because they are the best shoes Nike has made in decades.
I sincerely hope that one day soon these will be everywhere. That you can walk into a Kohls or a Marshalls and there will be 4 colorways to choose from. That way you won't have to worry about scuffing or scratching or getting them dirty. You can enjoy the product as intended and really kick the crap outta these things.
The following two tabs change content below.
Daniel Harris
Daniel works and lives in Toronto, Canada. A father of 2, Daniel is currently undergoing the transition from fast fashion to high quality menswear. It's not unusual to see him rocking his Nicks boots, selvedge denim, and Under Armour shirt with baby strapped to his chest.
Latest posts by Daniel Harris (see all)