Loafers have gained a lot of buzz lately in the world of men's styling. This could be the product of aging millennials ditching their sneakers for a more grown-up look, but it could also be that men are finally learning that loafers are timeless, comfortable, and stylish.
These laceless shoes are known for their comfort and versatility, making them a must-have in any man's wardrobe whether it's shorts season or you want something to spruce up your cool weather office fits. Amongst literally thousands to pick from, we've compiled a list of what we think are the best loafers for any occasion that a man might find themselves in.
Let's get started.
What Are Loafers?
Loafers are a style of laceless, slip-on shoe characterized by their moccasin-like upper and their low heel. Those factors — laceless, moc stitching, and heel — are what separates them from boat shoes and slippers, with which they're sometimes confused.
As the popularity of loafers grew, many brands started to experiment with this timeless design. Today, it is not uncommon to find loafers made from a variety of materials, and some brands even incorporate exaggerated chunky soles for a modern twist on the classic silhouette.
The 7 Best Loafers For Men
When it comes to buying the right loafers, you have to consider a few things. These include but are not limited to your personal style, your budget, and what occasions you'll be wearing your loafers.
To fast-track this arduous quest for the best loafers for you, we compiled a list that caters to different guys out here who may be looking for a nice, quality loafer. The first is our favorite overall, then there's the most versatile, and after that we'll get more specific with ultra casual and ultra dressy styles.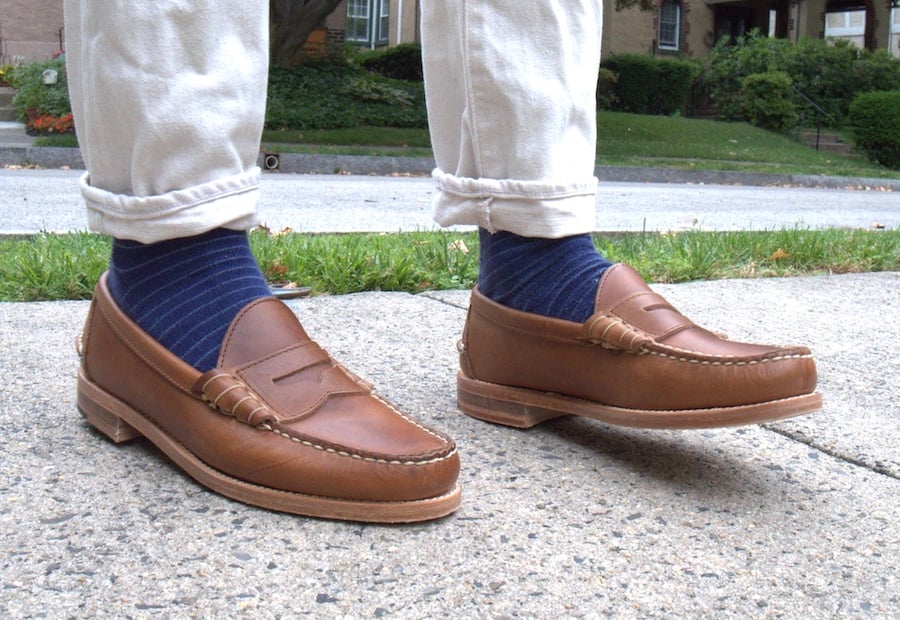 1. Best Overall – Oak Street Bootmakers Beefroll Penny Loafer
Rare handsewn moccasin construction
Made in America (Maine)
Unlined, great for hot days
Flexible Blake stitch construction
Just 2 leathers available and no wide widths
Size a whole size down from Brannock
$336
Oak Street's Beefroll Penny Loafer is our top pick for best overall, and we've got reasons.
Deep breath: it's American made (with American leather), it's unlined for sockless breathability, it's got a lightweight-yet-resoleable Blake stitch construction, and it'll mould to the shape of your feet better than other laofers.
Why? Because of its rare handsewn moccasin construction. This means that instead of one piece of leather wrapping over the top of the foot, the leather wraps under it and is stitched at the top. It's an old-world shoe-making technique that makes the shoe mold extremely well to the wearer's foot, ensuring comfort over time. (We investigated this more in a video at the factory that makes the shoes: Rancourt and Co.)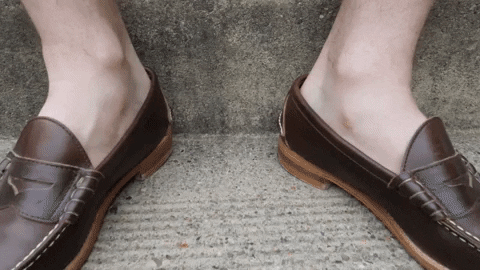 An important thing to note is that Oak Street doesn't line these loafers with anything. This is actually preferred in loafers because it makes them more breathable. Indeed, a lot of brands talk about wearing their loafers without socks but when they're lined, as most are, it's easy for them to get stuffy. These are the first loafers I've been able to wear totally sock-free.
Note that the Beefroll Loafer is only offered in two colors: Natural and Brown Chromexcel leather from Horween. It is a highly resilient leather that is easy to maintain and clean.
If you want more colors to choose from, or something that's a little easier to dress up than these options, the next pick is for you.
2. Most Versatile Loafer: Grant Stone's Traveler
Very versatile
Huge range of leathers
Goodyear welted
Available in wide widths
Order half size down from Brannock
$348
Grant Stone's Traveler is a traditional penny loafer without the 'beefroll' on the sides of the shoe that make it more casual. The Traveler is easier to dress up or down, and it's our pick for the most versatile on the market.
At the time of writing, there are well over a dozen different leathers to choose from, everything from blue suede to a formal black calfskin. The sleek styling, quality materials, and sturdy build offer everything most guys are looking for in a loafer. You can wear them anywhere and wear them proudly.
And Grant Stone is a brand you can trust: every other post on Reddit is about this company because their quality to price ratio is absurd. The world's best tanneries are combined with some of the industry's most scrupulous quality control to create products that are consistently gobsmacking.
While the loafers come in at almost $350, it's universally agreed they'd cost hundreds more if they were made stateside instead of the tropical Chinese island of Xiamen, where founder Wyatt Gilmore has been working with esteemed shoemakers for decades.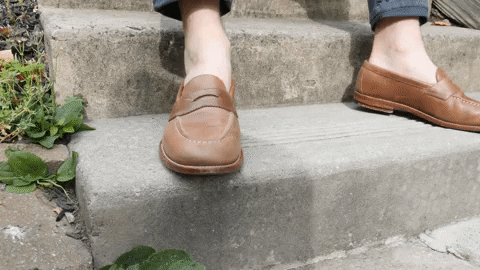 These feel more solid underfoot than Oak Street's, which is a plus or a minus depending on what you're after. The Goodyear welt is more water resistant and hard wearing than the lighter Blake stitch at a sacrifice of weight and flexibility.
With Grant Stone, there is going to be a loafer that someone will enjoy. Its impressive leather lineup offers great flexibility in terms of styling and its wide array of sizes and widths means more people find their ideal shoe at Grant Stone.
3. Best Chunky Loafer – Beckett Simonon Fuentes
Voluminous fit
Chunky lug sole
Tough pull up leather
~8 week wait time
Order true to size
$175 with discount code STRIDE
With Prada and Balenciaga dominating the shoe world with their chunky footwear, you can join the fun at a lower price point with Beckett Simonon's Fuentes.
With its hard wearing pull-up leather, lugged soles, and voluminous toe-box, the Fuentes is the ideal casual loafer. It shares a lot of similarities with rugged boots and even has a steel shank for stability.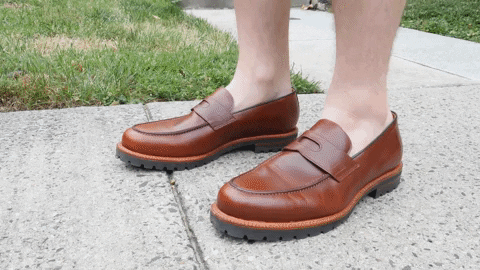 Beckett Simonon make their footwear in Colombia, and before that makes you think twice, note that they're a B Corp. This is an incredibly hard certification to obtain and it means the company has sustainable and ethical practices from the ground up.
One drawback of their commitment to sustainability is that their shoes are made to order for you. This reduces overhead, reduces the price, and reduces the carbon footprint, but it means you'll wait a month or two for your product to arrive. Still, if you use my discount code STRIDE you'll get these for $175. For a resoleable and ethically made shoe, there's no arguing with the value.
4. Best Loafers for Suits – Carmina Penny Loafer (Simpson last)
German box calf leather
Great sheen, wrinkles finely
Sleek, semi-squared last
Made in Spain
$525
Even though loafers can be dressed up or down, some are more formal than others. If you're someone who wears a suit on a daily basis, then Carmina's Penny Loafer on the Simpson last is perfect for you. Nobody will be second guessing your dressiness because you eschewed laces: Carmina is the premier European dress shoemaker.
A world-class brand that brings you a taste of Spanish shoemaking with its classic, and elegant designs, the family has been making footwear on the island of Mallorca since the 19th century. Their Goodyear-welted penny loafer boasts a unique Norwegian split-toe design, with a subtle seam running down the front of the toes and the apron sewn on top. Originally this was a technique used to achieve greater waterproofness but today it is largely decorative.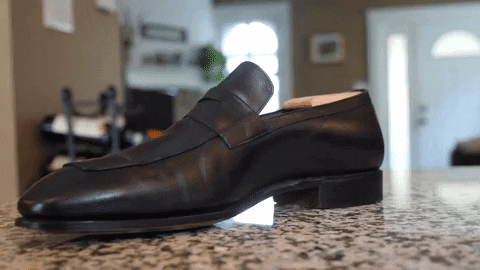 What makes this the perfect dress loafer is that it has an elongated toe that squares off at the end, similar to what you would normally see on balmorals. When you put these on, you will notice that your toes actually end about an inch before the end of the shoe, which is intentional. Carmina designed the Simpson last this way so that your toes won't feel pinched while keeping a sleek, elongated shape.
It's available in a luxe German box calf leather which is ideal for formalwear, but you can also find it in a smooth brown or suede on Carmina's product page.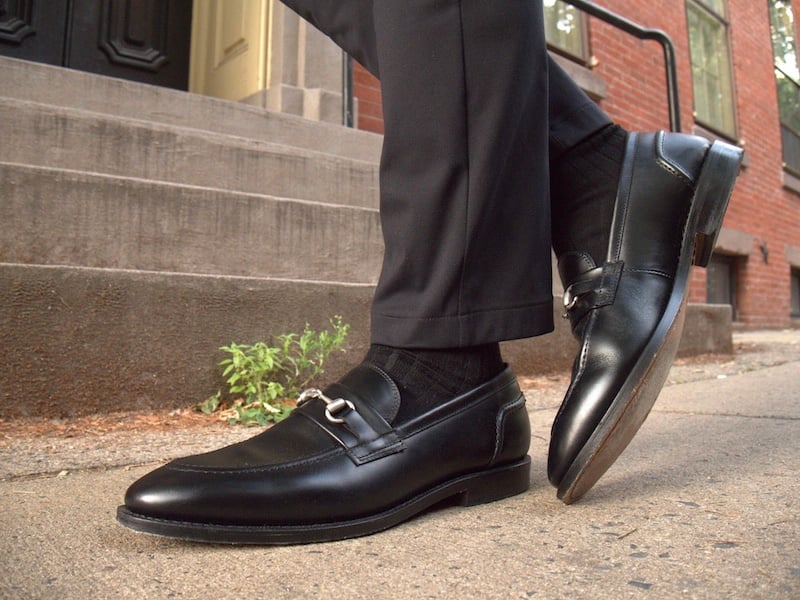 5. Best Bit Loafer – Allen Edmonds Randolph
Made with European calfskin
Made in America
EEE width available
Order true to size
$425
This is currently Allen Edmond's best-selling loafer and it's another dressier option on this list with a touch more flare than the most formal loafer. The horsebit loafer features a metal band across the vamp of the shoes that instantly puts an extra level of style on the design. They were originally invented by Gucci in 1966 as a new, hip casual footwear but over time, Hollywood actors started wearing them with suits and they perhaps reached their peak as the shoe of choice for Wall Street traders in the 1980s. Today, they're worn in a range of environments and while a suede "bit loafer" can be worn casually, these sleek, black Randolphs are a great way to dress up.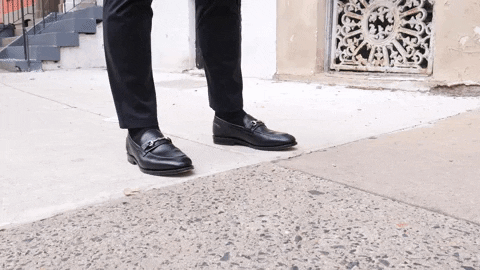 The Randolph is made in Port Washington, Wisconsin with European calfskin, and can be recrafted as many times as is needed thanks to the durable Goodyear welt construction. What might catch some people by surprise is that, unlike most loafers, the Randolph doesn't have a hard leather footbed. Instead, it has a Poron foam insole that offer a terrific level of shock absorption and will be comfortable even when new.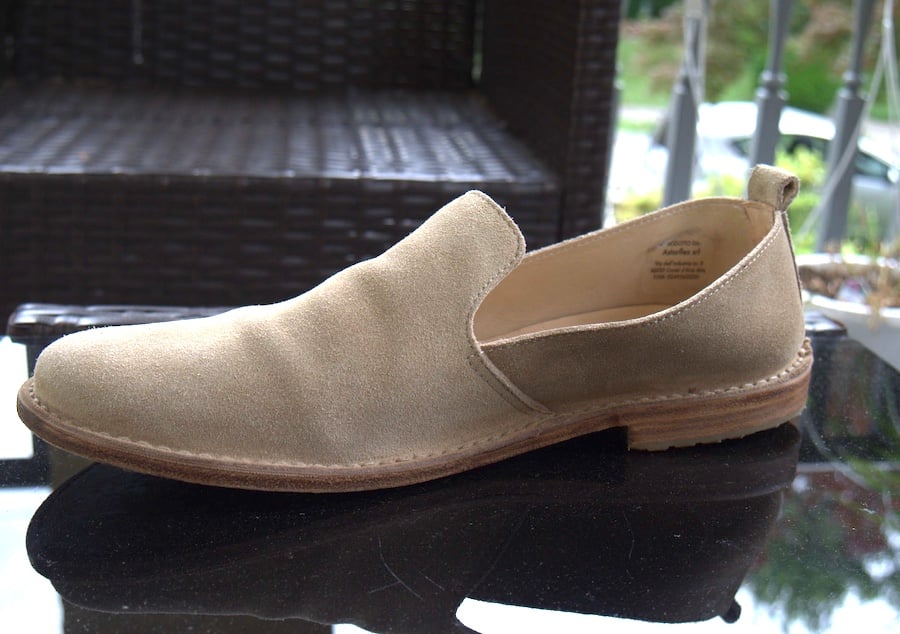 6. Best Travel Loafer – Astorflex Patnoflex
"Venetian loafer" style
Made in Italy
Super light and flexible
No half sizes; size down
$198
This Venetian-style loafer is the top selling model from the Italian brand Astorflex. Sold on Huckberry, the ultra minimalist loafer is free of the moccasin-style stitching but it has style in spades.
Made with an unusual "ideal stitch" construction that allows for resoles while keeping it lightweight, the Patnoflex is incredibly easy to wear and its flexibility and weight make it an ideal choice for traveling — especially given how easy they are to kick off at the metal detectors.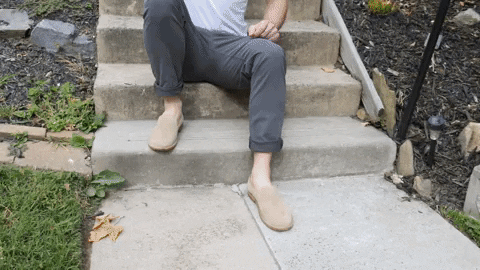 Astorflex makes them in many shades of brown and tan leather, but the suede version we picked up is a great choice for guys looking to lean into the casual nature of these Italian made slip-ons.
There are no half sizes, but I ordered the next size smaller than my true size (an 11 for my 11.5 feet) and the fit was superb.
The Patnoflex usually retails for under $200, so it's a no-brainer for those who want to go on an adventure without the burden or stress of ruining their more expensive footwear. Just consider protecting the suede before wearing them out.
7. Best Tassel Loafers – G.H. Bass Lexington Tassel Weejun Loafers
Handsewn construction
Made in El Salvador
Unlined
$185
A list of the best loafers cannot be complete without mentioning the OG American loafers brand, G.H. Bass. This brand has been making loafers since the early 20th century. In fact, the very name of their loafer collection, 'Weejun', is a call back to the Norwegian origins of the loafer.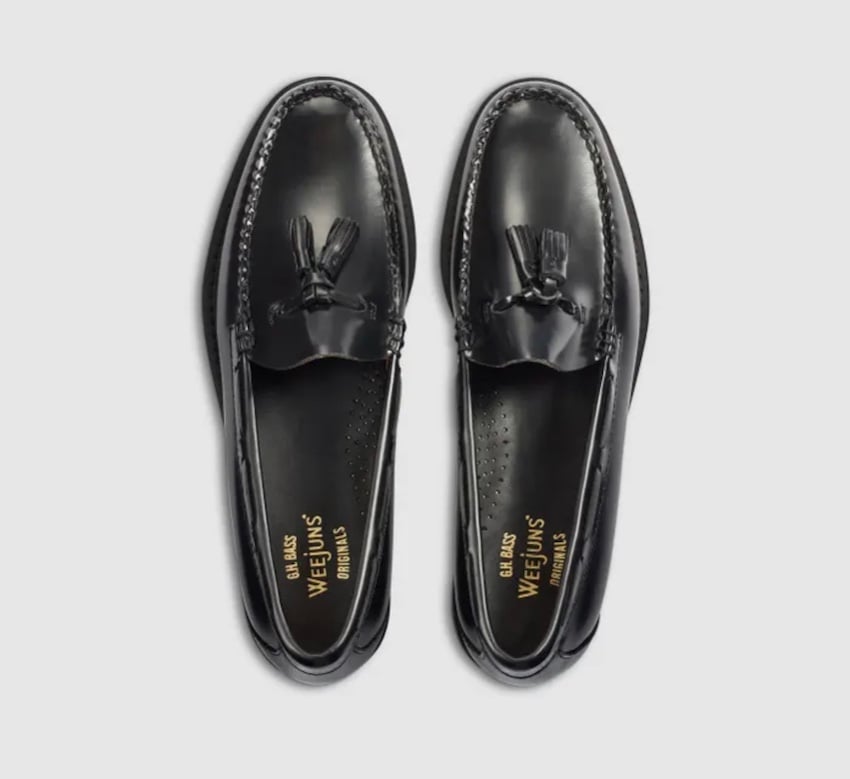 The Lexington Tassel loafers have that classic mid-century American aesthetic to them; classy, stylish, yet extremely functional. They have leather soles and that rare, true moccasin construction that means they will mold to your feet extremely well. The uppers are unlined so this loafer is also breathable, and perfect for warmer months.
One critique that many have is that they aren't forthcoming with who makes their leather, plus they're made in El Salvador. But this keeps the price remarkably low at $185 for a piece of real loafer history.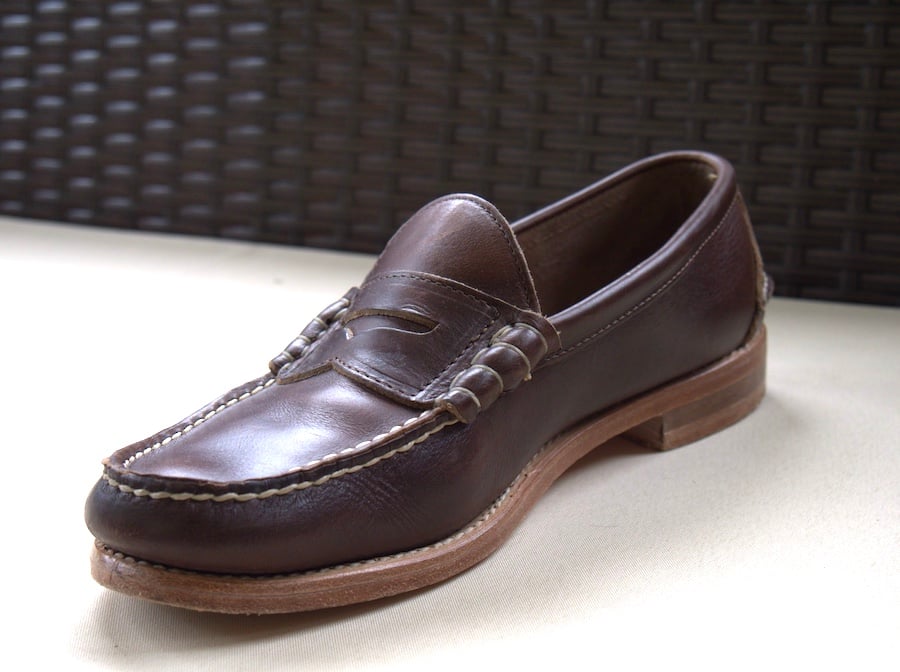 Where Did Loafers Come From?
Indigenous peoples in North America have been wearing loafer-like shoes for thousands of years, but the "dressy" loafer that we all come to love today is a more recent creation. The exact origin story is lost to time but many historians accredit the modern loafer to a Norwegian named Nils Gregoriussen Tveranger. Even though Tveranger was a farmer by trade, he was fascinated by the art of shoemaking. With the intent of improving the teser, a laceless shoe worn by Scandinavian sailors, he went to America to cordwaining.
After his studies, he returned to Norway and developed the Aurland moccasin, a cross between the teser and shoes worn by Native Americans. This was the beginning of what would later evolve into the loafers that we see today.
Types Of Loafers
There are many great designs out there. Each design serves a different formality setting, or purpose and has its own unique design features. Here are some of the most popular ones right now!
Penny – These loafers are designed with a belt over the vamp of the shoe. In the past, people would put coins on the diamond shape cutout on the belt but these days, they're there more for stylistic reasons.
Driving – These loafers are lightweight and distinct from the rest by having a very soft leather sole to help you feel the brake and accelerator when driving. The soles wear through quick if you insist on wearing them outside the car, though.
Tassel – These loafers that have an ornate tassel hooked onto a belt on the shoe's vamps. This style is a result of the fashion experiments in the 50s and although they're not so popular these days, they're a great way to add flair.
Horsebit – These loafers have a metal bar in the shape of a horse snaffle across the vamp. Popularized by fashion powerhouse Gucci, many believe this was when the loafer truly went from a casual shoe to something you could wear in a formal setting.
Basket – These loafers are made with pieces of leather interwoven together to create a basket-like weave. You can think of it as the lovechild between Mexican Huarache sandals and a traditional loafer. These are great for summer months as they are extremely breathable.
Slipper – These loafers are considered to be one of the original incarnations of the laceless shoe. It is also one of the more formal ones as it does not have any exposed stitches. Slipper loafers go great with tuxedos and offer a great deal of personalization as many do come with mesmerizing embroidered art.
Kilties – These loafers have a kiltie, or a fringed panel of leather resting atop the shoe, covering the instep. The original purpose of this panel is to protect the shoes from mud but these days kilties on loafers are mostly decorative.
How To Style Loafers
To most of the world, a loafer is a casual shoe, but in America, it is acceptable to wear them in an office setting. This ambiguity in formality gives the loafer a lot of wiggle room in terms of where and how you style them. Below are some examples:
1. Casual Style – For those who have a carefree, laid-back lifestyle.
Loafer: any kind of loafer would work for this look, though avoid black to keep things casual
Pants: slim or straight-fit denim jeans; you can also roll the cuffs for a laid-back look
Shirts: a tucked-in tee shirt or polo for an elevated look and laid back vibe
2. Business Casual – For fun Fridays at work or happy hour!
Loafer: plain styles made out of black or brown calf ie: Horsebit or Penny loafers
Pants: tailored chinos or dress trousers
Shirts: a neatly pressed dress shirt or a polo shirt tucked into your pants
Optional: a sport coat or blazer for cooler evenings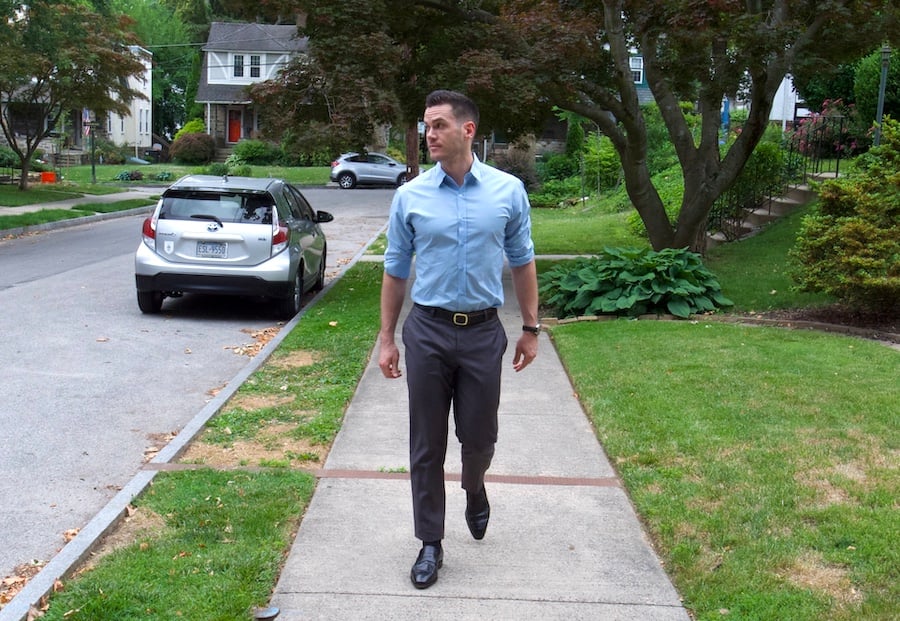 3. Formal Attire -For weddings, galas, or other places that require you to dress up
Loafer: loafers adorned with tassels or metal details and usually made from patent leather ie: Horsebit, Tassel, or Venetian
Pants: tailored suit pants
Shirts: a neatly pressed dress shirt
Outerwear: tailored suit jacket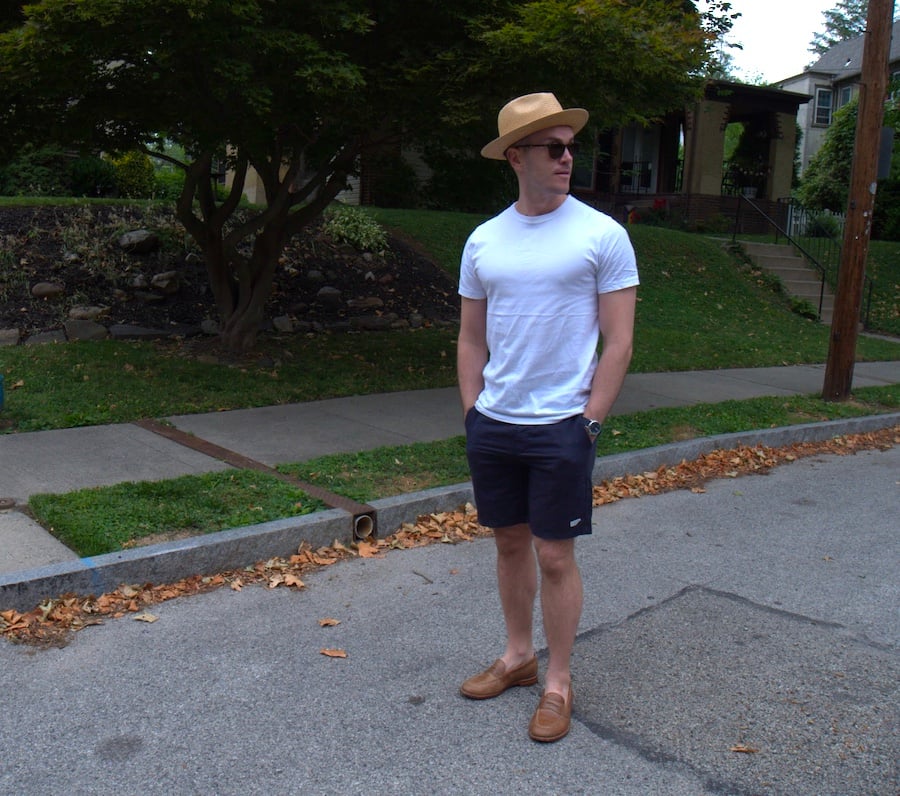 4. Summer Style – For beach or island hopping in southern Europe
Loafer: any loaders would work for this look, if you're adventurous try woven styles
ie: Espadrilles, or Penny loafers
Pants: shorts, or pants constructed out of breathable fabrics like linen
Shirts: linen button-downs, silk camp collar shirts, Hawaiian shirts, even a plain (but fitted) t-shirt.
Optional: going sockless or at least wearing no show socks to really show off the shoes without distractions
Wrapping up
Loafers are popular for their timeless style, comfort, and versatility. They come in various designs like a penny, driving, tassel, and more. We've compiled a list of the best loafers for different occasions, considering factors like quality and price. Top picks include Oak Street Bootmakers, Grant Stone, Beckett Simonon, Carmina, Allen Edmonds, Astorflex, and G.H. Bass. Loafers are a must-have for any man's wardrobe, suitable for different styles and settings.
Frequently Asked Questions
When should men wear loafers?
Loafers are very versatile and can be worn casually or with formal attire. Pick the right loafer for the situation: a suede penny loafer works in most environments, while black calfskin is the go-to for dressier occasions.
Are loafers in style for guys?
There has been a reemergence in their popularity in the last year. Loafers are definitely a shoe that tells people you have a personal style.
Should loafers be worn with socks?
This is a personal choice. When worn with suits, guys prefer to wear them with dress socks. Otherwise, no-show socks are the standard go-to. Going sockless is common, but it's preferable with unlined loafers so your feet can breathe.