Colder weather calls for warmer attire, and wool flannel shirts and denim jeans a perfect match for this time of year. Although you may be eyeing a high-quality flannel from Iron Heart or Studio D'Artisan, these can run you upwards of $350.
Frankly though, I prefer vintage, American-made Pendleton Flannels.
"But, why do people buy vintage Pendleton flannels?" I hear you ask. Three reasons: The American heritage behind the brand, the price point, and high quality.
The term "vintage" often differs depending on the group and the item in question. When it comes to clothing in general, anything older than 20 to 25 years is often considered vintage. If the piece stands the test of time, that often suggests a higher level of quality material and craftsmanship.
The low cost of vintage flannels is one of the main reasons to pursue them. When vintage Pendleton runs between $20 and $50 a shirt, the price of vintage becomes especially attractive compared to the modern-day equivalents, which run for nearly $160 on Pendleton's website — plus, unlike the vintage ones, modern Pendletons are not sewn in the US.
Not only that, but Pendleton is credited with being the first company to introduce colorful flannel patterns to the American market*. They are the original American flannel. Their iconic and classic patterns are still being imitated by competitors to this day.
In this article we'll discuss the history of Pendleton flannels, their pros and cons, and how to begin your vintage flannel collection. You can jump ahead with these links below:
[Learn more: What Exactly Is Heritage Fashion?]
A Brief History of Pendleton

The Pendleton Woolen Mills company has roots going as far back as the 1860s, with Thomas Lister Kay opening his own mill (the Thomas Kay Woolen Mill) in Salem, Oregon. Thomas' family had roots in the British weaving trade. He would eventually go on to open the Pendleton Woolen Mills company in Pendleton, Oregon in 1909.
Previously known for their colorful fabrics and blankets, it wasn't until the 1920s that Pendleton introduced their flannels to the US market.
At this point in history, nearly all flannels were dull colors (typically grey or olive) as they were considered for workwear. This is where Pendleton stood out in the crowd: they used their colorful wool fabrics (previously used for their trademark blankets), and quickly became a favorite among outdoorsmen and women..
However in the 1940s, Pendleton had to pause its growing clothing business in order to help with the war effort during World War II, producing uniforms and blankets for the US Army.
Unfortunately, Pendleton lost some ground in the clothing market as a result, but that didn't matter as they quickly became iconic with youth culture during the 1960s and exploded in popularity. This was thanks to a small music group called the "Pendletones"; a crew of 5 fellas known for wearing Pendleton flannels for their stage costume. This group would soon be known as the Beach Boys, after the owner of the record label changed their name to help market their first single "Surfin".
[Read more: 6 Reasons You Can Wear Boots All Year Round]
How to Buy Vintage Pendletons on eBay

Without a doubt the best place to hunt for vintage Pendletons is eBay. There certainly are other online avenues you can explore (Etsy, Poshmark), but I've found that eBay has the largest selection to choose from.
In my opinion, there are 2 paths you can take. You can be specific with your search terms and be likely to narrow down what you're looking for (usually at a higher price). Or, you can use simple and broad search terms and sift through a sea of listings; you may find a better deal or a rare piece, but this requires patience and a sharp eye.
If you want to save your time, type something like "Vintage Pendleton Flannel Medium" and search within the Men's Clothing Category.
Alternatively, you can simply type "Pendleton" into the search bar, and select the Clothing category (Do not specify Men or Women's). From here you will have many listings to search through, and you will need to examine the pictures thoroughly to identify the flannels via their label (label guide below) to determine if you've got a winner or a dud.
Again, patience will be your friend here.
Sizing
Vintage Pendleton flannels tend to run small compared to modern US sizing. Because of this I would recommend sizing up from your normal size. For reference I wear a Small for most Uniqlo shirts, but I wear a Medium for vintage Pendleton. Short and long varieties do exist, though they are rare.
With anything vintage, I recommend you purchase something cheaper (even in poor condition) to confirm your sizing. This will give you more confidence with your future purchases.
Labels and Dating
When looking for a quality US-made vintage Pendleton, be sure to carefully examine the tag. Depending on the font, labels and sizing information, it is relatively easy to roughly date a flannel. Here are the tags to watch for:
This label dates back to the 30s or 40s. The sizing info was often indicated on a small white tag below the blue label (though they usually fall off). Because Pendleton's focus was on manufacturing uniforms for the US army during World War II, you are unlikely to find a flannel with this label (and if you do, it's probably falling apart).
In the 50s, Pendleton began adding their sizing information to the blue label.
From the 60s to 1994 you are likely to see any of these labels or slight variants of them.
This was the final label used for American-made Pendleton's. In 2009, Pendleton began exporting their manufacturing. By the mid 2000s Pendleton saw a drop in quality. A flannel with this label isn't necessarily bad, but a more vintage label usually means a better constructed flannel.
Different Vintage Pendleton Shirt Styles

There have been many variations of the Pendleton flannel, but here are some of the more common and iconic styles.
The Board Shirt
This is probably the most famous style. As mentioned earlier, it was popularized by the Beach Boys and brought Pendleton into the spotlight. The board shirt can be identified by its two front, flap pockets.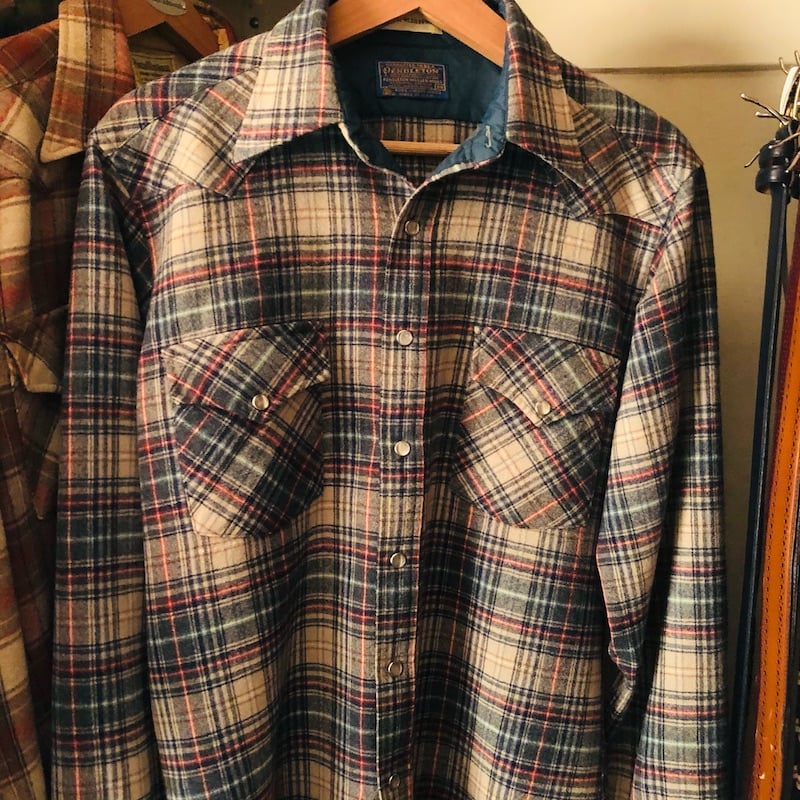 High Grade Western Wear
Not only does this shirt have a unique tag, but also features pearl snaps on the front and cuffs, as well as pleated yokes on the back. The snaps make this flannel slightly more casual, but the convenience of being able to quickly snap or unsnap your shirt is very nice!
The Fireside Shirt
This shirt features a button-down collar, as well as a single plain chest pocket. Arguably, this style is one of the easiest to dress-up for a business-casual occasion.
The Lodge Shirt
This one is the same as the Fireside Shirt, with the exception of a straight collar instead of a button down.
The Field Shirt
The Field shirt is best known for its button front and two buttoned, front pockets. The field shirt style also tends to have the "machine washable" tag most often. It's possible they used a more durable wool for this shirt.
The Trail Shirt
The Trail shirt is a very casual style thanks to the elbow patches. If you find yourself especially hard-wearing on your sleeves, perhaps this is the shirt for you!
How to Inspect a Vintage Pendleton

NOS or "New Old Stock" Pendleton flannels are quite rare (wool needs good long-term storage conditions to prevent moth holes and stains). They do exist, but I've seen maybe 2 over the last 5 years of watching ebay.
That said, lightly used to well-worn is what you mainly have to choose from. Carefully inspect all photos on the listing, and if you need more photos don't be afraid to ask the seller.
Keep your eye out for moth holes and tears. Some can be repaired, but if the damage is too great, then it may not be worth the effort. This is especially true if the material is running threadbare.
Stains are also important to be mindful of, especially sweat stains around the armpit area. Most stains can be removed by a skilled dry cleaner.
Finally, watch out for missing snaps and buttons (on the collar, cuff and front). Buttons can easily be replaced while snaps can be more difficult to repair.
Conclusion: Are Vintage Pendletons Worth It?
Yes! I'd say without a doubt vintage US-made Pendleton flannels are worth it. Considering you could purchase a vintage Pendleton for around $30, that's only about a tenth the cost of an Iron Heart Flannel. Personally, I'd rather have 10 vintage flannels instead of 1 new flannel. Taking the chance on a small tear or a missing button is well worth the risk in my opinion.
Between the affordability and classic Americana behind the brand, Pendleton flannels certainly deserve a spot in everyone's wardrobe. Bundle up, stay warm, and thank you for reading!
Source
* "Flannel Shirt." Artifacts from American Fashion, by Heather Vaughan Lee, ABC-CLIO, 2020, p. 305.
The following two tabs change content below.
Menswear professional with a passion for quality. I sell vintage US-made footwear on Ebay. Please check out
my eBay shop
and
Instagram
and feel free to contact me at sam_
[email protected]
for inquiries and collaborations. Thank you!
Latest posts by Sam Fruchtman (see all)