This post may contain
affiliate links
that at no additional cost to you, I may earn a small commission from.
I've reviewed a lot of Japanese jeans on my site, but I thought it was time to try some American selvedge — and I went big.
About 9 months ago, I bought these unbelievably cheap and unbelievably thick jeans from the Los Angeles-based company Brave Star Selvage. It's a mythical, bulletproof jean that faded surprisingly quickly with the 100-ish wears I've given them.
Now, before I go on, I should make it clear that while a lot of Brave Star's jeans are made with American denim from the celebrated White Oak in Northern Carolina, for this jean they had to get the denim from Japan because it's so ludicrously thick.
However, everything else about the jeans is American. That might sound like a copout, but every other aspect of production takes place in the US: the fabric and leather are cut and sewn in LA, the buttons are from Kentucky, the leather is from Texas. Brave Star is a very important feature in the American denim landscape not just for where it's made, but also for the price.
Selvedge jeans aren't all clones of each other: they're made individually, with their own irregularities and variations and uniqueness, and it is extraordinarily rare to find them made in the United States. For a little background: American jeans used to be thick and selvedge like these until around the mid-20th century, when clothing companies discovered mass production and outsourcing. Jeans largely stopped being made the old fashioned way in the US and Japan bought practically all the old looms we used to make jeans with on this side of the Pacific.
Brave Star was founded in 2005 with the goal of reigniting US denim. Interestingly, they were sold to a big apparel conglomerate after the global financial crisis but the founders bought it back in 2012, such was their commitment to their dream of popularizing American selvedge. Let's look at their very thick, 21.5oz denim.
Brave Star 21.5oz Denim
21.5oz sanforized denim
Twice as thick as Levi's
Left hand twill weave
Smooth, not slubby
Fade relatively quickly
This is 21.5 ounce sanforized denim. (Practically speaking, sanforized just means it won't shrink too much when you wash them.) For a little context, your average Levi's are about 10 or 12 ounces, so it's twice as thick as the jeans you're used to.
Theres no elastane, no spandex, nothing to give stretch to it. It does slowly stretch out a couple of inches here and there as you wear them in, but its not going to be sweatpants-stretchy like the Shin Secret denim from Oni.
This particular pair of jeans is darker than some of Brave Star's other offerings and it's made with a left hand twill weave and saturated, rope dyed indigo yarn. But unlike a lot of Japanese denim, this isn't very very rough and slubby. For many people, when they think of thick selvedge, they think of really irregular denim that's covered in knots and bumps and the endearing faults that people like in expensive denim. (Pure Blue Japan is a good example of this.)
[Related: 7 reasons Japanese denim is worth the cost]
Brave Star is a lot more uniform in appearance. It's relatively smooth and much closer to Iron Heart denim. It's simple fabric, which some people find uninteresting, while others find it refreshing when they just want thick, tough denim that will fade well without distracting slub and nep and knots. These irregularities can remind some guys of piling on low quality cotton.
One of Brave Star's favorite things about this pair of jeans is that they fade relatively quickly. This is in part because it's left hand twill which fades faster and has a softer feel than the industry standard right hand twill. Indeed, after 9 months, 100 wears, and one soak, these are pretty considerable fades that you wouldn't often see so fast in most selvedge.
So, for guys that don't want to wait 5 years for fades, Brave Star could be a great bet.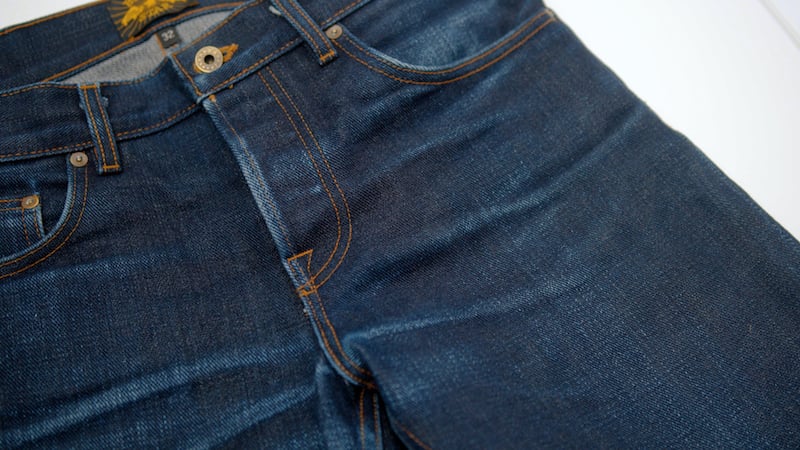 Brave Star Jeans Details
Pretty basic design
Red orange threads
Big cowhide waistpatch

Star

on right pocket
As for the details, once again this is a pretty basic design that lets the quality speak for itself. There are no fancy pocket arcs, there are no designs on any of the rivets. The red orange threads make for a really classic Americana look and they're made from core spun polyester for extra durability. (Most guys don't want cotton threads on their denim because it's less durable than polyester, but if you prefer really old fashioned jeans, check out Full Count.)
The waistpatch is natural cowhide, stamped and cut in Los Angeles with this really cool design:
Some don't love the waistpatch because it's so large and it's about a quarter inch thick, but it makes for a casual, almost Western style, and it'll darken nicely with wear. (It looked a lot cleaner before I got indigo all over it with the soak.)
The main distinguishing mark for these jeans is the trademark star on the right pocket, which I love. It's such a simple pair of jeans that I find the star adds the perfect amount of splash.
Brave Star Regular Taper Fit
I picked up a 32-inch pair and if you check out the sizing on their site, they note 32-inch pair will actually measure 34.5. These are the rest of the measurements for when you get them:
Waist: 34.5
Front rise: 10.25
Back rise: 14.5
Knee: 7.75
Opening: 6.875
After 9 months of wear and one warm soak, the measurements are:
Waist: 35.5
Front rise: 10.5
Back rise: 15
knee: 8.9
Opening: 7.2
The fits, in my opinion are the company's biggest downside because they don't have a huge variety. They do have five: Skeleton Skinny, Slim Taper, Regular Taper, Slim Straight, and True Straight. But there's no relaxed taper, no loose fit, and no high rise. I happen to require high rise jeans, so I'm always a little wary of sitting down in these and giving strangers a view.
[Edit: Two years after this review, Brave Star added the Strongman Fit, which worked great for me]
That's my biggest complaint with the brand. But the biggest upside?
Brave Star Price
Good God, these jeans just cost $128.
It's far and away the best selvedge at this price point, especially given they're 21.5 ounces. Most jeans this thick are over $300. There are some American brands like 3sixteen, but their stuff is typically over $200.
And it's worth emphasizing here that Brave Star's lighter weight jeans, like the 12, 13.5, and 15oz jeans , are under $100, and they're made with American denim. The value is obscene with this brand.
Brave Star Jeans Pros & Cons
Pros
Extremely good value
Nice, simple design
Fades relatively quickly
American made
Cons
Some find 21.5oz denim uncomfortable
Made in USA, but denim is Japanese
Not everyone likes the lack of fabric variety
Not a wide variety of fits
These jeans are American made, they fade fast, and they're inexpensive. That's more than enough reason to buy them, especially given I happen to be a pretty big cheapskate.
The main downsides people note are that a lot of denimheads prefer fabrics with more character, not everyone likes the star, and they don't have as many fits as a lot of their competitors. But hey, it's a small company and they're doing a great job catering to their base and keeping American denim alive.